Whether you are feeding the family or a large party crowd, these Poppy Seed Ham and Cheese Sliders are the perfect recipe – everyone loves them!

Who loves quick & easy recipes? I would be lost without them! We like to make these Poppy Seed Ham and Cheese Sliders as a versatile on-the-go breakfast recipe or sometimes as a game-day snack that our whole family loves.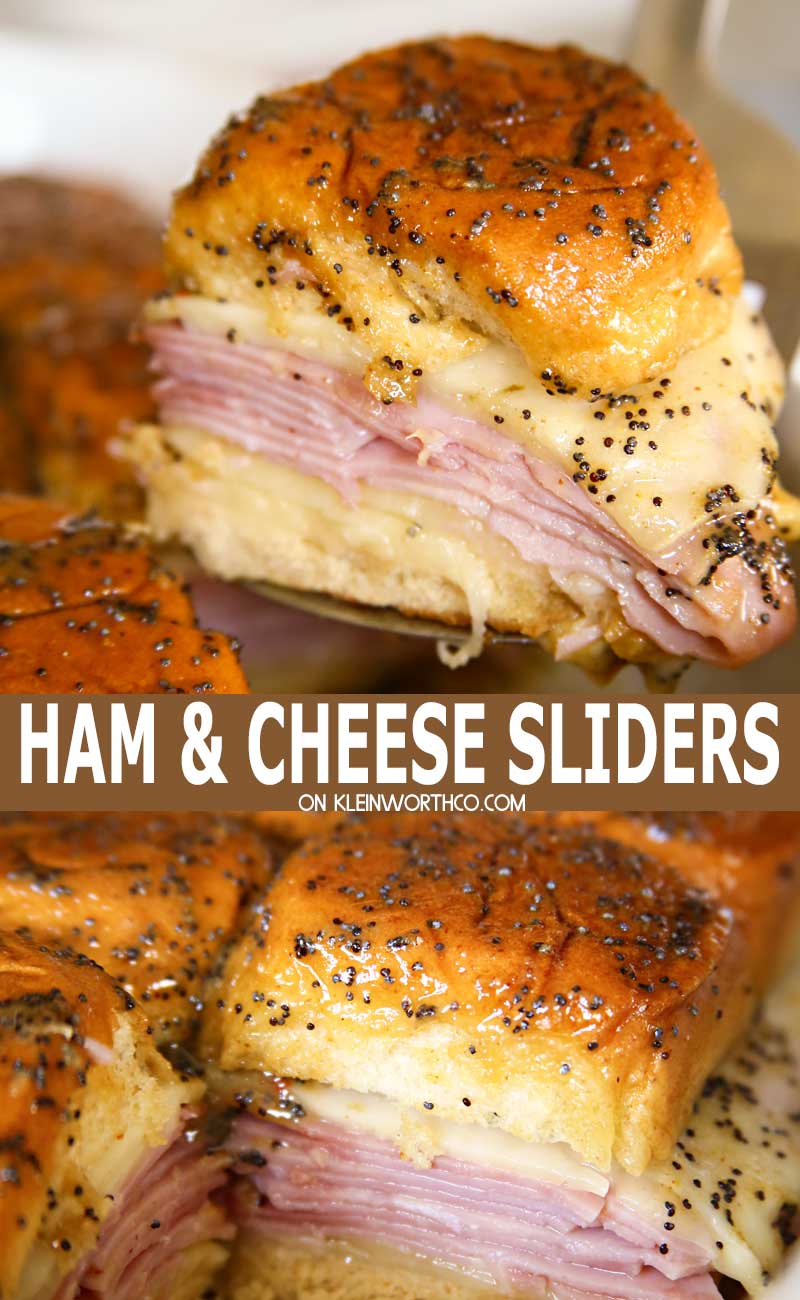 This post is brought to you in collaboration with Eckrich Deli Meat. All opinions are my own.
I don't know about you, but I'm always looking for ways I can put a delicious homemade meal on the table quickly.
Less time in the kitchen & more time with my family is always my priority.
To make sure I have everything I need, I like to stop at Walmart pick up all my ingredients, including Eckrich Deli Meats, which are now available at the Walmart deli counter!
Ham and Cheese Sliders Recipe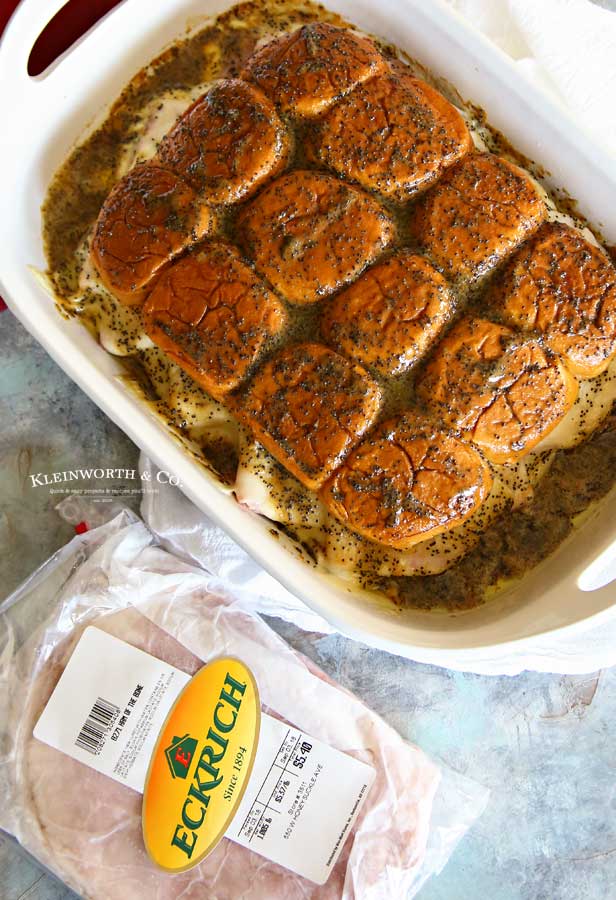 These sliders are so simple to make. When preparing them for the kids to have for breakfast, I like to make a full batch & then individually wrap them after they have cooled.
This makes it easy for the kids to grab them on the go as they need them.
This recipe makes 12 sliders, so that gives me almost a whole week of breakfasts for them!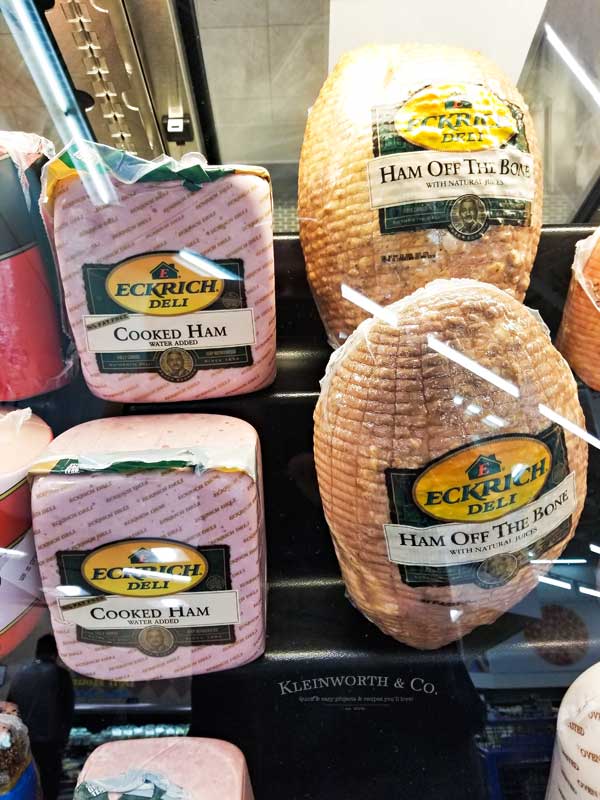 Here are some commonly asked questions…
Any way you slice it, Eckrich deli meat is my top choice at the deli counter.
Not only is it convenient because I can grab it while I'm at Walmart during my weekly shopping trip, but Eckrich is always gluten-free, full of flavor & made with unmatched quality.
The Eckrich Ham Off the Bone gets its premium flavor from its own natural juices, getting all the delicious flavor of bone-in meat.
Can ham and cheese sliders be made ahead of time?
Absolutely. Like I mentioned, we like to bake them all at once & then portion them out. You can enjoy them cold the next day or just give them a few seconds in the microwave to reheat them if you are short on time. So simple & still just as delicious the next day.
HOW DO YOU MAKE HAM AND CHEESE SLIDERS?
Lightly coat a 9×13 inch dish with cooking spray.
Cut the slider buns in half like a sandwich.
Place the bottom layer into the prepared dish.
Add half of the cheese.
Follow with a layer of ham, then the remaining cheese.
In a small microwave-safe bowl, melt the butter.
Whisk in brown sugar, dijon, poppy seeds, onion powder, garlic powder, Worcestershire, salt & pepper.
Brush this mixture over the tops of the rolls.
Pour any remaining mixture to coat thoroughly.
Cover with aluminum foil.
Bake at 350 degrees for about 20 minutes.
Remove the foil & continue baking for an additional 10 minutes.
Remove & serve immediately.
Poppy Seed Ham and Cheese Sliders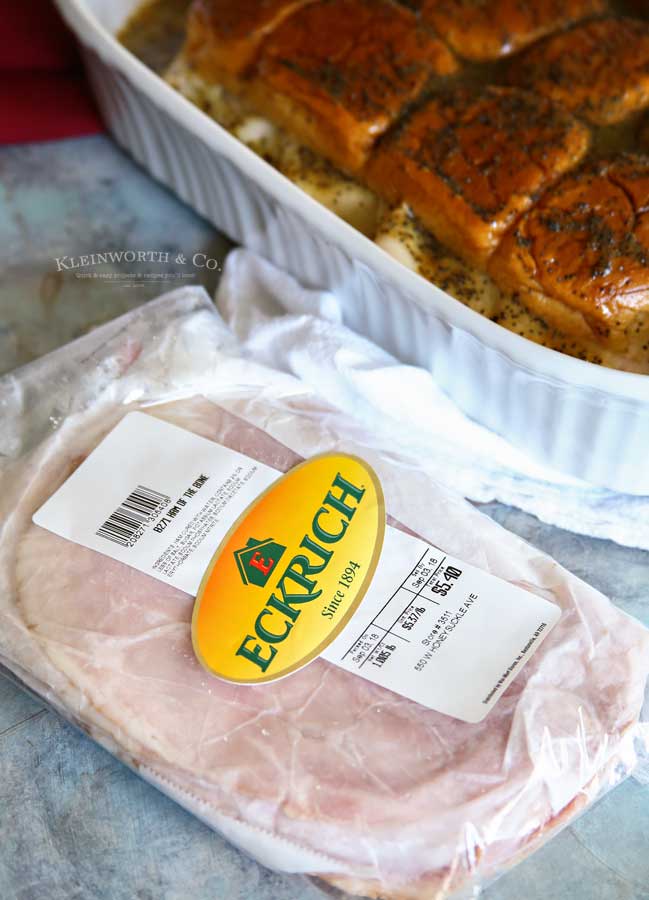 To make this recipe you will need…
sweet slider buns
swiss, provolone or pepper jack cheese
butter
brown sugar
Dijon mustard
poppy seeds
onion powder
garlic powder
Worcestershire sauce
salt & pepper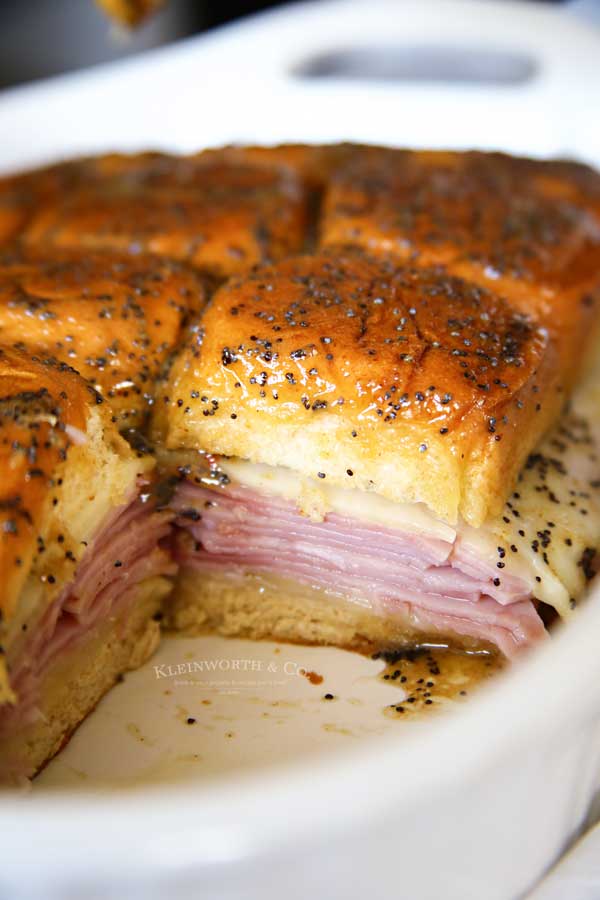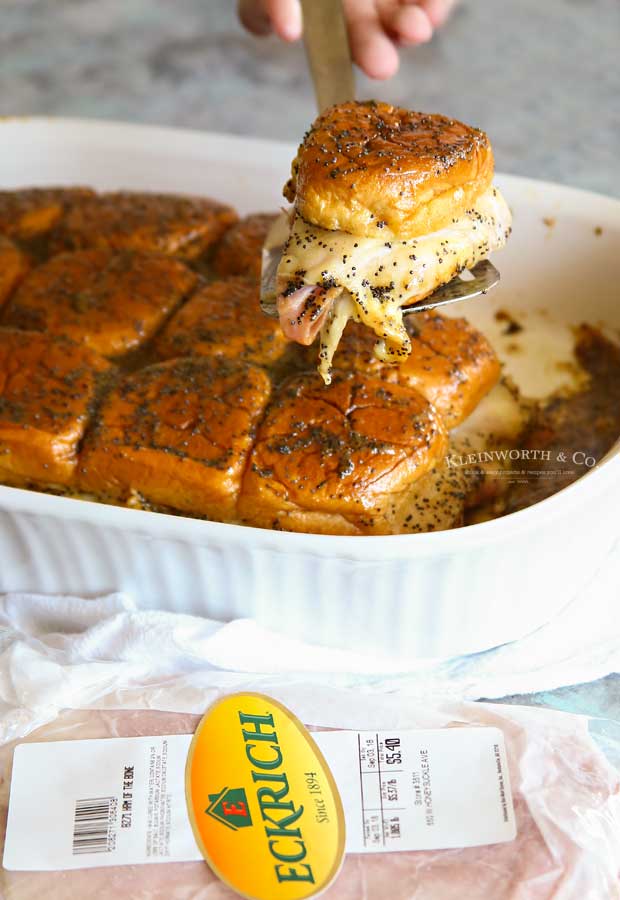 These are the most delicious sliders you'll ever make! They certainly save us so much time & are so convenient.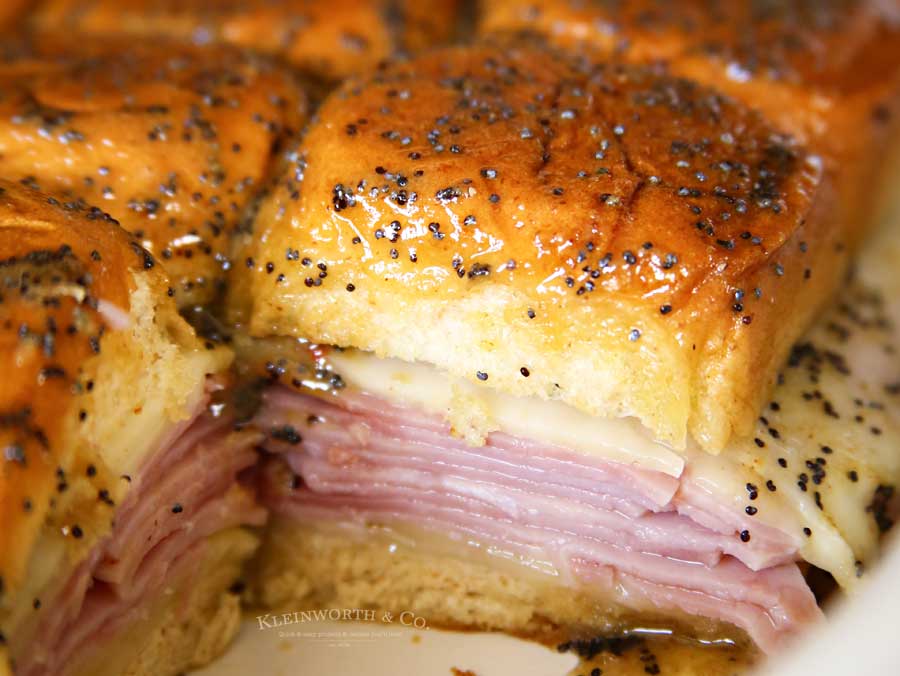 Hot Ham and Cheese Sliders

If you love this Poppy Seed Ham and Cheese Sliders recipe, you're going to love these other gameday recipes too. Please click each link below to find the easy, printable recipe!
recipe for Ham and Cheese Sliders
If you love this recipe for Poppy Seed Ham and Cheese Sliders as much as I do, please write a five star review, and be sure to help me share on facebook and pinterest!
CONNECT WITH KLEINWORTH & CO!
Be sure to follow me on my social media, so you never miss a post!
FB, Pinterest, IG, Email Subscription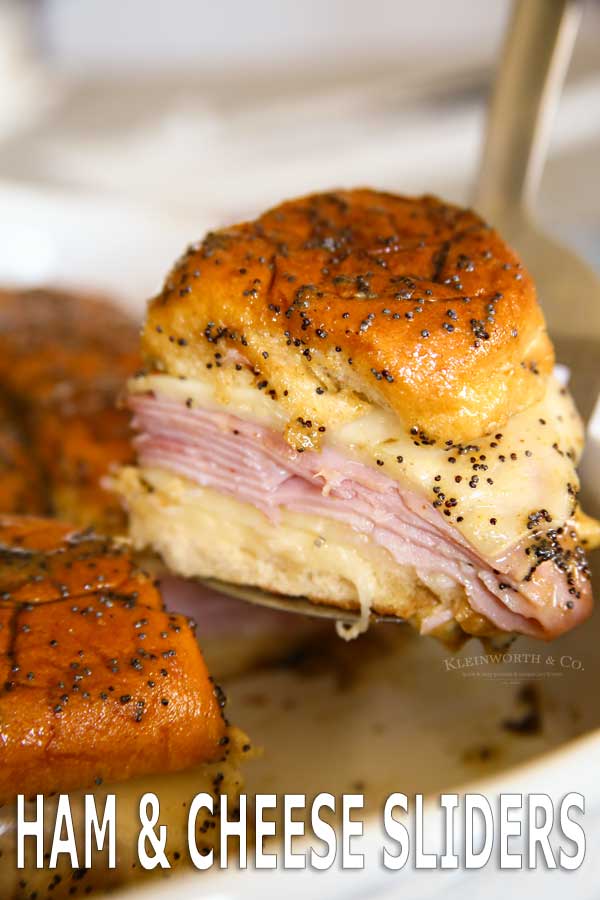 This is a sponsored post written by me on behalf of Eckrich Deli Meat. For more information about Eckrich deli meats, as well as quick and easy recipes please visit www.eckrich.com.