Crispy Baked Parmesan Ravioli are an easy appetizer recipe you'll want on your game day menu. Simple to make & done in about 30 minutes. Delicious!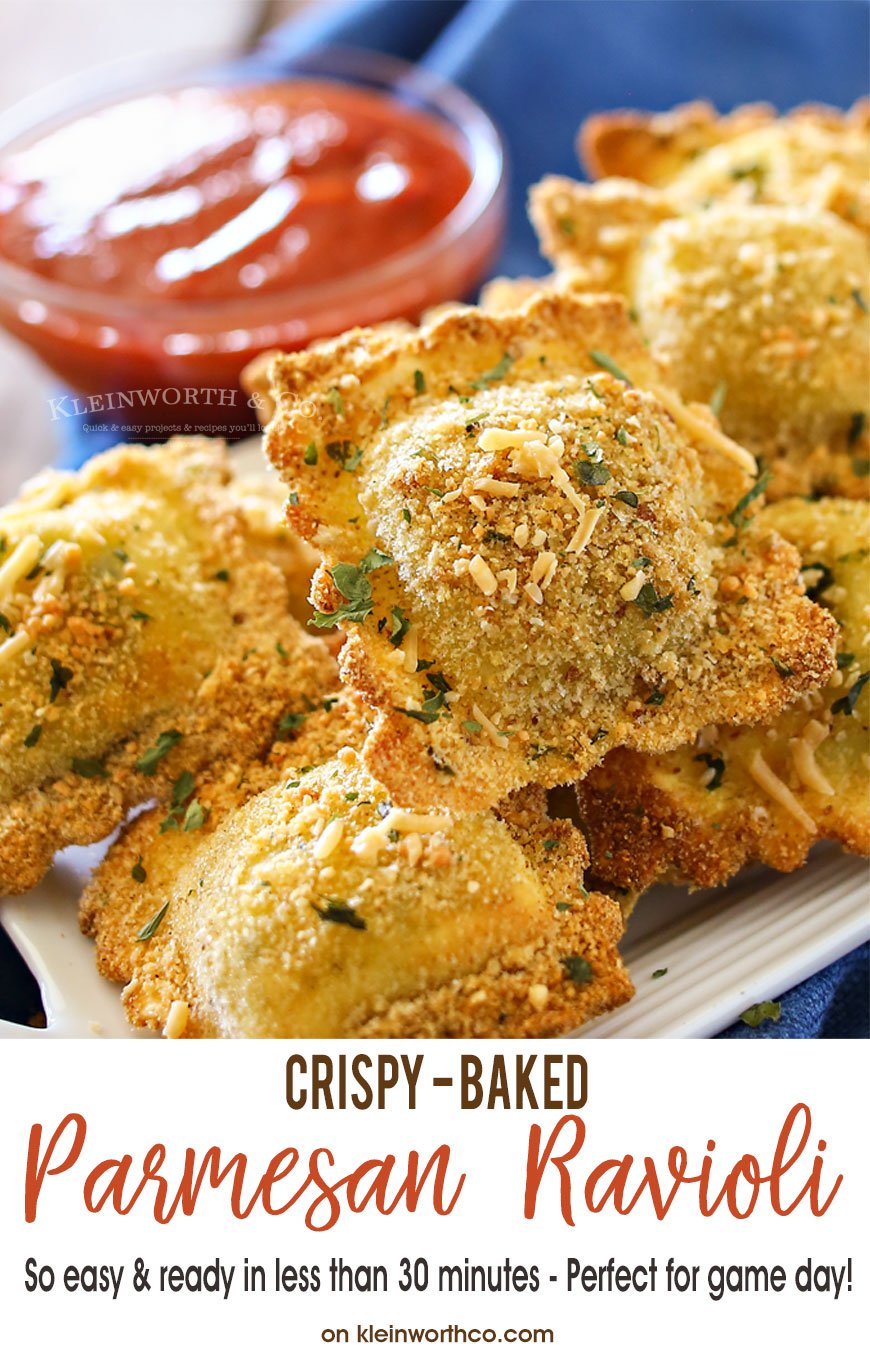 I love game day foods. I don't know why, but things like wings, cheese covered everything is just heaven on a plate for me. So when it comes to the weekend you can be sure that we are cooking up a smorgasbord of appetizers for our game day snacks. One thing I can't believe I have never shared with you before, but is an absolute favorite of mine, these Crispy Baked Parmesan Ravioli. I love how easy they are to make & that they are baked, not fried. So I can feel just a tiny bit less guilty when the day is done & the plates are empty.
Crispy Baked Parmesan Ravioli
This post contains some affiliate links. Click here to read my full disclosure policy.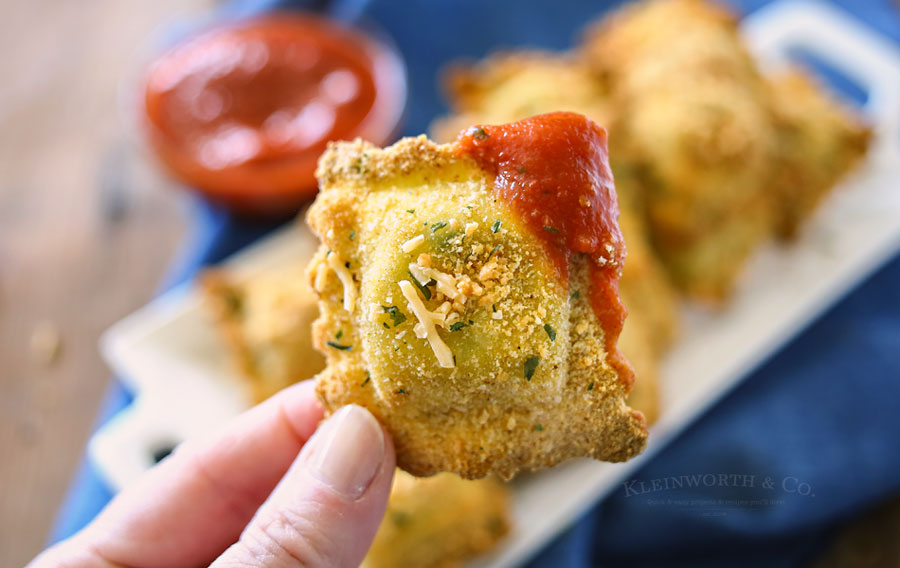 These come together in just about 30 minutes, which is great. Just a couple minutes to prep & then pop them in the oven on a big baking sheet like this one. This frees you up for all those other goodies you'll be making on game day. That's for sure! I really have a hard time sharing these with the family. They know how much I love snack foods like this, so most of the time they grab a couple & leave the rest of the party platter for me. Bless their hearts because I know they want to eat them all just as much as I do.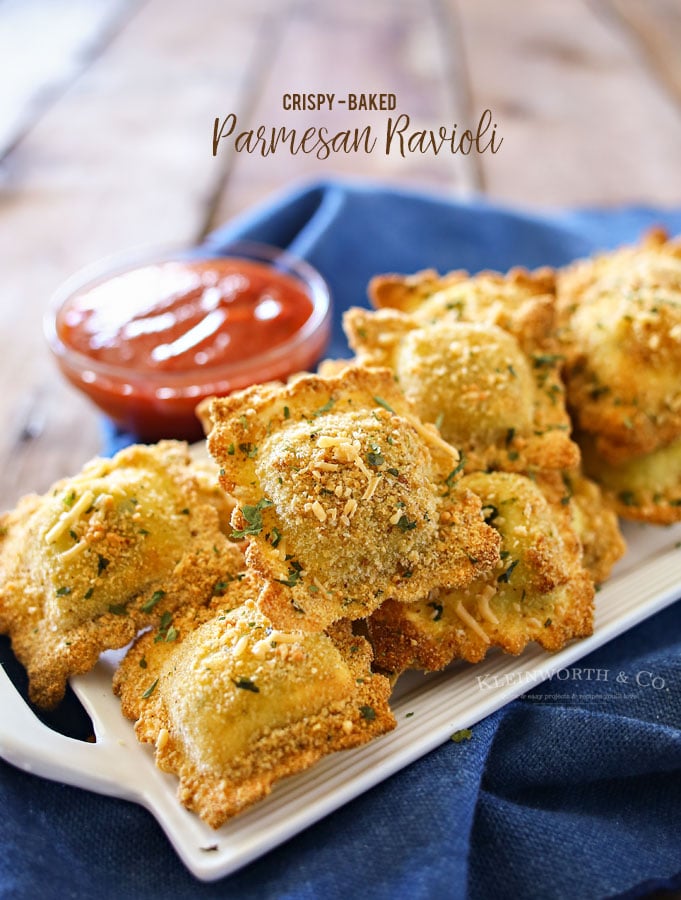 Crispy Baked Parmesan Ravioli
Crispy Baked Parmesan Ravioli
Quick & easy appetizer that's baked- not fried. Delicious!
Prep Time10 mins
Cook Time20 mins
Total Time30 mins
Servings: 20
Ingredients
1 12- oz package refrigerated ravioli
2 eggs
3 tbsp water
2 cups seasoned breadcrumbs
1 tbsp dried parsley
1 tbsp garlic powder
Cooking spray
1/4 cup shredded parmesan cheese
Marinara sauce or desired dipping sauce
Instructions
Preheat oven to 400 degrees

Line baking sheet with foil & spray liberally with cooking spray & set aside.

In a bowl, add eggs and water and whisk until evenly combined

In a separate bowl, add breadcrumbs & garlic powder

Place several ravioli in the bowl with the egg mixture at a time, and then transfer to bread crumb bowl & coat ravioli with breadcrumb mixture

Place ravioli on prepared baking sheet

Spray ravioli with cooking spray.

Sprinkle ravioli with parsley & parmesan cheese

Bake for 15-20 minutes, or until ravioli are golden brown and crisp.

Remove and serve with marinara sauce
These are the perfect snack to serve at your game day party!
If you make this recipe- please leave a link or tag me on Instagram @KleinworthCo
Looking for more game day snacks?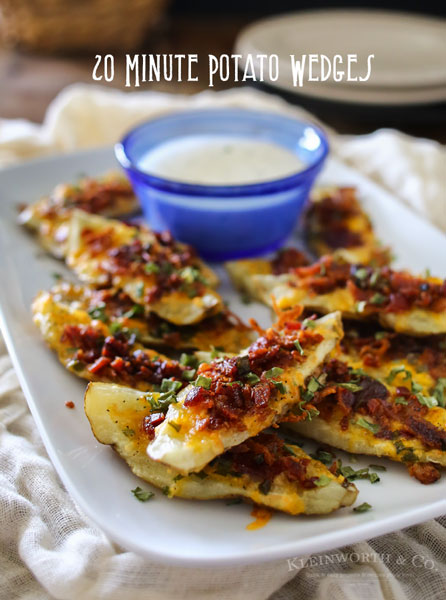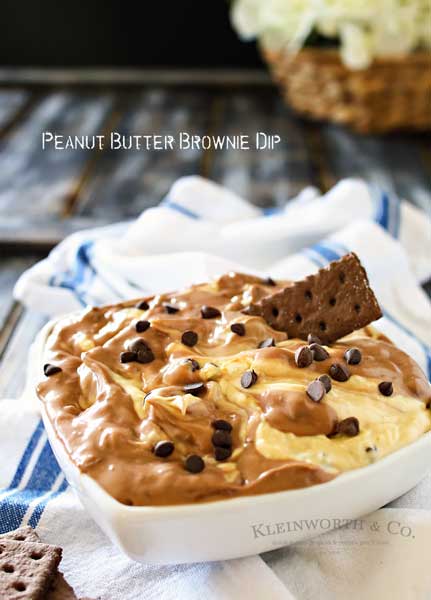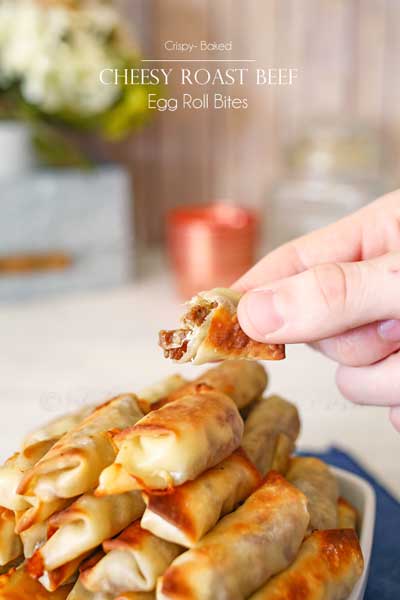 Cheesy Roast Beef Egg Roll Bites
Don't miss these great ideas from these bloggers….
Watermelon Feta Mint Skewers from Bites of Bri
Bacon Cheeseburger Meatballs from An Affair from the Heart
To see where I am linking today- visit HERE