Edible Sugar Cookie Dough is a delicious egg-free treat that is ready to enjoy in just 5 minutes. Great sugar cookie flavor, no baking required.
Growing up my mom & I would bake a lot. One thing we always did was save the last bit of cookie dough in the bottom of the mixer bowl to snack on while the cookies baked.
We also had our fair share of nibbling throughout the baking as well. We never gave a second thought to the idea that the dough had raw eggs in it.
Don't miss our Mexican Wedding Cookies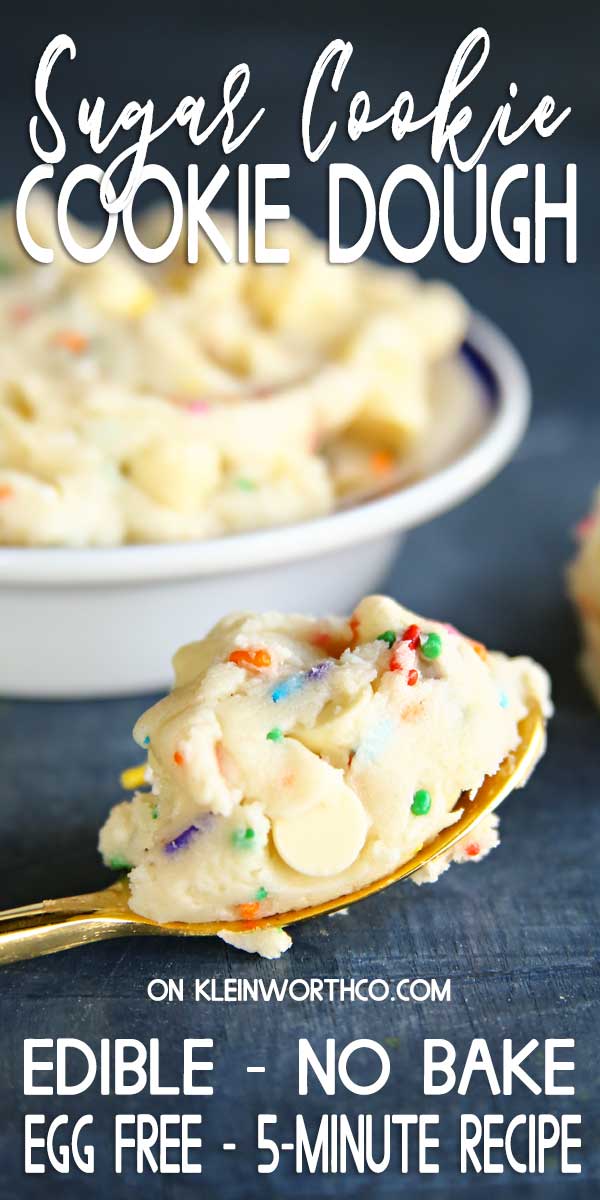 Honestly, it wasn't until my kids were little that the big freak out happened about eating raw cookie dough. I mean, the hubs would give me grief about eating the uncooked dough, but I did it anyway. It was a tradition. I couldn't make cookies without eating the dough.
Later on I never shared it with the kids. I was fully aware of the risks to myself but didn't want to risk it for my kids.
Edible Cookie Dough Sugar Cookie
This post contains some affiliate links. Click here to read my full disclosure policy.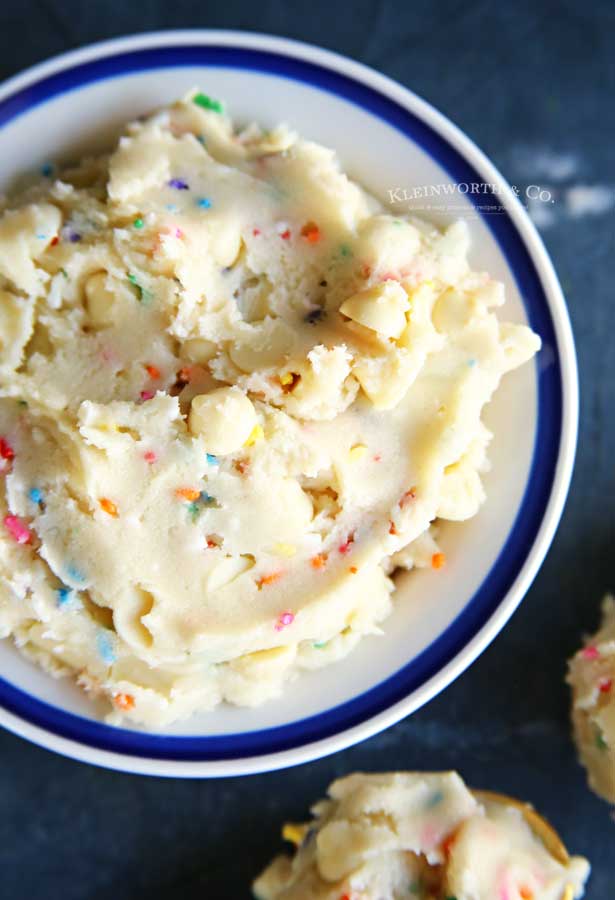 But then the world of egg-free cookie dough happened and my life was changed forever. I make more egg-free cookie dough now than I do actual cookies.
I love it, crave it and really can't seem to get enough. There are so many flavors of dough, so I never tire of it. This time I was craving sugar cookies and this dough hit the spot.
If you are a lover of cookie dough, or sugar cookies, you can't beat this super easy, 5-minute treat that is sure to have your eyes rolling to the back of your head.
Here are some commonly asked questions
Can you make this with a non-dairy milk??
Yes, absolutely, that will work just fine. If you need to use almond, coconut or oat milk, that will all work great too.
Can I use a sugar substitute?
I have not personally tried it, so I can't say how that would turn out. But if you would like to try it, I suggest a product that offers a 1:1 swap. Please let me know how it turns out.
Can this sugar cookie dough be frozen?
Yes, I do it often. Instead of freezing it in a container, I recommend either forming it into a flat square and then wrapping it tightly with plastic wrap and then foil OR double bagging it in zip-top bags before freezing.
You don't want there to be any air getting to it as it will be dry and crumbly when you thaw it to eat later. Make sure you mark the date on it before freezing and use within 2-3 months.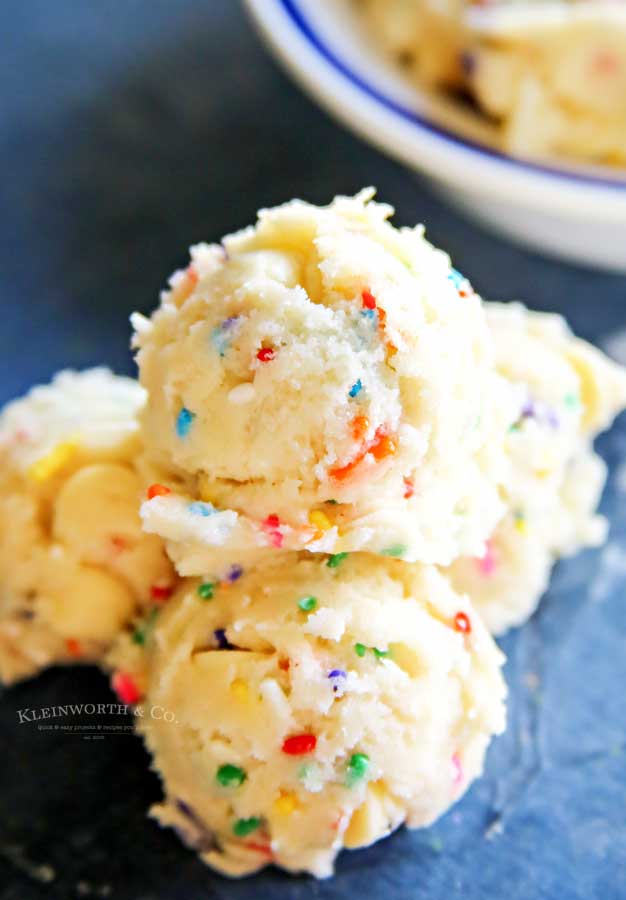 How many can this serve?
This recipe makes enough to split between my 3 kids and myself. So if you only want enough for yourself, make 1/4 of the recipe. But honestly, I would still make at least a half batch for just myself – but I have zero self-control when it comes to this stuff.
edible sugar cookie dough recipe
Can this recipe be doubled?
You can, and we do it often. That should make enough for a slumber party, serving at a backyard bbq and so much more.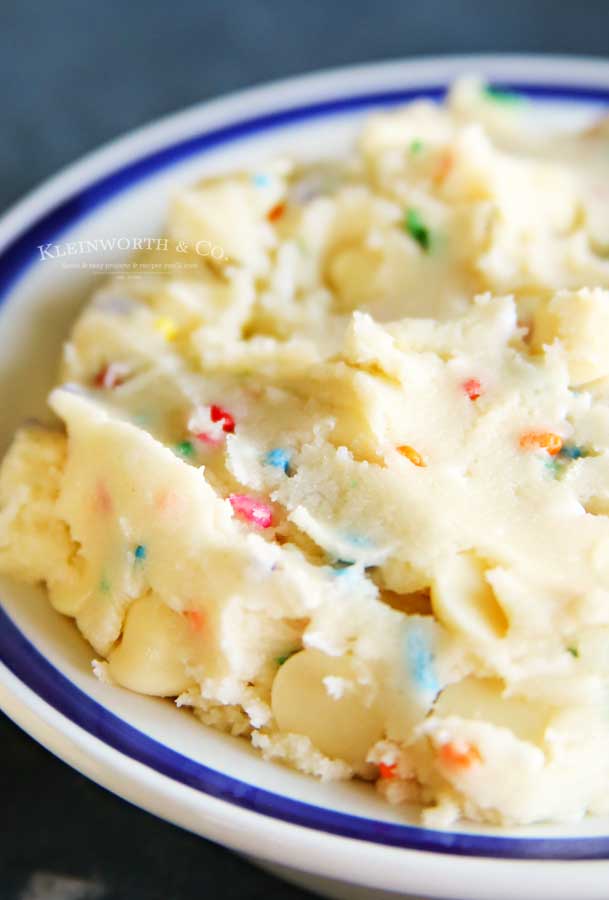 HOW DO YOU MAKE Edible Sugar Cookie Dough?
Place the butter and sugar in the mixer bowl and beat until light and creamy.
Add the vanilla and milk, stir to combine.
Slowly beat in the flour and salt until creamy.
Fold in both kinds of chocolate chips (if using) along with the sprinkles.
Enjoy immediately or refrigerate for later.
After refrigerating, let it sit at room temperature for about 10-15 minutes before serving.
What is the best way to store leftover Edible Sugar Cookie Dough?
Just keep it refrigerated for up to 7 days. As long as you don't let it sit out at room temperature for too long, this should keep well when chilled.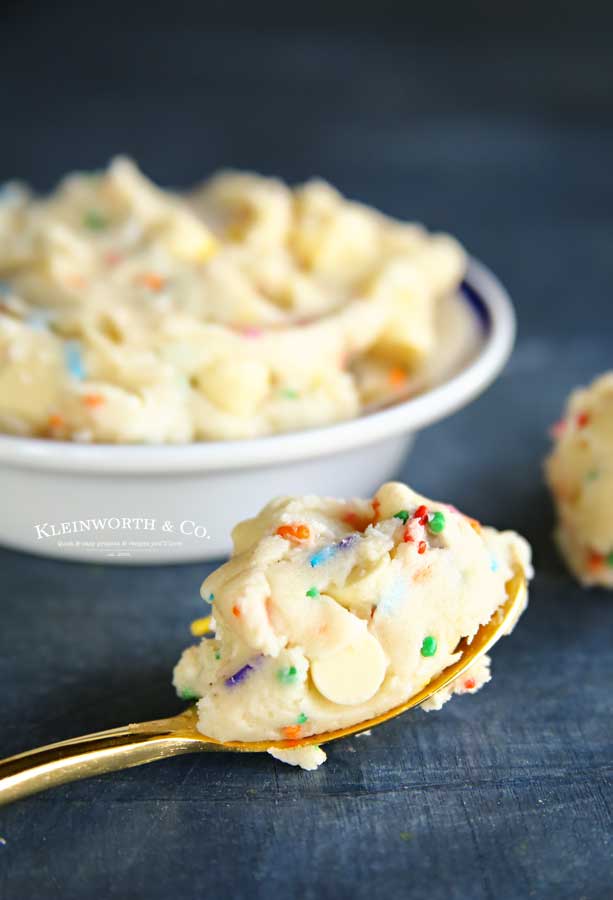 Can I use different mix-ins?
Yes, of course. This cookie dough is great with nuts, mini M&M's & candies mixed in.
To make Edible Sugar Cookie Dough you will need…
butter – room temperature
granulated sugar
vanilla extract
milk
all-purpose flour
salt
white chocolate chips
semi-sweet or mini chocolate chips (optional)
rainbow sprinkles
Can I use different flour?
Yes, of course. This cookie dough can be made with gluten-free flour (I like this 1:1 gluten-free flour by Bob's Red Mill) almond flour or coconut flour if needed.
Should I use salted or unsalted butter?
This is really a personal preference. If you are happy with just a little salt to cut the sweetness, then use unsalted butter. I usually use whatever I have on hand, because when the craving strikes, I really don't care about what butter I have. But I typically keep salted butter on hand & I love that little bit of extra salt with the sweet in this dough.
Can I bake this cookie dough into cookies?
Nope. This dough doesn't contain any of the ingredients you would need to get this dough to bake into cookies.
Things like levening agents like baking soda & eggs are needed in regular cookie dough. They are what hold the dough together when it is heated & what makes the cookies rise & keep their shape.
If you were to bake this dough it would result in a puddle of goo on your baking pan.
What are the best sprinkles for this dough?
This is important – just because the package says "sprinkles" doesn't necessarily mean that it is in-fact sprinkles.
I see a lot of people using colored sanding sugar that is labled as sprinkles.
This will not work as well because when that sugar gets wet – like when mixed into a moist dough or when placed in the refrigerator, it will sweat & the color will bleed out.
eggless sugar cookie dough
Products I love when making Edible Sugar Cookie Dough…
This Edible Sugar Cookie Dough recipe is SUPER EASY and delicious – and if you're like me, then you maybe already have some of these items on hand OR maybe you have never made eggless cookie dough before, & you might be a bit hesitant – but you're going to love it. I have made a list below of the things I absolutely can't live without when it comes to making this cookie dough recipe.
If you love this Easy Edible Sugar Cookie Dough recipe, you're going to love these other treats too. Please click each link below to find the easy, printable recipe!

sugar cookie edible dough
If you love this recipe for Edible Sugar Cookie Dough as much as I do, please write a five star review, and be sure to help me share on facebook and Pinterest!
This is absolutely heavenly!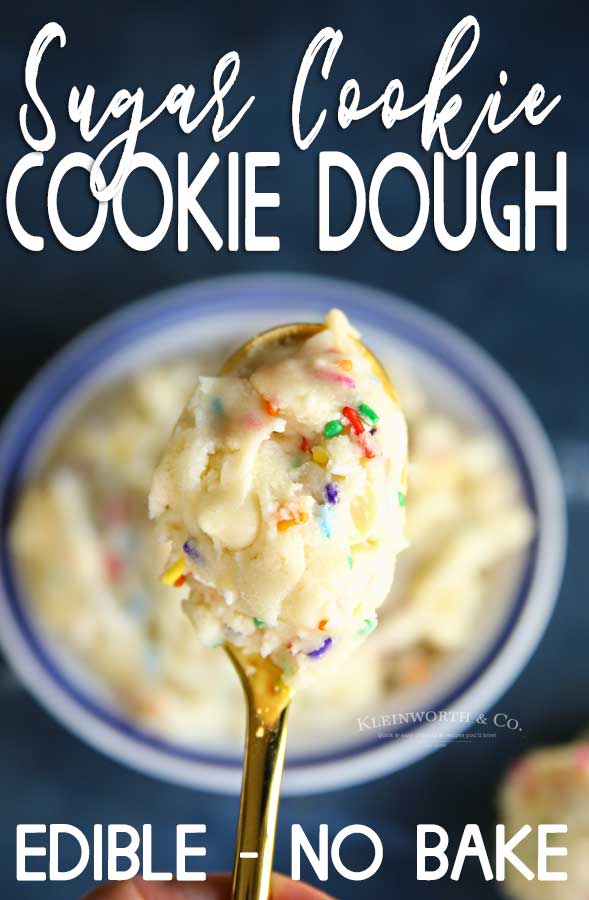 CONNECT WITH KLEINWORTH & CO!
Be sure to follow me on my social media, so you never miss a post!
FB, Pinterest, IG, Email Subscription
Reader Interactions