Rainbow Sprinkle Cookies are a soft and chewy dropped sugar cookie recipe coated in rainbow nonpareils. They're perfect for any celebration – including St. Patrick's Day, Mother's Day, and of course, BIRTHDAYS!
Raise your hand if you love a soft and chewy sugar cookie! I'm here raising both my hands because those types of cookies are just what I can't get enough of.
Add those super cute rainbow sprinkles and I'm in heaven. They are so fun and they definitely make me want to keep having one after another.
Don't miss my St. Patrick's Day Cake Mix Cookie Bars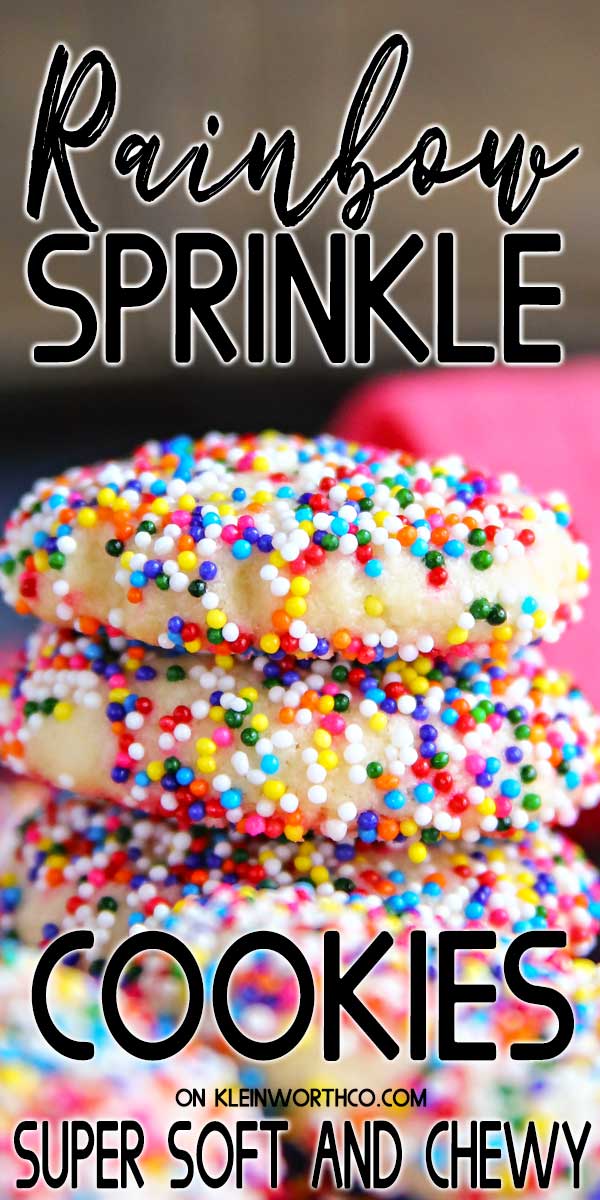 Making cookies is one of my favorite things to do. I spent so much time baking with my mom growing up.
Those are definitely my fondest memories with her. I'm so happy that my kids had a few years with her so they could remember those special moments baking together too.
Sprinkle Cookies
This post contains some affiliate links. Click here to read my full disclosure policy.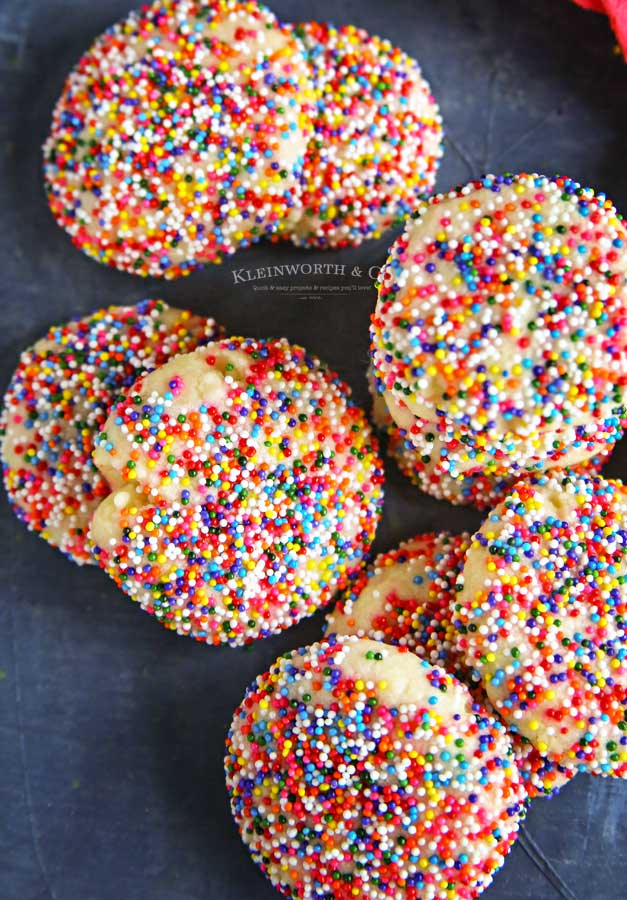 I really love these cookies because they really are perfect for any celebration. Rainbows always remind me of birthday parties, first and foremost.
But these are also so much fun for a St. Patrick's Day celebration too. Whether it is an office party or a school celebration, these are everyone's favorite.
Now, while these aren't a no-chill cookie recipe, the chill time is much faster than with traditional cookie recipes that call for chilling.
While most require several hours or overnight, these only take 15 minutes in the freezer before they are ready to be baked.
Here are some commonly asked questions
Why do I have to chill the dough?
Chilling helps the cookies hold their shape and not spread out and flatten too much. Flat crunchy cookies are not what we are after here. We want these to be thick and soft and chewy. So please don't skip the chilling process.
Can I use a sugar substitute?
I have not personally tried it, so I can't say how that would turn out. But if you would like to try it, I suggest a product that offers a 1:1 swap. Please let me know how it turns out.
Can these cookies be frozen after baking?
So, I don't recommend it only because the dye on the sprinkles tends to bleed when they get moist. So the cookies won't be as aesthetically pleasing once that happens. But if you don't mind that, please wrap in an airtight container and keep for up to 3 months in the freezer.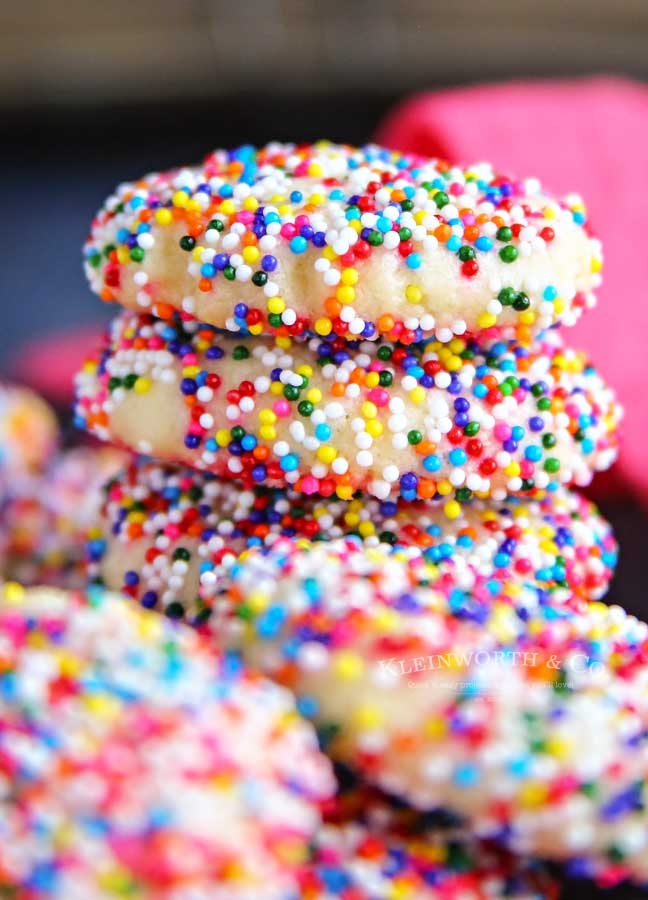 How many can this serve?
This recipe makes about 35 cookies, so it will depend on how many people eat at a time. It will also vary a bit on how large or small you make the cookies.
recipe for sprinkle cookies
Can this recipe be doubled?
Yes, doubling this recipe works great and I highly recommend doing it if you are giving these as a gift or making them for a party. These are a favorite and they do go quickly.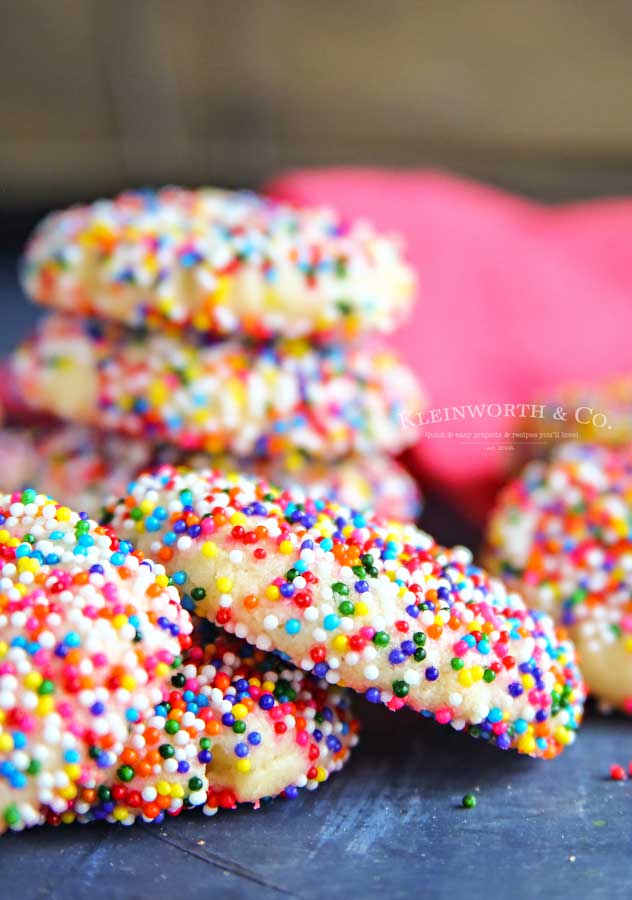 HOW DO YOU MAKE Rainbow Sprinkle Cookies?
Beat the butter & sugar until fluffy.
Beat in the egg & extract.
Add the flour & salt to the butter mixture.
Shape the dough into 1-inch balls; roll in the sprinkles.
Place the rolled cookies on a paper plate & flatten each slightly with the bottom of a glass.
Top with a pinch of additional sprinkles.
Freeze until firm, approximately 15 minutes.
Preheat the oven to 350° & line the baking sheets with parchment paper.
Remove the cookies from the freezer & place at least 2 inches apart on the prepared pans.
Bake until the edges are lightly browned.
Let cool on the pans for at least 2 minutes.
Remove from the pans, & let cool completely on a wire rack.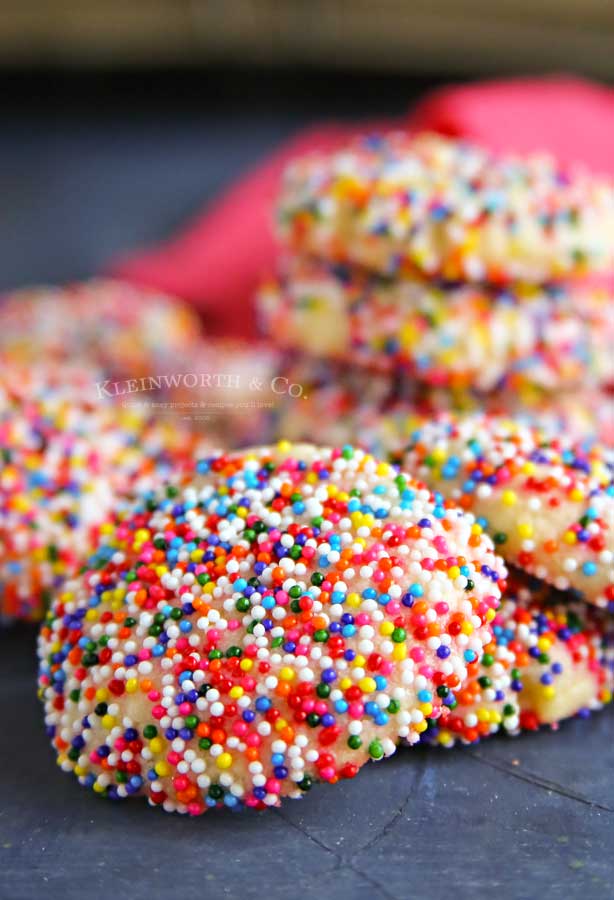 What is the best way to store leftover sprinkle cookies?
Just keep in an airtight container for up to 4 days. I don't recommend refrigeration because the humid air tends to make the sprinkles sweat.
What type of sprinkles do you recommend?
For these cookies, you absolutely must use nonpareils.
Now I know that when you go to the store there are things like sanding sugar that is labeled as sprinkles. Those are not sprinkles.
Please make sure to use nonpareils as they hold their color better and their shape and won't soak into the dough as easily.
To make Rainbow Sprinkle Cookies you will need…
butter- softened
granulated sugar
egg
vanilla extract
all-purpose flour
kosher salt
Rainbow-colored sprinkles / Rainbow Nonpareils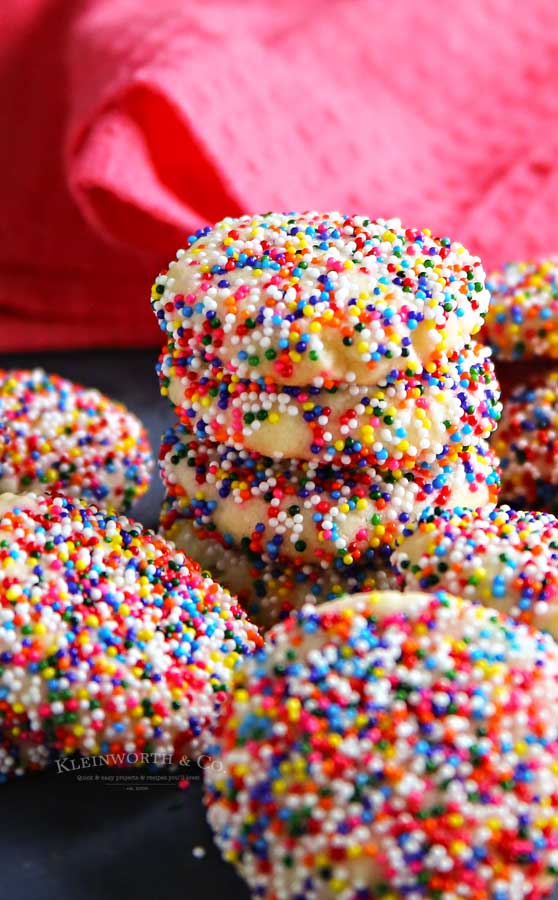 sprinkle sugar cookies
Products I love when making Rainbow Sprinkle Cookies…
This birthday inspired Sprinkle Cookies recipe is SUPER EASY and delicious – and if you're like me, then you maybe already have some of these items on hand OR maybe you have never made sprinkle cookies before, & you might be a bit nervous – but you're going to love them. I have made a list below of the things I absolutely can't live without when it comes to making this cookie recipe.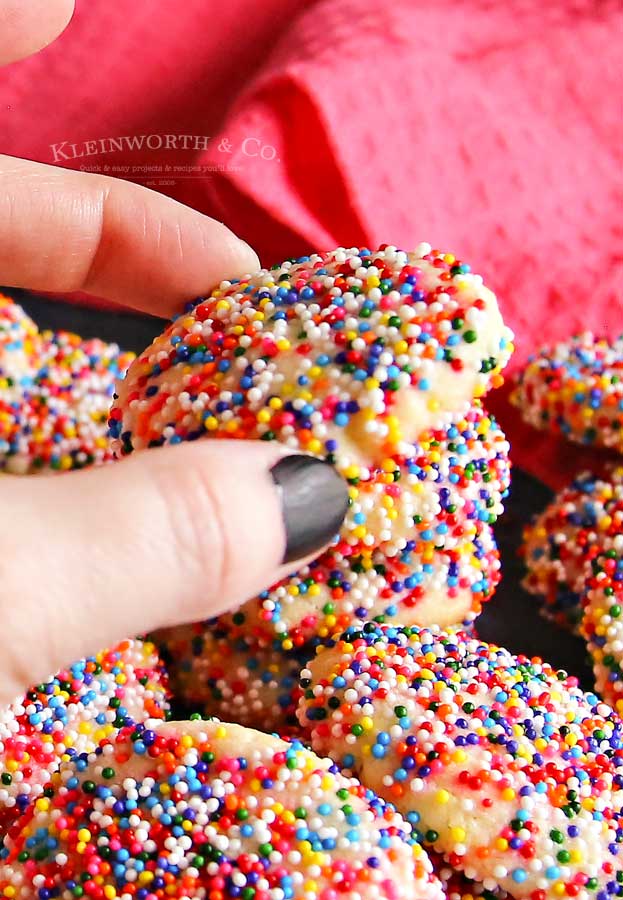 If you love this Easy Rainbow Sprinkle Cookie recipe, you're going to love these other cookie recipes too. Please click each link below to find the easy, printable recipe!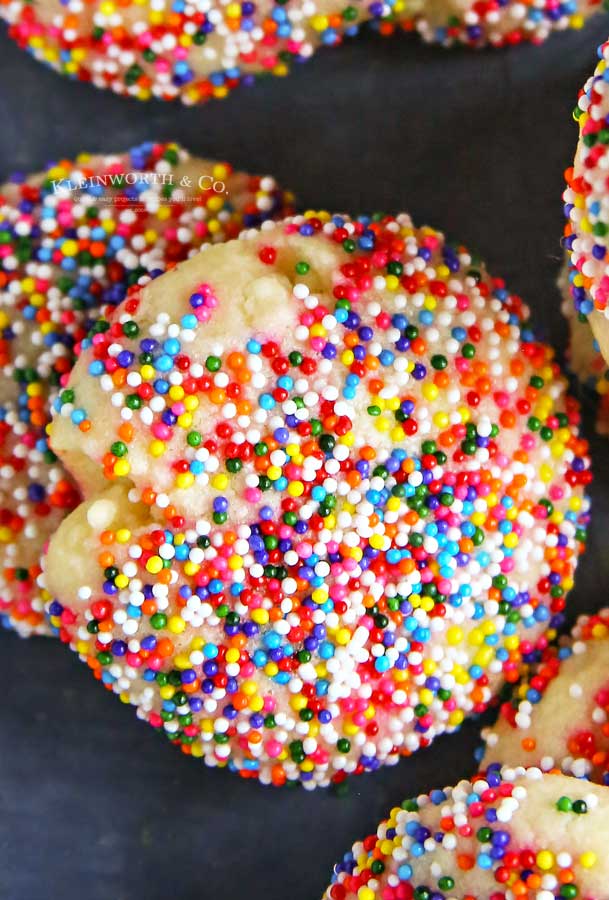 sugar cookies with sprinkles
If you love this recipe for Homemade Sprinkle Cookies as much as I do, please write a five-star review, and be sure to help me share on Facebook and Pinterest!
These are so soft and chewy- I know you'll love them!!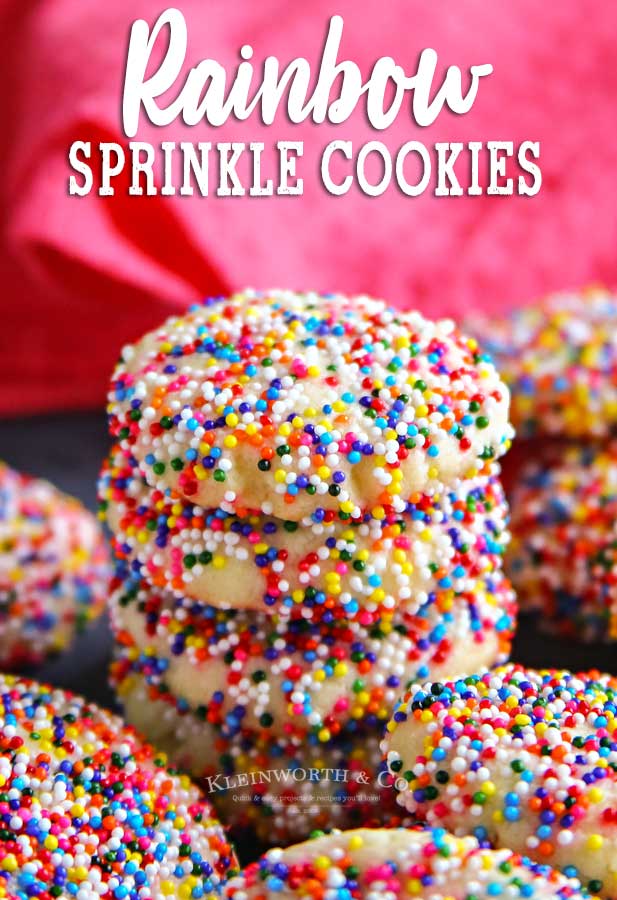 CONNECT WITH KLEINWORTH & CO!
Be sure to follow me on my social media, so you never miss a post!
FB, Pinterest, IG, Email Subscription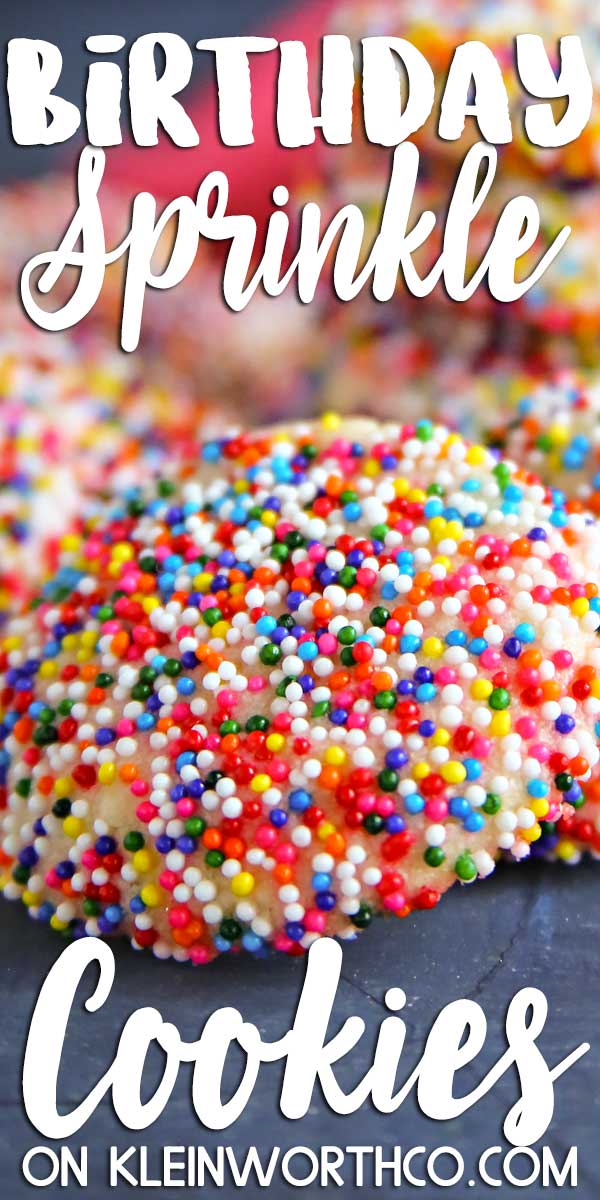 Reader Interactions