If you have been searching for the perfect cookie dough recipe, this Chocolate Chip Cookie Dough (made without eggs) has the closest taste to the real thing.
Do you love cookie dough? I never seem to be able to curb the craving. But I know I'm not alone because the cookie dough craze has taken hold and it seems everyone is in love.
I grew up taking my chances and snacking on the raw dough while I made each batch of cookies. The hubs gave me so much crap for doing it but I didn't care. So I am super excited that eggless cookie dough is a thing now and I can enjoy it whenever I want without guilt.
Scroll to the bottom for the Printable Recipe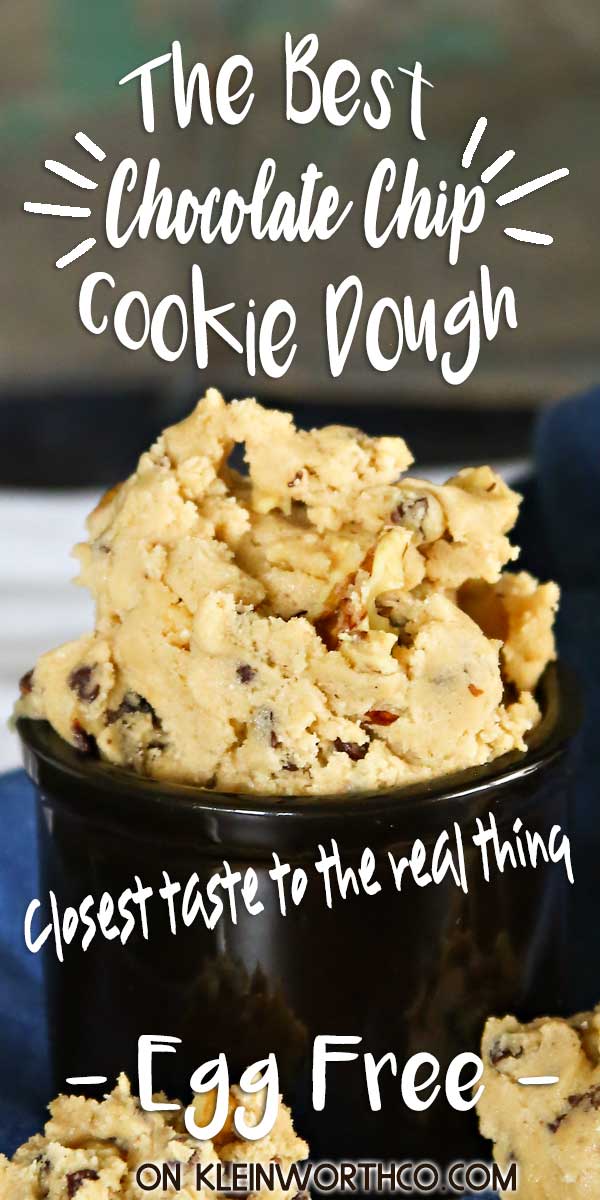 I have many cookie dough recipes on this site. I love them all. But none of them have that same flavor and consistency that I crave. I wanted it to be as close to what I would enjoy while making cookies.
That can be a difficult thing when omitting the eggs because it is those eggs that give the dough that deliciously creamy texture. So I have been working tirelessly, making batch after batch (& gaining pound after pound during taste tests) trying to get it just right.
edible cookie dough
This post contains some affiliate links. Click here to read my full disclosure policy.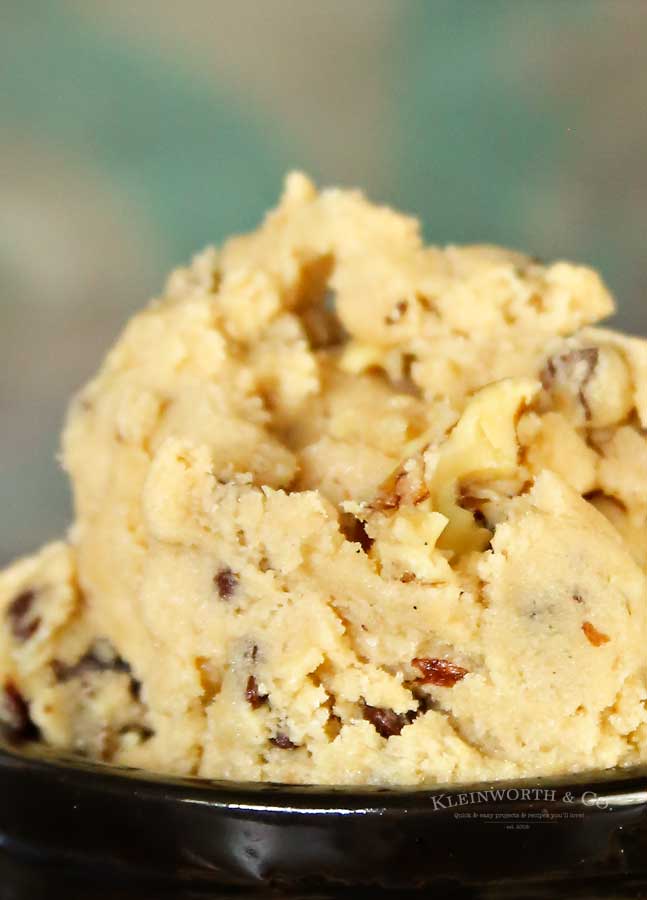 After countless batches, I finally created the PERFECT cookie dough that is as close to the real thing without those pesky eggs making it unsafe to enjoy.
I can't tell you just how overjoyed I am that I have created this base recipe for cookie dough and it definitely cures those cravings when they come on strong. I think you're going to LOVE IT!
Here are some commonly asked questions
Can I use a sugar substitute?
I have not tried it with sugar substitutes just yet, so I can't say how that would turn out. But if you would like to try it, I suggest a product that offers a 1:1 swap. Please let me know the results.
Can this chocolate chip cookie dough be frozen??
Yes, you can freeze this. Instead of freezing it in a container, I recommend either forming it into a flat square and then wrapping it tightly with plastic wrap and then foil OR double bagging it in zip-top bags before freezing.
You don't want there to be any air getting to it as it will be dry and crumbly when you thaw it to eat later. Make sure you mark the date on it before freezing and use within 2-3 months.
Can you make this with non-dairy milk?
Yes, absolutely, that will work just fine. If you need to use almond, coconut, or oat milk, that will all work great too.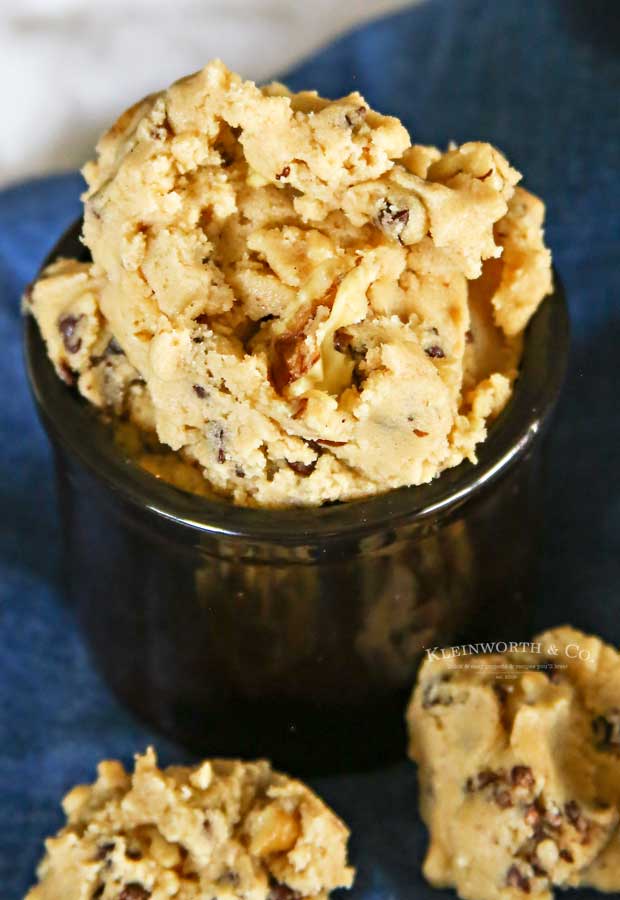 How many can this serve?
This recipe makes about 2 cups, so it will depend on how you serve it. I usually divide this between the kids and myself for 4- half-cup servings.
no bake cookie dough
Can this recipe be doubled?
You can, and that is a perfect option if you want to have some to last all week. The double batch will still fit in the mixer bowl without it being too much.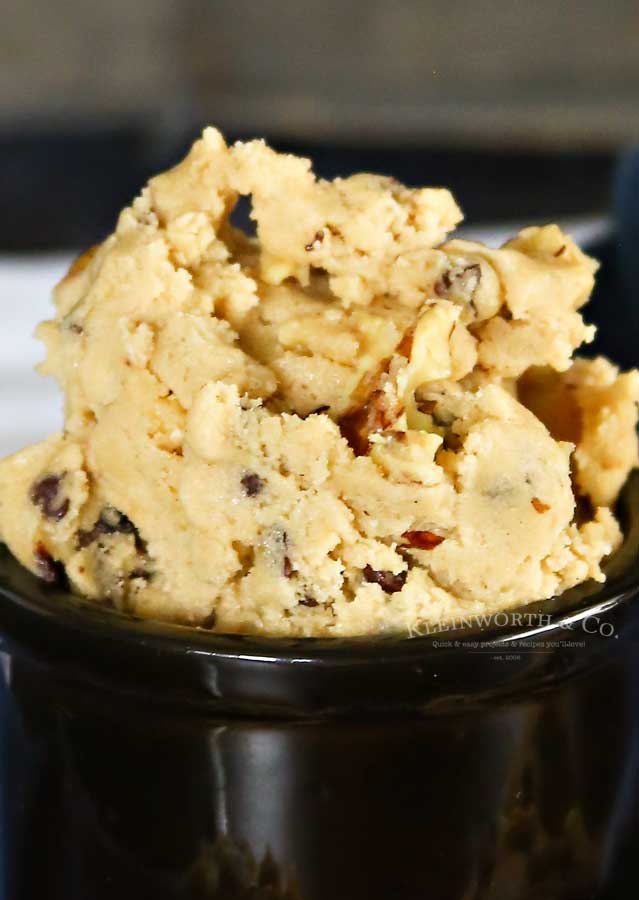 HOW DO YOU MAKE Chocolate Chip Cookie Dough?
Combine the butter, sugar and brown sugar in a mixer bowl and beat well until creamy and smooth.
Add in the flour, salt, vanilla and milk and beat until fully incorporated.
Fold in the chocolate chips and walnuts.
Serve immediately or refrigerate until serving.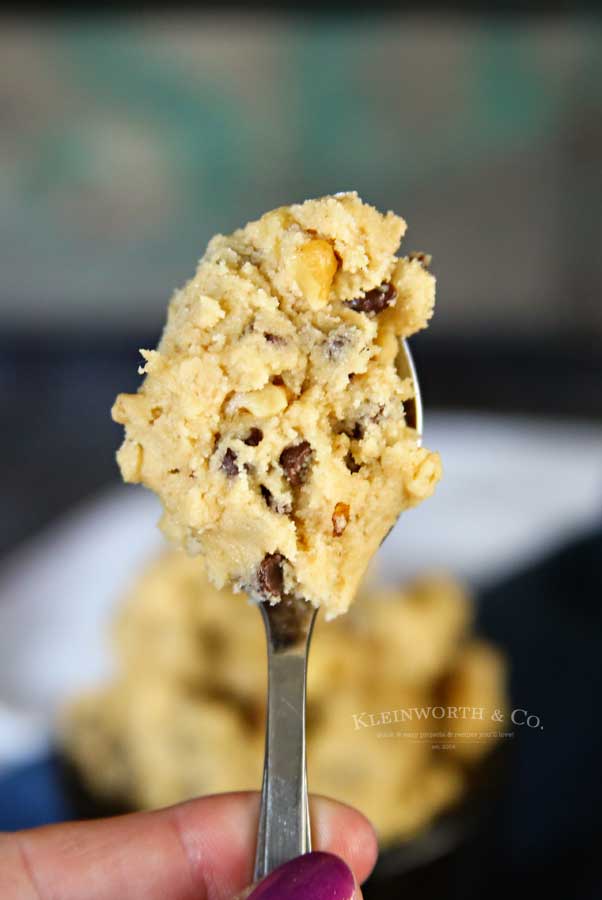 What is the best way to store leftover Edible Chocolate Chip Cookie Dough??
Just keep it refrigerated for up to 7 days. As long as you don't let it sit out at room temperature for too long, this should keep well when chilled.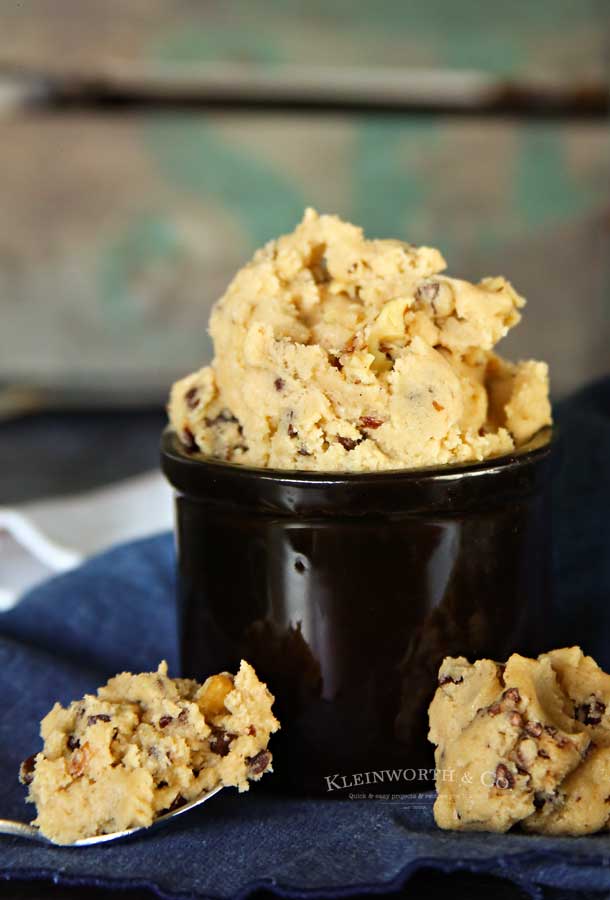 Can I use different mix-ins?
Yes, of course. This cookie dough is great with another type of nuts, mini M&M's & candies mixed in.
To make Homemade Chocolate Chip Cookie Dough you will need…
butter
granulated sugar
brown sugar
all-purpose flour
salt
vanilla extract
milk
mini chocolate chips
chopped walnuts
Can I use different flour?
Yes, of course. This cookie dough can be made with gluten-free flour (I like this 1:1 gluten-free flour by Bob's Red Mill) almond flour or coconut flour if needed.
Should I use salted or unsalted butter?
This is really a personal preference. If you are happy with just a little salt to cut the sweetness, then use unsalted butter. I usually use whatever I have on hand because when the craving strikes, I really don't care about what butter I have. But I typically keep salted butter on hand & I love that little bit of extra salt with the sweet in this dough.
Can I bake this cookie dough into cookies?
Nope. This dough doesn't contain any of the ingredients you would need to get this dough to bake into cookies.
Things like leavening agents like baking soda & eggs are needed in regular cookie dough. They are what hold the dough together when it is heated & what makes the cookies rise & keep their shape.
Can I use regular chocolate chips?
You bet. I like using mini chocolate chips because they are easier to chew. But that is a personal preference.
What about the raw flour?
I understand that some are concerned about the bacteria in the flour. This isn't a concern for me, so I usually skip this step. However…
If you are concerned about killing bacteria in the flour, you can either pour the flour onto a baking sheet & bake in a 350-degree oven for 5 minutes or place on a microwave-safe plate & microwave for at least 1-2 minutes or until it reaches 160 degrees before adding it to your dough mixture.
easy cookie dough
Products I love when making Chocolate Chip Cookie Dough…
This Chocolate Chip Cookie Dough recipe is SUPER EASY and delicious – and if you're like me, then you maybe already have some of these items on hand OR maybe you have never made egg-free edible cookie dough before, & you might be a bit nervous – but you're going to love it. I have made a list below of the things I absolutely can't live without when it comes to making this cookie dough recipe.
If you love this Easy Chocolate Chip Cookie Dough recipe, you're going to love these other treats too. Please click each link below to find the easy, printable recipe!
homemade cookie dough
If you love this recipe for Homemade Chocolate Chip Cookie Dough as much as I do, please write a five-star review, and be sure to help me share on Facebook and Pinterest!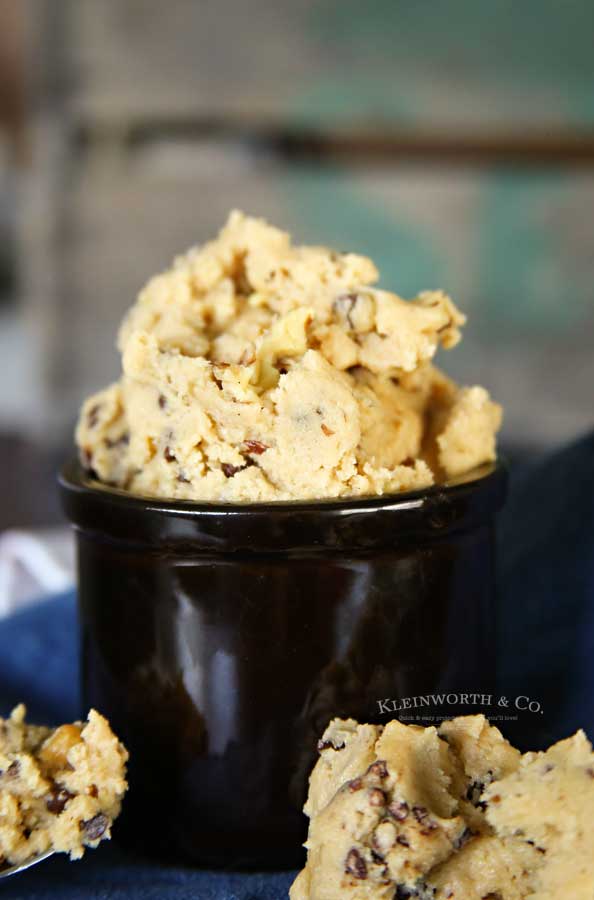 CONNECT WITH KLEINWORTH & CO!
Be sure to follow me on my social media, so you never miss a post!
FB, Pinterest, IG, Email Subscription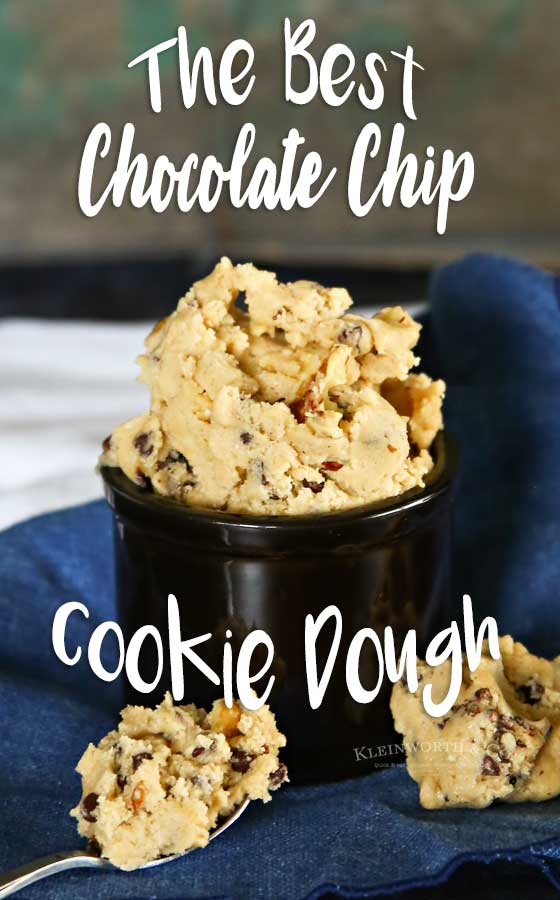 Reader Interactions