Patriotic Cookie Dough Brownie Bars are thick and fudgy brownies topped with edible cookie dough & patriotic M&M's for a super delicious holiday treat.
I sure love a good brownie. I can't get enough, so thick and fudgy. But then adding edible cookie dough to the top makes my heart go pitter-patter.
But then we start talking about patriotic M&M's and I go crazy. This time of year is my favorite and I can't get enough of all that red, white and blue.
Scroll to the bottom for the Printable Recipe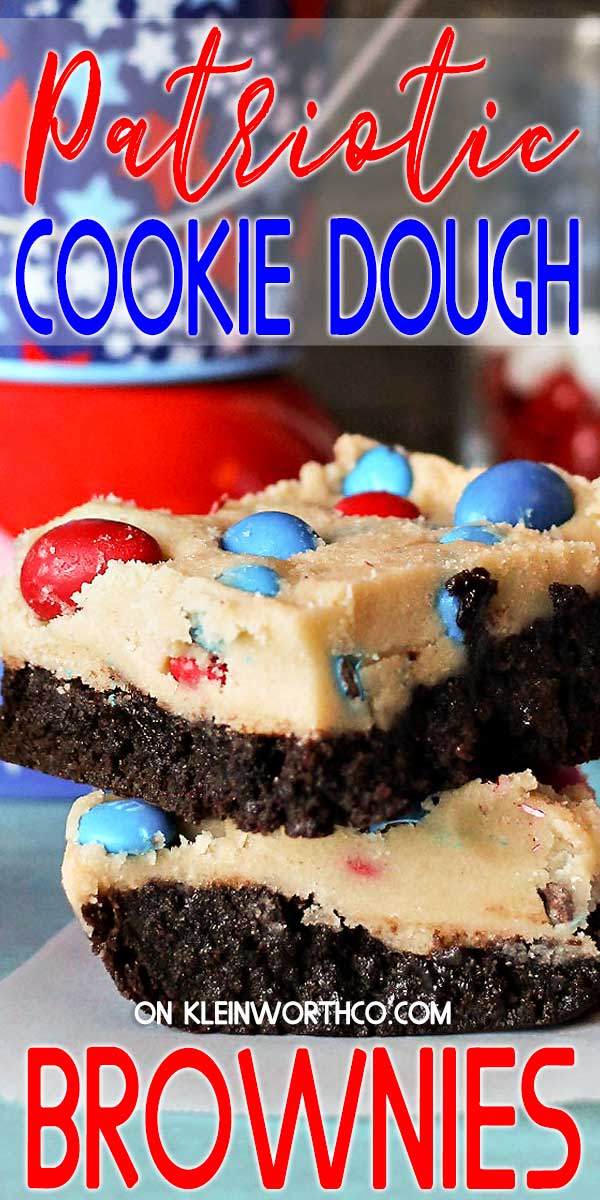 I really love making patriotic desserts and these brownies are no different. They make a great treat to put out at your Memorial Day backyard BBQs, 4th of July parties, or even the holiday office party.
Not only are they super easy, but everyone goes nuts for them too.
cookie dough brownies
This post contains some affiliate links. Click here to read my full disclosure policy.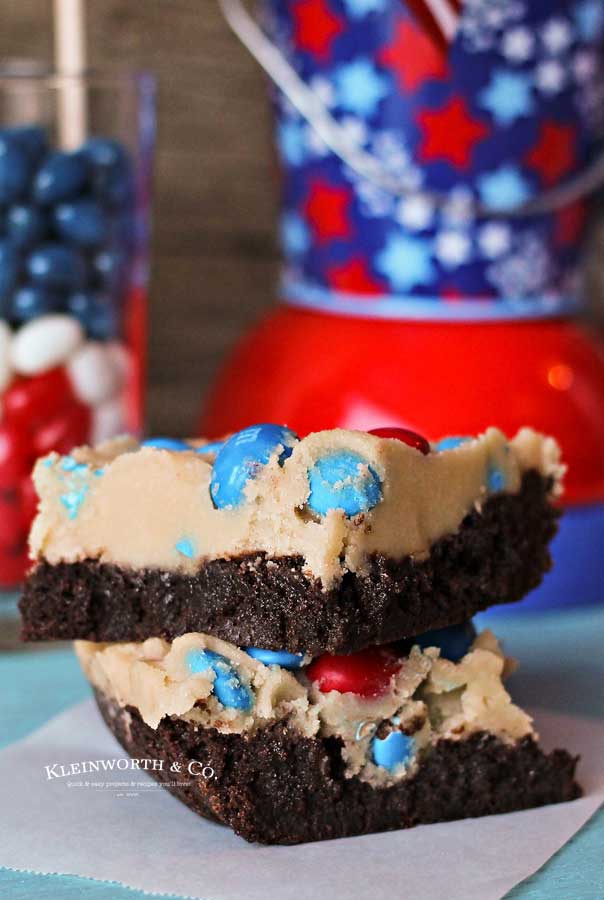 Growing up my mom and I never added anything to our brownies. It was all we could do to get them baked and cooled just enough for us to dive on in.
It wasn't until well after I had kids that I ever even tried a frosted or decorated brownie and my life has never been the same.
But these aren't just any decorated brownie. These are topped with cookie dough. The edible kind without eggs. So no worries there.
Honestly, I never worried about the eggs growing up. But I'm happy that I have recipes that give me the ability to enjoy that cookie dough flavor I crave without having to worry about the eggs now.
Here are some commonly asked questions
Can I use boxed brownie mix?
Yes, absolutely, that will work just fine. It is a real time saver.
Can I use a sugar substitute?
I have not personally tried it, so I can't say how that would turn out. But if you would like to try it, I suggest a product that offers a 1:1 swap. Please let me know how it turns out.
Can these brownies be frozen?
Yes, I do it often. But make sure to do it before you add the M&M's. They tend to sweat when in a moist environment and the color bleeds. This makes for very unattractive treats – so just add those when you are ready to serve. The ones mixed in should be fine since they are not exposed to the moist air.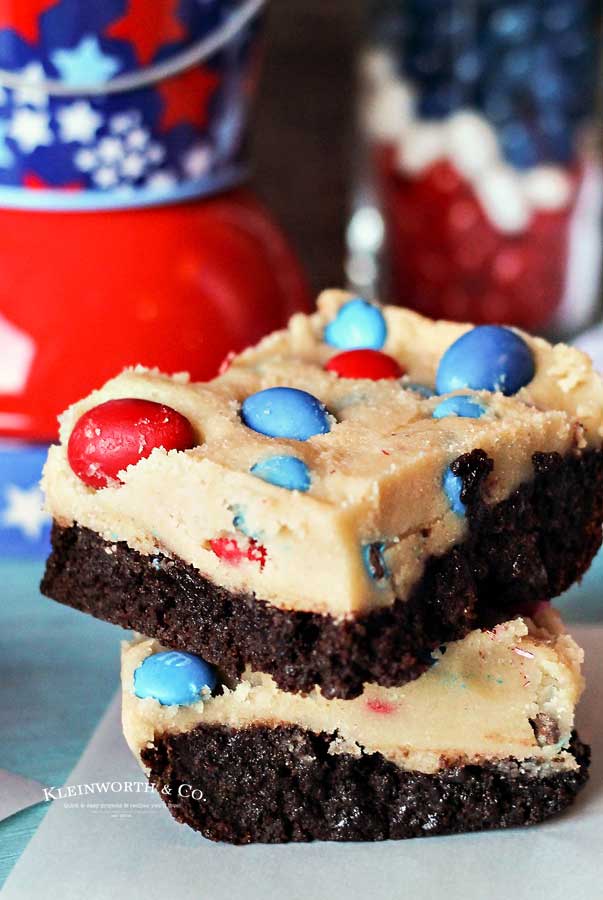 How many can this serve?
This recipe makes about 16 small brownies. But really, it is going to depend on how you cut the brownies. I mean, if it were me, 8×8 is almost personal size -so that would mean a serving of ONE. No joke.
cookie dough brownie recipe
Can this recipe be doubled?
You can, and we do it often. Just make the brownies in a 9×13 pan instead of the 8×8. You might need to bake them a bit longer, so just watch them as the time gets closer.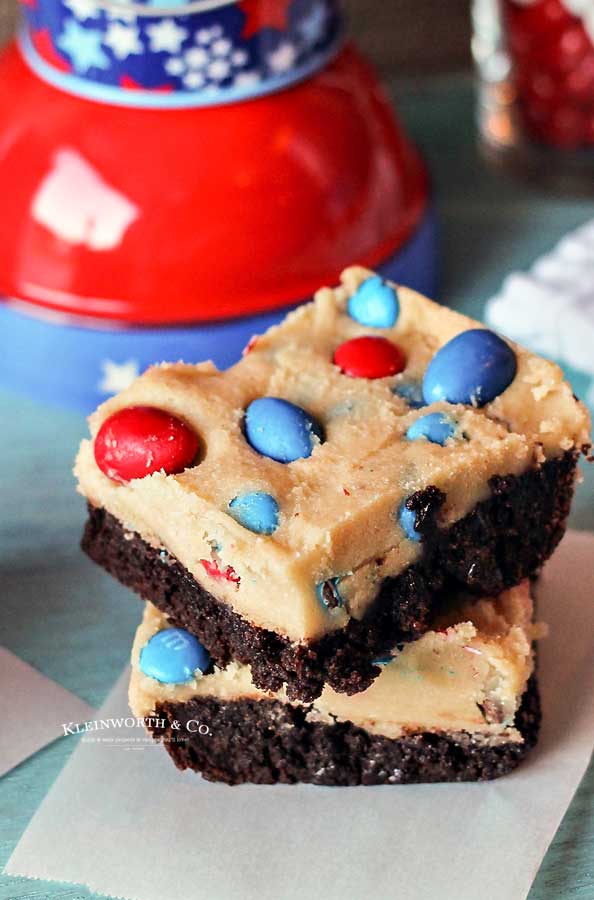 HOW DO YOU MAKE Patriotic Cookie Dough Brownie Bars?
Preheat oven to 350 degrees.
Line a 8×8 pan with parchment paper.
In a medium microwave-safe bowl, combine the dark and semi-sweet chocolate, the butter, and the coffee granules.
Cover loosely & microwave 30 seconds, stir & microwave another 15 seconds more to melt the butter & chocolate.
Add the sugars, stir until completely dissolved. Let the mixture cool to room temperature.
Add in the eggs.
Fold in the flour, cocoa, salt, & vanilla just until all white streaks are gone.
Pour into prepared pan.
Bake 28-30 minutes or until a toothpick test is clean.
Refrigerate the brownies to rapidly cool them so it is easier to add the cookie dough.
While the brownies are cooling, prepare the cookie dough.
Combine butter, sugar, brown sugar & vanilla in a mixing bowl & beat until light & fluffy.
Add in sea salt & flour – mix until well combined.
Fold in half of the M&M's.
Spread over the top of the cooled brownies in an even layer.
Sprinkle with remaining M&M's and press them into the top.
Chill for at least 1 hour for the cookie dough to firm before cutting.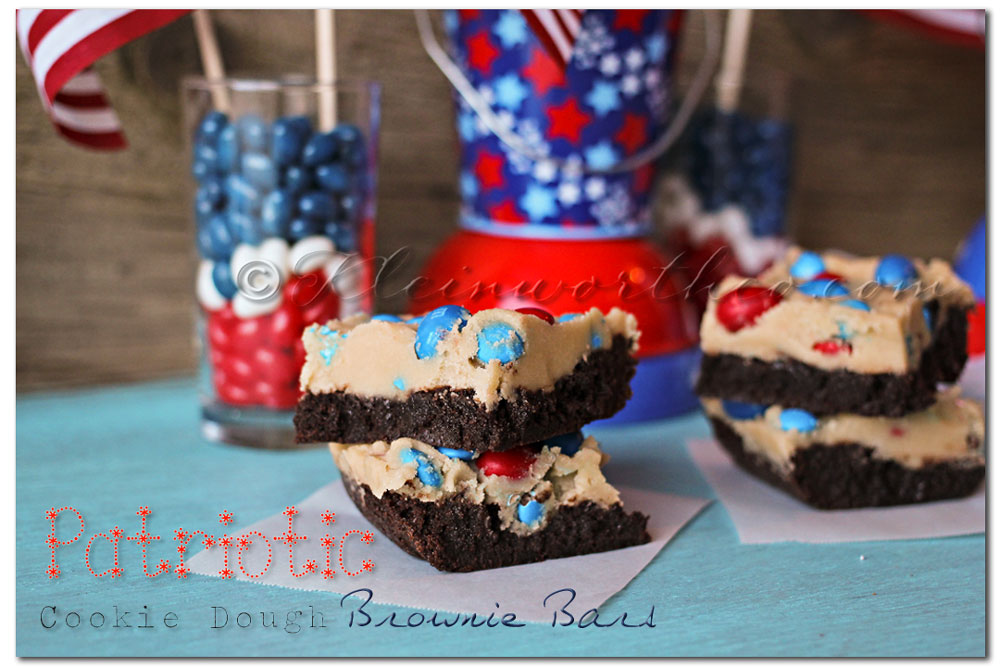 What is the best way to store leftover Cookie Dough Brownie Bars?
Since the cookie dough has butter in it, it will be best to keep these refrigerated. That does have an effect on the M&M's so if you are making these ahead of time, I would suggest waiting until ready to serve before adding those on top.
Can I use peanut M&M's?
You bet – if you prefer the peanut variety, that is perfectly delicious too.
What about the bacteria in the flour to make the raw dough?
If you are concerned about killing bacteria in the flour, you can either pour the flour onto a baking sheet & bake in a 350-degree oven for 5 minutes or place on a microwave-safe plate & microwave for at least 1-2 minutes or until it reaches 160 degrees before adding to your dough mixture.
To make Patriotic Cookie Dough Brownie Bars…
dark chocolate
semi-sweet chocolate chips
butter
instant coffee granules
brown sugar
granulated sugar
eggs
all-purpose flour
cocoa powder
table salt
pure vanilla extract

FOR THE COOKIE DOUGH

butter- softened
granulated sugar
brown sugar- packed
vanilla extract
all-purpose flour
table salt
Patriotic M&M's
brownie and cookie dough
Products I love when making Patriotic Cookie Dough Brownie Bars…
This Patriotic Cookie Dough Brownie Bars recipe is SUPER EASY and delicious – and if you're like me, then you maybe already have some of these items on hand OR maybe you have never made homemade brownies or cookie dough before, & you might be a bit nervous – but you're going to love it. I have made a list below of the things I absolutely can't live without when it comes to making this treat recipe.
If you love this Easy Cookie Dough Brownie Bars recipe, you're going to love these other treats too. Please click each link below to find the easy, printable recipe!

cookie dough brownie
If you love this recipe for Patriotic Cookie Dough Brownie Bars as much as I do, please write a five star review, and be sure to help me share on facebook and Pinterest!
CONNECT WITH KLEINWORTH & CO!
Be sure to follow me on my social media, so you never miss a post!
FB, Pinterest, IG, Email Subscription

Reader Interactions