Can you believe that it's almost Memorial Day?  That means that this year is nearly half over already.
We typically don't make plans for holiday weekends.  Holidays- when everyone else is out recreating- is when hubs is the busiest at work.  So we celebrate a bit early.  Yep- we had a little Memorial Day celebration last weekend that consisted of eating & family time.  I know- exciting right!  We remembered our family members & all those that have paid the ultimate sacrifice to give us the freedom we cherish.  I went through my dessert recipes & finally decided that I couldn't put these Patriotic Mini-Cheesecakes off until 4th of July.  I had to make them.  I had been putting them off for so long. Once I made them I realized how simple they were.  So I figured you all might want to make them for your get-togethers too.  They look so much harder than they are & everyone will think you worked your tail off in the kitchen.  Trust me- that is so not the case.  AND- since they are minis – it makes portion control so much easier too.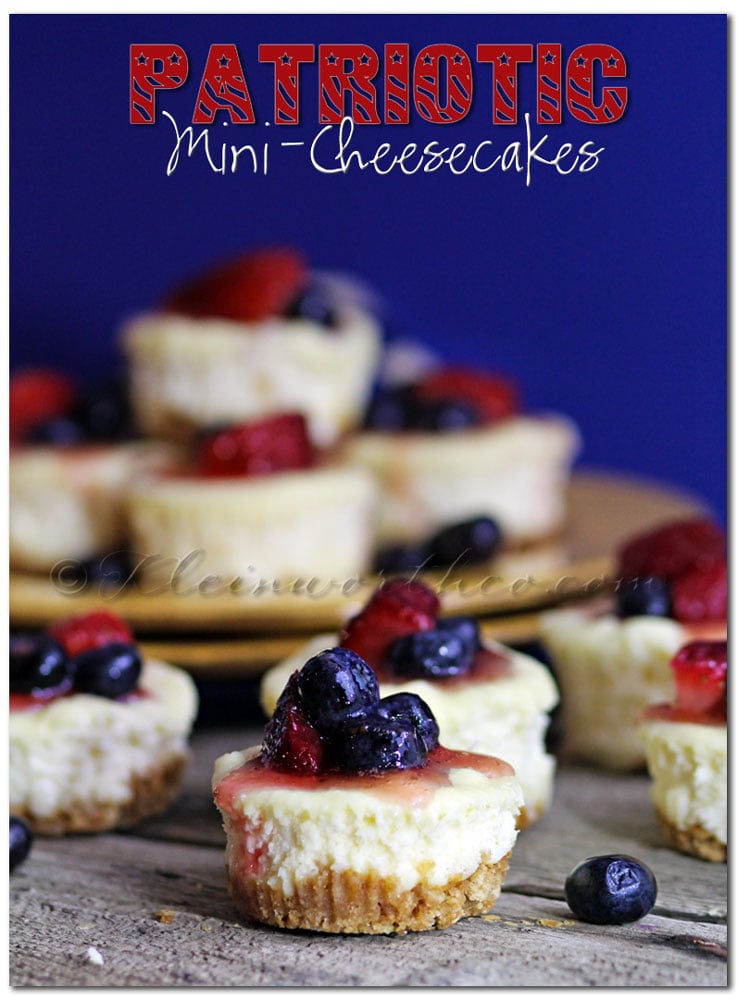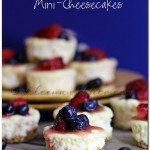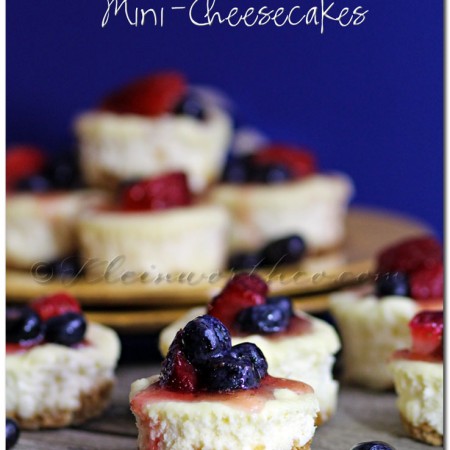 Patriotic Mini-Cheesecakes
Ingredients
1 cup crushed graham cracker crumbs
1 cup plus 2 tbsp granulated sugar- divided
3 tbsp butter/margarine- melted
3 pkgs 8oz each cream cheese- softened
2 tsp vanilla extract
3 eggs
1/2 cup diced strawberries
1/2 cup blueberries
1/2 cup strawberry marmalade opt
Instructions
Preheat oven to 325 degrees.

Melt butter in microwave safe bowl for approx 30 seconds.

Add graham cracker crumbs & 2 tbsp of sugar. Mix until combined & crumbs are moist.

Line muffin tins with 18 baking cup liners.

Put approx 1 tsp of moist crumbs in the bottom of each liner & press down to compact & cover bottom.

Beat cream cheese, vanilla extract & remaining sugar in electric mixer until well combined.

Add in eggs one at a time- mixing until just blended.

Scoop into your prepared liners on top of your crackers. I did one large scoop to start & then went back & topped each off with my remaining batter so that they were all uniform in size.

Bake 25-30 minutes- until center is almost set.
Cool completely. I was impatient- so I stuck mine in the freezer for about 30 minutes.
When ready- peel papers off, top with berries & drizzle with marmalade.

Store in refrigerator in airtight container. (I'm storing my extra batch in the freezer so we can have them as we crave them)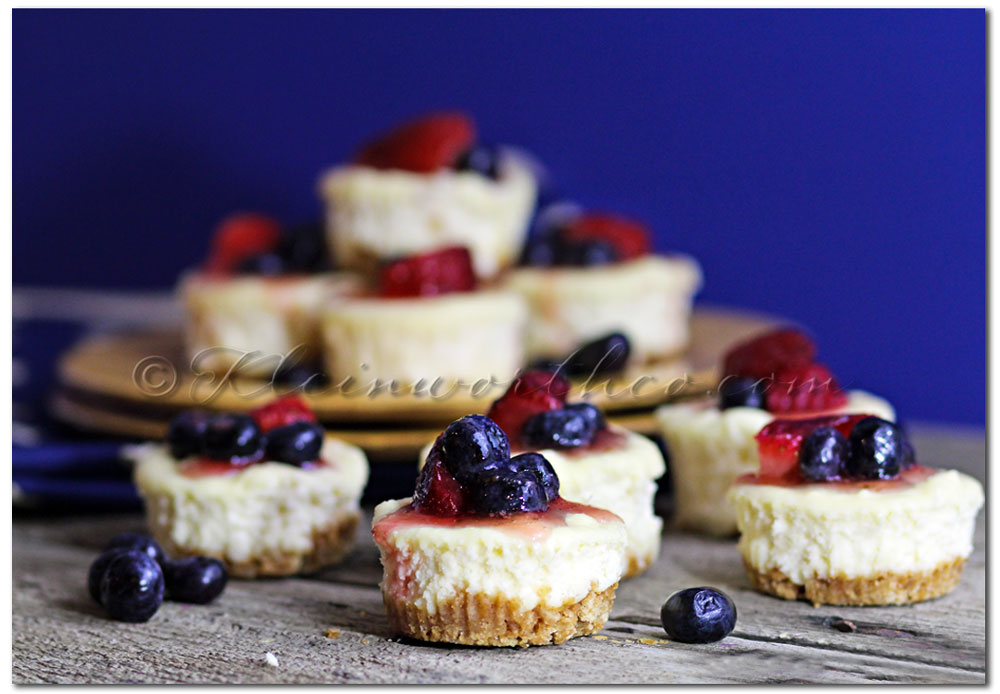 So there you have it.  Really easy &  everyone at your party will LOVE you for bringing these.
Enjoy!
Looking for more of my favorite goodies?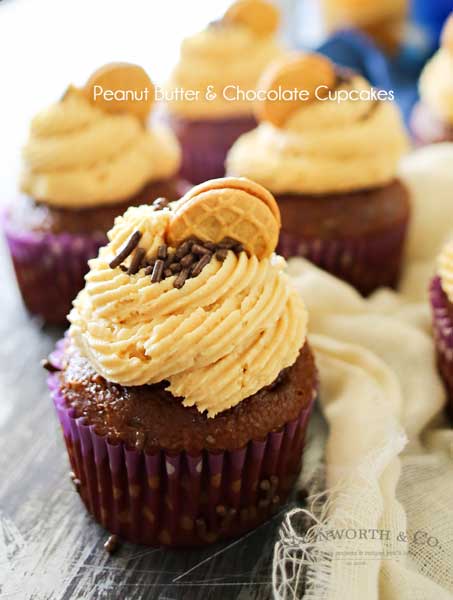 Peanut Butter Chocolate Cupcakes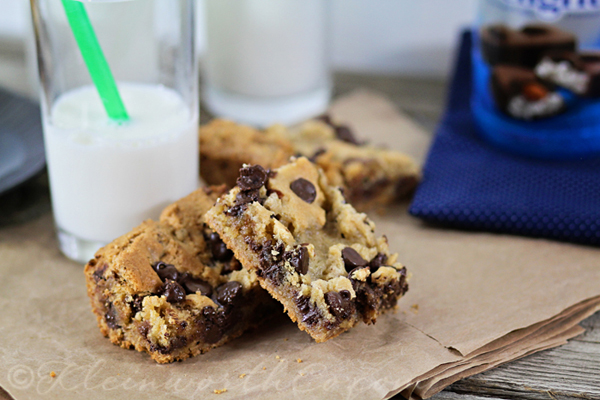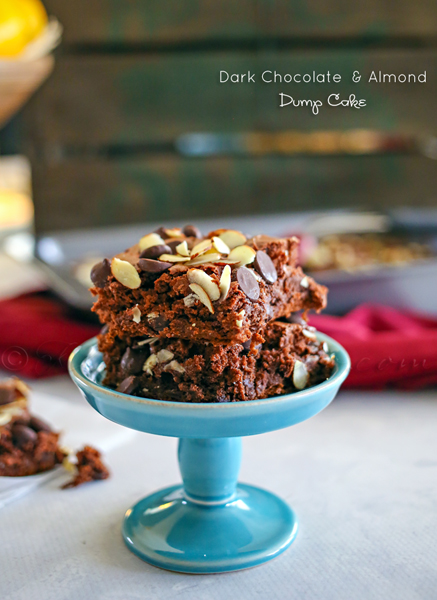 Dark Chocolate & Almond Dump Cake
Don't miss these great ideas from these bloggers….
Strawberry Dump Cake – Frugal Girls
Strawberry Chocolate Cake – OMG Chocolate Desserts
To see where I am linking today- visit HERE
0
Reader Interactions