Easter Egg Coconut Cheesecake is a simple & delicious Easter dessert recipe. Easy cheesecake topped with toasted coconut & chocolate Easter eggs! YUM!
Today my daughter Anya is taking over the blog to share with you this super awesome creation we made together recently. Please give her a nice warm welcome!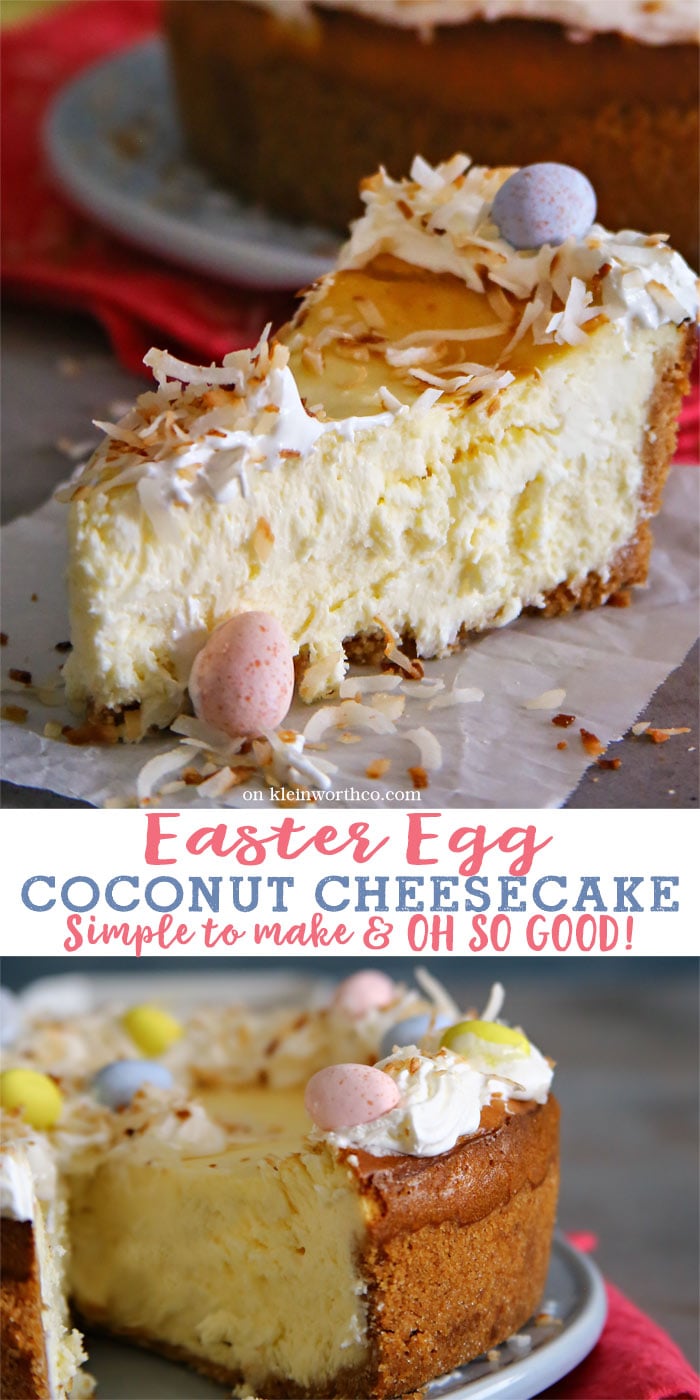 Hi everyone! I'm Anya! Toasted Coconut Easter Cheesecake! Now doesn't that sound tasty? My dad had been really craving cheesecake, in fact, he's always craving cheesecake. But this time he wasn't too subtle about it. He kept buying more & more cream cheese & graham crackers in hopes my mom would make him one. Well, she finally gave in & it was a good thing we had a stockpile of supplies.
You see, this one was our second try at making this cheesecake. My mom had originally used her "go-to" cheesecake recipe but forgot that it was for a 10″ springform pan. You see she wanted to use her brand new Flexipan (the same kind used by cheesecake factory) – which is a bit smaller. Needless to say, it didn't turn out all that pretty – but we all thought it still tasted great! At least the flexipan worked as intended & the cheesecake released perfectly, no water bath required.
Easter Egg Coconut Cheesecake
This post contains some affiliate links. Click here to read my full disclosure policy.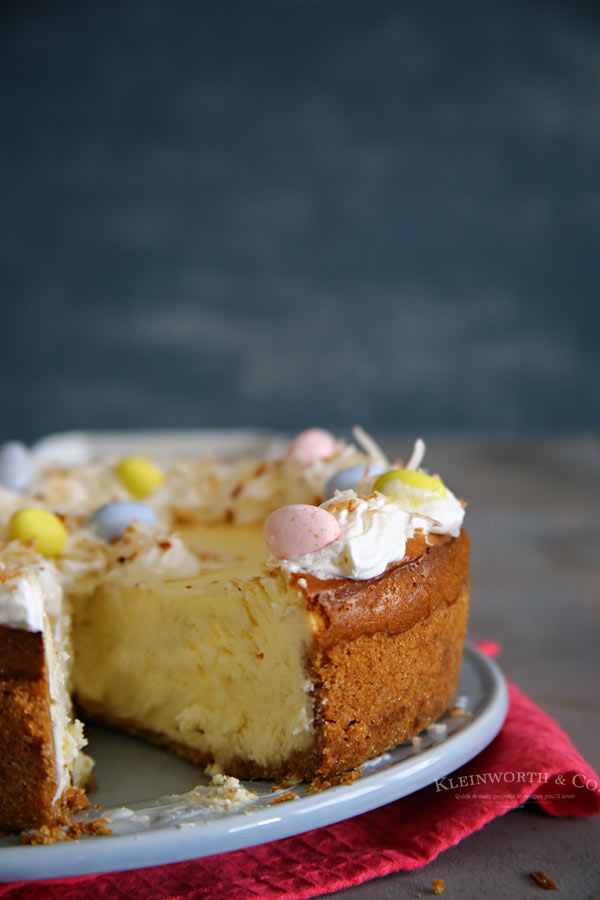 We went back to the drawing board & reworked the recipe to fit the new pan & I have to say it turned out fantastic. We all loved it. I guess any reason to make more cheesecake is a good reason, right? With this one, we decided to pipe some whipped topping around the top to help the toasted coconut stick. Then we added mom's favorite Cadbury mini eggs for that Easter feel. It was great, so creamy & delicious!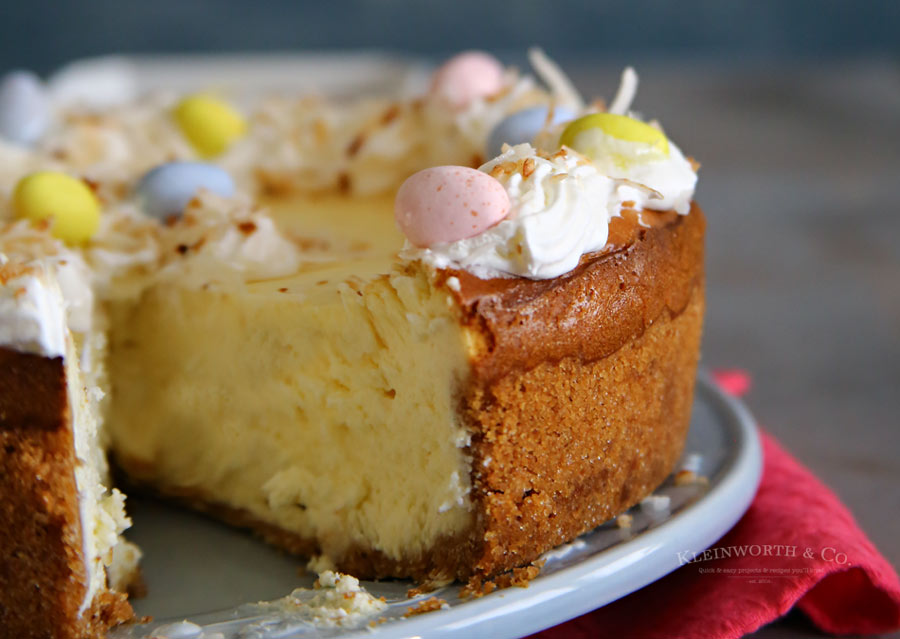 Easter Egg Coconut Cheesecake
Easter Egg Coconut Cheesecake
Easy cheesecake recipe topped with toasted coconut & chocolate Cadbury minis.
Servings: 10
Ingredients
Crust
9-10 graham cracker rectangles
6 tbsp butter- melted
1/3 cup granulated sugar
Filling
4 8oz pkgs cream cheese
1-1/4 cup granulated sugar
4 eggs- room temperature
3/4 cup sour cream
1 tbsp coconut extract
Garnish
2 cups whipped topping
1/3 cup toasted coconut
10-12 chocolate Cadbury mini eggs
Instructions
Make crust
Place graham crackers in food processor & pulse until you have fine crumbs

Remove blade & add in sugar & melted butter & stir together with a fork until all the crumbs are moist

Transfer to large flexipan (that is placed on perforated baking sheet) & press into a flat even layer with the bottom of a glass

Place in freezer to set until you are ready to fill it
Filling
Beat together cream cheese & sugar on medium until smooth & creamy.

Scrape down the sides of the bowl, add eggs one at a time, beating shortly between each addition

Add sour cream & coconut extract & beat until well combined

Pour batter into prepared graham cracker crust & bake at 350 degrees for 55-65 minutes or until edges are set- the middle with giggle a little until it cools

(the beauty of the flexipan- no water bath needed)

Remove cheesecake from the oven & allow to cool 30 minutes at room temperature, then place in refrigerator to continue cooling at least 6 hours but preferably overnight.

Once cooled, place whipped topping in frosting bag with star tip & pipe a border around the edge of the cheesecake & a small circle in the center

Top with toasted coconut & chocolate eggs

Keep refrigerated until ready to serve
Easter Egg Coconut Cheesecake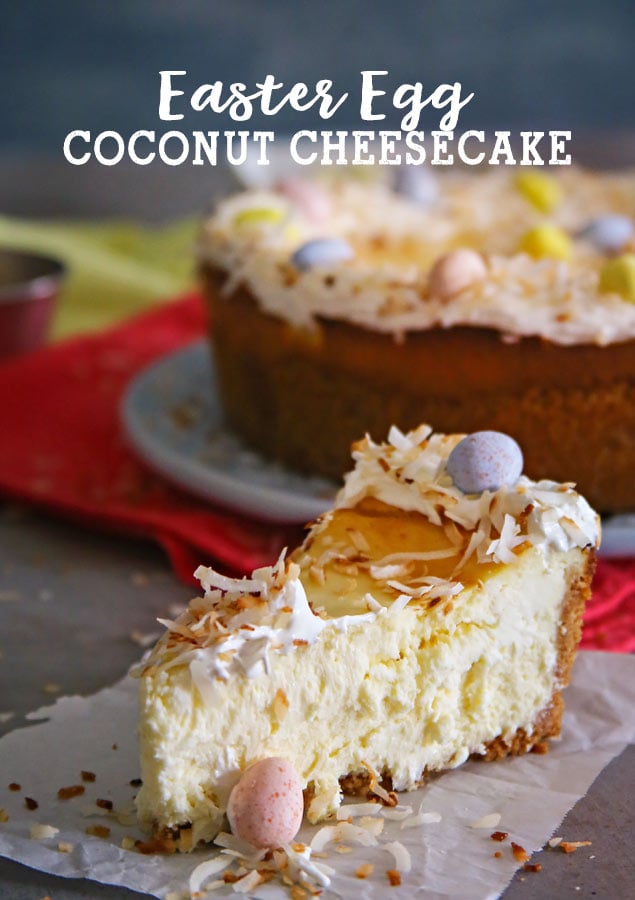 Doesn't it look SO GOOD? We hope you love it too!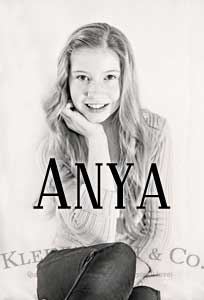 Thank you Anya for sharing this awesome recipe!
If you make this recipe- please leave a link or tag me on Instagram @KleinworthCo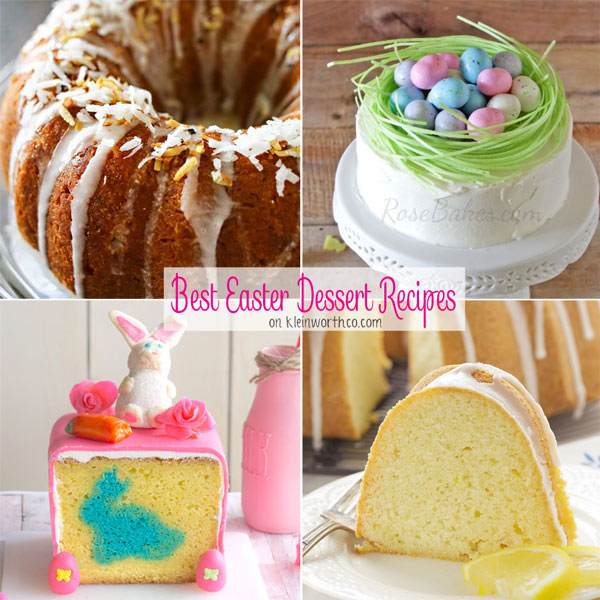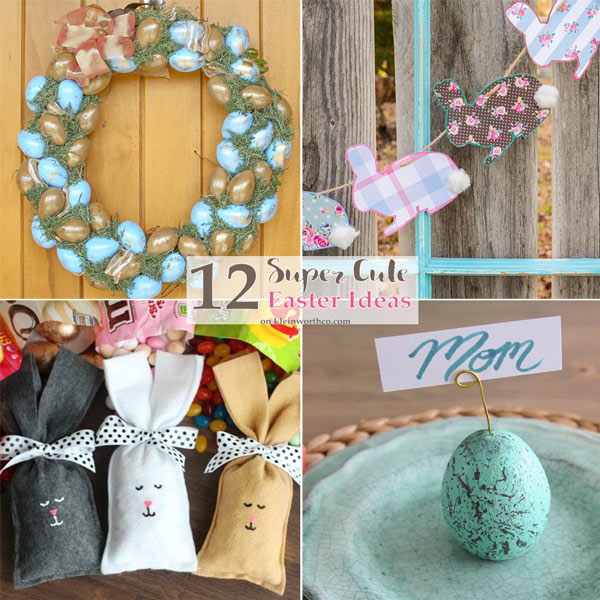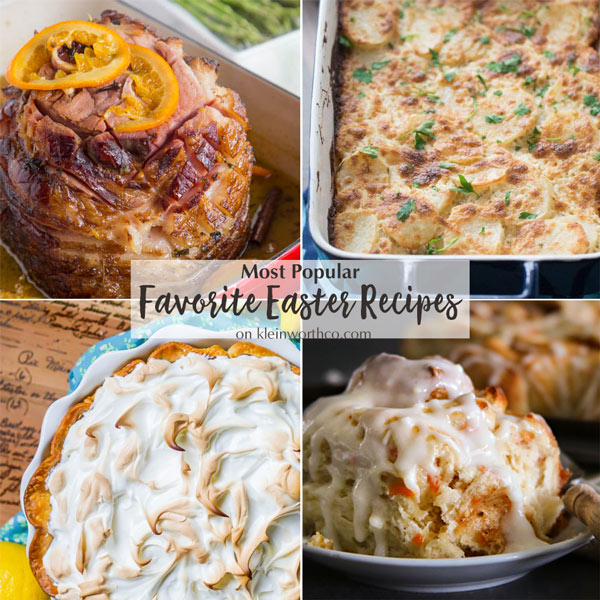 Most Popular Favorite Easter Recipes
Don't miss these great ideas from these bloggers….
Coconut Macaroon Nests from Inspired by Charm
Easter Bunny Rolls Recipe from Bombshell Bling
To see where I am linking today- visit HERE