This Coconut Cream Cake is a coconut lovers dream. It's easy to make & packed full of delicious coconut flavor! Light & fluffy coconut cake topped with creamy whipped cream & homemade toasted coconut makes this Coconut Cream Cake enjoyable from the first bite to last.
One thing you probably know about me if you have been a reader here for any length of time is that I love coconut. It's my go-to scent, flavor & everything else.
I love it so much. It reminds me of sunscreen, which in turn reminds me of my home of So Cal.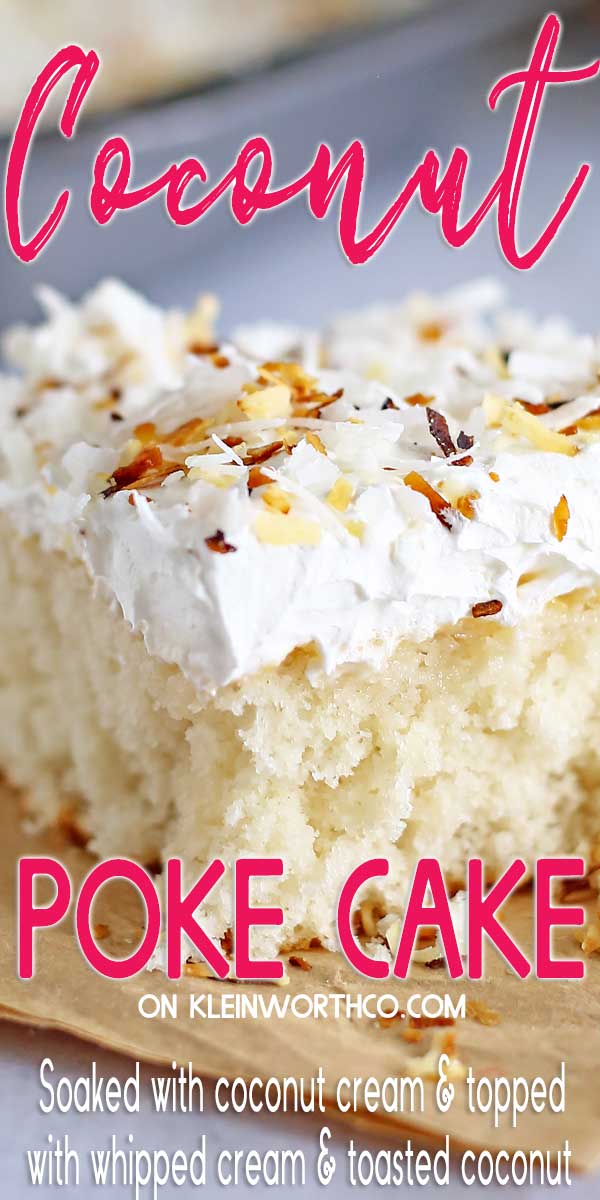 I think I'm drawn to it more because I rarely get a chance to get back home & so eating it, smelling it & enjoying it gives me that little piece of home I need. Aside from that, it's just flat out delicious.
I'm absolutely addicted. So one of my favorite things to make with it is a coconut cream poke cake.
coconut cake recipe
This post contains some affiliate links. Click here to read my full disclosure policy.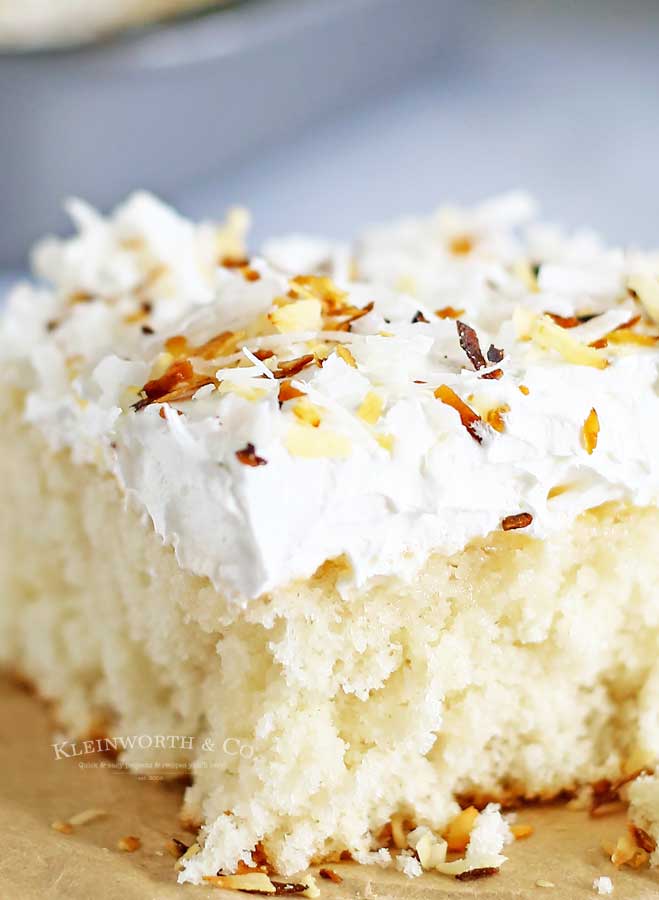 Have you ever made a poke cake before? It's basically a regular cake, only you poke it full of holes & drizzle some sort of yumminess all over it & let it soak on in there.
Before I made one my first thought was that it would make the cake soggy. Nope- it just makes it even better & more delicious.
My mom was a professional cake decorator, so having cake was an everyday part of my life. I literally can't get enough cake & when you make it loaded with heavenly coconut flavor like this one it can make my eyes roll in the back of my head with every bite.
I'm not going to lie, I had a hard time sharing this with the family. I could have sat there & devoured the whole thing in close to one sitting.
coconut easter cake
The wonderful flavor of light & fluffy white cake with sweetened coconut mixed in is enough to make me swoon. But then to drizzle cream of coconut on & top with whip cream & toasted coconut, well, it's like heaven on a plate for a coconut lover like myself.
I love this recipe because of its versatility. It works well for the holidays because it's white & pretty. But then imagine enjoying this some summertime too. Take a little piece to the pool or curl up with one next to the fire- regardless of the season, it's a great recipe to make.
Doesn't that just look so delicious? With as easy as it is to make – it will become your new favorite!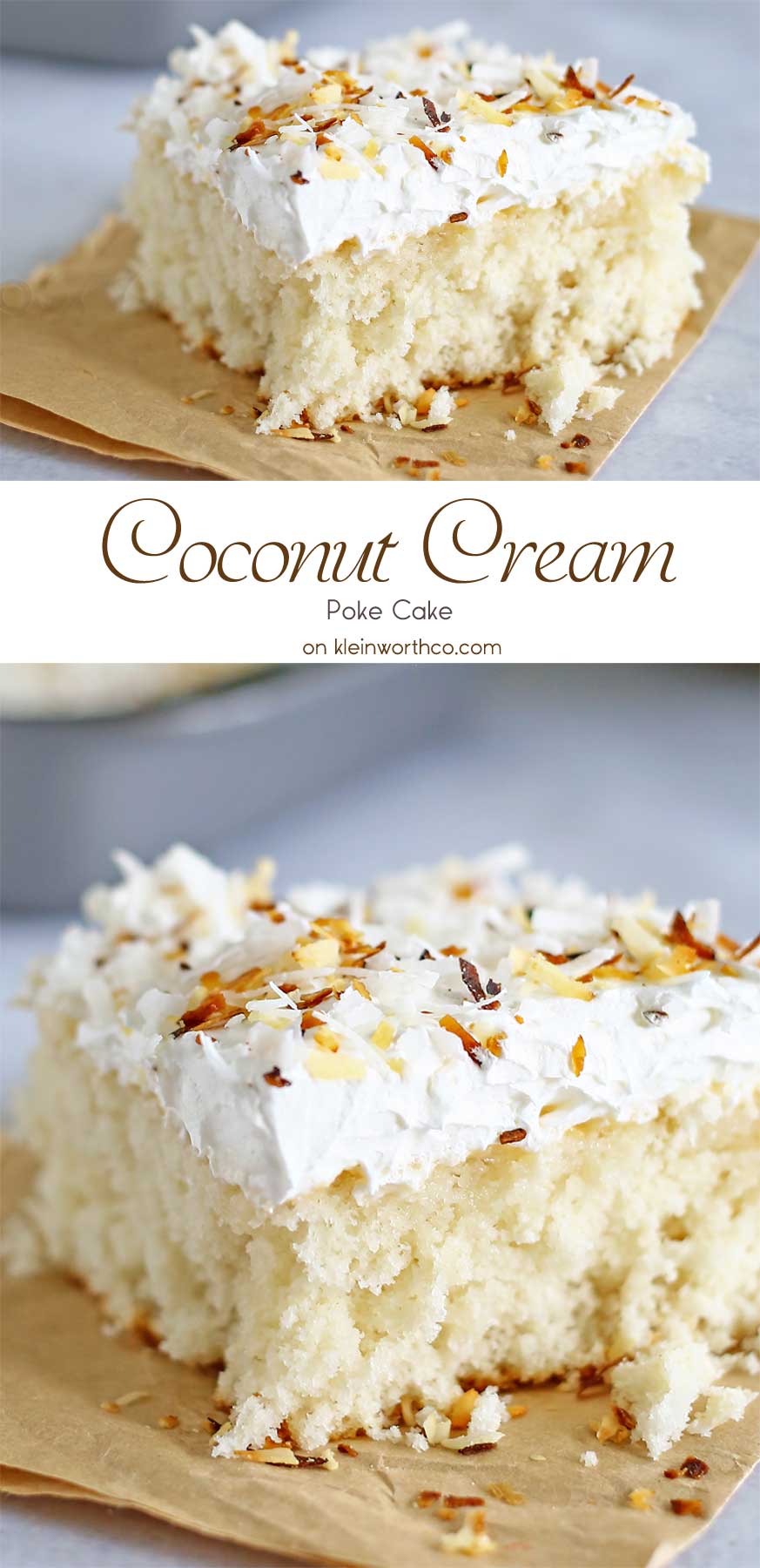 Here are some commonly asked questions
Can I use a different flavor of cake?
Yes, this recipe can be made with vanilla, yellow, chocolate or even funfetti cake. It really doesn't matter, it all tastes great. I prefer to make it with white cake for the spring & summer months because I think it gives a lighter feel.
What is the difference between cream of coconut & coconut cream?
Okay – there is a big difference between the two. Cream of Coconut is opaque, creamy, already sweetened, goopy-like substance that you add to things like cocktails. You will find it with the other mixed drink ingredients in the store.
Coconut cream – totally different. It comes in a can or paper drink-box container and it is literally the fat that settles & separates from the coconut water. This will not be the stuff you want to use when pouring on this cake. You want the sweet Cream of Coconut that is like pure heaven!
So for the sake of making it easy to describe, we called it coconut cream cake – but we are using cream of coconut.
Can I use frosting instead of whipped topping?
You bet. I usually use what I have on hand. Using whipped topping keeps it light, especially when you use the light or fat free versions. But if you want to keep it simple, you can use the canned frosting or your own homemade frosting too.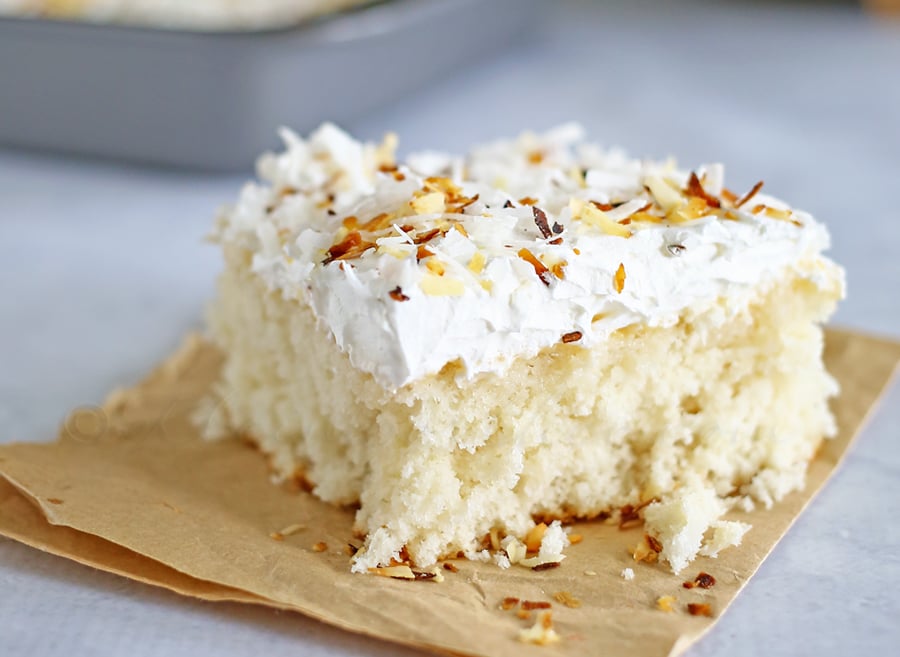 How many can this serve?
This will depend on how large or small you cut your pieces. However, you should be able to get 10-12 pieces out of this coconut cake recipe.
Easter cake
Don't miss these other great recipes with coconut!
Can this recipe be doubled?
You can, but you will still have to bake the cakes it 2 cake pans. That being said, you can bake them side by side & then decorate them at the same time afterward.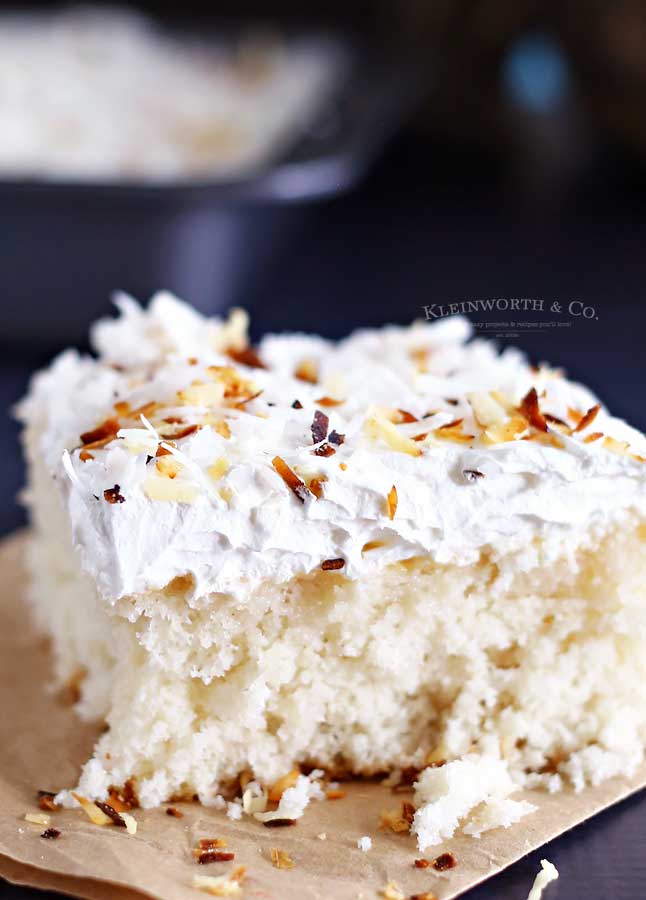 HOW DO YOU MAKE a Coconut Cream Cake?
Prepare the cake batter to package directions & stir in 1/2 cup of sweetened coconut.
Bake in 9×13 pan to package directions.
Remove from the oven & immediately use a thin wooden dowel or chopstick to poke holes in the cake (about 2″ apart). You can use the end of a wooden spoon too but I like the holes thinner.
Drizzle cream of coconut over the top of the cake & place in the refrigerator to chill.
Once the cake is cold, spread on the whip topping in a smooth even layer.
Sprinkle with toasted coconut & a little extra sweetened coconut if desired.
coconut cake frosting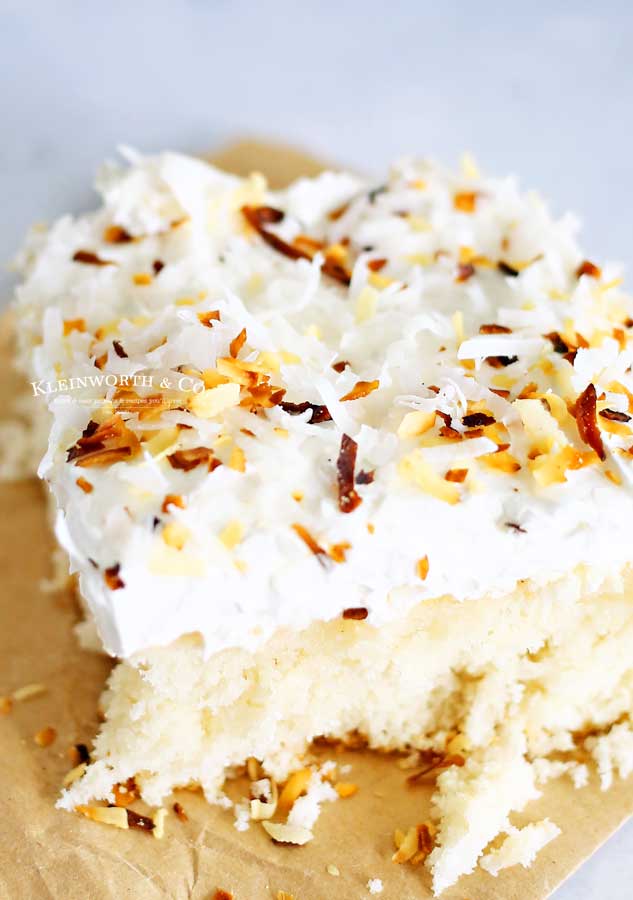 What is the best way to store leftover cake?
The easiest way is to cover the baking pan with foil & store this cake in the refrigerator. I don't usually remove the cake from the baking pan for serving since it is sort of a sheet pan style cake. No need to dirty additional dishes. This dessert is simple & so the storage of the leftovers should be too.
Can I use unsweetened coconut?
Because this is a cake, you want the coconut to be sweet. This is not a healthy cake or low-cal cake. The sweetened coconut adds to the overall sweetness of the cake and you'll want it there. If you use unsweetened coconut, expect the cake to be less dessert-like.
coconut poke cake recipe
To make a Coconut Cream Cake you will need…
white cake mix + ingredients it calls for usually eggs, oil & water
sweetened coconut
cream of coconut
whip topping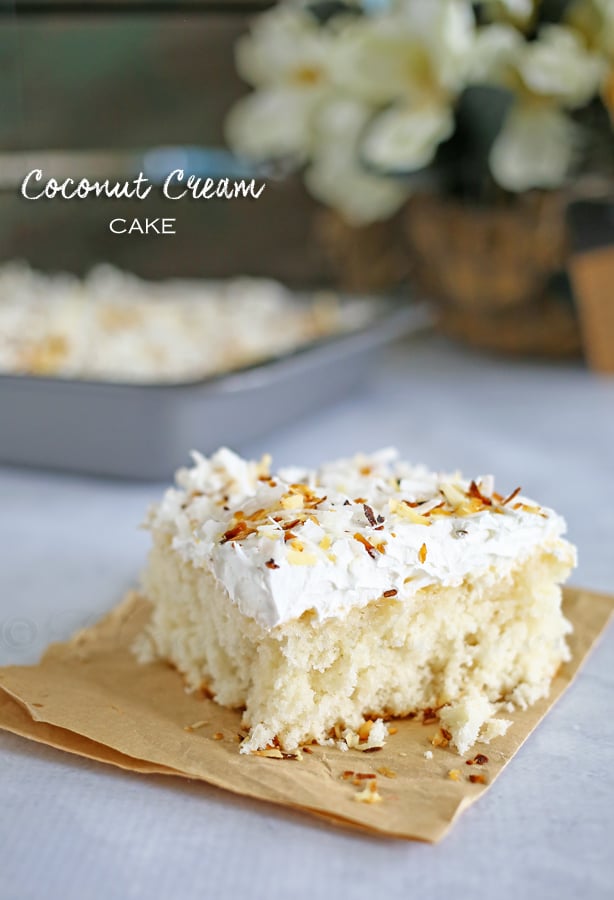 Products I love when making a Coconut Cream Cake…
This poke cake recipe is so EASY and delicious – and if you're like me, you probably already have most of these items on hand! OR maybe you have never made a poke cake before & I understand, it can be intimidating. But I'm telling you, you're going to love this cake. I have made a list below of the things I absolutely can't live without when it comes to making this cake.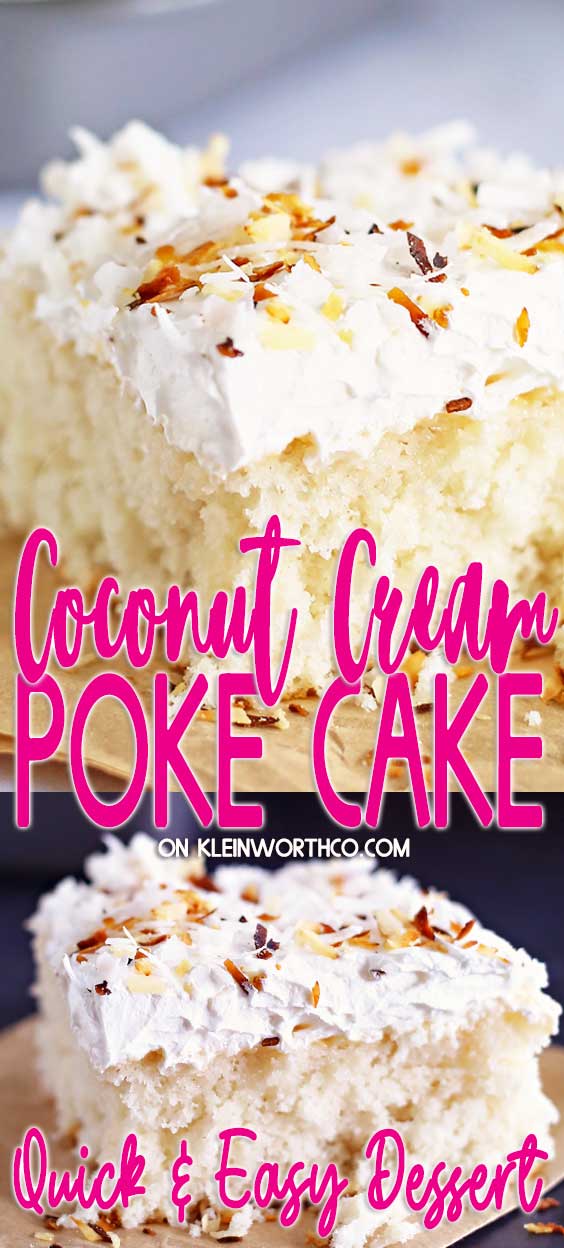 So perfect for so many occasions!
Coconut Cake Recipe
If you love this coconut cake recipe, you're going to love these other dessert recipes too. Please click each link below to find the easy, printable recipe!
mothers day dessert ideas
If you love this coconut poke cake recipe as much as I do, please write a five star review, and be sure to help me share on facebook and pinterest!
CONNECT WITH KLEINWORTH & CO!
Be sure to follow me on my social media, so you never miss a post!
FB, Pinterest, IG, Email Subscription