Banana & coconut lovers rejoice! AMAZING Banana Coconut Bundt Cake is a banana cake loaded with coconut & topped with a scrumptious sugar glaze. Perfect for any occasion! You will LOVE this cake!
This post first appeared over at Real Housemoms where I was a contributor.
I love coconut. It's my all-time favorite flavor. So, of course, I'm always looking for new & creative ways to add it to just about any recipe I can think of.
Don't miss my Classic Hummingbird Cake too!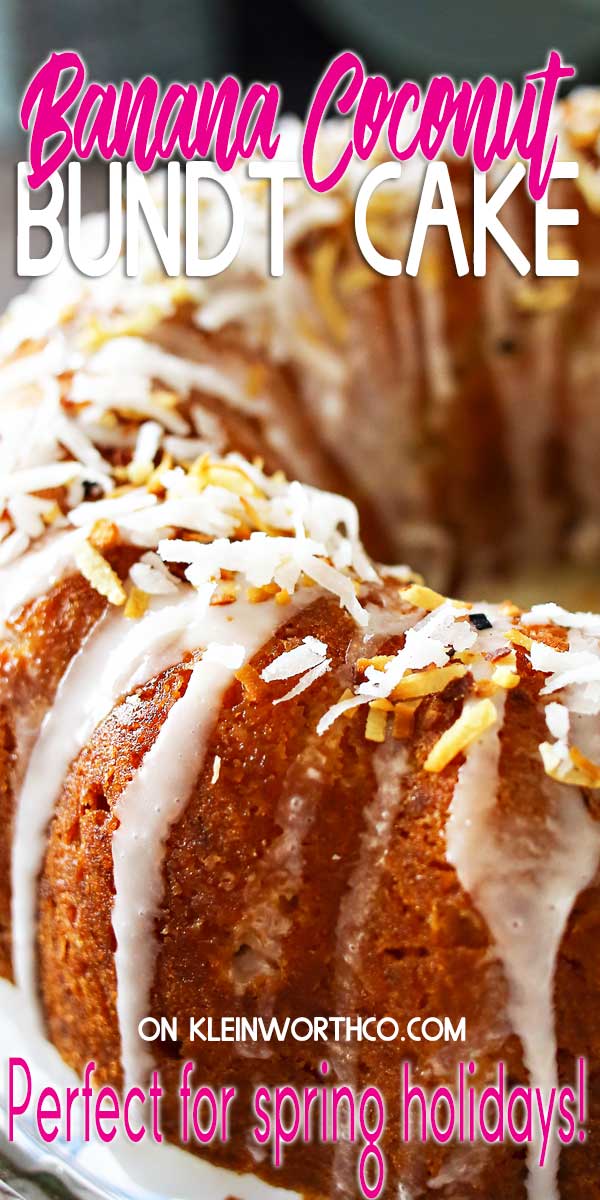 I don't really know how or why, because my mom never cared much for it. I'm actually surprised we ever had it in the house.
I suppose it was because she was always making treats for other people & coconut is loved by so many. It can be a hard one though.
banana cake recipe
This post contains some affiliate links. Click here to read my full disclosure policy.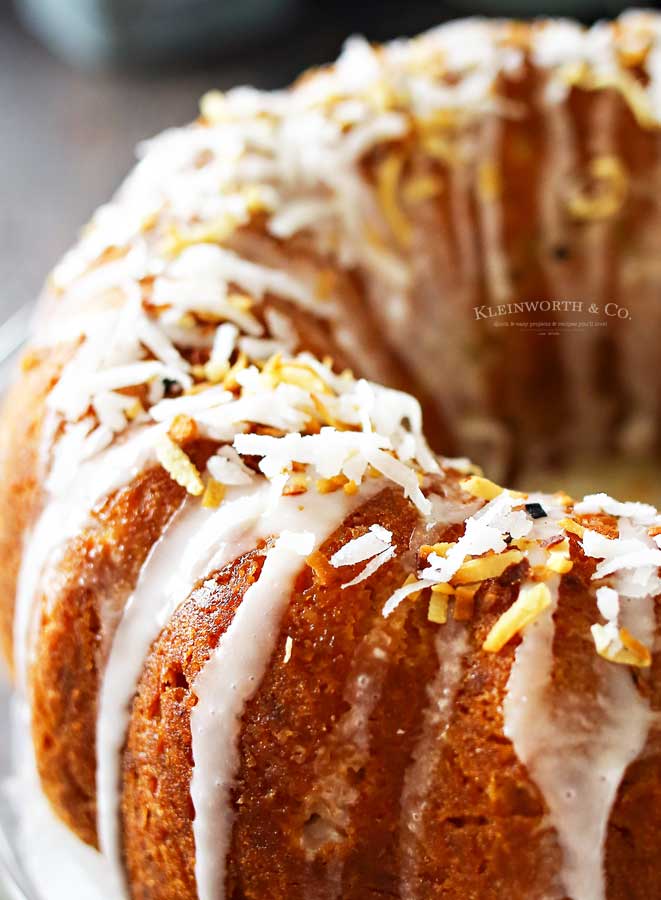 I think most people are either all in or completely out. Rarely do I find people that are indifferent about it.
But in this house- it's an absolute favorite. So everyone was quite happy when I created this banana coconut bundt cake a while back. Smothered with sweet & creamy glaze- wow, it was DELICIOUS!
Here are some commonly asked questions
Can I change the glaze?
You could skip the glaze if you like & add a drizzle of caramel sauce instead. That would be absolutely amazing! It's the perfect cake for all your spring & summer gatherings. It's like a little visit to a tropical location.
Should I use salted or unsalted butter?
I personally use whatever I have on hand. But if you are watching your salt intake, stick with the unsalted butter for this cake. The original recipe used unsalted butter but then tried it with salted butter & liked it just the same.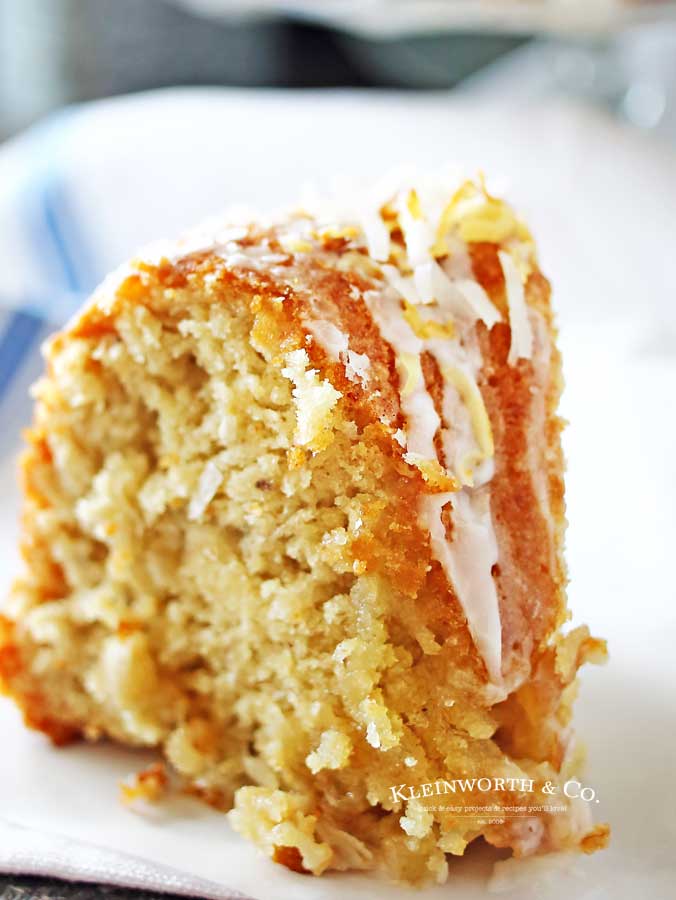 How many can this serve?
This will depend on how large or small you cut your slices. However, you should be able to get 10-12 slices easily out of this banana coconut cake recipe.
banana bundt cake
Can this recipe be doubled?
I don't recommend it. This cake works best when the recipe is made as written.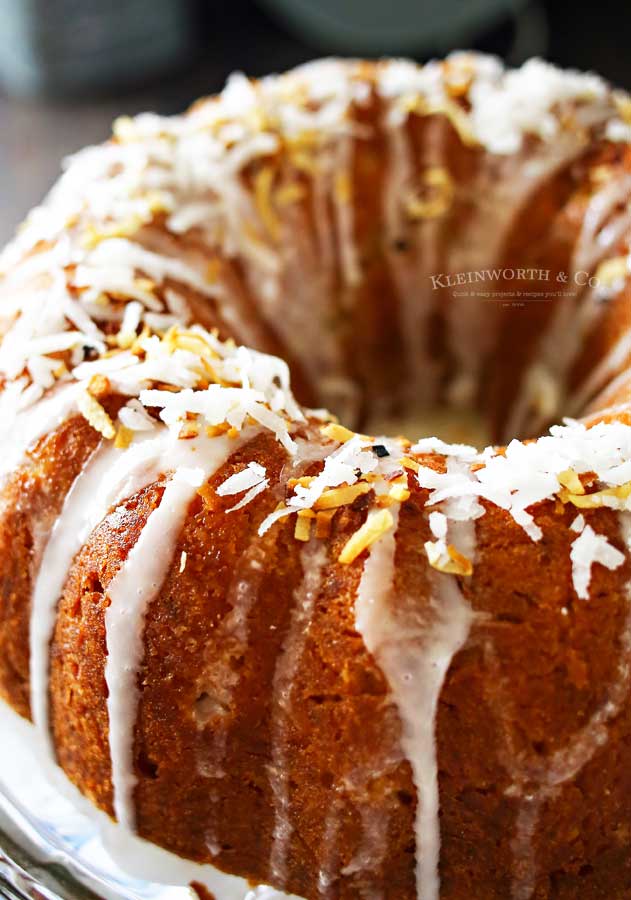 HOW DO YOU MAKE a Banana Coconut Bundt Cake?
Preheat oven to 350 degrees.
Butter & flour your bundt pan – or give a heavy spritz with Bakers Joy cooking spray.
In the mixer bowl beat butter & sugar until light & fluffy.
Add in the eggs, one at a time – beating well in between each one.
Add in mashed bananas – stir.
Slowly beat in the flour, baking powder & salt & mix until the batter is smooth.
Stir in coconut & transfer to prepared pan.
Bake 60-70 minutes or until golden brown & toothpick test comes out clean.
*Note – if it looks like it's browning too much on the sides but still needs to go a bit longer for the center, cover loosely with foil for the last 10 minutes.
*Allow to cool on wire rack completely before removing from pan.
Once cool, invert onto a cake plate.
For the glaze, combine ingredients & whisk until smooth.
Drizzle glaze immediately on cake, top with additional coconut & serve.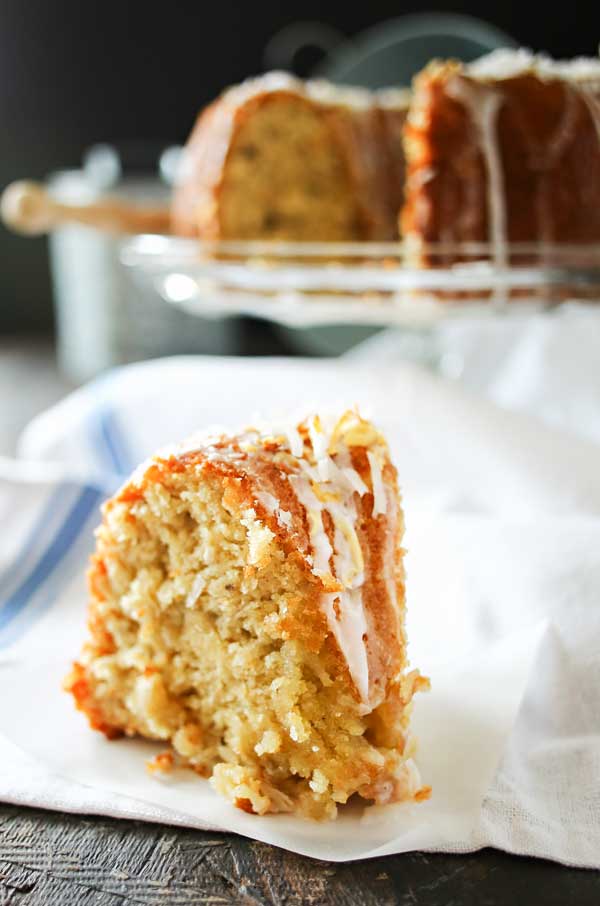 What is the best way to store leftover cake?
It is important to keep the cake in an airtight container. So I like to cut all of the slices & place 1-2 (depending on the size of the containers) in airtight containers and refrigerate. You can also wrap the remaining cake in plastic wrap and then place in the refrigerator. The important thing is to keep the air off the exposed/cut portion of the cake as best as you can.
Don't miss these other great recipes with coconut!
Can I use unsweetened coconut?
Because this is a cake, you want the coconut to be sweet. This is not a healthy cake or low-cal cake. The sweetened coconut adds to the overall sweetness of the cake and you'll want it there. If you use unsweetened coconut, expect the cake to be less dessert-like & more like a muffin.
banana bundt cake recipe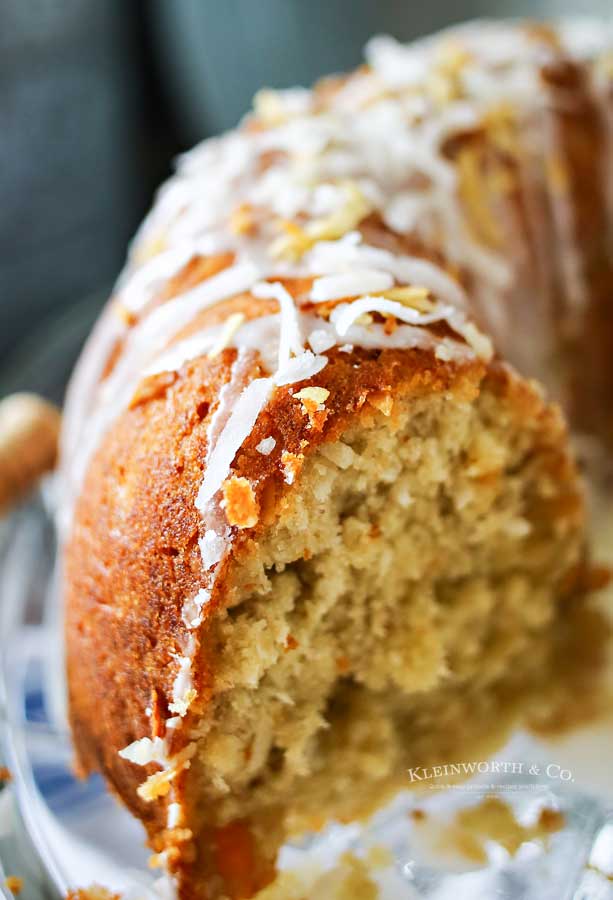 To make a Banana Coconut Bundt Cake you will need…
butter
granulated sugar
eggs
bananas
all-purpose flour
baking powder
salt
sweetened coconut flakes
confectioners sugar
milk
*sprinkle of toasted coconut for garnish
Don't miss these other great bundt cake recipes!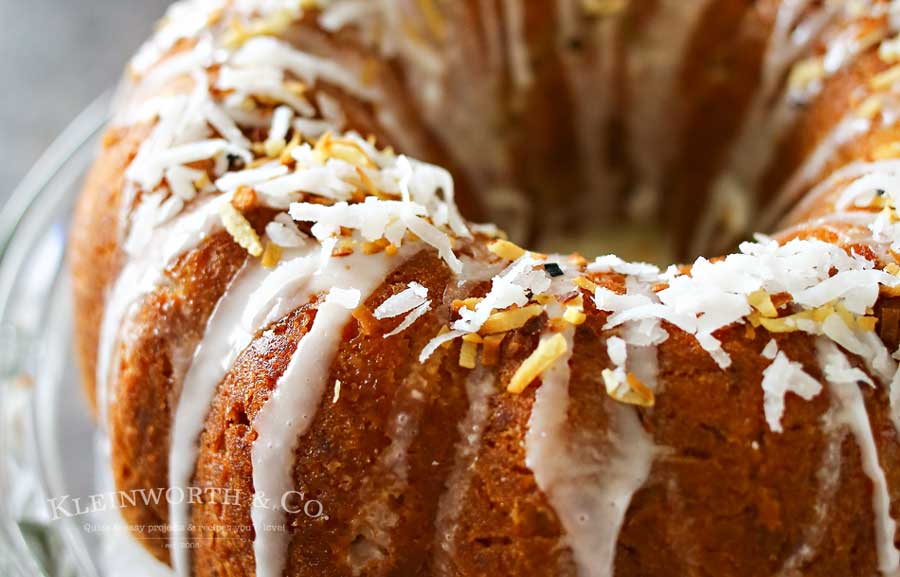 Products I love when making a Banana Coconut Bundt Cake…
This bundt cake recipe is so EASY and delicious – and if you're like me, you probably already have most of these items on hand! OR maybe you have never made a bundt cake before, I understand, it can be intimidating. But I'm telling you, you're going to love this cake. I have made a list below of the things I absolutely can't live without when it comes to making this cake.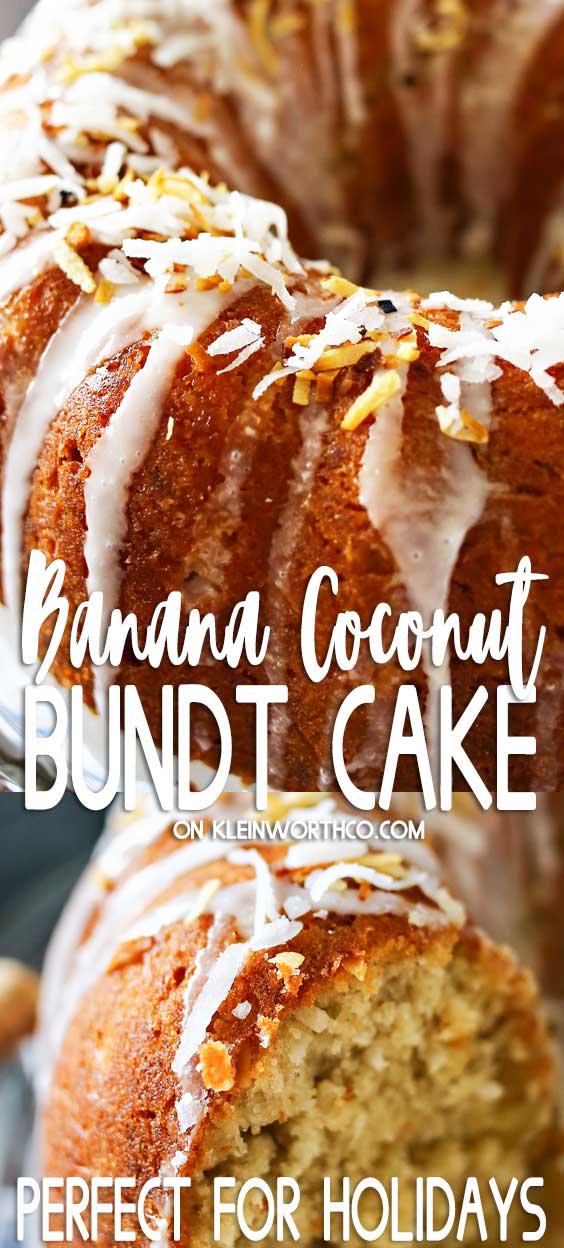 So perfect for so many occasions!
Scroll to the bottom for the Printable Recipe
Easter Cake Ideas
If you love this coconut cake recipe, you're going to love these other dessert recipes too. Please click each link below to find the easy, printable recipe!

mothers day cake ideas
If you love this banana cake recipe as much as I do, please write a five star review, and be sure to help me share on facebook and pinterest!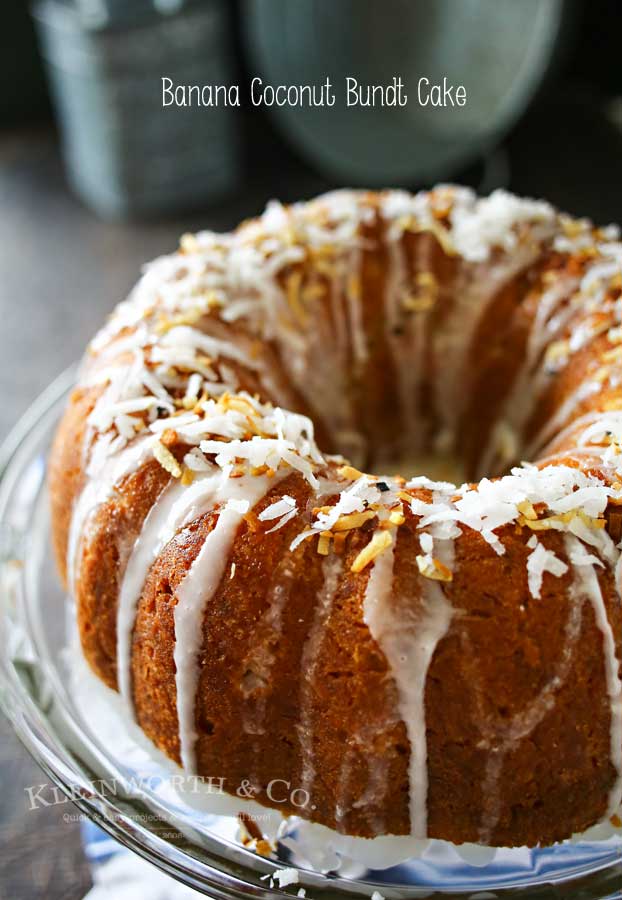 CONNECT WITH KLEINWORTH & CO!
Be sure to follow me on my social media, so you never miss a post!
FB, Pinterest, IG, Email Subscription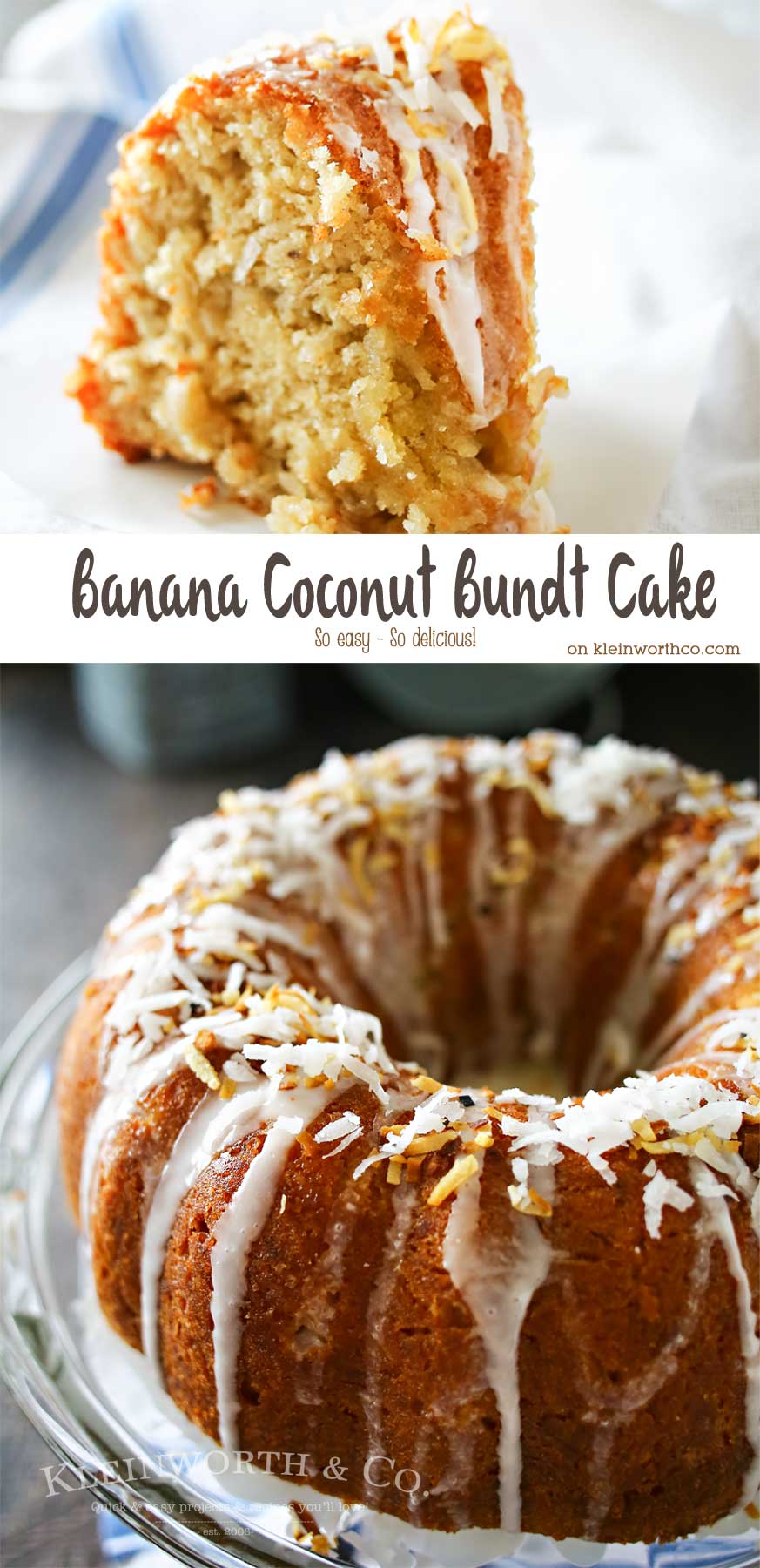 Reader Interactions