Vanilla Bundt Cake is easy to make with just 4 ingredients. Perfect with a dusting of confectioner's sugar or topped with icing, whipped cream or berries.
Boy do I love cake. Growing up I remember my grandmother always having some sort of treat for everyone after the feast she made for dinner.
It seems that bundt cakes were the thing back then and she had plenty of recipes to use that fun pan.
Don't miss our Pumpkin Bundt Cake with Cheesecake Swirl!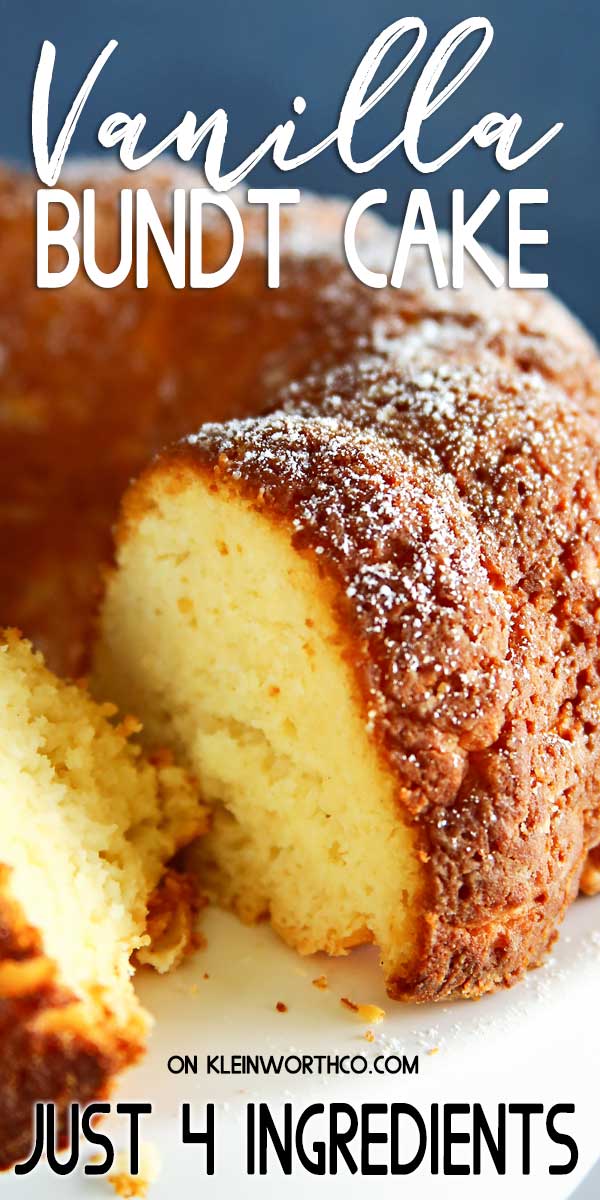 My grandmother was the queen of what I call "unconventional recipes". You know, the ones that are made with different ingredients but somehow they still turn out just as delicious.
I would imagine that is from growing up in a time when you had to make do with what you had. People didn't just toss things out when they got tired of them. They used things until they couldn't be used anymore and food wasn't something to be wasted.
Vanilla Bundt Cake Recipes
This post contains some affiliate links. Click here to read my full disclosure policy.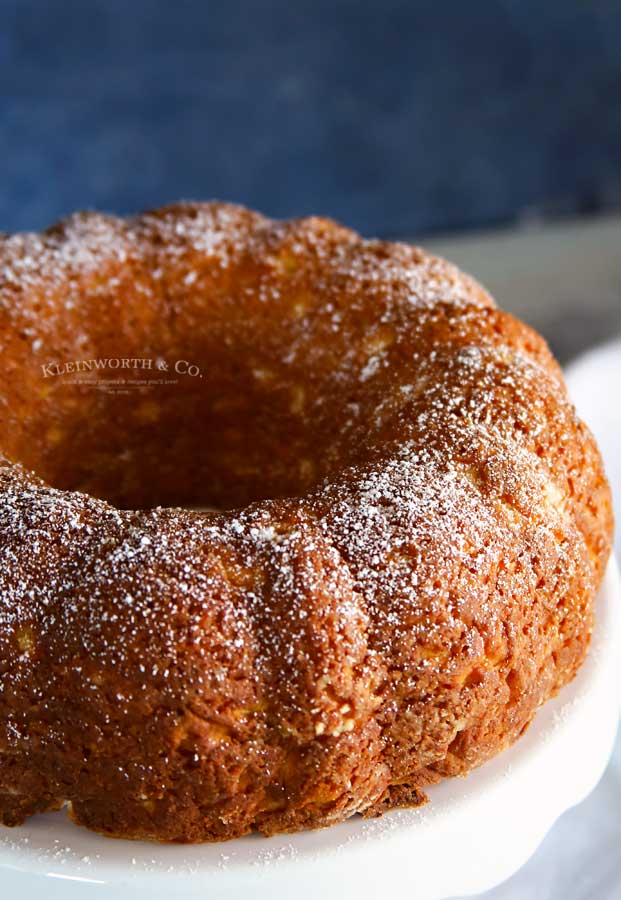 I found this recipe in an old cookbook of my grandmothers where she had scribbled down some of her favorite "go-to" recipes. She was always bringing something to lodge or some other gathering, so easy had to be the name of the game.
Convenience foods like instant pudding came on the market back in the '30s, so she really took advantage of how much time they saved her. I find those types of ingredients in a lot of the recipes in her book.
I don't blame her. Like I said, she was the master of saving time and money. Probably where I get it from. But this time I changed up her old recipe, using Greek yogurt in place of the sour cream in her original notes.
Which is why I love this recipe. Just mix, pour & bake. Just so simple.
Here are some commonly asked questions
Can I use white cake mix?
Yes, absolutely, that will work just fine. You can actually make this with any flavor of cake mix you desire, except angel food cake.
Can I use low-fat Greek Yogurt?
I have not personally tried it with low fat, so I can't say how that would turn out. I would recommend using regular Greek yogurt because it is replacing the fat (oil) that you would nornally add to a cake mix. But if you try it, please let me know how it turns out.
Can this vanilla bundt cake be frozen?
Yes, I do it often. Just make sure to wrap tightly with plastic wrap so it doesn't dry out before popping it in the freezer. Be sure to use it within 4-6 months.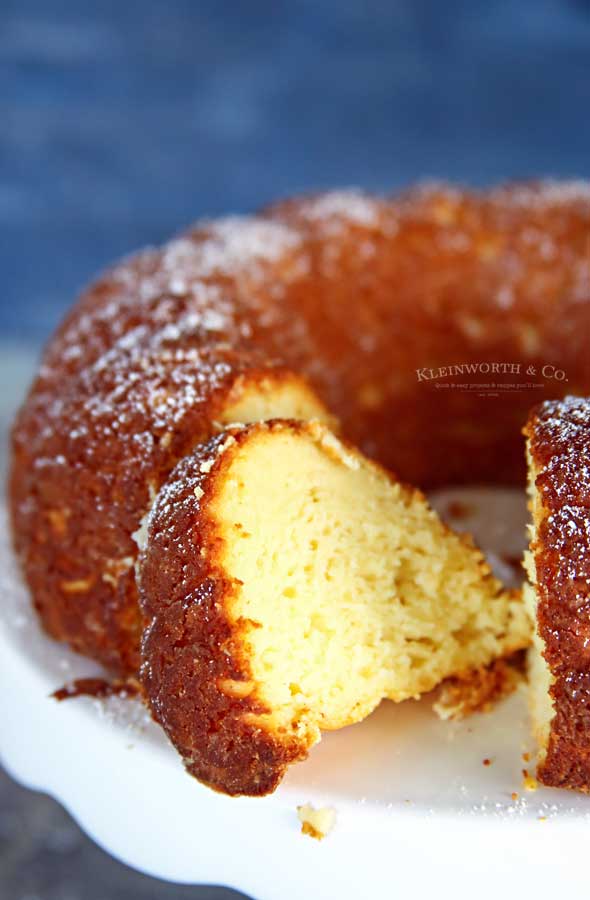 How many can this serve?
It will depend on how large you cut your slices. But this recipe makes about 10-12 slices that are about 2″ wide.
4 ingredient cake recipe
Can this recipe be doubled?
You can make a double batch, divide it between 2 bundt pans and bake them at the same time. But doubling the ingredients and trying to bake it in one pan for an ultra-large cake isn't advised. It would drastically change the baking time and the final result of the cake.
Can I use regular yogurt?
Regular yogurt doesn't have the right consistency or protein content to make this work the same. I would advise against using regular yogurt.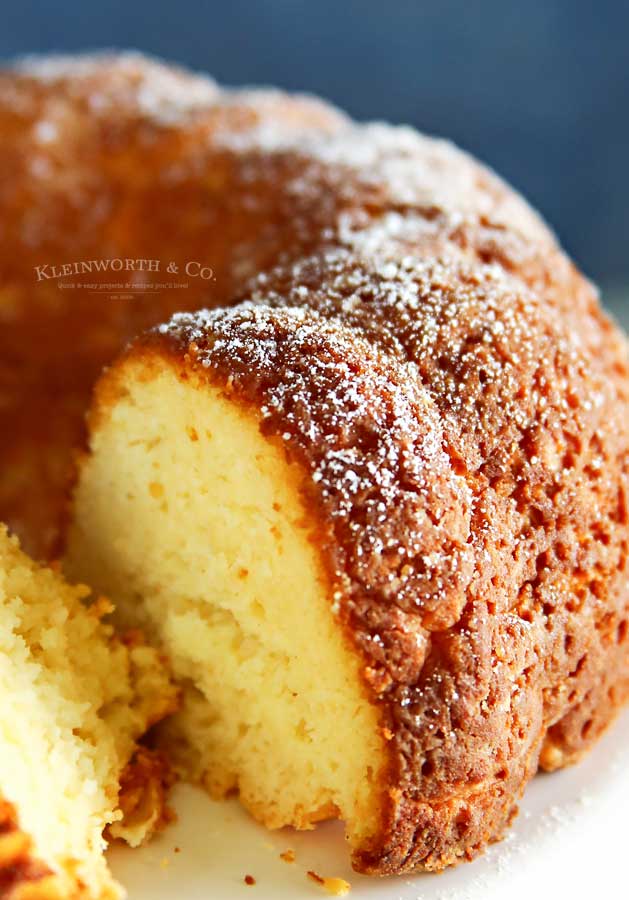 HOW DO YOU MAKE Vanilla Bundt Cake?
Preheat the oven to 325 degrees.
Grease and flour a bundt pan, or use quick release or a cooking spray with flour in it such as Baker's Joy. Set it aside.
Combine the yogurt and egg in a large mixing bowl and stir until combined.
Stir in the cake mix and pudding mix and mix well.
Transfer to the prepared pan and bake for 55-65 minutes, or until toothpick test comes out clean.
Cook for 30 minutes in the pan before inverting onto the cake plate. Allow to cool to room temperature before serving.
Sprinkle with confectioner's sugar when serving or top with icing, whipped cream or berries.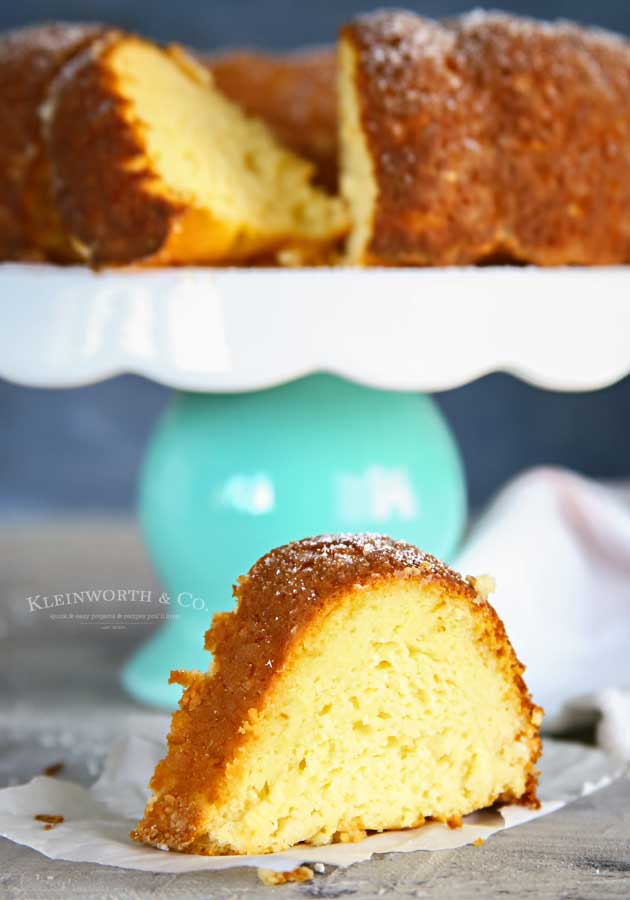 What is the best way to store leftover vanilla cake?
Wrap with plastic wrap or transfer slices into an airtight container. Keep refrigerated for up to 5 days.
Don't miss these other great bundt cake recipes!
Can I use sour cream instead of Greek yogurt?
Yes, that will work just fine. Because I adapted my grandmother's recipe that originally called for sour cream, that yields great results.
To make Vanilla Bundt Cake you will need…
plain Greek yogurt
egg
vanilla cake mix
instant vanilla pudding
confectioner's sugar
vanilla pudding bundt cake
Products I love when making Vanilla Bundt Cake…
This Vanilla Bundt Cake recipe is SUPER EASY and delicious – and if you're like me, then you maybe already have some of these items on hand OR maybe you have never made a bundt cake before, & you might be a bit nervous – but you're going to love it. I have made a list below of the things I absolutely can't live without when it comes to making this cake recipe.
If you love this Easy Vanilla Bundt Cake recipe, you're going to love these other treats too. Please click each link below to find the easy, printable recipe!

easy bundt cake recipes
If you love this recipe for Homemade Vanilla Bundt Cake as much as I do, please write a five star review, and be sure to help me share on facebook and Pinterest!
This is perfect for so many occasions!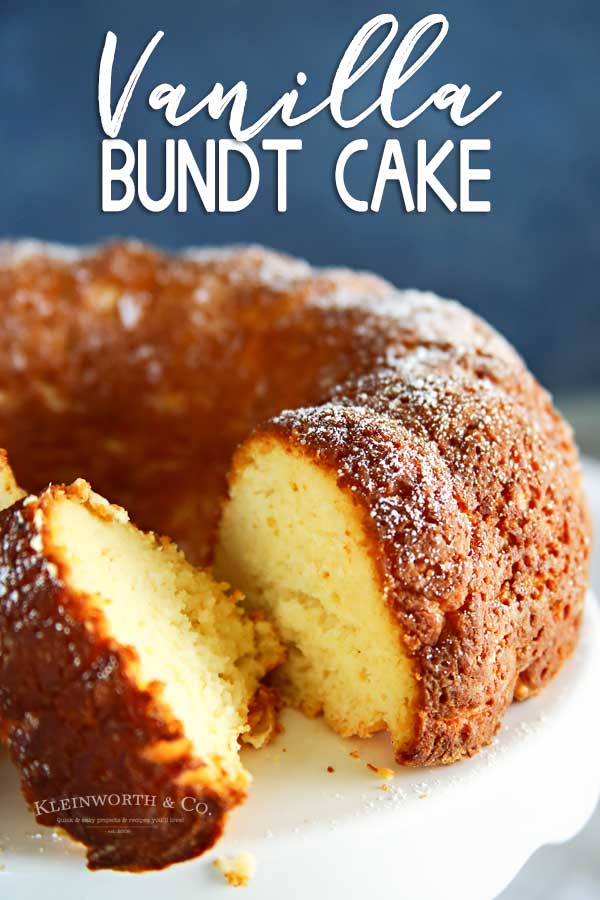 CONNECT WITH KLEINWORTH & CO!
Be sure to follow me on my social media, so you never miss a post!
FB, Pinterest, IG, Email Subscription
Reader Interactions