Homemade Chocolate Pudding is an easy chocolate pudding from scratch recipe that is sinfully rich & decadent. Better than any box mix – oh so good!
Who loves chocolate pudding? All hands are raised here. Growing up I remember my grandmother making chocolate pudding at least once a week for my chocoholic grandfather. He sure loved it.
So fast forward to now, here with my own family, I have sort of carried on that tradition of hers and I make her recipe as often as possible.
Scroll to the bottom for the Printable Recipe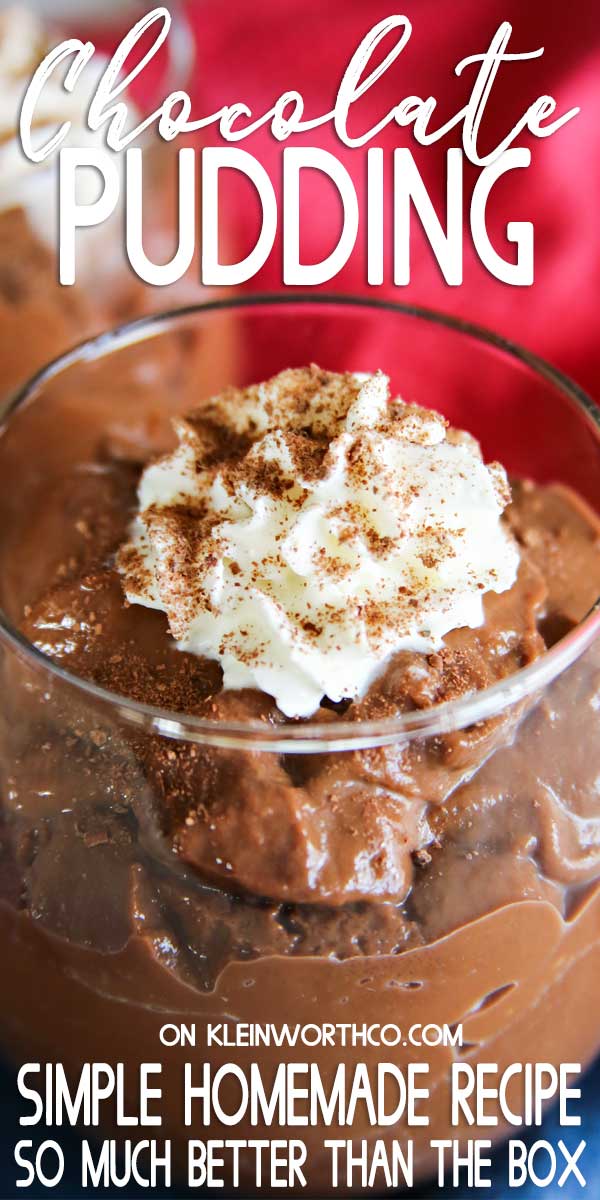 One day, during the quarantine, I realized that everyone had been rationing what milk we had, which should be a good thing. Except that they were so good at it that it was ready to go out of date & we had a bunch of it to use!
So, of course, the first thing I thought of was to make pudding. My daughter wanted to make it herself, but she likes to do the instant pudding in the box.
We were all out of chocolate – so I knew it was time to break out grandma's recipe and make the good stuff.
chocolate pudding dessert
This post contains some affiliate links. Click here to read my full disclosure policy.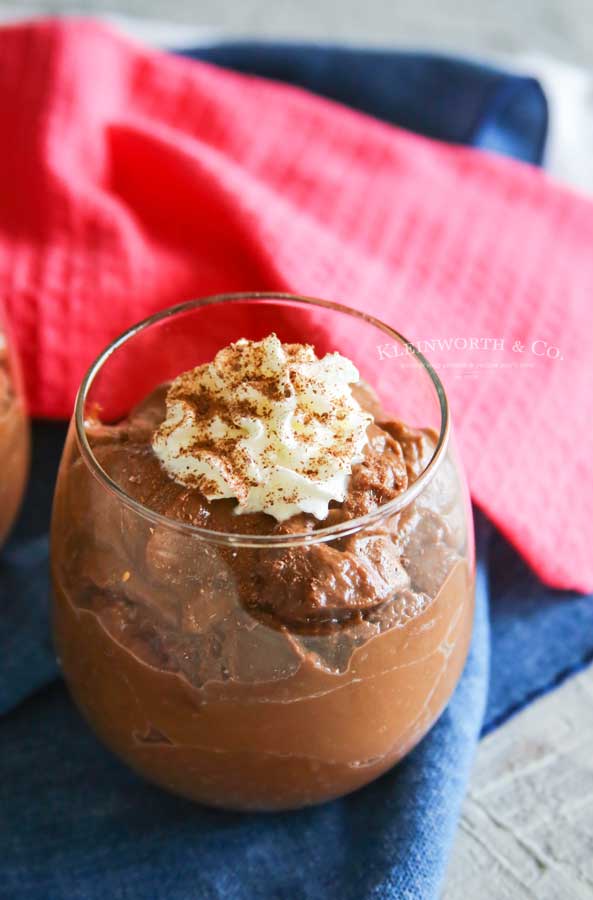 I can tell you, this is SO MUCH BETTER THAN THE BOX MIX. It doesn't take that much longer to make than the instant pudding and the flavor is so much richer.
After doing the box variety for so long, I had sort of forgotten just how good grandma's recipe was. I don't think I'll ever go back. It's so delicious.
Here are some commonly asked questions
What percentage milk should I use?
I used 2% for this batch. You can definitely use whole milk and that would make it really creamy. I have not tried using 1% yet.
Can I use a sugar substitute?
I have not personally tried it, so I can't say how that would turn out. But if you would like to try it, I suggest a product that offers a 1:1 swap. Please let me know how it turns out.
Can this chocolate pudding be frozen?
Yes, you can but keep in mind that the texture might change a bit once thawed again. You can freeze for up to 3 months.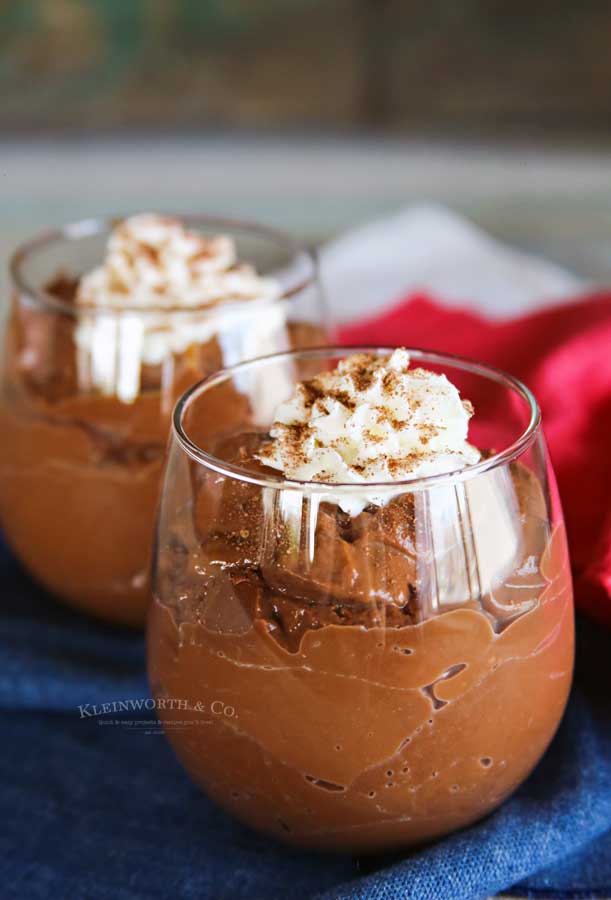 How many can this serve?
This recipe makes enough for 8 servings. These glasses are actually stemless wine glasses and it took a lot of spoonfuls to get them this full. Definately more than 1 serving in these glasses here.
chocolate pudding from scratch
Can this recipe be doubled?
You can, and we do it often. When we are serving this at a party or just want enough to last through a weekend – doubling is the way to go.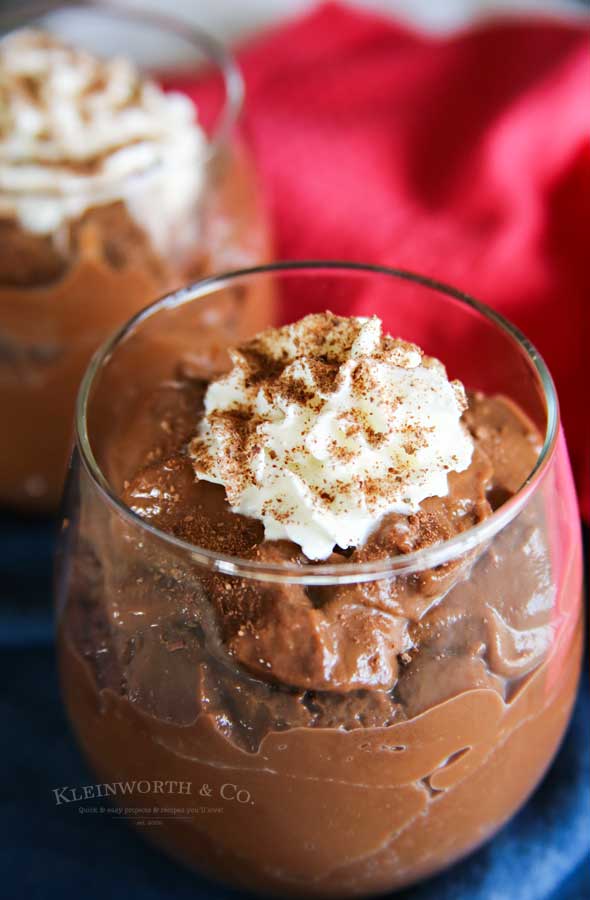 HOW DO YOU MAKE Homemade Chocolate Pudding?
In a medium saucepan, stir together sugar, cocoa powder, cornstarch and salt.
Whisk in the cold milk and mix until combined.
Cook over medium heat, bringing to a boil, stirring constantly.
Boil for 1 minute, continuing to stir.
Remove from heat & stir in the butter and vanilla.
Carefully transfer to a large bowl and cover with plastic wrap. Place the plastic directly on top of the pudding mixture so that it is touching it.
Refrigerate for at least 30 minutes before serving with a dollop of whipped cream and chocolate shavings on top.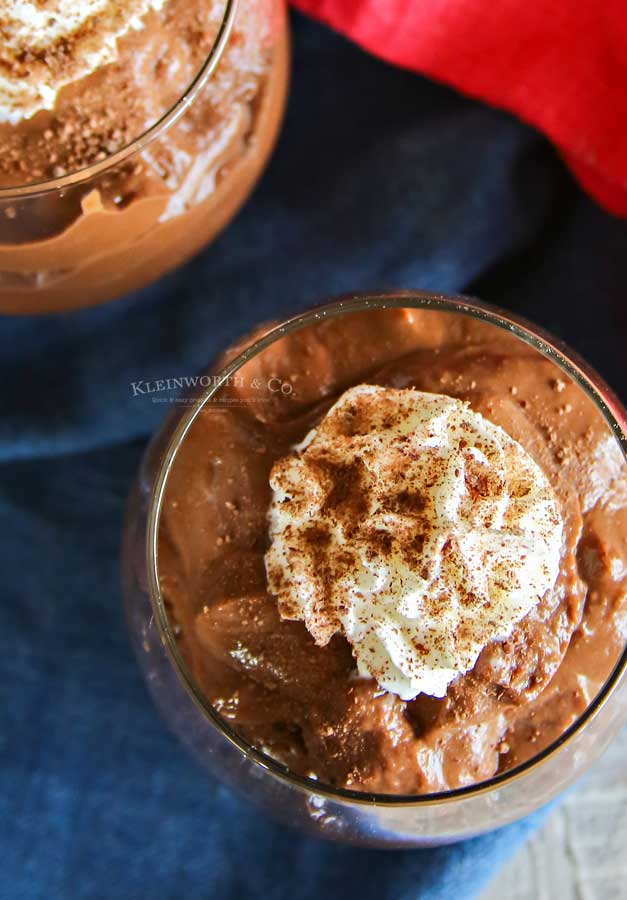 What is the best way to store leftover chocolate pudding?
Place the plastic wrap back on top of the remaining pudding, making sure that it is touching the pudding and refrigerate until ready to enjoy again. It will keep for up to 3 days.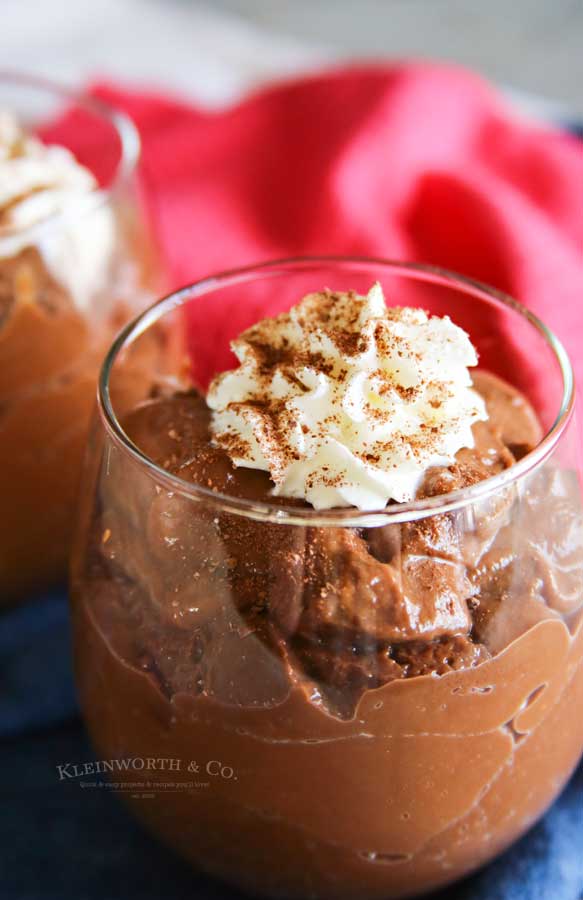 Why must the plastic wrap be touching the pudding?
If the plastic wrap isn't touching the pudding, especially during the initial chilling process, the pudding will form a skin on the top of it. It isn't appetizing and would need to be removed before serving. The plastic touching the top prevents this from happening.
To make Homemade Chocolate Pudding you will need…
granulated sugar
cocoa powder
cornstarch
table salt
milk
butter
vanilla extract
choc pudding
Products I love when making chocolate pudding…
This chocolate pudding recipe is SUPER EASY and delicious – and if you're like me, then you maybe already have some of these items on hand OR maybe you have never made homemade pudding from scratch before, & you might be a bit nervous – but you're going to love it. I have made a list below of the things I absolutely can't live without when it comes to making this dessert recipe.
If you love this easy chocolate pudding recipe, you're going to love these other treats too. Please click each link below to find the easy, printable recipe!

best chocolate pudding
If you love this recipe for Homemade Chocolate Pudding as much as I do, please write a five star review, and be sure to help me share on facebook and Pinterest!
This is absolutely delicious!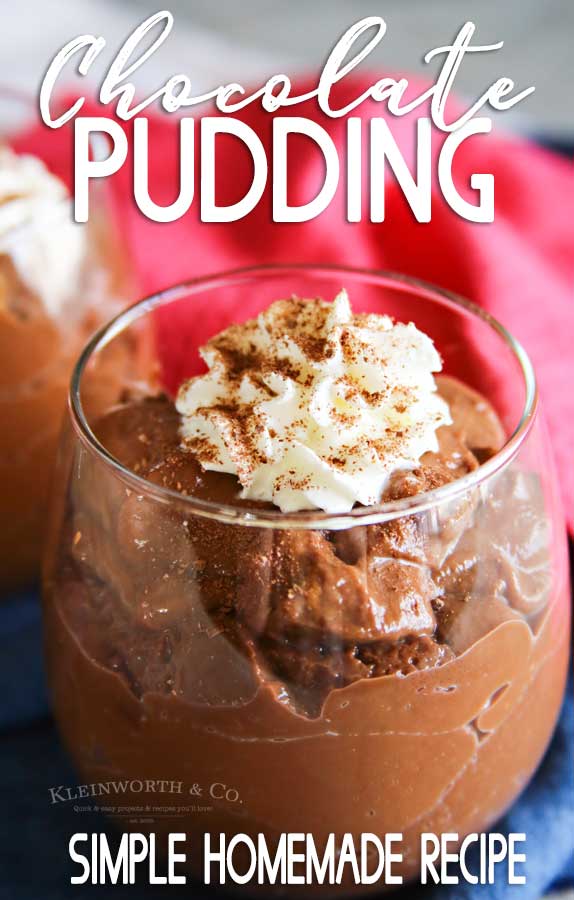 CONNECT WITH KLEINWORTH & CO!
Be sure to follow me on my social media, so you never miss a post!
FB, Pinterest, IG, Email Subscription
Reader Interactions