Homemade Caramel Popcorn is a super easy to make treat. If you love soft caramel popcorn with nuts, check this out. Don't miss the secret ingredient too.
Something about summer makes me want sweet treats. Things like caramel popcorn seem to create a mental tab that says summer.
Not sure what it is but the two go hand in hand for me. So I decided to not only make some popcorn but to do my own spin on the classic caramel popcorn.
Scroll to the bottom for the Printable Recipe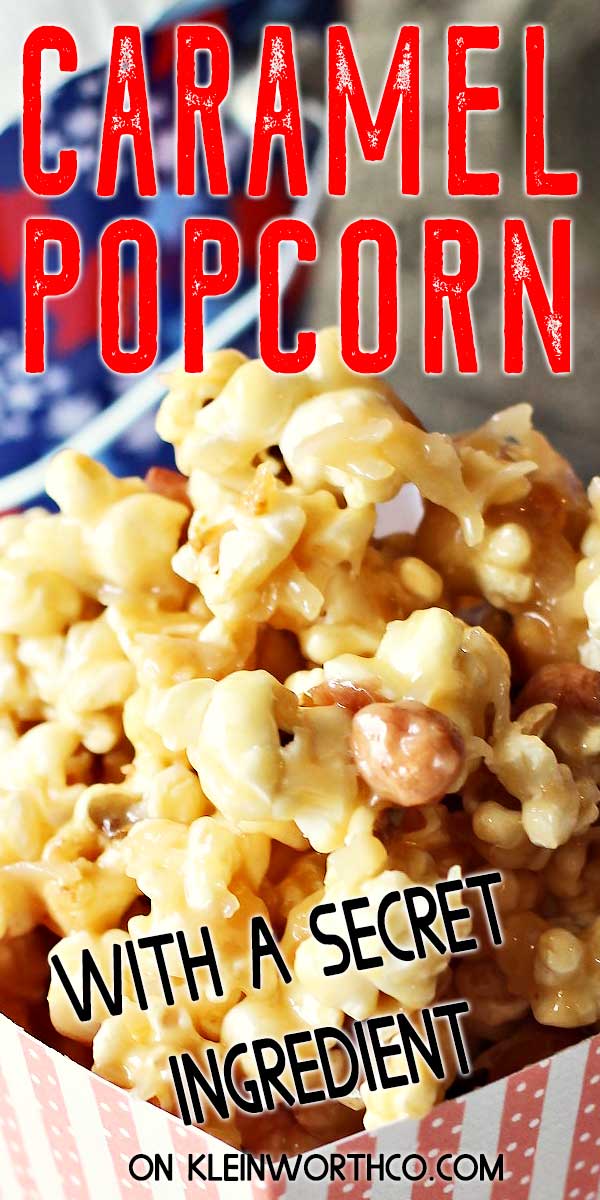 You see, I love Cracker Jacks – except that it is crunchy. I am one of those people that like my caramel softer.
So when I made this recipe I decided to go with a softer set, add a few Spanish peanuts and then the secret ingredient, sweetened coconut.
caramel popcorn with peanuts
This post contains some affiliate links. Click here to read my full disclosure policy.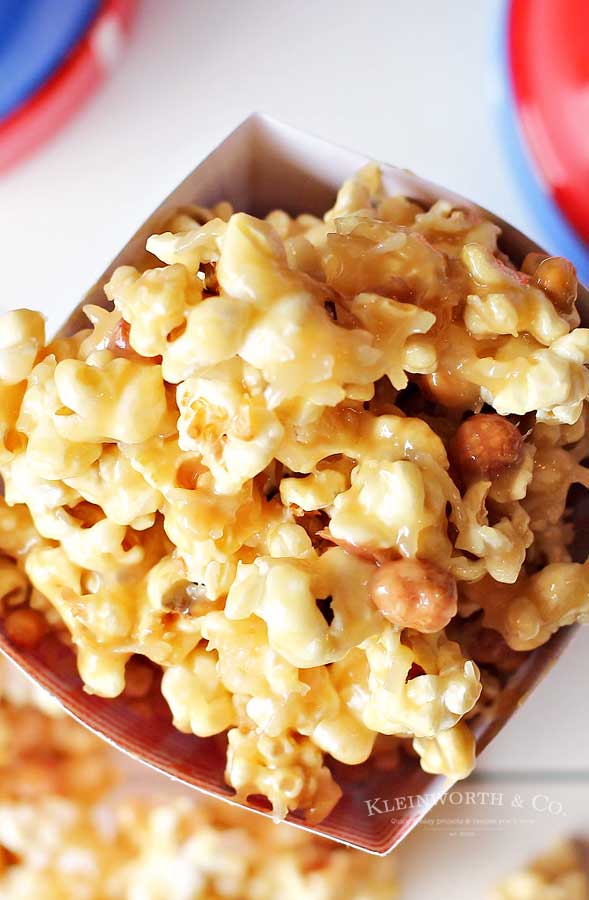 It may sound strange to add coconut to caramel popcorn. But trust me, that added sweet chewiness to each bite is so good.
I have to say, I'm completely obsessed with this recipe and I'll be making it all through summer and into the fall.
This really is the perfect caramel popcorn recipe. It is not only easy to make, but everyone in the house loves it too.
Perfect for parties, tailgating and so much more.
Here are some commonly asked questions
Can I use microwave popcorn?
Yes, absolutely, that will work just fine. I think 7 cups is equivalent to a regular size bag or 2 of those small (100 calorie) personal-size bags.
Should I use salted or unsalted butter?
I personally use whatever I have on hand. But that usually means salted butter – which is great if you like that salty-sweet combo. But if you are watching your salt intake, go ahead & use the unsalted butter.
Can I use heavy cream instead of sweetened condensed milk?
I have not personally tried it. I would imagine that since the condensed milk has added sweetener, you would have to increase the sugar content of this recipe to use an unsweetened liquid-like heavy cream.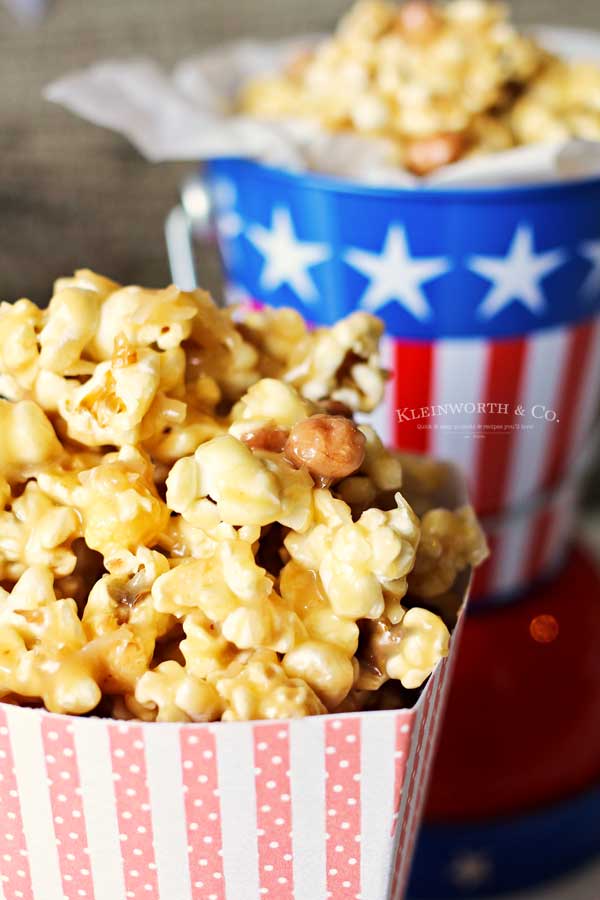 How many can this serve?
This recipe makes 7 cups of popcorn, so about 7 people. But that depends on portions and who exactly you are feeding. Obviously this will go a lot farther if you are feeding little ones vs a group of adults. So plan accordingly.
homemade caramel corn
Can this recipe be doubled?
You can, and we do it often. That works great and it makes it perfect for a family movie night in.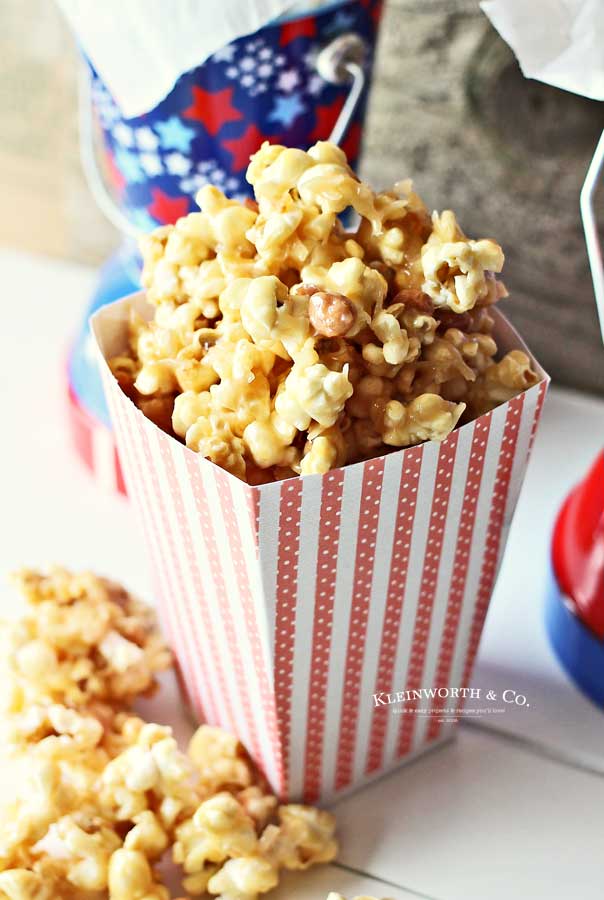 HOW DO YOU MAKE Homemade Caramel Popcorn?
Pop popcorn & set aside in large bowl.
In a large saucepan, combine butter, brown sugar, corn syrup & sweetened condensed milk.
Bring the mixture to a boil (all ingredients will combine & get thick) stirring slowly & constantly with spatula.
Reduce the heat to med/low & continue to boil & stir for 5 minutes.
Immediately remove from heat & pour over the popped popcorn.
Stir with a large silicone spatula to coat all of the popcorn.
Toss in the peanuts & optional coconut & continue to stir to incorporate.
Allow to cool before serving.
This is a softer caramel- will not become crunchy or hard when cooled!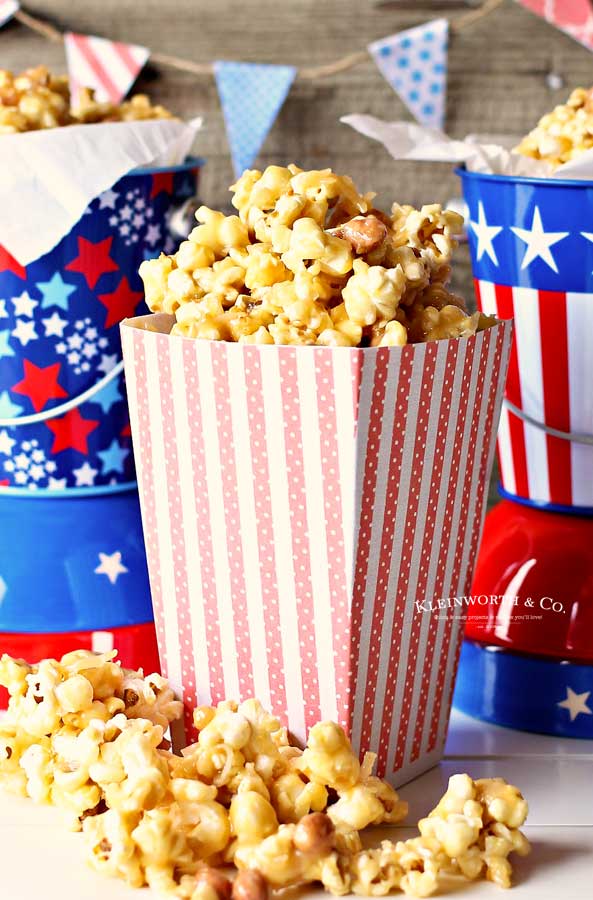 What is the best way to store leftover caramel popcorn?
So, you will want to keep this at room temperature. Not only will refrigeration make the caramel hard, but it will also make the popcorn soggy. Also – unlike most things, it will be best to just place it in a paper sack or put some foil over the top of the bowl. You don't want this to be stored airtight as it will also make the popcorn soggy or softer.
How long will caramel popcorn stay fresh?
Personally, I prefer this caramel popcorn in the first 24-30 hours. But the rest of my family will eat it into day 3. So a lot of it is personal preference. It should be perfectly fine for up to 4 days.
To make Homemade Caramel Popcorn you will need…
popped popcorn
butter
brown sugar
light corn syrup
sweetened condensed milk
spanish peanuts
sweetened coconut flakes- optional
easy caramel corn
Products I love when making caramel popcorn…
This caramel popcorn recipe is SUPER EASY and delicious – and if you're like me, then you probably already have some of these items on hand OR maybe you have never made caramel corn before, & you might be a bit nervous – but you're going to love it. I have made a list below of the things I absolutely can't live without when it comes to making this popcorn recipe.
If you love this Easy Caramel Popcorn recipe, you're going to love these other treats too. Please click each link below to find the easy, printable recipe!

best caramel popcorn
If you love this recipe for Homemade Caramel Popcorn as much as I do, please write a five star review, and be sure to help me share on facebook and Pinterest!
This is absolutely heavenly!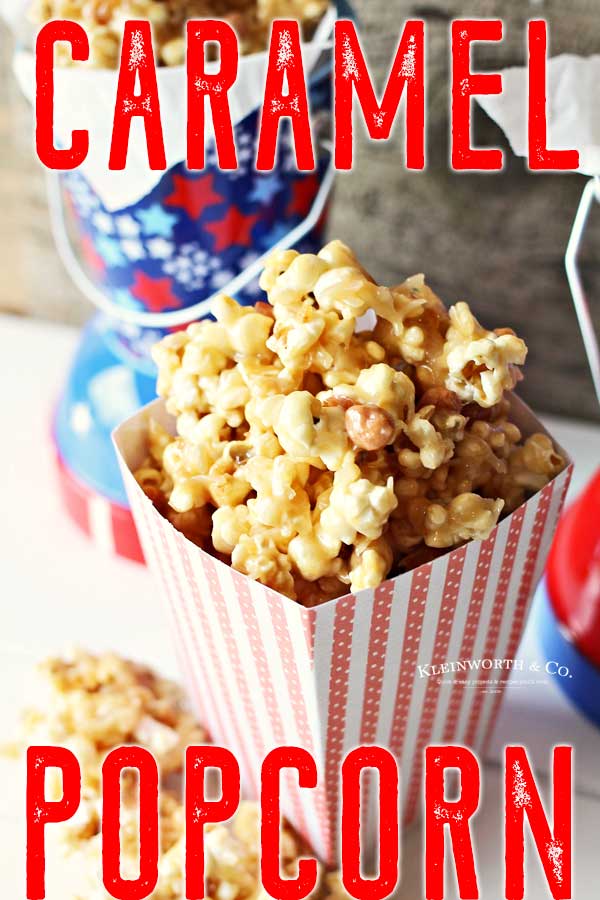 CONNECT WITH KLEINWORTH & CO!
Be sure to follow me on my social media, so you never miss a post!
FB, Pinterest, IG, Email Subscription
Reader Interactions