Minty Shamrock M&M Popcorn is a super easy & delicious treat to enjoy on St. Patrick's Day. If you are a fan of white chocolate popcorn, the added mint M&M's in this snack will make you swoon!
Something you might not know about me – I'm a little bit Irish – so I love St. Patrick's Day 🙂 It's so fun!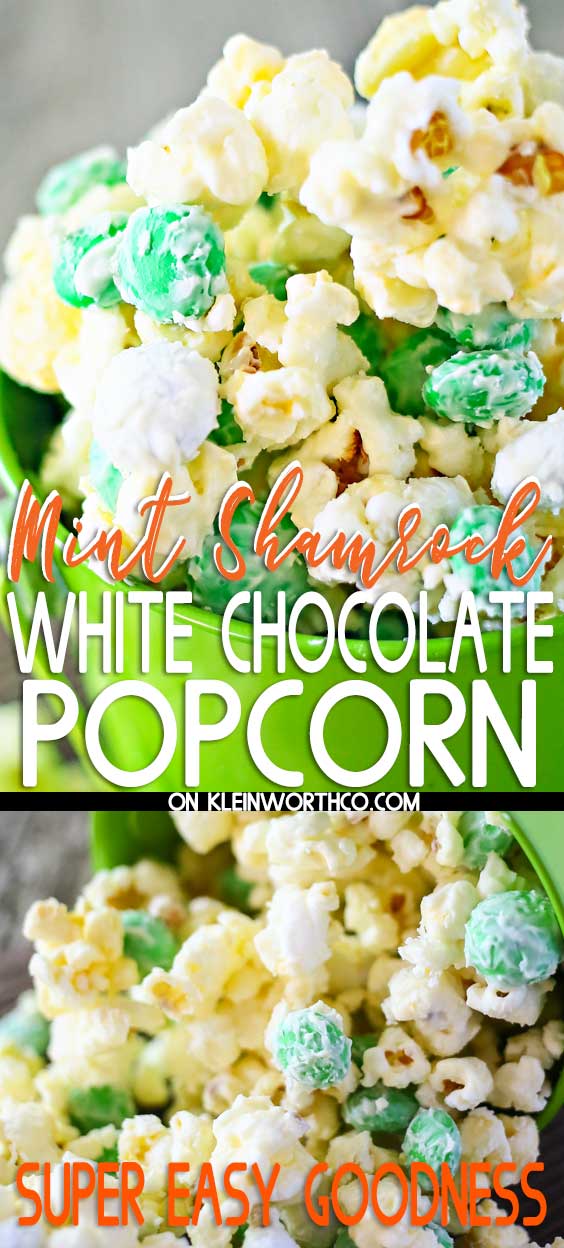 Soooo I had to take some of the minty M&M's I had in the cabinet & make one of my most favorite quick snacks. Minty Shamrock M&M Popcorn is so easy to make & my kids went nuts for it with that hint of mint.
Gotta love M&M's for keeping every holiday fun with all their different flavors & varieties.
white chocolate popcorn recipe
This post contains some affiliate links. Click here to read my full disclosure policy.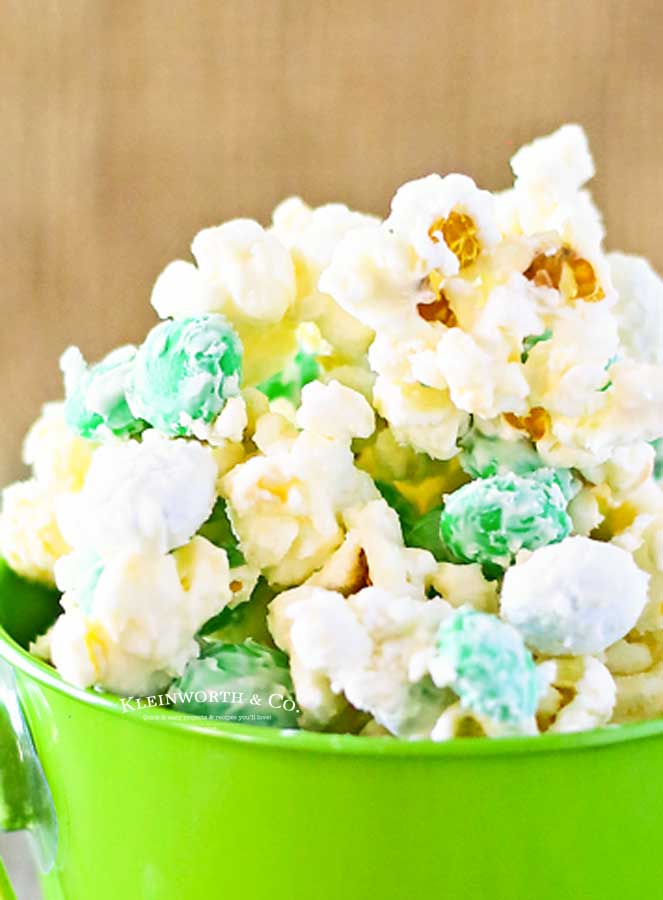 Do you look forward to the holiday varities of M&M's? I sure do. I know that most of them don't have anything different about them but the color combinations, I just love them.
But I really love these because they are mint. They are a hot commodity in our house so I always buy as many as I can when I find them.
They taste so great when mixed with the saltiness of the popcorn. I just can't get enough.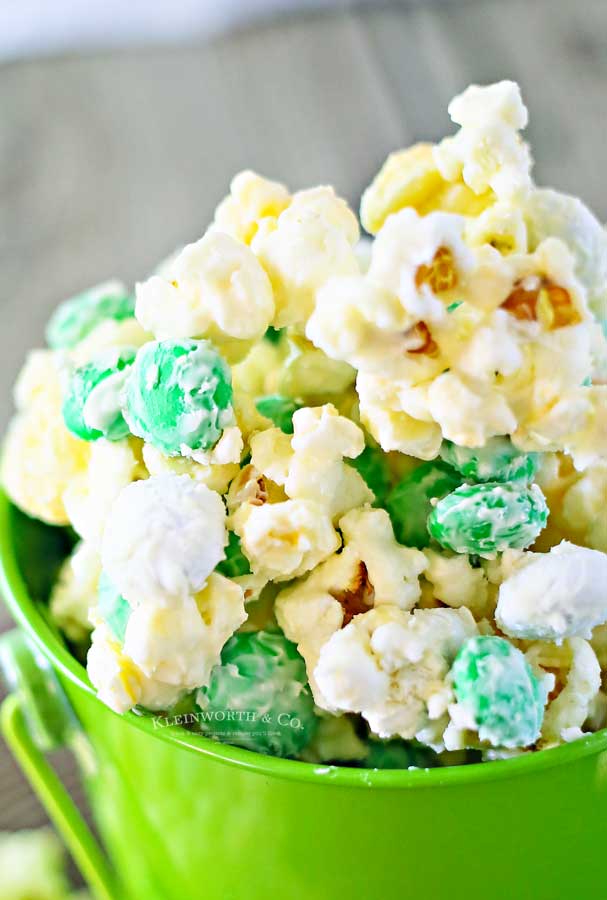 I like to portion out my popcorn & make sort of popcorn bar. So some will be just the butter & salt. Then I mix this batch with the white chocolate & mint M&M's. Then sometimes I add other flavors like stirring in crumbled Oreo cookies or Cinnamon Toast Crunch cereal.
Here are some commonly asked questions
Can I make this recipe with microwave popcorn?
Yes- of course you can make this with one full-size bag of microwave popcorn.
What is the best way to store leftover chocolate popcorn?
The easiest way is to add some plastic wrap or foil over the top of the bowl & store at room temperature. If you live in an overly humid or extremely dry cliamte, this popcorn will be best when served fresh. I'm not sure how well it will keep beyond the first day.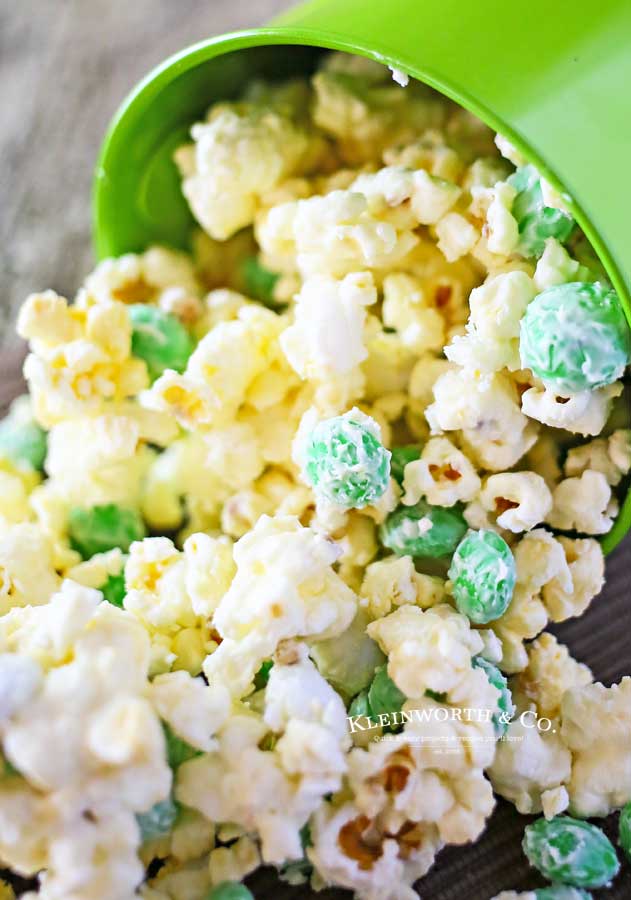 How many can this serve?
This recipe makes 8 cups, so depending on how much each person is grabbing, it could be 8-16 people.
white chocolate covered popcorn
Can this recipe be doubled?
Absolutely! Just make sure to do it in 2 batches because air poppers can only do one scoop at a time or the kernels are too heavy for the air to push them up and then they burn.
Can this recipe be halved?
Yes, making a half batch is really easy if you are doing this with either an air popper or one of those mini bags of popcorn.
HOW DO YOU MAKE Minty Shamrock M&M Popcorn?
Prepare the popcorn using an air popper popcorn maker into a large bowl & set aside.
In a glass bowl, combine white chocolate chips & shortening.
Nest the bowl in a pan filled halfway with water & heat on the stove over medium heat. (you can use a double boiler for this.)
Stir constantly until chocolate is in a very liquid state & smooth. Do not over heat.
Remove from heat- pour immediately over popcorn.
Fold the chocolate unto the popcorn until it's coated & well combined.
Pour in M&M's & continue to mix in. (Best to do this in small batches- you want some of the M&M's to get melted a bit from the heat of the white chocolate. Then you want to add more as it cools otherwise they will sink to the bottom.)
Can I use a candy melts?
Yes, you can use 1-1/2 bags of white chocolate candy melts instead of chocolate chips if desired.
Can I microwave the chocolate instead of using a double boiler?
So, yes, but do so on 50% power. White chocolate tends to sieze up & stops melting when overcooked. So it is really easy to end up with a big lump of partially melted chocolate that just refuses to melt. I find this happens far less when using the double boiler.
st patrick's day recipes
To make this recipe you will need…
popped popcorn
white chocolate chips
shortening
Mint M&M's
green milk chocolate M&M's
Products I love when making Minty Shamrock M&M Popcorn…
This Minty Shamrock M&M Popcorn recipe is so EASY and delicious – and if you're like me, you probably already have many of these items on hand! OR maybe you have never made chocolate popcorn before, & you might be a bit nervous – but you're going to love the how easy this treat is to make. I have made a list below of the things I absolutely can't live without when it comes to making this yummy treat.
The kids love this for holiday class parties & afternoon snacks!
saint patrick's day recipes
If you love this Mint M&M's Popcorn recipe, you're going to love these other quick & easy St. Patty's Day recipes too. Please click each link below to find the easy, printable recipe!
st patricks day food ideas
If you love this Mint M&M's White Chocolate Popcorn recipe as much as I do, please write a five star review, and be sure to help me share on facebook and pinterest!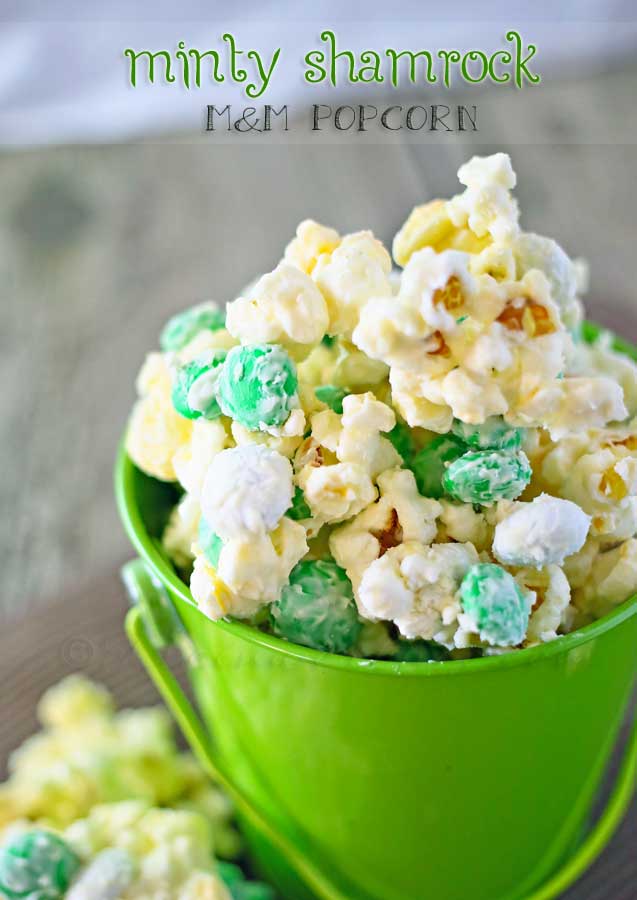 CONNECT WITH KLEINWORTH & CO!
Be sure to follow me on my social media, so you never miss a post!
FB, Pinterest, IG, Email Subscription
Reader Interactions