Juicy pork chops coated in crunchy, buttery Ritz crackers, these Baked Ritz Cracker Pork Chops are so quick & easy & are positively delicious. A must make for sure!
If you know me then you know I'm all about the quick & easy dinners. People think that since I cook for this site, that I must love to be in the kitchen.
Well, the fact is, I definitely love eating the food & the process of getting there & cleaning it up afterward comes in a little lower on the list.
My life is full & time is short – so just like everyone else, I like to keep meals quick & easy.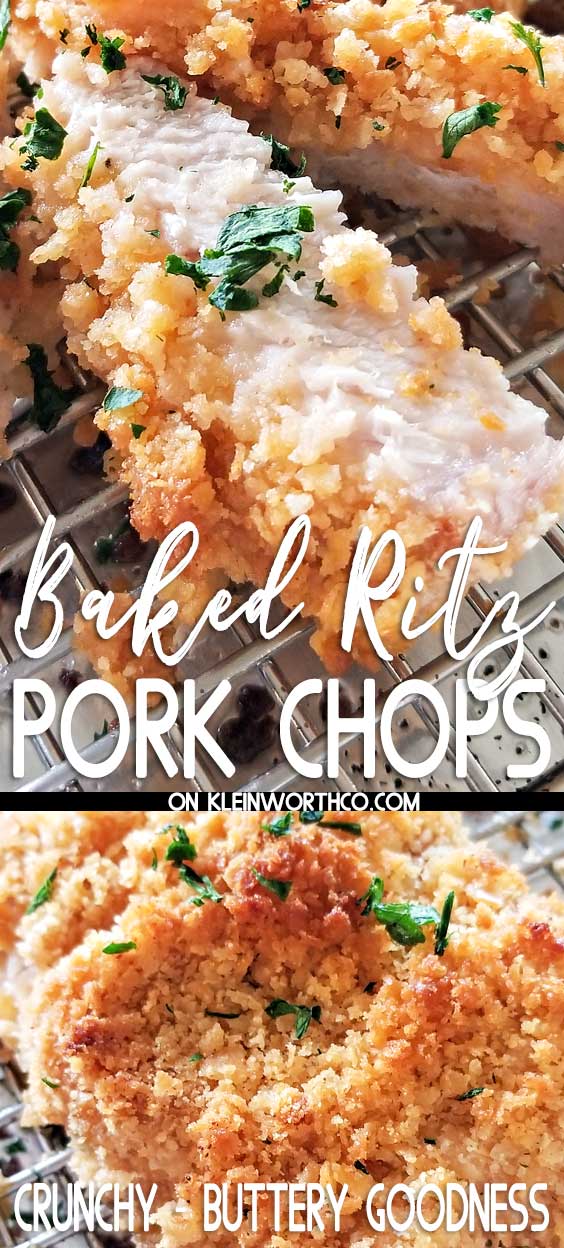 This recipe for baked pork chops has been around in our family for as long as I can remember.
In fact, when the hubs & I first moved in together, this was one of the recipes I made when my best friend came into town for the weekend. That was 23 years ago. So, yeah- it's been around a while.
ritz pork chops recipe
This post contains some affiliate links. Click here to read my full disclosure policy.
I don't really know why I never got around to sharing the recipe here. I'm finding that a lot of the recipes that we don't even think about, but make all the time haven't been shared here yet.
But we love this one so much for it's simplicity. It really is so simple that I passed along the dinner duties to my daughters & they whip this one up for us all.
You can't go wrong & it only takes a handful of ingredients. This one is great for a busy weeknight dinner or when having guests over too.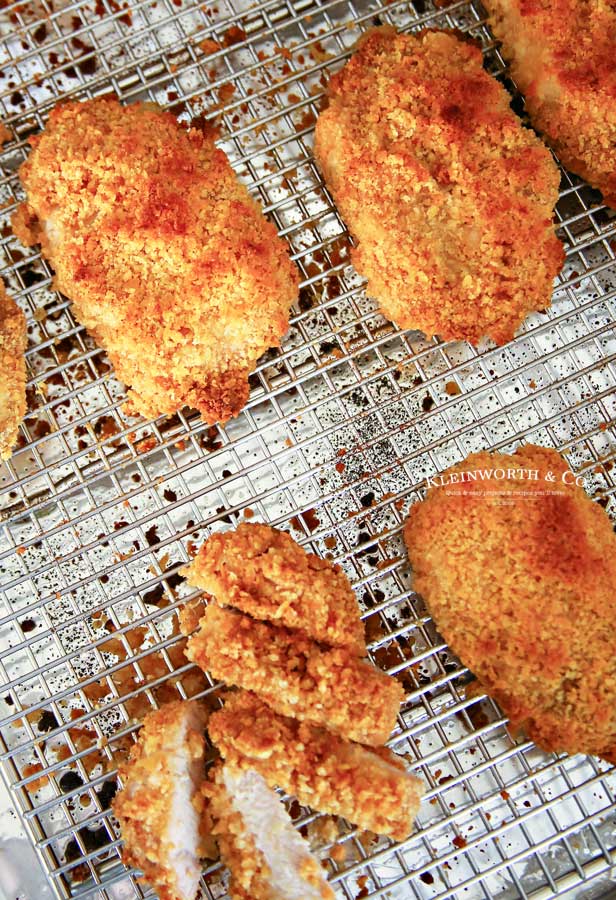 I promise – you'll end up making this all the time!
Here are some commonly asked questions
What is the easiest way to crush the crackers?
This part is simple. I usually dump them all in a zip-top bag & just crush them with my hands. They are so flaky that they don't need pounding with a rolling pin or anything like that. Sometimes I just take the tube of them & just sort of crush them in the packaging before dumping them into a bowl. You don't need a food processor or anyspecial equipment.
Can I add sauce to the top after baking?
Absolutely! If you want to ladle over some white gravy, chicken gravy, top with salsa, marinara, cheese sauce or anything else – that would be delicious.
What is the best way to store leftover pork chops?
After serving, place any leftover pork chops in a shallow airtight container. Be sure to label with the date before refrigerating. The pork chops should keep for up to 3 days. As with most things, it is important to get food into the refrigerator within 1 hour after serving to prevent bacteria growth.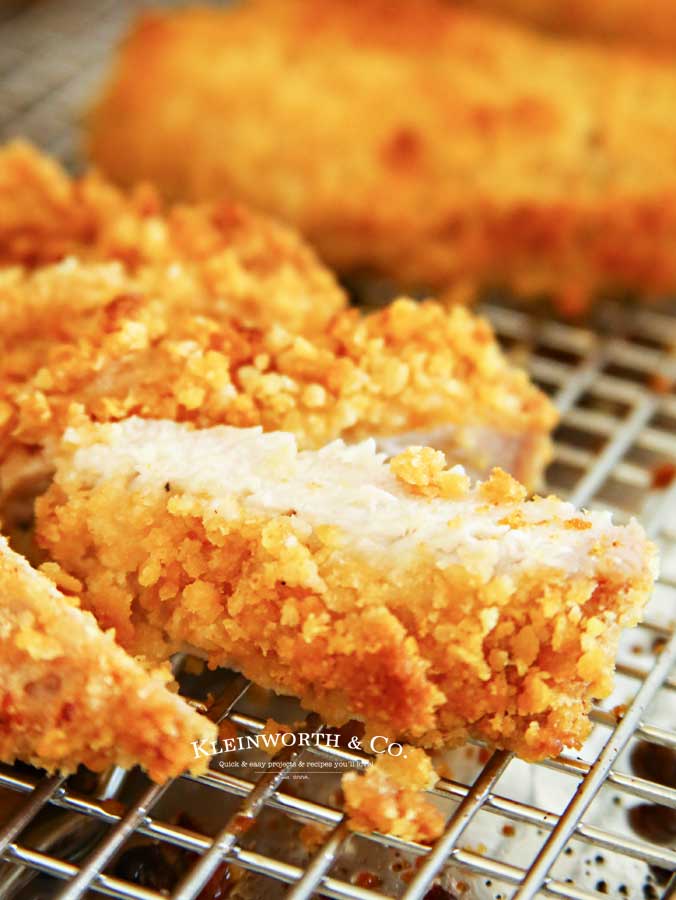 Why use a shallow container to store the leftovers?
Well, when the container is shallow, the contents chill faster than if you were to use a large, deep container. Ideally, you don't want it to take too long for the leftovers to get to their chilled/stored temperature. As I mentioned, if the food remains above about 35 degrees for more than 1 hour after cooking, the bacteria starts to grow.
So, if the deep container of food takes several hours to finally get to that 35 degrees, the bacteria has been growing in your leftovers for those several hours. Not exactly what you want to happen.
How many can this serve?
We buy the big pack of 8+ pork chops because there are 5 of us in our family & 4 pieces just won't do. So I wrote this recipe for up to 8 servings.
baked ritz pork chops
Can this recipe be doubled?
Yes, you can double this recipe. If you have a large sheet pan you can make 16 – or if you want less, you can half the recipe too.
Can this be made with bone-in pork chops?
Yes, this can be made with bone-in pork chops. Just increase the cooking time to 35-40 minutes.
HOW DO YOU MAKE Ritz Cracker Pork Chops?
Preheat the oven to 425 degrees.
Crush the crackers & place in a medium bowl along with the panko, minced onions, Pappy's, granulated garlic, salt & pepper. Toss to combine.
Add the mayo to a shallow dish.
Lay each pork chop in the mayo & then turn to coat entirely.
Then dredge each mayo-coated pork chop in the cracker mixture, making sure to coat it completely.
Place the covered pieces on a foil-lined baking sheet (with or without a wire baking rack).
Bake for 20-30 minutes or until internal temp reaches 145 degrees.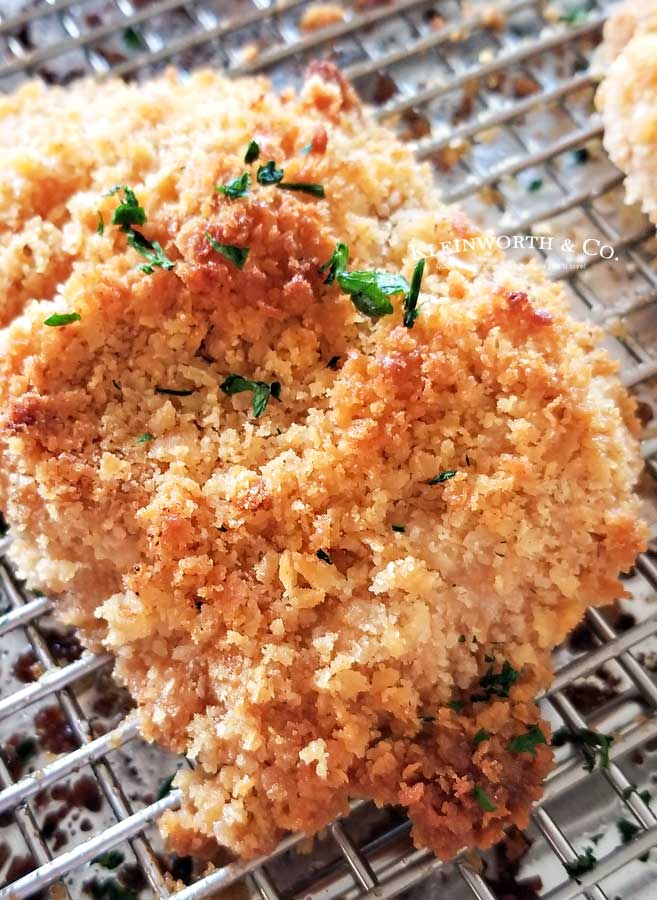 Can this be made with frozen pork chops?
Trying to make this with frozen pork would drastically increase the amount of time it would need to bake. I don't recommend doing this.
Ritz Cracker Recipes
To make this recipe you will need…
thin pork chops
Ritz crackers
panko
minced onions
Pappy's
granulated garlic
salt
pepper
mayo
Products I love when making this pork chop recipe…
This Ritz cracker pork chop recipe is so EASY and delicious – and if you're like me, then you probably already have many of these items on hand OR maybe you have never made baked pork chops before, & you might be a bit nervous – but you're going to love the how simple this recipe is. I have made a list below of the things I absolutely can't live without when it comes to making this easy dinner.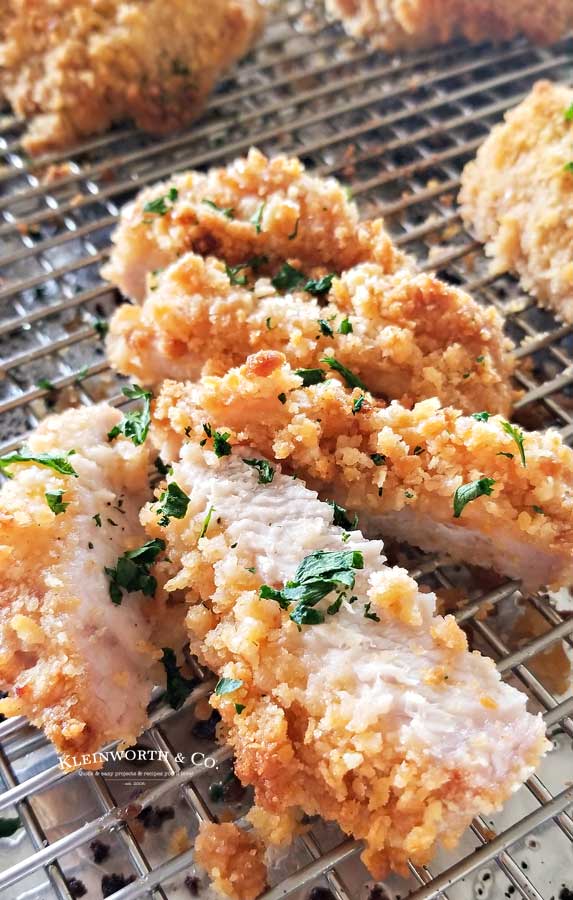 Scroll to the bottom for the Printable Recipe
Breaded Baked Pork Chop Recipe
If you love this easy baked pork chop recipe, you're going to love these other delicious recipes too. Please click each link below to find the easy, printable recipe!

breaded baked pork chops
If you love this easy Ritz Cracker Pork Chops recipe as much as I do, please write a five star review, and be sure to help me share on facebook and pinterest!

CONNECT WITH KLEINWORTH & CO!
Be sure to follow me on my social media, so you never miss a post!
FB, Pinterest, IG, Email Subscription

recipe for breaded pork chops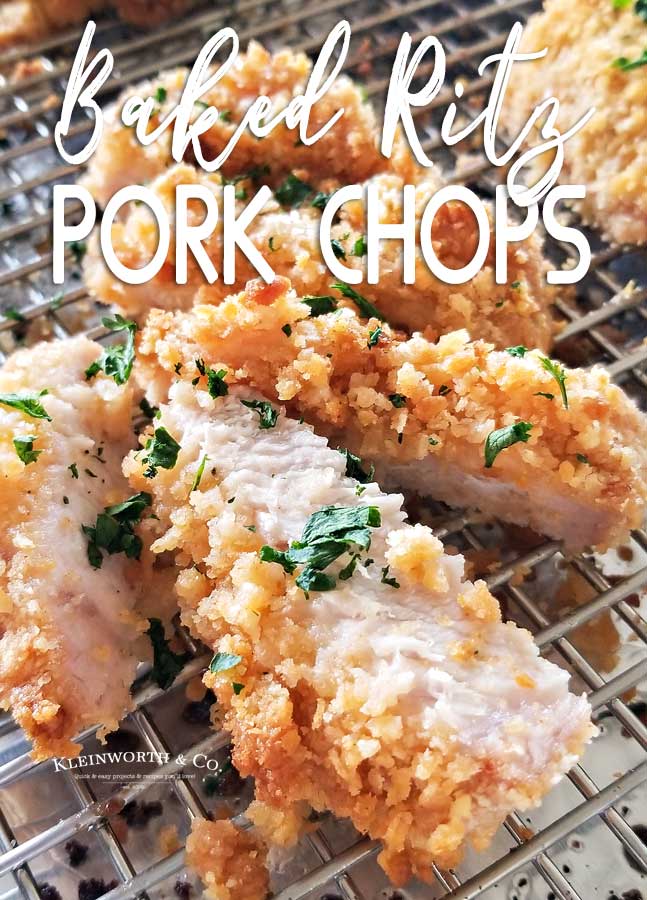 Reader Interactions