20-Minute Cheddar Biscuits are the perfect side dish. You can't beat this copycat red lobster biscuit recipe that's ready in about 20 minutes.
I love easy dinners, especially this time of year. There is just too much to do & then adding things like shoveling the driveway (which always seems to take longer than expected) really can have me in a time crunch.
I'm always looking for quick meal ideas that also help us stay warm in the winter. Comforting & yet filling for my 3 adult-sized kids, I love making cozy soup & these awesome 20-Minute Cheddar Biscuits.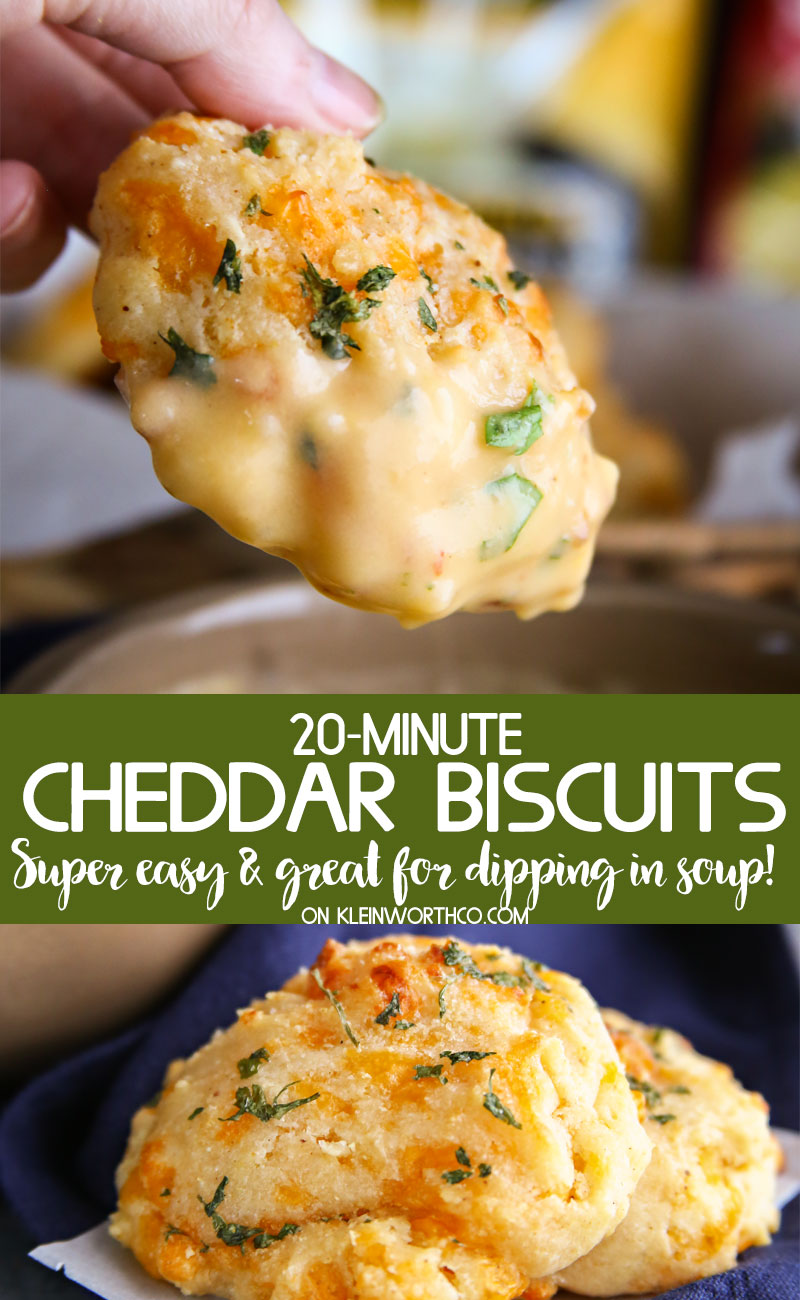 I love easy dinner sides. My hubs is all about making sure to have 3 items on the plate & so when it comes to sides, I keep it simple.
That being said, he is all about making sure there are veggies on the side of the main. I lean towards bread & pasta. What can I say, I love the carbs, as bad as they are for me.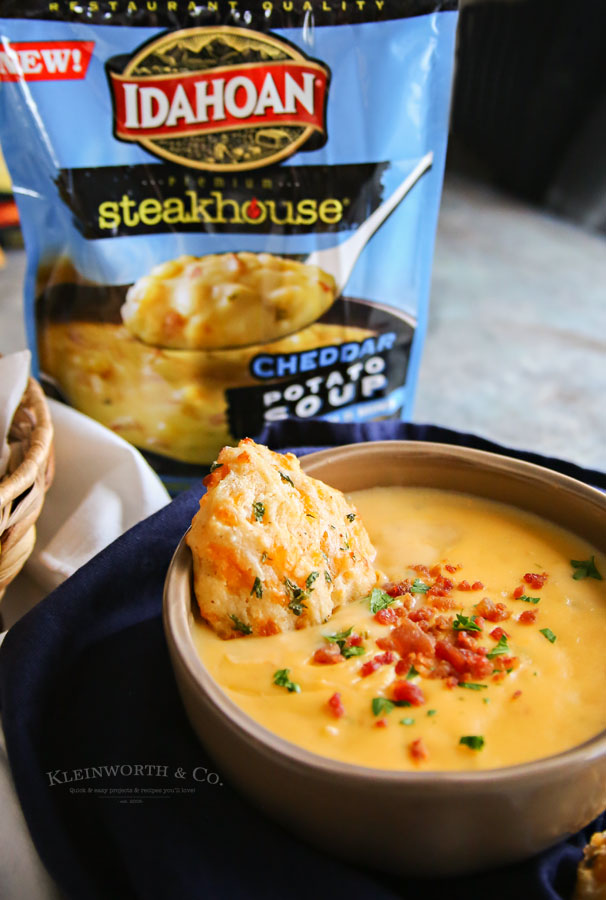 So I make rolls or whatever, but the other night the family was going on & on about the Cheddar Bay Biscuits at that seafood chain restaurant.
I'm not a super huge fan of seafood or that particular restaurant, but I do love a roll with some cheese on there, so I decided to whip some up.
Cheddar Bay Biscuit Recipe
This post contains some affiliate links. Click here to read my full disclosure policy.
I must say, they really are quite delicious. I mean, what could be bad about a buttery biscuit topped with cheese?
The best part about these is how quickly they come together. I mean, mixing & baking time is only 20 minutes.
I can handle 20 minutes & they are perfect with just about any meal. So so so good!
Here are some commonly asked questions
Please see the following frequently asked questions we get for these biscuits. This will help assure that they turn out perfect each & every time you make these.
What if I don't have buttermilk?
No problem. If you happen to not have buttermilk, you can place 1 tbsp white vinegar in your measuring cup. Then fill the rest up to the 1-cup mark with regular milk. Then let it sit at room temperature for at least 5 minutes before mixing into the batter.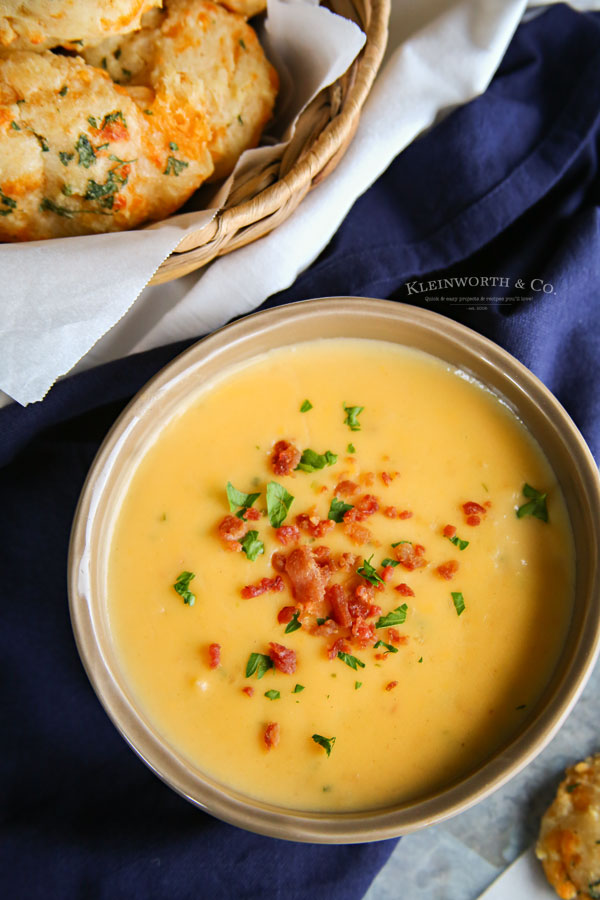 Does the sugar make these sweet?
Nope, not at all. It just helps things rise properly when mixed with the other ingredients.
What is the best way to store leftover cheddar biscuits?
I must say, we never have leftovers of these. However, if you happen to have a few extra laying around, place the leftover biscuits in a zip-top bag or airtight container. This recipe should keep at room temperature for up to 3 days.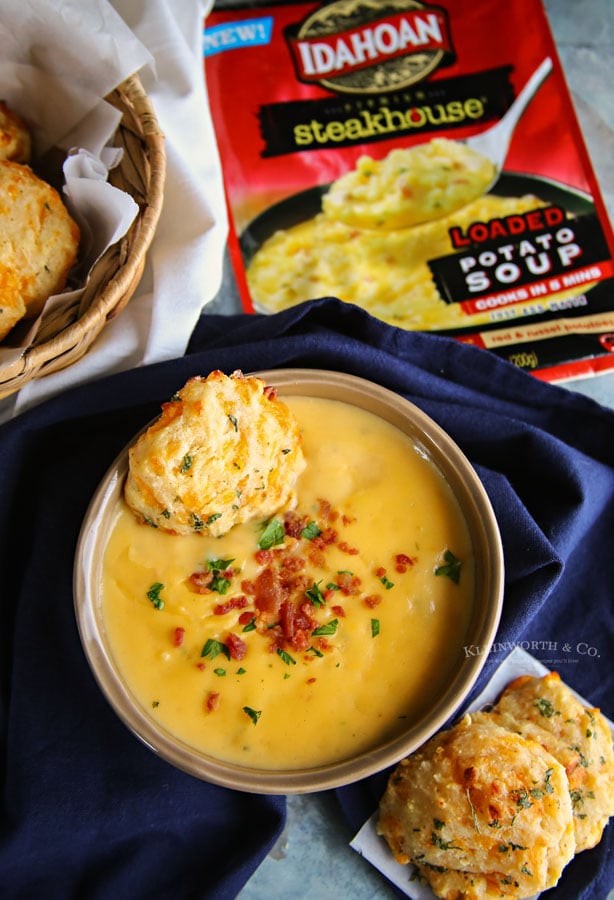 Can I omit the chili powder?
You bet, that works just fine. It doesn't make these zesty in any way, it just gives a depth of flavor, so I would encourage you to give it a try before leaving it out.
How many can this serve?
I make about 10 biscuits with this dough. So for my family of 5 – it's good for about 1 dinner.
Recipe Cheddar Bay Biscuits
Can this recipe be doubled?
Yes, absolutely this can be doubled. You can even bake the sheets side-by-side or just do them in batches back to back.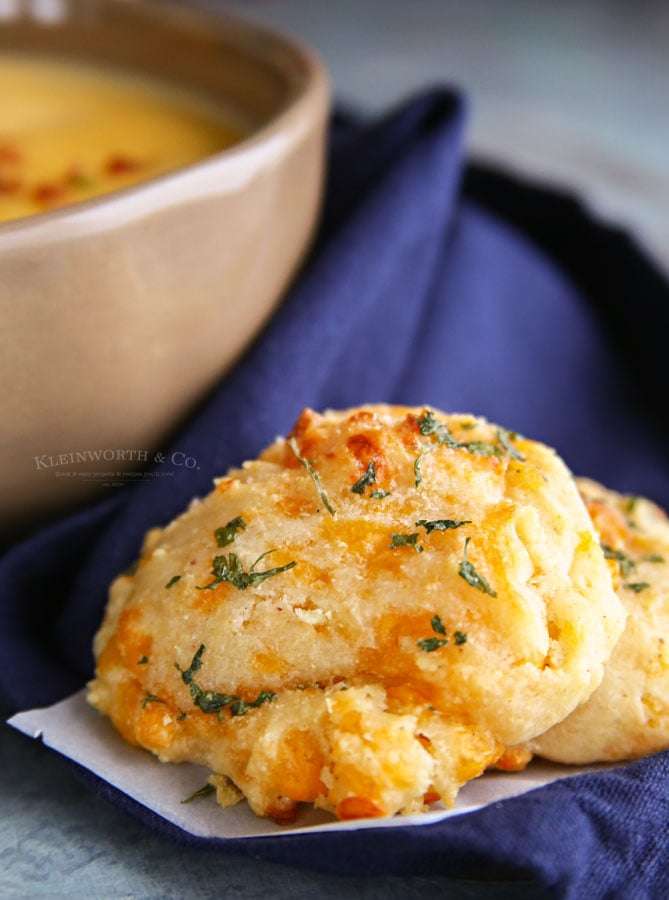 HOW TO MAKE Cheddar Bay Biscuits?
Preheat oven to 450 degrees F. Line a baking sheet with parchment paper – set aside.
In a large bowl, combine flour, sugar, baking powder, garlic powder, salt & chili powder.
In a large glass measuring cup, combine buttermilk & butter – whisk to combine.
Pour into dry mixture & stir using a rubber spatula just until moist.
Fold in cheese.
Scoop the batter evenly onto the prepared baking sheet. (You can use a 1/4-cup measuring cup for even distribution)
Place into oven and bake for 10-12 minutes, or until golden brown.
For the topping, whisk together butter, parsley and garlic powder in a small bowl & then brush over the tops of the baked biscuits.
Serve immediately.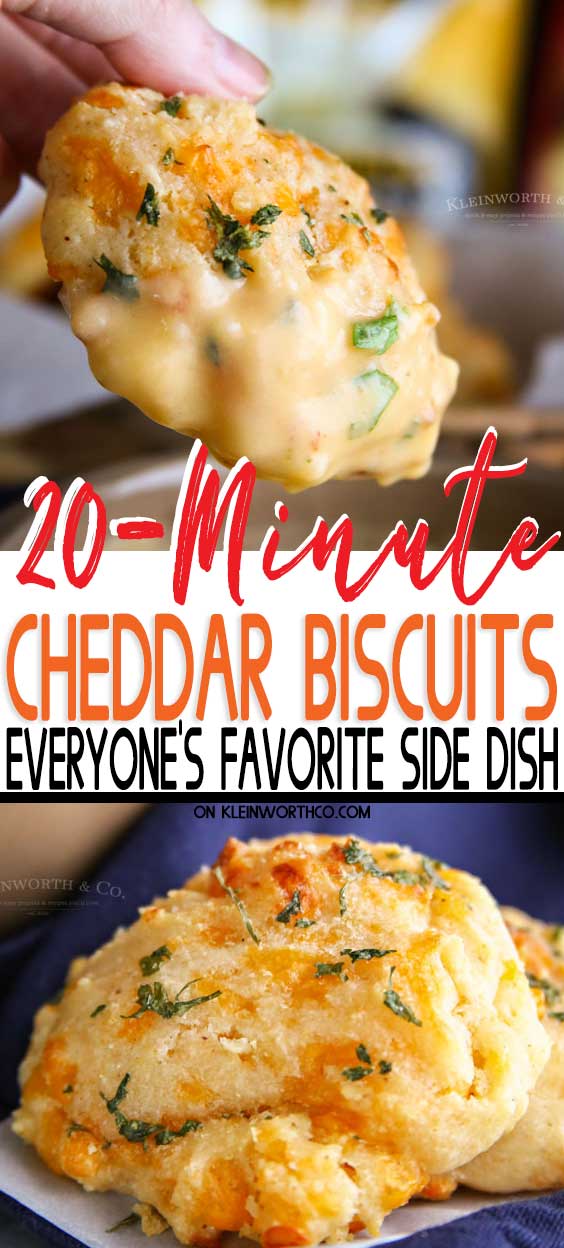 These don't need yeast?
Nope, that is what makes making biscuits so easy. No yeast, no need to wait for them to rise. Just mix & bake.
red lobster cheddar bay biscuit recipe
To make this recipe you will need…
all-purpose flour
granulated sugar
baking powder
granulated garlic
kosher salt
chili powder
buttermilk
butter melted
shredded cheddar cheese

**TOPPING

butter melted
parsley leaves
granulated garlic
Products I love when making these incredible biscuits…
This cheddar biscuit recipe is SUPER EASY and delicious – and if you're like me, then you maybe already have some of these items on hand OR maybe you have never made homemade rolls before, & you might be a bit nervous – but you're going to love these turn out. I have made a list below of the things I absolutely can't live without when it comes to making this biscuit recipe.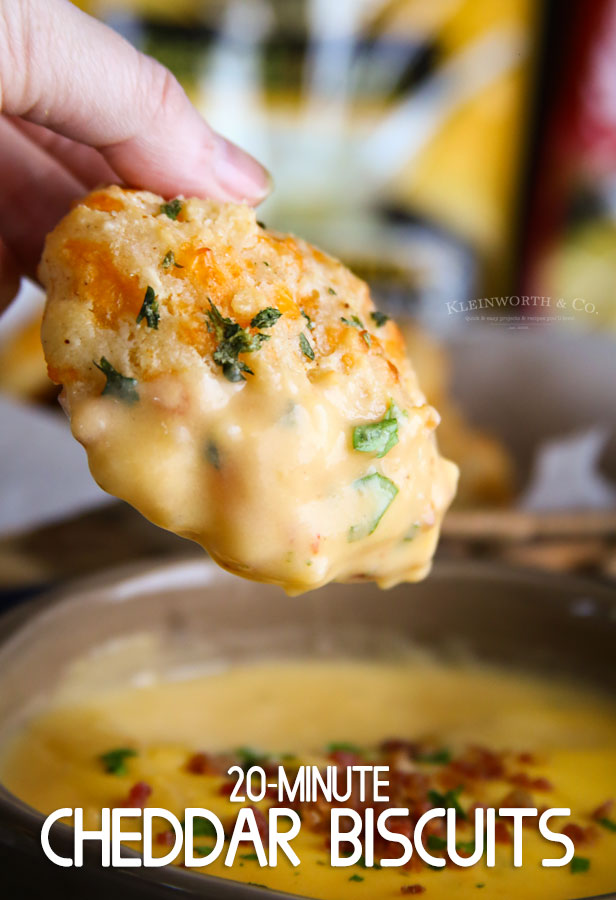 I'm telling you – these are AMAZING!!!
Scroll to the bottom for the Printable Recipe
cheddar bay biscuits
If you love this easy dinner biscuit recipe, you're going to love these other delicious recipes too. Please click each link below to find the easy, printable recipe!
copycat red lobster biscuits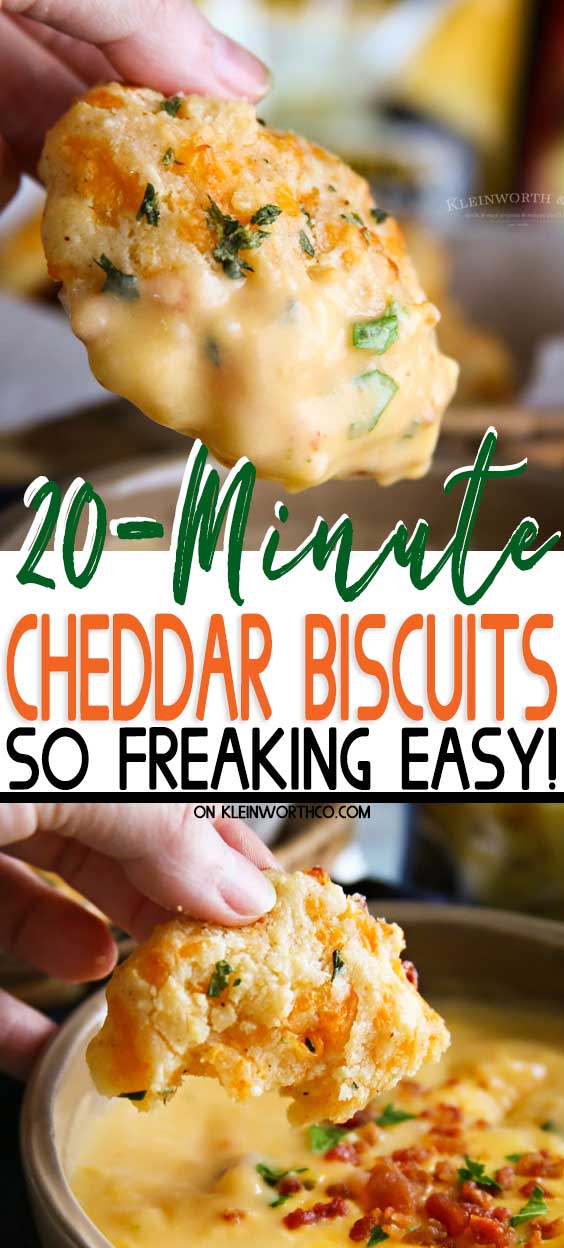 I just can't tell you how much everyone loves these biscuits!
If you love this biscuit recipe as much as I do, please write a five star review, and be sure to help me share on facebook and pinterest!
CONNECT WITH KLEINWORTH & CO!
Be sure to follow me on my social media, so you never miss a post!
FB, Pinterest, IG, Email Subscription

Thank you Idahoan® Steakhouse® Soups for sponsoring this post. Stay warm with this winter with a cozy bowl of soup! I was selected for this opportunity as a member of CLEVER and the content and opinions expressed here are all my own.
Reader Interactions