Refrigerator biscuits, Italian garlic butter & Parmesan cheese make these Garlic Parmesan Pull-Apart Biscuits. A simple side with easy family dinner ideas.
Family time together is so important. With everyone working so much it's getting harder & harder to get us all together anymore. Trying to get us all around the table for a meal at the same time is proving quite challenging.
The kids & I have resorted to making dinner at lunchtime so that we can have a good meal as a group. Then my poor son is left with a snack most times for dinner because he has to eat on the run at work. It's so late by the time he gets home that he's not diving into a decent dinner.
Scroll to the bottom for the Printable Recipe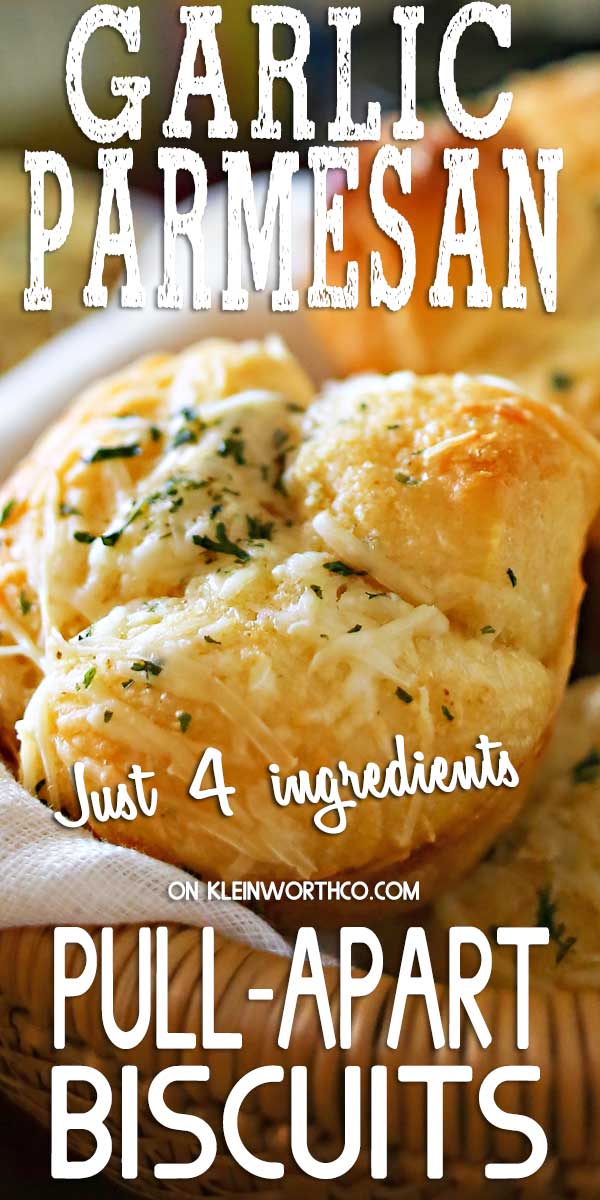 It's so sad because family time around the table has always been our connection. The hubs & I truly enjoy cooking together & sharing those delicious meals with the kids was special.
Those times are moments we cherish & look forward to because dinner is important to our family. So whenever possible we gather in the kitchen for a big family meal, full of delicious food, talking, laughter & sharing & fun.
Pull Apart Biscuits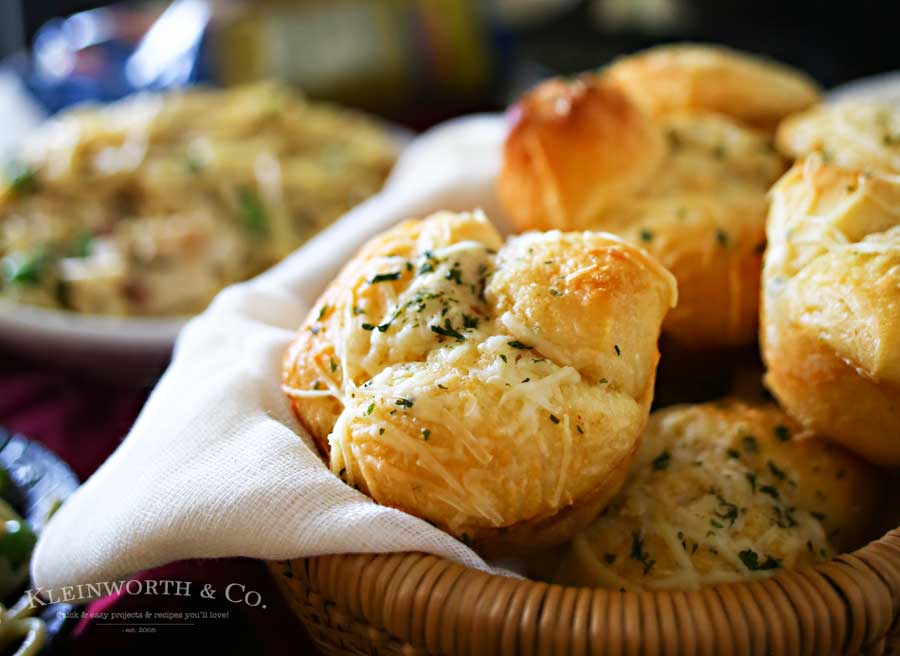 During the week I'm now making dinner prep quick in an effort to get it on the table. Having the big meal in the middle of the day really can cut into work, school & getting out the door to get him to work.
Finding quick & easy alternatives on those tight schedule days is key. Which is why I love a quick side dish like these Garlic Parmesan Pull-Apart Biscuits.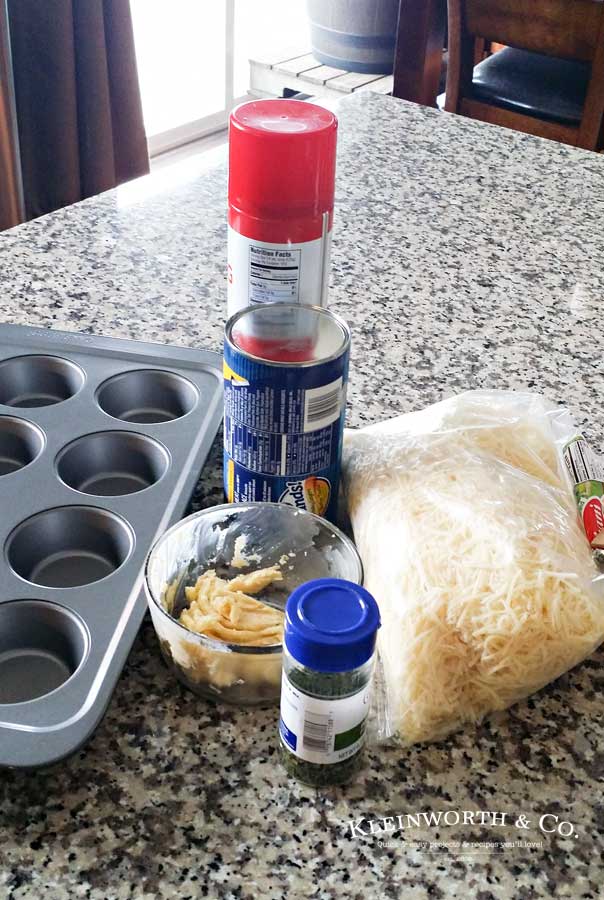 I like to pair most dinners with a simple side. These come together in about 25 minutes so it's just what I need. You see, spending less time preparing food gives me more time to actually enjoy it with family.
Are you familiar with the term Mangia? In Italian, it means Eat! It's typically an Italian way of saying, "Dinner is served."
So when we have great food, & all gather for dinner it becomes a "Mangia" event. We dine, enjoy each other's company & share moments.
It doesn't have to take a long time for our meal to be a focal point in our day. It's our gathering time that gives us moments to connect- even if it's quick. Meals become more than just food, they are nourishment for the soul too.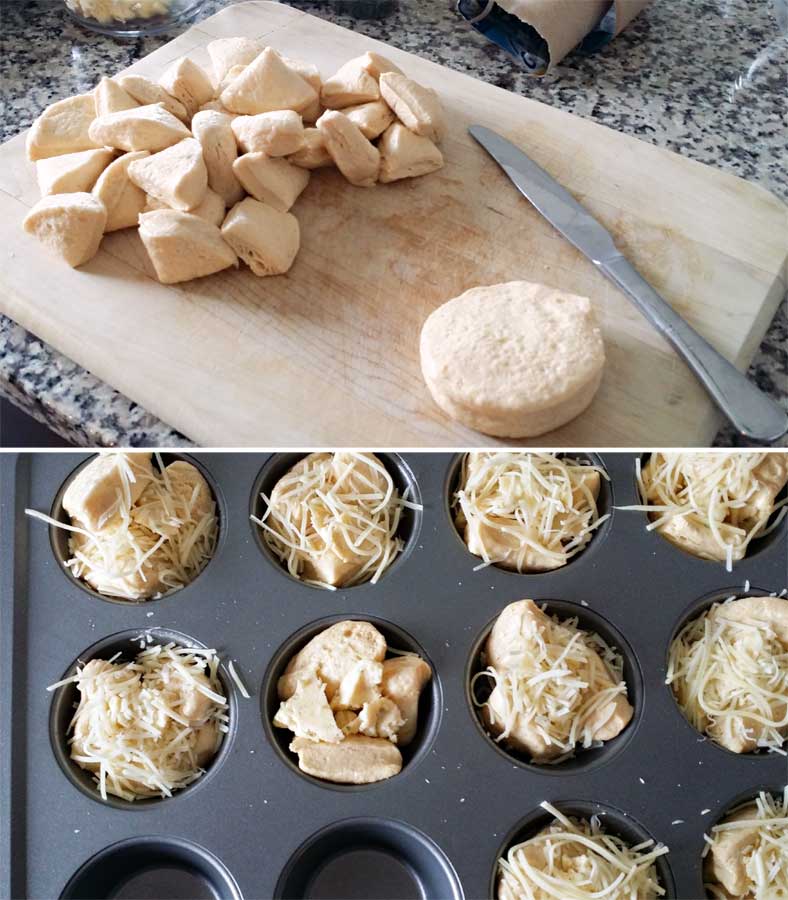 You only need a couple ingredients to put these together – refrigerator biscuits, Italian garlic butter & Parmesan cheese- with a little sprinkle of parsley flakes too.
Cut the biscuits & arrange them in the muffin tin. Then top with the butter & then cheese. Bake & done!
It's really that simple. They go great with pasta. Made for a great dinner that we all loved!
recipe for pull-apart biscuits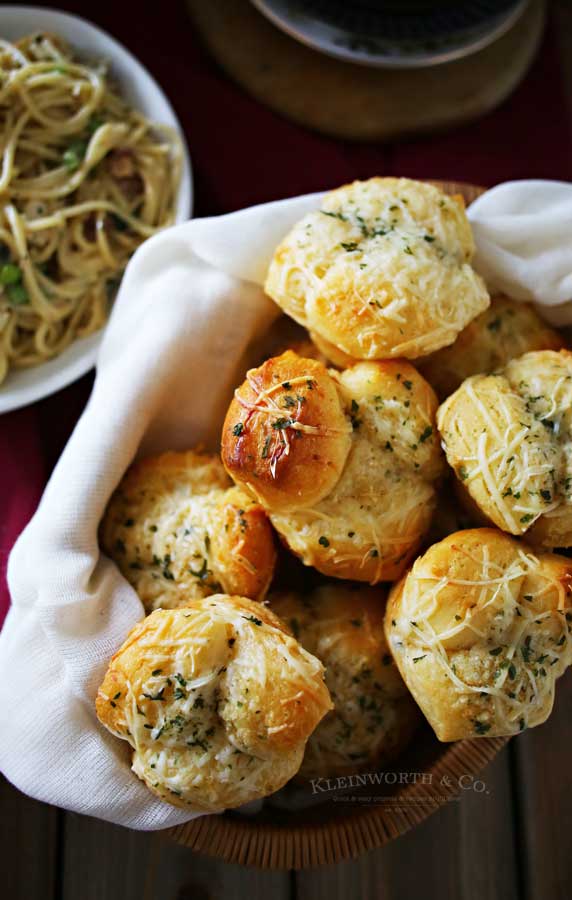 Here are some commonly asked questions
Can this recipe be doubled?
You bet! This batch is perfect for our 5 adult-sized appetites. But there really isn't a whole lot of leftovers. So if I know that I won't have time to make some to pair with any leftovers the next day, then I definitely double up.
HOW DO YOU MAKE Garlic Parmesan Pull-Apart Biscuits?
Preheat the oven to 375 degrees.
Spray the wells of 1 muffin tin pan with cooking spray- set aside.
Open the biscuits & cut each one into quarters.
Place 3 pieces in each muffin tin well- this will give you 10 & you will have 2 leftover for a smaller 11th one.
Top each with a pat of Italian garlic butter & then a sprinkle of Parmesan cheese.
Bake 15-18 minutes or until golden brown & centers have cooked through (watch closely after about 10 minutes as all ovens cook a little differently)
Serve warm with a sprinkle of parsley flakes.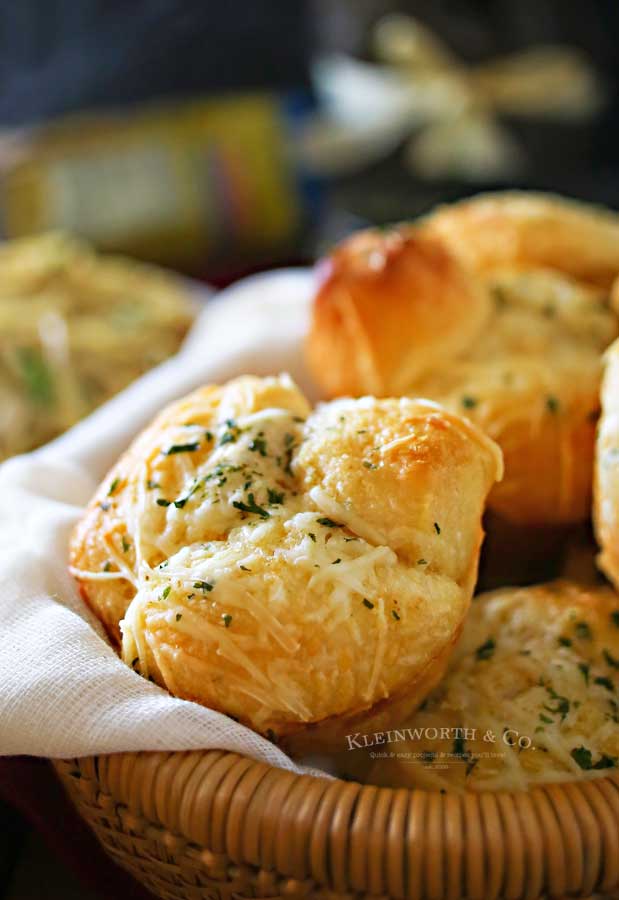 What is the best way to store leftover biscuits?
I like to place them in an airtight container or zip-top bag and keep them in the pantry or on the counter for the next night. They usually don't last any longer than that because of the size of our family. However, if you live in a hot or humid climate, I recommend refrigerating them until you are ready to serve.
To make Garlic Parmesan Pull-Apart Biscuits you will need…
large refrigerator biscuits
shredded Parmesan cheese
parsley flakes
refrigerator biscuit recipe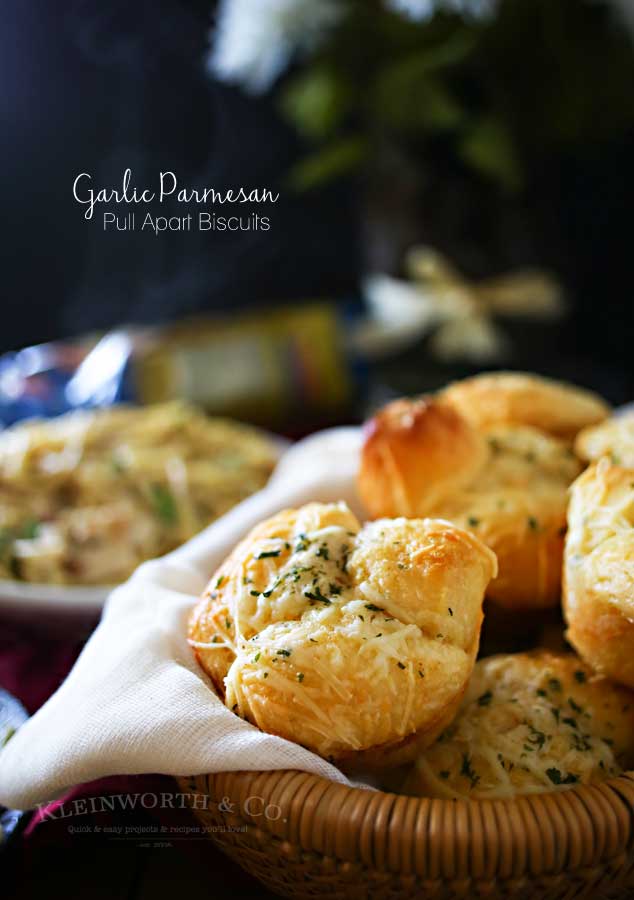 Products I love when making Garlic Parmesan Pull-Apart Biscuits…
This Garlic Parmesan Pull-Apart Biscuit recipe is SUPER EASY and delicious – and if you're like me, then you maybe already have some of these items on hand OR maybe you have never made Pull-Apart Biscuits before, & you might be a bit nervous – but you're going to love them. I have made a list below of the things I absolutely can't live without when it comes to making this side dish recipe.
If you love this Easy Garlic Parmesan Biscuit recipe, you're going to love these other dinner ideas too. Please click each link below to find the easy, printable recipe!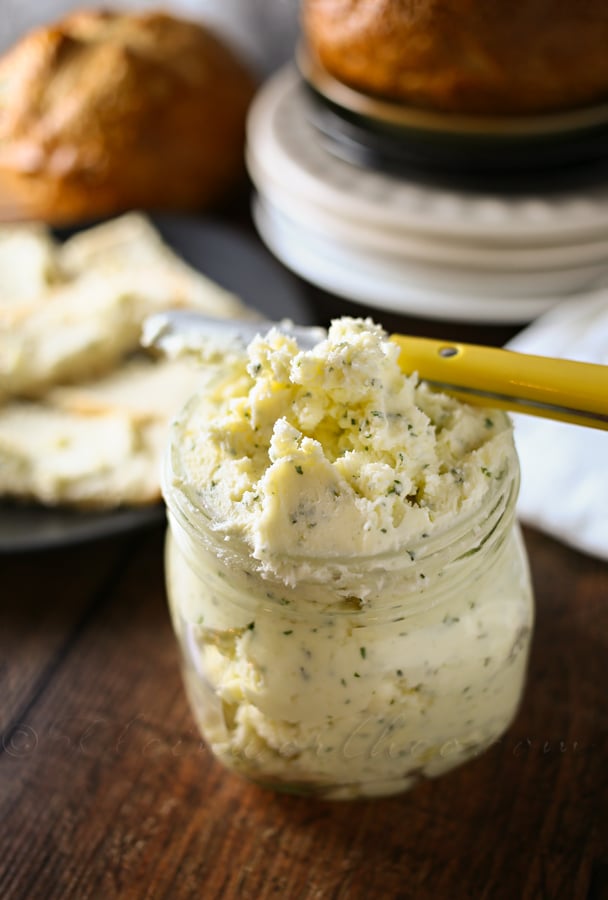 Use this to make these biscuits – Italian Garlic Butter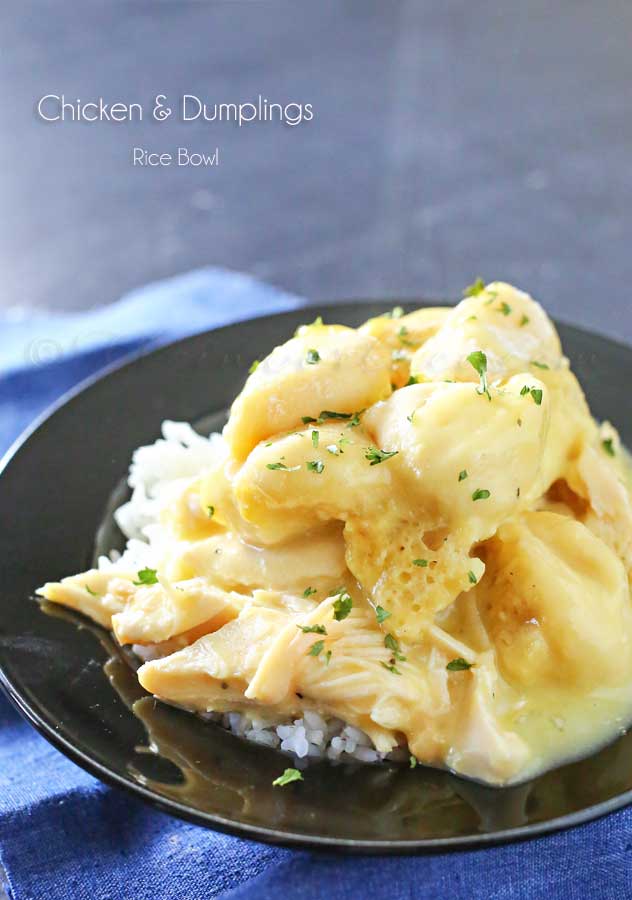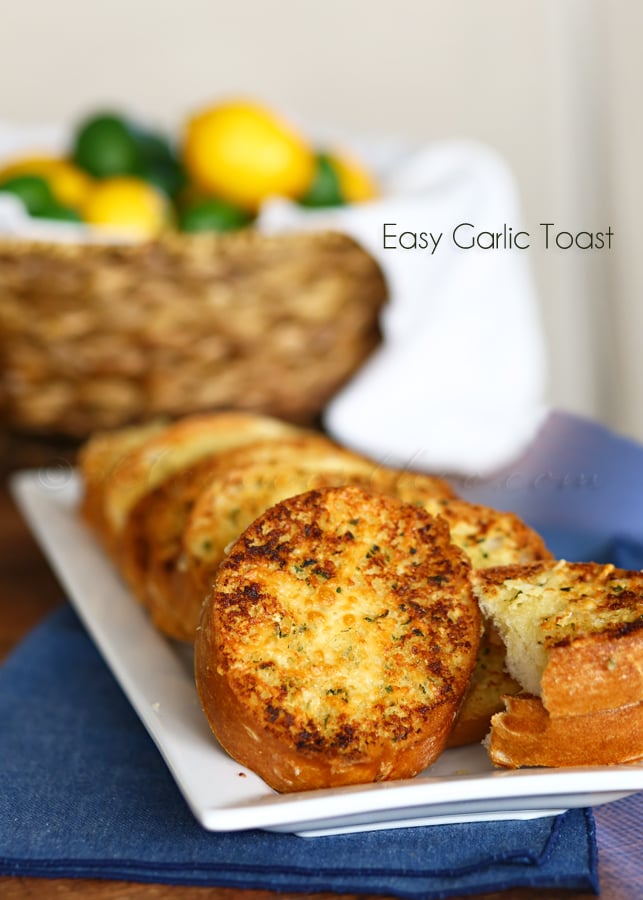 garlic parmesan biscuits
If you love this recipe for Pull-Apart Biscuits as much as I do, please write a five star review, and be sure to help me share on facebook and Pinterest!
CONNECT WITH KLEINWORTH & CO!
Be sure to follow me on my social media, so you never miss a post!
FB, Pinterest, IG, Email Subscription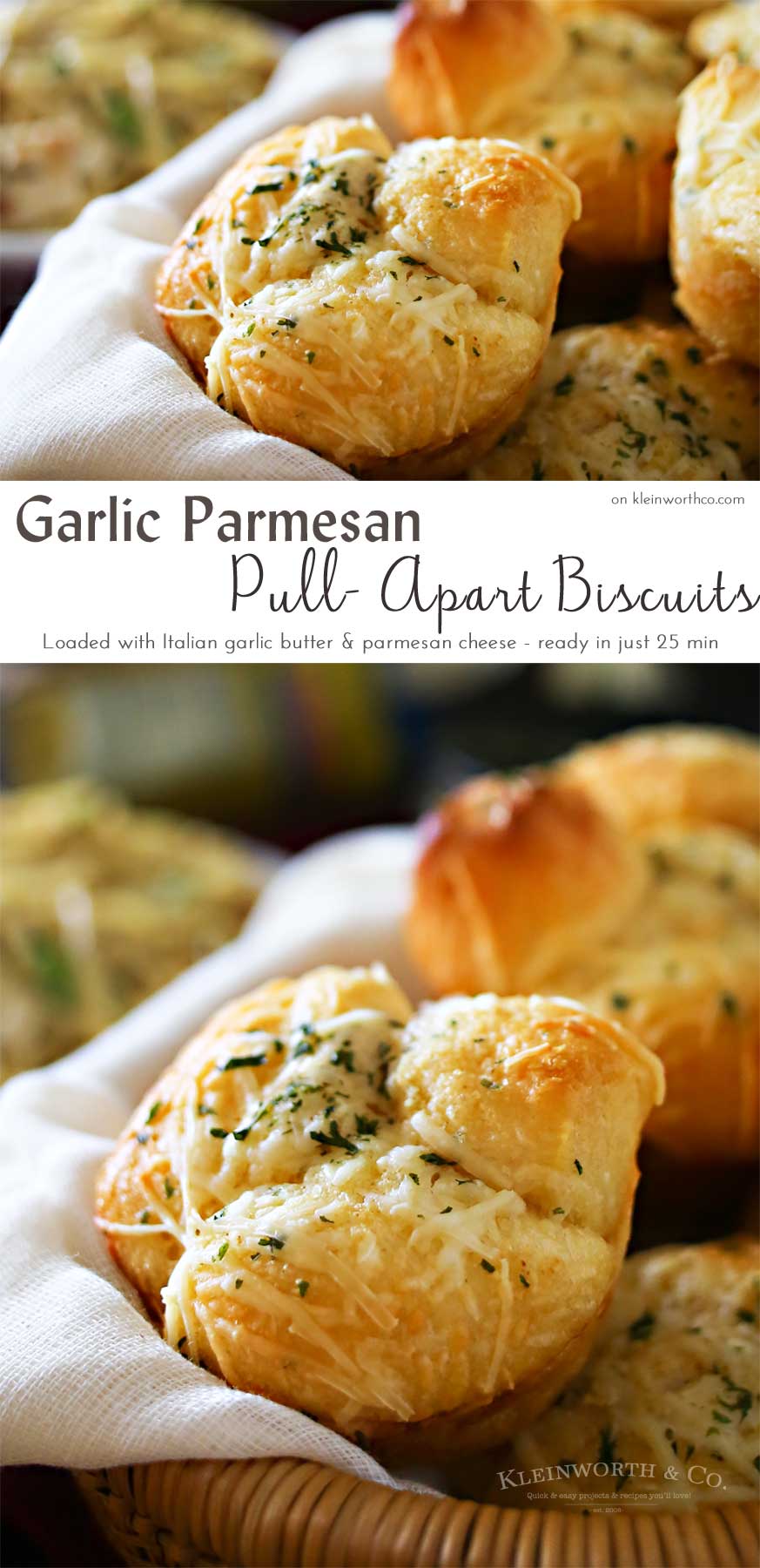 Reader Interactions