This Banana Caramel Ice Box Cake is just like grandma used to make. No baking required for this delicious summer treat. This one is so easy.
With so much happening in the summer months the last thing I want to do is spend a bunch of time in the kitchen. The weather is so incredibly beautiful here in Northern Idaho this time of year- I want to be out enjoying it.
So because of that one thing I have been wanting to make is an Ice Box Cake. My grandmother used to make them all of the time & I have had it on my to-do list for about a year. I kid you not!!!
Scroll to the bottom for the Printable Recipe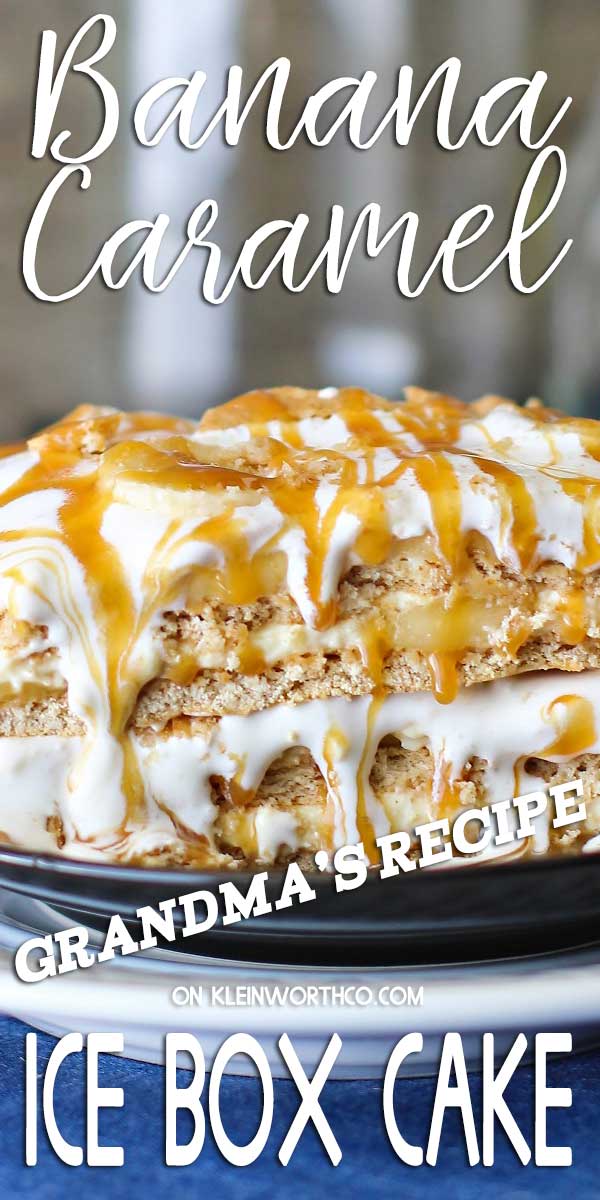 I wanted to make something that was quick that we could enjoy after BBQ but that wasn't going to heat up the house or take the whole afternoon. So I pulled out grandma's recipe book & found this scrumptious treat.
It was simple & absolutely DIVINE I tell you. The hubs is a huge fan of banana & caramel- so this was a huge hit with him.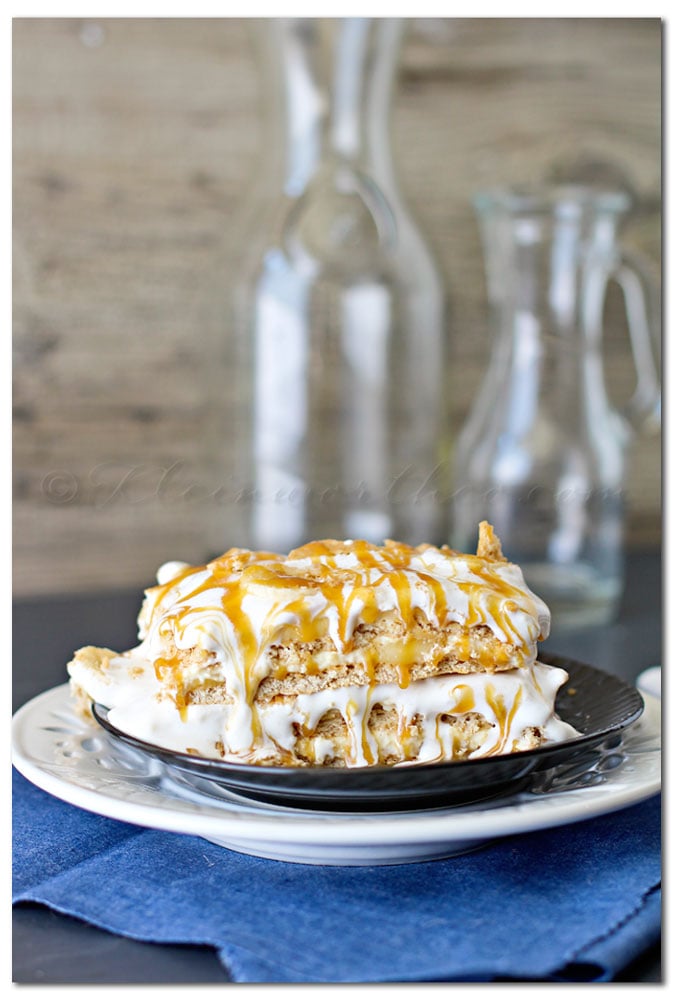 I literally whipped this up in less than 15 minutes & popped it in the fridge to do its thing. Awesome dessert ready & waiting for us come evening time.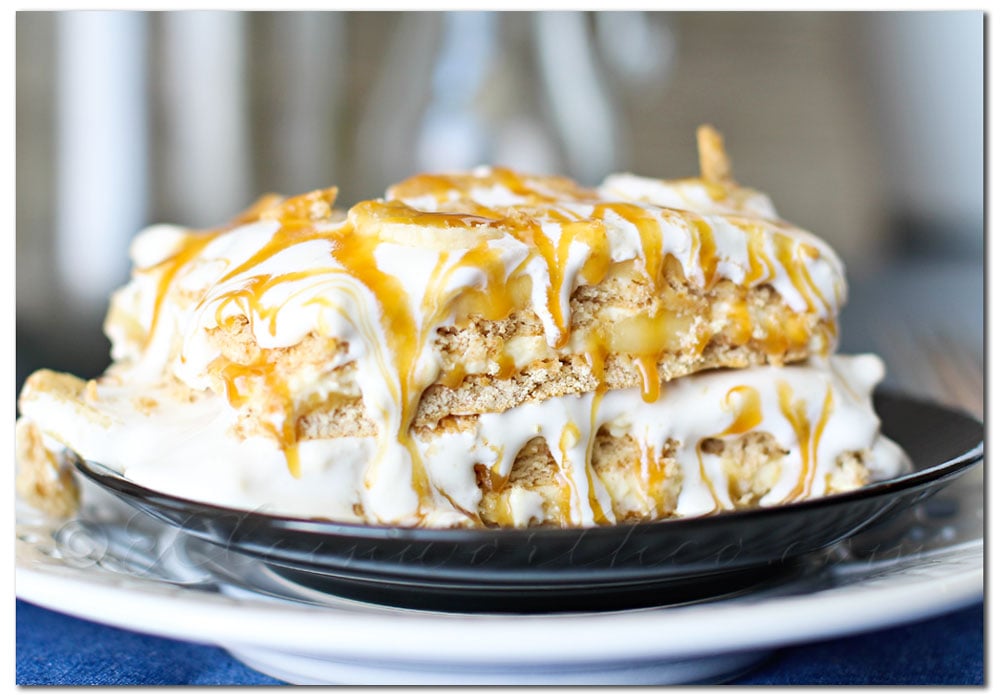 This will be something you make again & again.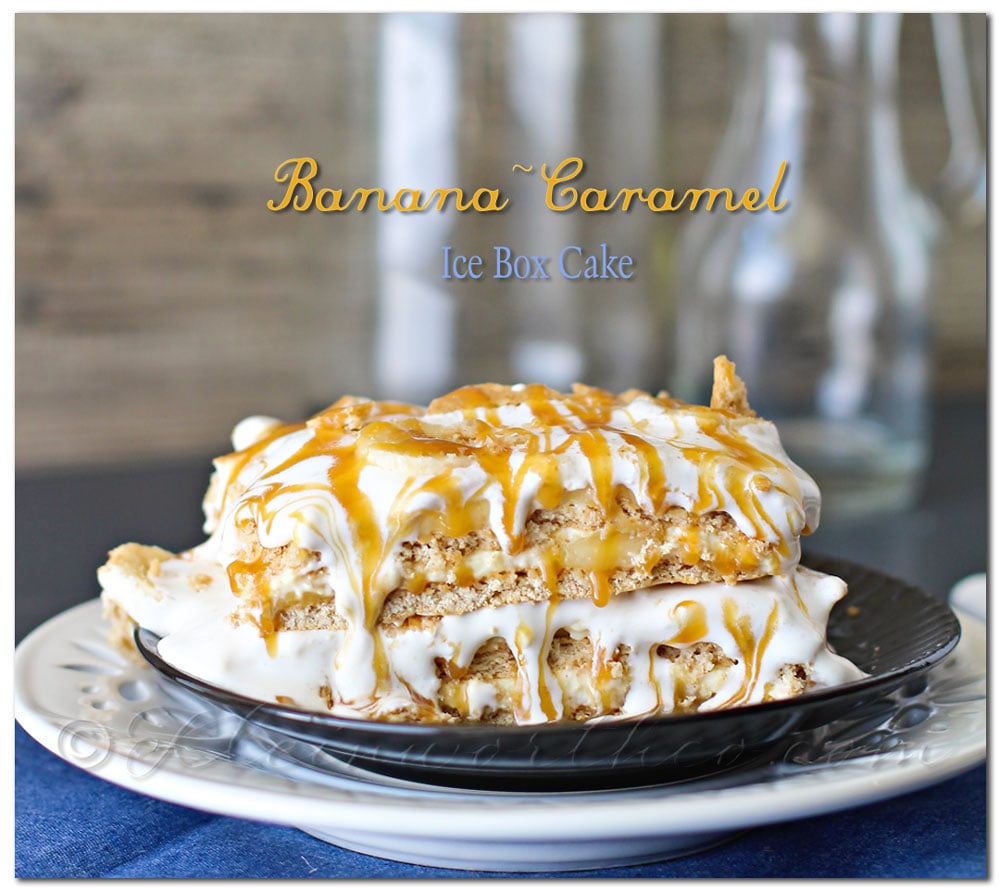 Here are some commonly asked questions
Can I use frozen banana slices?
Yes, absolutely, that will work just fine. In fact, that saves a step and makes it super easy.
Can I use a homemade caramel?
You bet! If you prefer homemade caramel, try my favorite Salted Caramel Sauce that is SUPER TASTY.
Can this icebox cake be frozen?
Yes, I do it often. Sometimes I'll prepare this and then realize that we have too much going on. Fortunately, I can just keep it in the freezer until we are ready for it. Just make sure to thaw in the refrigerator the night before so it is the perfect consistency when you are ready to serve.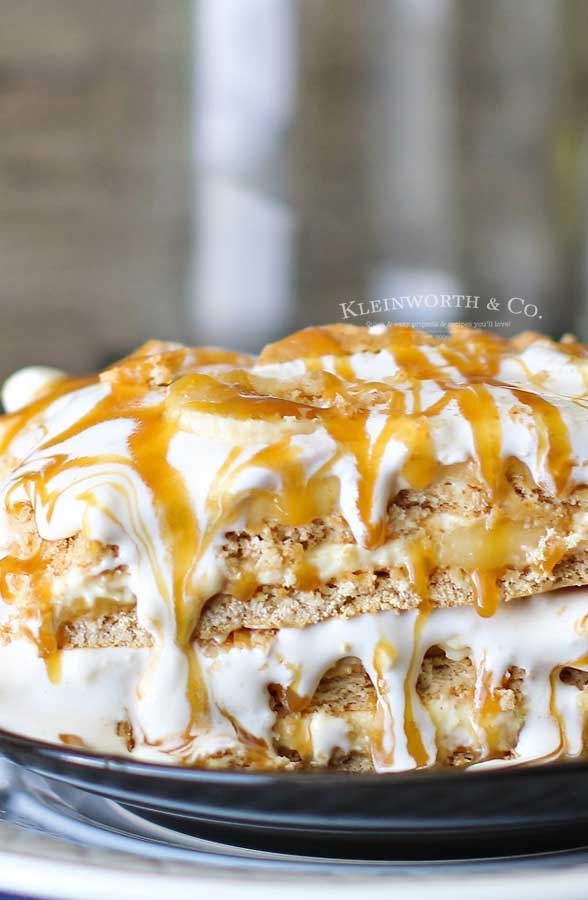 What is icebox cake?
The idea came about in the '30s as a way to promote the new icebox as a kitchen appliance. The idea is that you can take crackers and layer them with a creamy filling and then refrigerate. The cooling in combination with the filling soaks into the crackers making a cake-like texture.
How many can this serve?
This will depend on how you decide to cut it. If you slice down the center of the long end and then make a few cuts across, you should be able to get about 8-10 slices total.
recipe for icebox cake
Can this recipe be doubled?
You can double the recipe and you should have enough space to do that in your 9×13 pan. I don't think it is too tall with 4 layers. But you could do one and a half of the recipe and have 3 layers if you like. Or you could do a double batch in 2 pans as well.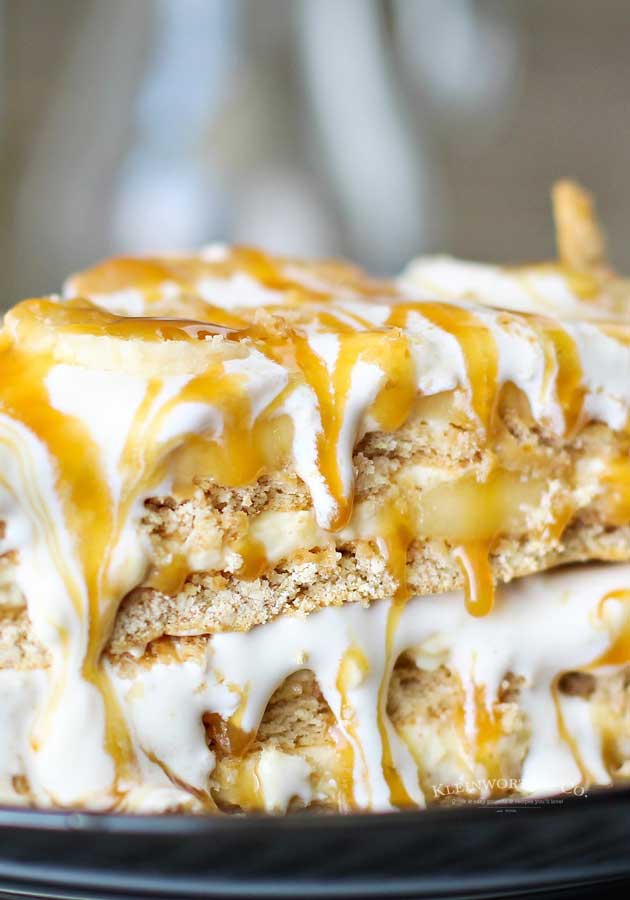 HOW DO YOU MAKE Banana Caramel Ice Box Cake?
Combine the pudding mix & cold milk – whisk to thicken.
Add in 1/2 cup of the caramel & cream cheese- whisk to combine.
Fold in 1/2 of the whipped topping.
Arrange some of the graham crackers to cover the bottom of 9×13 pan.
Top with 1/2 the pudding mixture.
Slice 1 banana & arrange the slices on top of the pudding.
Repeat with layers again graham crackers, pudding mixture & another layer of sliced banana.
Top with the remaining whipped topping & the remaining 2 bananas in slices.
Crumble the remaining graham crackers and sprinkle on top.
Cover & refrigerate for at least 4-5 hours to allow the graham crackers to soften.
When serving you can do one layer- or like I did here- do 2 slices stacked & drizzle caramel sauce on top for more of a WOW factor.
What is the best way to store leftover icebox cake?
I love this recipe because I can just cover with plastic wrap, tin foil or a lid that fits my dish and keep it refrigerated until we are ready to serve it again.
To make Homemade Ice Box Cake you will need…
instant banana pudding
cold milk
caramel sauce
cream cheese softened
whipped topping softened
graham crackers retangles
ripe bananas
best Ice Box Cake recipe
Products I love when making Banana Caramel Ice Box Cake…
This Banana Caramel Ice Box Cake recipe is SUPER EASY and delicious – and if you're like me this time of year, then you maybe already have some of these items on hand OR maybe you have never made an icebox cake before, & you might be a bit nervous – but you're going to love it. I have made a list below of the things I absolutely can't live without when it comes to making this treat recipe.
If you love this Easy Caramel Ice Box Cake recipe, you're going to love these other treats too. Please click each link below to find the easy, printable recipe!
banana icebox cake
If you love this recipe for Banana Caramel Ice Box Cake as much as I do, please write a five-star review, and be sure to help me share on facebook and Pinterest!
CONNECT WITH KLEINWORTH & CO!
Be sure to follow me on my social media, so you never miss a post!
FB, Pinterest, IG, Email Subscription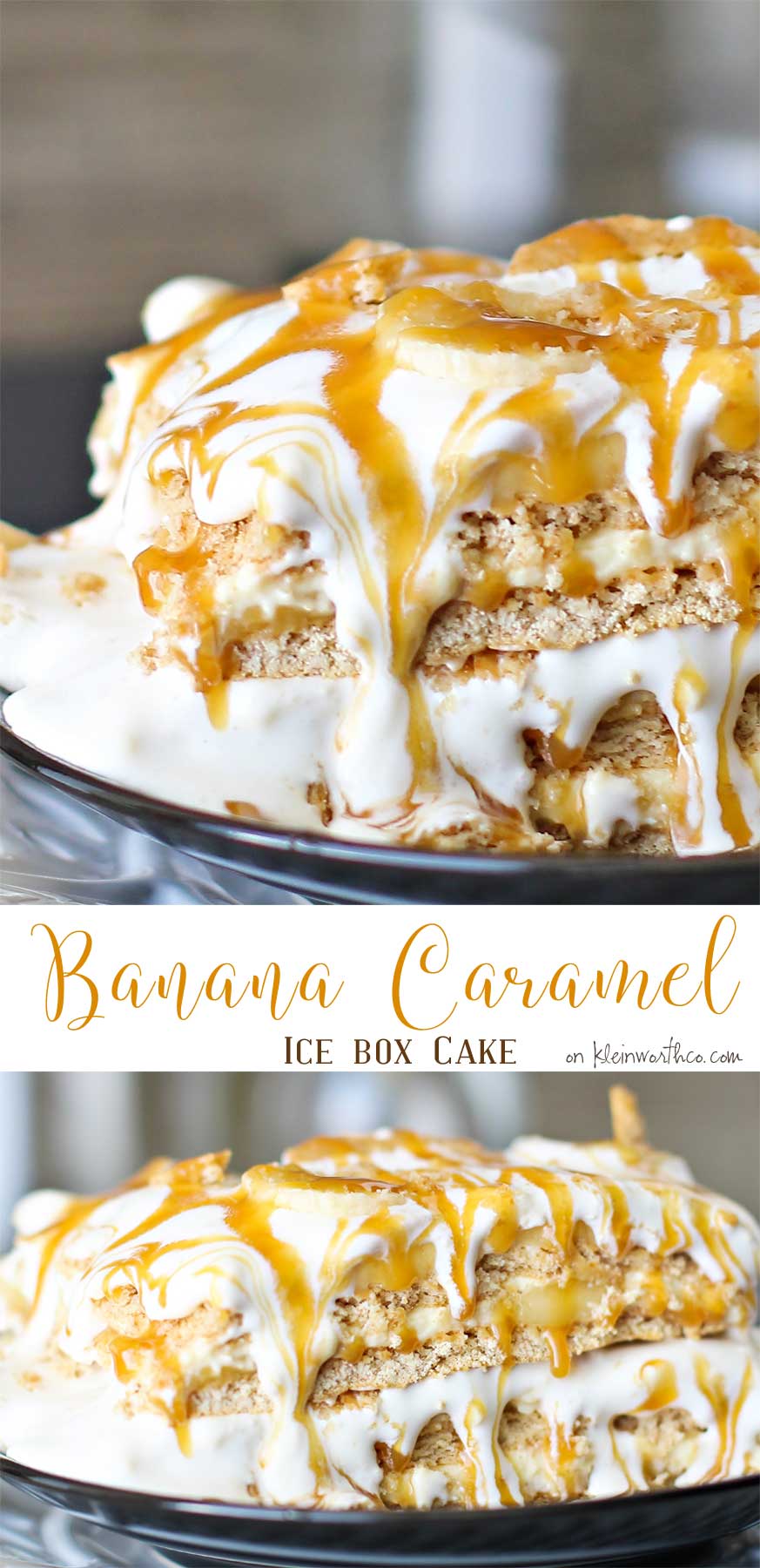 Reader Interactions