Cake Batter Gelato is a delightfully creamy frozen treat with that great cake batter flavor your love. Perfect for birthdays, holidays or anytime you need a cool down.
Cake Batter recipes are all the rage – have you noticed? Really, I'm not surprised – making everything taste like cake- what's not to like?! I'm all over it.
Every single time we go out for a treat I will choose the cake batter flavor if it's available.
Scroll to the bottom for the Printable Recipe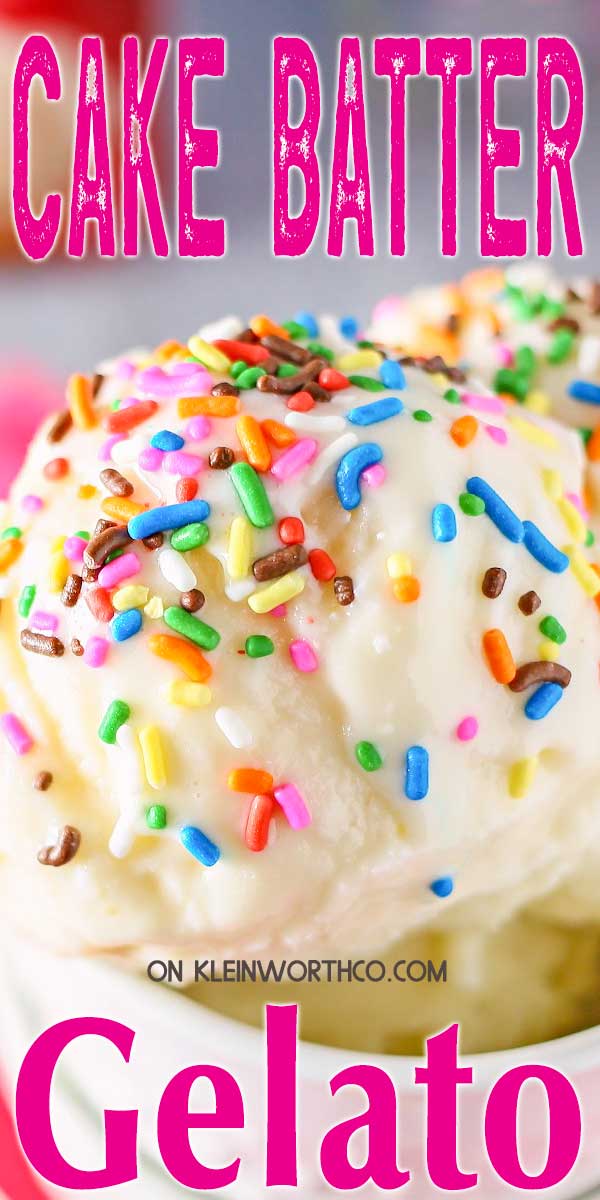 So one day I was thinking I really wanted to make homemade gelato – but I didn't want to make just standard vanilla or chocolate. Then the lightbulb went on & Cake Batter Gelato was born. You're welcome!!!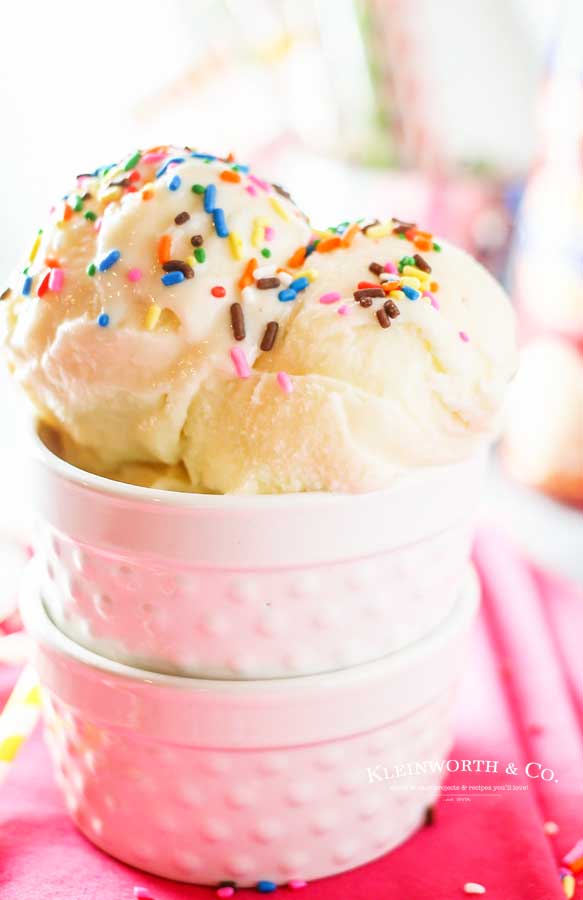 Oh my word – the flavor of cake batter – in my house. Too good! This will be great for all our upcoming summer gatherings & sharing with all our new neighbors soon.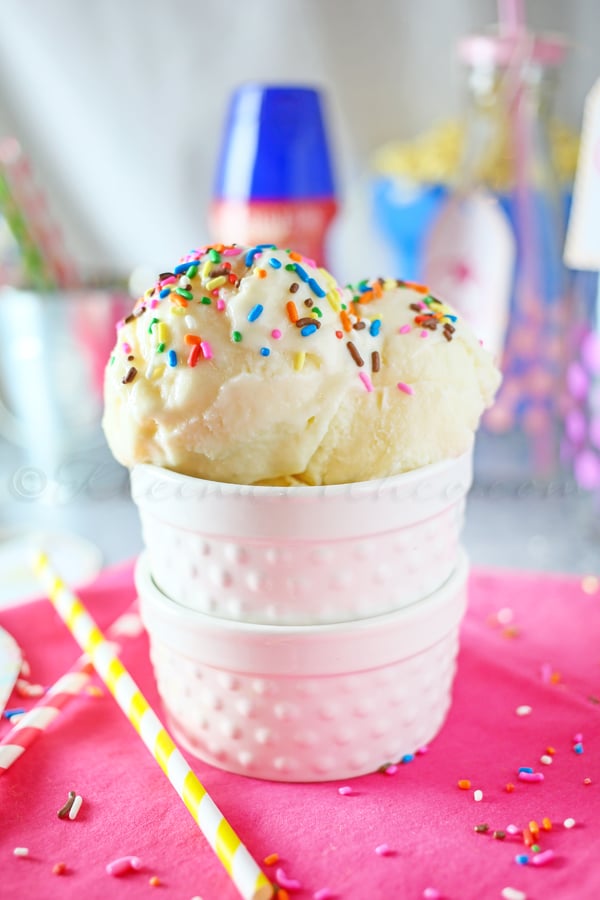 I have to say- I'm a little obsessed. I REALLY LOVE this recipe.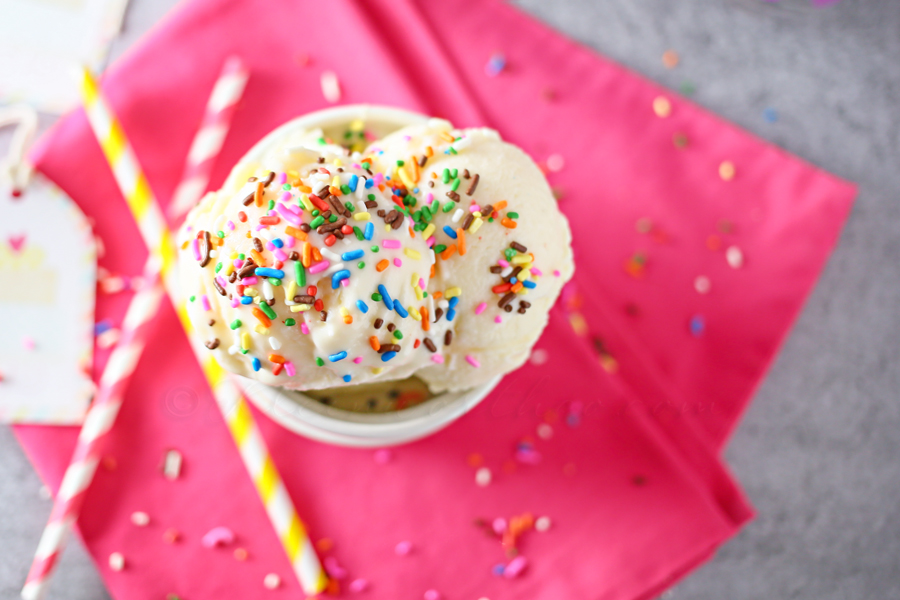 Now, as long as you use actual jimmies, you don't have to worry about the colors bleeding out and changing the gelato. They are not needed for flavor, so you can just add them to the top if you prefer.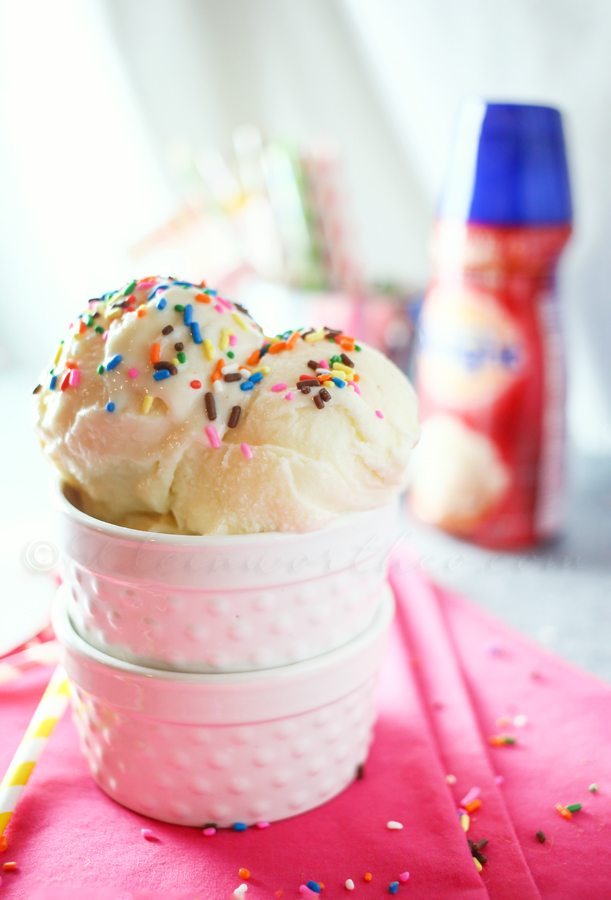 I would like to say that I may never make another flavor of gelato again – but you never know where my imagination will go next. But for now- I'm really truly enjoying this gelato flavor.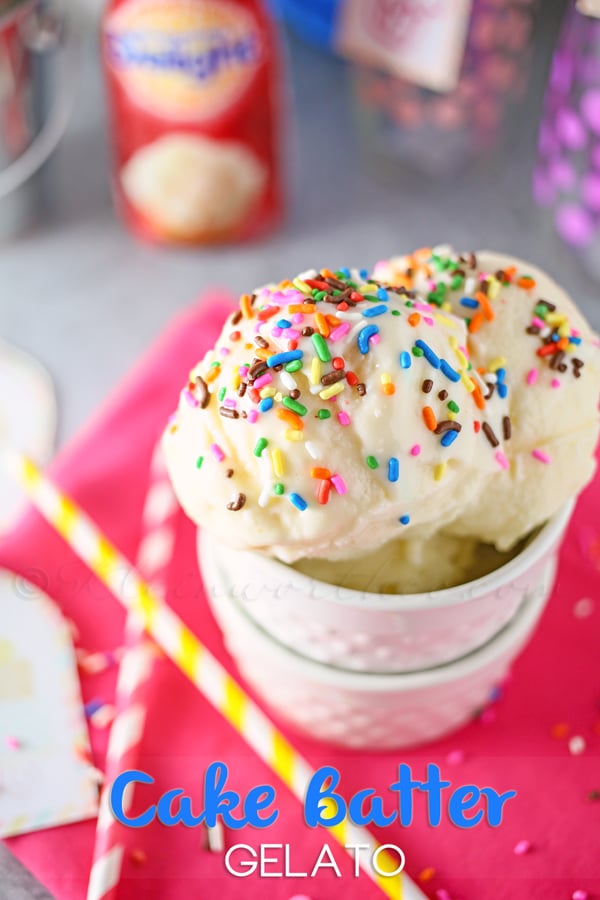 Here are some commonly asked questions
Can I use half and half instead?
You can, but it will be more icy instead of creamy. It still tastes good, but not the same.
Can I use a sugar substitute?
I have not personally tried it, so I can't say how that would turn out. But if you would like to try it, I suggest a product that offers a 1:1 swap. Please let me know how it turns out.
Can I use another flavor cake mix?
Yes, that would be fine. The end result will be a bit different, but just as tasty.
recipe for gelato
Can this recipe be doubled?
You can, but it might not all fit in the saucepan. You would have to use a larger pot and probably 2 containers for the freezing process.
HOW DO YOU MAKE Cake Batter Gelato?
In a medium saucepan, combine the cake mix & sugar – stir.
Slowly add milk, whisking into a paste.
Add the eggs and whisk to combine.
Place over medium heat & stir until the mixture starts to steam, about 8-10 minutes, stirring constantly so it doesn't burn.
Once it starts to steam- remove from the heat and slowly add the heavy whipping cream.
Transfer to a freezer-safe container like a metal pan ( I like to use a bread loaf pan) or another plastic container and cover with foil. Cool in the refrigerator for about 1 hour.
Once cool, stir in the cake batter flavor and most of the jimmies- cover & place in the freezer to firm. (overnight works best)
You can use an ice cream maker after it has chilled and churn for about 20 minutes. But this isn't necessary.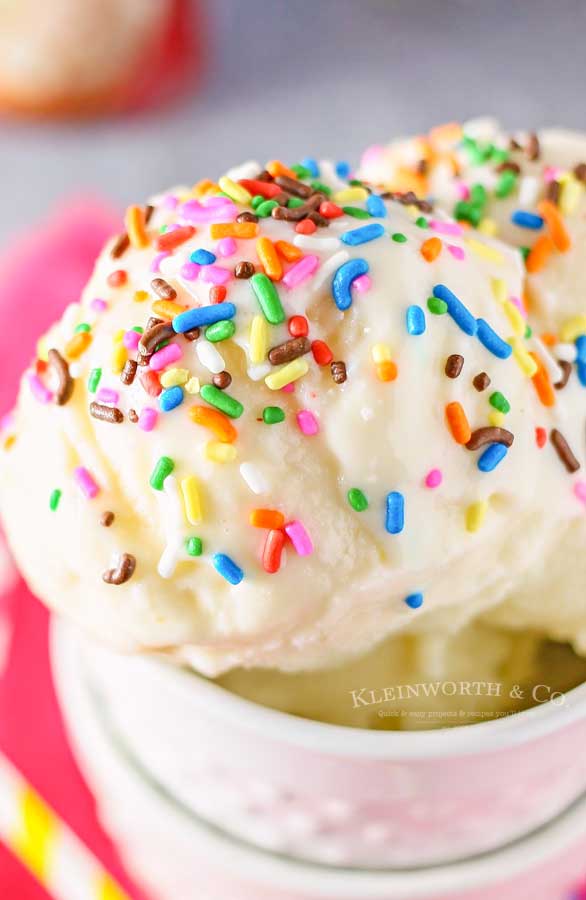 To make Homemade Cake Batter Gelato you will need…
white cake mix – just the powder
granulated sugar
whole milk
eggs – slightly beaten
heavy whipping cream
cake batter flavoring
colorful jimmies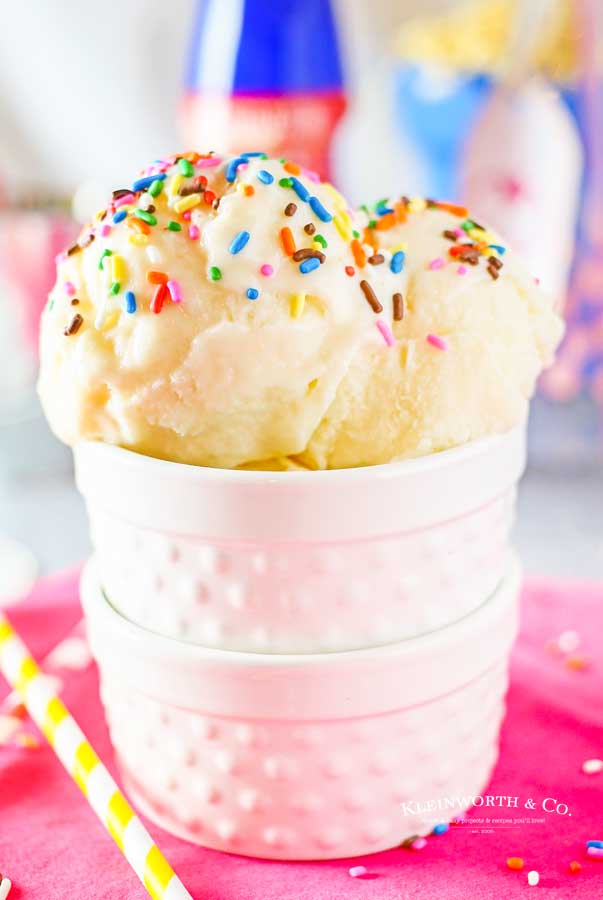 How is gelato different than ice cream?
So, both gelato and ice cream contain cream, milk and sugar. You will find that authentic gelato uses more milk and less cream than ice cream. Surprizingly it also doesn't use egg yolks, but they are common in homemade recipes. They are also a common ingredient in ice cream.
What are the best sprinkles for this gelato?
This is important – just because the package says "sprinkles" doesn't necessarily mean that it is in-fact sprinkles.
I see a lot of people using colored sanding sugar that is labled as sprinkles.
This will not work as well because when that sugar gets wet – like when mixed into something moist like this gelato mixture or when placed in the refrigerator, it will sweat & the color will bleed out. This will change the color of the gelato and not always for the better.
best Gelato recipe
Products I love when making Cake Batter Gelato…
This Cake Batter Gelato recipe is SUPER EASY and delicious – and you maybe already have some of these items on hand OR maybe you have never made homemade gelato before, & you might be a bit nervous – but you're going to love it. I have made a list below of the things I absolutely can't live without when it comes to making this gelato recipe.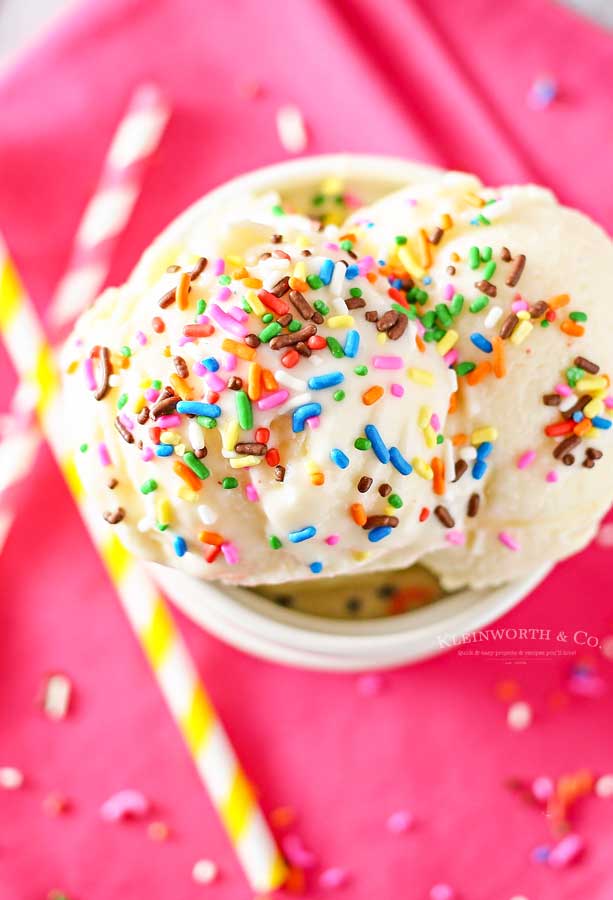 If you love this Easy Cake Batter Gelato recipe, you're going to love these other treats too. Please click each link below to find the easy, printable recipe!
Italian gelato
If you love this recipe for Cake Batter Gelato as much as I do, please write a five-star review, and be sure to help me share on Facebook and Pinterest!
CONNECT WITH KLEINWORTH & CO!
Be sure to follow me on my social media, so you never miss a post!
FB, Pinterest, IG, Email Subscription