Chocolate Chip Cookie Bars are all the deliciousness of chocolate chip cookies in just one batch – no rolling required. Perfect for lazy & busy days alike.
Oh my word. Do you ever just crave a chocolate chip cookie? You know the kind, all buttery, soft and chewy.
When the craving strikes, there is little I can do to get rid of it except break out the ingredients and make some cookies.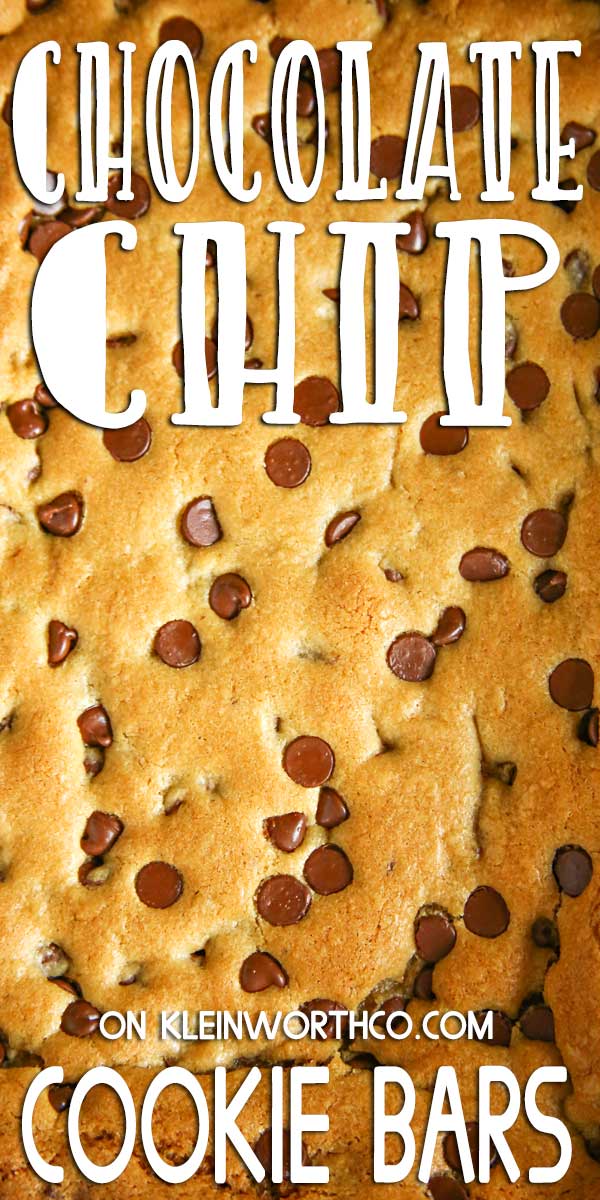 But often times I don't have the time to go through chilling the dough overnight or even for a couple of hours. That's where grandma's super easy Chocolate Chip Cookie Bars come into play.
Don't get me wrong, I love my recipes that call for chilling, they really do taste amazing. But sometimes I just don't have the time or the craving just won't wait. Grandma always made these cookie bars and now I know why – they are EASY.
Chocolate Chip Bars
This post contains some affiliate links. Click here to read my full disclosure policy.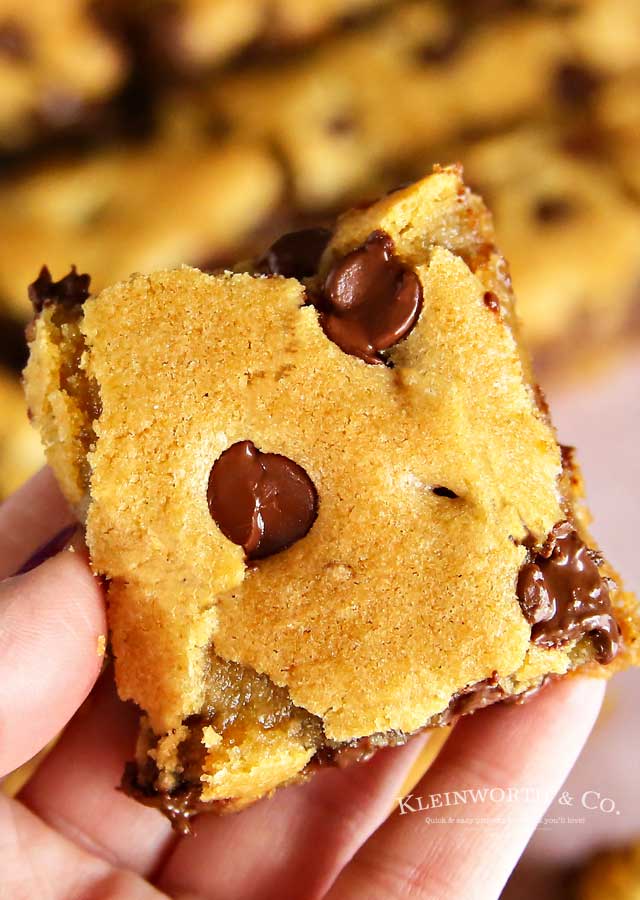 Grandma didn't have the time to scoop out all the individual cookies and bake all of the batches. Again, those are delicious, but the bars- they are just so much easier.
I mean, you basically mix the dough, spread it in the pan, and bake it. It really doesn't get much easier than that. She really was the queen of easy & AMAZING recipes.
For the little bit of work that goes into these chocolate chip bars, you won't believe just how delicious they are. So incredibly buttery, especially those edge pieces.
I promise, you will fall in love. You may not want to make regular cookies ever again.
Here are some commonly asked questions
Can I make this recipe with different chocolate chips?
Yes- of course you can make this with any type of chocolate chip you prefer. That is a personal preference and it won't change the overall end result aside from the flavor difference of the chips.
Can I use a sugar substitute?
I have not personally tried it, so I can't say how that would turn out. But if you would like to try it, I suggest a product that offers a 1:1 swap. Please let me know how it turns out.
Should I use salted or unsalted butter?
I personally use whatever I have on hand. But if you are watching your salt intake, stick with the unsalted butter for these cookies. Grandma's original recipe called for unsalted butter but then tried it with salted butter & liked them just the same.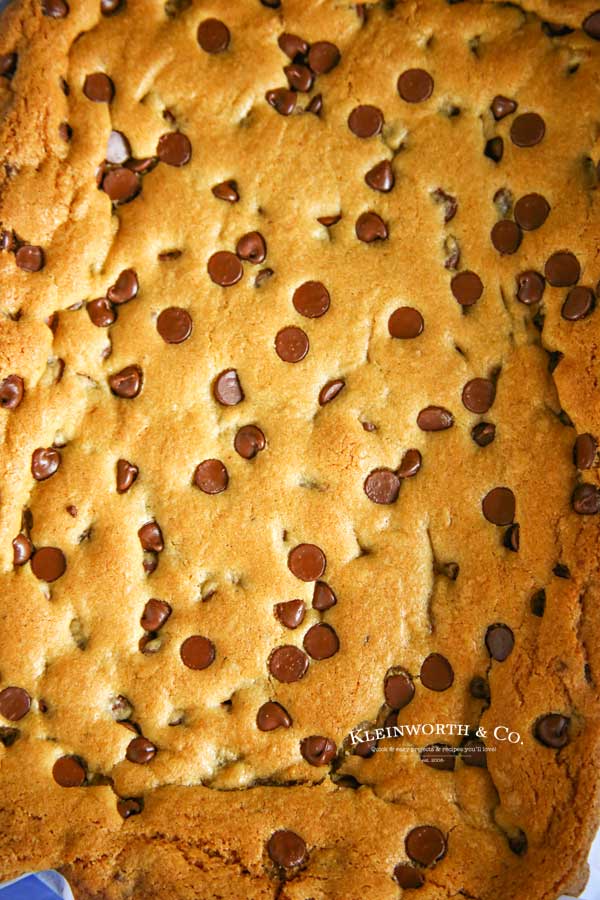 How many can this serve?
That will depend on how you cut the bars. This recipe usually makes 9-12 large cookie bars for me. It depends on how small or large you want them. I like to make 2 cuts lengthwise making 3 rows. Then I make 3 cuts going the other direction to make the 12 bars or 2 cuts to make 9. But you can cut them however you like.
For this batch I made 4 cuts on the long side and 5 cuts on the short side – making 6 rows x 5 rows = 30 smaller bars.
chocolate chip cookie bars 9×13 pan
Can this recipe be doubled?
Yes, but you will have to still bake in 2 separate baking pans. I don't recommend doubling the dough & baking in one larger pan.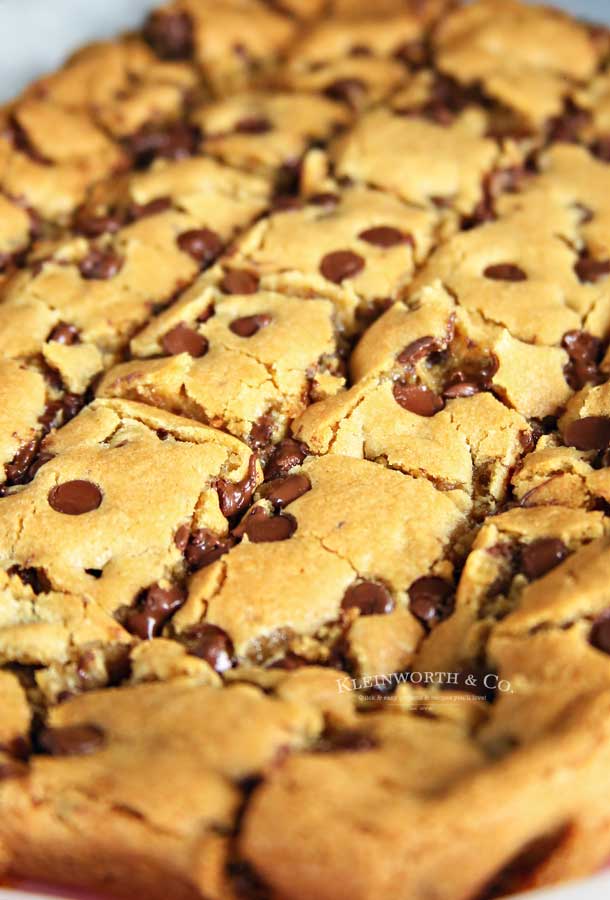 HOW DO YOU MAKE Chocolate Chip Cookie Bars?
Preheat the oven to 350 degrees.
Line a 9×13 baking pan or casserole dish with parchment paper and then spray lightly with oil or cooking spray. Be sure to leave a little hanging over to make removal easy.
Combine butter, granulated sugar and brown sugar in a large mixing bowl and beat together until fluffy.
Add the eggs and vanilla and then beat until just combined.
Slowly stir in the flour, baking soda and salt, mixing until just combined.
Fold in the chocolate chips, reserving a small portion to add to the top.
Spread the dough into the prepared pan. It's pretty sticky, so I like to lightly wet my hands with water and press the dough into an even layer.
Top with reserved chocolate chips and then bake for 35-40 minutes, or until golden brown.
Allow to cool to room temperature before removing from the pan and cutting.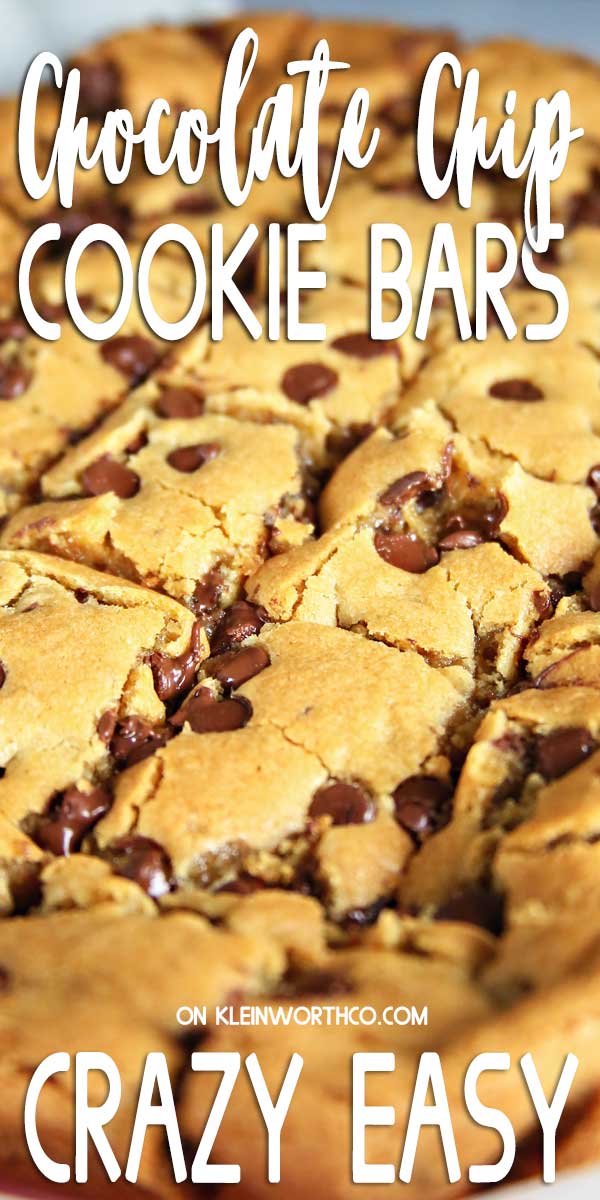 What is the best way to store leftover Chocolate Chip Cookie Bars?
The easiest way is to either place the individual bars in a large airtight container & store at room temperature, or you can just cover the baking pan with foil & leave out on the counter. A large plastic bowl with a lid or a zip-top bag works great too.
More Cookie Bar Recipes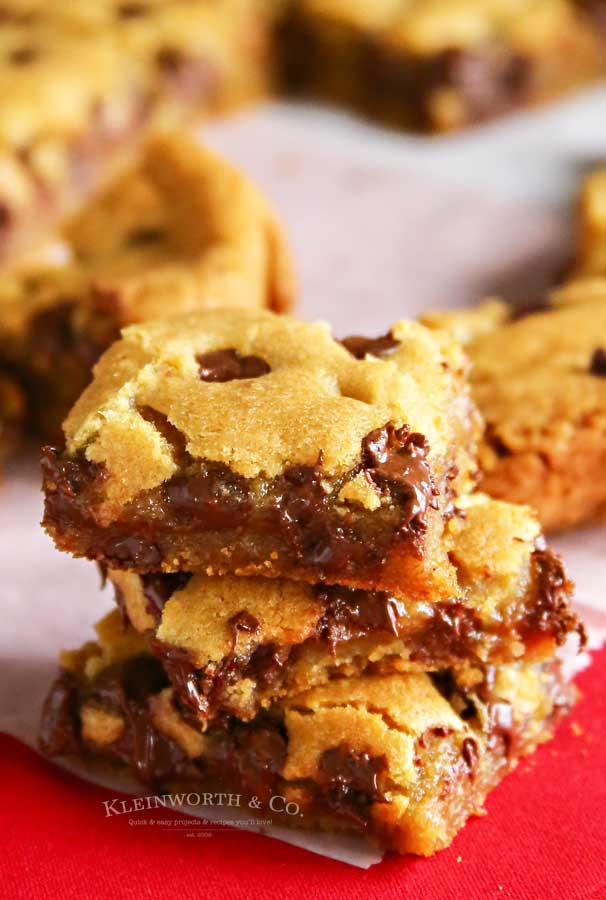 Can I use margarine instead of butter?
I live by the motto of "butter makes it better". I also am not a super huge fan of margarine, with the exception of a couple of recipes where I need it for a specific result.
So I have never tried this recipe with margarine, I can't say what the result would be. If you decide to go that route, please let me know how it turns out.
To make Chocolate Chip Cookie Bars you will need…
butter
granulated sugar
light brown sugar
eggs
vanilla extract
all-purpose flour
baking soda
salt
semi-sweet chocolate chips
easy chocolate chip cookie bars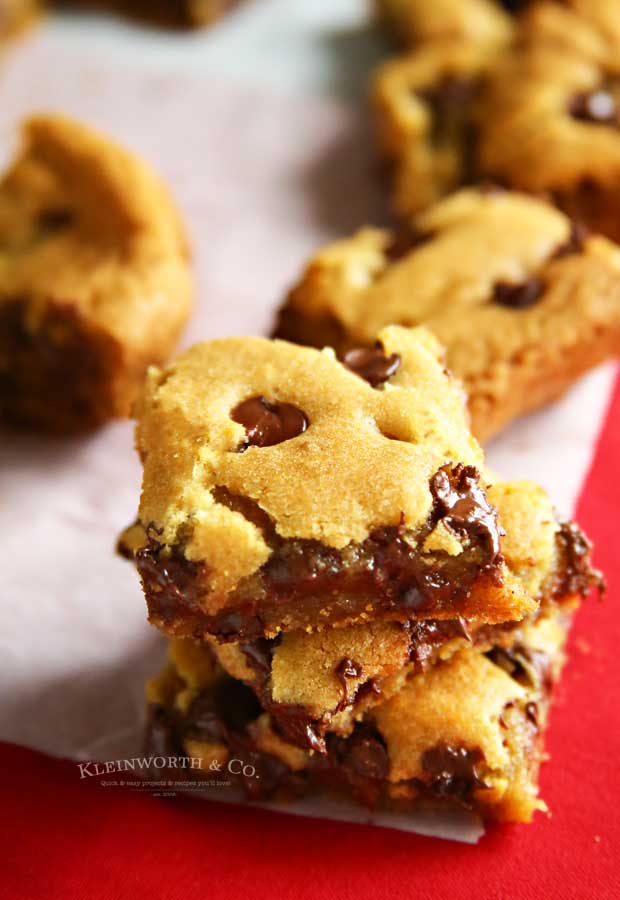 Products I love when making chocolate chip cookie bars…
This chocolate chip cookie bars recipe is SUPER EASY and delicious – and if you're like me, then you maybe already have some of these items on hand OR maybe you have never made cookie bars before, & you might be a bit nervous – but you're going to love it. I have made a list below of the things I absolutely can't live without when it comes to making this cookie bar recipe.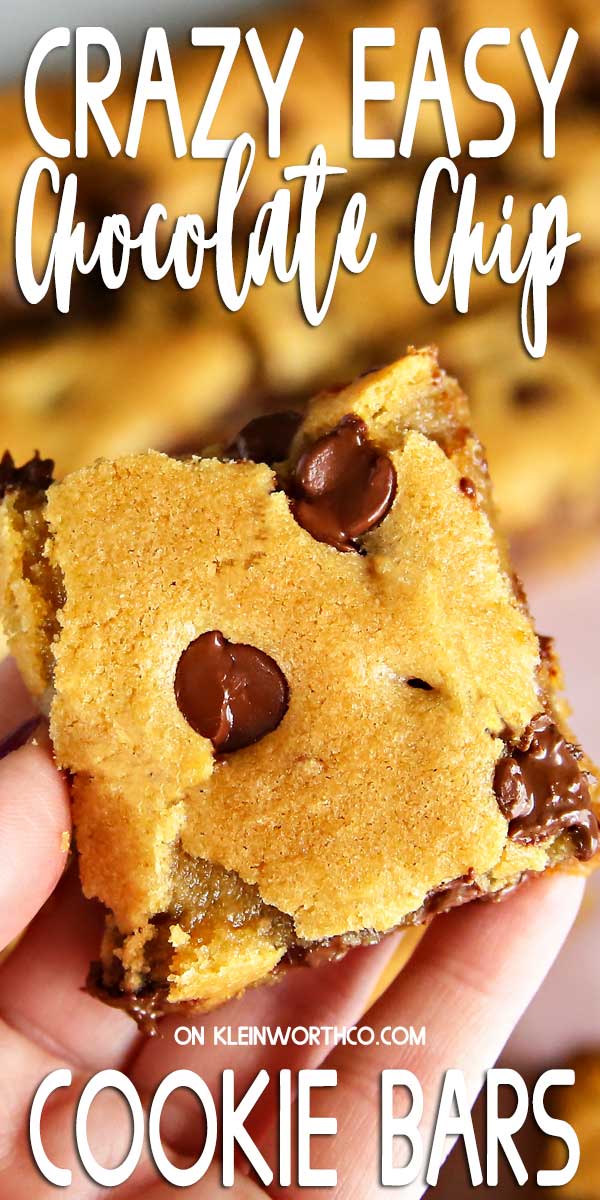 If you love this Easy Chocolate Chip Cookie Bars recipe, you're going to love these other treats too. Please click each link below to find the easy, printable recipe!
chewy chocolate chip bars
If you love this recipe for Chocolate Chip Cookie Bars as much as I do, please write a five star review, and be sure to help me share on facebook and Pinterest!
These are absolutely heavenly!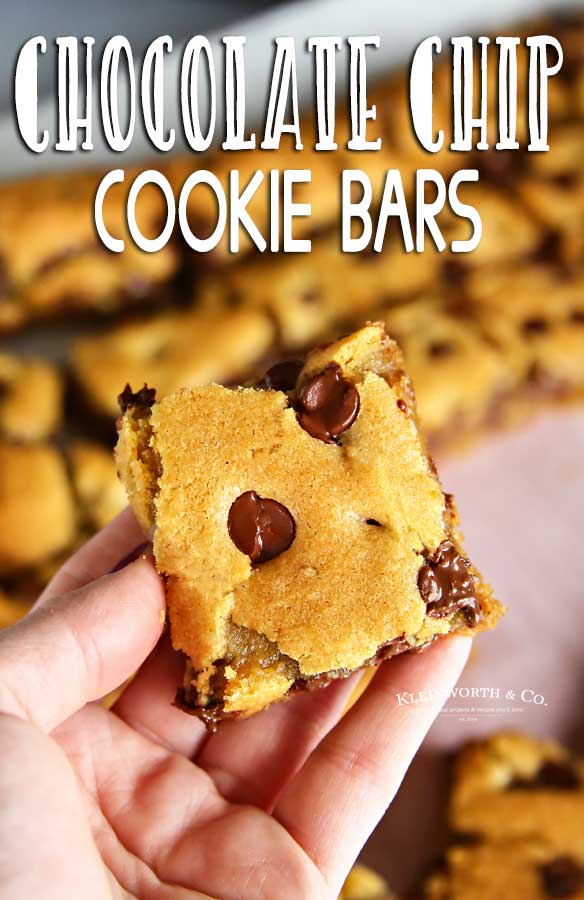 CONNECT WITH KLEINWORTH & CO!
Be sure to follow me on my social media, so you never miss a post!
FB, Pinterest, IG, Email Subscription
Reader Interactions