With just 6 simple ingredients, this is by far the Easiest Snowball Cookies recipe ever. Perfect for all your cookie platter gifts for friends & neighbors.
Do you have certain treats that you automatically think of when the holiday season comes around? For me, snowball cookies were always on the cookie platter at every holiday event. So it only makes sense for me to want to whip some up as soon as the weather starts getting chilly.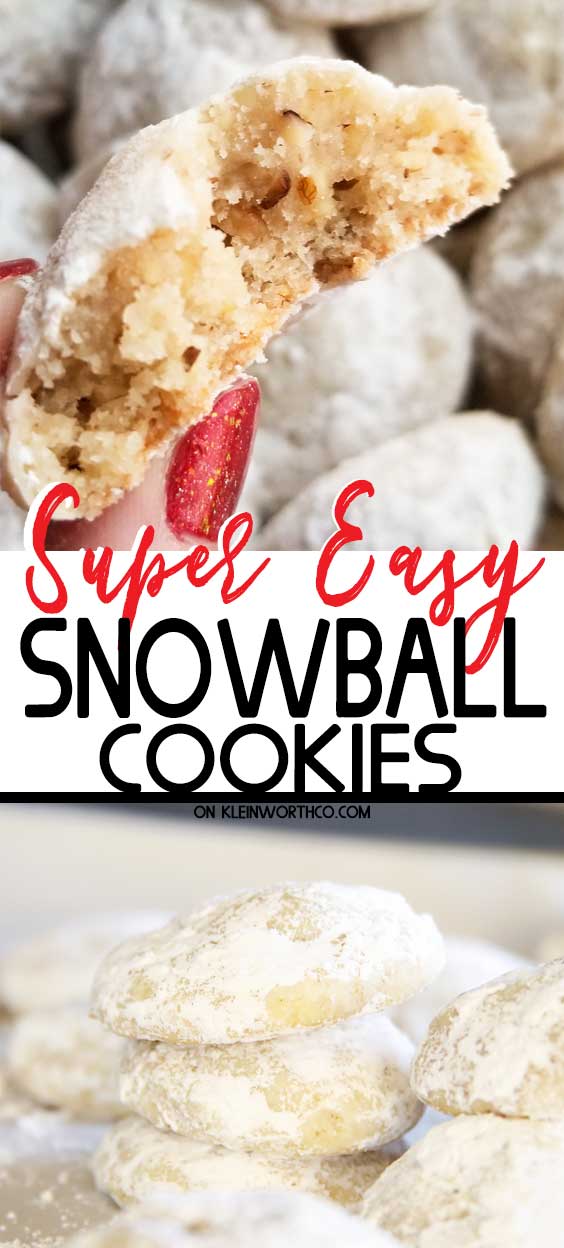 Fortunately, I have grandma's old cookbook which is packed full of all her classic recipes. She always outdid herself when it came to making treats for the holidays.
She had several recipes in that book for snowball cookies. So many variations to choose from & a whole lot of shortcuts & little tips for making things easier. She was all about the easy & I sure do love her for that.
Snowball Cookies
This post contains some affiliate links. Click here to read my full disclosure policy.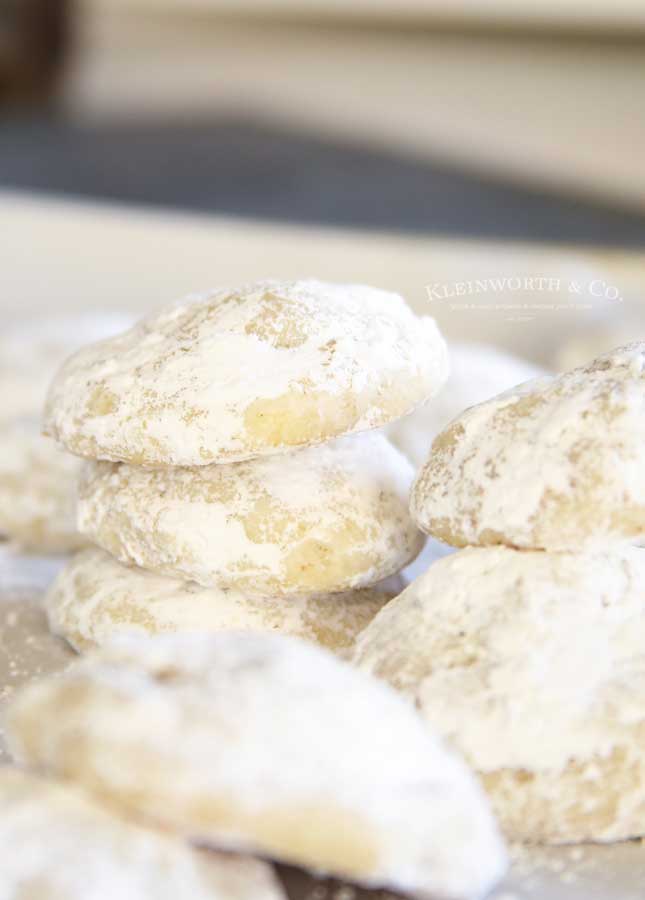 As I got older & there were more quick-fix items on the market, she started adding more & more notes to the recipes. She was all about using things like cake mixes, brownie mixes & when they became available – cookie mixes.
While grandma made a whole lot of things from scratch, I have to hand it to her for being able to take a box of whatever mix & turn it into something super delicious. These cookies are just that!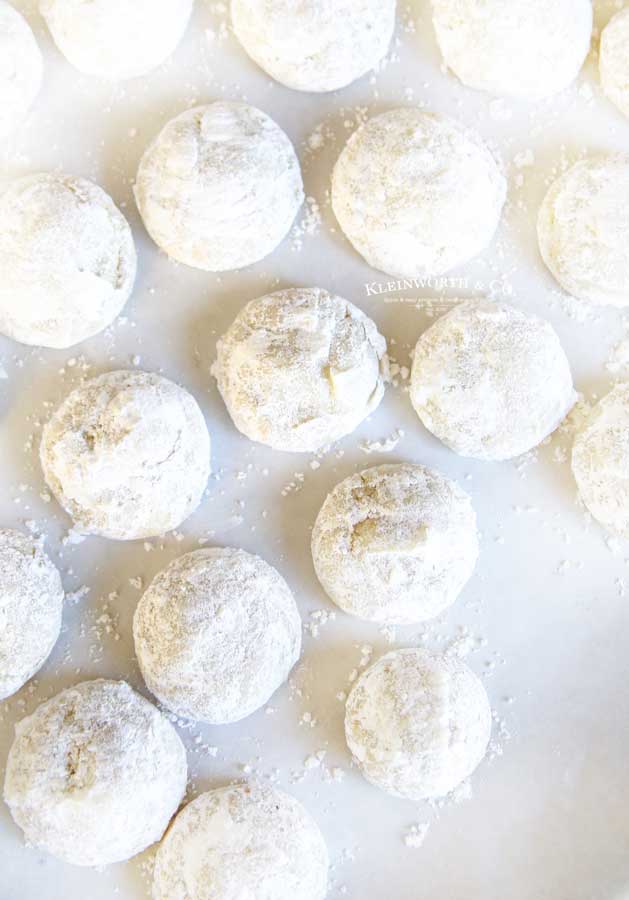 I really love these cookies because they are not only simple to make but really – it's all about the sugar for me. These cookies are like a powered donut & this girl can't get enough of that.
So being that they are like a powdered donut, that means I can justify having a couple with my morning coffee & then some more for dessert later on in the day. Or at least that is what I tell myself.
Go ahead, enjoy these whenever the craving strikes. I won't judge you, that's for sure. I may just join you & have a little moment of holiday cookie happiness together.
Here are some commonly asked questions
Can I make this recipe without the nuts?
Sure thing. You can make these without nuts – maybe even sub in some mini chocolate chips instead. They are great with or without them.
What is the best way to store leftover cookies?
The easiest way is to place in a large airtight container & store at room temperature. I like a large plastic bowl with a lid or a zip-top bag works great too.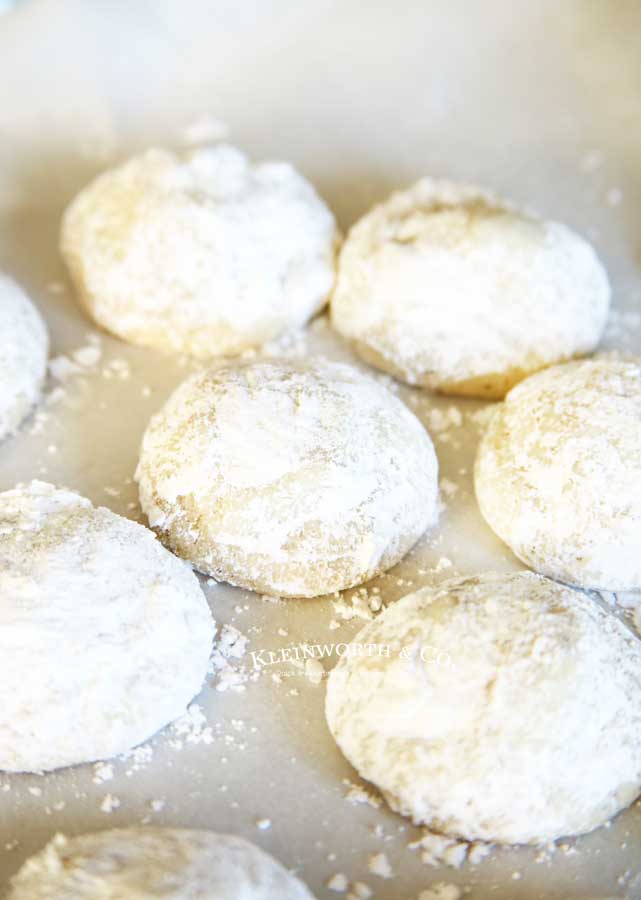 How many does this serve?
This recipe makes about 45 regular-size cookies. The key to these cookies is to not make them too large. I have found that 1″ to no more than 1-1/4″ size balls is perfect.
Snowball Cookies Recipe
Can this recipe be doubled?
Yes, you can double the dough on this recipe if you need to. This dough recipe still works great when you need to make a whole bunch!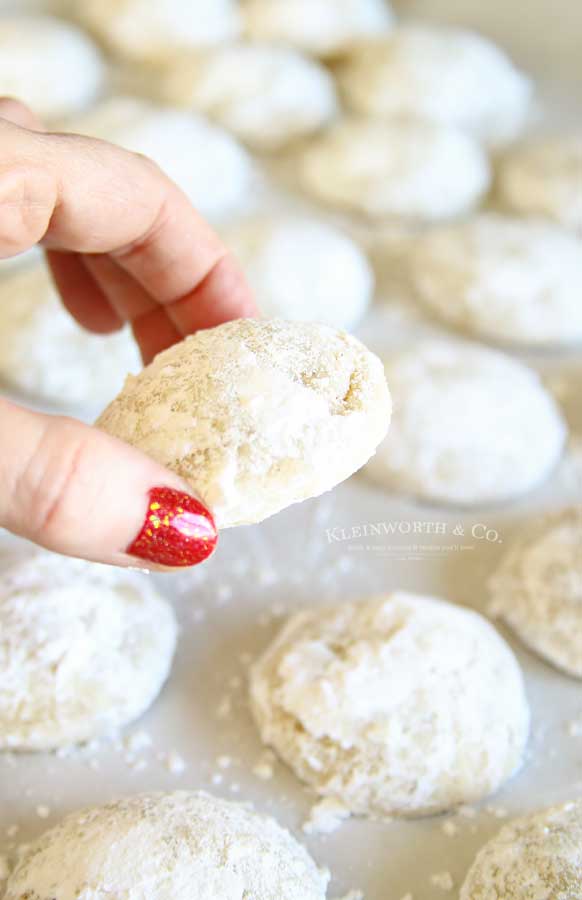 Should I use salted or unsalted butter?
I personally use whatever I have on hand. But if you are watching your salt intake, stick with the unsalted butter for these cookies. Grandma's original recipe used unsalted butter but then tried it with salted butter & liked them just the same.
HOW DO YOU MAKE Snowball Cookies?
Place the confectioner's sugar in a medium-sized bowl & set aside.
Preheat oven to 350 degrees.
Line a baking sheet with parchment paper & set aside.
In a large mixing bowl, combine cookie mix, flour, melted butter & egg. Stir until a soft dough forms.
Fold in pecans.
Scoop dough & roll into 1″ balls, pressing firmly to compact the dough.
Place 1″ apart on the prepared cookie sheet.
Bake 10-12 minutes – until set BUT NOT YET BROWN.
Cool 2 minutes on the baking sheet before rolling in the bowl of confectioner's sugar to coat the cookies.
Place on a wire rack to continue cooling to room temperature before storing in an airtight container.
Do I have to chill the dough?
While a lot of my other snowball cookie recipes absolutely require chilling the dough, this recipe does not. That is one of the things I love about this recipe. Plus grandma was so great about making things easier, so she purposely made recipes like this one that didn't require the extra wait time.
Can I use a gluten-free flour?
I'm not sure just yet. I have been meaning to give this a try but haven't had a chance. If you do try this, I would recommend using a 1:1 flour like this one as I don't believe it would require additional ingredients that are typically called for when trying to make baked recipes in a gluten-free version. Please come back & tell me how they turned out.
How do I properly measure the flour?
The official way is to spoon the flour into the measuring cup & level off. However, for these cookies I usually fluff the flour with a spoon & then gently scoop it into the measuring cup & then level that off before adding to my dough mixture. Make sure your flour isn't packed down when scooping or packed tightly into your measuring cup. This will make your cookies too dry.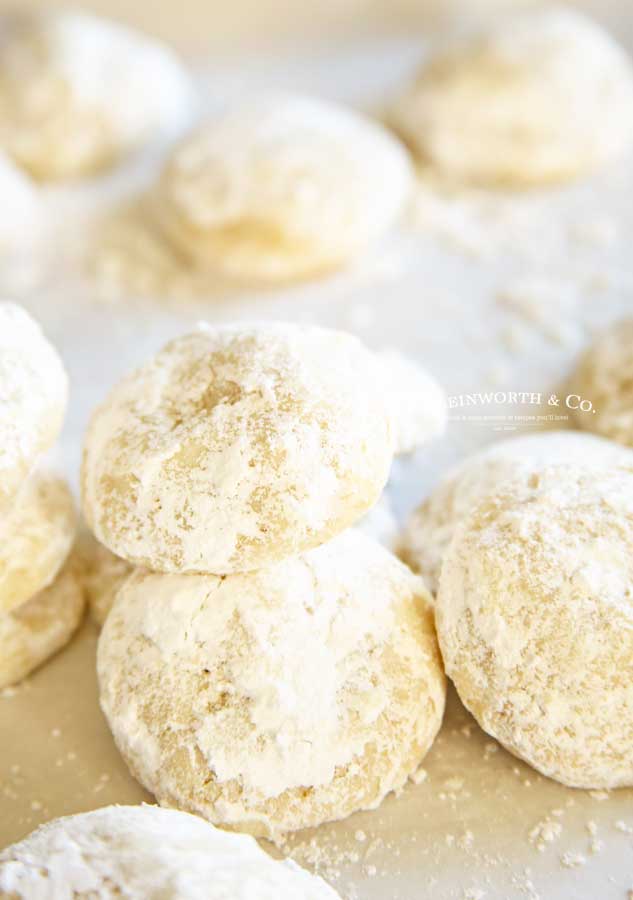 Snowball Cookies with Pecans
To make this recipe you will need…
sugar cookie mix
all-purpose flour
butter
egg
chopped pecans
confectioner's sugar
Can I use a different type of nut?
I have not tried it, but I can't see why you couldn't use chopped walnuts or even pistachios in this recipe instead of pecans. I think either of those would be positively delicious.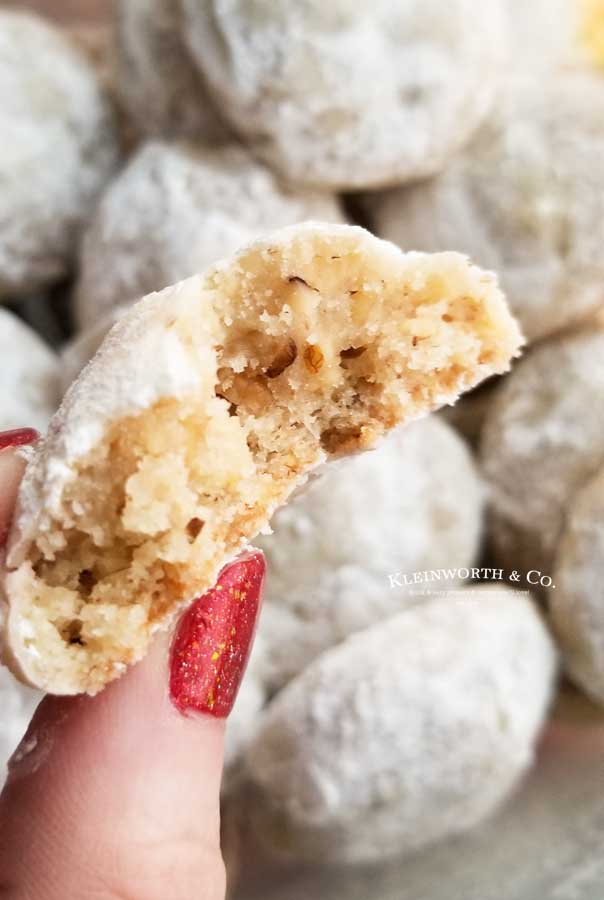 Products I love when making Snowball Cookies…
This Snowball Cookies recipe is so EASY and delicious – and if you're like me, then you probably already have all of these items on hand! OR maybe you have never made cookies with an adapted cookie mix before, & you might be a bit nervous – but you're going to love these cookies. I have made a list below of the things I absolutely can't live without when it comes to making these.
Definitely a classic holiday cookie that's so good!!
Scroll to the bottom for the Printable Recipe
easy snowball cookies
If you love this Easy Snowball Cookies recipe, you're going to love these other easy cookie recipes too. Please click each link below to find the easy, printable recipe!

Best Snowball Cookies Recipe
If you love this recipe for Snowball Cookies as much as I do, please write a five star review, and be sure to help me share on facebook and pinterest!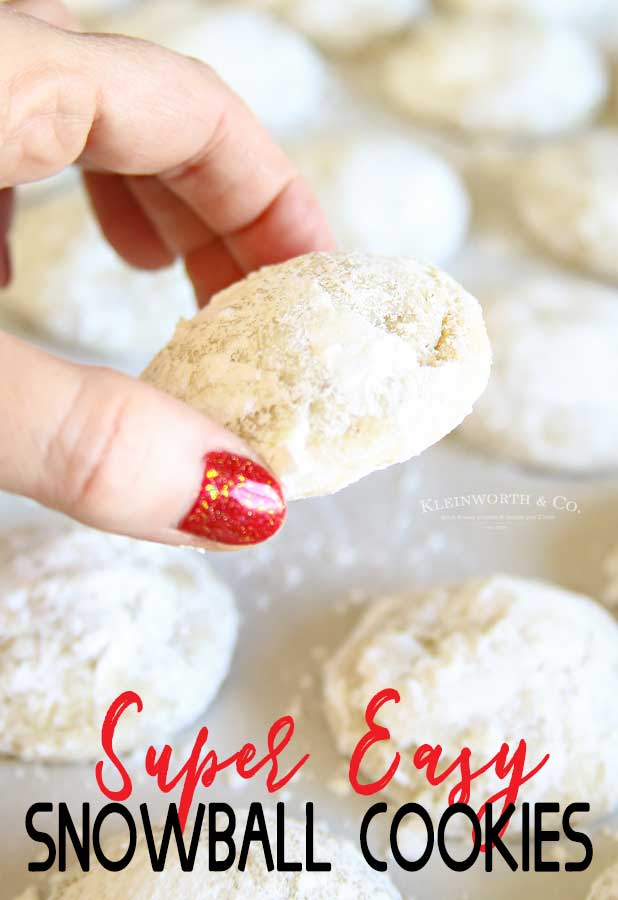 CONNECT WITH KLEINWORTH & CO!
Be sure to follow me on my social media, so you never miss a post!
FB, Pinterest, IG, Email Subscription
Don't miss these other fantastic recipes…
Butter Pecan Cookies | Baker by Nature
Almond Joy Cookies | I Heart Naptime
Reader Interactions