These Soft Oatmeal Snickers Cookies are a thick & chewy oatmeal cookie stuffed full of Snickers candy bars & chocolate chips. So easy & so yummy too!
Today my youngest, my daughter Anya, is taking over the blog to share with you this delicious cookie recipe we created together the other day.
She loves being in the kitchen with me & is always coming up with great ideas for delicious recipes.
Scroll to the bottom for the Printable Recipe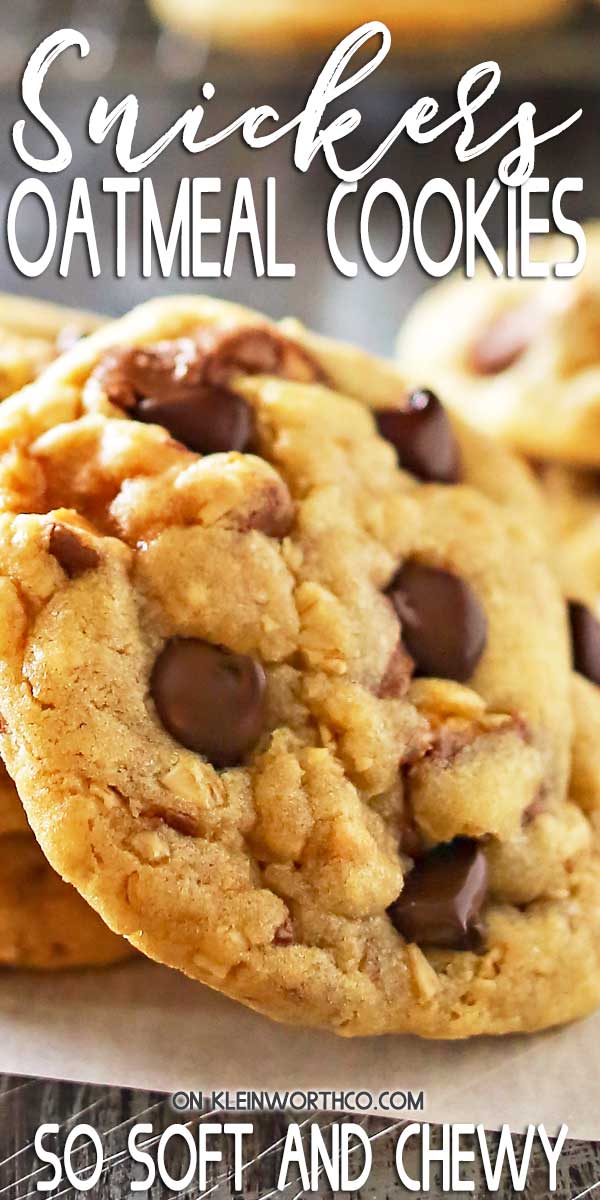 Hello! My name is Anya. I absolutely adore chewy, chocolaty sweets. When we came up with the idea of Oatmeal Snickers Cookies I knew it was just perfect to share with you here today.
This was the first time I really baked. Usually, my mom does all the work & I just help.
Chocolate Oatmeal Cookies
This post contains some affiliate links. Click here to read my full disclosure policy.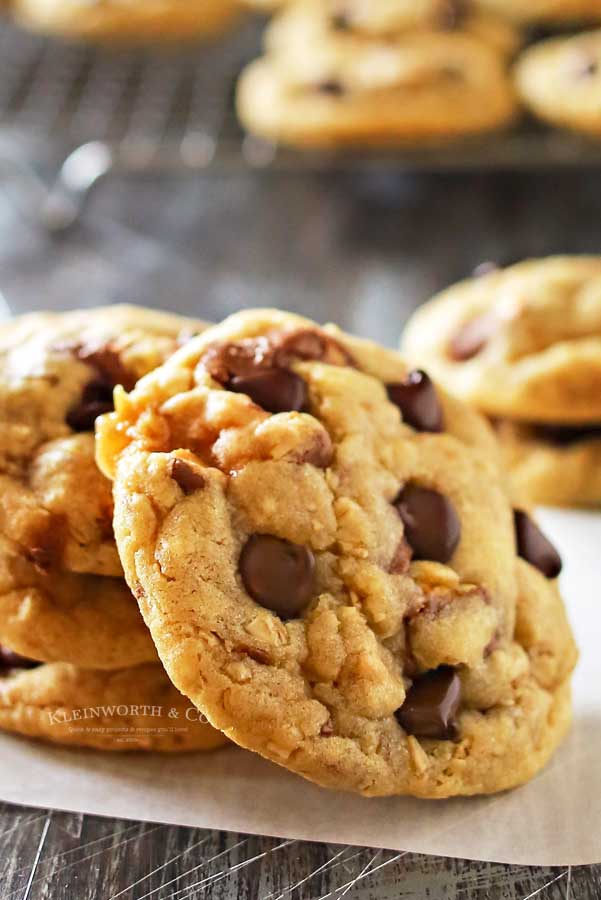 This time I really got to do it myself. I learned so much & had fun in the process. It was a great thing to do on a rainy day.
I'm definitely like my mother & love to spend time in the kitchen. I think that these cookies are delectable. With the perfect chocolate proportions. I hope you enjoy these as much as we do!
Didn't she just do a great job with these??!!! Thank you Anya for your delicious idea!!
Here are some commonly asked questions
Can I make this recipe with another type of chocolate chips?
Yes- that would work just fine. We made these with semi-sweet chocolate chips, but some peanut butter chips, milk chocolate or white chocolate chips, would be good too.
What is the best way to store leftover cookies?
The easiest way is to place in a large airtight container & store at room temperature. I like a large plastic bowl with a lid or a zip-top bag works great too.
Can I use a sugar substitute?
I have not personally tried it, so I can't say how that would turn out. But if you would like to try it, I suggest a product that offers a 1:1 swap. Please let me know how it turns out.
How many does this serve?
This recipe makes about 3 dozen cookies, depending on how big you make them. So, plan accordingly.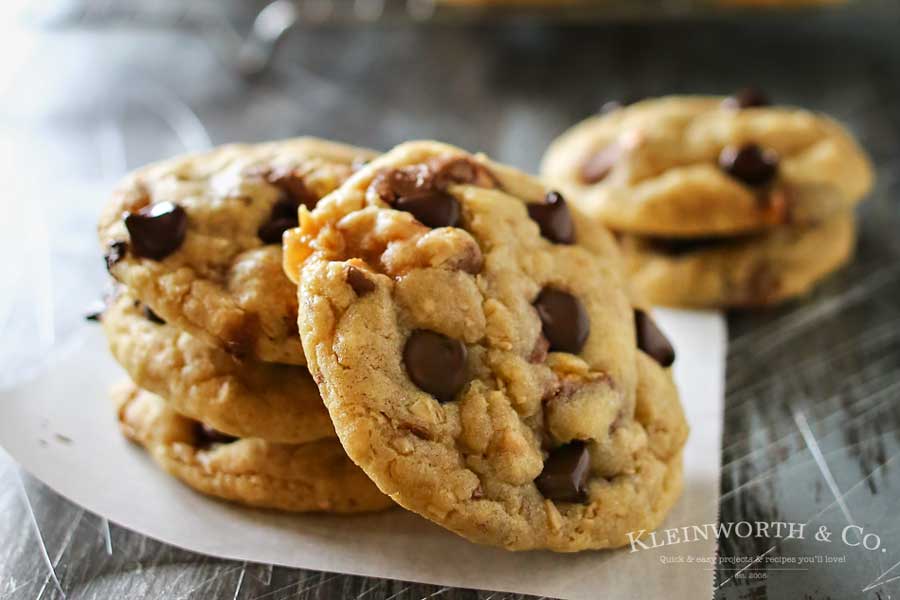 Can this recipe be doubled?
Yes, absolutely. If 36 cookies just isn't enough, I completely understand. You can most definitely double this recipe to meet your needs.
recipe for oatmeal snickers cookies
Can this recipe be halved?
That would certainly be fine and the perfect amount if you just have a couple of people to share with.
HOW DO YOU MAKE Soft Oatmeal Snickers Cookies?
Preheat the oven to 350 degrees.
Line several baking sheets with parchment. It's important to not put the dough on a hot baking sheet- so if you are rotating sheets, make sure they have cooled before adding more dough.
In the mixer bowl, combine flour, sugar, brown sugar, baking soda, and salt.
Stir in the melted butter & vanilla until the mixture is crumbly.
Beat in the eggs, followed by the oats until mixed well.
Fold in the chopped Snickers bars and chocolate chips – reserving some to top the cookies with after baking.
Taking tablespoon-size portions, scoop the dough and roll it into balls and place the balls on a lined baking sheet approx 2 inches apart.
Bake 8-10 minutes- or until golden & the edges are set.
Remove and immediately top with a few chocolate chips per cookie while they are hot.
Allow to cool on the baking sheet for several minutes before transferring to a wire rack to cool completely.
Store in an airtight container at room temperature.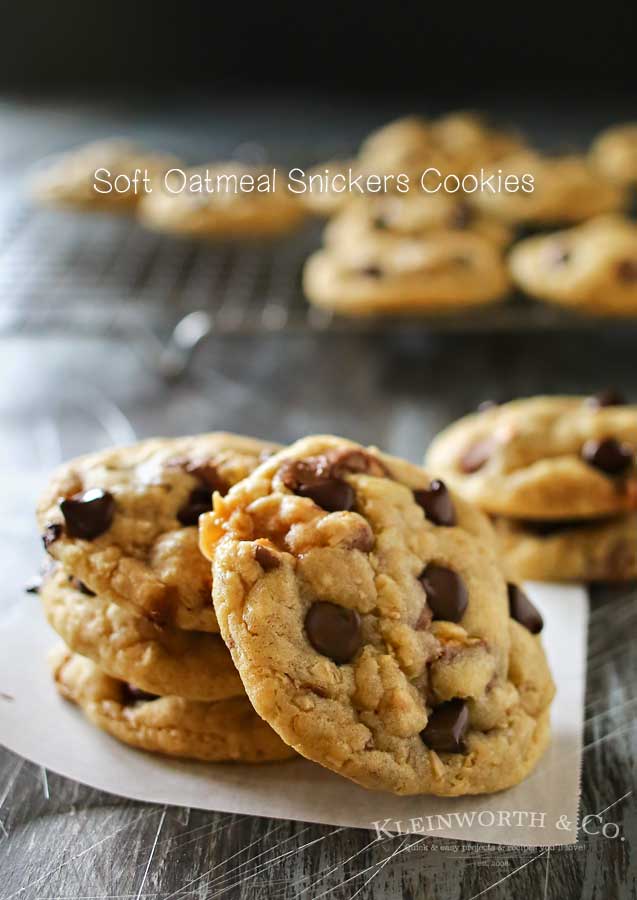 Do I have to chill the dough?
Nope. That is one of the reasons I love this recipe so much. No chilling, no waiting. So good!
Can I use shortening instead of butter?
I have not tried that, so I can't say how that would turn out. The cookies might be more cakey, instead of that buttery, chewy texture you would expect from using butter.
Can I use margarine instead of butter?
I have not tried that yet either, so I'm not sure of the result. However I would think that it would have similar results to the shortening but closer to butter I guess. Please let me know if you try this.
Can I use a gluten-free flour?
I'm not sure just yet. I have been meaning to give this a try but haven't had a chance. If you do try this, I would recommend using a 1:1 flour like this one as I don't believe it would require additional ingredients that are typically called for when trying to make baked recipes in a gluten-free version. Please come back & tell me how they turned out.
How do I properly measure the flour?
The official way is to spoon the flour into the measuring cup & level off. However, for these cookies I usually fluff the flour with a spoon & then gently scoop it into the measuring cup & then level that off before adding to my dough mixture. Make sure your flour isn't packed down when scooping or packed tightly into your measuring cup. This will make your cookies too dry.
Can I make this with another type of candy bar?
Yes, you can. I have found that anything with a lot of nougat tends to have issues because the nougat sort of evaporates and leaves air pockets where it used to be. This is why I love using Snickers- because it has the right ratio of chocolate, nougat, peanuts and caramel so you get all those flavors and nothing is missing in the end.
To make Soft Oatmeal Snickers Cookies you will need…
all-purpose flour
granulated sugar
packed brown sugar
baking soda
salt
butter
vanilla extract
eggs
old fashioned or quick oats
Snickers mini candy bars
chocolate chips
soft oatmeal cookies recipe
Products I love when making Soft Oatmeal Snickers Cookies…
This Soft Oatmeal Snickers Cookies recipe is SUPER EASY and delicious – and if you're like me, then you maybe already have some of these items on hand OR maybe you have never made oatmeal cookies before, & you might be a bit nervous – but you're going to love these. I have made a list below of the things I absolutely can't live without when it comes to making this cookie recipe.
If you love this Soft Oatmeal Snickers Cookies recipe, you're going to love these other cookies too. Please click each link below to find the easy, printable recipe!
Oatmeal Chocolate Cookie Recipe
If you love this recipe for Soft Oatmeal Snickers Cookies as much as I do, please write a five star review, and be sure to help me share on facebook and Pinterest!
These cookies are absolutely addicting!
CONNECT WITH KLEINWORTH & CO!
Be sure to follow me on my social media, so you never miss a post!
FB, Pinterest, IG, Email Subscription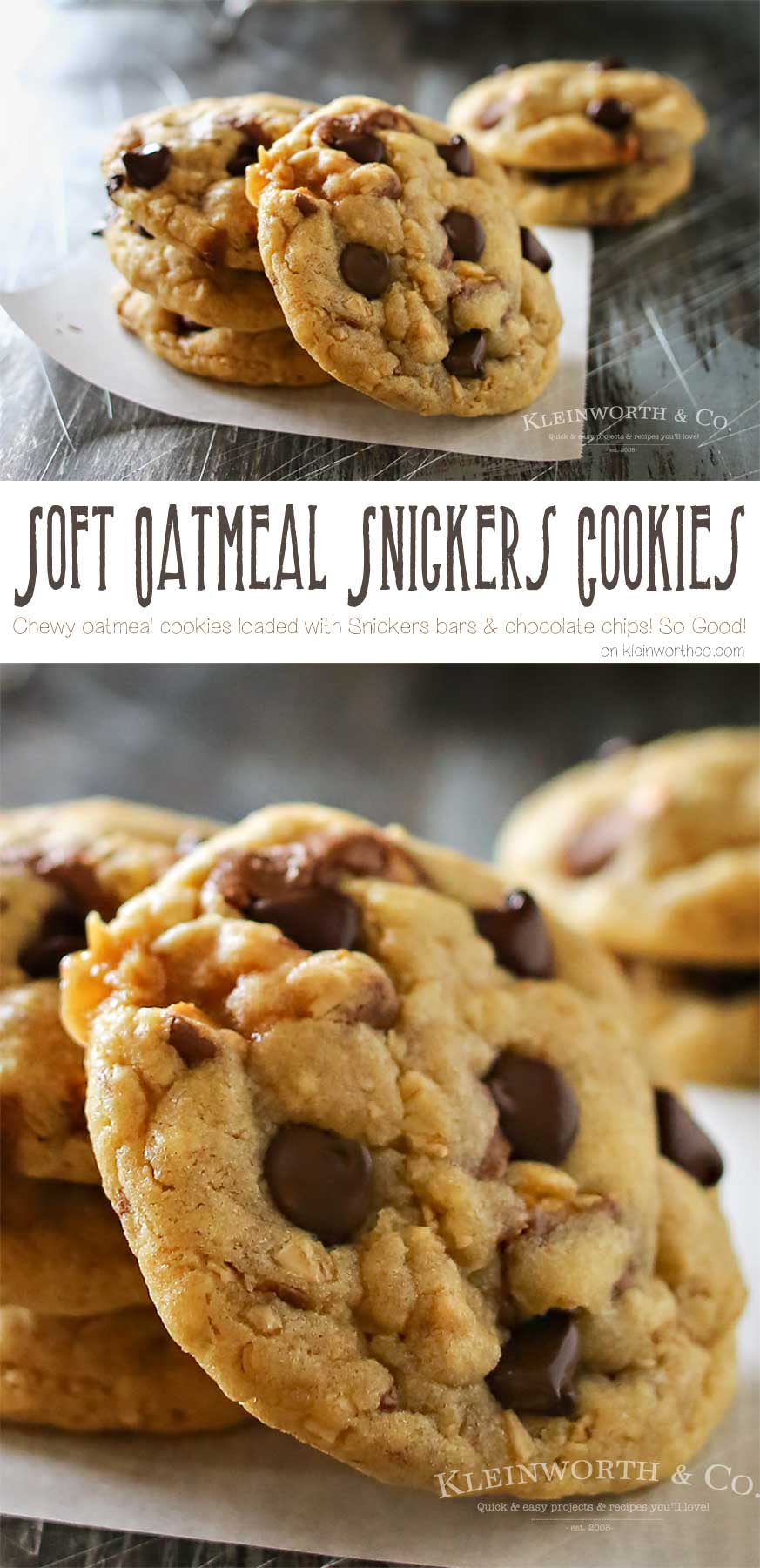 Reader Interactions