Love the classic holiday flavor of eggnog? Then you'll love these quick & easy Eggnog Cookies. These soft & chewy cookies are a MUST-MAKE for the holidays!
Calling all eggnog lovers! Do I have your attention? If you love the flavor of eggnog this time of year, then I know you will love these super easy to make eggnog cookies.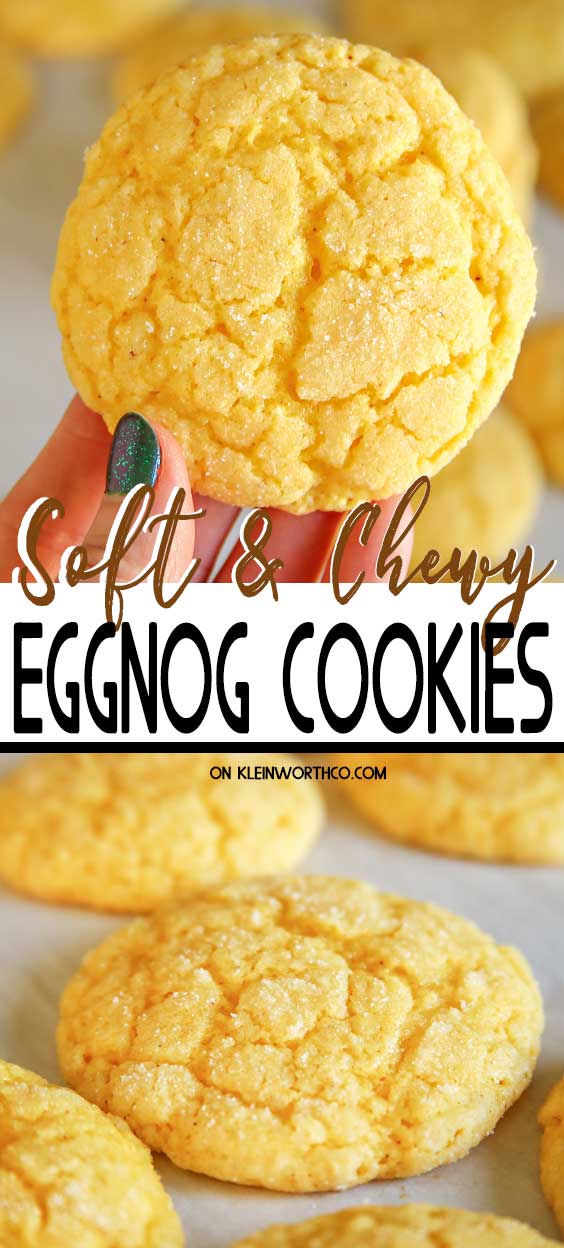 I mentioned before that I have been going page-by-page through grandma's old cookbook this season & trying to make all the recipes I remember from my childhood.
Lord bless that woman, because she really had quite the book of not only awesome recipes, but it is packed full of super quick & easy things to make. I think I got my knack for making things easier from her because she had all the great ideas for taking what you already have & making it into something delicious.
Eggnog Cookies Recipe
This post contains some affiliate links. Click here to read my full disclosure policy.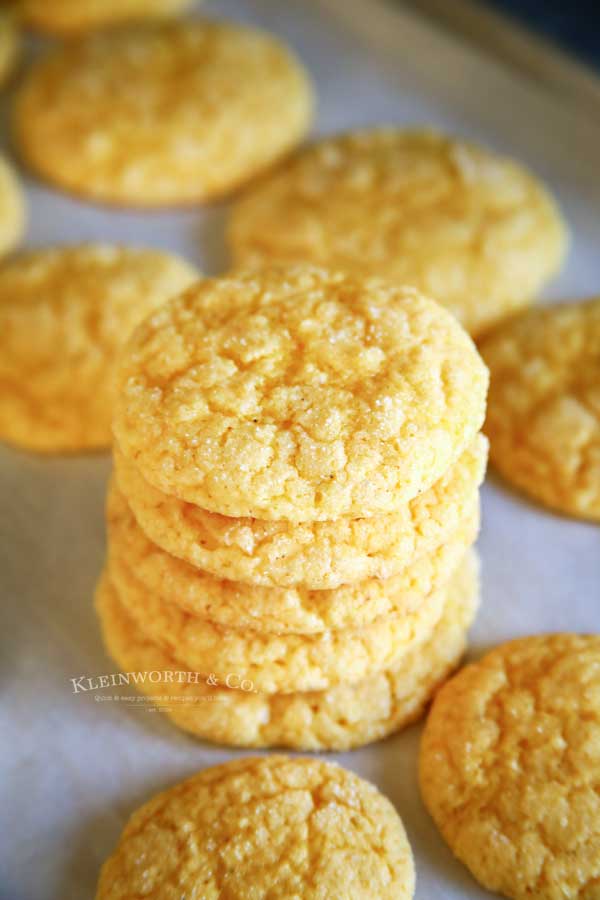 So a common theme with grandma's recipes, using things like cake mixes & boxes of this & that. She then would add different ingredients than what was called for on the back of the box to make something other than cake or brownies.
It is pretty clever, really! I mean, this wasn't common back in her day – although we see it more & more these days with as easy as it is to share recipes now.
But that is what I love about these recipes. I can take things that I already keep on hand, often in bulk, and make them into a special holiday treat like these Eggnog Cookies.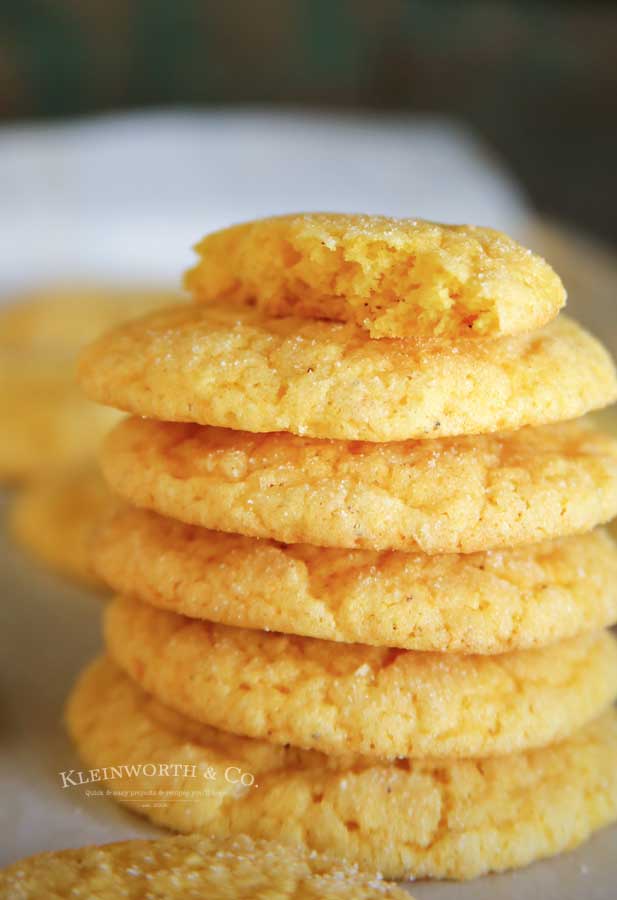 I don't know about you, but my family is NUTS for eggnog. So making cookies with that same great flavor just brings out all the smiles.
I really can't think of a more perfect cookie to leave out for Santa this year. Eggnog is a "Santa Favorite" already – so what could be better?
Here are some commonly asked questions
Can I make this recipe with another flavor of cake mix?
Sure thing. If you can't find white or yellow cake mix, you can sub in vanilla. However, for the most "eggnog-like" cookie, I prefer the yellow cake over any of the others.
What is the best way to store leftover cookies?
The easiest way is to place in a large airtight container & store at room temperature. I like a large plastic bowl with a lid or a zip-top bag works great too. If you glaze the cookies – you will need to store them in the refrigerator instead.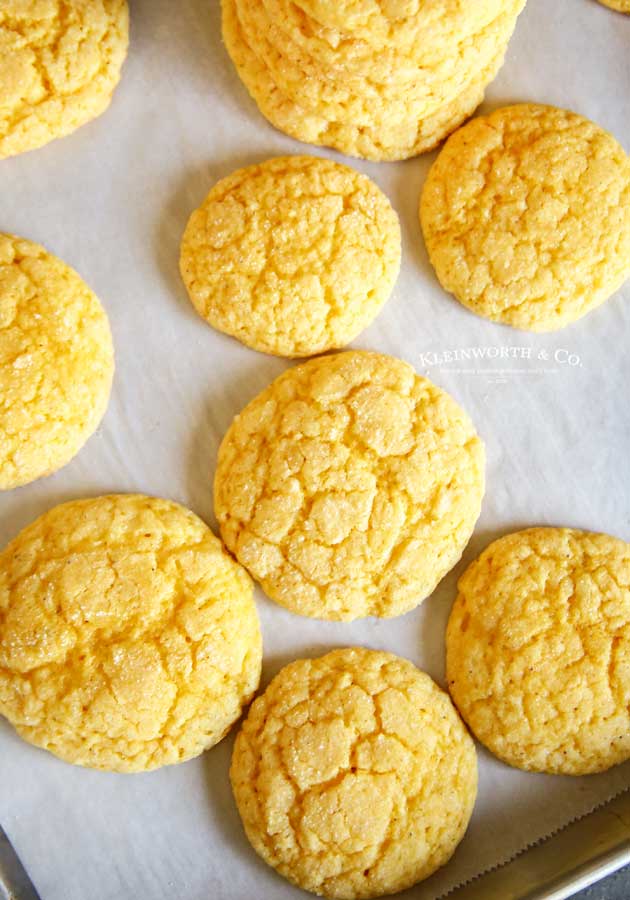 How many does this serve?
This recipe makes approximately 22 cookies. So it is the perfect amount when preparing for holiday guest. It is also the perfect amount to last a family like mine- 2 adults + 3 young adult children – about 2-3 days on average.
Best Eggnog Cookie Recipe Ever
Can this recipe be doubled?
Yes, absolutely. If 20+ cookies just isn't enough or you want to give these as gifts, I completely understand. You can most definitely double this recipe to meet your needs – just be sure to use a large bowl.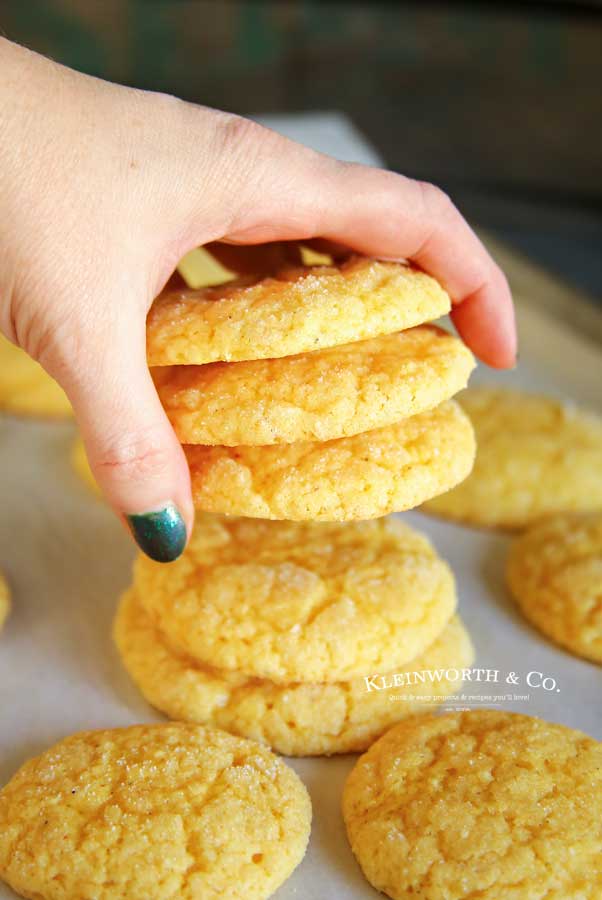 Should I use salted or unsalted butter?
I personally use whatever I have on hand. But if you are watching your salt intake, stick with the unsalted butter for these cookies. I wrote my original recipe using unsalted butter but then tried it with salted butter & liked them just the same.
HOW DO YOU MAKE Eggnog Cookies?
Combine butter, eggs, eggnog & extract in a large mixing bowl & beat until smooth.
Add in cake mix, nutmeg & baking powder & mix until just combined.
Chill the dough in the refrigerator for at least 90 minutes so that it is less sticky & easier to handle when scooping.
Preheat the oven to 350 degrees.
Scoop the dough into small balls & then roll them in a bowl of granulated sugar & place them on a parchment-lined baking sheet.
Slightly flatten each ball so they bake to a perfect dome shape.
Bake 10-12 minutes or until edges are firm & golden brown.
Remove & transfer to a wire rack to cool.
**OPT – prepare the glaze, if using while the cookies are baking.
Combine the glaze ingredients & whisk together.
Once the cookies are cooled to room temperature, drizzle them with the prepared eggnog glaze.
Why do I have to chill the dough?
Yes. You absolutely must chill this dough. If you do not chill the dough, it will be too soft & sticky to be able to roll it as needed. It needs to be firm enough so that it can hold it's shape when baking too.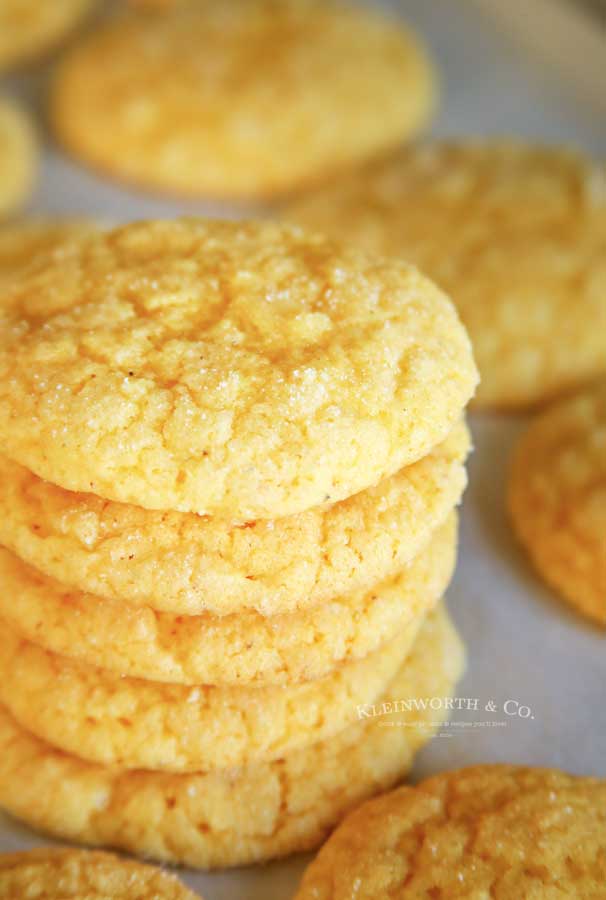 recipes using eggnog
To make this recipe you will need…
Cookies
butter – softened
eggs
eggnog
cake mix
nutmeg powder
baking powder
**OPT- rum extract
granulated sugar

**OPT – glaze

eggnog
confectioners sugar
Products I love when making Eggnog Cookies…
This Eggnog Cookies recipe is so EASY and delicious – and if you're like me, then you probably already have all of these items on hand! OR maybe you have never made Eggnog Cookies like these before, & you might be a bit nervous – but you're going to love the how quick & easy these are. I have made a list below of the things I absolutely can't live without when it comes to making these cookies.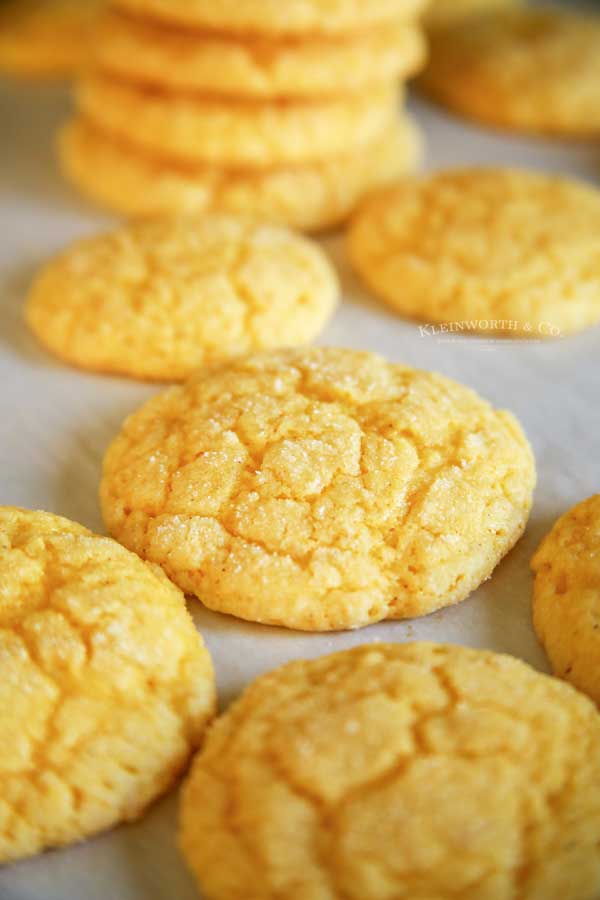 Definitely perfect for holiday cookie lovers everywhere!!
Scroll to the bottom for the Printable Recipe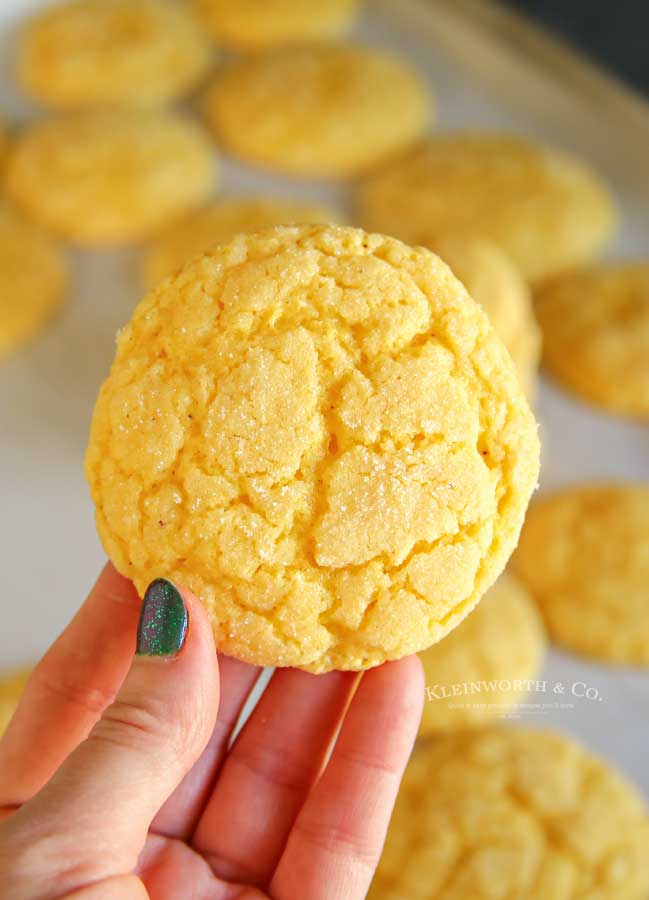 recipes with eggnog
If you love this Eggnog Cookies recipe, you're going to love these other easy cookie recipes too. Please click each link below to find the easy, printable recipe!

Eggnog Dessert Recipes
If you love this recipe for Eggnog Cookies as much as I do, please write a five star review, and be sure to help me share on facebook and pinterest!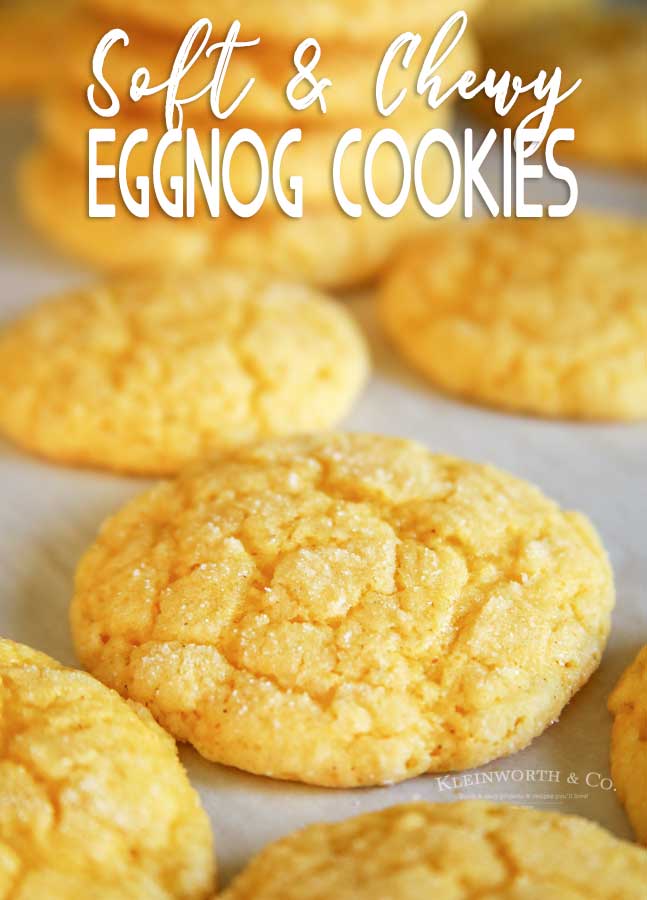 CONNECT WITH KLEINWORTH & CO!
Be sure to follow me on my social media, so you never miss a post!
FB, Pinterest, IG, Email Subscription
Don't miss these other fantastic recipes…
Pretzel M&M Hugs | Cooking Classy
70 cute ideas for Christmas treats | Something Swanky
Reader Interactions