These super soft & chewy Rudolph Gingerbread Cookies are the perfect addition to your holiday celebrations & are sure to bring BIG smiles from everyone!
There are a handful of flavors that are syonamouns with the holiday season. For me – gingerbread is on that list. So I had to share with you my little spin on the traditional gingerbread cookie recipe.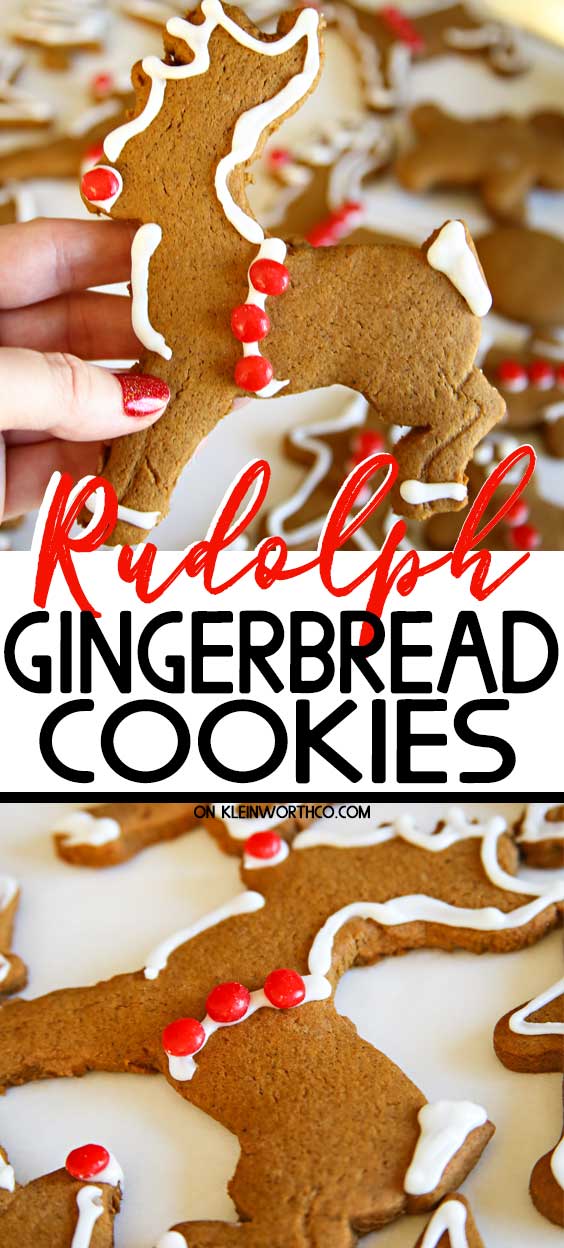 Do you ever have an idea that pops in your head at the most random times? I think it was back during the summer when I had the idea to make my favorite gingerbread cookie recipe. But instead of making gingerbread people, I thought it would be so adorable to make Rudolph Reindeer cookies instead. I'm loving how cute they are!
Now, you don't have to make Rudolph cookies with this recipe. This works great with the traditional gingerbread people, or really any other holiday shape. But I just thought it would be way too cute to make them & then use those little red hot candies for the reindeer nose.
Gingerbread Cookies
This post contains some affiliate links. Click here to read my full disclosure policy.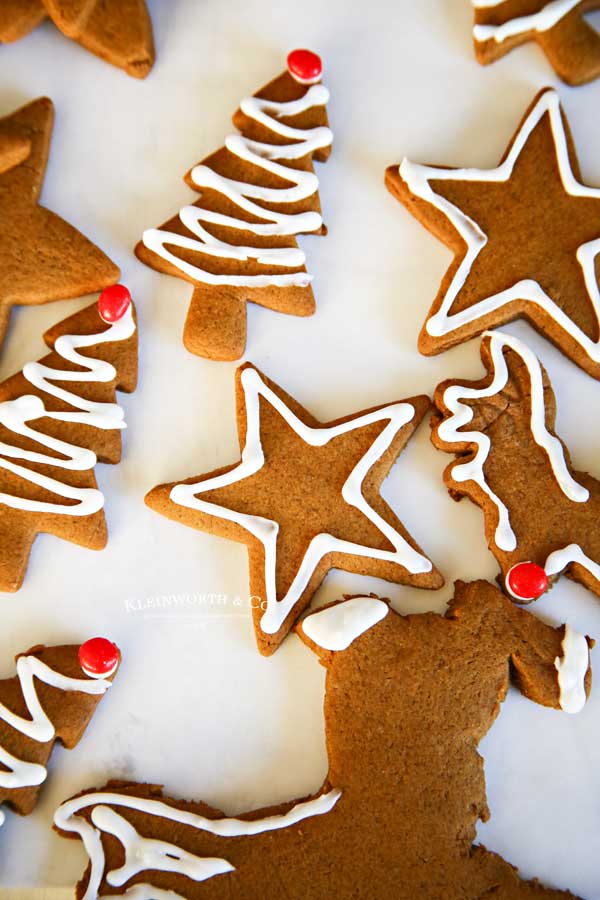 Growing up my mom would always pull out this recipe when it came time to get ready for the holiday season. It sort of acted as the official kick-off to all the holiday fun. I have so many memories of us in the kitchen whipping up batch after batch of cookies this time of year.
That has to be one of my favorite things about the holiday season. Mom loved this time of year & it all revolved around baking & making goodies for everyone we knew.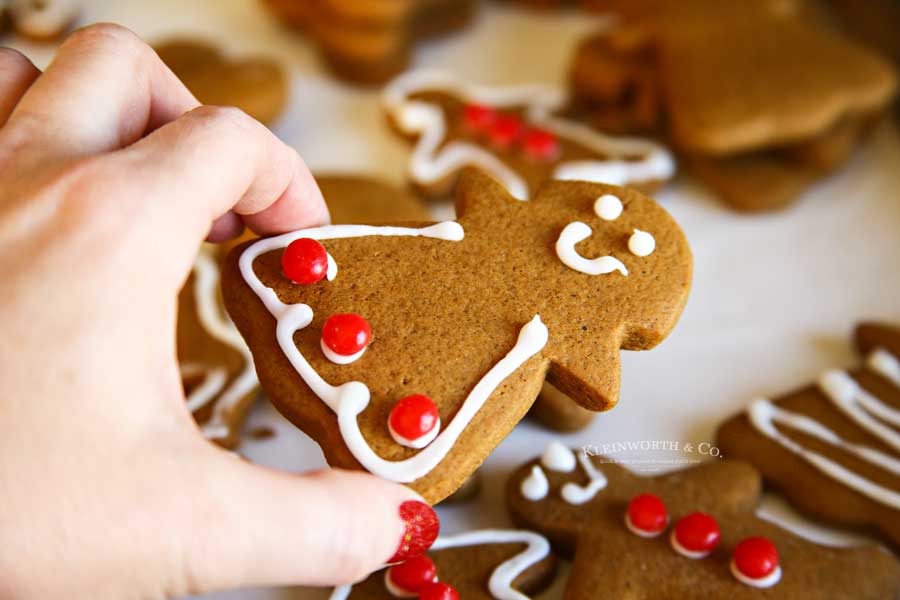 I like to keep the icing simple when it comes to gingerbread cookies. The pop of the white icing against the deep warm brown of the cookies just makes me swoon. I can't resist – I absolutely must have one.
That being said, you can absolutely add as much icing & decorations as you like to these cookies. It might even be fun to host a cookie decorating party for your friends & family.
My mom & I would do that quite often when I was growing up & I know that everyone had so much fun. Just make several batches of these cookies & you should have plenty to keep all your guests busy. Even if they are taste-testing as they go.

Here are some commonly asked questions
Can I make this recipe without the orange zest?
Sure thing. This is absolutely a flavor preference & something I added to mom's classic recipe. You could also use orange extract if you don't have an orange on hand.
What is the best way to store leftover cookies?
The easiest way is to place in a large airtight container & store at room temperature. I like a large plastic bowl with a lid or a zip-top bag works great too. Just make sure the icing has time to fully set before stacking the cookies.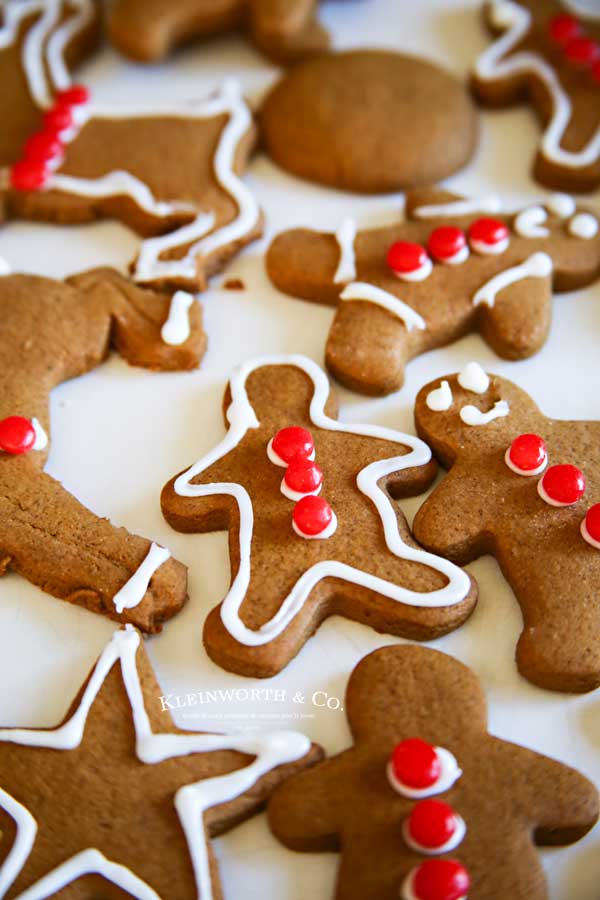 How many does this serve?
This recipe makes about 45 regular-size cookies. But really, this is going to depend on the size of your cookie cutters. I have some really LARGE cookie cutters & then some tiny ones too. But overall, if you do a standard-sized cookie & roll your dough out just right, you could get close to 50.
Gingerbread Cookies Recipe
Can this recipe be doubled?
Yes, you can double the dough on this recipe if you need to. It will really fill your mixer bowl, so make sure you are using a very large bowl if you plan on doubling this recipe.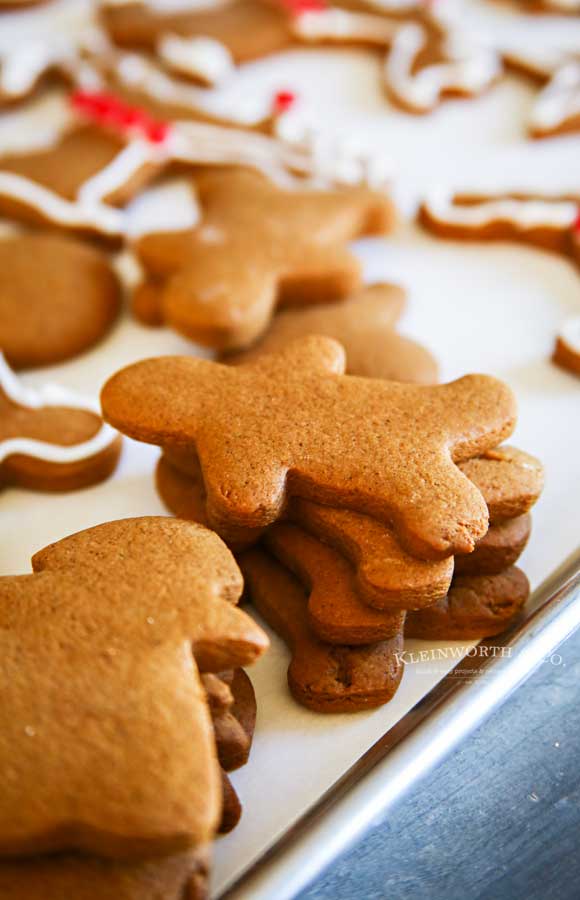 Should I use salted or unsalted butter?
I personally use whatever I have on hand. But if you are watching your salt intake, stick with the unsalted butter for these cookies. I wrote my original recipe using unsalted butter but then tried it with salted butter & liked them just the same.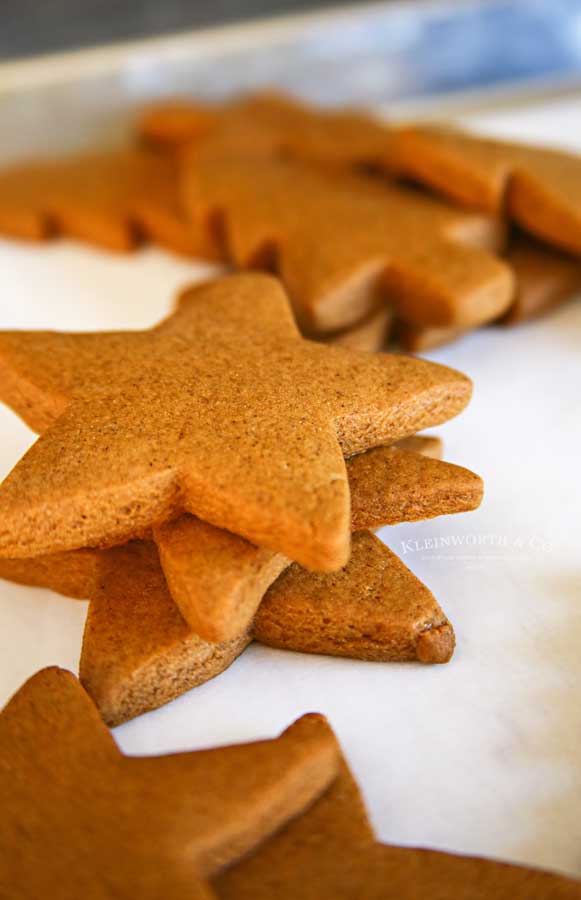 HOW DO YOU MAKE Gingerbread Cookies?
Combine flour, cinnamon, ginger, nutmeg, cloves, salt & baking soda in a medium bowl. Set aside.
In a large mixing bowl, combine butter & sugar. Beat on high until light & fluffy.
Add in eggs, molasses & vanilla & beat until combined.
Lower the mixer to the lowest speed & slowly beat in the flour mixture until just combined.
Divide the dough into 2 equal balls, slightly flattening them into 1″ thick disks.
Wrap each disk in plastic wrap & refrigerate for a minimum of 3 hours, but it is best to chill overnight.
Once the dough is chilled, preheat the oven to 350 degrees.
Line baking sheets with parchment & set aside.
Unwrap one dough disk & use a rolling pin to roll out on a flat, lightly floured surface.
Once the dough is approximately 1/8″ thick, use your cookie cutter to cut your shapes. Reroll the dough as needed to continue cutting out more cookies.
Transfer cutouts to the prepared baking sheet.
Bake 8-10 minutes or until the cookies are just crisp around the edges & slightly on top. The longer you bake, the crispier they will be.
Remove from the oven & allow to cool on the baking sheet for 5 minutes before transferring to a wire rack to continue cooling.
Once the cookies have cooled to room temperature, they are ready for decorating.

For the icing

Whisk the confectioner's sugar, milk & vanilla in a small bowl until smooth.
Transfer the mixture to a piping bag or plastic squeeze bottle & pipe onto the cookies as desired.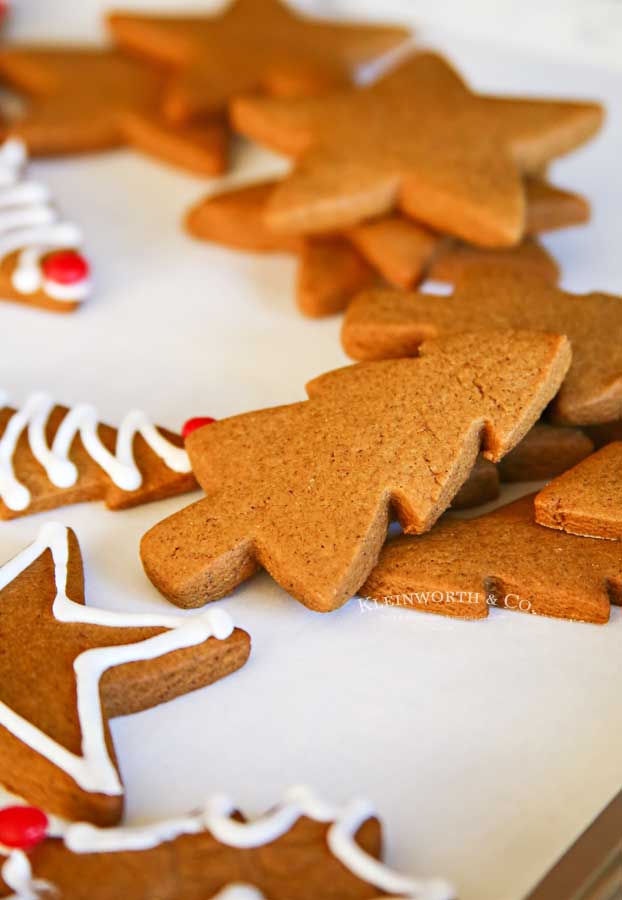 Do I have to chill the dough?
Yes, this is REALLY important. Chilling the dough not only makes it easier to roll it out, but it helps the cookies keep the shape you cut when transferring them to the baking sheet. Chilling the dough also helps to keep the cookies from spreading too much when they are baked. Please do not skip this step.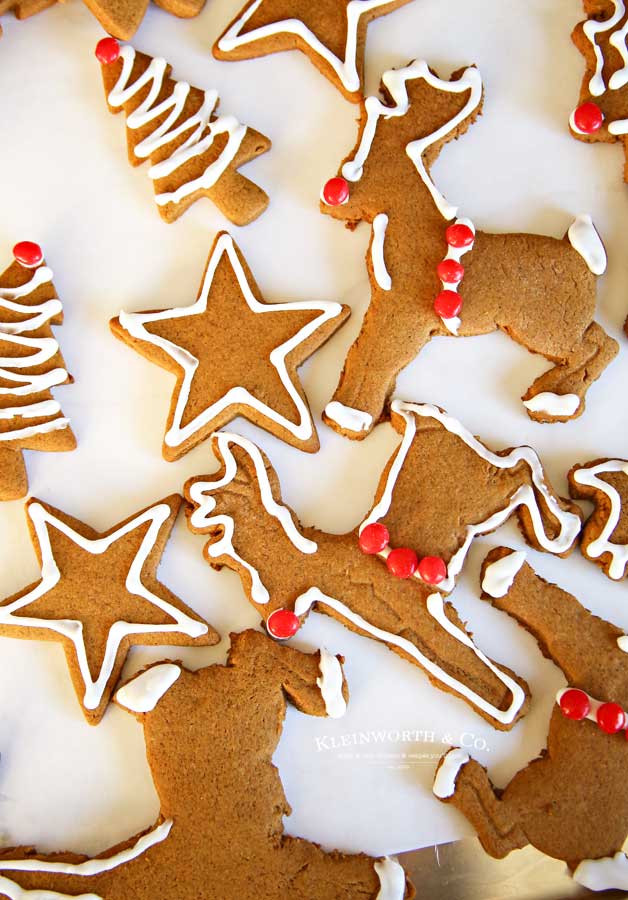 Can I use a gluten-free flour?
I'm not sure just yet. I have been meaning to give this a try but haven't had a chance. If you do try this, I would recommend using a 1:1 flour like this one as I don't believe it would require additional ingredients that are typically called for when trying to make baked recipes in a gluten-free version. Please come back & tell me how they turned out.
How do I properly measure the flour?
The official way is to spoon the flour into the measuring cup & level off. However, for these cookies I usually fluff the flour with a spoon & then gently scoop it into the measuring cup & then level that off before adding to my dough mixture. Make sure your flour isn't packed down when scooping or packed tightly into your measuring cup. This will make your cookies too dry.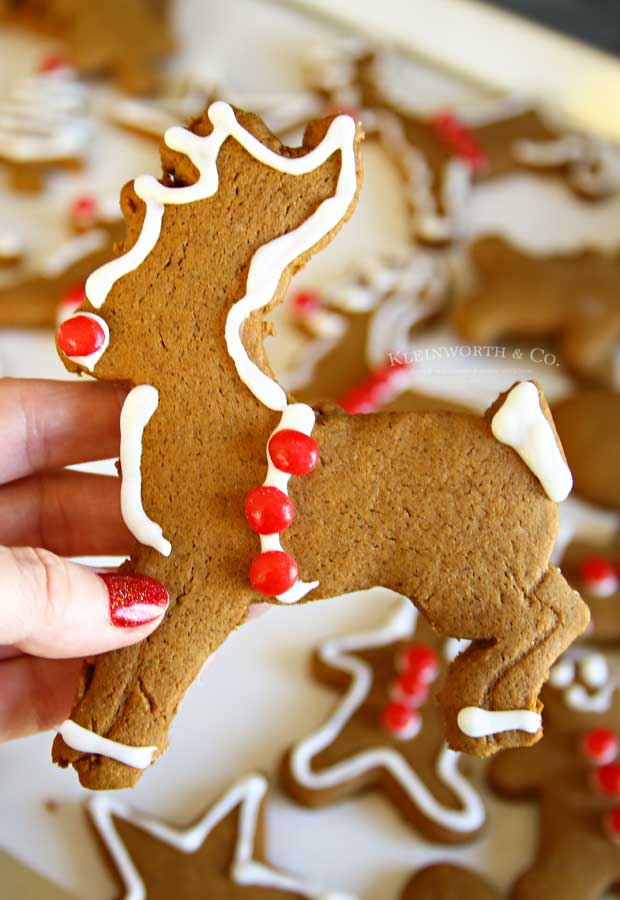 Soft Gingerbread Cookies
To make this recipe you will need…
all-purpose flour
ground ginger
cinnamon
ground cloves
ground nutmeg
baking soda
table salt
butter – softened to room temperature
packed brown sugar
egg
molasses
vanilla extract
orange zest or orange extract
OPT -toppings – holiday sprinkles, red hots, icing

ICING

confectioner's sugar
milk
vanilla extract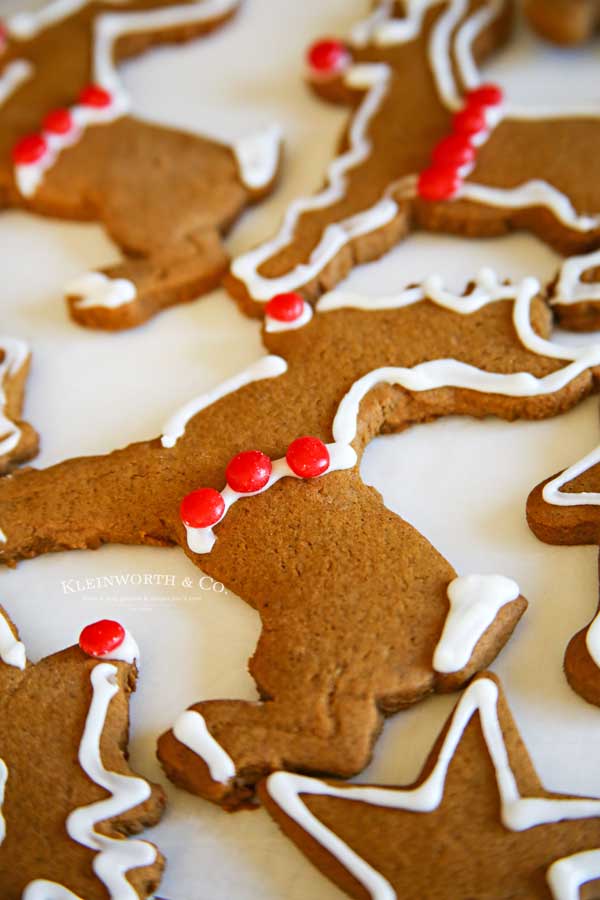 Products I love when making Gingerbread Cookies…
This Rudolph Gingerbread Cookies recipe is so EASY and delicious – and if you're like me, then you probably already have all of these items on hand! OR maybe you have never made gingerbread cookies before, & you might be a bit nervous – but you're going to love the delicious these are. I have made a list below of the things I absolutely can't live without when it comes to making these cookies.
Definitely the perfect holiday cookie!!
Scroll to the bottom for the Printable Recipe
easy gingerbread cookies
If you love this Rudolph Gingerbread Cookies recipe, you're going to love these other easy cookie recipes too. Please click each link below to find the easy, printable recipe!

Best Gingerbread Cookies Recipe
If you love this recipe for Rudolph Gingerbread Cookies as much as I do, please write a five star review, and be sure to help me share on facebook and pinterest!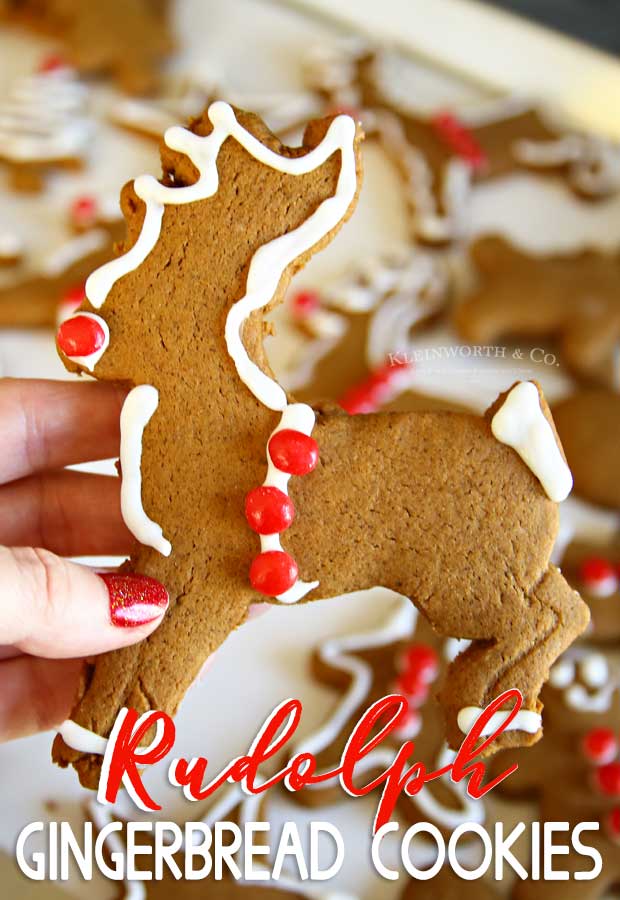 CONNECT WITH KLEINWORTH & CO!
Be sure to follow me on my social media, so you never miss a post!
FB, Pinterest, IG, Email Subscription
Don't miss these other fantastic recipes…
How the Grinch Stole Christmas Grinch Heart Pretzels | Two Sisters Crafting
Red Velvet Peanut Butter Blossoms | Kitchen Fun with My 3 Sons
Reader Interactions