Mini Peanut Butter Chocolate Chip Cookies are mini versions of your favorite treat. Soft, chewy with a little bit of crunch and mini chocolate chips make these the perfect dessert.
Cookies are loved by everyone in our house. We flip between chocolate chip, oatmeal raisin, and of course, peanut butter.
I usually stick with my easy 3-ingredient peanut butter cookies. But this time I really wanted to make a mini version packed with mini chocolate chips.
Scroll to the bottom for the Printable Recipe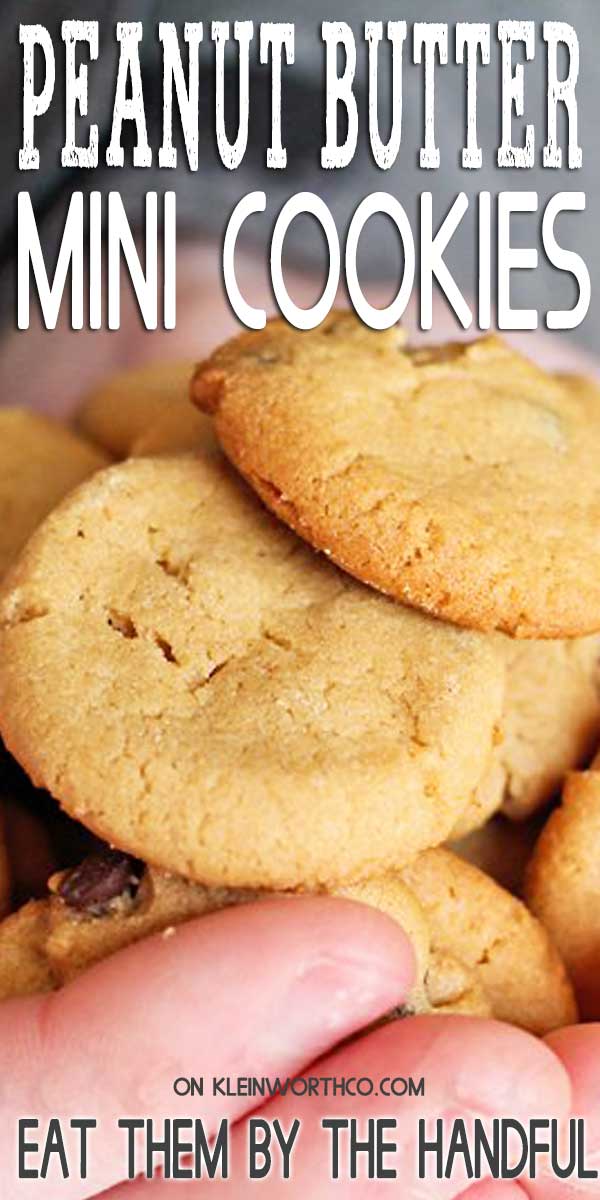 I first made and shared this recipe way back in 2014. The kiddos were little and anything mini or giant seemed to be ahhh inspiring to them at the time.
Really, I don't blame them. I love mini and giant things myself. I particularly love mini cookies like these that I can eat by the handful.
Mini Peanut Butter Cookies
This post contains some affiliate links. Click here to read my full disclosure policy.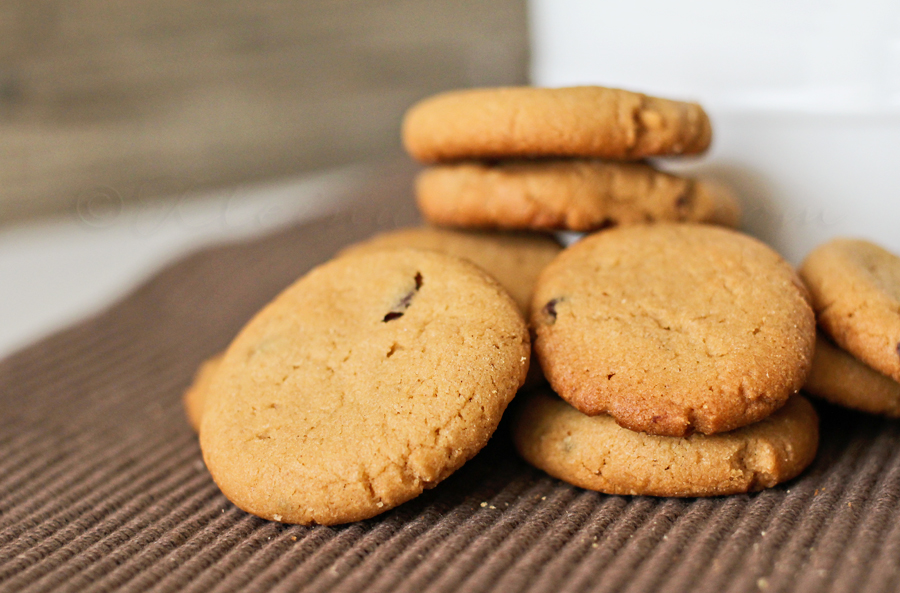 We love making these mini cookies for potlucks and parties. People love to just grab a handful and walk around with them.
I think people think they are having less if they are small. In all reality, you probably eat more than you would if you had just a couple of normal-size cookies. But I'll be the first to say that I don't feel bad, they are just so good.
They fit in the palm of your hand- it's really like only eating one or two regular size cookies.
Here are some commonly asked questions
Can I make this recipe with another type of chocolate chips?
Yes- that would work just fine. I made these with mini semi-sweet chocolate chips, but if you chopped up some peanut butter chips or butterscotch chips, that would be good too. Since these are mini cookies, they really are best with the smaller chocolate chips though.
What is the best way to store leftover cookies?
The easiest way is to place in a large airtight container & store at room temperature. I like a large plastic bowl with a lid or a zip-top bag works great too.
Can I use a sugar substitute?
I have not personally tried it, so I can't say how that would turn out. But if you would like to try it, I suggest a product that offers a 1:1 swap. Please let me know how it turns out.
How many does this serve?
This recipe makes about 50-60 mini cookies, depending on how big you make them. So, plan accordingly.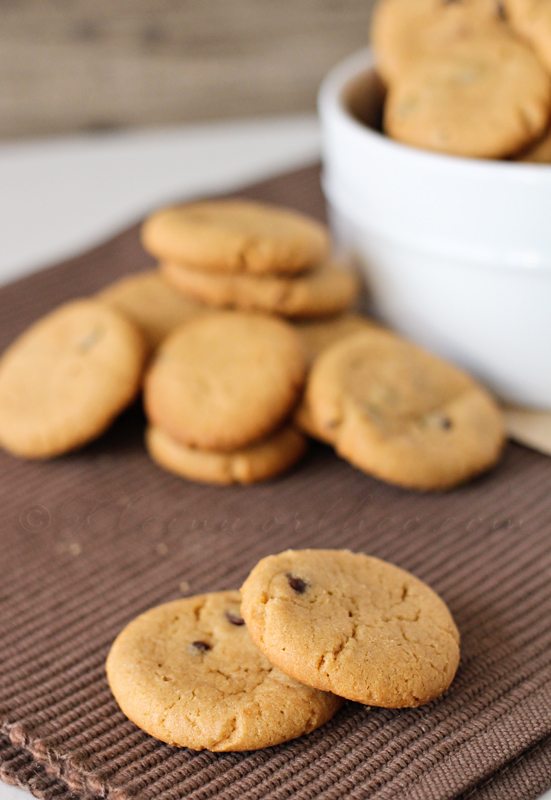 Can this recipe be doubled?
Yes, absolutely. If 50-60 cookies just isn't enough, I completely understand. You can most definitely double this recipe to meet your needs. They do go fast and if you have a crowd.
recipe for mini peanut butter cookies
Can this recipe be halved?
That would certainly be okay and a lot easier to do if you make the version where you omit the egg instead of having to split the egg.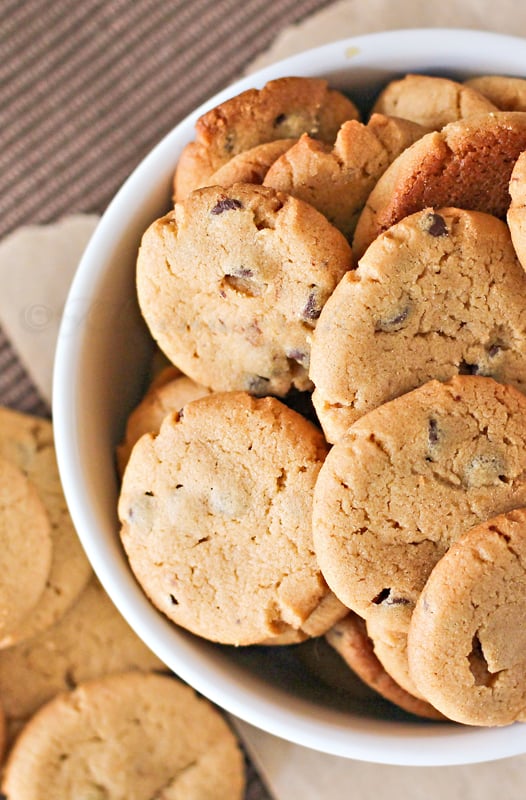 HOW DO YOU MAKE Mini Peanut Butter Chocolate Chip Cookies?
Heat the oven to 375 degrees.
In mixer bowl with the paddle attachment, add combine the brown sugar, peanut butter, shortening, milk & vanilla. Beat until well combined.
Add the egg – beat until just blended.
Add in flour, baking soda & salt. Beat until just blended.
Fold in the mini chocolate chips.
Take small 1 teaspoon size sections & roll into balls & place on ungreased cookie sheet.
Press flat with your fingers. You should be able to fit close to 25-30 mini cookies on your cookie sheet & they should be no larger than 1 inch in diameter. Preferably a bit smaller as they will spread a little when baking.
Bake 8 minutes and remove. Allow the cookies to cool 1-2 minutes on the baking sheet before transferring to wire rack to finish cooling.
Store in an airtight container for up to 4 days.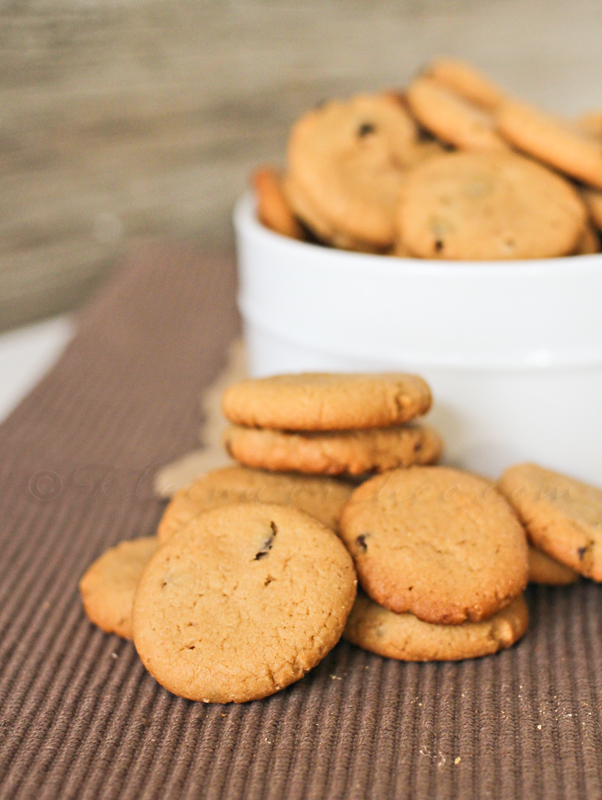 Do I have to chill the dough?
Nope. That is one of the reasons I love this recipe so much. No chilling, no waiting. So good!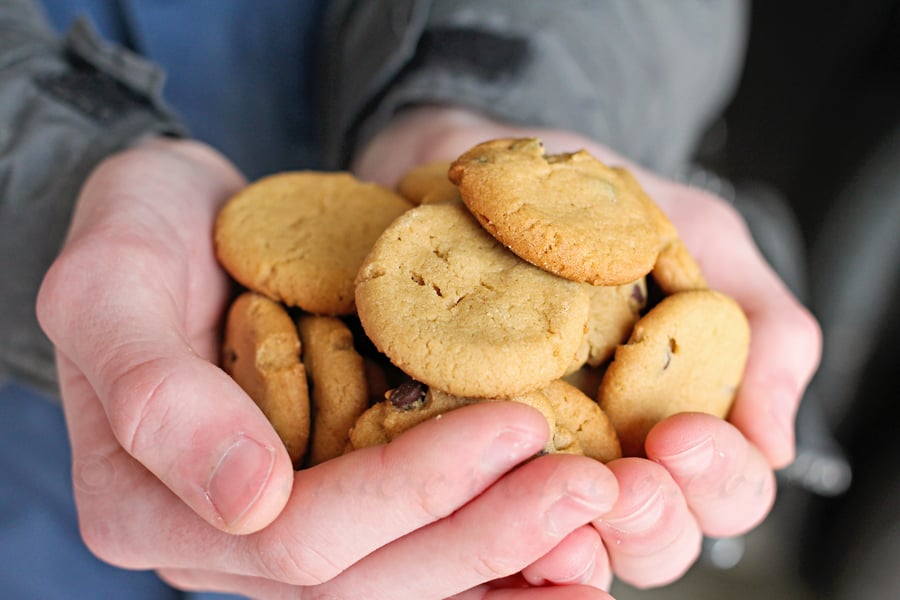 Can I use butter instead of shortening?
I have not tried that yet, so I can't say for sure how that would turn out. Keep in mind that butter will spread more and may require a chilling time to keep that from being too drastic. Please let me know if you try it.
Can I use margarine instead of shortening?
I have not tried that yet either, so I don't know. However I would think that it would have more similar results to the shortening than the butter would. Please let me know if you try this too.
Can I use a gluten-free flour?
I'm not sure just yet. I have been meaning to give this a try but haven't had a chance. If you do try this, I would recommend using a 1:1 flour like this one as I don't believe it would require additional ingredients that are typically called for when trying to make baked recipes in a gluten-free version. Please come back & tell me how they turned out.
How do I properly measure the flour?
The official way is to spoon the flour into the measuring cup & level off. However, for these cookies I usually fluff the flour with a spoon & then gently scoop it into the measuring cup & then level that off before adding to my dough mixture. Make sure your flour isn't packed down when scooping or packed tightly into your measuring cup. This will make your cookies too dry.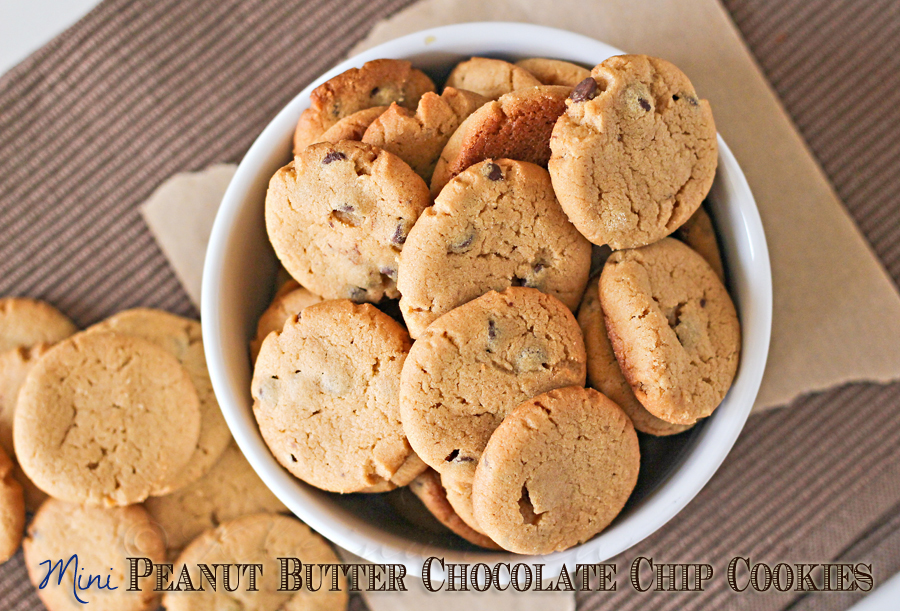 Can I make this with crunchy peanut butter?
Yes, you can. It does make it a little more difficult for scooping and forming the cookies. The more chunky things you have in the cookies, be it the chocolate chips of the peanut pieces, the more the dough itself is displaced and doesn't want to hold together.
Peanut butter cookies are already oily in nature and the dough doesn't like to stick to things like chocolate chips. So the more you have the more issues that can happen.
To make Mini Peanut Butter Chocolate Chip Cookies you will need…
brown sugar
creamy peanut butter
shortening
milk
vanilla extract
egg
all-purpose flour
baking soda
salt
mini chocolate chips
best mini peanut butter cookies recipe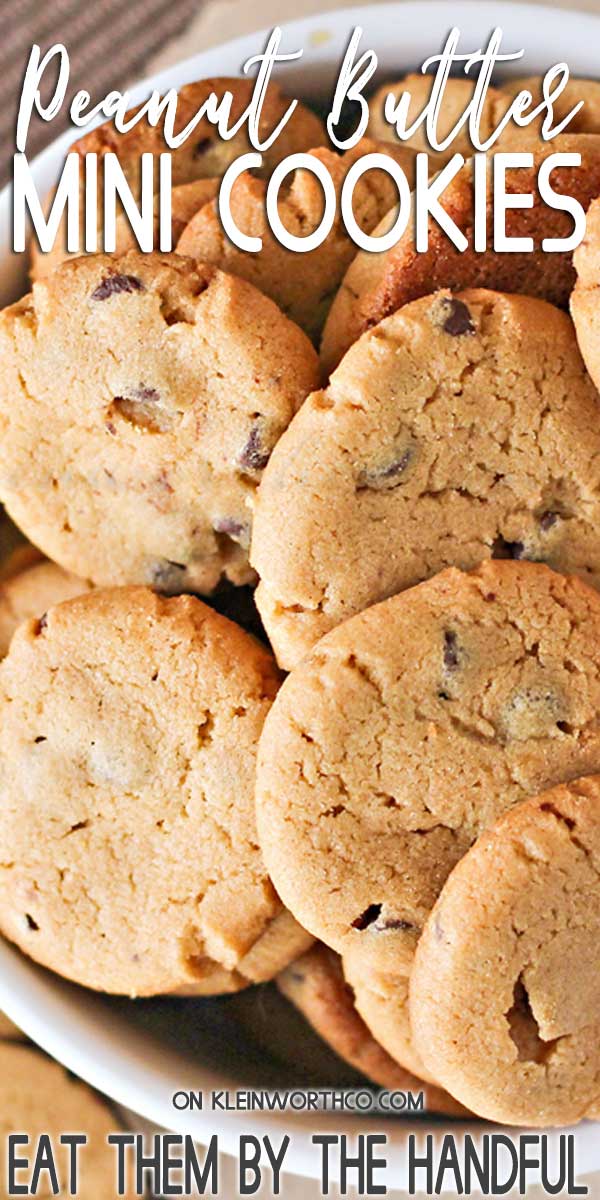 Products I love when making Mini Peanut Butter Cookies…
This Mini Peanut Butter Cookies recipe is SUPER EASY and delicious – and if you're like me, then you maybe already have some of these items on hand OR maybe you have never made mini cookies before, & you might be a bit nervous – but you're going to love these. I have made a list below of the things I absolutely can't live without when it comes to making this cookie recipe.
If you love this Mini Peanut Butter Chocolate Chip Cookies recipe, you're going to love these other cookies too. Please click each link below to find the easy, printable recipe!
Peanut Butter Chocolate Chip
If you love this recipe for Mini Peanut Butter Chocolate Chip Cookies as much as I do, please write a five star review, and be sure to help me share on facebook and Pinterest!
These little gems are so delicious!
CONNECT WITH KLEINWORTH & CO!
Be sure to follow me on my social media, so you never miss a post!
FB, Pinterest, IG, Email Subscription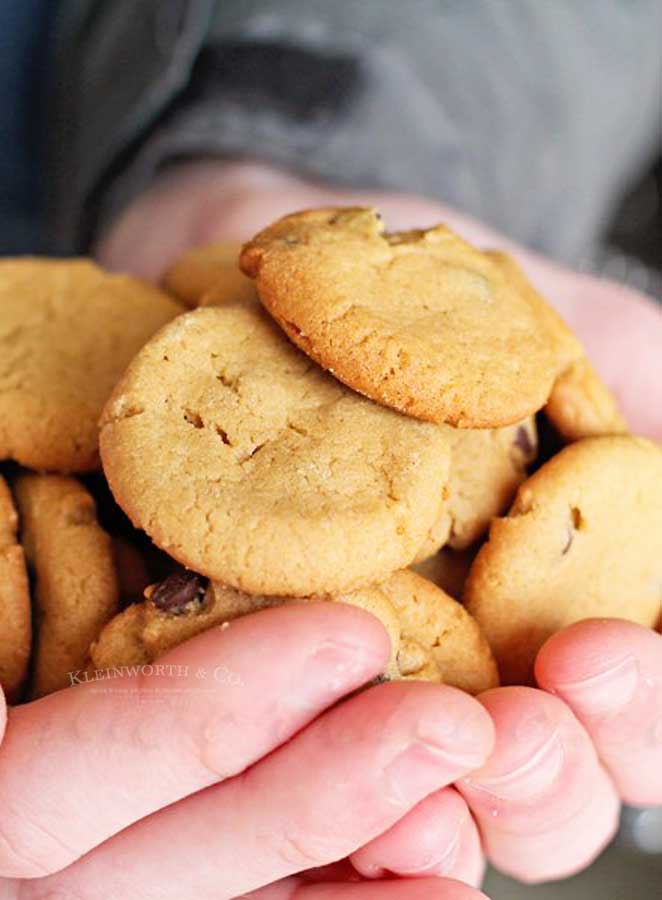 Reader Interactions