Red White & Blueberry Pie Bars are loaded with blueberries, raspberries & white chocolate & the perfect treat for all your patriotic holiday gatherings. You'll definitely want these at your 4th of July, Memorial Day and Labor Day celebrations.
YAY! I'm so excited! Today I have joined up with 110 bloggers (yes I said 110) to bring you the ULTIMATE RED, WHITE & BLUE Round-Up!!
You know how I just LOVE all things Red, White & Blue, so I was beyond thrilled to get the chance to join in this SUPER FUN event.
Scroll to the bottom for the Printable Recipe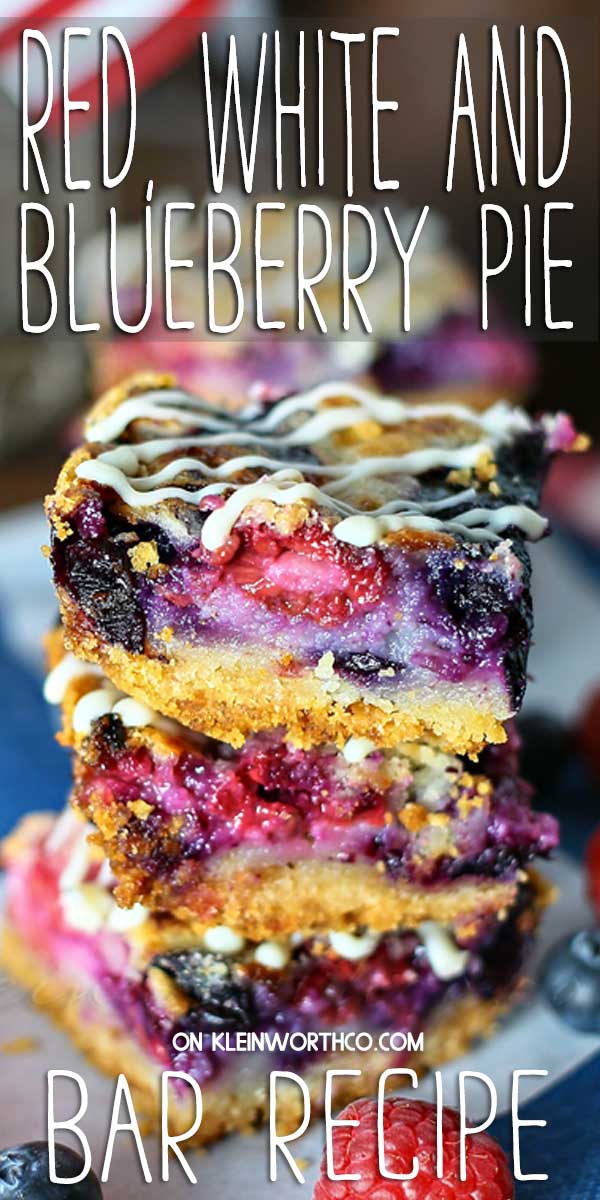 I was brainstorming what I would make – so many wonderful ideas popped into my head. I have been crafting & creating things to bring more Americana decor into our new home later this month.
So I was really tempted to share one of those things with you today. But then my son suggested I make a twist on my wildly popular Blueberry Pie Bars.
Because they are such a summer treat- I took his advice & created these Red White & Blueberry Pie Bars. AMAZING!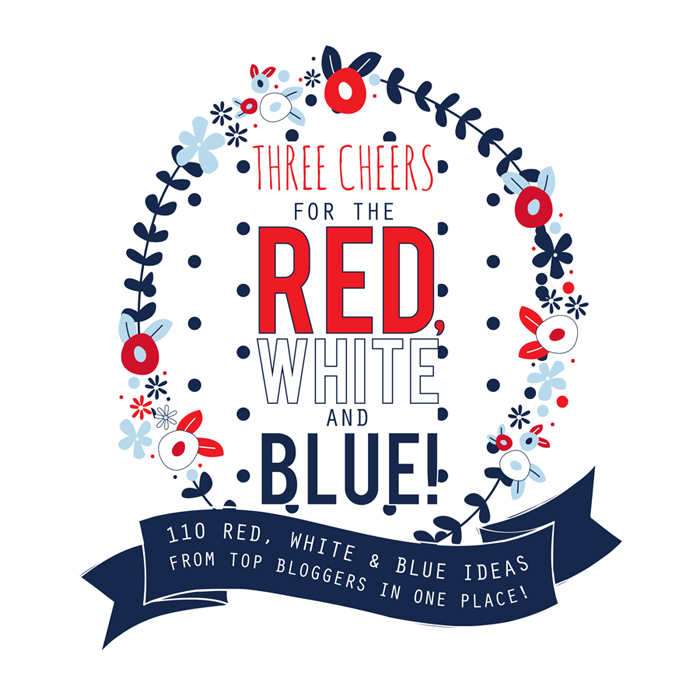 I really didn't think that my Blueberry Pie Bars could get any better. But these certainly did that.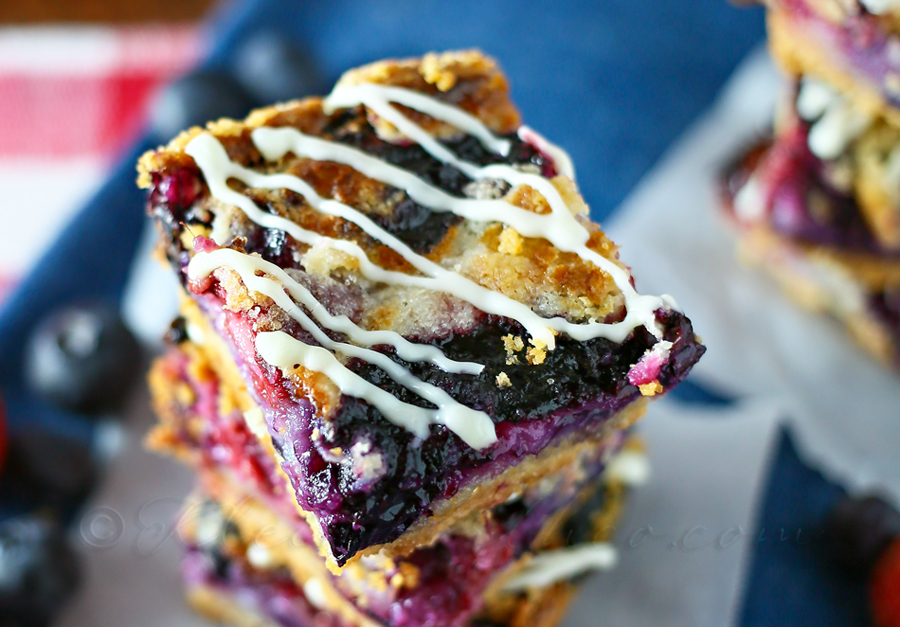 So we have blueberries, raspberries & white chocolate drizzle over each individual bar. YUM, YUM, YUM!
Here are some commonly asked questions
Can I use frozen berries?
Yes, absolutely, that will work just fine. Just be sure to thaw them & pat them dry before using. Using them while frozen will add too much moisture to the batter and it won't bake correctly.
Can I use a sugar substitute?
I have not personally tried it, so I can't say how that would turn out. But if you would like to try it, I suggest a product that offers a 1:1 swap. Please let me know how it turns out.
Can these bars be frozen?
Yes, I do it often. Just make sure to wrap in tightly in plastic wrap before freezing. Use within 3 months.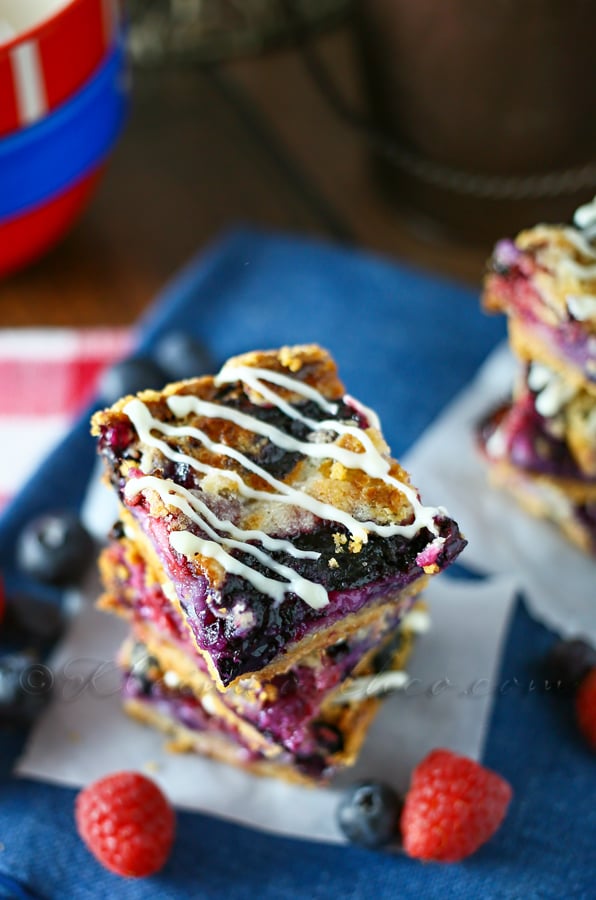 You better make 2 batches because these won't last long at your summer parties.
How many can this serve?
This recipe makes about 20 bars. But then again, that will depend on how you decide to cut them after baking.
recipe for raspberry pie bars
Can this recipe be doubled?
Sort of. You can double the quantities for the ingredients, however, you will still need to separate that out between 2 – 9×13 pans. You can bake them side-by-side at the same time. But the pan really can't hold a double batch nor will it bake correctly if doubled into one pan.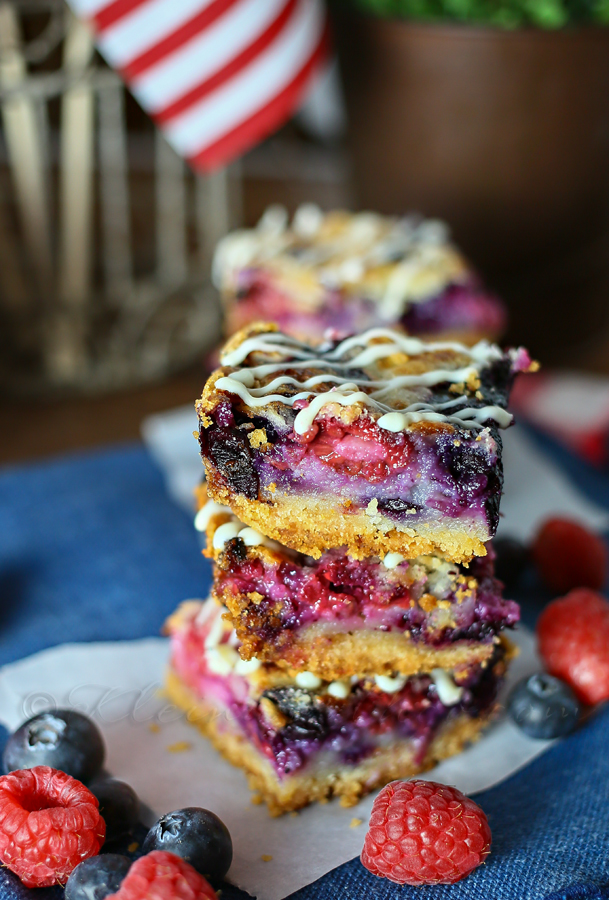 HOW DO YOU MAKE Red White & Blueberry Pie Bars?
Grease a 9×13 glass baking dish- set aside.
Preheat the oven to 350 degrees.
Prepare the crust/topping by adding the flour, sugar, butter and salt to a mixing bowl, beat until combined & crumbly.
Take 1 cup of the mixture & set aside. Take the remaining mixture & firmly press into an even layer in the bottom of the baking dish. Bake for 15 minutes.
While crust is baking- whisk the eggs in a large bowl.
Add the sugar, sour cream, flour & salt. Mix.
Gently fold in berries & then set the mixture aside.
When the crust is ready – remove from oven & gently spoon in the filling over the top of the crust.
Sprinkle the remaining crust mixture that was set aside over the top – no need for it all to cover or be spread out. Just leave it as crumbles.
Bake for 45 minutes -1 hour or until the top is lightly browned.
If the bottom is getting too brown you can remove & broil the top for a couple of minutes to brown it up.
Cool on a wire rack before adding the white chocolate.
Once cooled- melt your white chocolate melting chocolates in a microwave-safe bowl in the microwave in 30-second intervals until melted. Then drizzle over the top of the bars before cutting them.
What is the best way to store leftover pie bars?
I like to cover the bars in the pan and then keep them refrigerated until ready to serve again. You can also transfer them to an airtight container and refrigerate. Just reheat in the microwave for a few seconds before serving again.
To make Red White & Blueberry Pie Bars you will need…
all-purpose flour
granulated sugar
cold butter
pinch salt
eggs
sour cream
fresh blueberries
fresh raspberries
White Chocolate melting chocolates
best raspberry pie bars recipe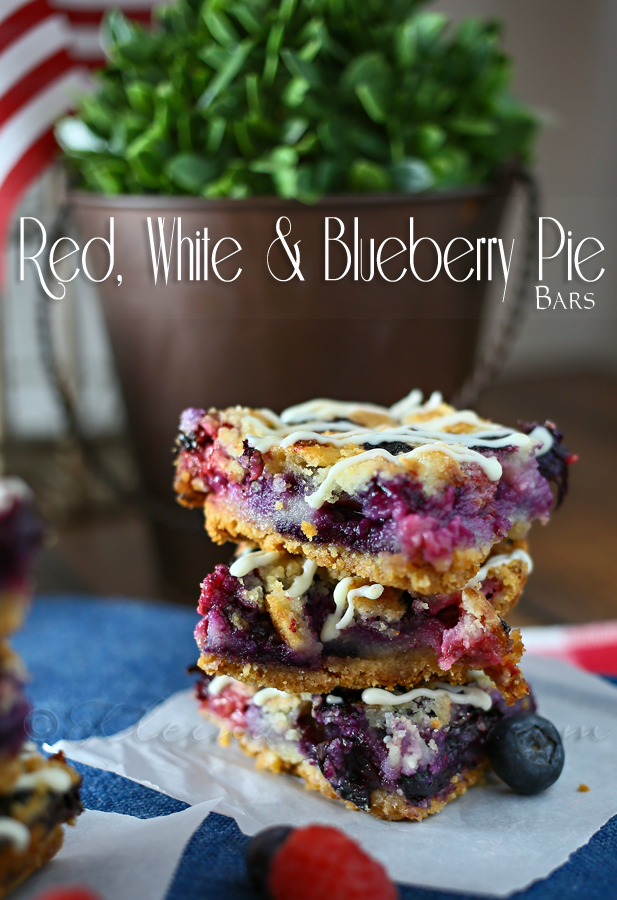 Products I love when making Red White & Blueberry Pie Bars…
This Red White & Blueberry Pie Bars recipe is SUPER EASY and delicious – and if you're like me, then you maybe already have some of these items on hand OR maybe you have never made pie bars before, & you might be a bit nervous – but you're going to love these. I have made a list below of the things I absolutely can't live without when it comes to making this pie bars recipe.
If you love this Easy Red White & Blueberry Pie Bars recipe, you're going to love these other treats too. Please click each link below to find the easy, printable recipe!
Want the original Blueberry Pie Bars?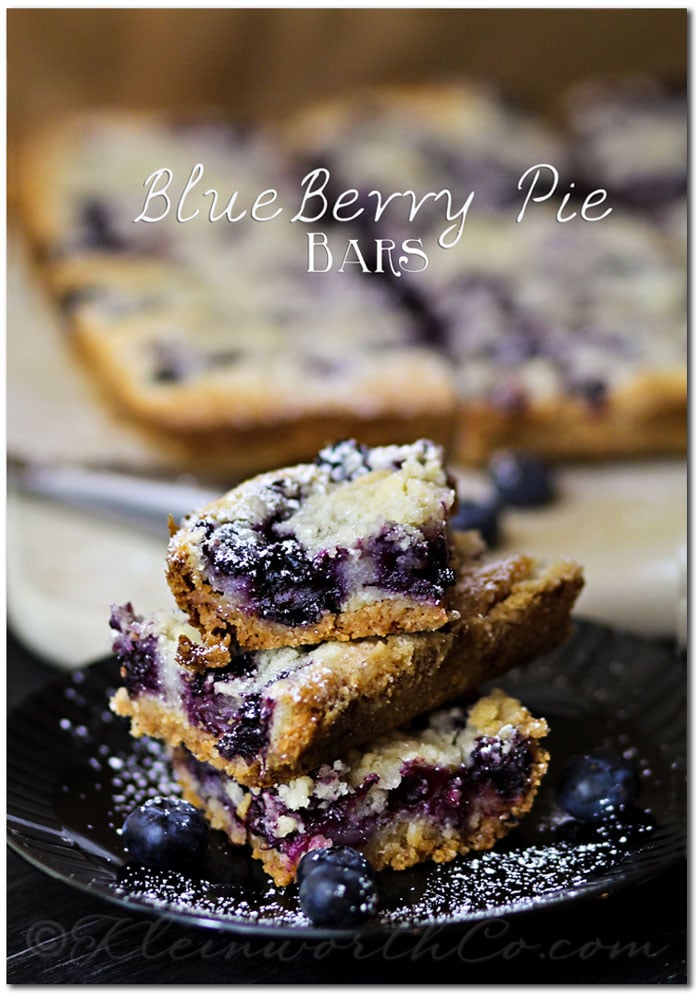 With 4th if July coming up you don't miss my tutorial on How to Photograph Fireworks!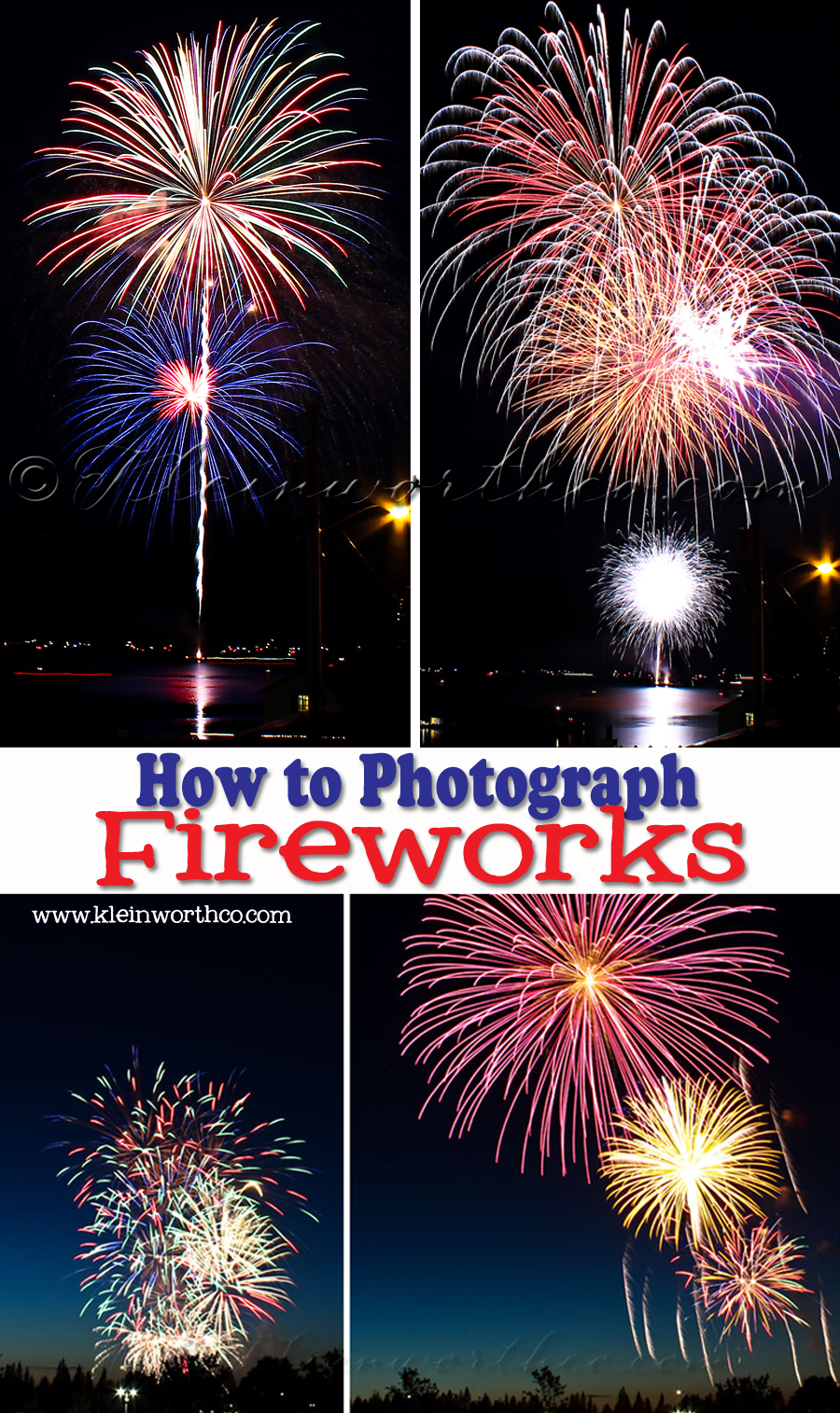 For more Inspiration- Check out our Group Pinterest Board
Three Cheers for the Red, White & Blue
Follow The Cards We Drew's board Three Cheers for the Red White and Blue ULTIMATE Round Up of Patriotic Ideas from Top Bloggers! on Pinterest.
AND….. Don't forget all these other Red, White & Blue Ideas created by some of my favorite bloggers!!
4th of July Bar Recipes
If you love this recipe for Red White & Blueberry Pie Bars as much as I do, please write a five star review, and be sure to help me share on facebook and Pinterest!
CONNECT WITH KLEINWORTH & CO!
Be sure to follow me on my social media, so you never miss a post!
FB, Pinterest, IG, Email Subscription
Reader Interactions