Soft Baked Reese's Pieces Cookies are a peanut butter lover's dream. Super chewy & delicious, they are a family favorite this time of year.
I sure love a soft & chewy cookie. How about you? That seems to be the cookie criteria around here, soft & chewy & they better be easy to make too.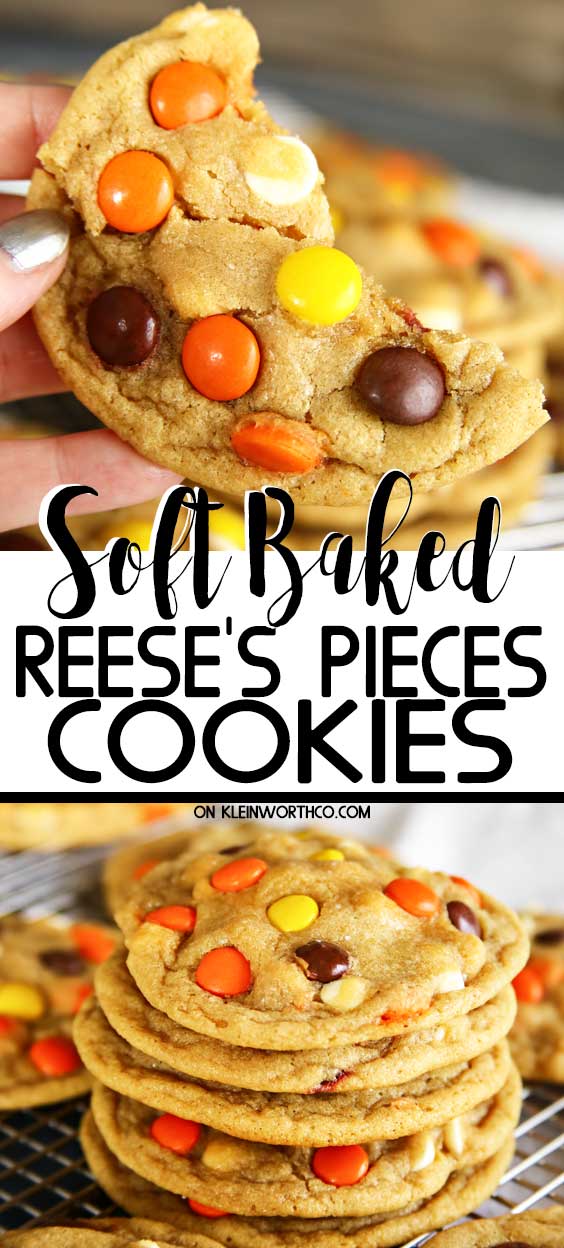 Growing up I did my fair share of baking with my mom. She loved to bake treats & I know she passed that love on down to me.
One thing we almost always had in the house was fresh, homemade cookies. Her recipe box is packed full of so many goodies. I love being able to pick out my personal favorites & share them here with you.
soft baked cookies recipe
This post contains some affiliate links. Click here to read my full disclosure policy.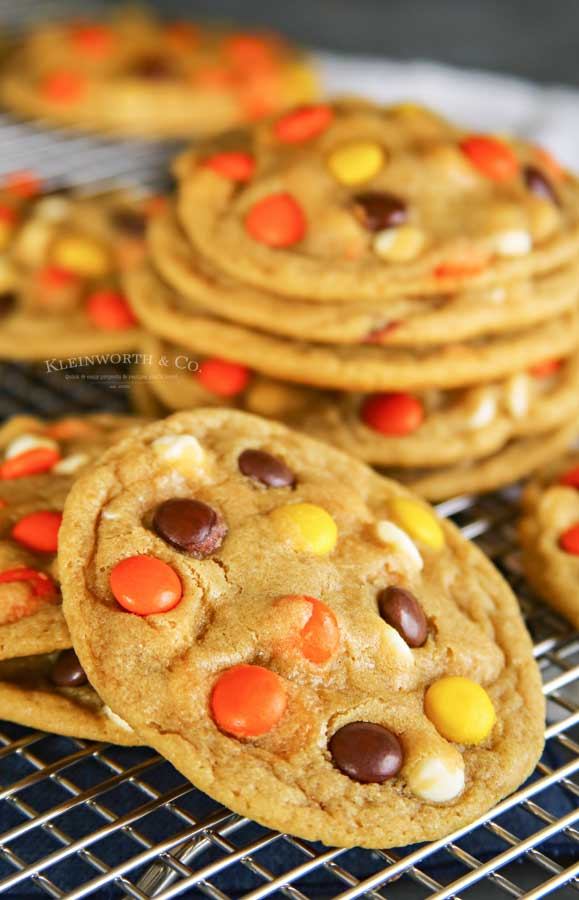 What I love about these cookies is that while they have Reese's Pieces in them, they aren't a peanut butter cookie. Usually you would see a peanut butter cookie packed with more peanut butter goodies. But these are different.
I'm all about changing it up & I think my mom was too. Because she took her usual soft-baked cookie recipe & added delicious white chocolate chips & those cute Reese's Pieces candies.
It really is a great flavor combo with the white chocolate & the peanut butter candies. But by putting them in a regular cookie recipe instead of a peanut butter cookie, it keeps them from being too rich.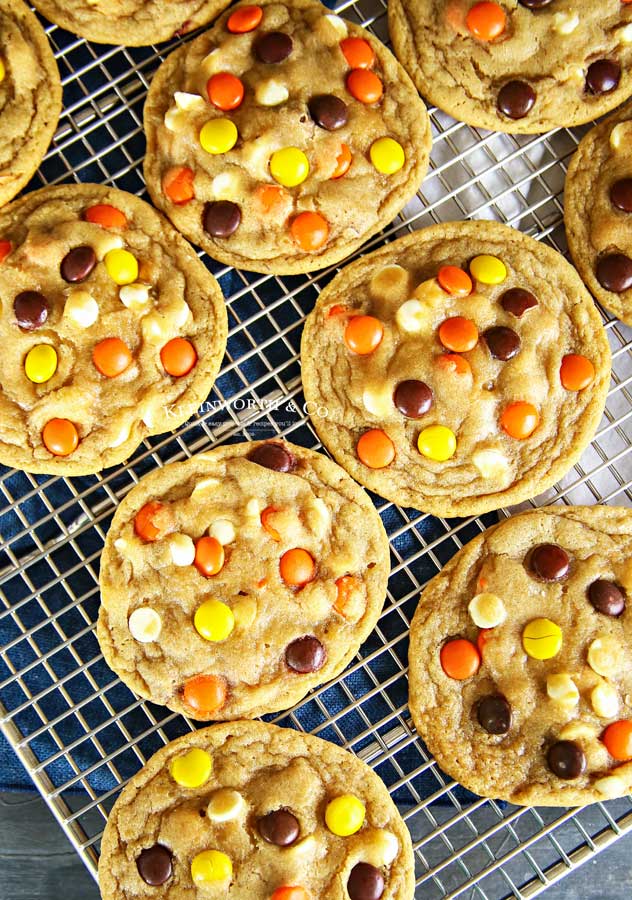 I like to make peanut butter recipes throughout fall. It works out pretty well because we are usually overflowing with candy in the house this time of year. What better way to enjoy it than to mix it into something as delicious as these soft & chewy cookies?
Not only are these great for putting out for guests while they wait for the Thanksgiving meal, but beyond Thanksgiving, these can be great for adding to goodie trays going over to the neighbors all season long.
I could literally snack on these all day long. Have you ever had a cookie like that? One that you just keep going back for more, no matter how many you have already had? These are THAT cookie.
Here are some commonly asked questions
Can I make this recipe with another type of chocolate chips?
Yes- that would work just fine. I have made these with semi-sweet chocolate chips, peanut butter chips & butterscotch chips too. Each one is delicious in their own way.
What is the best way to store leftover cookies?
The easiest way is to place in a large airtight container & store at room temperature. I like a large plastic bowl with a lid or a zip-top bag works great too.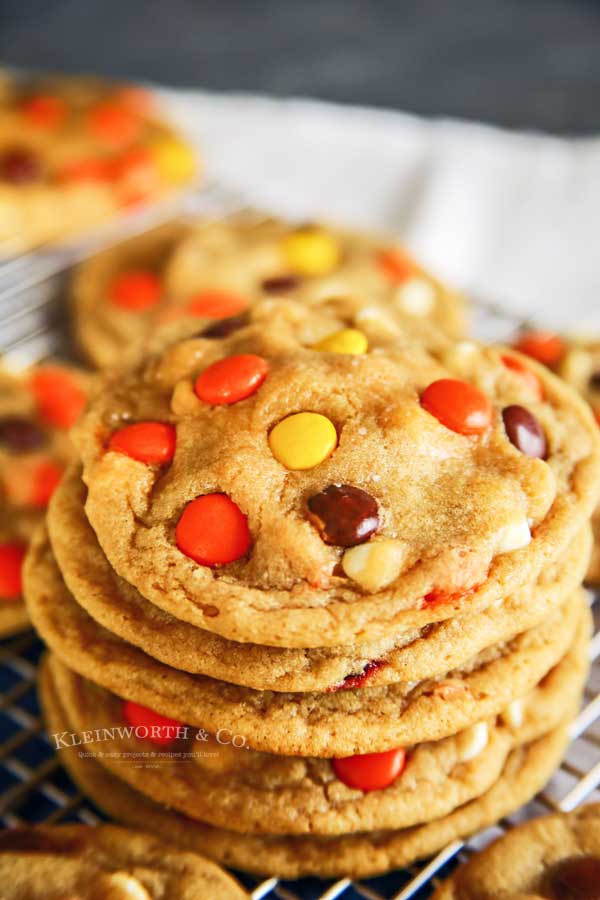 How many does this serve?
This recipe makes just 16 large cookies. So, plan accordingly. It is the perfect size for our family of 5, without a ton of cookies leftover.
Reese's Pieces Cookies
Can this recipe be doubled?
Yes, absolutely. If 16 cookies just isn't enough, I completely understand. You can most definitely double this recipe to meet your needs.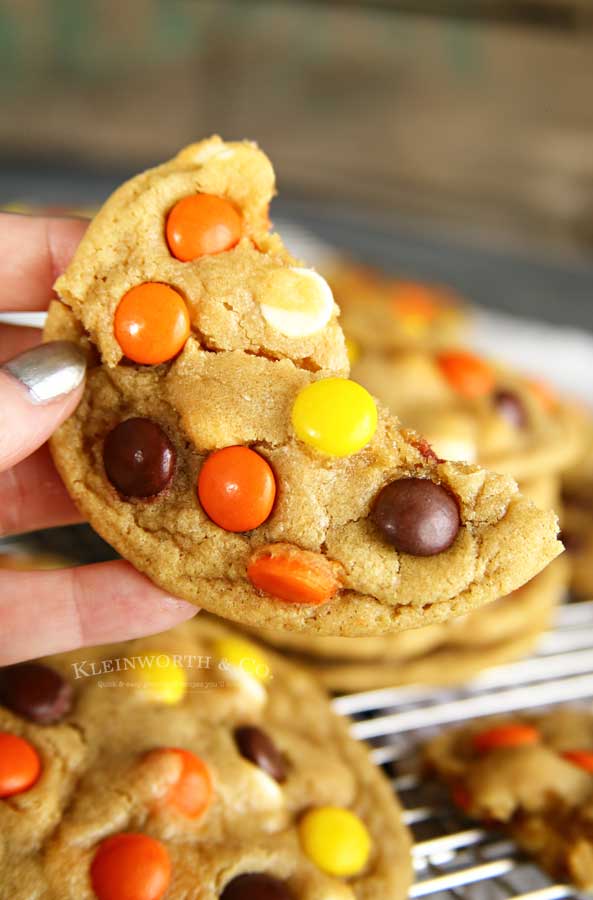 Can this recipe be halved?
That would make for a very small batch of cookies & probably quite difficult to split an egg. I wouldn't recommend trying to cut this recipe. You could freeze the dough you don't plan on using for another time.
HOW DO YOU MAKE Soft Baked Reese's Pieces Cookies?
Whisk the melted butter, brown sugar & granulated sugar together in a large bowl.
Whisk in egg & egg yolk, along with the vanilla extract.
Add in the flour, baking soda, cornstarch & salt & mix until combined.
Fold in the chocolate chips.
Cover & chill in the refrigerator for a minimum of 3 hours – up to 3 days Overnight works best.
Remove the dough from the refrigerator & let it soften at room temperature while you preheat the oven.
Preheat the oven to 325 degrees.
Line your baking sheets with parchment & set aside.
Roll the dough into large, oblong shaped balls (taller than they are wide) – approx. 3 tbsp each. The dough will be crumbly, but will come together when rolled between your hands.
Place the dough on your prepared baking sheet, approx. 1-2" apart.
Place Reese's Pieces into the top of the dough before baking.
Bake 11-12 minutes – they will look very soft but will continue to bake once removed & they set.
Place any additional Reese's Pieces or chocolate chips in the tops of the baked cookies before they cool, if desired.
Cool on the cookie sheet for 10 minutes before transferring to a wire rack to cool completely.
Do I have to chill the dough?
Yes. You absolutely must chill this dough or the cookies will spread too much when you bake them. For beautiful, thick & chewy cookies, chilling is essential.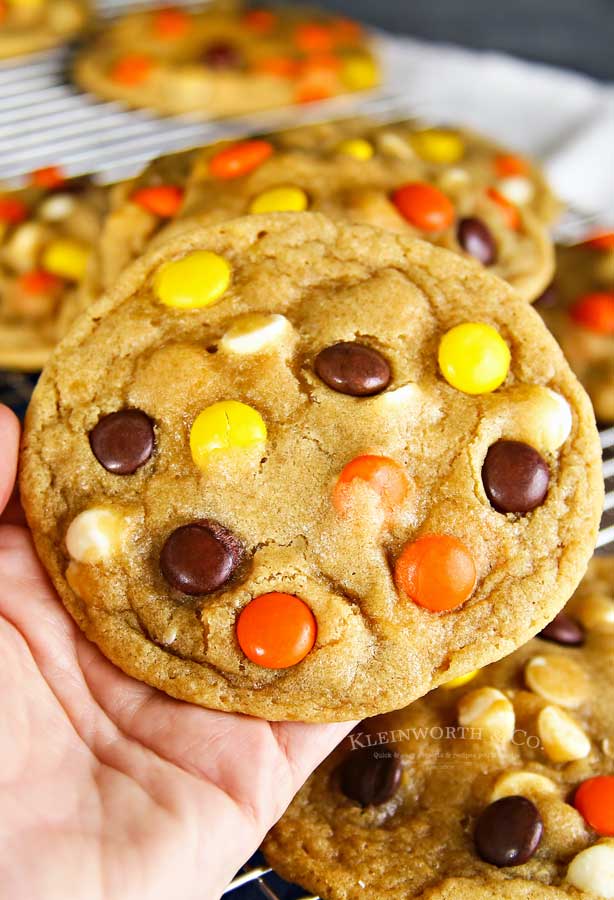 Should I use salted or unsalted butter?
I personally use whatever I have on hand. But if you are watching your salt intake, stick with the unsalted butter for these cookies. I wrote my original recipe using unsalted butter but then tried it with salted butter & liked them just the same.
Can I use a gluten-free flour?
I'm not sure just yet. I have been meaning to give this a try but haven't had a chance. If you do try this, I would recommend using a 1:1 flour like this one as I don't believe it would require additional ingredients that are typically called for when trying to make baked recipes in a gluten-free version. Please come back & tell me how they turned out.
How do I properly measure the flour?
The official way is to spoon the flour into the measuring cup & level off. However, for these cookies I usually fluff the flour with a spoon & then gently scoop it into the measuring cup & then level that off before adding to my dough mixture. Make sure your flour isn't packed down when scooping or packed tightly into your measuring cup. This will make your cookies too dry.
Soft Reese's Pieces Cookies
To make this recipe you will need…
all-purpose flour
baking soda
cornstarch
table salt
butter
brown sugar
granulated sugar
egg
egg yolk
vanilla extract
white chocolate chips
Reese's Pieces candies
Products I love when making Soft Baked Reese's Pieces Cookies…
This Soft Baked Cookies recipe is so EASY and delicious – and if you're like me, then you probably already have all of these items on hand! OR maybe you have never made soft baked cookies before, & you might be a bit nervous – but you're going to love the how delicious these are. I have made a list below of the things I absolutely can't live without when it comes to making these cookies.
Definitely perfect for soft baked cookie lovers everywhere!!
Scroll to the bottom for the Printable Recipe
easy soft baked cookies
If you love this Reese's Cookie recipe, you're going to love these other easy treat recipes too. Please click each link below to find the easy, printable recipe!

Reese's Pieces Cookies Recipe
If you love this recipe for Soft Reese's Cookies as much as I do, please write a five star review, and be sure to help me share on facebook and pinterest!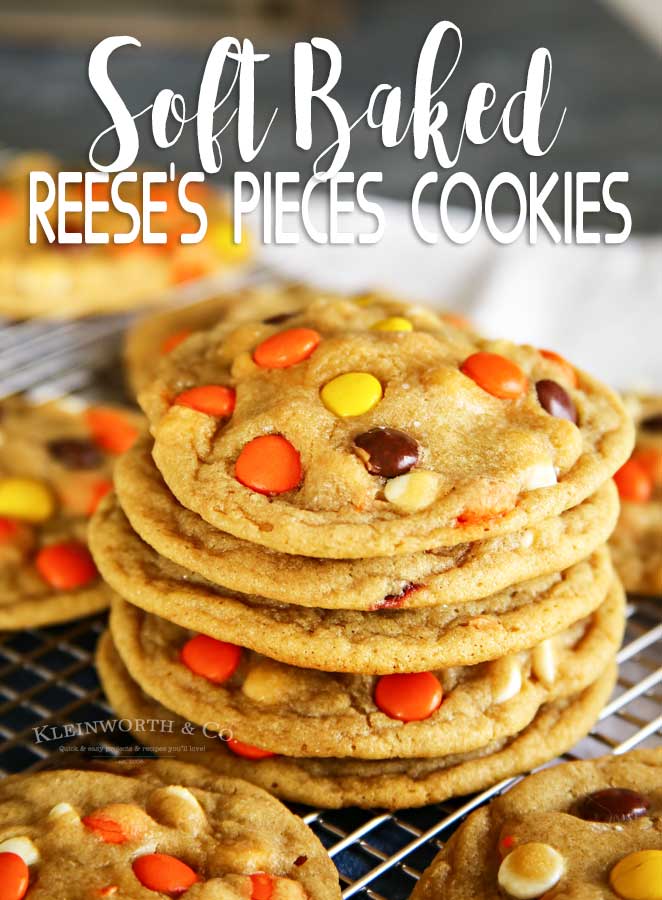 CONNECT WITH KLEINWORTH & CO!
Be sure to follow me on my social media, so you never miss a post!
FB, Pinterest, IG, Email Subscription
Don't miss these other fantastic recipes…
Mexican Hot Chocolate Cookies | The Food Charlatan
German Chocolate Cookies | Handle the Heat
Reader Interactions