Santa's Favorite Chocolate Chip Cookies, an easy to make chocolate chip cookie recipe that brings smiles to young & old. The perfect recipe for Christmas Eve!
For as long as I can remember we have spent Christmas Eve baking goodies. The thought is always that we need to leave goodies out for Santa. The only thing is, we haven't done the Santa thing in our house in SOOOOO many years.
Scroll to the bottom for the Printable Recipe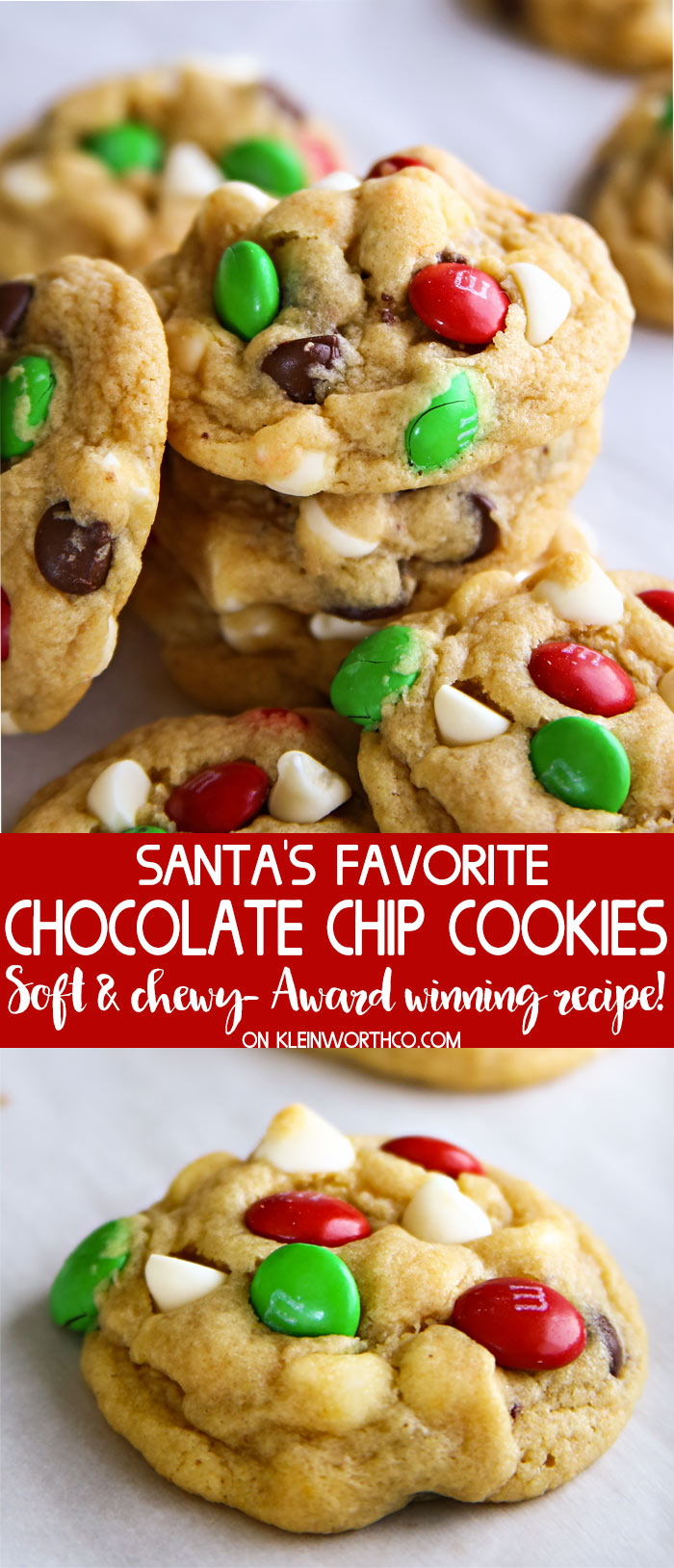 The kids are older & we have since moved past all that. But we still make treats. In fact, we make way more treats than we can reasonably eat.
I can never decide & in my mind, it all has to happen on Christmas Eve (I don't know why).
I usually make 5-7 recipes, some of the favorites get axed towards the end when my energy is waning. But one thing we ALWAYS make are Santa's Favorite Chocolate Chip Cookies.
Chocolate Chip Cookie Recipes
This post contains some affiliate links. Click here to read my full disclosure policy.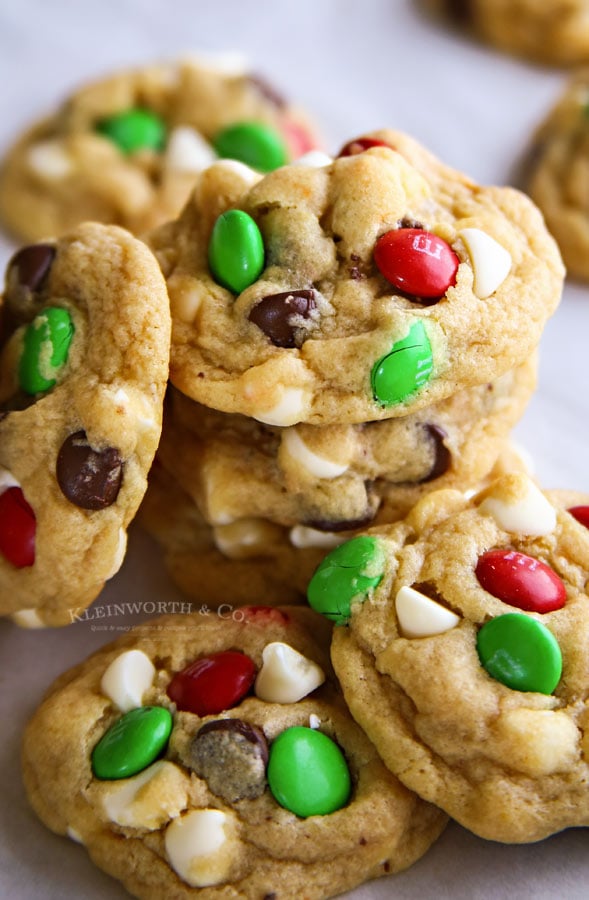 I have to say, it does get a bit rediculous. I start off Christmas Eve thinking, "these are all my favorites & we NEED THEM ALL". But since this particular recipe requires a little planning ahead it's always first.
You see, the dough needs to chill overnight. I know, I know- that can be a total bummer.
But it is absolutely essential for these cookies because it helps them keep their shape. Otherwise, they spread out too far & lose all that beautiful volume in the center.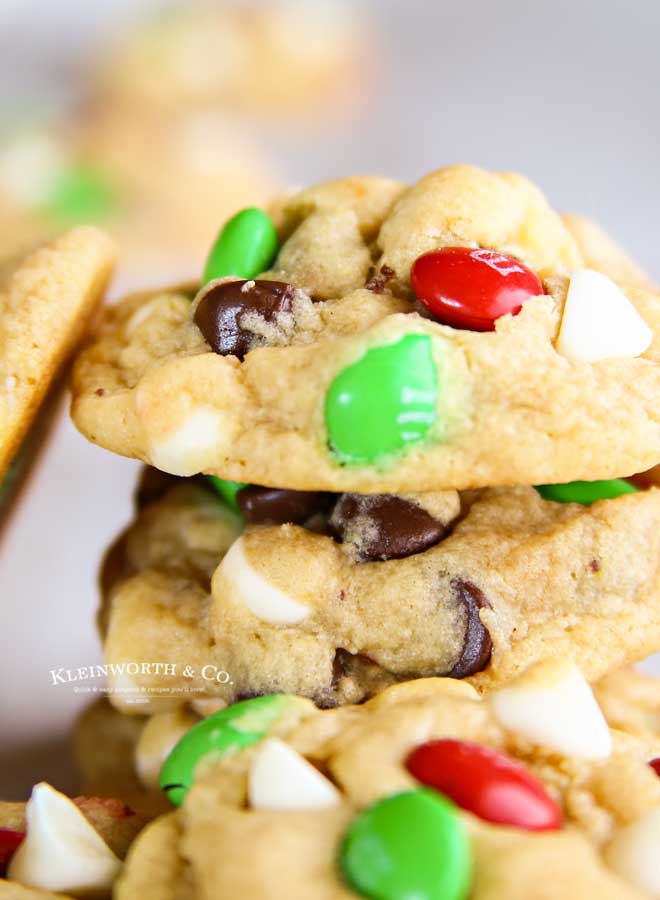 So what I like to do is whip up the dough the night before. Then I start my Christmas Eve morning with getting these baked.
Then we have them to snack on while we make all the other goodies.
I have to say though, these babies are so soft & chewy – they are usually gone in a flash. I'll admit there have been a few occasions where we only had but a couple left to leave out for the jolly old guy.
Now that the kids are older, it doesn't matter so much. But when we were leaving out the plate of cookies & milk I made sure to set those aside ahead of time so we didn't find ourselves with an empty cookie jar at the end of the night. 🙂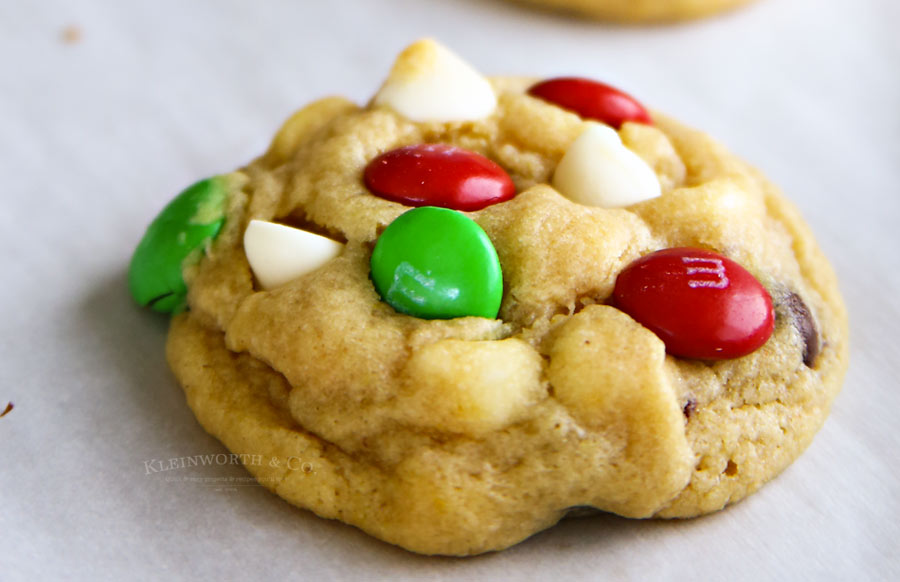 Santa's Favorite Chocolate Chip Cookies
Did I mention that this is actually an award-winning recipe?? Oh yeah- these are the most buttery, soft & chewy cookies.
Made a batch for a bake-off at my son's work & brought home the top prize. Everyone who eats these always goes back for another & another.
Definitely a hit at every party! You will fall in love- I'm sure of it.
Here are some commonly asked questions
Why do I have to chill the dough?
This is REALLY important. Chilling the dough makes it easier to roll the cookies because the dough is less sticky.
Chilling the dough also helps to keep the cookies from spreading too much when they are baked. Please do not skip this step.
What is the best way to store leftover cookies?
The easiest way is to place in a large airtight container & store at room temperature. I like a large plastic bowl with a lid or a zip-top bag works great too.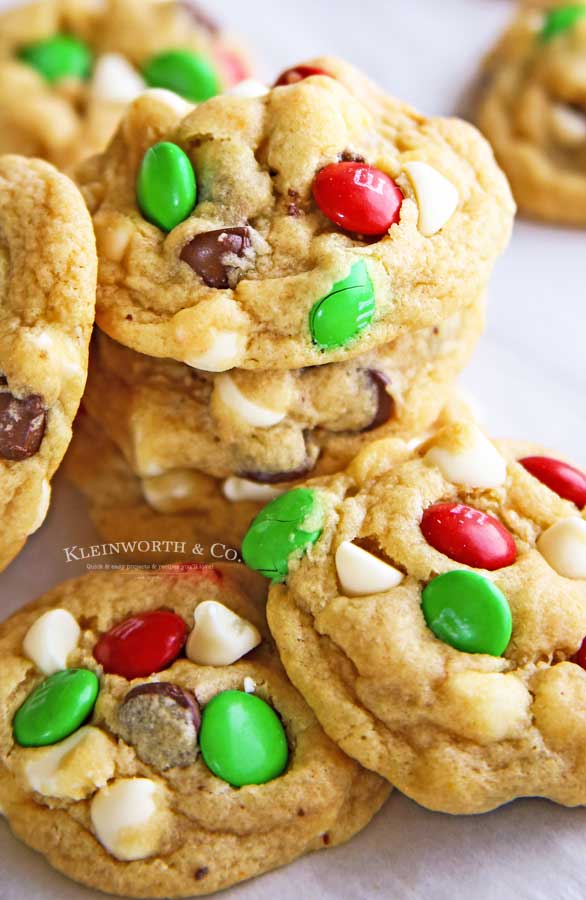 How many does this serve?
This recipe makes about 28 regular-size cookies. Feel free to cut this recipe in half if you want a smaller batch.
Santa Christmas Treats
Can this recipe be doubled?
Yes, you can double the dough on this recipe if you need to. That will make a WHOLE LOT of cookies – which is great if you are having a bake sale or need to take these cookies to a potluck or holiday party. I guarantee they will be gone in a flash.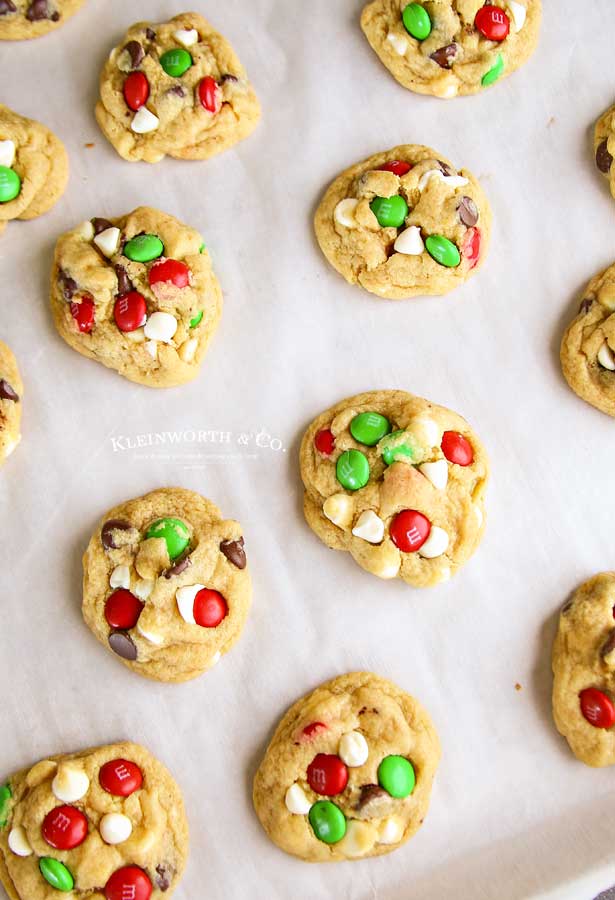 HOW DO YOU MAKE Santa's Favorite Chocolate Chip Cookies?
In mixer bowl – beat butter, margarine, sugar & brown sugar together until fluffy.
Add egg & vanilla – beat well.
Add in flour, pudding powder mix, baking soda & salt – slowly stir first & then beat until all ingredients are completely incorporated.
Slowly stir in chocolate chips.
Fold in 1/2 the M&M's.
Remove beater, cover & refrigerate overnight.
The next day preheat oven to 350 degrees.
Roll dough into balls – it will be firm.
Place dough balls on baking sheet & bake cookies for 9-12 minutes (mine were perfect at 11).
Remove & immediately top each cookie with a few white chocolate chips & M&M's before they cool.
Leave cookies on baking sheet to cool.
Start with a cold cookie sheet with each batch to ensure that the cookies bake consistently.
Store in an airtight container at room temperature.
Should I use salted or unsalted butter?
I personally use whatever I have on hand. But if you are watching your salt intake, stick with the unsalted butter for these cookies.
I wrote my original recipe using unsalted butter but then tried it with salted butter & liked them just the same.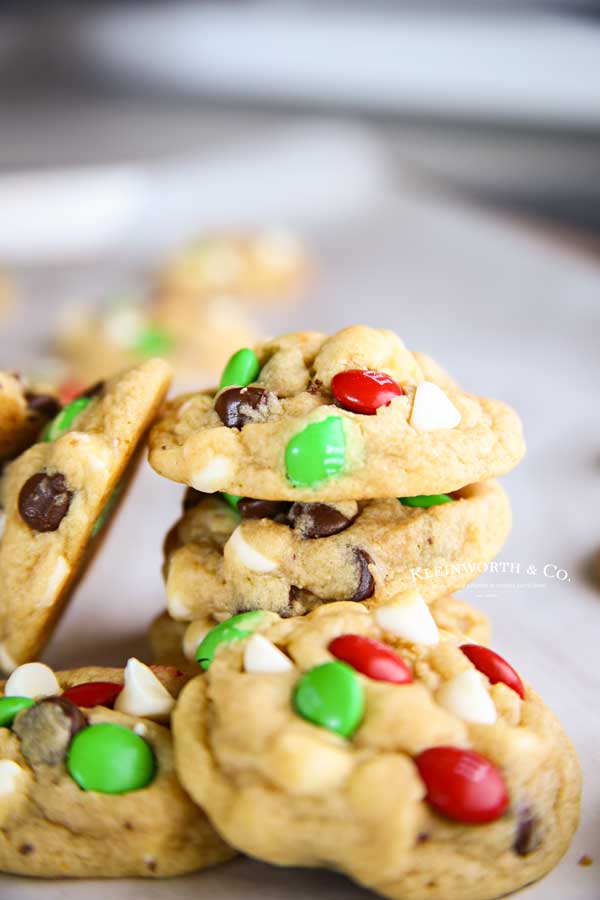 Santa Themed Christmas Treats
To make this recipe you will need…
butter-room temperature
margarine
packed brown sugar
granulated sugar
vanilla extract
egg
all-purpose flour
instant vanilla pudding – Just the powder
baking soda
salt
sweet chocolate chips
white chocolate chips
red & green- M&M's
Products I love when making Santa's Favorite Chocolate Chip Cookies…
This Santa's Favorite Chocolate Chip Cookies recipe is so EASY – and if you're like me, then you probably already have all of these items on hand! OR maybe you have never made pudding cookies before, & you might be a bit nervous – but you're going to love how simple this is. I have made a list below of the things I absolutely can't live without when it comes to making this cookie recipe.
Definitely the cutest cookies for Christmas!!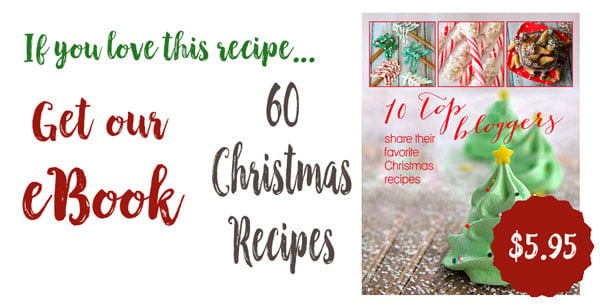 If you love this Santa's Favorite Chocolate Chip Cookies recipe, you're going to love these other easy cookie recipes too. Please click each link below to find the easy, printable recipe!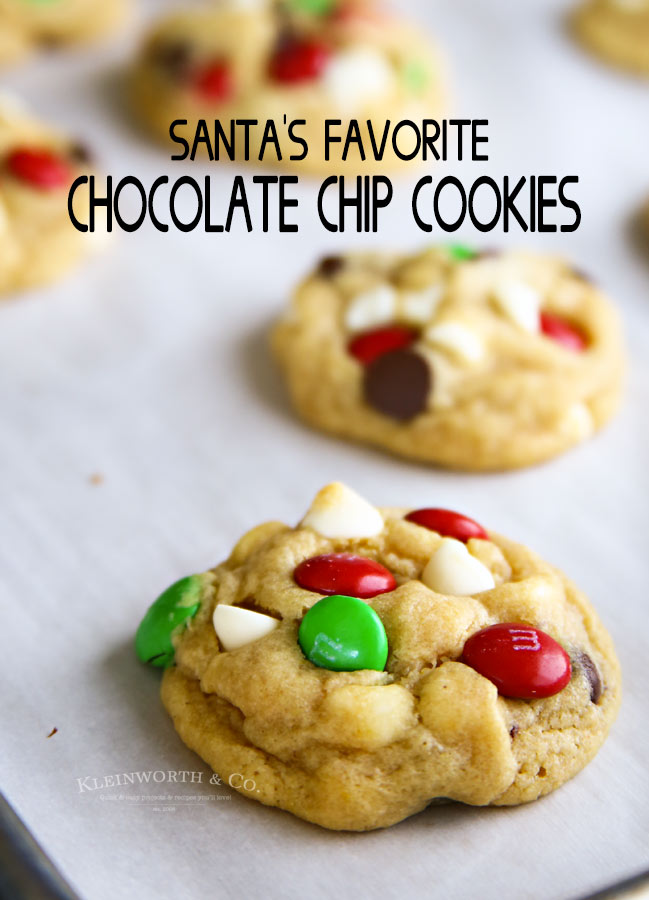 CONNECT WITH KLEINWORTH & CO!
Be sure to follow me on my social media, so you never miss a post!
FB, Pinterest, IG, Email Subscription
Don't miss these other fantastic recipes…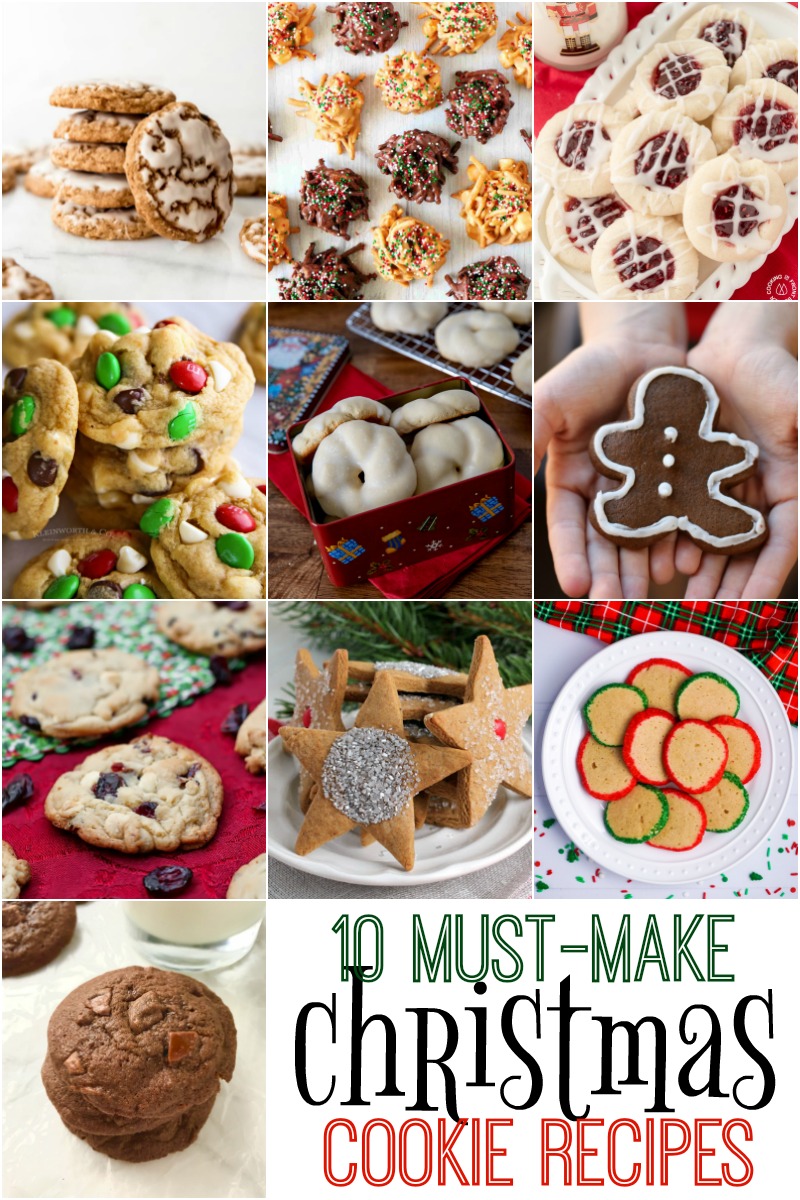 Cranberry White Chocolate Chip Cookies
Dark Chocolate Cherry Cordial Cookies