M&M Christmas Cookie Bars are an easy to make holiday dessert! Super soft & chewy goodies that only need 4 ingredients. Perfect for the busy holiday season.
My friends, do you love holiday M&M's? I'm completely obsesessed. I get so excited when with each & every season & the new holiday colors are available.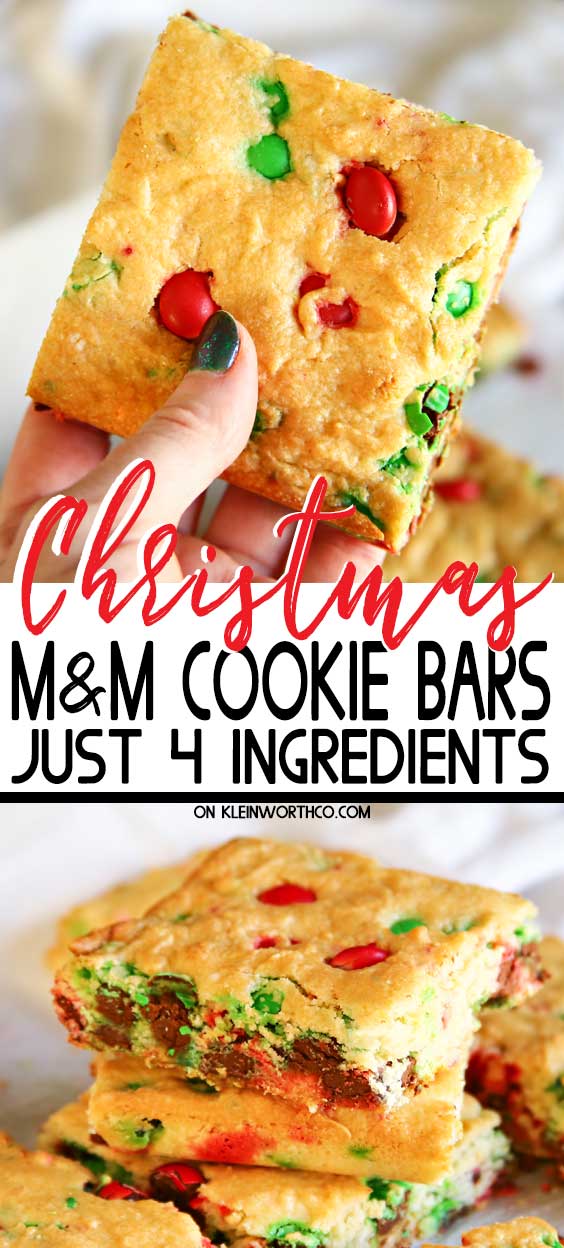 Yes, I am completely aware that they are just like the regular rainbow of normal M&M's. But I think it is that the holiday colors are only available for a limited time. Plus they signify that whatever holiday it is that is coming is getting really close.
So when I start seeing them in the stores, I stock up & I make as many treats with them as I can.
Christmas Cookie Bars
This post contains some affiliate links. Click here to read my full disclosure policy.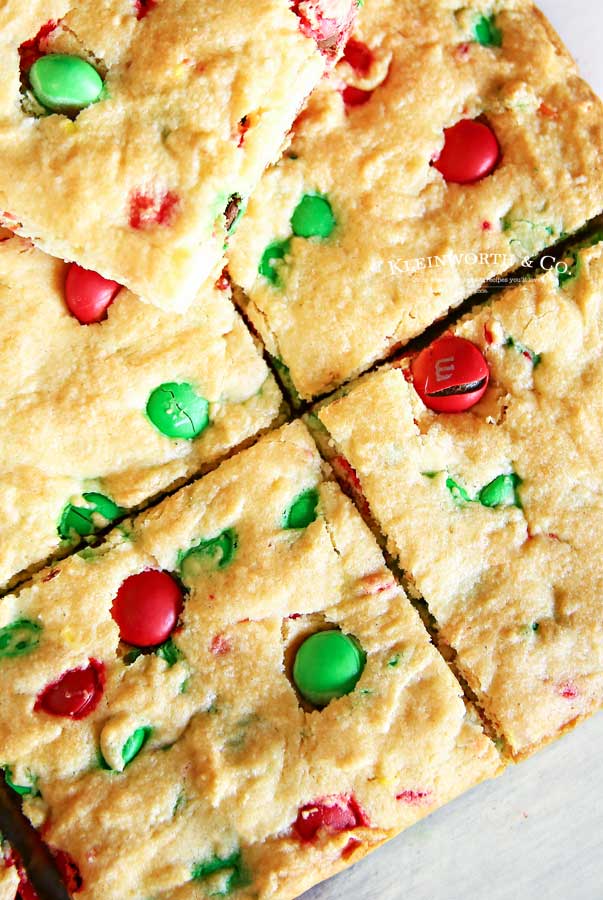 It had been a while since I had made a good bar recipe. I have been so focused on making cookies, that the yummy bars had gone to the wayside.
So I was going through grandma's old cookbook & found a super easy recipe for some cookie bars. The recipe only required 4 ingredients so I was immediately sold.
God love grandma & her insanely easy recipes. I think that is where I get it from. That need to pare things down & make recipes as simple as possible. She was the queen of that & I, fortunately, got my hands on all her notes so I can do that too.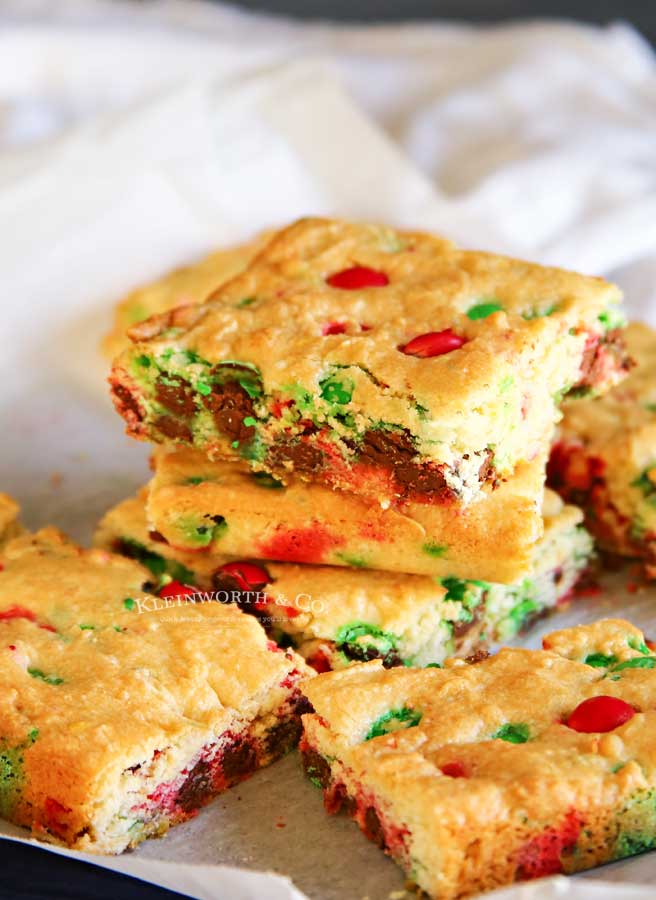 These cookie bars are so stinkin' easy to make & packed full of these pretty little red & green M&M's.
They seriously make me smile from ear to ear & I can't get enough. But they do make really great treats for all those holiday parties, so you may want to plan for that. With as easy as these are, you can't go wrong.
Here are some commonly asked questions
Should I use salted or unsalted butter?
I personally use whatever I have on hand. But if you are watching your salt intake, stick with the unsalted butter for these cookies. Grandma's original recipe used unsalted butter but then I tried it with salted butter & liked them just the same.
What is the best way to store leftover cookie bars?
The easiest way is to either place the individual bars in a large airtight container & store at room temperature, or you can just cover the baking pan with foil & leave out on the counter. A large plastic bowl with a lid or a zip-top bag works great too.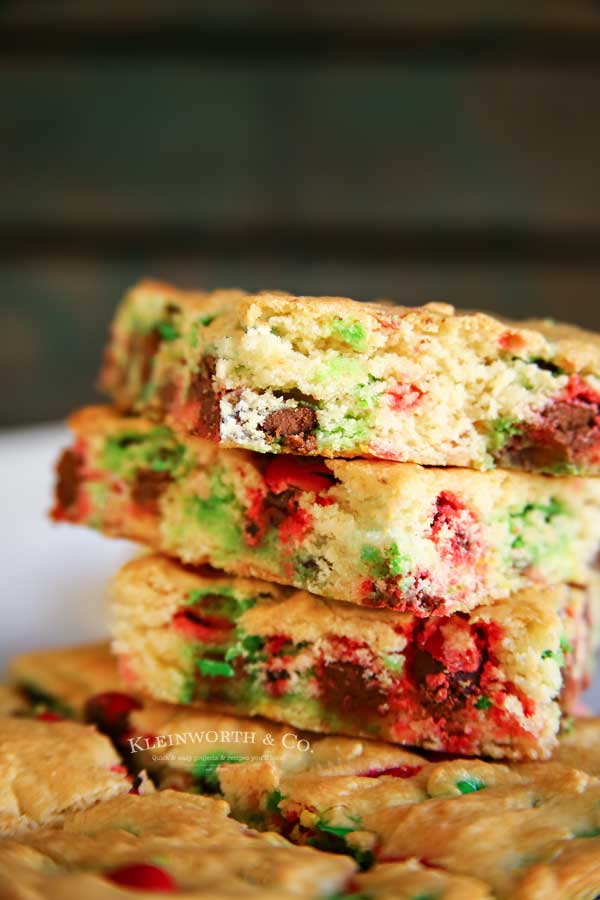 How many does this serve?
This recipe usually makes 9-12 cookie bars for me – depending on how I choose to cut them. But really, it depends on how small or large you want them. I like to make 2 cuts lengthwise making 3 rows. Then I make 3 cuts going the other direction to make the 12 bars or 2 cuts to make 9. But you can cut them however you like.
Holiday Cookie Bars
Can this recipe be doubled?
Yes, but you will have to still bake in 2 separate baking pans. I don't recommend doubling the dough & baking in one larger pan.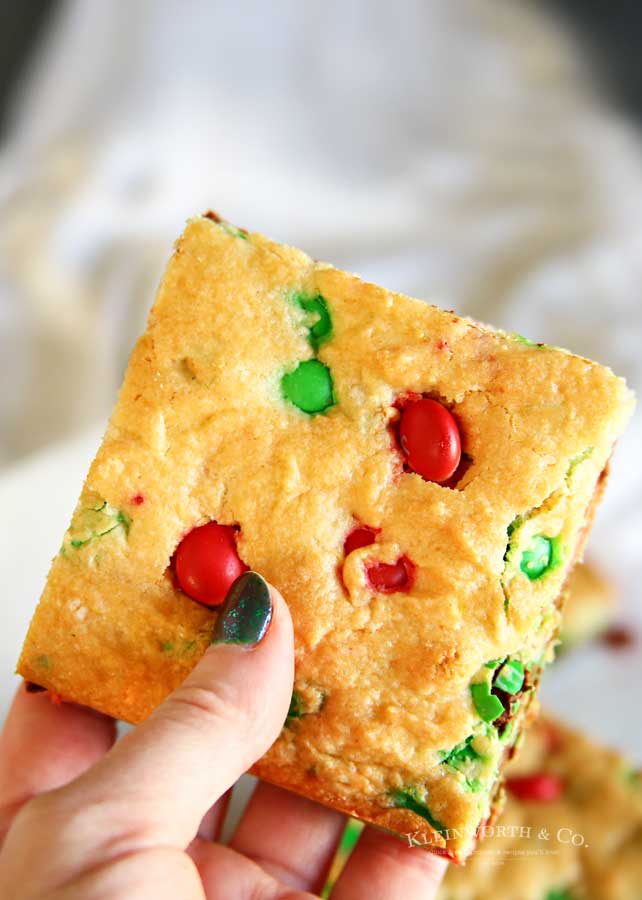 Can I use another flavor of cake mix?
Yes, absolutely. These are also great with yellow or white cake mix.
HOW DO YOU MAKE M&M Christmas Cookie Bars?
Preheat the oven to 350 degrees.
Grease a 9×9 pan & then line with parchment so that it hangs over on 2 sides for easy bar removal.
Mix together the cake mix, eggs & butter in a large bowl until well combined.
Fold in M&M's.
Spread the dough into prepared pan & press into an even layer.
Bake 25-35 minutes or until the top is golden brown. Toothpick test should come out mostly clean.
Press additional M&M's into the tops of the bars before they set.
Allow the bars to cool to room temperature before trying to remove from the pan or cut them.
Use the overhanging parchment to lift the bars out of the pan & cut to the desired size.
Do I have to chill the dough?
Nope- that is the thing I love the most about making cookie bars – no chill time needed. I can enjoy them soon after the craving hits or at the last minute when I realize I haven't prepared anything for the evening.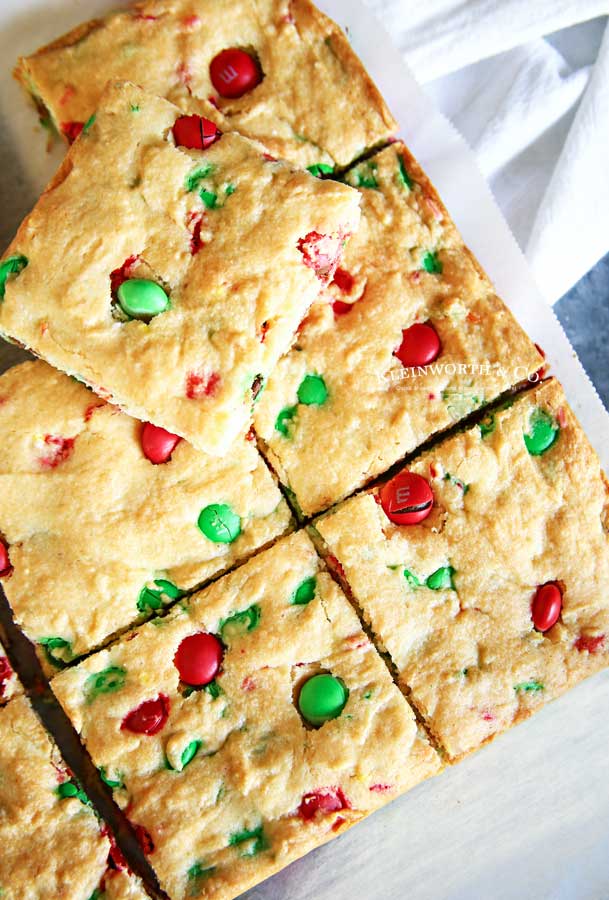 Holiday Cookie Bars
To make this recipe you will need…
vanilla cake mix
eggs
butter
holiday M&M's
Products I love when making M&M Christmas Cookie Bars…
This M&M Christmas Cookie Bars recipe is so EASY and delicious – and if you're like me, then you probably already have all of these items on hand! OR maybe you have never made cookie bars before, & you might be a bit nervous – but you're going to love the how quick & delicious these are. I have made a list below of the things I absolutely can't live without when it comes to making these yummy bars.
Definitely perfect for holiday treat lovers everywhere!!
M&M cookie bars recipe
If you love this M&M Christmas Cookie Bars recipe, you're going to love these other easy holiday recipes too. Please click each link below to find the easy, printable recipe!
More Cookie Bar Recipes
Best Christmas Cookie Bars Recipe
If you love this recipe for M&M Christmas Cookie Bars as much as I do, please write a five star review, and be sure to help me share on facebook and pinterest!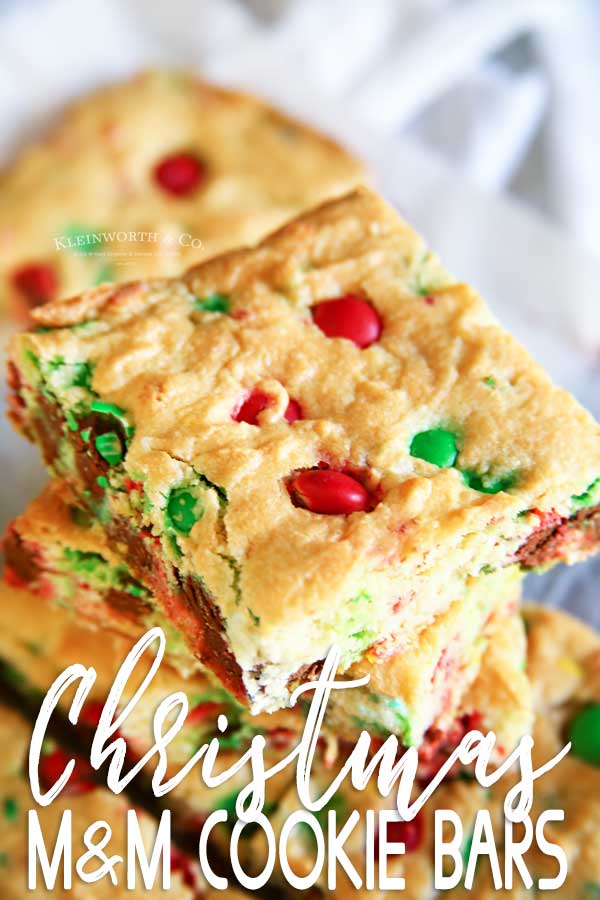 CONNECT WITH KLEINWORTH & CO!
Be sure to follow me on my social media, so you never miss a post!
FB, Pinterest, IG, Email Subscription
Reader Interactions