Make your Christmas super sweet with these Easy Homemade Gumdrops. They are the perfect treat for friends & family throughout the holiday season.
When I think of Christmas one of the things that immediately comes to mind is gumdrops. I grew up enjoying these sugary little gems all season long. So, of course, I had to break out grandma's recipe & make some of my own.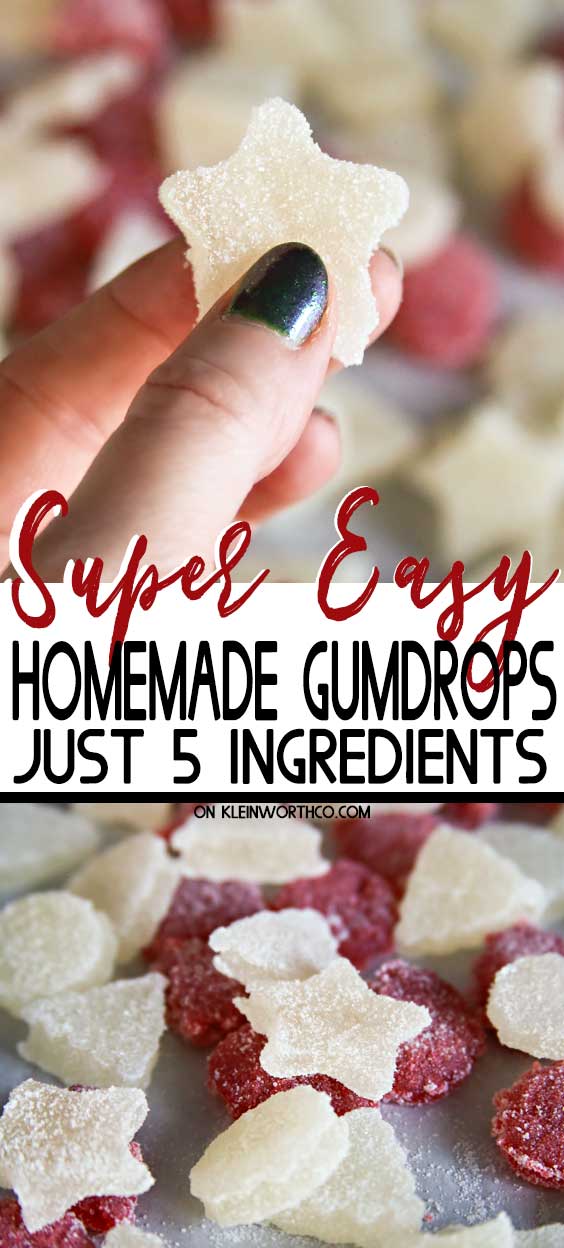 I have been spending a lot of time with grandma's old cookbook lately. This year, for whatever reason, I have been really wanting to focus on making all the recipes that I remember from childhood.
Maybe it's because my son has moved out for his next phase of college. Or maybe it's just that the kids are getting older. I'm not sure, but I am really enjoying being able to bring back all these great recipes that I have always loved so much.
Homemade Gumdrops
This post contains some affiliate links. Click here to read my full disclosure policy.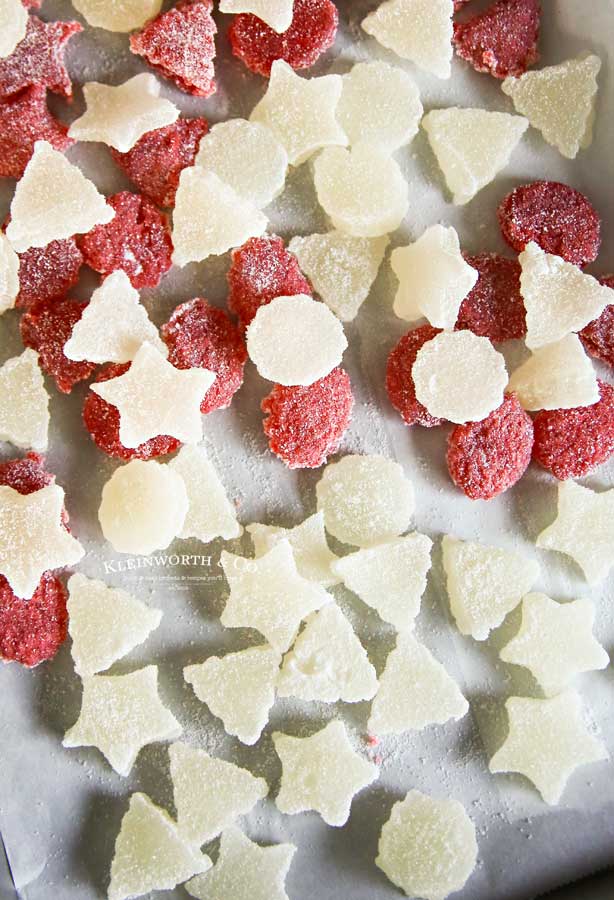 Do you remember having gumdrops as a kid? Every time we would gather for the holidays, my grandmother would have a bowl of them sitting on the coffee table & on each end table. I made sure I wasn't too far away from any of those bowls the whole time I was there.
I mean, I'm already quite the sugar addict. Then when I really think about it, aren't most kids? I could never say no to something like a gumdrop or other holiday treat.
But something about a little bite-sized candy that is literally encrusted with sugar granules. What could be any better?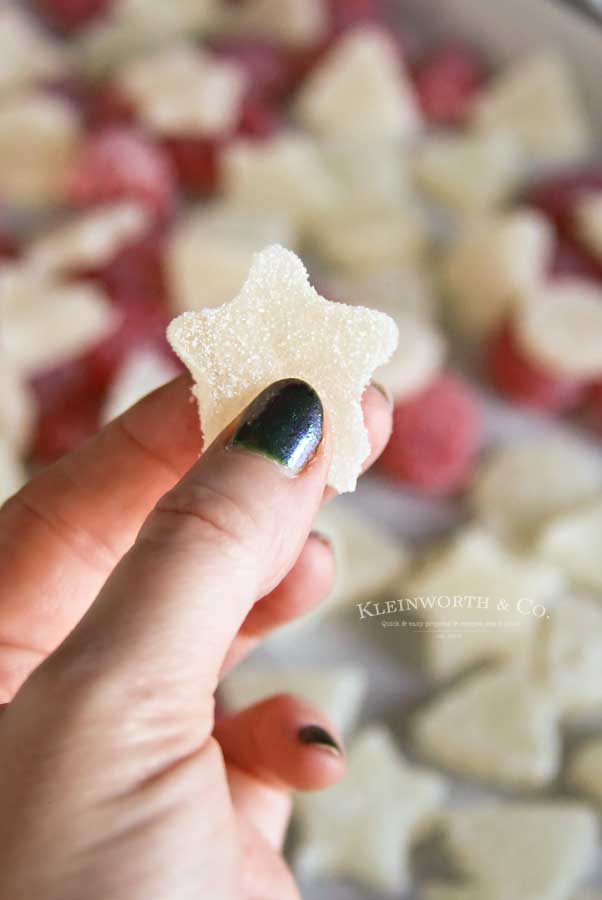 What I love about them is that they are so much easier to make than you would think. If you can make Jell-O, then you can make these perfect little bites of heaven.
Honestly, the hardest part is waiting for the mixture to firm up so you can cut them into the shapes. Then there is the time to let them set after they have been rolled in sugar. But I'm not saying you can't sneak a little taste test while you are waiting.
Here are some commonly asked questions
Can I make this recipe with any flavor extract?
Of course! I happen to prefer cherry, pineapple or raspberry. This batch I used cake batter flavor for the white ones. But if you want to make red & green for Christmas – just make 2 batches, one cherry & one with lime.
What is the best way to store leftover gumdrops?
The easiest way is to place in a medium airtight container & store at room temperature. I like to use a glass or plastic bowl with a lid for these.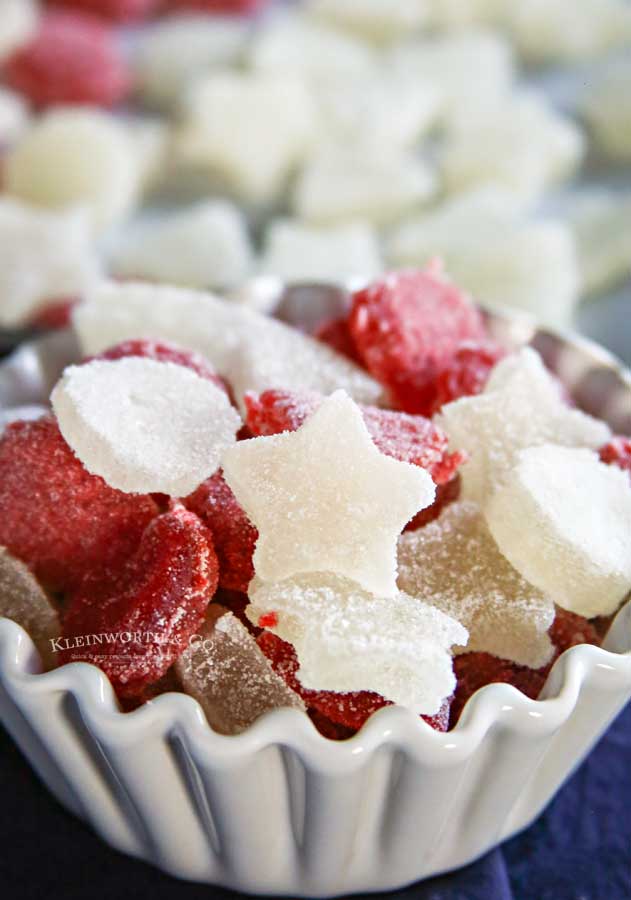 How many does this serve?
This really depends on the size of your cookie cutters. I was able to get about 60 pieces out of this batch. But you can make really tiny ones or super large ones depending on what your needs are.
Holiday Gumdrop Recipe
Can this recipe be doubled?
This recipe doesn't really do well when doubled. I recommend making this recipe in double batches (back to back vs mixing double the quantity) to meet your needs.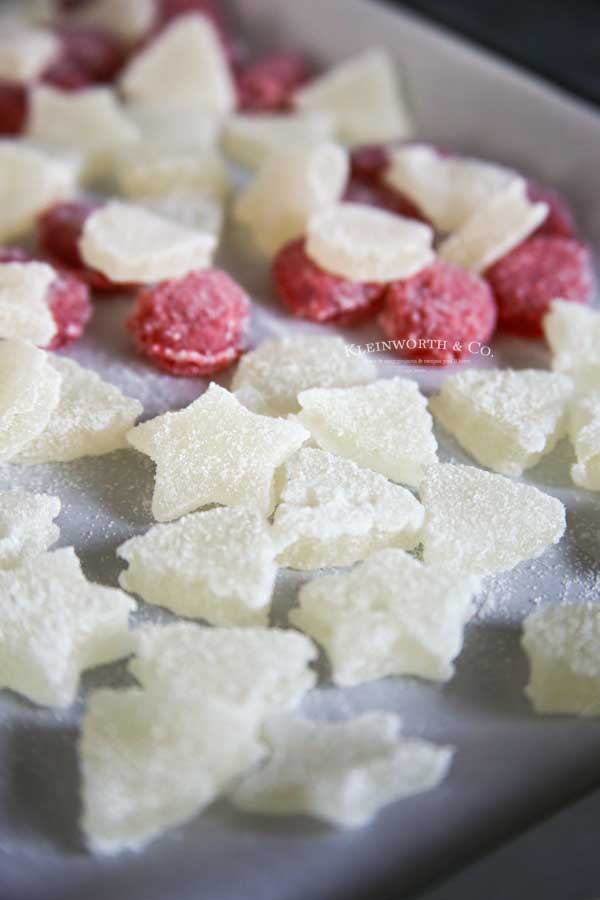 What if I don't have cookie cutters?
Cookie cutters aren't completely necessary. You can just use a very sharp knife & cut these into tiny squares by just slicing the rectangle of geletin instead.
HOW DO YOU MAKE Homemade Gumdrops?
Grease a 9×13 glass baking dish with oil or cooking spray.
Prepare gelatin mixture by combining the gelatin with 1/2 cup of the cold water.
Stir until combined & then let stand while you work on the syrup.
Next, combine 3/4 cup water & sugar in a small saucepan.
Bring the mixture to a boil over medium heat, making sure to stir frequently.
Simmer for 5 minutes, continuing to stir.
Remove from heat & VERY carefully add gelatin mixture, food coloring of choice & flavor extract of choice.
Stir to combine & then pour into prepared pan.
Refrigerate for at least 3 hours but it is best to leave overnight.
The next day, cover a large cutting board or another flat surface with parchment paper.
Sprinkle the parchment with additional granulated sugar, making an even layer.
Carefully remove the gelatin by loosening up the sides with a spatula & pull to release from the pan, laying down on top of the sugar.
Sprinkle with more sugar.
Use your favorite metal cookies cutters to cut your gumdrops into the shapes & sizes you desire.
Flip & roll any remaining sticky sides of the gumdrops in the sugar to coat.
Store coated gumdrops in an airtight container.
*Note – To keep the cookie cutters from sticking, run under hot water before cutting the gelatin. Periodically clean them between cuts by running under hot water again.
Why do I have to use metal cookie cutters?
You will need the cuts to be really clean & sharp. I have found that the metal cookie cutters work best for this because they are typically thinner & sharper than the plastic ones.
How long to homemade gumdrops last?
If stored properly, these should last for several weeks, which is perfect for getting you through the holiday season.
What is the best way to give these as gifts?
My mom & grandmother used to bag these up in these little cellophane candy bags. They look so cute & remember, presentation is everything when giving food gifts. It is so easy to make something as simple as homemade gumdrops look special with a cute bag or box.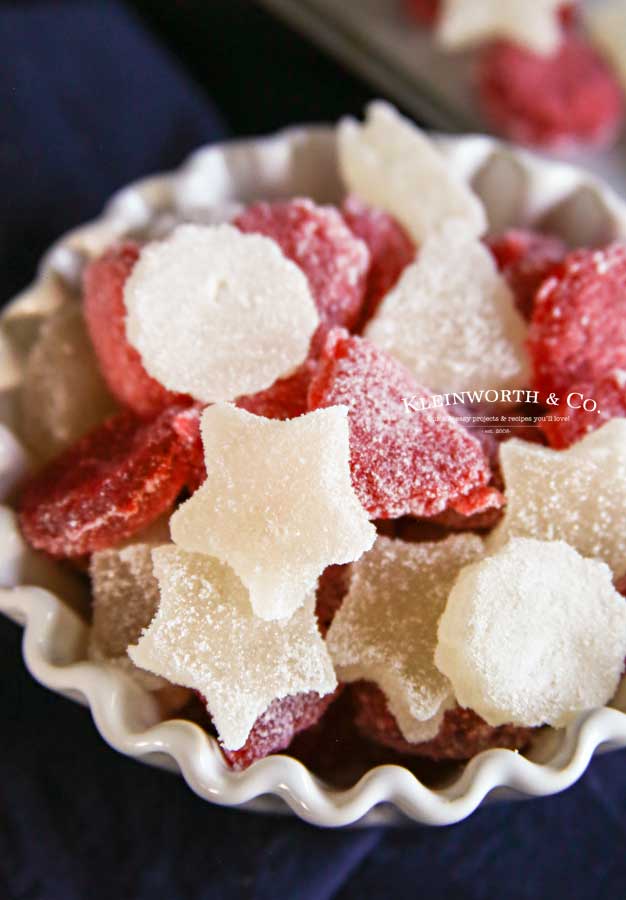 Holiday Gumdrops
To make this recipe you will need…
granulated sugar
water
unflavored gelatin
food coloring
flavor extracts
Can I use a plastic mold?
So the idea of a mold is a great idea. HOWEVER – do not use the plastic ones. The liquid will be way too hot & it will melt the mold & ruin your recipe. You can use silicone molds for this recipe if you have the patience & steady hand to pour the hot liquid into the tiny molds. Just use caution with the hot mixture!
More Great Homemade Candy Recipes
Products I love when making Easy Homemade Gumdrops…
This homemade gumdrops recipe is so EASY and delicious – and if you're like me, then you probably already have all of these items on hand! OR maybe you have never made gumdrops before, I understand that you might be a bit nervous – but you're going to love the fun these are. I have made a list below of the things I absolutely can't live without when it comes to making these goodies.
Definitely the perfect holiday goodie!!
gumdrop candy recipe
If you love this Homemade Gumdrop recipe, you're going to love these other easy treat recipes too. Please click each link below to find the easy, printable recipe!
Gumdrops
If you love this recipe for Homemade Gumdrops as much as I do, please write a five star review, and be sure to help me share on facebook and pinterest!
CONNECT WITH KLEINWORTH & CO!
Be sure to follow me on my social media, so you never miss a post!
FB, Pinterest, IG, Email Subscription
Reader Interactions