No-Bake Chocolate Haystacks are a classic holiday treat. They are easy to make with just 4 ingredients, PLUS they keep well when included in care packages.
Do you love easy treats? I definitely do, especially this time of year. When I am tight on time I always pull from grandma's ol' cookbook & make something nostalgic like these No-Bake Chocolate Haystacks.
Be sure to check out our classic Buckeyes recipe too!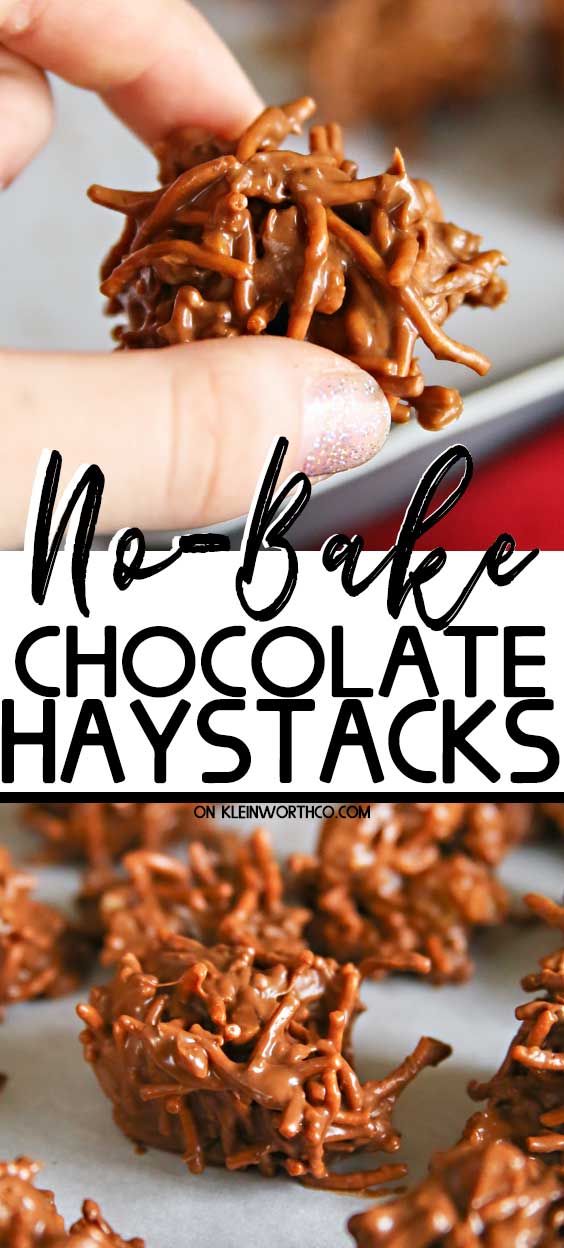 When I met my hubs several decades ago I immediately hit it off with his grandmother. She loved to make goodies for him & was eager to pass down all her recipes to me so that I could take over.
She lived half-way across the country at the time but always looked forward to this time of year when she could spend a day in the kitchen whipping up easy treats to ship out to all of her grandchildren & great-grandchildren. I think she had up to 50 or something like that, so she had to make a ton of treats.
Easy Chocolate Treats
This post contains some affiliate links. Click here to read my full disclosure policy.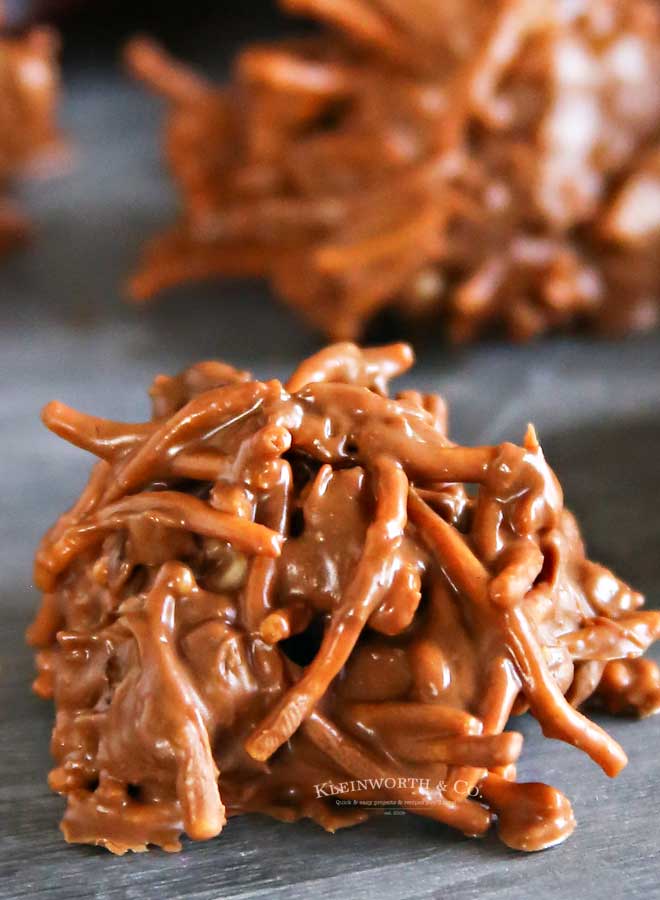 But as she got older she couldn't make the treats anymore. She was way too unsteady and couldn't really get around in the kitchen as she once did. So I was really happy that she had already taught me everything I needed to know in order to carry on the family traditions.
These recipes aren't super unique or difficult. But they are recipes that everyone in the family looked forward to her making each & every year.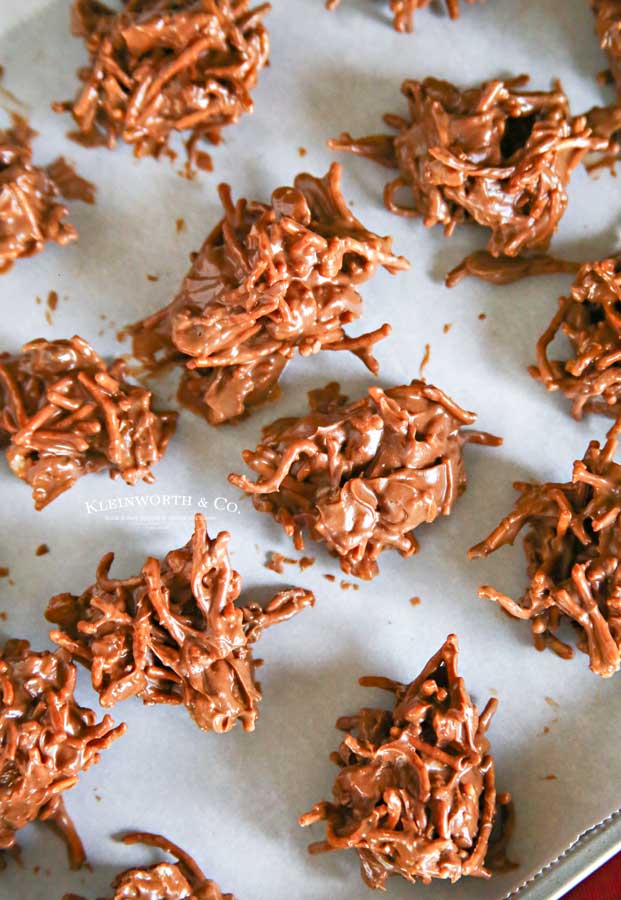 So now that she's gone I try to make sure I take at least one of her treats & make them for the kids at some point during the holiday season. They love it & we can sit & tell stories & share memories of her while we enjoy them.
Plus, who wouldn't love these super easy No-Bake Chocolate Haystacks? They are so freaking easy to make!
That is what I love about this recipe. Just a handful of ingredients & it only takes but a few minutes to whip them up. The hard part is waiting for them to chill so we can enjoy some.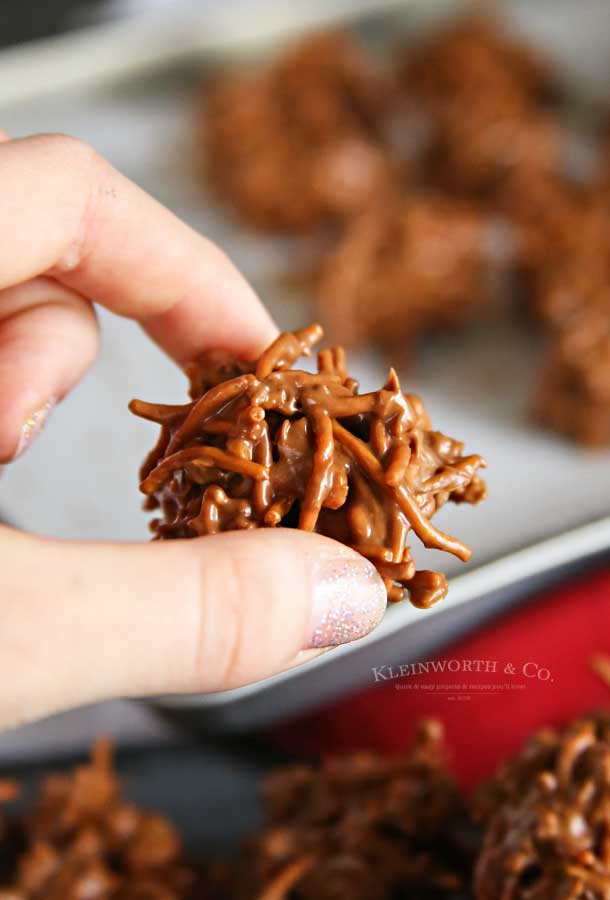 Here are some commonly asked questions
Can I make this recipe with another kind of chocolate?
Sure thing. I usually use what I have on hand at the time. So you could use semi-sweet paired with butterscotch or peanut butter chips or use milk paired with dark chocolate. It is really up to you.
What is the best way to store leftover haystacks?
The easiest way is to place in an airtight container or zip-top bag & store at room temperature. If you live in an overly hot or extremely dry cliamte, this recipe will keep better if you refrigerate it.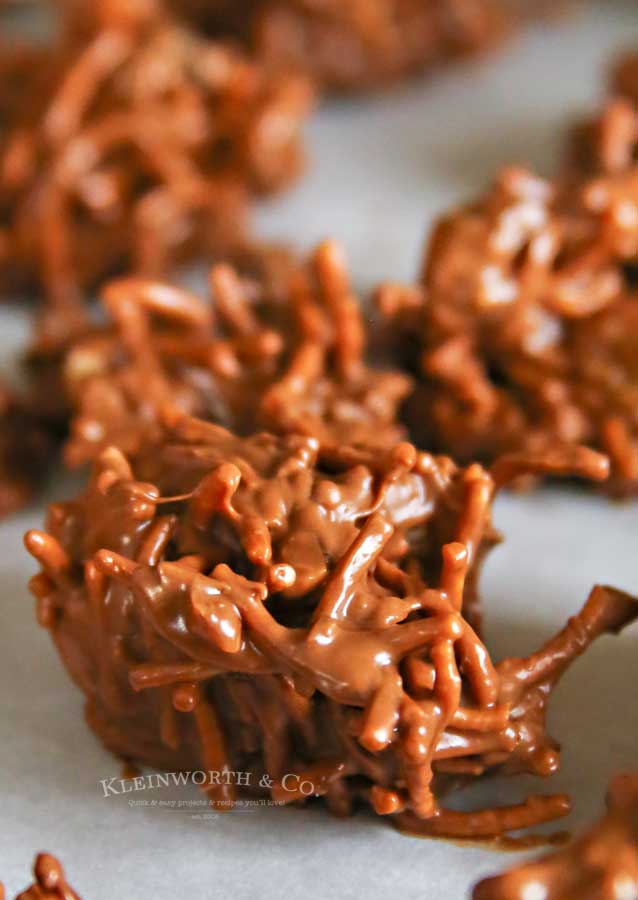 How many does this serve?
This recipe made about 24 haystacks for me. But really, it depends on how big your scoops are. Sometimes I don't get very many. But I have found that even though it looks like a small portion, the smaller scoops are far more manageable when it comes to eating these.
Holiday Christmas Chocolate Treats
Can this recipe be doubled?
Yes, absolutely. Just use a larger saucepan & this recipe doubles quite well. You may have to heat for a bit longer to melt the chocolate, but other than that – it is still just as easy.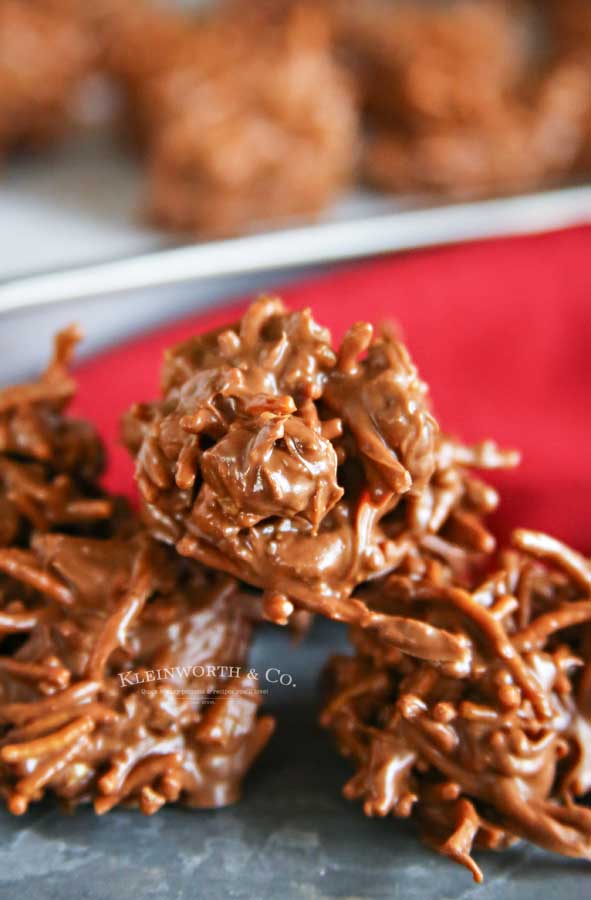 HOW DO YOU MAKE No-Bake Chocolate Haystacks?
Combine both types of chocolate chips in a medium saucepan.
Cook on the stovetop over medium/low heat, stirring often.
Once melted completely, remove from heat & stir in the nuts & chow mein noodles.
Fold the mixture until the noodles are completely covered in the chocolate.
Drop spoonfuls onto a parchment-lined baking sheet.
Let sit at room temperature for at least 2-3 hours to soldify the chocolate.
*NOTE- you can also pop them in the fridge for about 45 minutes if you get impatient like I do.
Can I use another type of nuts?
Sure, these are great with pecans, pistachios or grandma's favorite, sunflower seeds. Mix it up & try your favorite.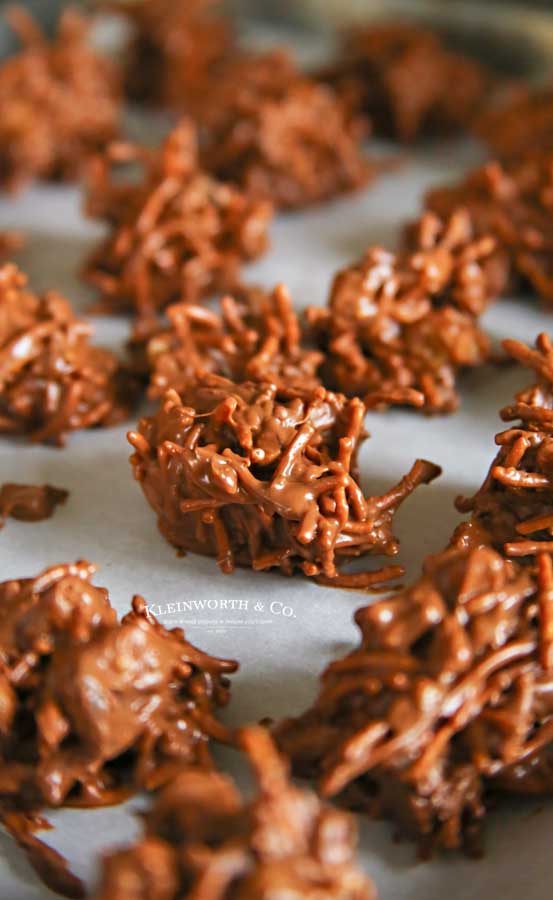 No-Bake Christmas Treats
To make this recipe you will need…
white chocolate chips
milk chocolate chips
chopped walnuts
chow mein noodles
More Great Homemade Candy Recipes
Products I love when making No-Bake Chocolate Haystacks…
This No-Bake Chocolate Haystacks recipe is so EASY – and if you're like me, then you probably already have all of these items on hand! OR maybe you have never made no-bake treats like this before – but you're going to love how simple this is. I have made a list below of the things I absolutely can't live without when it comes to making this treat recipe.
Such a super easy recipe for the season!!
HAYSTACK RECIPES
If you love this No-Bake Chocolate Haystacks recipe, you're going to love these other easy holiday treat recipes too. Please click each link below to find the easy, printable recipe!
No-Bake Haystack Recipe
If you love this recipe for No-Bake Chocolate Haystacks as much as I do, please write a five star review, and be sure to help me share on facebook and pinterest!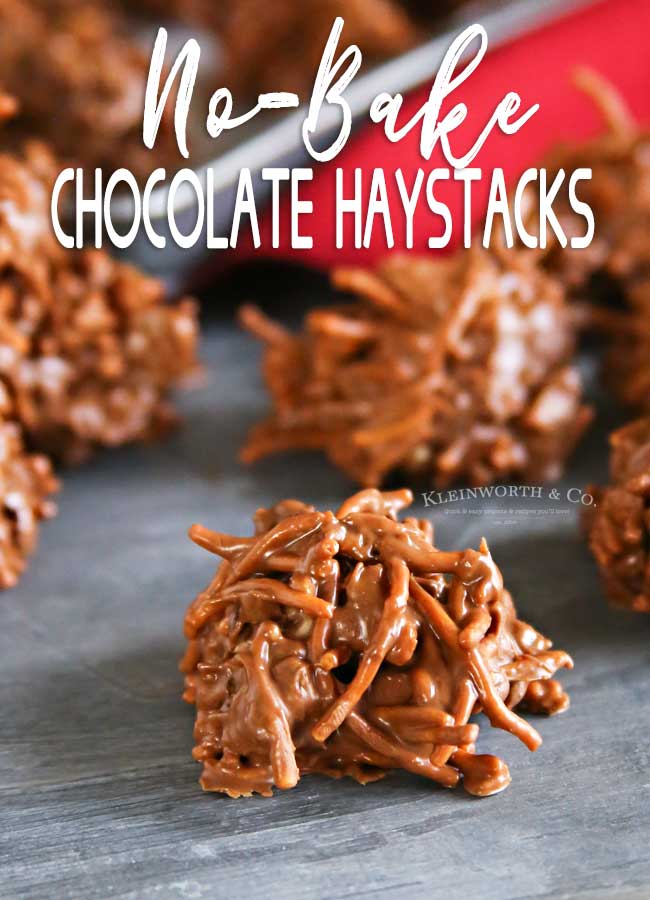 CONNECT WITH KLEINWORTH & CO!
Be sure to follow me on my social media, so you never miss a post!
FB, Pinterest, IG, Email Subscription
Reader Interactions