Make your last-minute gift-giving easy with the Lottery. Pair your gift tickets with these cute Hippo-LOTTO-mus Lottery Gift Tags! Everyone wants to win!
Looking for a cute and clever holiday gift idea? This time of year we are all strapped for time & money. But the gift list seems never-ending. Why not pick up something that everyone can really appreciate?
This post was sponsored by ID Lottery. All opinions are my own.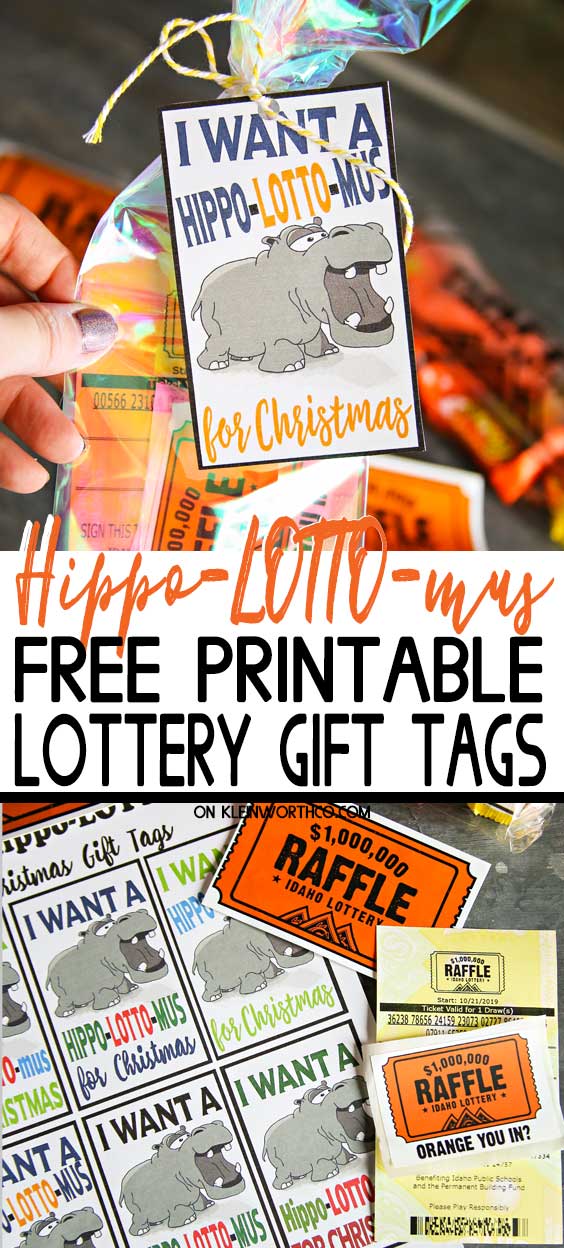 What would you do with $1,000,000? We actually talk about this a lot in our house. The hubs & I have always made sure to play the lottery on a regular basis.
For as long as I can remember our family would give lottery tickets as gifts. It didn't matter whether it was scratchers or quick-picks as they were all something everyone appreciated receiving.
Not only is it super easy to just stop & pick up a handful of tickets but it is economical too. Not to mention that there is always that chance for the recipient to WIN, right?! Who wouldn't want to receive a gift that could be worth MILLIONS?
Lottery Free Printable Gift Tags
This post contains some affiliate links. Click here to read my full disclosure policy.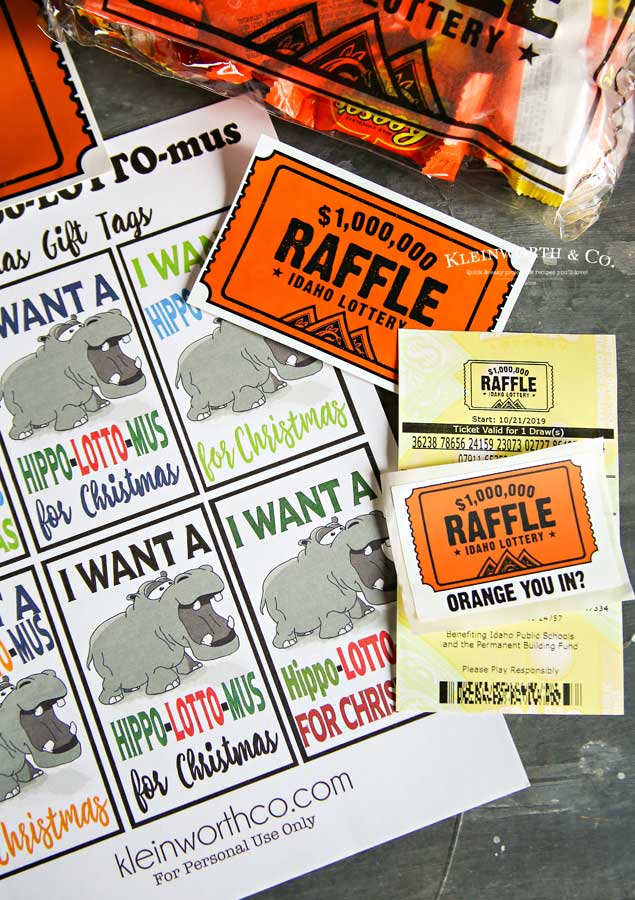 Once when I received lottery tickets I won enough to treat us all to an evening out. Not too bad if you ask me.
To make the gift-giving even easier – I decided to create these cute little gift tags to go along with the tickets. This way you can just pick them up, stick them in a bag & tie on the free printable tag. SO EASY! We are all about making this time of year less stressful whenever possible.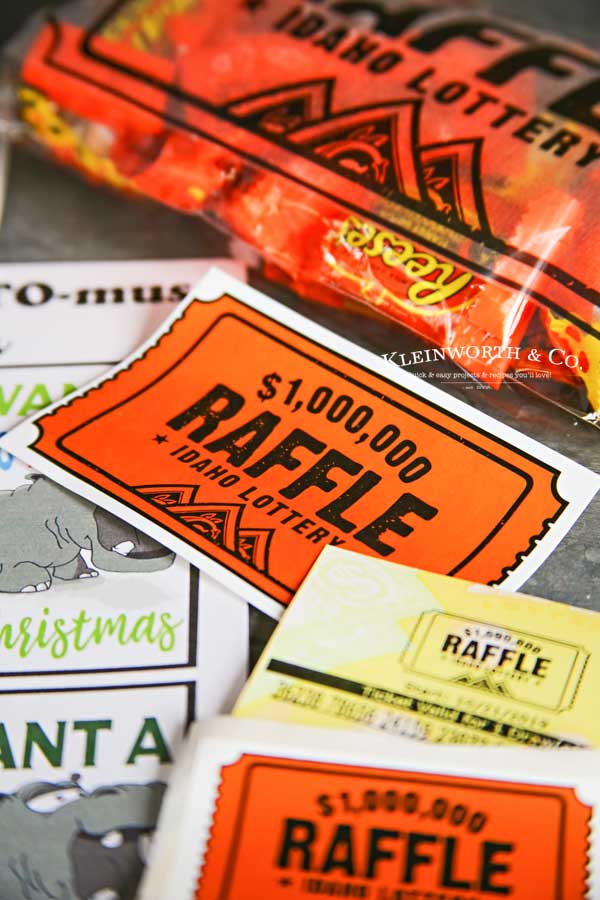 Since I'm up here in Idaho, I just had to pick up the Idaho $1,000,000 Raffle! This is the 13th year Idaho has done this raffle & I have to say it is pretty cool!
Here are some commonly asked questions
Tell me more about this Idaho $1,000,000 Raffle!
First – there are 14,423 PRIZES! That is a whole lot of winning! You can grab your ticket for just $10 each!
This Raffle is only sold in Idaho & happens only one time per year, during the holidays! There are only 250,000 tickets sold, and when they are sold out the game is over! That means you really have to act FAST! But with just 250,000 tickets sold, those are actually pretty good odds.
Every 25,000th ticket purchased wins $1,000 (This means ticket numbers 025000, 050000, 075000, 100000, 125000, 150000, 175000, 200000, 225000 and 250000 will receive a $1,000 in cash! (AND their Raffle ticket is still eligible for the final $1,000,000 drawing.)
It is so exciting to know that someone in Idaho will kick-off the New Year as a millionaire.
When will the winner be announced?
Tickets will be sold until January 31, 2019, at 11:59 p.m. or until the 250,000th ticket is sold. You can grab your tickets now until Jan. 2. The winner will be announced on January 2, 2020, on these local stations: Boise – KTVB 7, 24/7; Twin Falls – KTFT 7, 24/7; Lewiston – KLEW 3; Pocatello/Idaho Falls – KPVI 6. So be sure to pick up a few for yourself too!
Do I need to use any special paper when printing these gift tags out?
I like to use card stock. For this batch, I used standard white. But these would also be adorable in the brown kraft paper too.
What setting do I need to use for my printer?
Personally, I try to use at least the normal if not the best print quality setting. I have to be very conscious of this since I have my printer set to draft by default. I can tell you, these don't look so great when printed on draft quality. So make sure to go to a higher dpi when making these.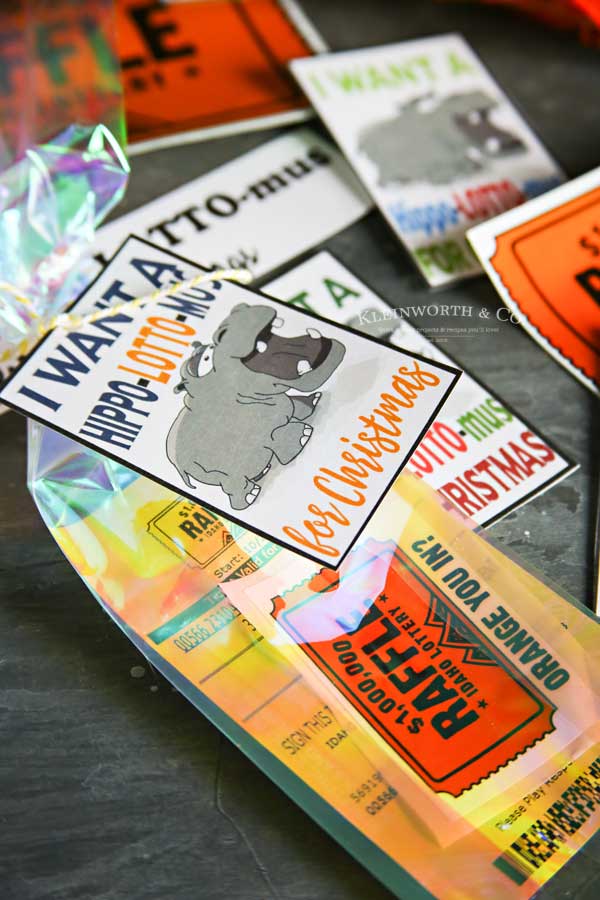 HOW DO YOU MAKE Hippo-LOTTO-mus Lottery Gift Tags?>
Download the image file below.
Open the image.
Right-click the image & select print.
Use a hole-punch to make the hole at the top and cut out the tags.
Place the ticket in the gift bag.
Tie the tag onto the bag to close it.
Hippo-LOTTO-mus Free Printable Gift Tags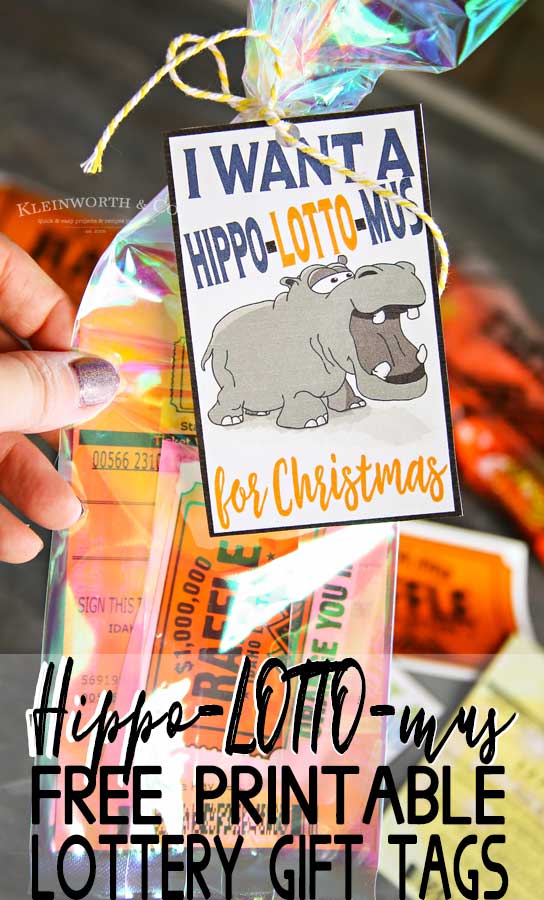 Orange You In?! These are sure to bring smiles to everyone on your list.
Click here for more information on the Idaho $1,000,000 Raffle
Scroll to the bottom for the download file.
Looking for more cute holiday ideas?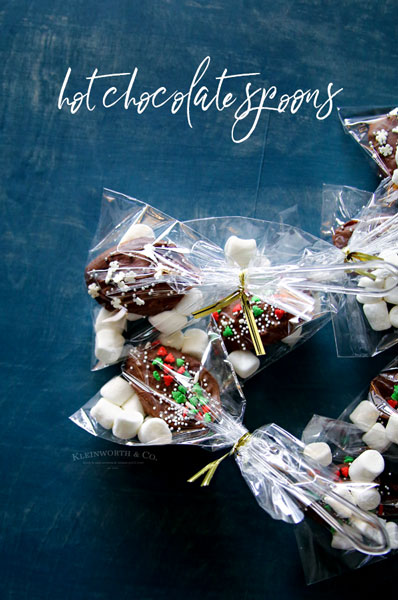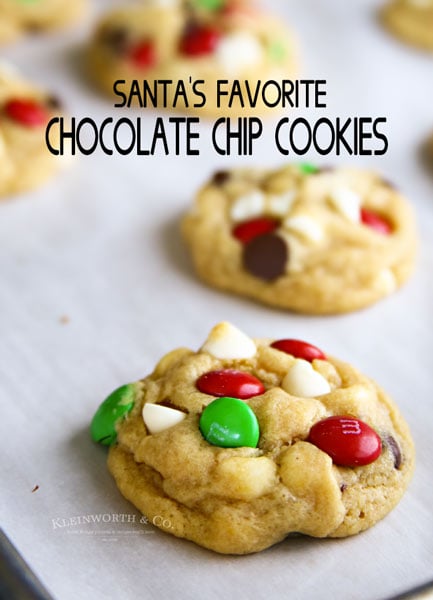 Santa's Favorite Chocolate Chip Cookies
Lottery Gift Ideas
If you love these FUN & FREE printable gift tags as much as I do, please write a five star review, and be sure to help me share on facebook and pinterest!
CONNECT WITH KLEINWORTH & CO!
Be sure to follow me on my social media, so you never miss a post!
FB, Pinterest, IG, Email Subscription
Don't miss these other fantastic ideas too!
Free Printable Farmhouse Christmas Signs | The Girl Creative
Christmas Traditions Printable | Create Craft Love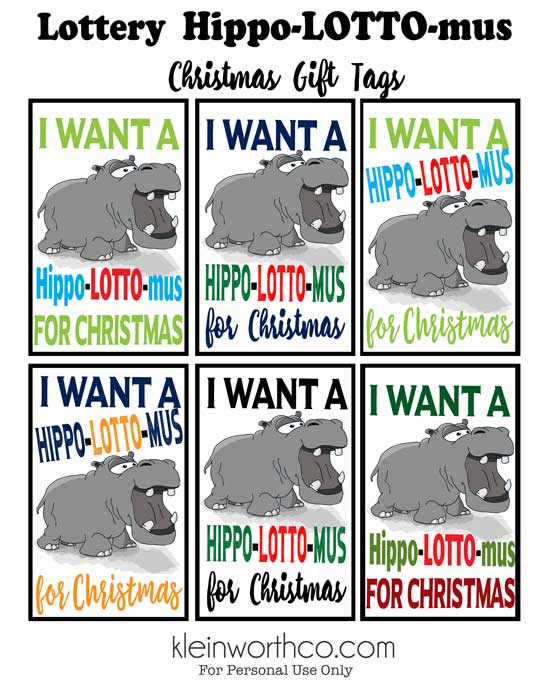 Once the new window opens- right click & save the file.