Easy Snowflake Fudge is a super easy winter fudge recipe made with just a handful of ingredients & 2 minutes in the microwave. This is sure to bring BIG smiles!
Are you a lover of fudge this time of year? My mom was the QUEEN of fudge & when it came to the holiday season we were making fudge ALL THE TIME. But she had this super cute recipe for Easy Snowflake Fudge that is perfect for the big & little ones alike.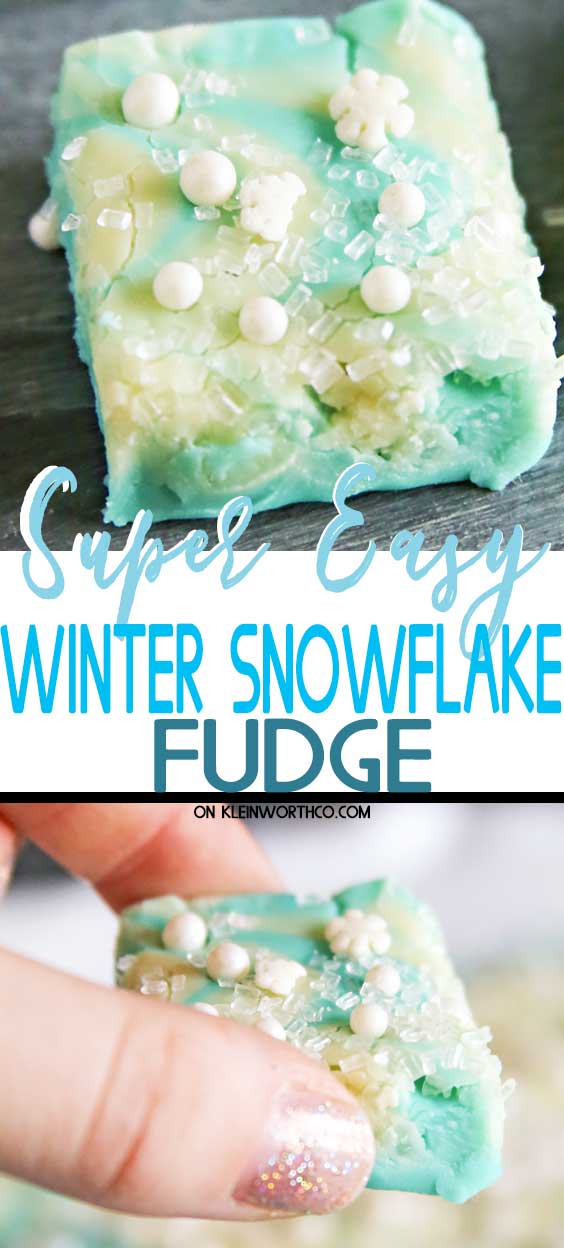 When it came to the holiday season, mom & I made treats like crazy. It seemed like our house turned into a full-fledged bakery because we had so many goodies happening around there that it is a wonder how we did it all.
While she made all sorts of amazing treats when it came to the holiday season she was known for her fudge. Sometimes it was a traditional recipe but other times she would break out of the usual & make something that was not only really easy but super cute too.
Snowflake Treats
This post contains some affiliate links. Click here to read my full disclosure policy.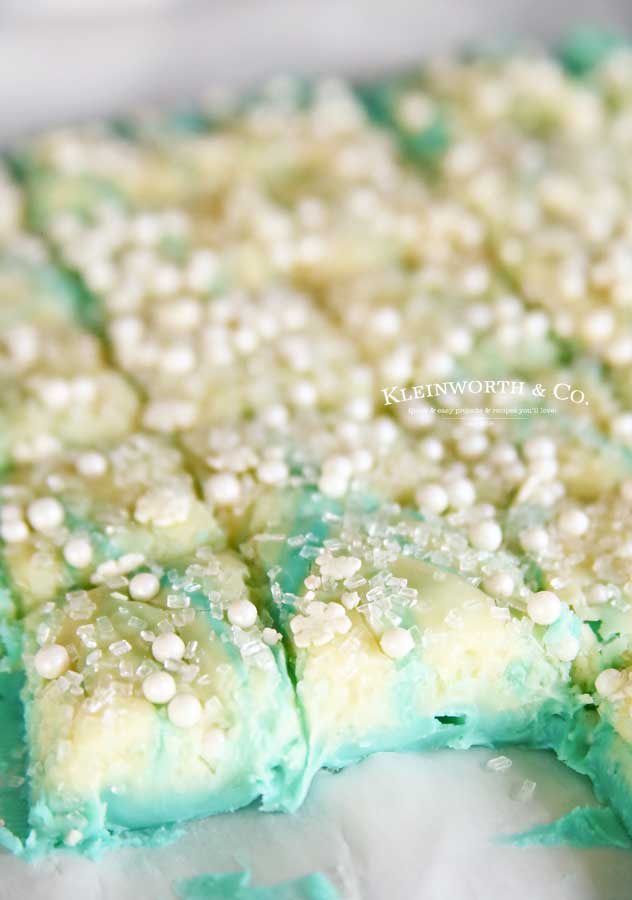 Mom was always a kid at heart. She was a sucker for watching classic holiday movies & doing all the cute little things that happen this time of year. So it is no surprise that she was able to translate those cute ideas from the holiday classics into adorable little treats & sometimes into her cakes too.
She was so creative & her clever ideas for making things super fun seemed to be endless.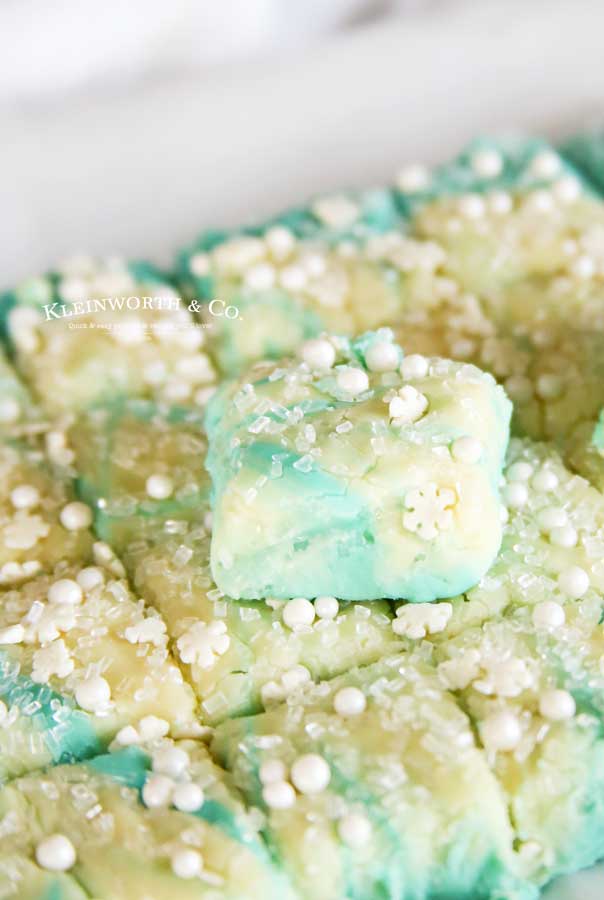 But that doesn't mean that she didn't appreciate an easy recipe too. While she had plenty of goodies in her bag of tricks that I would never even attempt, this fudge recipe is so incredibly simple that anyone can make it.
I mean, really – this time of year I'm all about the quick & easy. I certainly don't have time to be spending extra time in the kitchen with as much as I need to be tackling the rest of the to-do list.
That is what I love about this recipe. Just a handful of ingredients & it only takes but a few minutes to make. The hard part is waiting for the fudge to chill so we can cut it up & enjoy it.
Here are some commonly asked questions
Can I make this recipe with another kind of chocolate?
Sure thing. You won't be able to color the fudge with food coloring – but you can make the fudge using milk or semi-sweet chocolate if you desire.
What is the best way to store leftover fudge?
The easiest way is to add some plastic wrap or foil over the top of the dish & store at room temperature. If you live in an overly hot or extremely dry climate, this fudge will keep better if you refrigerate it. This way it is more climate controlled & it won't dry out or melt & can stay fresh for the longest possible time.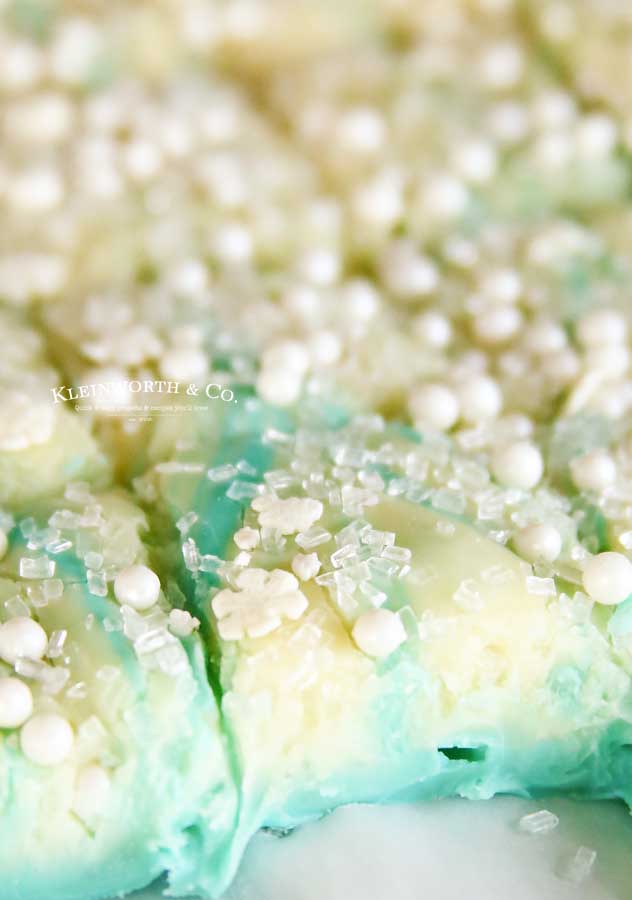 How many does this serve?
This recipe made 36 squares for me. But really, it depends on how you cut it once it is cooled. I like to cut down the middle in both directions to make 4 large pieces. Then I cut 4 more times in both directions to create 6 rows by 6 rows. This gives me pieces that are about 1″ square.
Holiday Christmas Party Treats
Can this recipe be doubled?
Yes, absolutely. You should be able to use a 9×13 pan & get relatively the same result with double the ingredients. You might have to microwave for a bit longer to throughly melt all the ingredients – so account for that added time.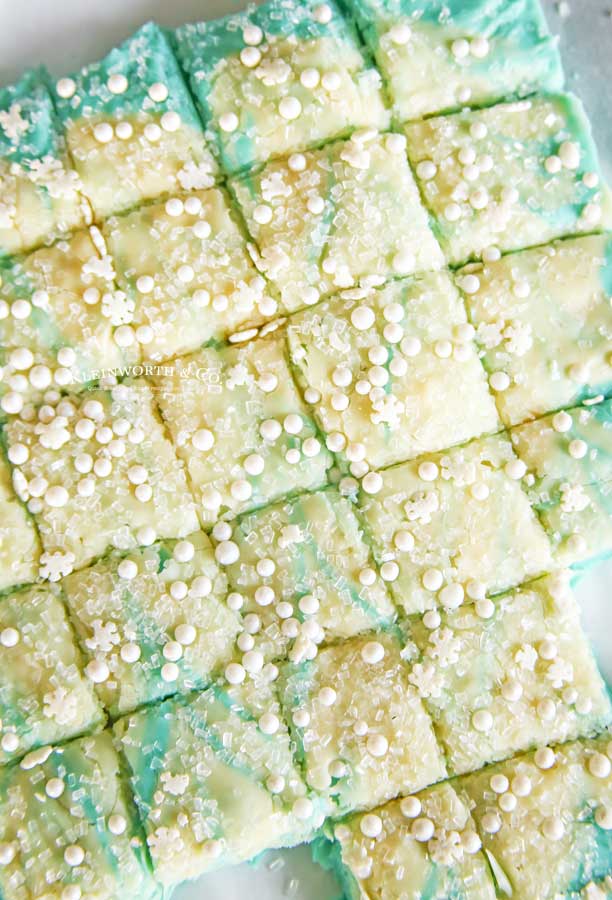 HOW DO YOU MAKE Easy Snowflake Fudge?
Line an 8×8 pan with parchment & lightly spray with oil.
In a large, microwave-safe bowl, combine the white chocolate chips & sweetened condensed milk.
Microwave on 50% power for 1 minute.
Remove & stir.
If it is not thoroughly melted, return to the microwave for 30-45 seconds longer.
Once the mixture is completely melted, separate out a portion of the melted chocolate into another bowl.
Stir the food coloring into the majority of the fudge to make it blue.
Add in extract & then spread into an even layer in the prepared pan.
Drizzle the remanining white portion over the top of the blue & use a skewer or toothpick to drag it through & swirl the colors.
Top with the sparkling sugar, white sugar pearls & snowflake sprinkles.
Be sure to press them lightly into the top so they will solidify into the fudge.
Refrigerate until solid – approx 1 hour before cutting.
Use the parchment to lift out of the pan & cut to your desired size.
Does the color of the blue food color matter?
To me, no it doesn't. Some will want this to be an icy lighter blue, but others might want it more vibrant blue & white. So I listed links below to 2 different food colors that I like to use for this.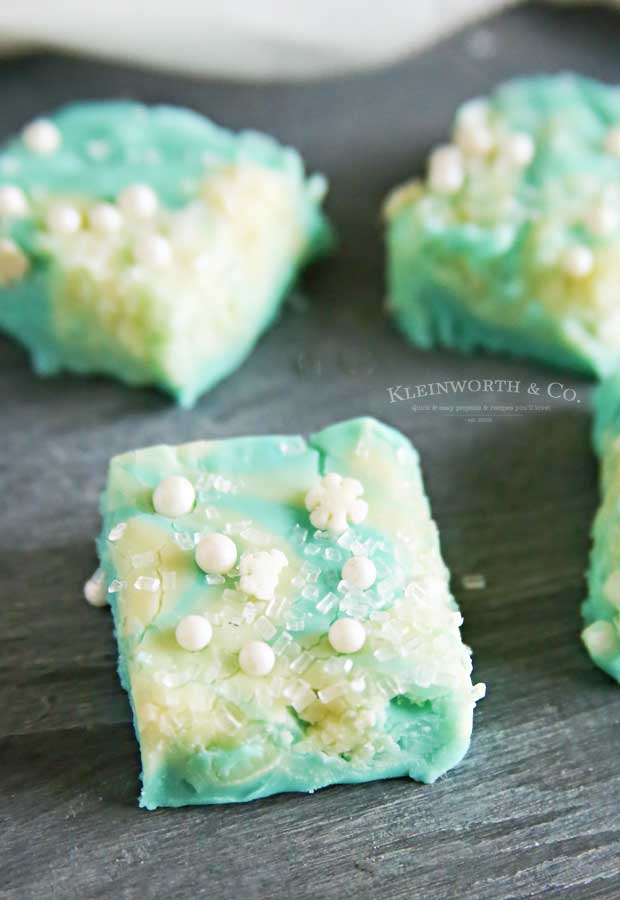 More Awesome Fudge Recipes
Snowflake Themed Christmas Treats
To make this recipe you will need…
white chocolate chips
sweetened condensed milk
peppermint extract
blue food coloring
white sparkling sugar
white sugar pearls
snowflake sprinkles
Products I love when making Easy Snowflake Fudge…
This Easy Snowflake Fudge recipe is so EASY – and if you're like me, then you probably already have all of these items on hand! OR maybe you have never made microwave fudge before, & you might be a bit nervous – but you're going to love how simple this is. I have made a list below of the things I absolutely can't live without when it comes to making this fudge.
Definitely a super cute fudge recipe for the season!!
Scroll to the bottom for the Printable Recipe
SNOWFLAKE RECIPES
If you love this Easy Snowflake Fudge recipe, you're going to love these other easy holiday treat recipes too. Please click each link below to find the easy, printable recipe!

Microwave Snowflake Fudge Recipe
If you love this recipe for Easy Snowflake Fudge as much as I do, please write a five star review, and be sure to help me share on facebook and pinterest!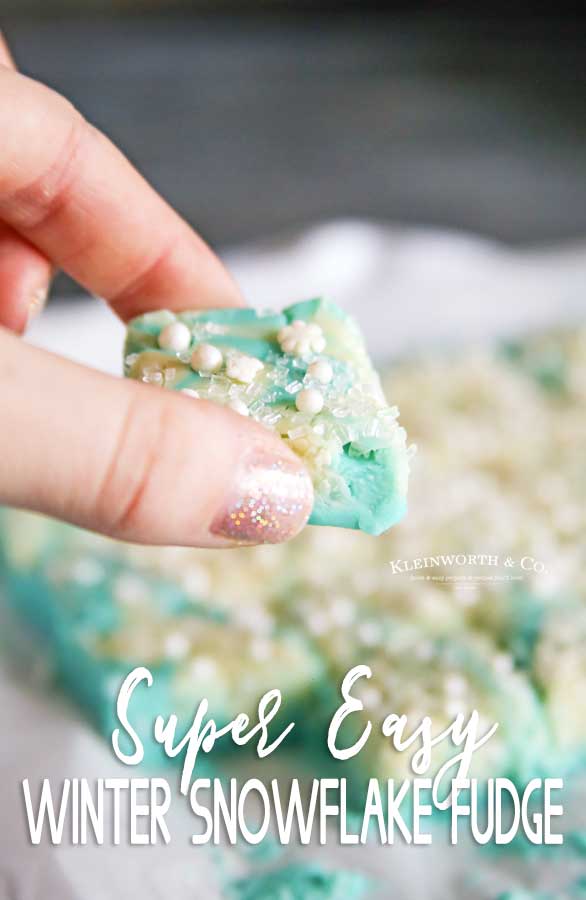 CONNECT WITH KLEINWORTH & CO!
Be sure to follow me on my social media, so you never miss a post!
FB, Pinterest, IG, Email Subscription
Don't miss these other fantastic recipes…
White Chocolate Peppermint Pretzels | Lil'Luna
Santa Munch Christmas Popcorn | Tidy Mom
Reader Interactions