It's fudge season!!!! I say that with an abundance of enthusiasm because my mom was the queen of fudge. She had people lining up to get her to make a little plate of her AMAZING recipe. So when I think of fudge – I automatically think of her, which makes me smile. So last week while I was taking a day off from the blog in remembrance of her – I was also honored her by making some fudge. I keep her in my studio space most of the time – that way she can be with me all day, everyday while I work. But last week I took her down to the kitchen with me to work. My mom usually stuck with the traditional fudge varieties – chocolate, peanut butter & chocolate with walnuts. I pretty much lived on those during the holidays growing up. So I'm pretty sure my mom would be pretty darn impressed that I stepped outside the norm & create this Red Velvet Fudge. I'm not going to lie – it's flat out INCREDIBLE as far as fudge goes. Let me show you how you can make some too!
I'm telling you – make this for your holiday parties!! It will be the first plate that empties out….I promise.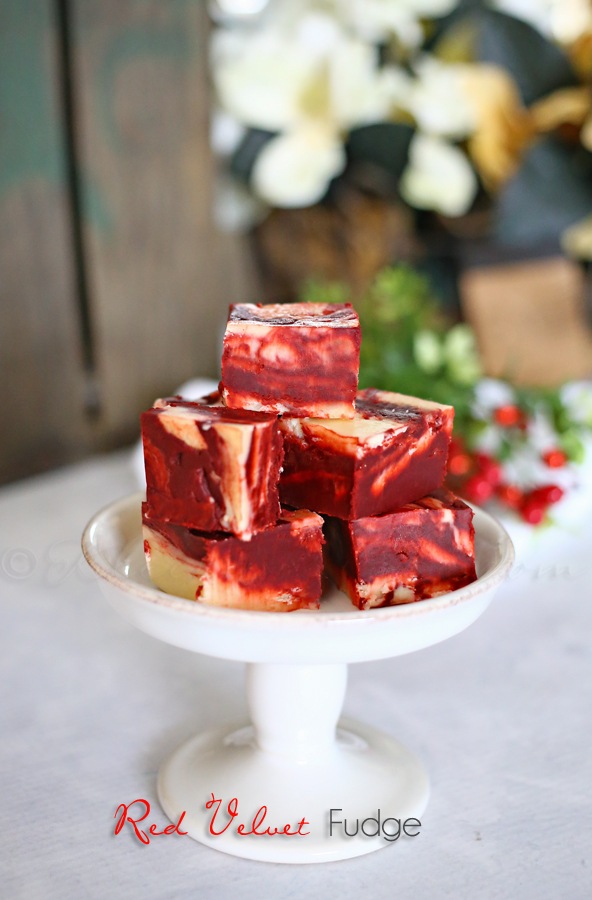 Red Velvet Fudge
Ingredients
3 cups granulated sugar
3/4 cup 1-1/2 sticks butter
2/3 cup evaporated milk
1 - 12 ounce bag white chocolate chips
1- 7 ounce jar marshmallow creme
2 tsp vanilla extract
1 cup semi-sweet chocolate chips
2 tbsp red gel food color
Instructions
Line a 9x9 pan with parchment & then spray with cooking spray- set aside

In a medium bowl - combine semi-sweet chocolate chips & food color - set aside

Combine vanilla & white chocolate chips in mixer bowl & set aside

In a large stock pot combine sugar, butter, evaporated milk & marshmallow & bring to a rolling boil

Continue to boil about 4-5 full minutes - bringing to 234 degrees on a candy thermometer

Remover from heat & quickly & carefully pour this hot mixture over white chocolate chips in mixer bowl

Beat on medium-high until silky smooth - but not too long that the fudge cools too much (you need to keep it relatively hot for the remaining steps)

Remove 1/2 the fudge & spread out into prepared parchment lined pan

Add the semi-sweet chocolate & food color to the remaining white chocolate fudge in the bowl & beat until all chocolate is melted & combined

Place in spoonfuls over the top of the white fudge already spread in pan

Take a butter knife & drag through to help combine the colors & give it a marbleized look.

Smooth out the top with a spatula & place in refrigerator to set a minimum of 2 hours but preferably overnight before cutting.

Store in an airtight container at room temperature
Want more fudge recipes?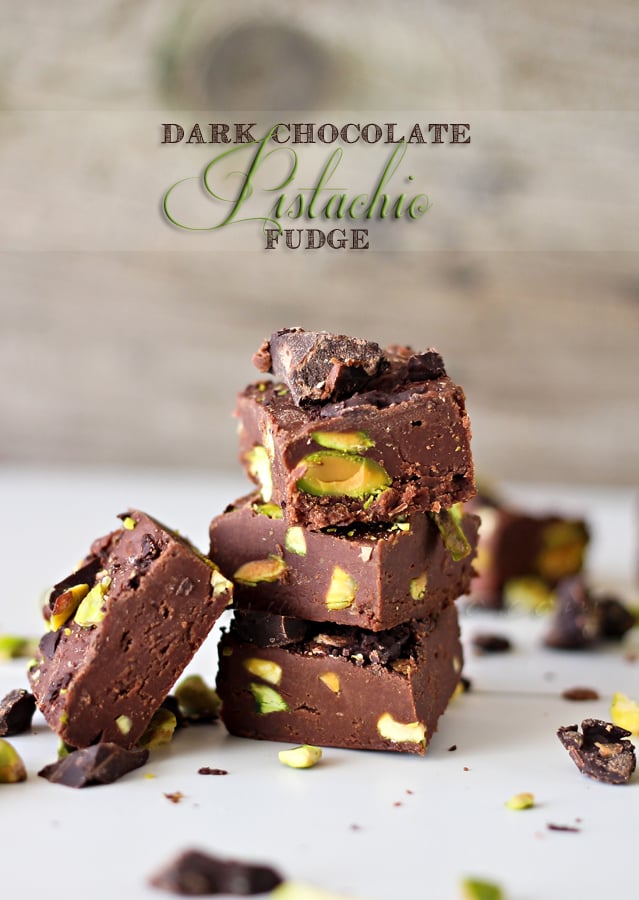 Dark Chocolate Pistachio Fudge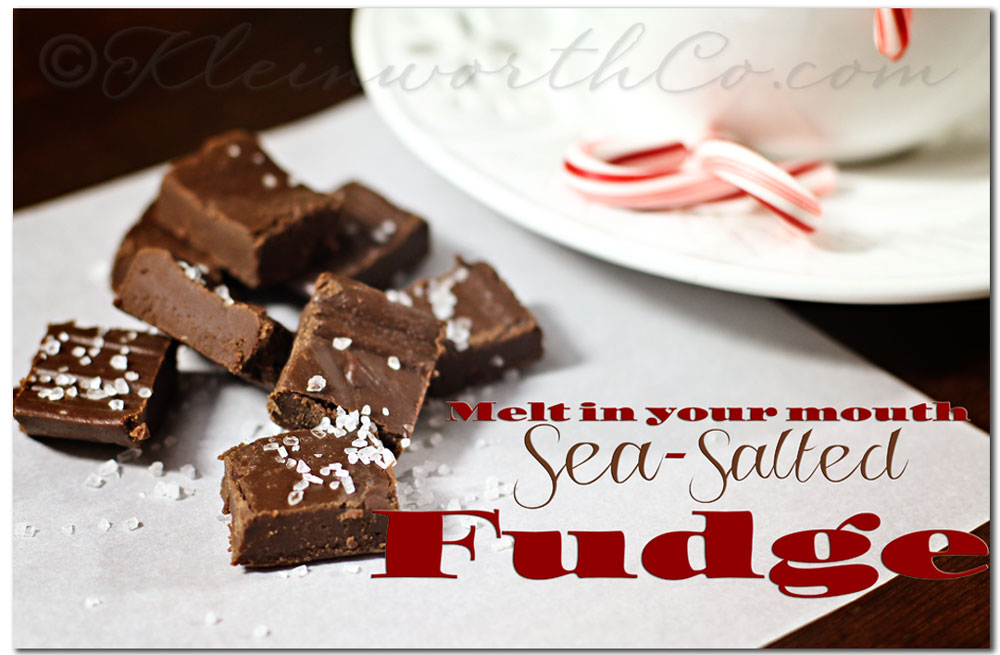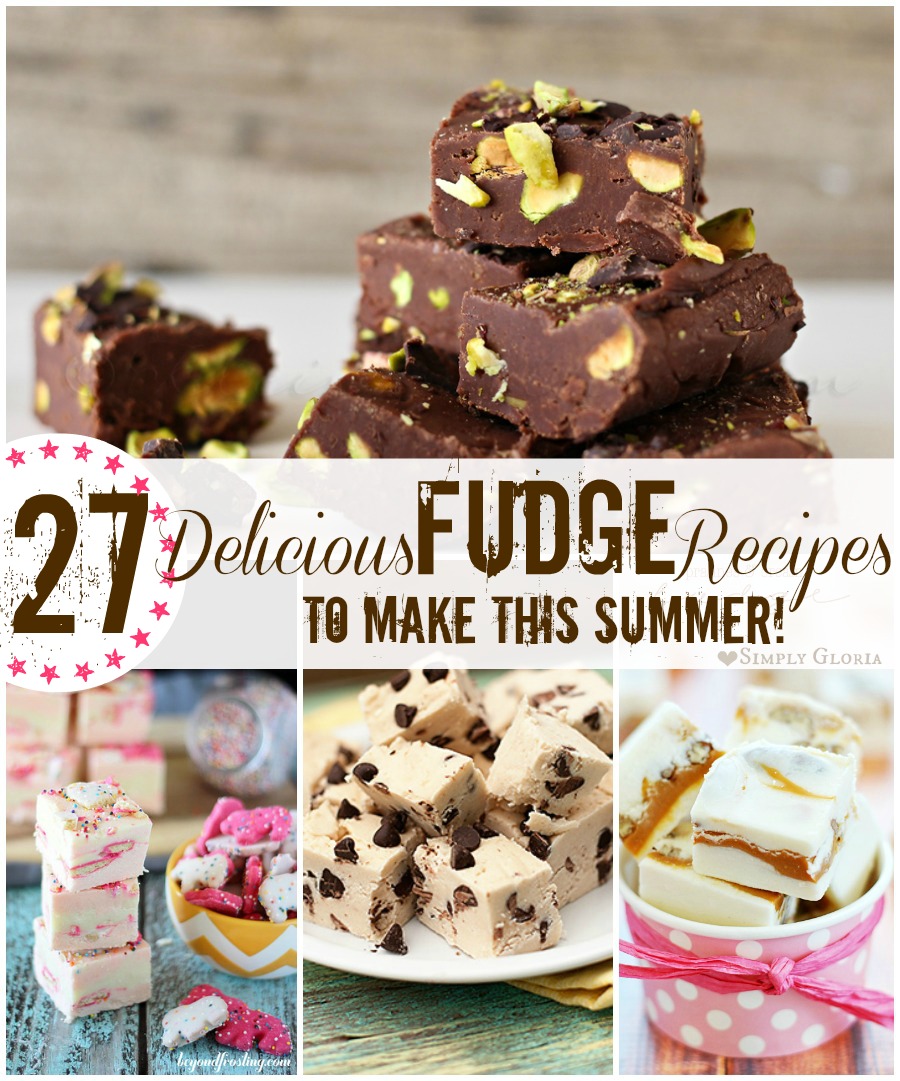 To see where I am linking today- visit HERE