Frostbitten Red Velvet Brownie Bites are delicious bite-sized red velvet brownies topped with cream cheese frosting, sparkling sugar & snowflake sprinkles. They are delicious!
Frostbitten Red Velvet Brownie Bites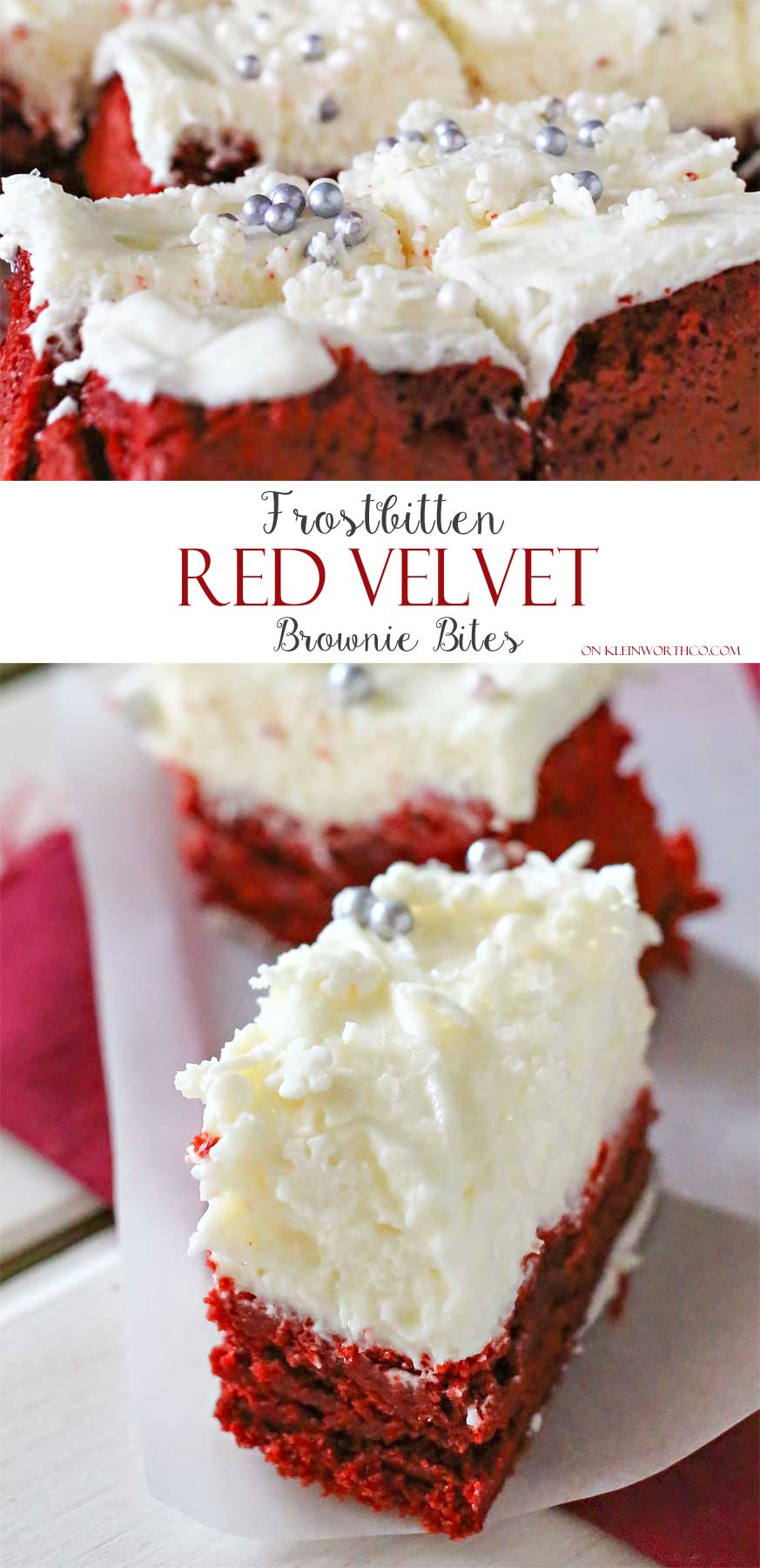 Tuesday, when I posted my cookie pictures, I told you that I baked something else that day along with the cookies.
I teased a bit & then promised that I would share that extra treat with you soon. So here they are…Frostbitten Red Velvet Brownie Bites. I came across this recipe on a blog right after I had finished up the cookies (I can't remember which one) so you can find something similar here on Pinterest.
Just so you know, I had planned on making some breakfast muffins that day & then after making the cookies I thought I would just take the rest of the afternoon to peruse Pinterest instead.
Then I came across this & I absolutely had to make them. It didn't take long before I printed the recipe- surveyed the pantry & was thrilled when I had everything I needed.
After gathering my supplies, I immediately started baking & was positively giddy. So I know – all you really want is the recipe 🙂 Here you go…
Red Velvet Brownie Bites
These were a HUGE hit with the family & my hubs has already asked me to make them for the next potluck he has coming up at work.
You just have to make these! They are incredible!
Looking for more great red velvet treats like these Frostbitten Red Velvet Brownie Bites?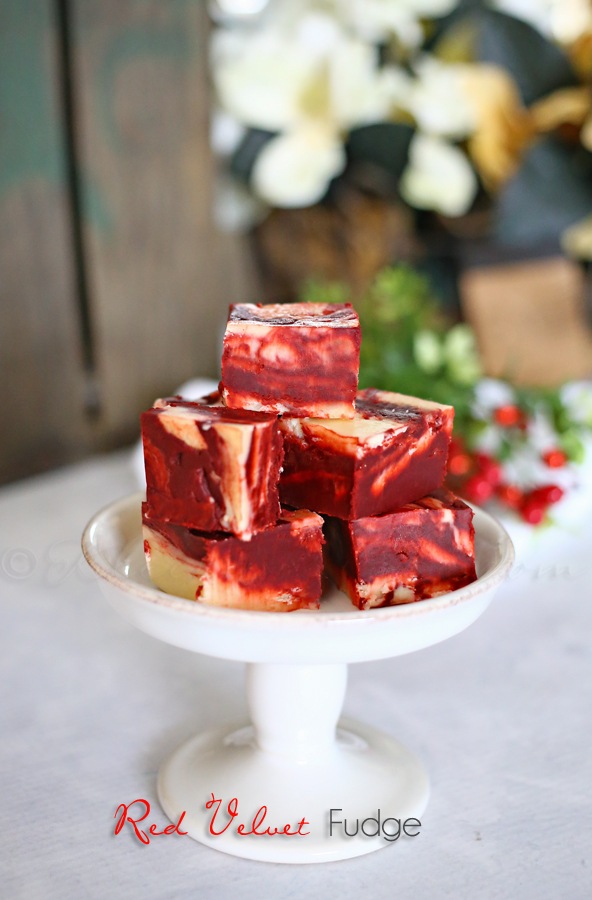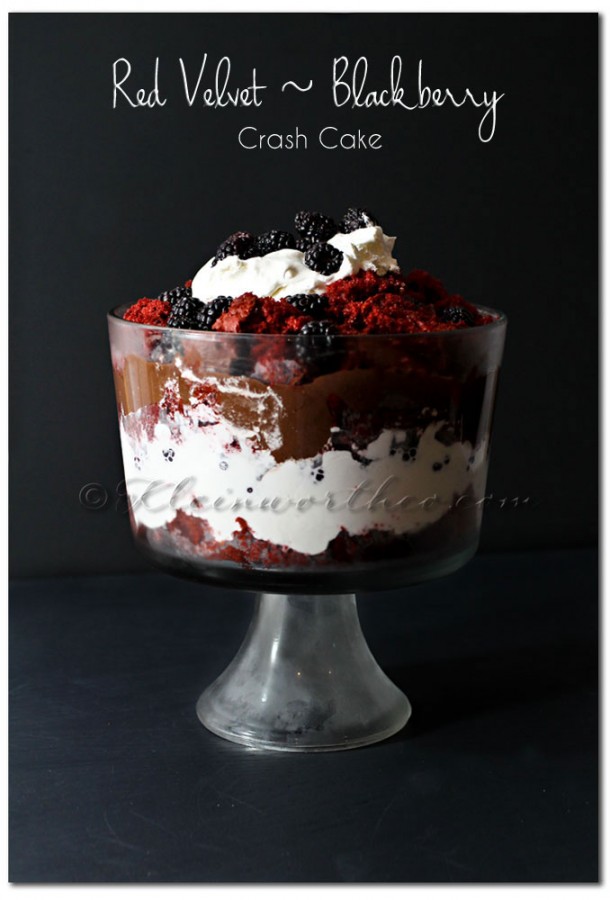 Red Velvet BlackBerry Crash Cake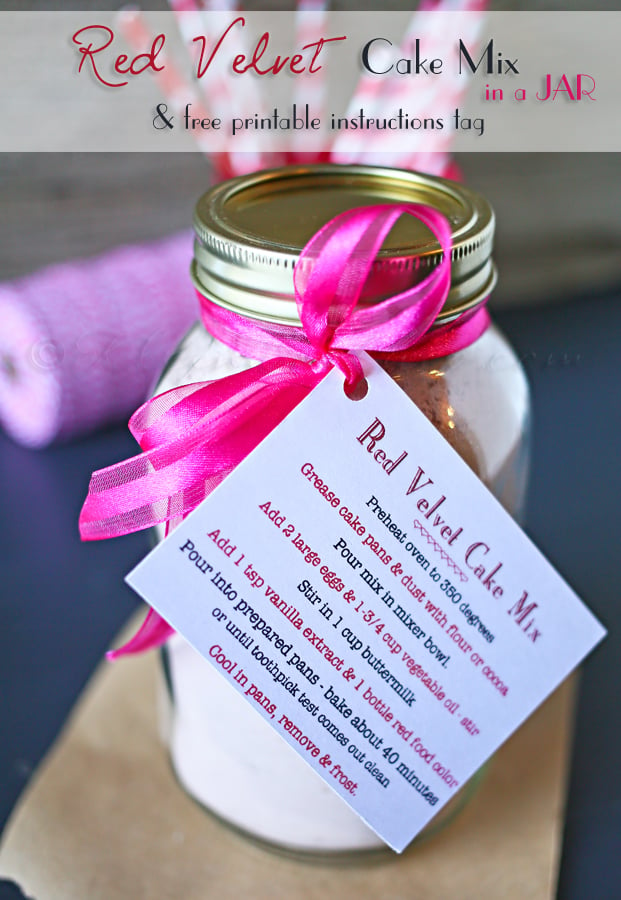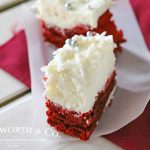 Frostbitten Red Velvet Brownie Bites
Ingredients
Brownies
1/2 cup 1 stick unsalted butter- diced
3 oz. bittersweet chocolate chips I actually used the squares
1 1/2 cup sugar
3 large eggs
1 tsp. vanilla
1/4 tsp. salt
2 tbsp. liquid red food coloring
1 cup all purpose flour
1/2 tsp. baking powder
Icing
8 oz. cream cheese - room temperature
4 tbsp butter - room temperature
1 tsp. vanilla
1 1/2 cup sifted confectioners sugar
White sparkling sugar opt.
Instructions
Preheat Oven to 325.

Use either non-stick foil or just use regular foil & then spray with non-stick spray & line a metal 9"x9" baking pan. (please do this- as it helps remove the brownies from the pan later on. This is a step I contemplated skipping & doing it how I would normally do it- but I decided to follow the instructions & I was happy I did)

Stir butter & chocolate in a heavy large saucepan over low heat until all is melted.

Remove from heat.

Whisk in sugar & then eggs- one at a time.

Stir in vanilla, salt & food coloring.

Sift flour & baking powder (I usually just run a whisk through it for a few stirs & it works perfectly) & stir in & blend well.

Transfer batter to prepared pan.

Bake until puffed & dry looking- or until a toothpick inserted in the center comes out with some moist batter attached. (about 30-35 minutes).

Cool completely in pan on a rack. (I was impatient & stuck mine directly into the freezer to cool it faster)
Icing
Beat cream cheese & butter until lightly fluffy.

Add vanilla & lightly mix.

Add confectioners sugar & beat to combine. (if it's too thick- add a splash of milk)

Using the foil as an aid- lift brownies from pan & place on cutting board.

Remove foil from sides.

Spread cream cheese over brownies & add sparkles.

Cut brownies into bite size pieces.

To get a cleaner cut- wipe the knife after each slice.

In the future - I will probably cut the brownies first & make a little more frosting so I can pipe it on each bite. I think it will be more aesthetically pleasing & keep the fingers cleaner when grabbing for one.
Don't miss these great ideas from these bloggers….
Red Velvet Sandwich Cookies from Let's Dish Recipes
Red Velvet French Toast with Vanilla Bean Cheesecake Filling from Cafe Delites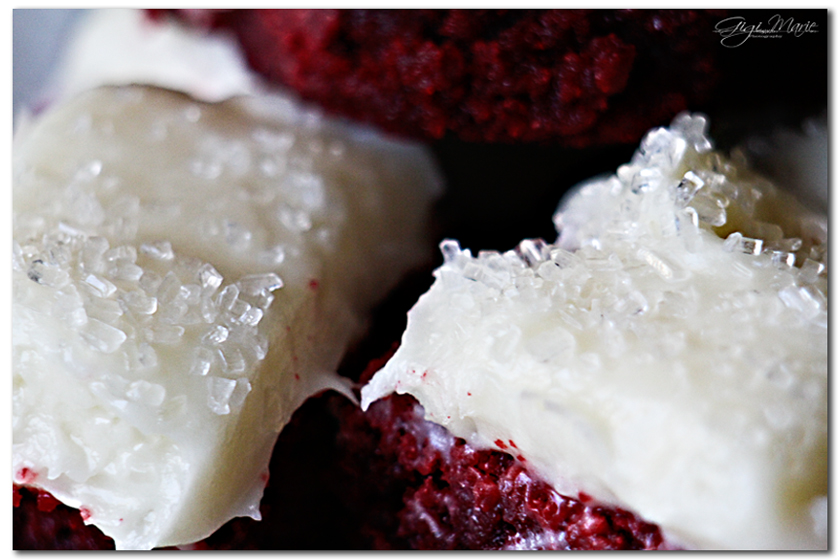 0