Yummy Bar Recipes are back with these Salted Caramel Butter Bars. Delicious salted caramel in these rich butter bars is positively delightful. I mean, if you love salted caramel, then these really are for you. I should really rename them "can't get enough bars".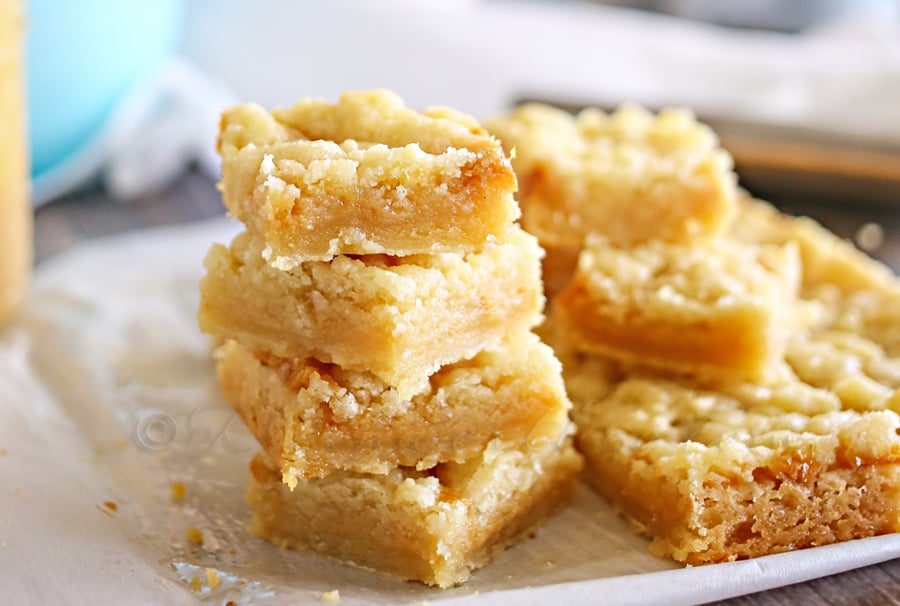 Have you ever made a recipe that you serve & the next thing you know….it's gone? Yeah, that's exactly what happens with these Salted Caramel Butter Bars every time I make them. I don't know why I never remember to make a double batch when I whip these up for the family – but I really just need to do just that. The drill usually goes a little something like, "so what do you have for dessert?". I say "butter bars" as I am bring them out & get them cut. I then set the pan on the table, grab one for myself & listen to the yums from everyone. Then all of a sudden I look back at the pan & they are GONE! Just like that.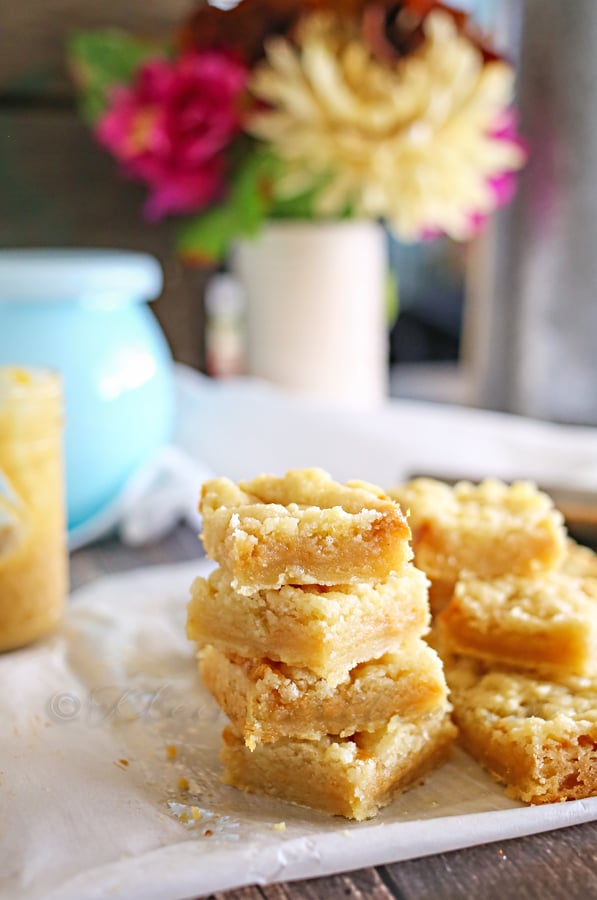 I love how easy they are to make – which is great! Honestly, if I put a ton of work into a recipe- I sort of want it to last more than a few minutes. These certainly don't last anywhere near that, so it makes me feel better that it doesn't take me very much effort to go from prep to enjoy. I'm telling you- these are a MUST MAKE & I promise they will become your new favorite yummy bar recipe EVER!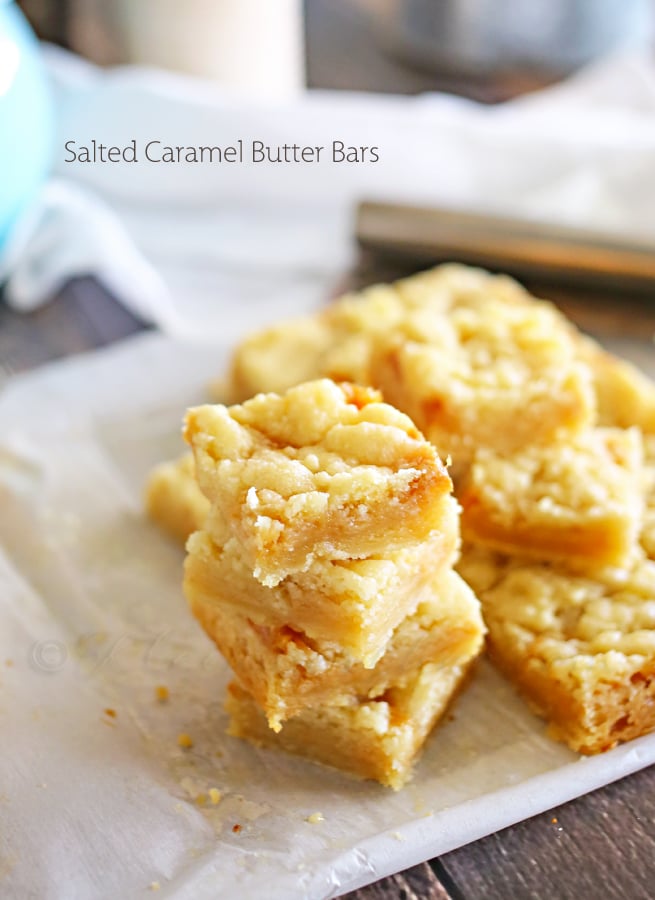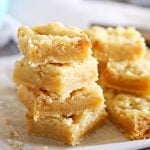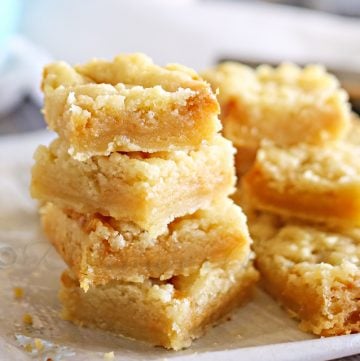 Salted Caramel Butter Bars : Yummy Bar Recipes
Ingredients
1 cup 2 sticks butter – room temperature
1/2 cup granulated sugar
3/4 cup confectioners sugar
1 tbsp vanilla extract
2 cups all-purpose flour
*For the filling
1/2 cup homemade caramel
1/2 tbsp coarse salt
OR you can use
7 ounce bag caramel candies
1/6 cup milk
1/4 tsp vanilla extract
Instructions
Preheat oven to 325 degrees

Line 8×8 pan with parchment & set aside

In mixer bowl combine sugars & butter – mix on medium until creamy

Add vanilla – beat until combined

Add flour & mix on low until dough becomes smooth

Press 2/3 of the dough into an even layer in the bottom of prepared pan

Bake for about 20 minutes or until edges are golden

Refrigerate remaining dough while that is baking

While that is baking prepare your caramel if you are making it from the candies by

combining unwrapped caramels & milk in microwave safe bowl & heat in microwave for approx 1 minute

Stir & continue to heat in 30 second intervals until melted

Once melted add vanilla & set aside until crust is done baking

Once you remove crust from oven top with your caramel & sprinkle with your coarse salt

Take remaining dough & crumble over the top of the caramel layer – do not press or spread – leave in crumbles

Return pan to the oven & bake 25-35 minutes or until golden & filling is bubbly

Let cool before cutting into squares

Store in an airtight containe
Want More Yummy Bar Recipes?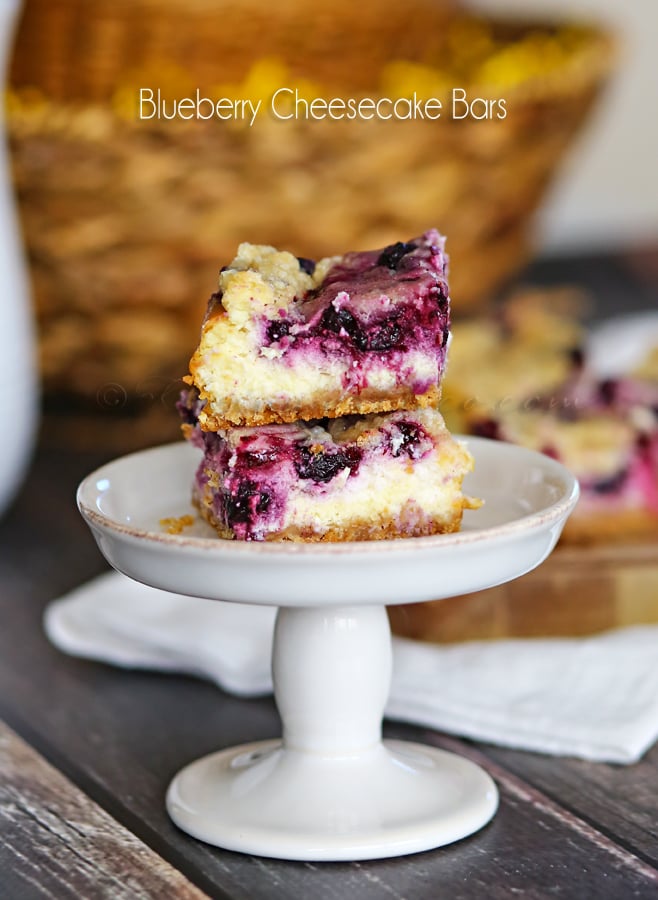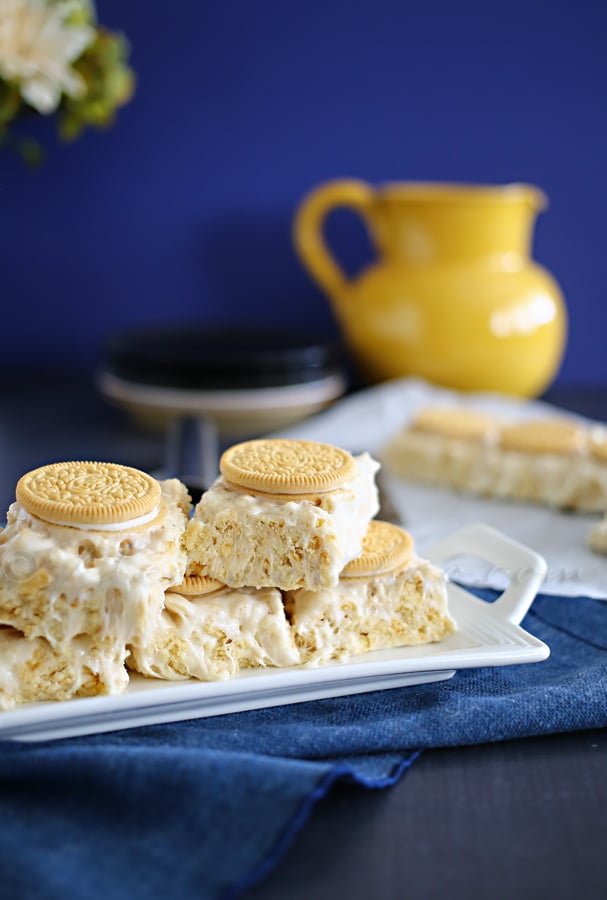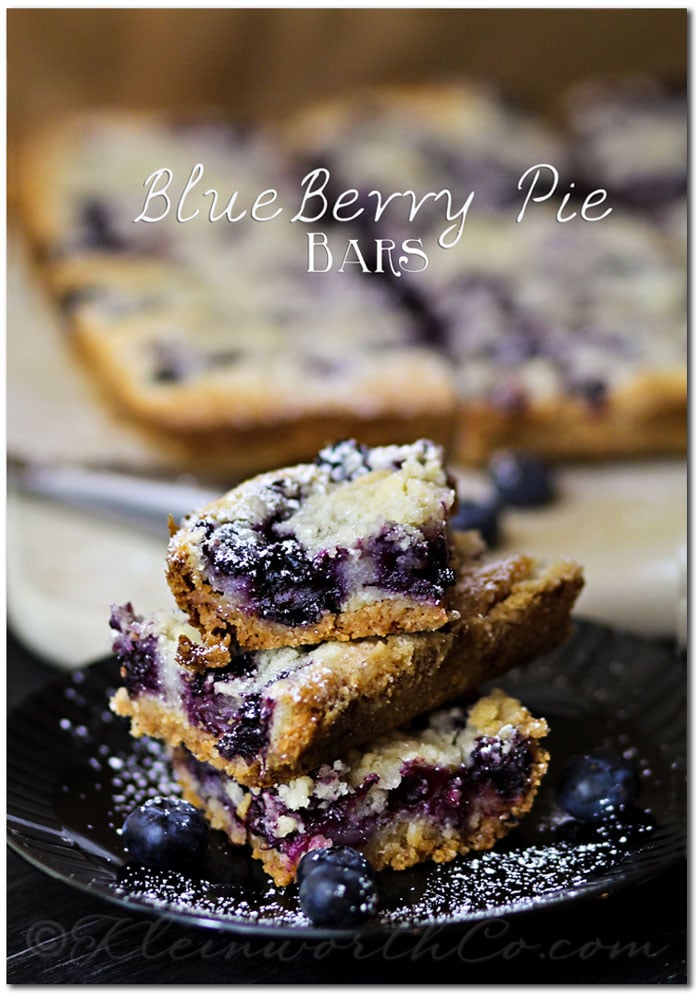 To see where I am linking today- visit HERE
1