Looking for a special homemade gift for friends & neighbors? Make this super easy Slow Cooker Salted Caramel Moonshine that's perfect for holiday sipping.
This time of year I like to start thinking about what we will make for holiday gifts to give to our friends, neighbors & family. Sometimes I do a little gift basket full of goodies. But other times I want to add a little something special that's just for the adults.
Typically I make my homemade sipping brandy, that is INSANELY POPULAR, but this year I wanted to make something a bit different. This Slow Cooker Salted Caramel Moonshine is so easy to make. I can whip it up in an afternoon & it makes such a great gift.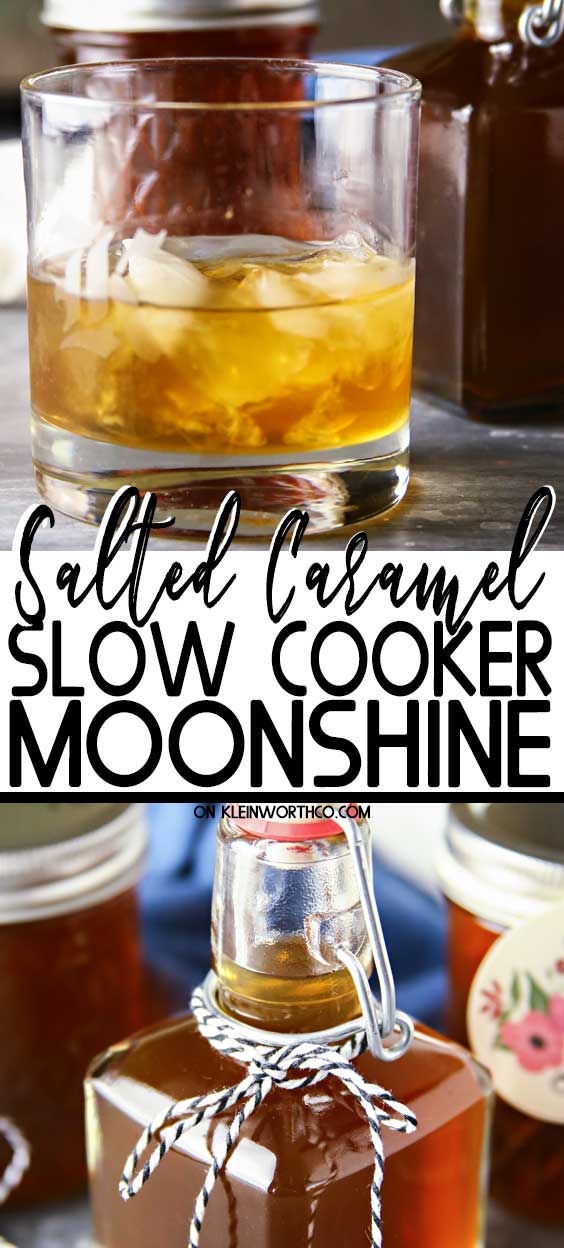 I love this recipe because it reminds me of my mother-in-law. She was all about the homemade booze & would have absolutely loved this recipe for its ease & of course, the delicious taste.
I mean, she was the one that taught me how to make the sipping brandy, to begin with. So it would be completely fitting for her to love homemade moonshine made in the slow cooker.
moonshine recipes
This post contains some affiliate links. Click here to read my full disclosure policy.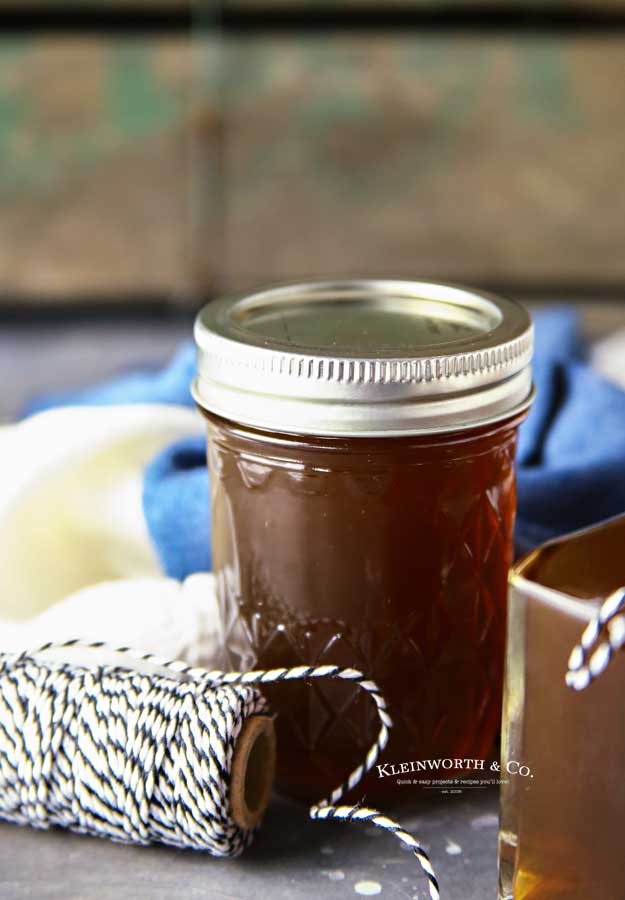 Can we talk about the salted caramel flavor for a moment? I'm already completely obsessed with almost everything salted caramel & this homemade moonshine is no different.
This moonshine is smooth & sweet, which makes it perfect for sipping while sitting around a fall campfire or while tailgating at the game or while visiting with holiday guests. It really is an all-around great drink for the season.
That being said, I don't think this should only be enjoyed during the fall or holiday season. You can absolutely enjoy this year-round. I mean, salted caramel is something to be enjoyed ALL OF THE TIME.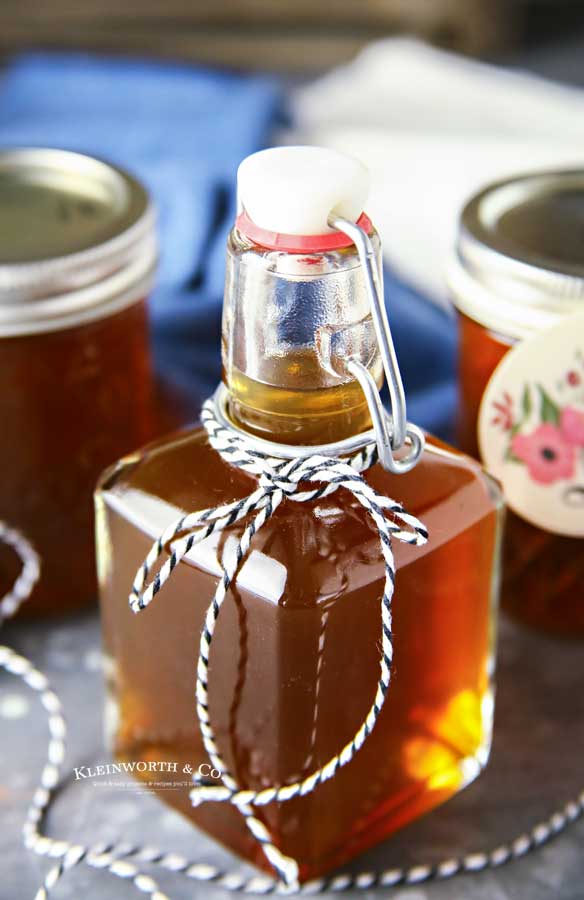 Since this recipe can be made in just a couple hours, it makes it so easy to bottle it up, tie a tag on it & give it as gifts. All the little jars look so pretty. Sometimes I like to give it with a pair of sipping glasses & coasters. It really makes a nice gift for those you care about.
Here are some commonly asked questions
Does homemade moonshine need to be refrigerated?
No, homemade moonshine does not need to be refrigerated. However, keeping it in a cool, dark place will extend it's life. So find a cabinet or pantry to store it in so it can stay out of direct sunlight as light, heat, & air can change the characteristics of an opened bottle over time.
If you live in an unusually warm climate, you might want to go ahead & keep it in the fridge or even the freezer since the warmth will make it go bad more quickly.
How long does flavored moonshine last?
As one of the strongest alcoholic beverages, moonshine does not expire. I have heard that if you can & seal your moonshine it is good for up to 2 years. I have not personally tried canning it before, so I can't tell you just how to do that.
But once opened after canning – please use within 3 months. If you store it in the freezer, it keeps it nice & chilled – perfect for sipping & prolongs its life. Flavored moonshine like this one, which contains sugar, has a much shorter shelf-life but can last several years after opening.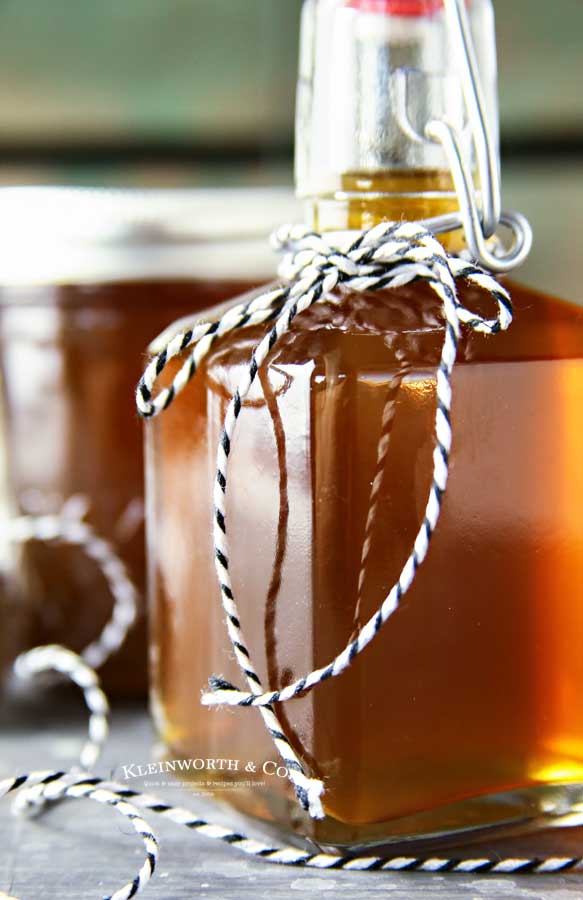 How many can this serve?
This recipe makes about 26 ounces. I was able to fill 2 of the small 8 ounce mason jars plus my swing-top bottle with a little left over.
how to make moonshine at home
Can this recipe be doubled?
Absolutely! The more the better, right? So if you want to make this for all your friends – you can double or triple this recipe & just use a larger (standard size) slow cooker.
What proof is homemade moonshine?
Well, this is really going to depend on where you live. Depending on what state you live in, the everclear you purchase will be different proofs. States like Nevada will be higher, while Utah will be much lower.
HOW DO YOU MAKE Salted Caramel Moonshine?
Combine water, brown sugar, flavored syrup & vanilla extract in the slow cooker & whisk well.
Cover & cook on high 90 minutes, stirring occasionally.
Remove insert from cooker, uncover & allow to cool to room temperature.
Once cooled, stir in everclear & vodka.
Transfer to mason jars or bottles.
Store in a cool, dark place.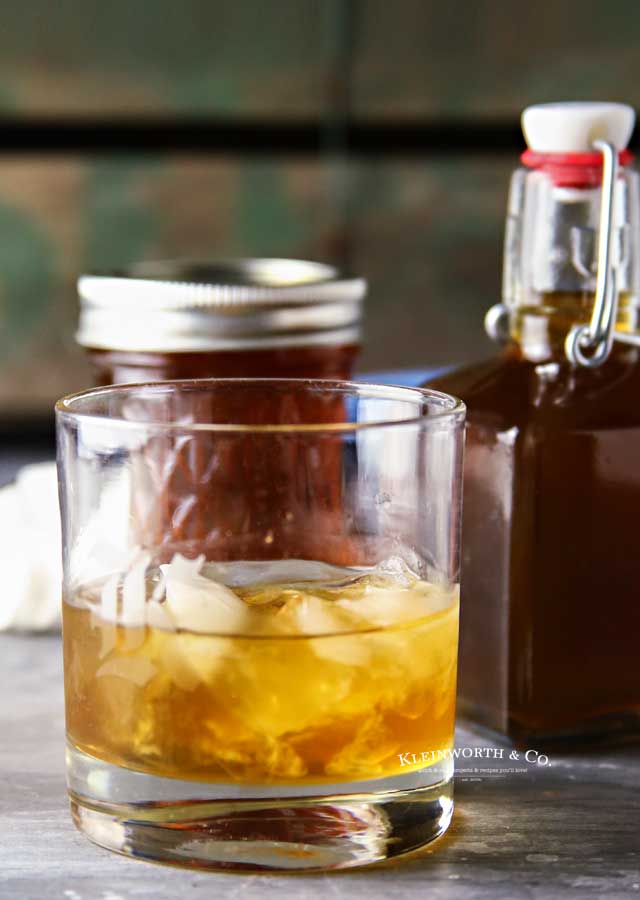 Is this really "moonshine"?
Technically, since we aren't actually distilling anything to "create" alcohol & we are just mixing alcohol that we purchased with other flavors, it isn't actually moonshine. We call this type of spirit "moonshine" but it is really an Everclear grain alcohol or vodka based, mixed cocktail drink.
The word moonshine is just to suggest that the drink is VERY STRONG & you should use caution when consuming this alcoholic drink. The alcohol itself takes on the flavor of the other ingredients which masks the true alcohol content.
What is Everclear?
Everclear is a pure grain alcohol, which is a type of hard liquor. It used to only be found in the Midwest, but we have been able to find it in California, Nevada, Washington & Idaho – so there's a good chance it is pretty much everywhere now. But keep in mind that some areas do not sell grain alcohol. If you can't find everclear for this recipe, you can also use unflavored vodka in place of the everclear in this recipe. Keep in mind that the vodka will be a lesser proof.
How do you drink moonshine?
Moonshine can be enjoyed in a variety of ways. Most like to sip it by itself but you can also pair it with other things like a base pairing with light beer, whipped into a cocktail, mixed with gingerale, iced tea or lemonade depending on the flavor of the moonshine. This particular recipe would be great mixed into an adult milkshake.
Is homemade moonshine illegal?
This recipe is not. The only time homemade spirits are illegal is when you are distilling your own. In this case, as mentioned before, we are taking alcohol that we purchased legally from a commercial manufacturer/distributor & making other creations with it.
I'm assuming that the only reason they like to make distilling illegal for the average person is because then they can't tax it. I'd like to say that if you are making it for personal consumption & not selling it – that would change things, but, nope -you can't do that either.
Remember liquor is worth more to the government than beer or wine. Uncle Sam takes an excise tax of $2.14 for each 750-milliliter bottle of 80-proof spirits, compared with 21 cents for a bottle of wine (of 14 percent alcohol or less) and 5 cents for a can of beer. So – I'll let you come to your own conclusions on why it would be made illegal.
homemade moonshine
To make this recipe you will need…
water
brown sugar
salted caramel flavored syrup
vanilla extract
everclear
caramel vodka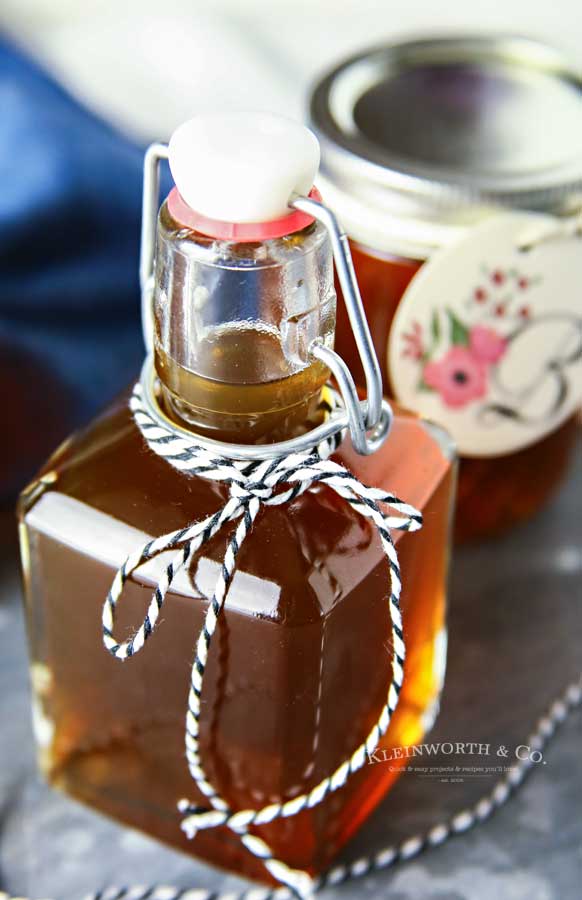 Products I love when making this homemade moonshine…
This Slow Cooker Salted Caramel Moonshine is so delicious – and if you're like me, you probably already have many of these items on hand! OR maybe you have never made homemade spirits before, & you might be a bit nervous – but, I promise, you're going to love how this turn out. I have made a list below of the things I absolutely can't live without when it comes to making moonshine.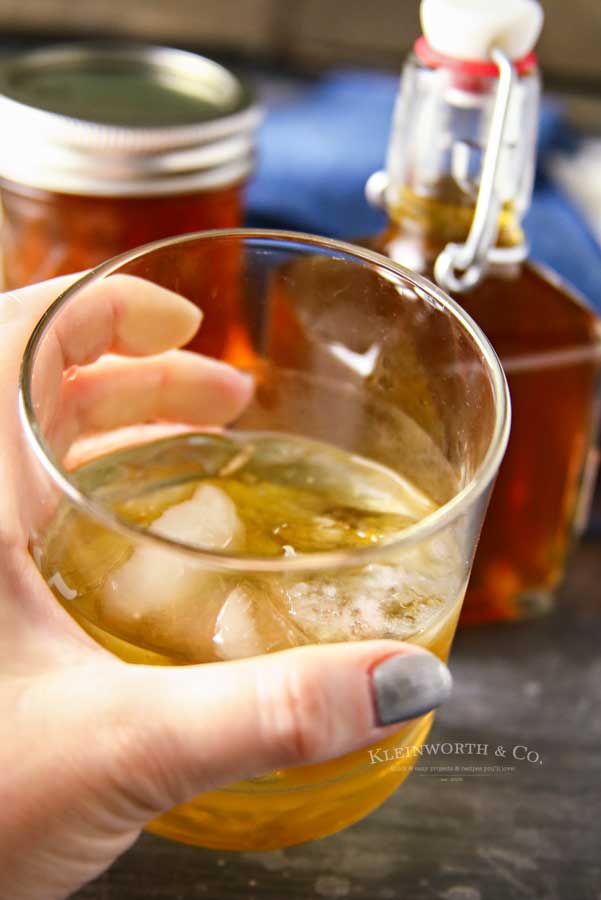 Scroll to the bottom for the Printable Recipe
crockpot moonshine
If you love this Slow Cooker Salted Caramel Moonshine recipe, you're going to love these other AWESOME recipe for homemade spirits too. Please click each link below to find the easy, printable recipe!
moonshine alcohol
If you love this Slow Cooker Salted Caramel Moonshine recipe as much as I do, please write a five star review, and be sure to help me share on facebook and pinterest!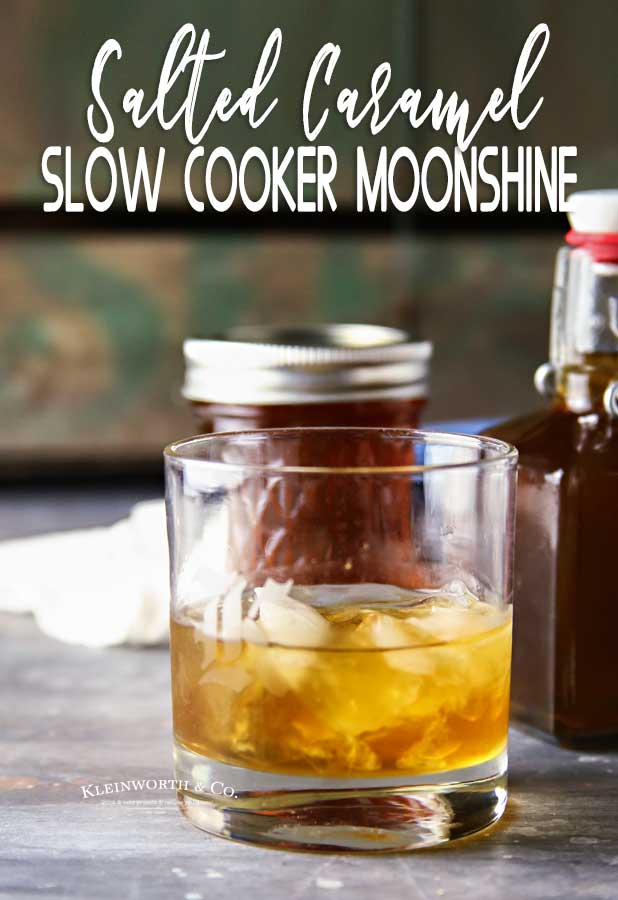 CONNECT WITH KLEINWORTH & CO!
Be sure to follow me on my social media, so you never miss a post!
FB, Pinterest, IG, Email Subscription
Don't miss these other fantastic recipes…
Vanilla Chai Old Fashioned | Half Baked Harvest
Sangria Mexican Mule | Tidy Mom
Reader Interactions