It's now in the later part of September.  That means the holidays are literally around the corner.  I can't keep up.  However- I am doing little things like planning ahead on some things.  I decided that I would start now & make some homemade liquors – sipping brandy in various flavors.  I will probably also use them in holiday recipes because I don't really drink alcohol.  But I really like cooking with it.
I'm going to share with you all the process now so that you can make your own in time for the holidays. It should be ready for straining & bottling just in time for gift giving.  It makes a wonderful hostess gift for all those holiday parties or for handing out to the neighbors or co-workers.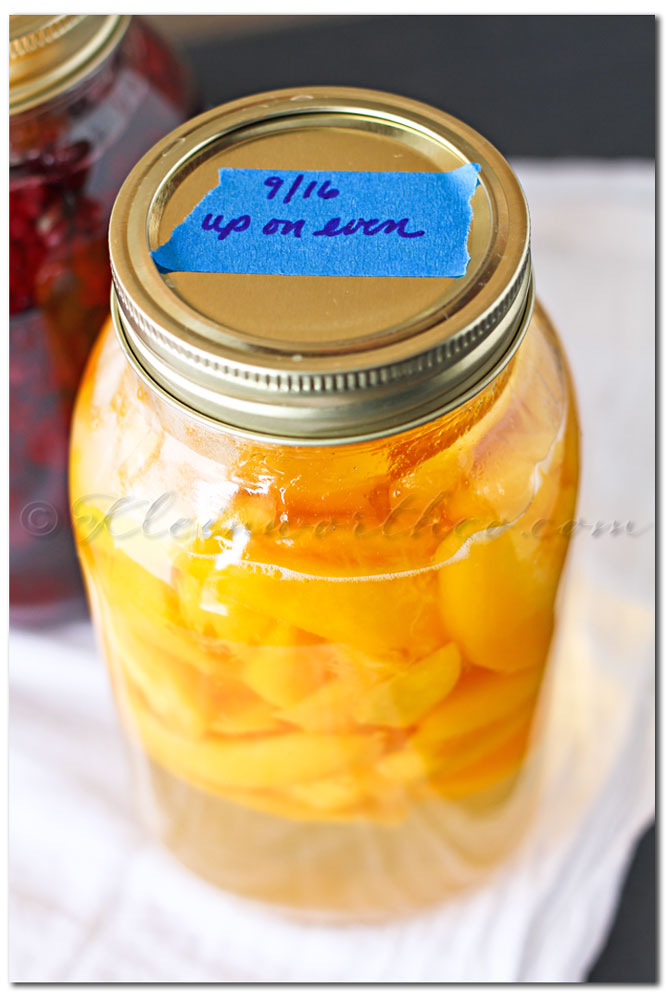 You can see I just used some painters tape on the top & wrote the date & a reminder of when the jar should be upright.
This helps to remember if you have turned them each day or not- unless you forget for a couple days  🙂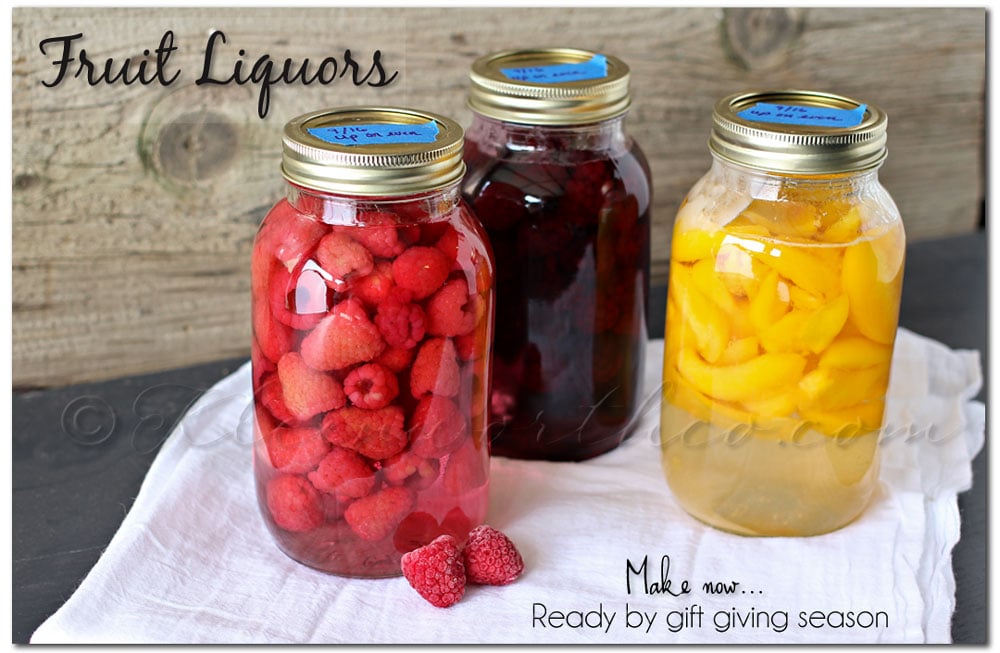 I put these together the night before I took the pictures.  As you can see the sugar had almost completely dissolved & the liquid had started turning color already.   I'm really going to love watching this process over the next couple months.  I have between now & then to find some really pretty bottles for the finished product & I'm so excited.
How to Make Homemade Liquors
Ingredients
1 - 2 pt jar per flavor
2-1/2 cups fruit of choice (or enough to fill the jar)
(*note- if making apricot brandy you can add the apricots whole- do not pit or skin)
12 tbsp granulated sugar
Vodka (least expensive- plastic bottle) to fill
Instructions
Sterilize your jars & allow to cool
Fill with your fruit to the neck of the jar
Add sugar
Pour in your vodka- to the neck of the jar
Put on lid making sure your seal is tight.
Add a strip of tape & write the date on it
Store on the counter - does not have to be a particularly sunny or dark place
Flip every day for 3 months - once the fruit shrinks & is floating in the liquid it's okay to just give it a good shake everyday
When the 3 months is up- strain out the fruit pieces through a colander
To make the brandy more clear- strain again though a coffee filter.
Transfer to air tight decorative bottles if giving as a gift.
https://www.kleinworthco.com/how-to-make-homemade-liquors/
Recipe Source: www.kleinworthco.com | (c) Kleinworth & Co All images & content are copyright protected. Please do not use my images without my permission. If you wish to republish my recipe, please re-write it in your own words or link back to this recipe.
What flavors will you make??
To see where I am linking today- visit HERE
[include id="1″ title="Footer Ad"]