Chocolate Peanut Covered Caramel Apples with the best homemade caramel, chocolate & peanuts makes these the best fall dessert around. YUM caramel lovers.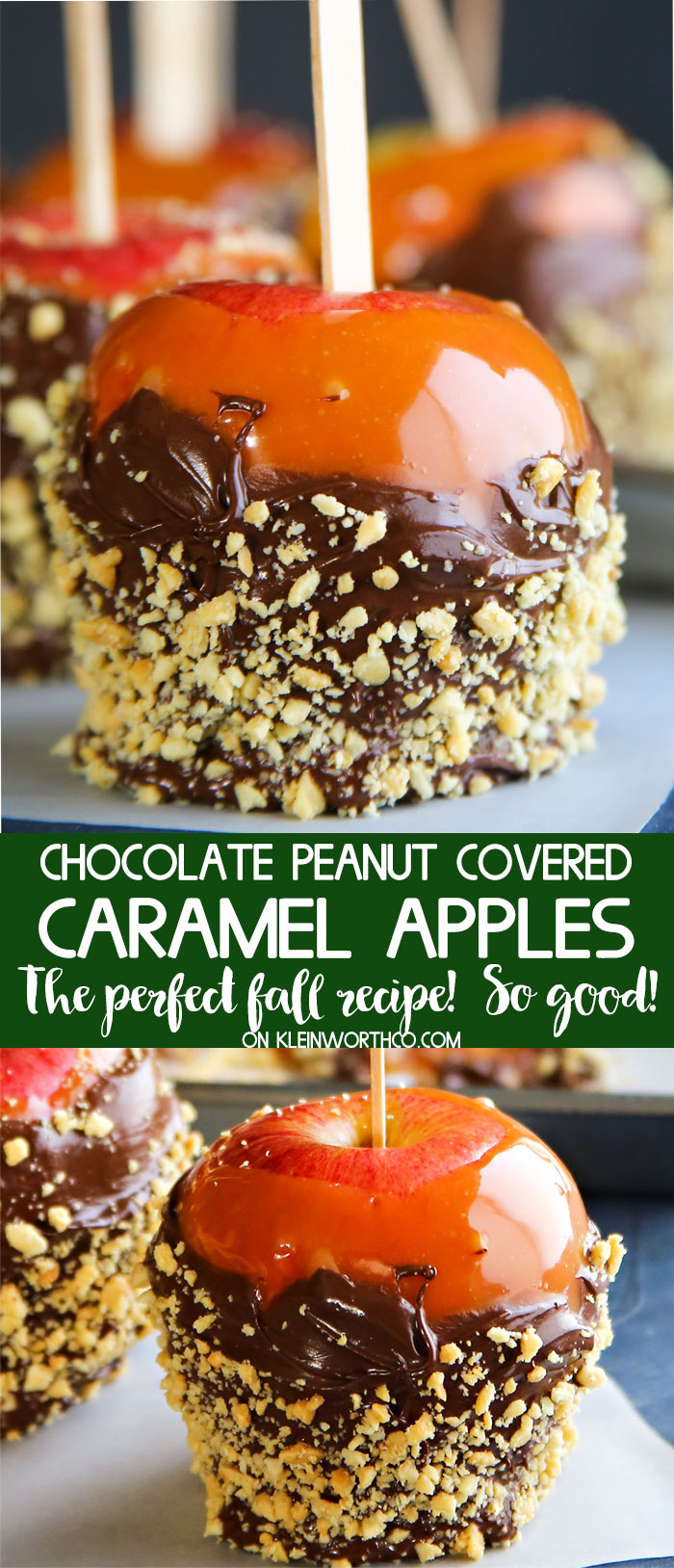 Ha! Do I have a treat for you today!!!! This Caramel Apples RECIPE is insanely delicious! A bit ago the hubs came home with these ENORMOUS apples. Like they were over 4 inches tall & weighed over 1 pound each. He bought 5 apples at $1.99/lb & the total was near $15. So you do the math. These suckers are HUGE! You might remember me posting an image on Instagram about it.
Homemade Caramel Apples Recipe
This post contains some affiliate links. Click here to read my full disclosure policy.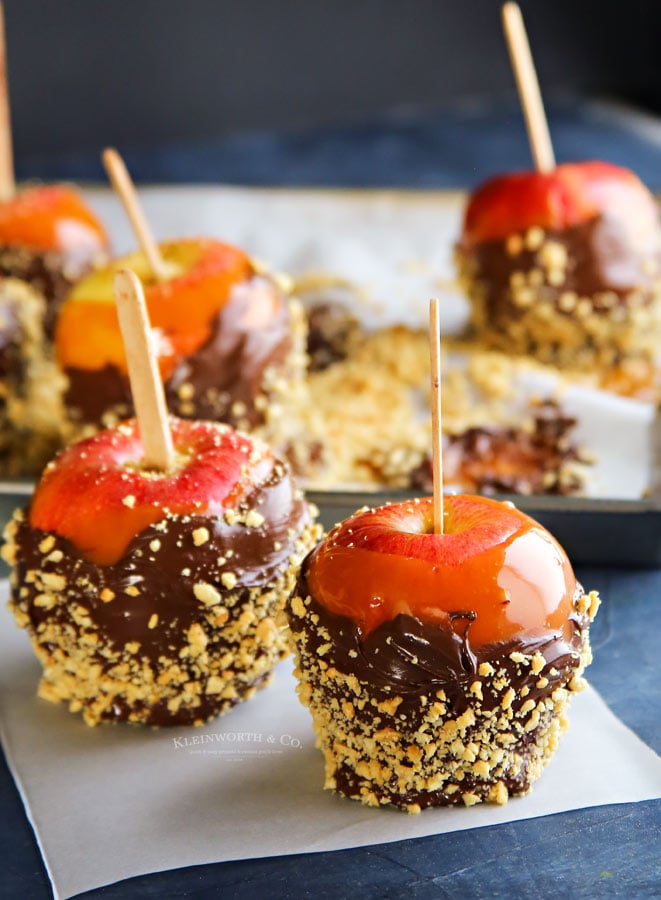 If you caught my post the other day you know I shared a recipe for homemade caramel. While I was making said caramel I just couldn't resist the urge to smother those giant apples with the gooey goodness. I mean, they were just begging to have something fabulous done with them. Years ago we lived near Virginia City, NV. It's this old mining town turned tourist attraction in Northern Nevada. We used to go there all the time. It's a favorite place.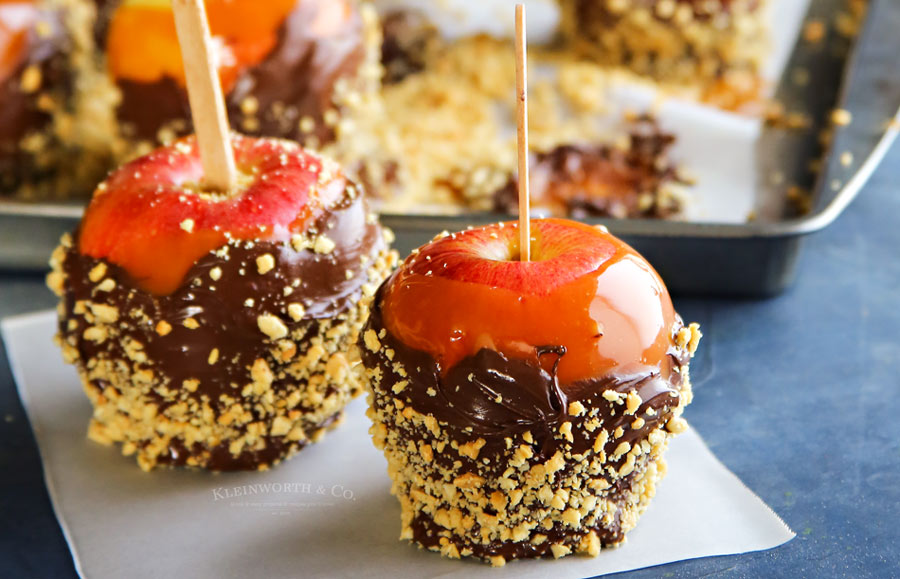 One of the places I would always stop is the fudge shop there. They had these fabulously giant apples all decorated beautifully. It's been a good long while since we have been up there since we moved to the Southern part of the state & I missed having those.So I decided to give it my best shot at recreating my own. Oh yes- I decided to them also dip them in melted chocolate & peanut butter chips too. Just for good measure.
Chocolate Peanut Covered Caramel Apples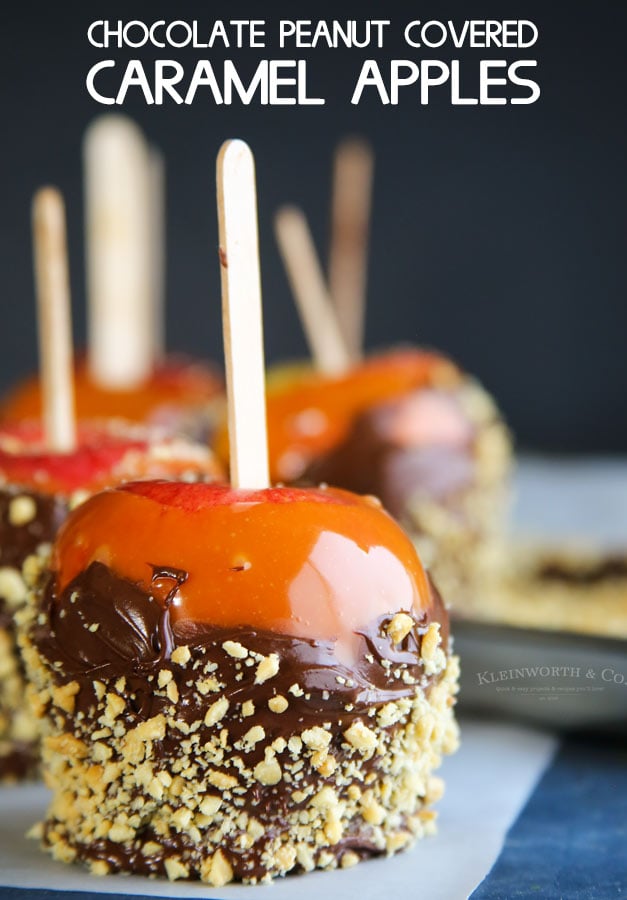 These are my #1 favorite fall dessert! So good- you have to make them!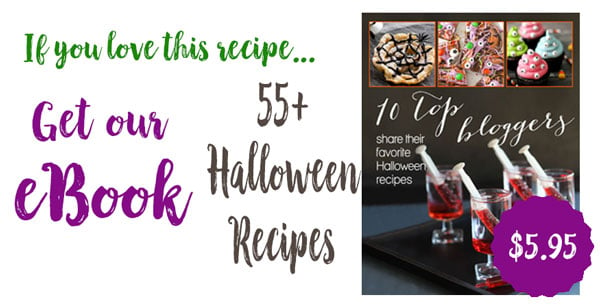 If you make this recipe- please leave a link or tag me on Instagram @KleinworthCo
Looking for more great caramel recipes?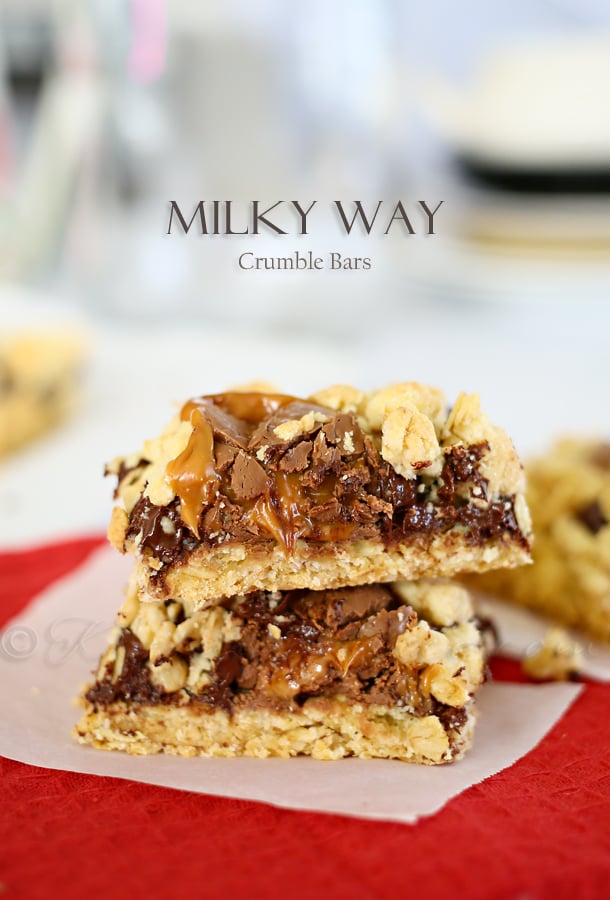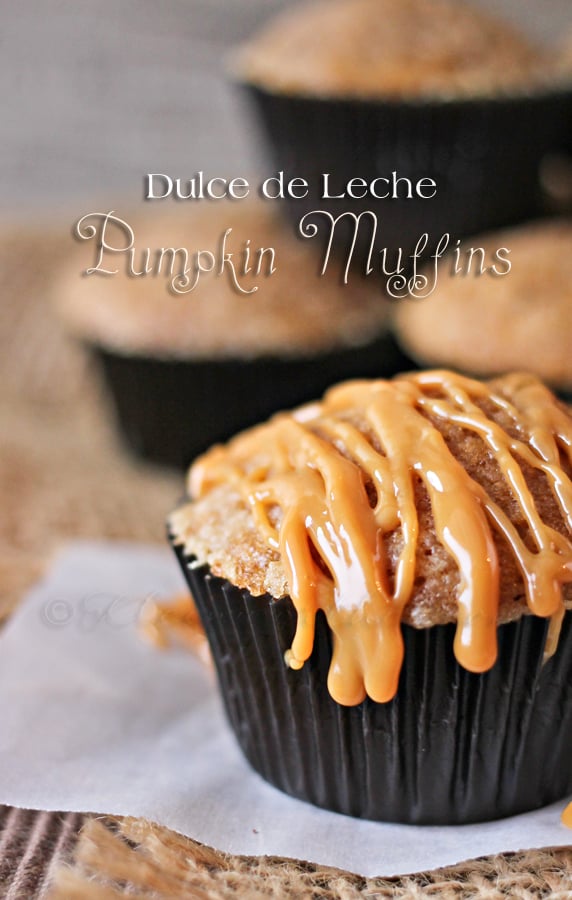 Dulce de Leche Pumpkin Muffins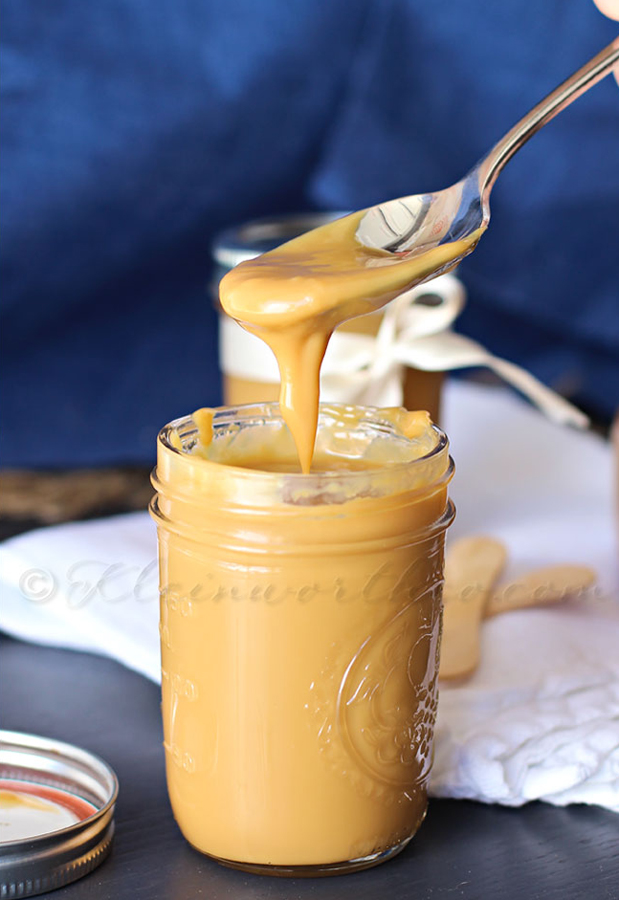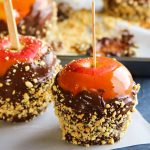 Chocolate Peanut Covered Caramel Apples
Amazing caramel apples
Prep Time 20 minutes
Cook Time 40 minutes
Total Time 1 hour
Ingredients
6-8 large apples + popsicle sticks
1 cup 2 sticks Butter
2 cups packed Brown Sugar
1 cup Light Corn Syrup
1 can 14oz Sweetened Condensed Milk
2 tsp Vanilla Extract
2 cups milk chocolate chips
1 cup chopped peanuts opt
Instructions
Heavily butter a Silpat sheet. Set aside.

Insert sticks into cleaned apples.

In a 2qt heavy saucepan, combine butter, brown sugar, corn syrup & sweetened condensed milk. Bring to a boil over medium heat.

Cook & stir until candy thermometer reads 248 degrees (firm ball stage) This should take about 30-40 minutes.

Remove from heat, carefully stir in vanilla extract.

Working quickly, dip each apple & turn to coat.

Holding by the stick you can sprinkle with whatever topping you like. OR you can set aside on a Silpat to cool. Be sure to work quickly if sprinkling as the caramel will set fast.

While caramel is setting, melt your chocolate chips in a small bowl by microwaving in 30-second increments - stirring in between each time.

Dip & turn apples to coat.

Immediately sprinkle with peanuts & then set back on Silpat.

Transfer to refrigerator to cool & harden.
Don't miss these great ideas from these bloggers….
My Big, Fat, Chewy Chocolate Chip Cookie | The Girl Who Ate Everything
Caramel Pretzel Peanut Butter M&M Bars | Inside BruCrew Life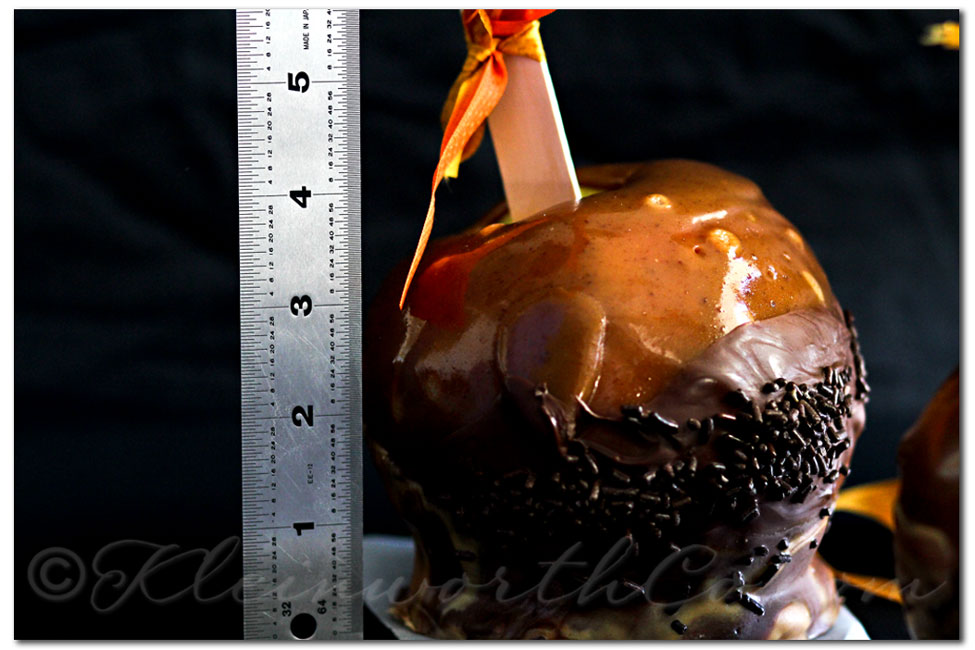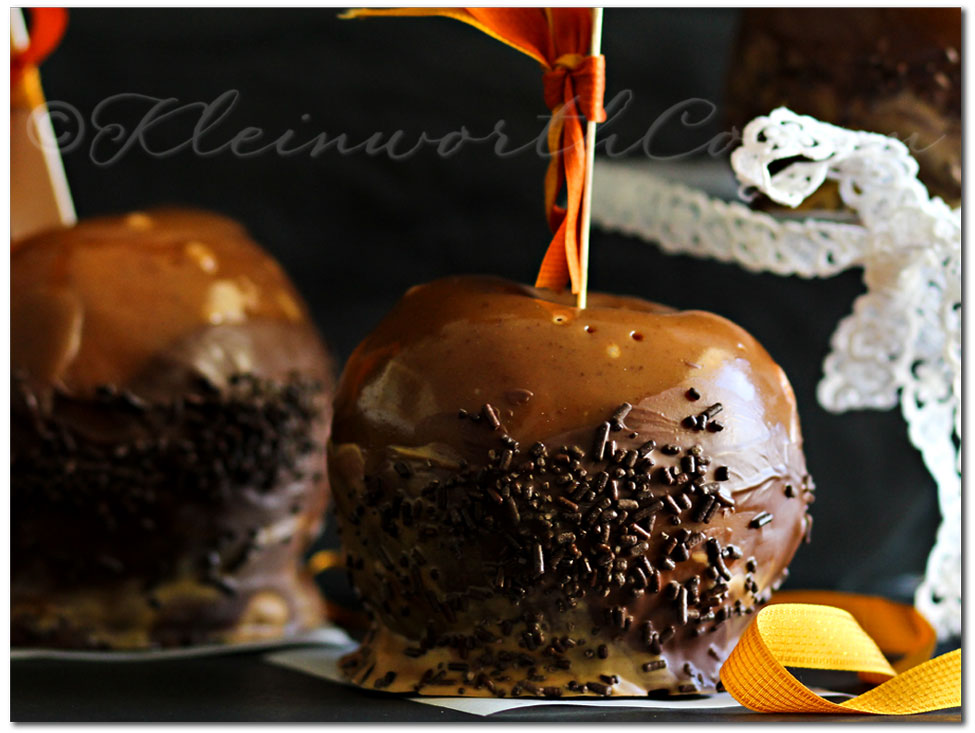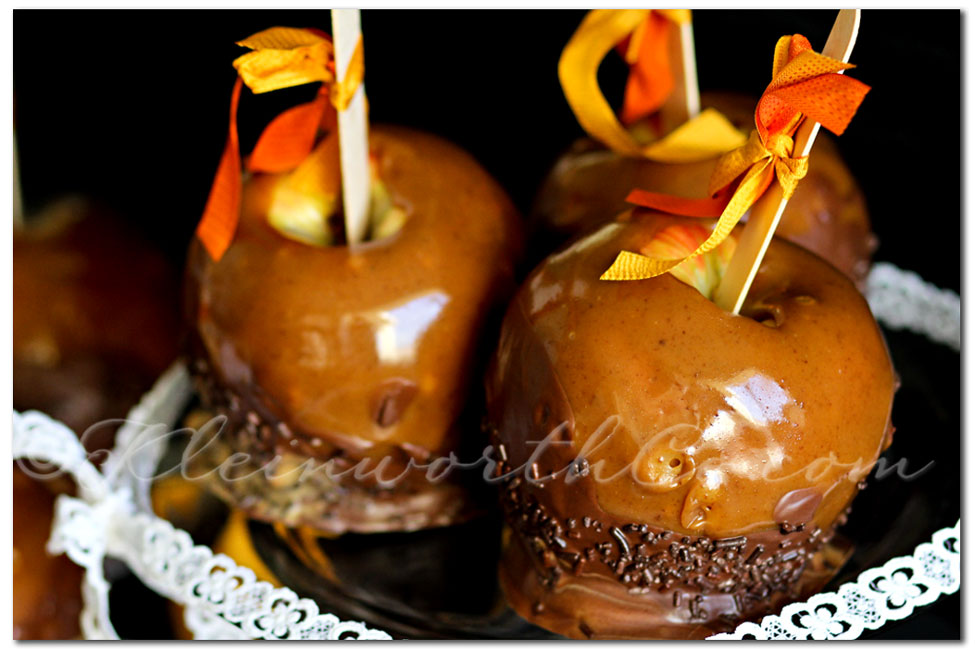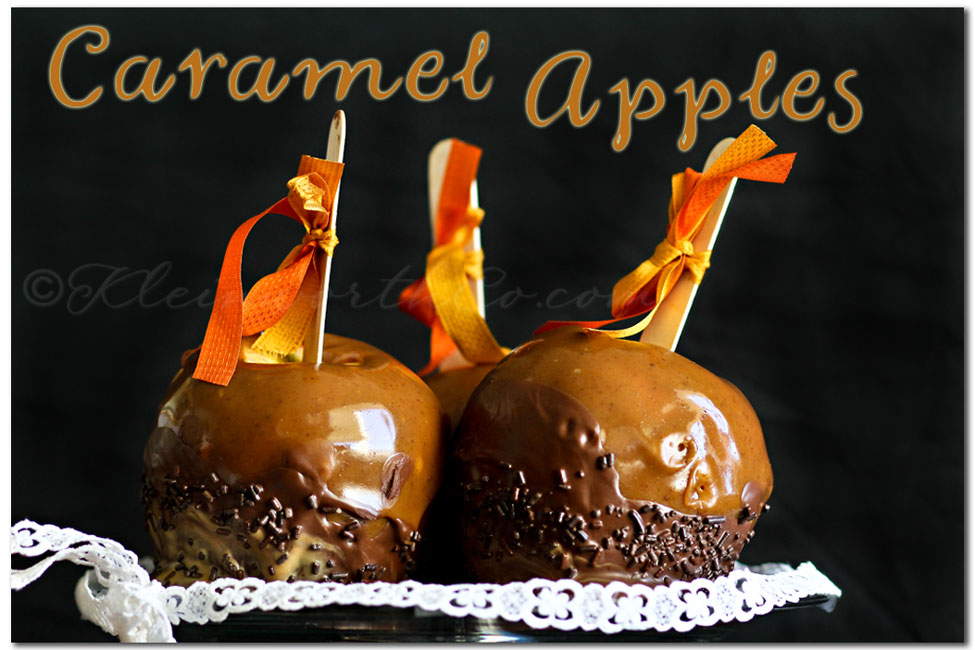 0
Reader Interactions