30-Minute Garlic Parmesan Dinner Rolls, the perfect bread recipe to serve with any meal. Great for holidays, so simple to make. Cheesy, garlicky goodness!
I have to admit, I have a love affair with bread. It's a huge weakness for me. Light & fluffy dinner rolls top the list of favorites for sure. From the start, the process of making my own bread is incredibly satisfying.
I love watching the yeast proof & seeing the dough rise & especially the kneading process. It's all so soothing to my soul. So it's no surprise that not only do I have a lot of different bread & roll recipes here, but they are my most popular recipes as well.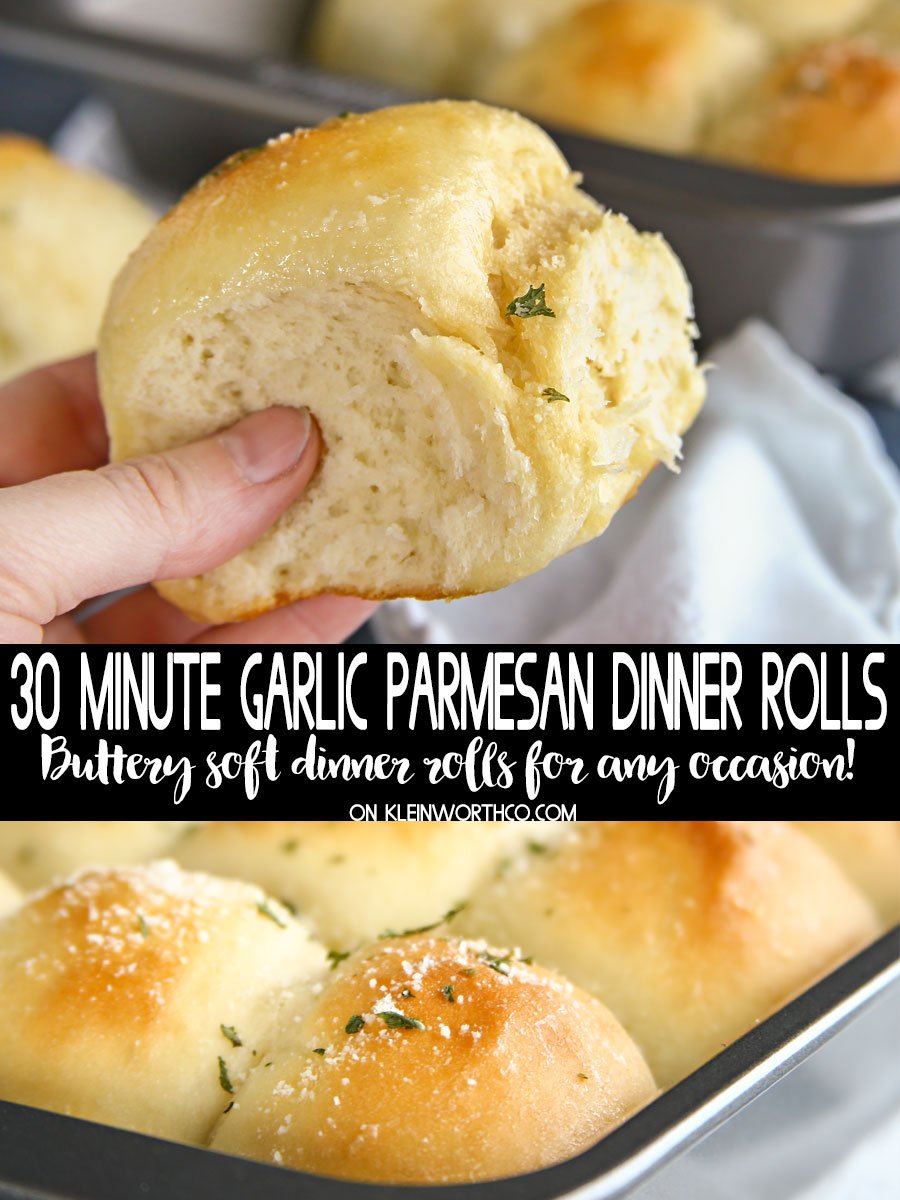 There must be a whole lot of people out there that share my love for bread. Are you one of them?
While my one-hour dinner rolls are still leading as my favorite, I created this condensed version, 30-Minute Garlic Parmesan Dinner Rolls that's pretty darn good too. With rolls ready in just 30-minutes, I just had to share the recipe with you.
Dinner Rolls
This post contains some affiliate links. Click here to read my full disclosure policy.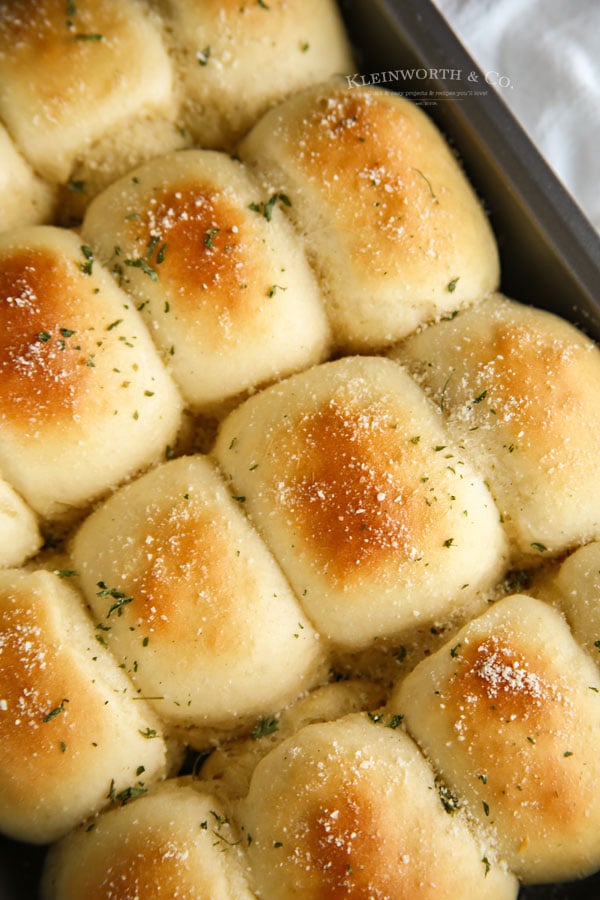 Now the key to easy bread, getting your water temperature right when you are proofing the yeast. When recipes call for warm water, it means somewhere between 115-125 degrees. I know it seems hot but it's just perfect for getting the yeast to grow.
Any cooler & it can take a whole lot longer to proof. Any hotter & you risk killing them altogether – which means it won't rise & your bread will be dense & be more like a hockey puck than a dinner roll. Not good.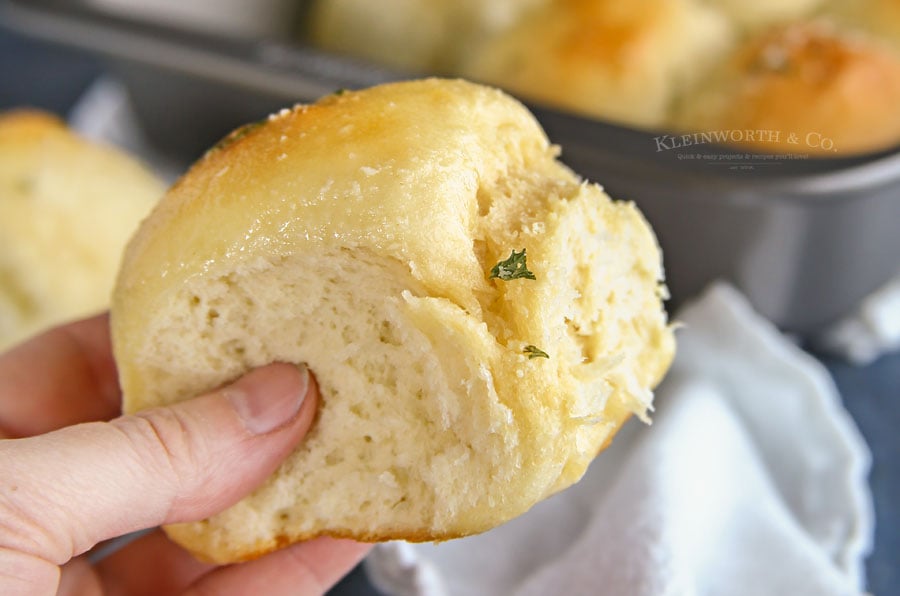 So I picked up a digital thermometer so I can get the water just perfect. It wasn't too expensive & my bread making has been so much more enjoyable too. For all my bread recipes, I also really like to use THIS YEAST. I promise both will help immensely.
30-Minute Garlic Parmesan Dinner Rolls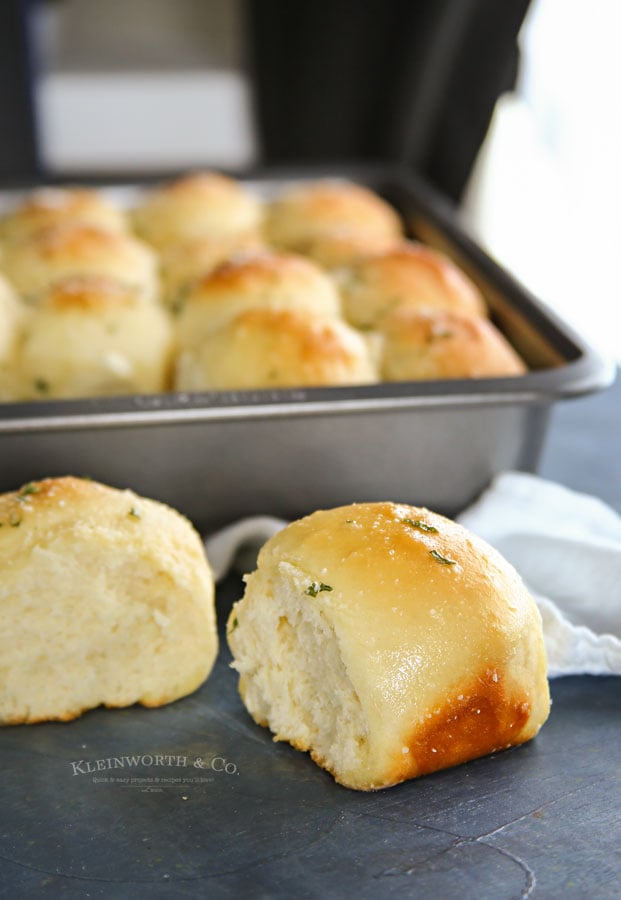 Here are some commonly asked questions
Does this really take just 30 minutes?
Yes- I know that it is hard to believe, but yes you can make these rolls in about 30 minutes. Unlike my One Hour Dinner Rolls which are still the "fan-favorite" here & literally take exactly 60 minutes to make, this dinner rolls recipe comes in at about 30 minutes depending on how warm your kitchen is when you are proofing the yeast & letting the dough rise. Not too bad for a bread recipe, right?!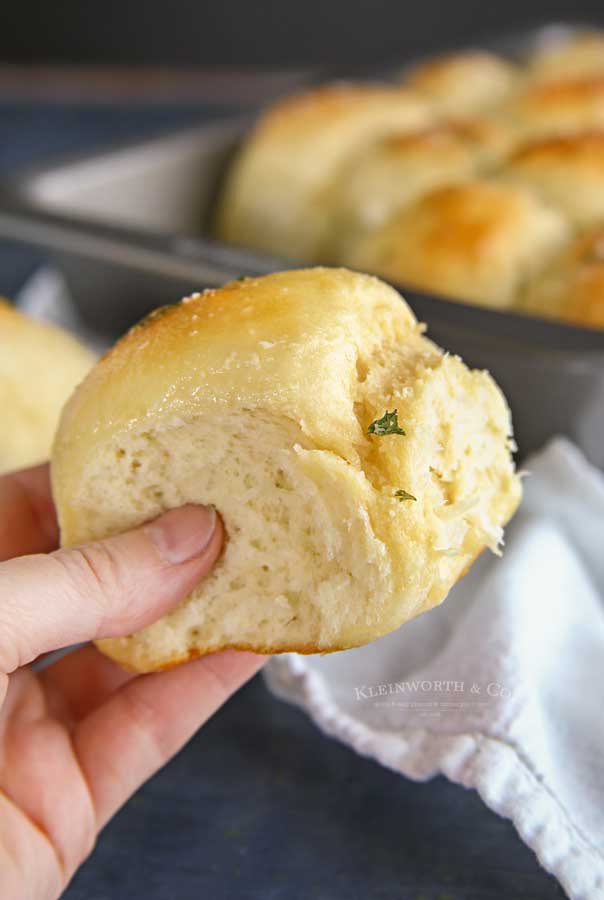 What is the best way to store leftover 30-minute dinner rolls?
While you can keep them in an airtight container on the counter or in the pantry, I have found that since they don't contain any preservatives, they lasts the longest when refrigerated. Just pull them out about 15 minutes before you want to enjoy them so they can warm up to room temperature. Or you can microwave for a few seconds to take the chill off.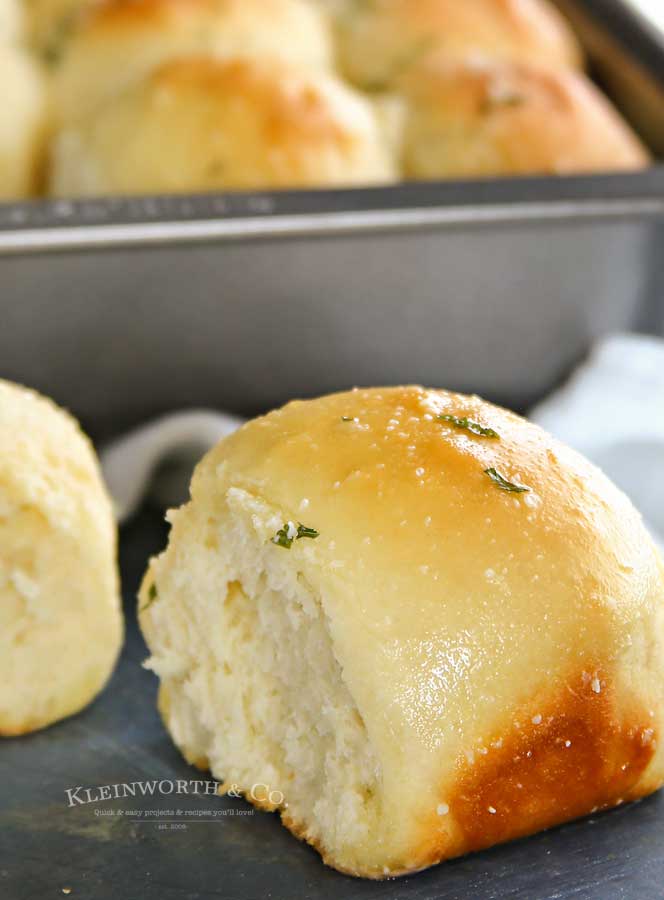 Can this recipe be doubled?
I don't recommend doing this because even with my pro-sized mixer, the dough fills the bowl. Doubling it would make it really difficult to mix & knead as needed. I have however made back to back batches. While one round is raising, I will have another batch proofing so those rolls are ready to bake as soon as the others come out. We sure like our dinner rolls in this house.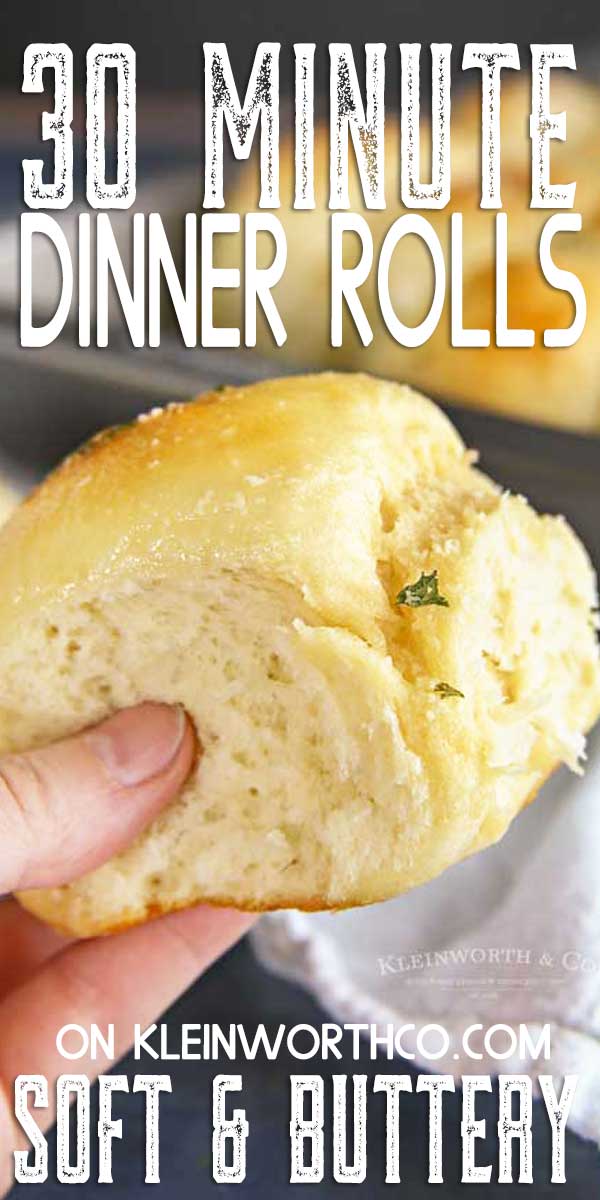 How many rolls does this make?
This recipe makes 16 rolls, which is perfect for a smaller gathering. It is also perfect for regular weeknight dinners. You don't need to be celebrating a holiday to make these rolls. They are great any time of year.
HOW DO YOU MAKE 30-Minute Garlic Parmesan Dinner Rolls?
Line baking sheet with parchment or non-stick liner- set aside.
Combine yeast with warm water & sugar in a large bowl – allow to proof approx 2-5 minutes.
Add in oil, salt, egg & flour & mix until combined. (adding a little more flour if the dough is too sticky.)
Separate into 16 equal-sized pieces & shape into rolls.
Place on a prepared baking sheet & let rise approx 5-10 minutes in a warm place. (I usually turn on my fireplace & set them on the hearth to rise)
Brush raised rolls with melted butter & sprinkle with granulated garlic, cheese & parsley.
Preheat oven to 375ºF.
Bake rolls for about 18-20 minutes.
Spread additional butter on top before serving
Can these be made gluten-free?
I have not tried making this gluten-free. However, I have heard that there are certain gluten-free flours out there that do allow for a one-to-one replacement. You could give them a try & see how it turns out. If you do this, please come back here & let me know the results. I would love to hear about it.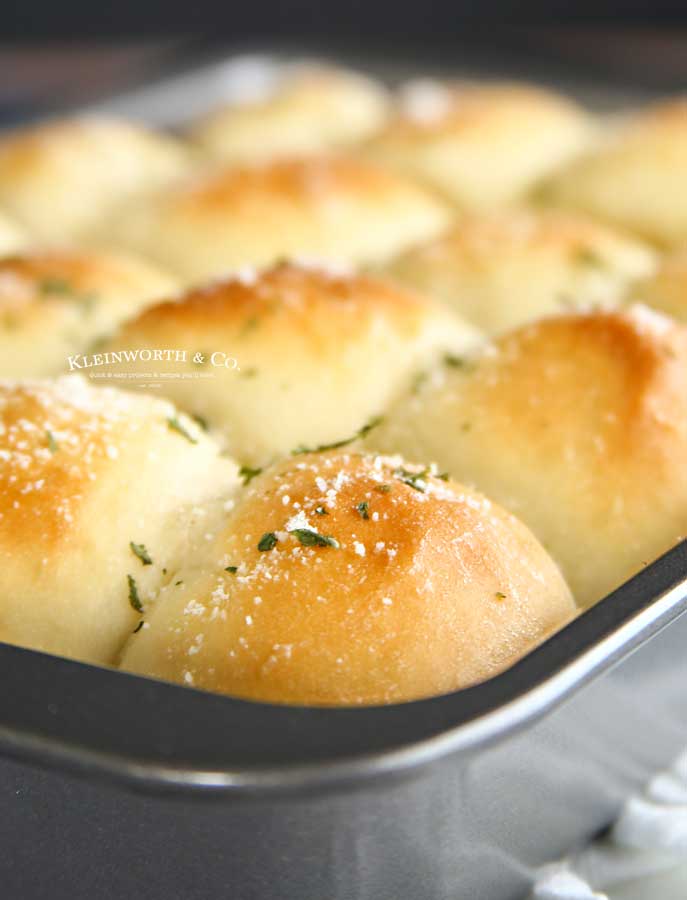 Can this recipe be halved?
I wouldn't recommend cutting this recipe. It might be easier to make them & then pop what you don't plan on using in the freezer for another time.
To make this recipe you will need…
warm water
granulated sugar
yeast – instant or platinum works great
canola oil
salt
egg
all-purpose flour
melted butter
granulated garlic
parmesan cheese
parsley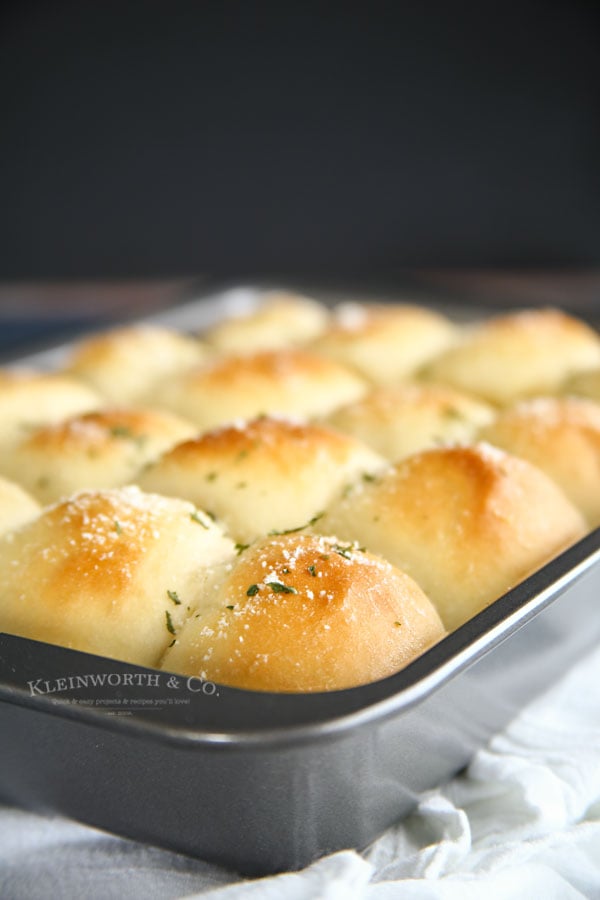 I hope you enjoy these with every meal!! We not only make these often to go with our dinner, but they are great for holiday meals too.
What will you serve them with first?
Scroll to the bottom for the Printable Recipe
HOW TO MAKE DINNER ROLLS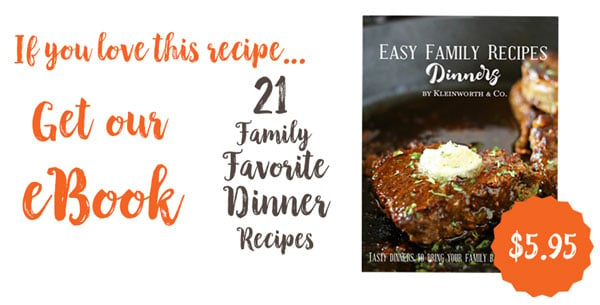 Products I love when making this dinner roll recipe…
This Garlic Parmesan Dinner Rolls recipe is so easy and delicious – and if you're like me, then you probably already have a lot of these items on hand like I do! OR If you've never made homemade rolls before, you might be a bit hesitant – but you're going to love the how easy this is. I have made a list below of the things I absolutely can't live without when it comes to making these rolls.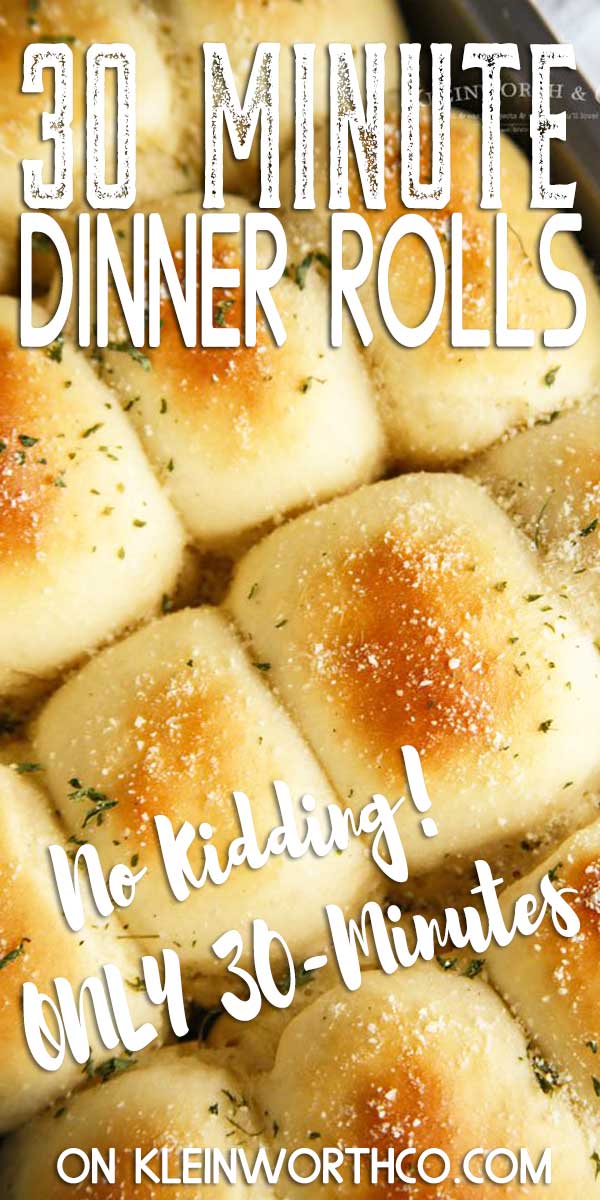 If you love this Garlic Parmesan Dinner Rolls recipe, you're going to love these other awesome dinner recipes too. Please click each link below to find the easy, printable recipe!
Don't miss these great ideas from these bloggers….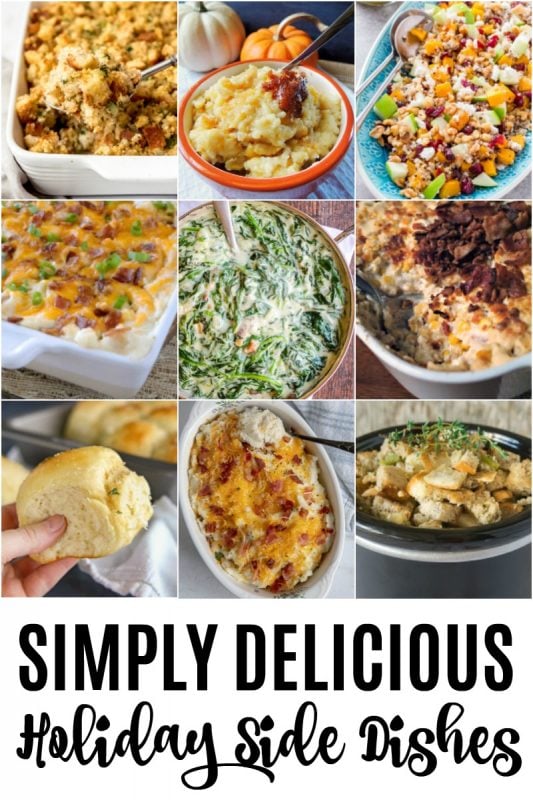 Southern Cornbread Dressing Recipe
Caramelized Onion Mashed Potatoes
Baked Cream Cheese Corn with Crumbled Bacon
Butternut Squash Apple Quinoa Salad
Loaded Mashed Potato Casserole
Slow Cooker Christmas Stuffing