This Garlic Butter Filet Mignon is the most tender & delicious cut. Smothered in garlic butter, it melts in your mouth. A great easy family dinner idea or perfect for a romantic dinner in that is ready in under 30 minutes.
Oh my word! Have you ever made a filet mignon? A while back I mentioned that we purchased a half cow & so our freezer is stockpiled with several hundred pounds of beef. We had the butcher do a variety of cuts & we have been having so much fun creating recipes of things we have never made before.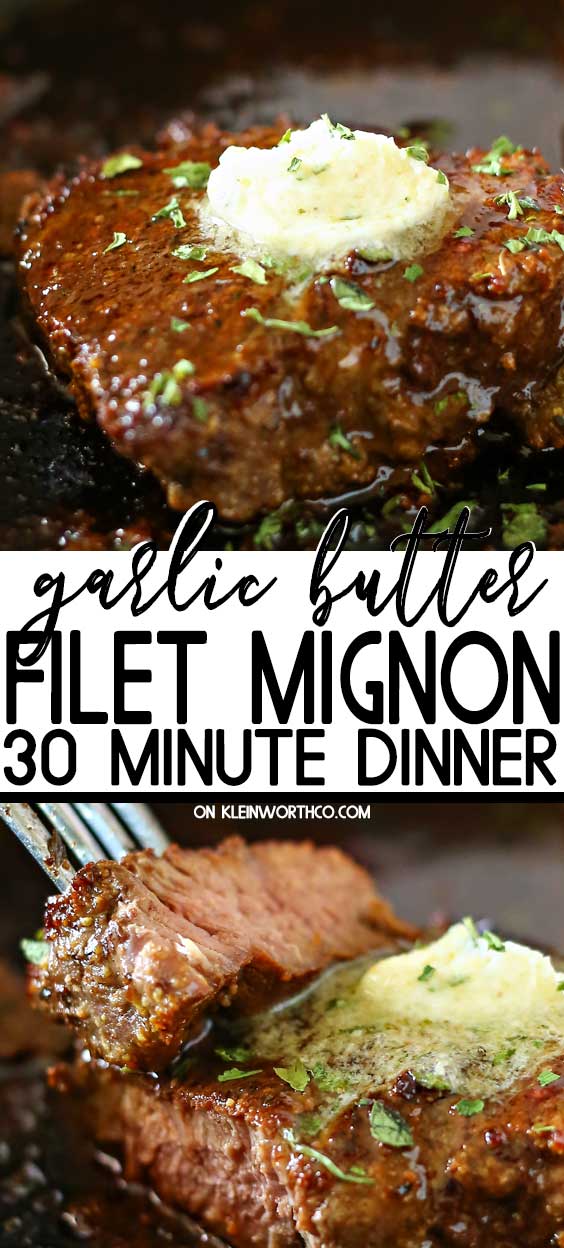 As with most things we are making for the first time we referred to good ol' Betty Crocker for the basic method. Then we always add, subtract & mix it up to make things our own. Once we have methods & cook times covered the ingredient list is all our own & we continue to adapt from there as we make things more & more often.
This was one of those recipes that definitely sounds way harder than it actually is. I was quite surprised at the ease at which it came together & yet the AMAZING taste just blew me away.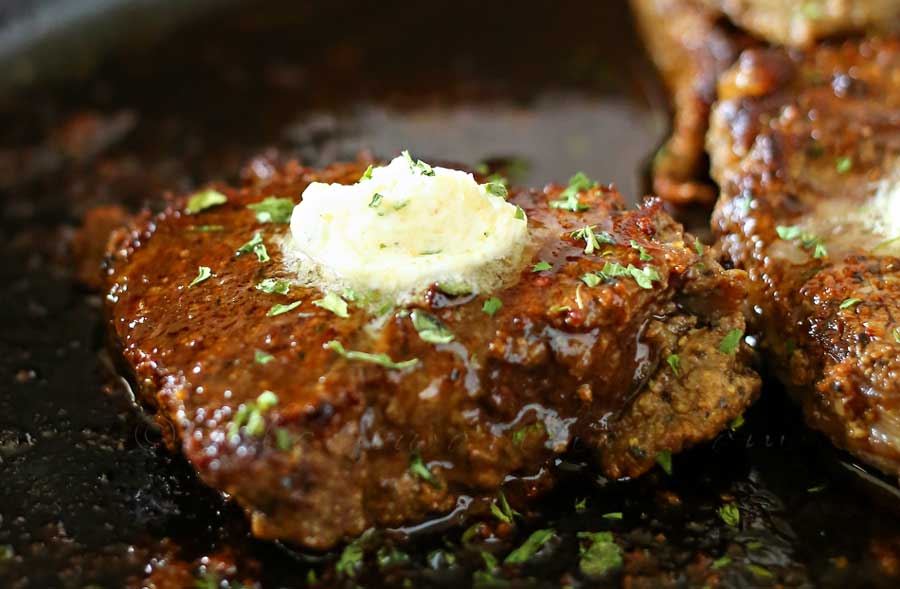 It was so tender & juicy, oh my word. Adding a jar of my Italian garlic butter was the best decision.
Wow it just added so much to the filet. I am now wishing we asked for more of this cut because with the 5 of us, what we have won't last long.
filet mignon recipe
This post contains some affiliate links. Click here to read my full disclosure policy.
The key to this is the cast iron skillet. It was something we didn't own for the majority of our marriage, believe it or not.
But now we have a whole bunch & honestly can't imagine life without them. They are certainly an essential part of making food amazing!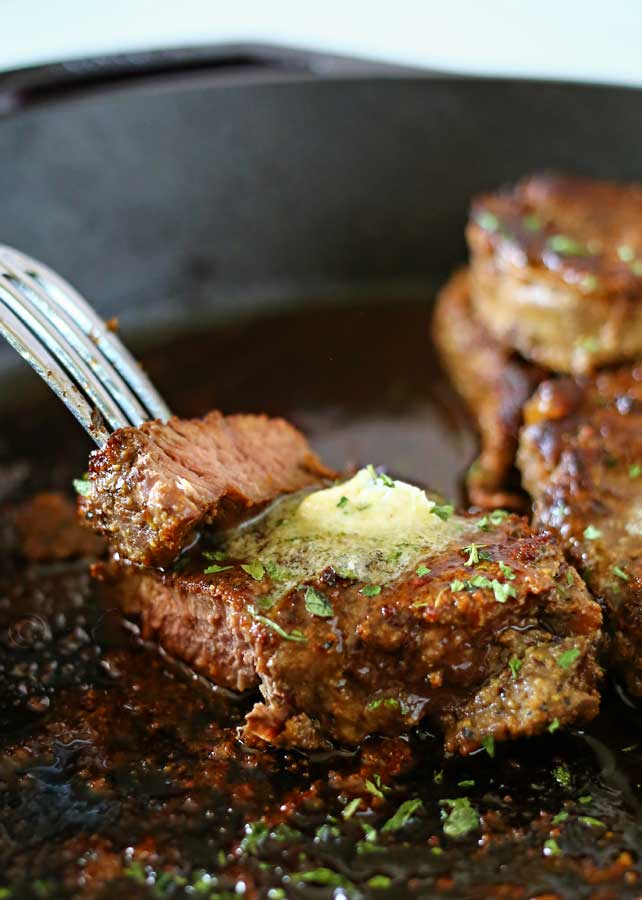 I love that this recipe seems complicated, but is really incredibly simple. That is what makes it not only great for a dinner party, but also for a romantic night in with your honey.
Completely addicting & it just melts in your mouth. My mouth is literally watering as I write this – I want MORE!

Here are some commonly asked questions
Can I make this in a different type of skillet?
I have not tried it with another type. Just make sure that it can withstand the heat of being baked in the oven at 450 degrees. I prefer the cast iron because if it is properly seasoned, it is naturally non-stick & evenly distributes the heat.
Is filet mignon keto?
Nope – but if you used a dairy-free butter & omit the worcestershire sauce for this recipe then yes it would be. But then it would be an entirely different recipe & not taste as amazing as this one does.
What is the best way to store leftover filet mignon?
We never have leftovers of this incredible dinner. However, if you happen to not finish it all up, place leftover meat in a shallow airtight container. Be sure to label with the date before refrigerating. This recipe should keep for up to 3 days.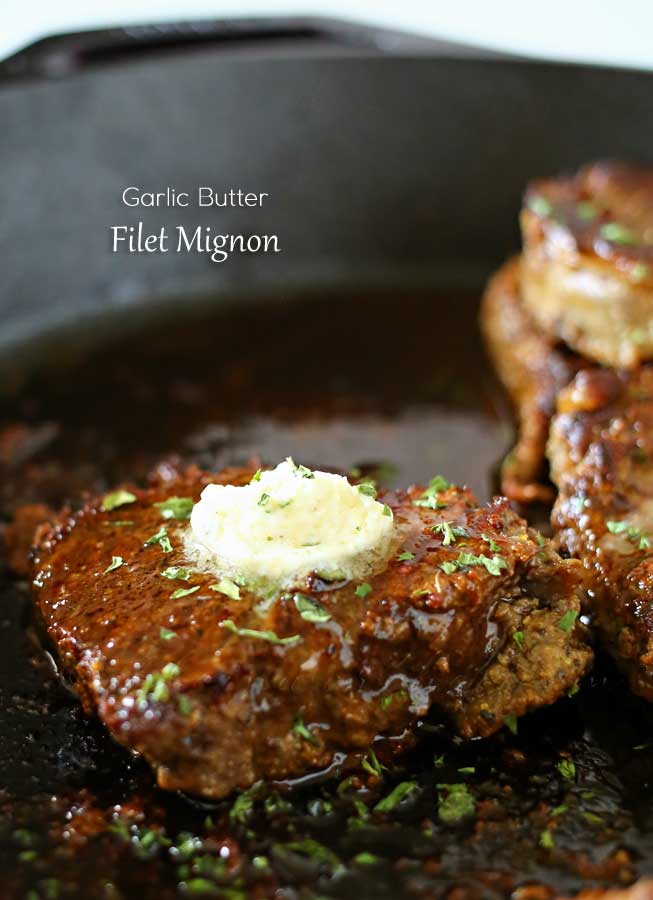 Where filet mignon cut from?
The filet mignon is cut from the tenderloin, which is part of the loin primal. The tenderloin itself runs through the short loin (which also includes the strip) & the sirloin (which includes the top sirloin) sections of the loin primal.
How many can this serve?
This recipe calls for 4-6, so it would be 4-6 people. That is unless you have some big appetites & someone has more than one piece. But this is perfect for a family dinner or hosting a couples dinner.
filet mignon oven
Can this recipe be doubled?
Yes, absolutely. If you happen to have a very large cast iron skillet or 2 skillets, then you can double this if you need to.
HOW TO COOK FILET MIGNON?
Preheat oven to 450 degrees.
Take your meat out of the refrigerator & let sit for at least 15-30 minutes.
Unwrap & pat dry – meat will seer better when dry.
Place in a seasoned cast iron skillet close together but not touching.
Add in your worcestershire sauce & seasonings -except parsley.
Cook on each side approx 3-4 minutes. (place & leave it- don't move it, let it seer)
Once the meat has browned on all sides, it's time to move to the oven & cook 7-8 minutes.
Remove & immediately add your garlic butter & parsley.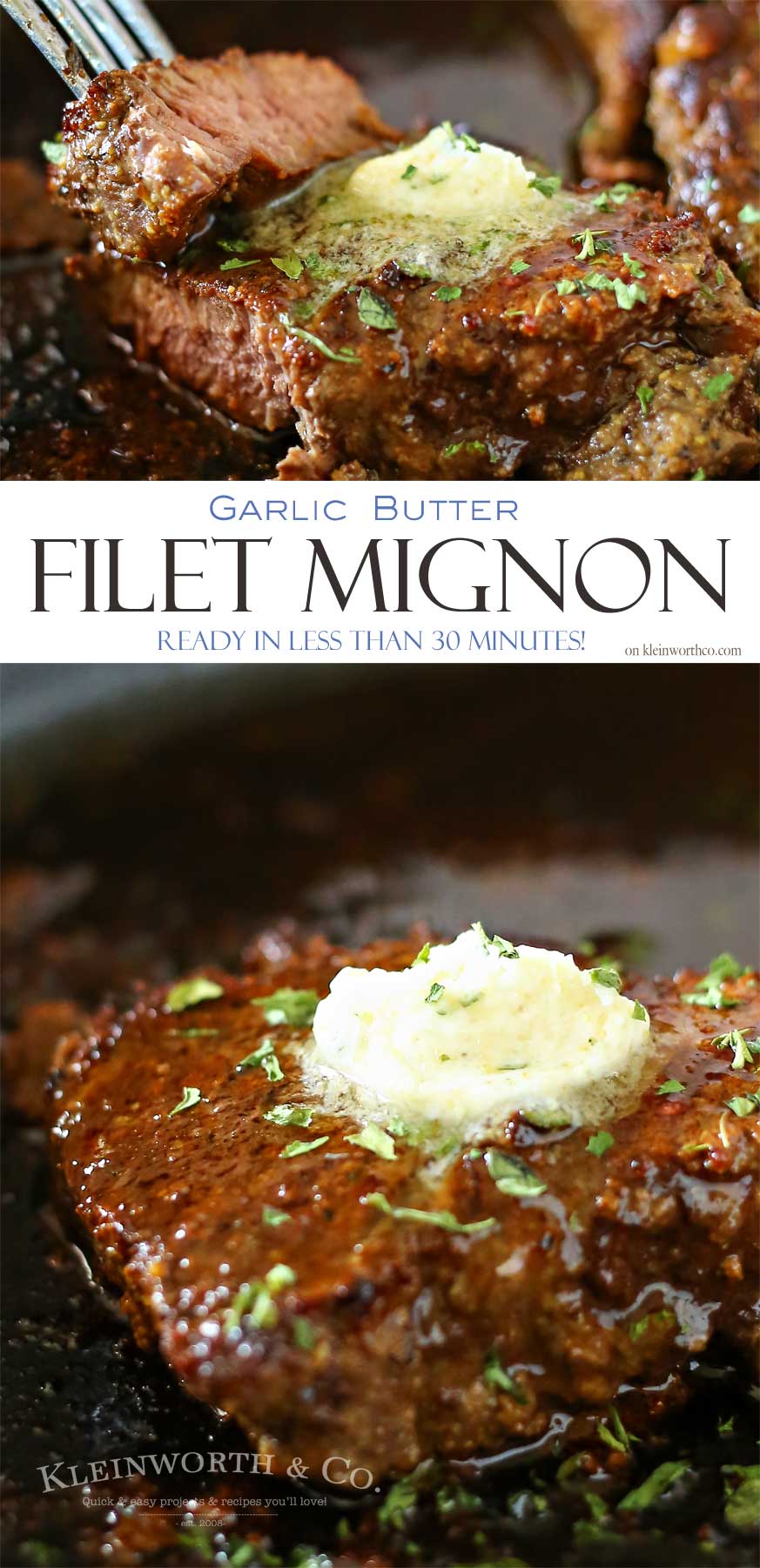 Can this be made wrapped with bacon?
Absolutely. If you want to cook fresh bacon wrapped around the filet, you just need to wrap the filet with a strip of bacon & secure with a toothpick. Then follow the rest of the recipe as written.
filet mignon cast iron
To make this recipe you will need…
Filet Mignon steaks
worcestershire sauce
salt
pepper
granulated garlic
sprinkle of parsley
Italian Garlic Butter
Products I love when making this incredible filet mignon recipe…
This filet mignon recipe is so EASY and delicious – and if you're like me, then you maybe already have some of these items on hand OR maybe you have never made filet mignon before, & you might be a bit nervous – but you're going to love the how simple this recipe is. I have made a list below of the things I absolutely can't live without when it comes to making this dinner dish.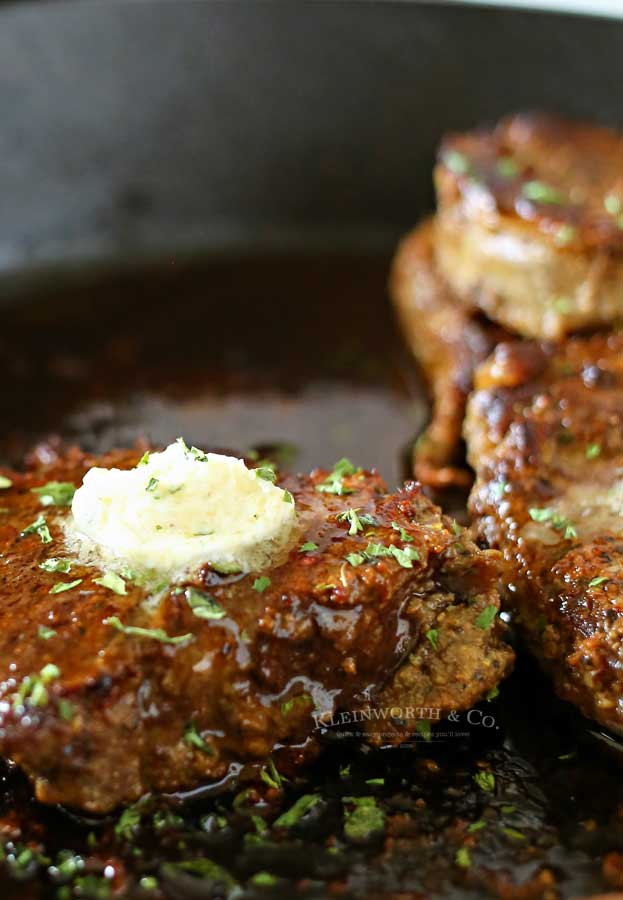 I'm telling you – this is AMAZING!!!
Scroll to the bottom for the Printable Recipe
how to cook filet mignon in oven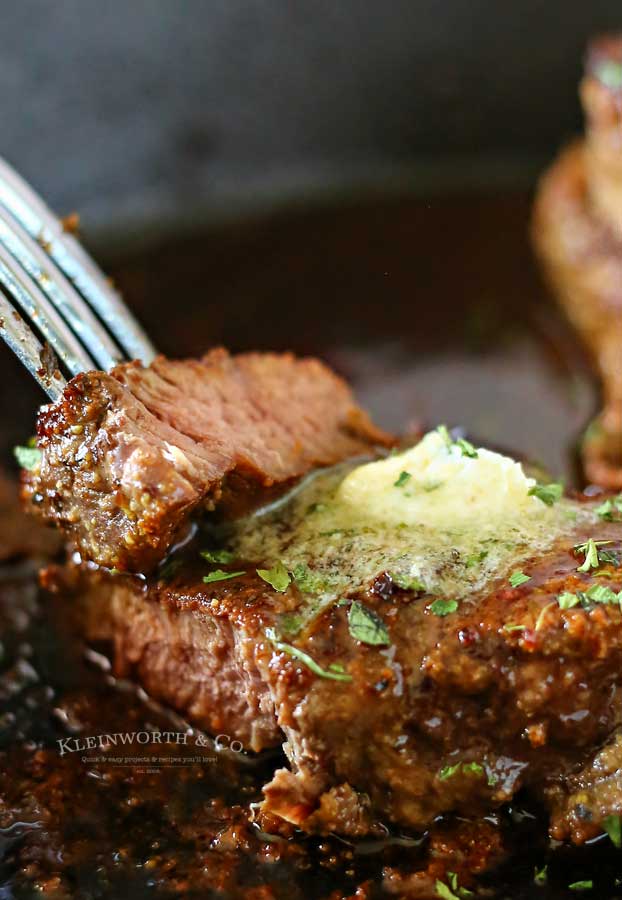 If you love this easy garlic butter filet mignon recipe, you're going to love these other delicious recipes too. Please click each link below to find the easy, printable recipe!
pan seared filet mignon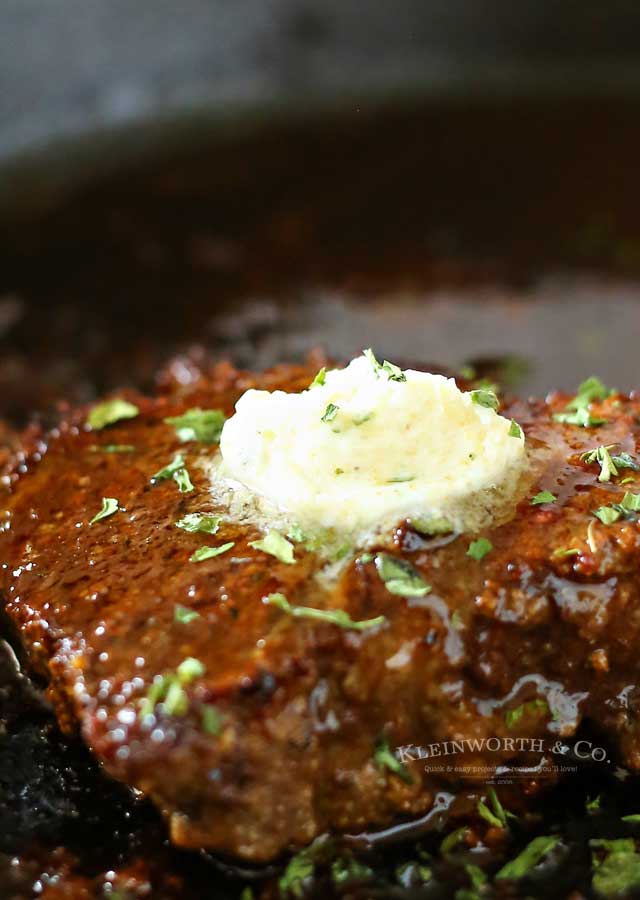 I just can't tell you how much we love it & I know you will too!
If you love this Italian Garlic Butter Filet Mignon recipe as much as I do, please write a five star review, and be sure to help me share on facebook and pinterest!
CONNECT WITH KLEINWORTH & CO!
Be sure to follow me on my social media, so you never miss a post!
FB, Pinterest, IG, Email Subscription

Reader Interactions