Homemade breakfast just got super easy with these 3-Ingredient Banana Muffins! Add nuts or oats to the top or enjoy them plain. Either way, they are TASTY!
This past summer my oldest moved out on his own to wrap up his second phase of college. I knew he would have a lot on his plate & so I didn't want him to have to worry about making breakfast.
But breakfast has always been really important in our house so I didn't want him to go without it. So I whipped up about a month's worth of these super easy 3-Ingredient Banana Muffins for him to be able to just grab & go.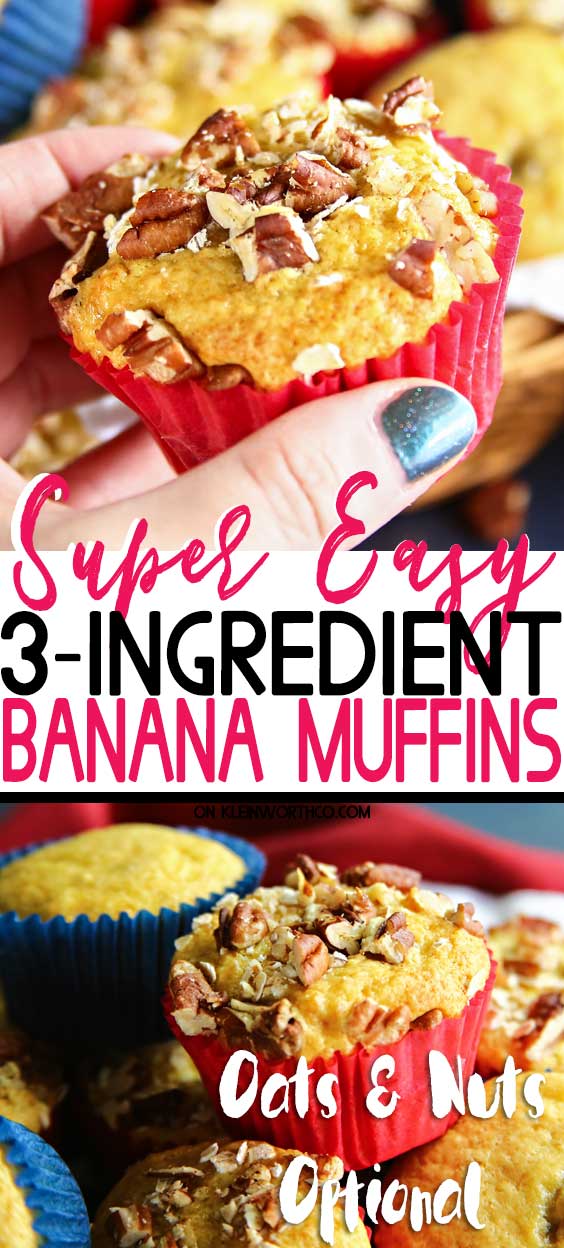 I try to make a whole bunch of freezable breakfast recipes throughout the month & store them away for when he comes home. After his visit, he can head back to school & not have to worry about buying breakfast ingredients for a while.
The best part about these muffins is that they are so incredibly simple to make, so I can whip up a lot of them in no time.
3-ingredient muffin recipe
This post contains some affiliate links. Click here to read my full disclosure policy.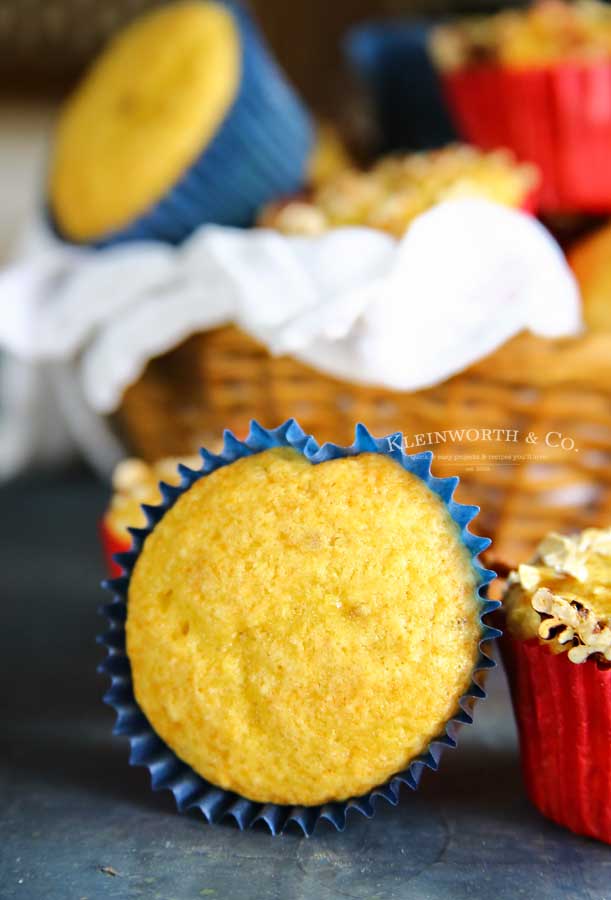 These muffins are great because they are so versatile. I like to make a plain batch & then mix in something different with each batch after that. It keeps things interesting.
Plus, with cake mix as one of the ingredients, it makes it really easy to change things up beyond the mix-ins.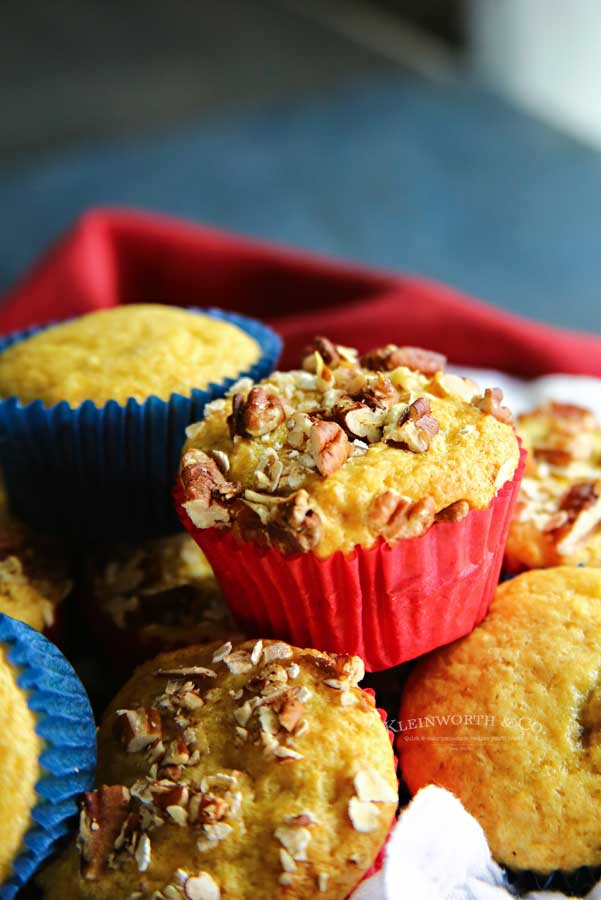 You know, these are a super quick & easy way to use up those overripe bananas that I know you have lurking in the pantry – just like I do.
That being said, I like to freeze them before they get too far gone. Then I can just pull them out one at a time as I need them for recipes like this one.
Here are some commonly asked questions
Can I make this recipe with chocolate cake mix?
Yes, you can use any flavor cake mix you like. I typically stick with yellow, white, vanilla or chocolate. But this would be tasty with spice or maybe even strawberry.
What is the best way to store leftover banana muffins?
I like to place any muffins we aren't enjoying immediately into a zip-top bag or plastic airtight container. These should keep well at room temperature for up to 3 days.
If you live in an abnormally hot, dry or humid climate, these might keep better in the refrigerator. This way they don't dry out or mold too quickly due to the variations in climate.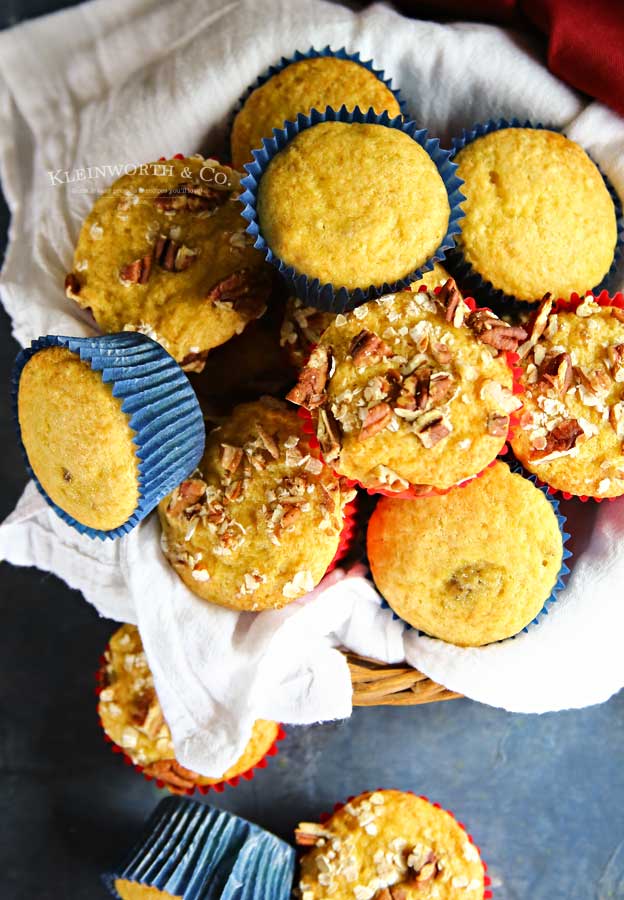 banana muffin recipe
Can this recipe be doubled?
Yes, absolutely. I like to double this recipe and freeze the second batch. Then I take them down to my son so he can have breakfast for a week or more. It's great when he doesn't have to worry too much about making meals with all the demands on his schedule.
Can this recipe be halved?
I haven't tried making a half-batch for this recipe yet. The trick would be cutting the cake mix in half accurately. Or you could make the recipe as it is written & then freeze whatever portion you won't use immediately or share with friends.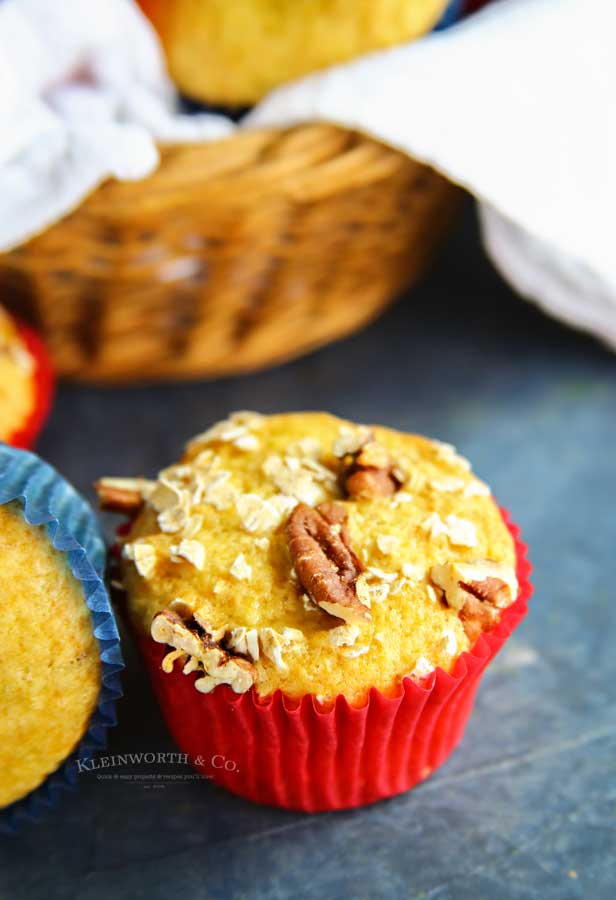 HOW DO YOU MAKE 3-Ingredient Banana Muffins?
Preheat the oven to 350°F.
Spray a 12-cup muffin tin with nonstick spray or fill with paper liners.
Mash the bananas in a large mixing bowl.
Whisk in cake mix and eggs.
Fold in any mix-ins you might be adding.
Spoon the batter into the prepared muffin cups, filling each about two-thirds full.
Bake until the muffins are golden brown or the toothpick test comes out clean, 16-18 minutes.
Cool the muffins in the pan on a wire rack for 10 minutes.
Remove the muffins from the pan & cool completely.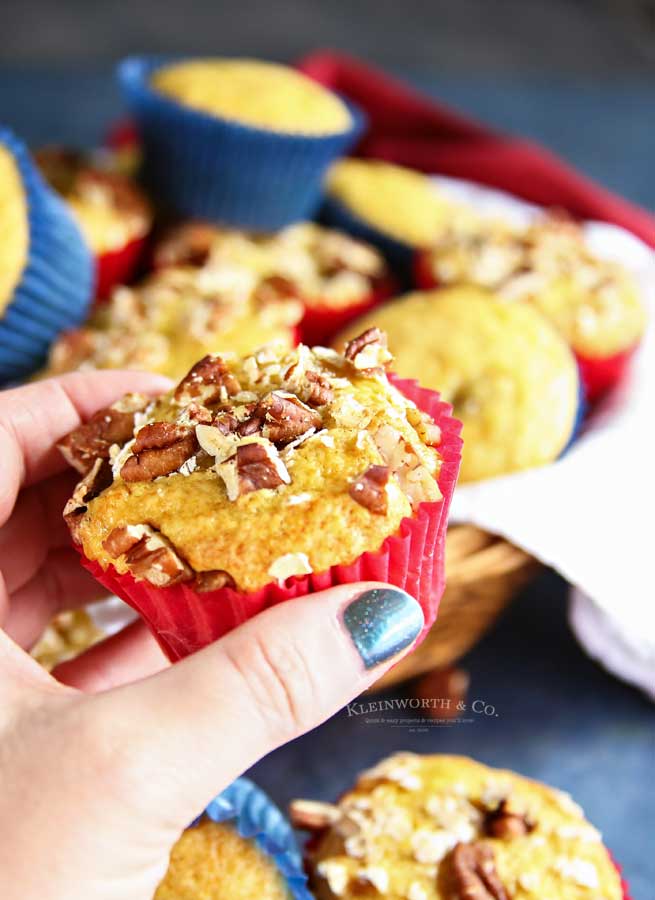 Can I use a gluten-free cake mix?
I'm not sure just yet. I have been meaning to give this a try but haven't had a chance. Please come back & tell me how they turned out if you give this a try.
Can I add fresh fruit this recipe?
Yes, you can fold in fresh blueberries or sliced strawberries. If you want to use frozen fruit, please make sure to thaw it first and then pat dry before adding to the batter.
Can I freeze this recipe?
Yes, as I mentioned above, these are freezable. Please place in a zip top bag or wrap in plastic wrap and then label with the date before freezing. These should last up to 3 months if properly wrapped before freezing.
muffins made with cake mix
To make this recipe you will need…
ripe bananas
cake mix
eggs
oats- optional
walnuts – optional
Products I love when making 3-Ingredient Banana Muffins…
This 3-Ingredient Banana Muffins recipe is so EASY and delicious – and if you're like me, you probably already have many of these items on hand! OR maybe you have never made homemade muffins before, & you might be a bit nervous – but you're going to love the how easy this breakfast is to make. I have made a list below of the things I absolutely can't live without when it comes to making these muffins.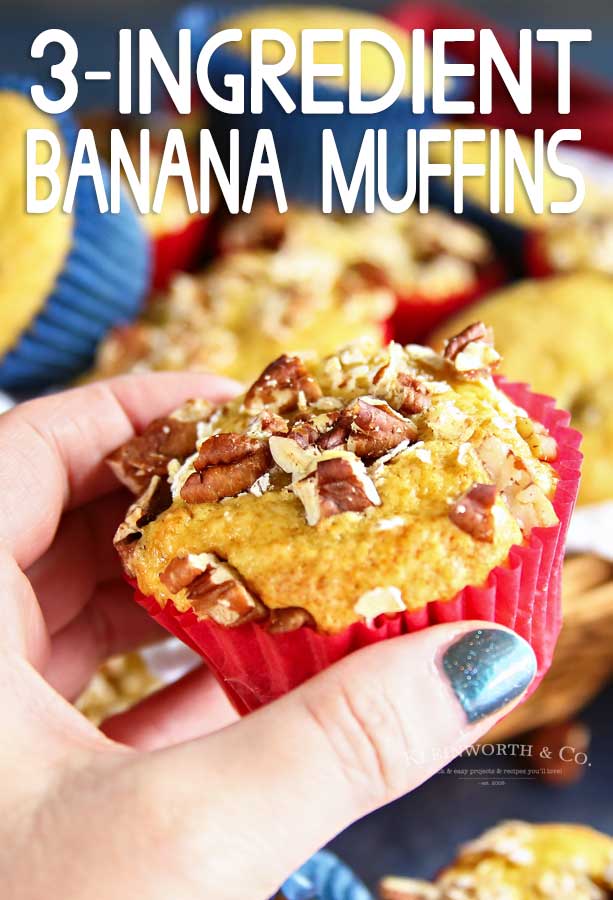 These are the perfect breakfast any time!
Scroll to the bottom for the Printable Recipe
banana muffins
If you love this 3-Ingredient Banana Muffins recipe, you're going to love these other quick & easy breakfast recipes too. Please click each link below to find the easy, printable recipe!

banana nut muffins
If you love this 3-Ingredient Banana Muffins recipe as much as I do, please write a five star review, and be sure to help me share on facebook and pinterest!
CONNECT WITH KLEINWORTH & CO!
Be sure to follow me on my social media, so you never miss a post!
FB, Pinterest, IG, Email Subscription
Reader Interactions