One Hour Brown Bread Dinner Rolls-Buttery, soft, fluffy dinner rolls literally take just 60 minutes to make! Just like your favorite steakhouse! The perfect recipe for holidays & gatherings.
Do you love bread? Oh man, it's my weakness. I love, love, love it & I really love making it.
I typically make my super popular, One-Hour Dinner Rolls at least once a week. The family goes nuts for them & really, they are over the top delicious.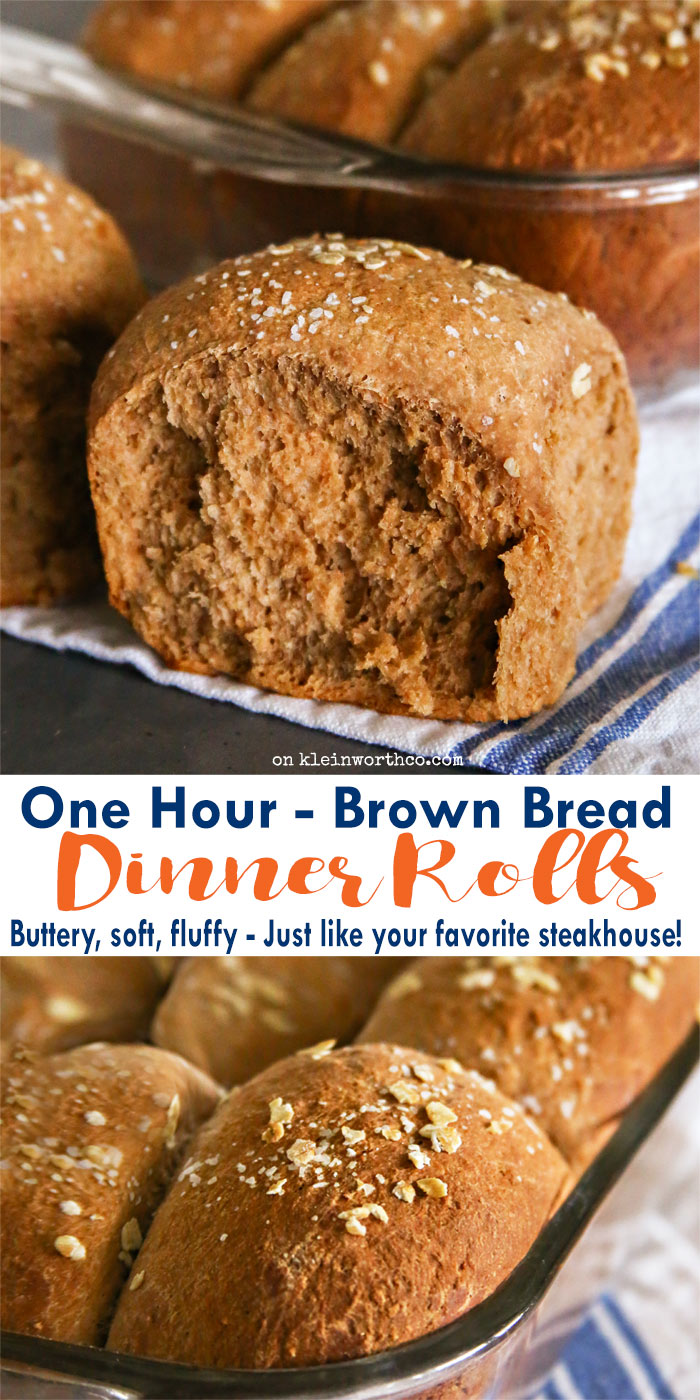 I especially love that they only take one tiny little hour to make. But it's been a while since we have been out to eat & when I saw a commercial for a local steakhouse & they showed that super delicious brown bread they serve, I was craving like crazy!
My go-to brown bread recipe takes the better part of a day to make & I wasn't really feeling that. So I set out to see if I could create a brown bread dinner roll recipe that was just as good as the restaurant & quick & easy too.
When I say easy – it had to take one hour or less. After a few tries, I am quite pleased with the result of these One Hour Brown Bread Dinner Rolls.
One Hour Brown Bread
This post contains some affiliate links. Click here to read my full disclosure policy.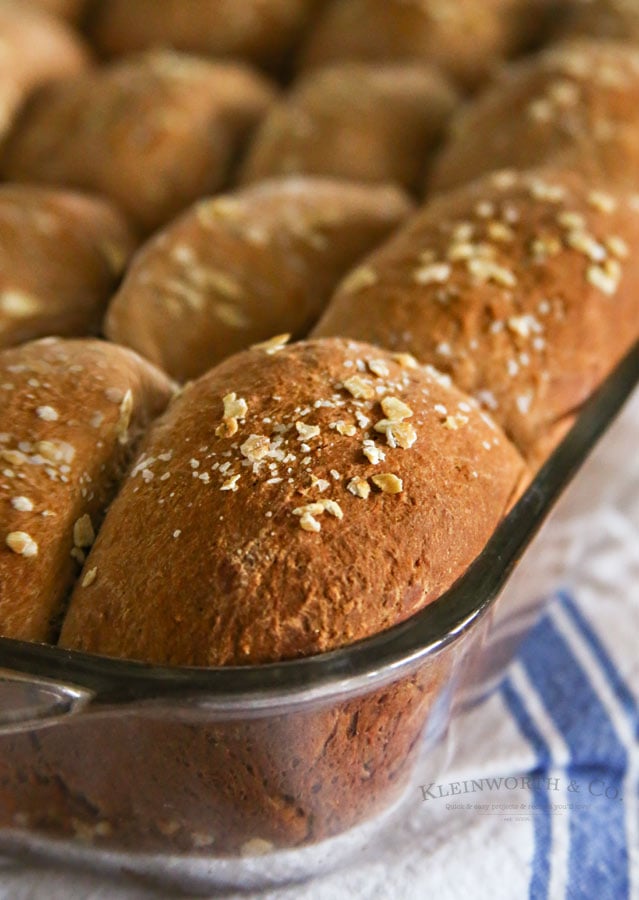 As I said, it took a few tries to get this one down perfectly. I originally started increasing the yeast & reducing the rise time to my original brown bread recipe.
Then I played with adding the brown bread ingredients to my one-hour roll recipe. Neither worked out & it was so discouraging to have to toss those out.
But then after working it some more – I came up with the perfect recipe & it's oh so tasty.
Here are some commonly asked questions
Please see the following frequently asked questions we get for these rolls. This will help assure that they turn out perfect each & every time you make these.
Does the sugar make these sweet?
Nope, not at all. It just helps things rise properly when mixed with other ingredients.
What is the best way to store leftover rolls?
I must say, we never have leftovers of these. However, if you happen to have a few extras lying around, place the leftover rolls in a zip-top bag or airtight container. This recipe should keep at room temperature for up to 3 days.
What if I don't have buttermilk?
No problem. If you happen to not have buttermilk, you can place 1 tbsp white vinegar in your measuring cup. Then fill the rest up to the 1-cup mark with regular milk. Then let it sit at room temperature for at least 5 minutes before mixing into the batter. (you will only need 3/4 cup of it for this recipe)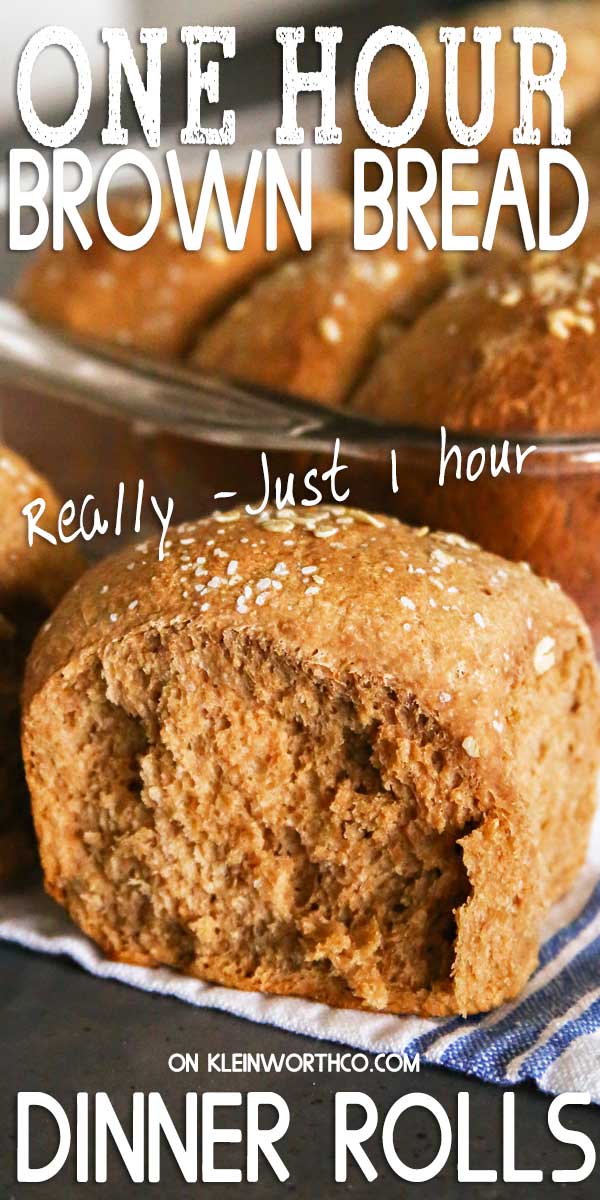 HOW TO MAKE One Hour Brown Bread Dinner Rolls?
In a large mixer bowl, combine water, buttermilk, sugar, melted butter & yeast, stir & then allow to sit approx 15 minutes for the yeast to proof. (you know it's ready when it's puffed & frothy)
Add in eggs, honey, molasses, cocoa powder, brown sugar, salt & flours & mix together slowly using a dough hook until flour is incorporated.
Mix/knead 10 minutes.
Once mixed, let rest 10 minutes.
Preheat oven to 375 degrees & spray 9×13 glass dish with cooking spray.
Knead the dough out on a lightly floured surface.
Cut into 12 large rolls.
Place in prepared baking pan, brush with melted butter & sprinkle with oats.
Bake 15-20 minutes.
Remove & brush with more melted butter & sprinkle with sea salt.
Serve while they are still warm.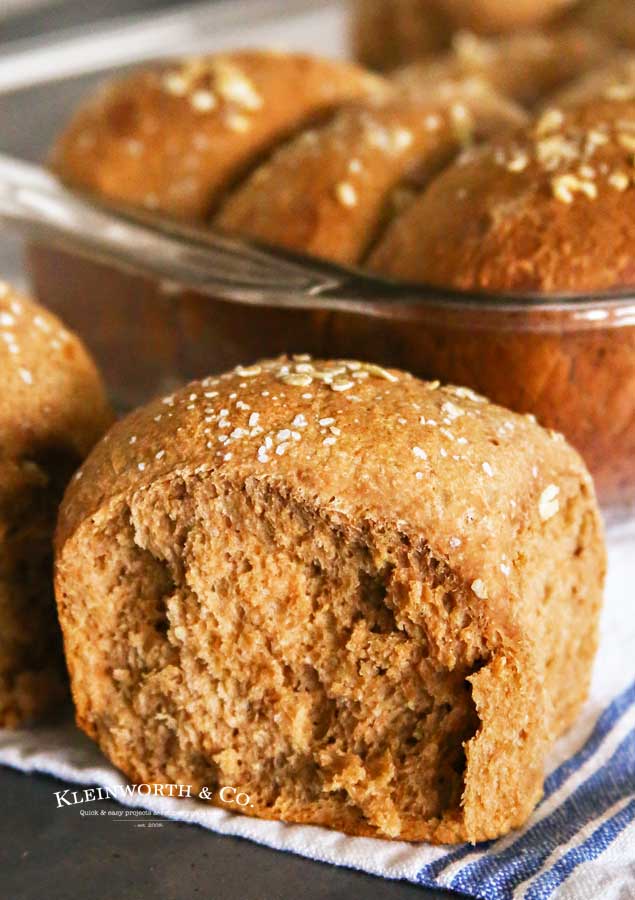 More Must-Try Dinner Rolls
best brown bread roll recipe
To make this recipe you will need…
warm water
buttermilk
granulated sugar
butter
dry active yeast
table salt
large eggs
all-purpose flour
whole wheat flour
raw honey
molasses
cocoa powder
brown sugar
oats
Additional melted butter & sea salt for topping
Products I love when making these incredible rolls…
This brown bread roll recipe is SUPER EASY and delicious – and if you're like me, then you maybe already have some of these items on hand OR maybe you have never made homemade rolls before, & you might be a bit nervous – but you're going to love these turn out. I have made a list below of the things I absolutely can't live without when it comes to making this roll recipe.
Brown Bread Dinner Rolls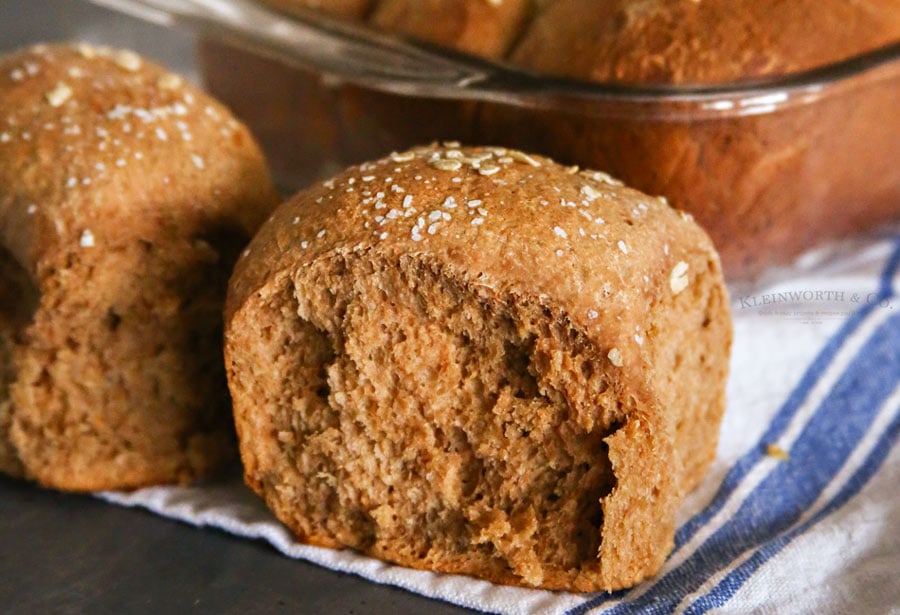 They taste just like the soft & warm rolls at the steakhouse.
I really had a hard time stopping after eating a couple with dinner.
If you love steakhouse style brown bread dinner rolls that are quick & easy- these are THE BEST!
Scroll to the bottom for the Printable Recipe
brown rolls
If you love this easy dinner roll recipe, you're going to love these other delicious recipes too. Please click each link below to find the easy, printable recipe!
brown bread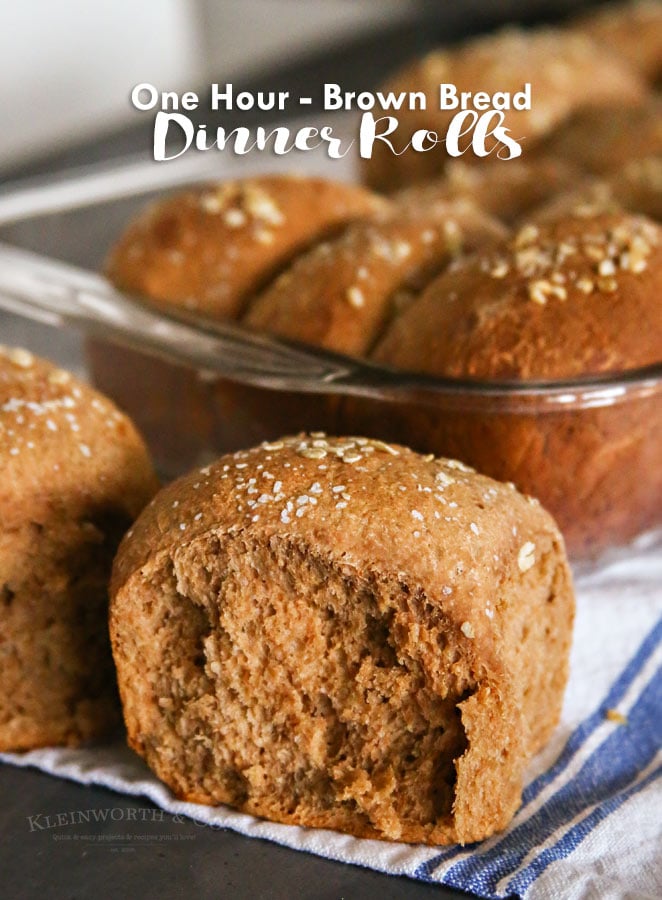 Reader Interactions