This post is part of a social shopper marketing insight campaign with Pollinate Media Group™
and WonderBag, but all my opinions are my own. #pmedia #WonderBag http://cmp.ly/3/8vNxcO.
Looking for Easy Family Dinner Ideas? Do I have a tasty dinner for you all today!
Best part- it's so incredibly simple- you won't believe it.
 As I usually do – I was browsing Pinterest for some inspiration when I came across THIS recipe shared on Recipe Swagger.  It looked so good that I knew I had to make it- with multiple twists of course.  Just a few days later I was asked to try this product called WonderBag & I figured this would be the perfect opportunity to put it & the recipe to the test.
What's WonderBag?  I knew you would ask that!  Well it's this bag for cooking that was created to help women in other countries be able to step away from cooking by the fireside & spend more time with their families.  Women who are poverty stricken in third-world countries typically spend 4-6 hours per day preparing meals.  The WonderBag has helped to reduce this time spent cooking & tending to open fires.  Can you imagine having to prepare meals that way for your family everyday?  I'm already in the kitchen long enough & I'm sure you are too.
The way it works is that the WonderBag has insulating properties that allow food that has been brought to a boil to finish cooking while in the bag. This obviously reduces the use of additional energy (can reduce fuel usage up to 30%) – thus saving money.  YAY for that!   This gave me so many ideas for ways this will really come in handy but I wanted to test it out in a more controlled environment first & used it for dinner one night.  What I didn't know when planning this is that one of the reasons I thought having this would be great actually happened in the middle of the dinner prep & I was SO THANKFUL I was using the WonderBag that night.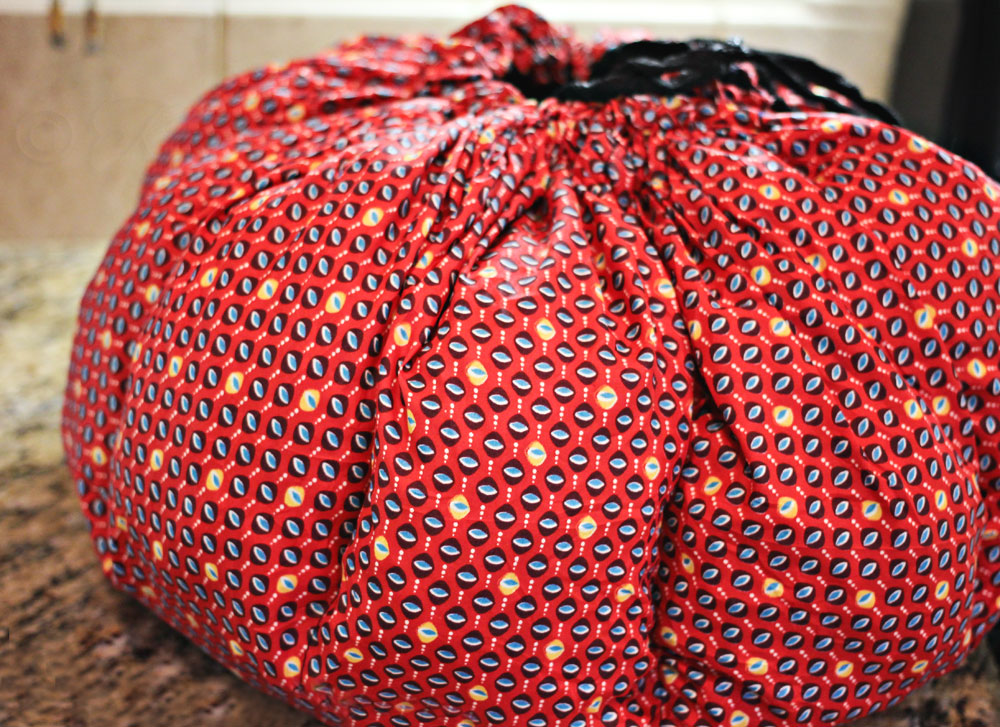 So here it is on the counter.  It's good size because it has to fit around a stock pot.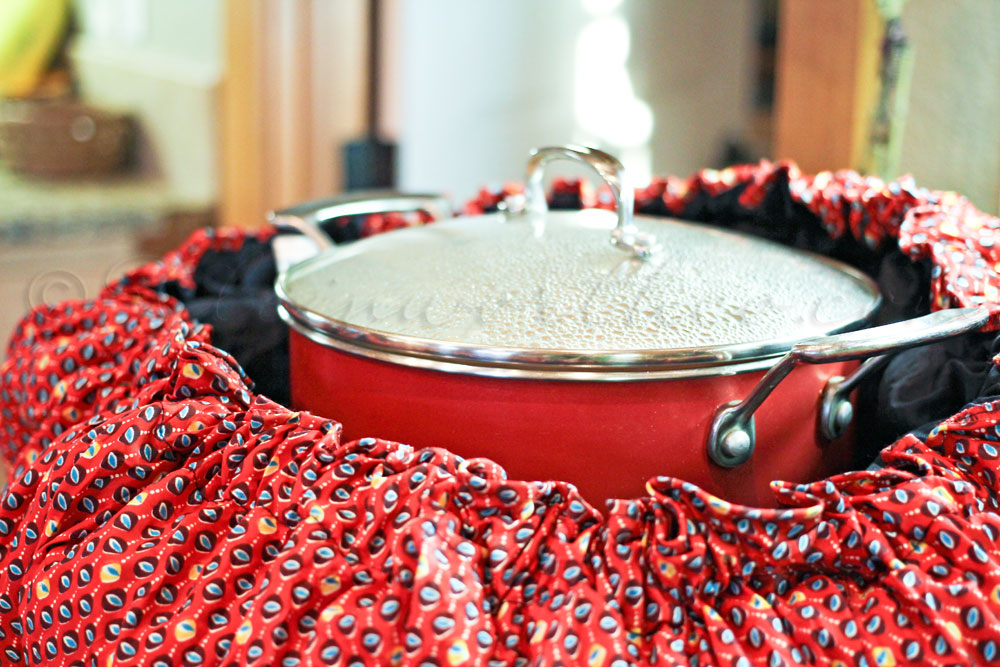 Here I was- preparing this wonderful Creamy Tomato Tortellini Soup.
I brought it to a boil, added my tortellinis, made sure it was good & boiling.  Removed it from the heat- covered it & placed it in the bag.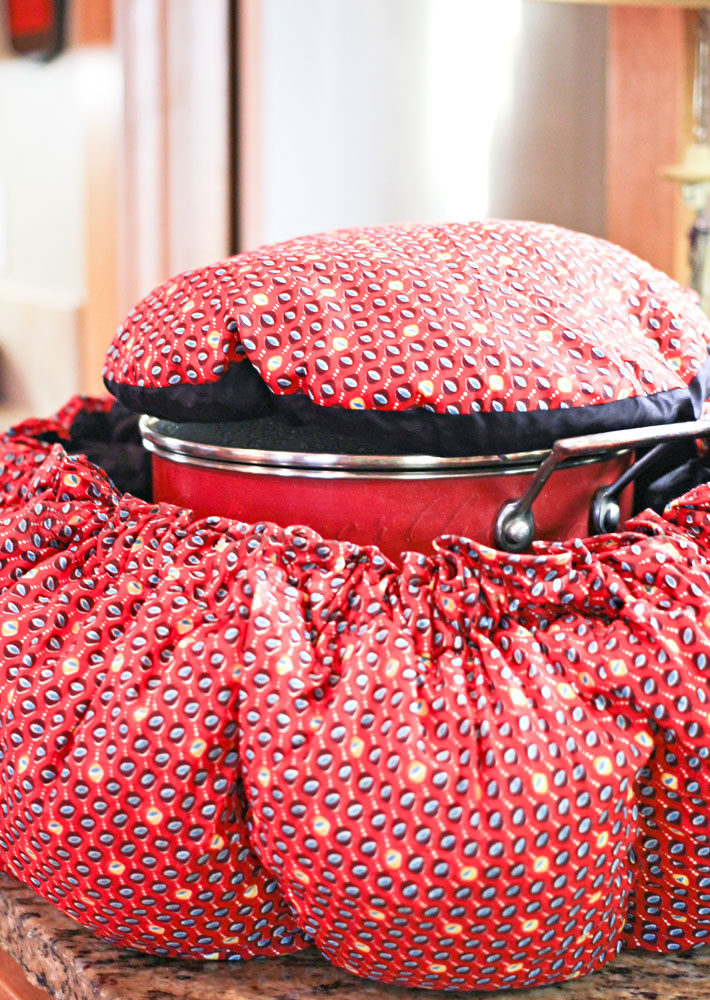 Placed the lid pillow on top of the lid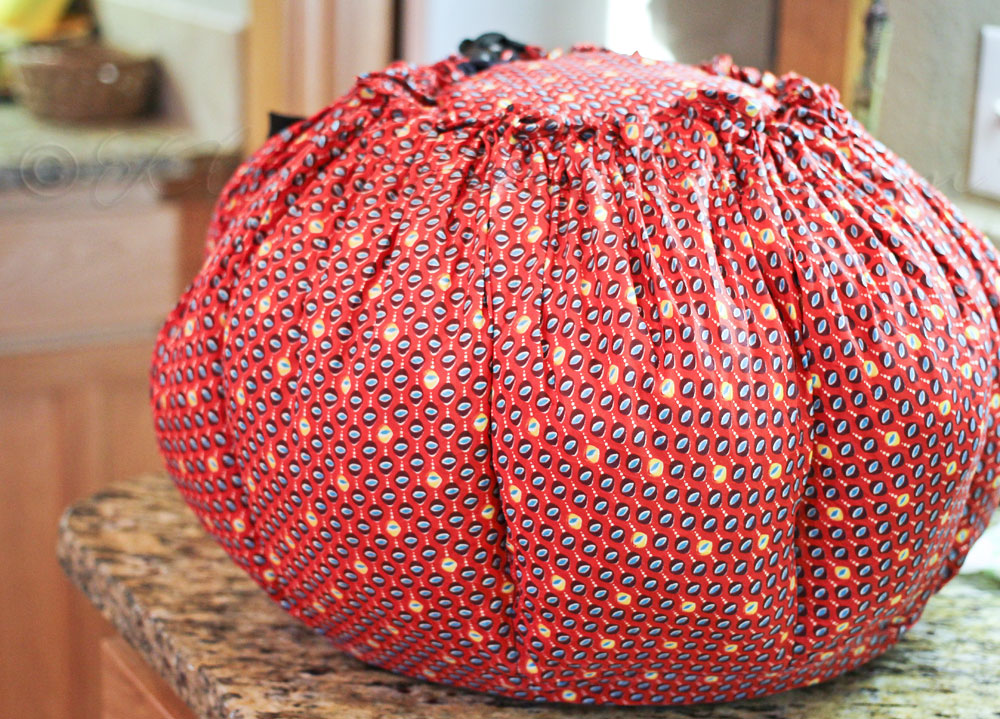 Closed it up tight & let it sit.
I was able to get some blogging done, photos processed & some chores done.  I didn't have to mind the stove because it was cooking in the bag.  No open- unattended flame happening in the kitchen.  I was able to cook dinner while away from the kitchen – which was REALLY NICE!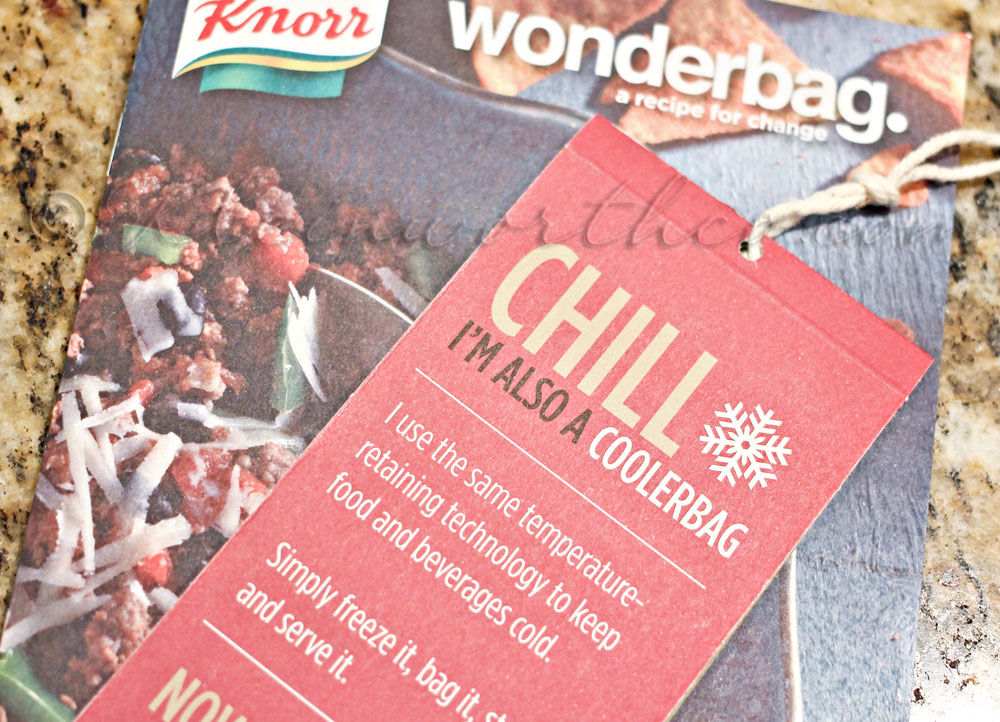 Then the hubs called……It's never good when he calls me around the time he's supposed to be home.  The original plan was that he would stop on his way home & grab a french loaf to make some garlic bread to have with the soup.  I was hoping he was calling to say he was at the store & wanted to know if I wanted anything else while he was there.   Unfortunately that was not the case.  He was calling because he was going to be late.  Some things had happened & he was temporarily short staffed at the station.  He had to stay over until relief staff came in so that the district would be covered if a call came out.  Can't really have 1 person on an ambulance or a fire now can you.  So he was delayed.
Fortunately I was cooking dinner in the WonderBag– which will cook for up to 12 hours.  So the soup just simmered a while longer while we waited for him.  If I had been cooking on the stove,  I would  have had to run the gas for an additional 2 hours or serve dinner without him or the bread.  So I was quite pleased to give it a try with an actual scenario happening.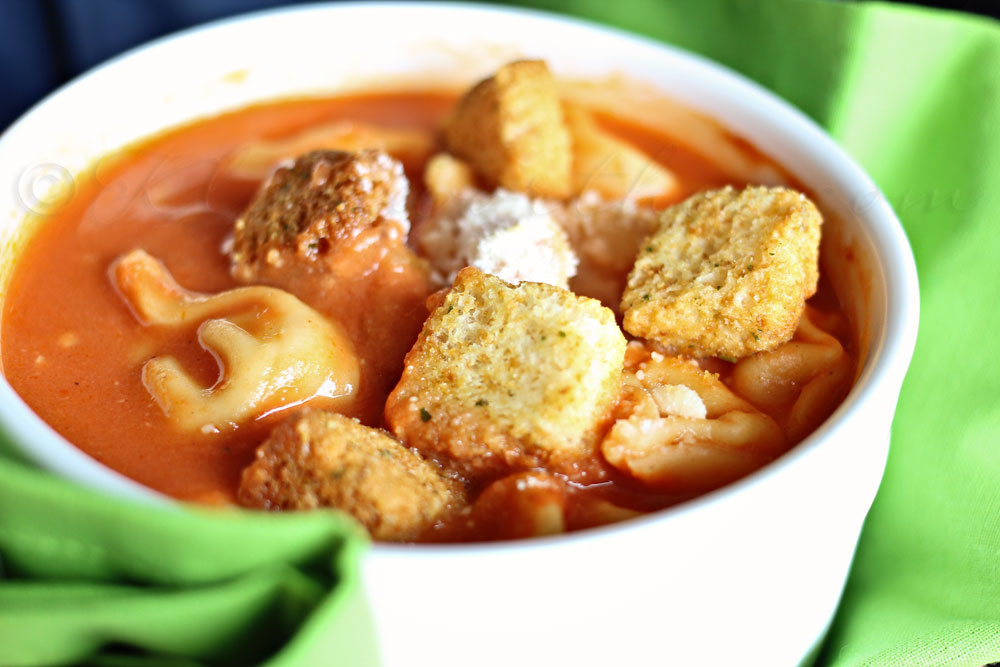 Thinking that this would be great for camping.
We will definitely be using this if we lose our power this winter.  I can get things to a simmer on the outdoor burner & then stick the pot in the WonderBag & conserve our fuel for future meals until the luxuries are restored.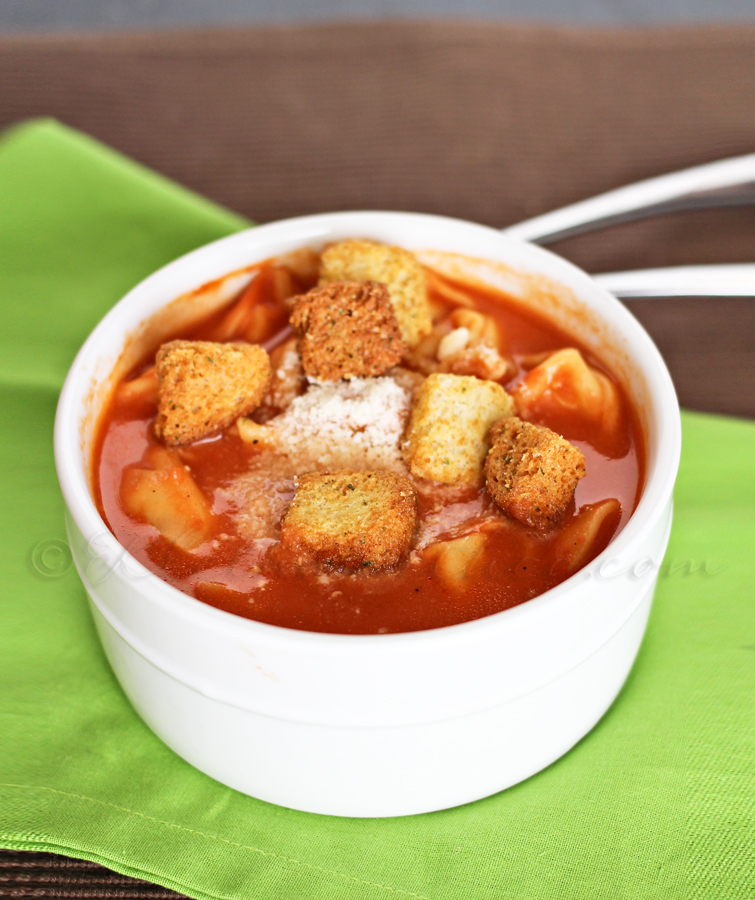 One of the big things that we think this would be great for is at the firehouse.  When the guys make food- sometimes a call can happen right in the middle of cooking.  Everything gets turned off & left as is. Sometimes they are gone for hours or all day.  This can really waste the food.  With this- they would be able to leave for their call & could have those staying back at the station pack up their food in the WonderBag & let it finish cooking.  Then when they get back to the station- whenever that may be- they have a hot meal waiting for them AND no more wasted food.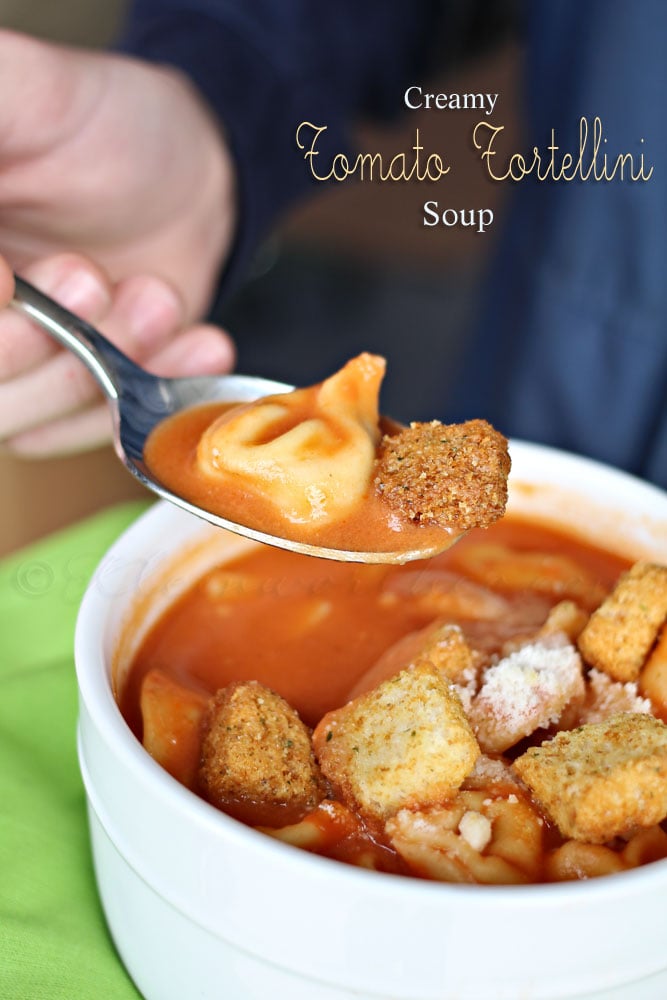 Creamy Tomato Tortellini Soup ~ with WonderBag
Ingredients
1-1/2 tbsp minced garlic
4 tbsp olive oil
2- 26 ounce cans condensed tomato soup
4 tbsp tomato paste
4 cups milk
4 cups chicken stock
2- 20 ounce pkgs refrigerated 4-cheese tortellini
Salt, pepper, granulated garlic, season salt to taste
Parmesan cheese to top (opt)
Croutons (opt)
Instructions
Add minced garlic & olive oil to your stock pot. Heat on medium until golden brown.
Watch your garlic closely- it turns brown quickly.
Once garlic is desired color, add your tomato soup, tomato paste, milk, chicken stock & spices.
Heat to boiling.
At this point- if you are using the WonderBag- add in your tortellinis, bring back to just beginning to boil. Remove from heat.
Cover & enclose in your WonderBag. Allow to simmer in WonderBag for at least 2 hours before serving.
If you are making this on your stove - do not add your tortellinis yet.
Cover & reduce your heat to low & allow to simmer 2 hours.
Then add in your tortellinis- bring to a boil
Cook tortellinis for time recommended on packaging.
Serve immediately.
https://www.kleinworthco.com/creamy-tomato-tortellini-soup/
Recipe Source: www.kleinworthco.com | (c) Kleinworth & Co All images & content are copyright protected. Please do not use my images without my permission. If you wish to republish my recipe, please re-write it in your own words or link back to this recipe.
It's so easy & quick to put this together.  Makes for a hearty meal that the whole family will enjoy.
Plus- one pot- less dishes too.
Every WonderBag purchase benefits women & families in other countries.
You can help by donating a WonderBag. It's easy- just purchase one & one will be donated to a family in need in Africa.

WonderBag can be purchased on Amazon.
Connect with WonderBag
Instagram: bit.ly/17Sn30g
Facebook: http://on.fb.me/14QlSRT
Twitter: http://bit.ly/1dOC9cy
Don't forget to come back & join me on Mondays for Project 52
To see where I am linking today- visit HERE