Incredibly Easy Crusty Artisan Bread is a simple, 4-ingredient homemade dutch oven bread recipe that is absolutely fool proof. Perfect alongside every meal. Pair with a delicious cinnamon spreadable honey & it's pure heaven.
Kleinworth & Co has partnered with Buzz + Bloom Honey to bring you this tasty recipe because we are committed to helping you find the best quality products & ingredients for your family. It's partnerships like these that allow us to continue to share recipes like this for all.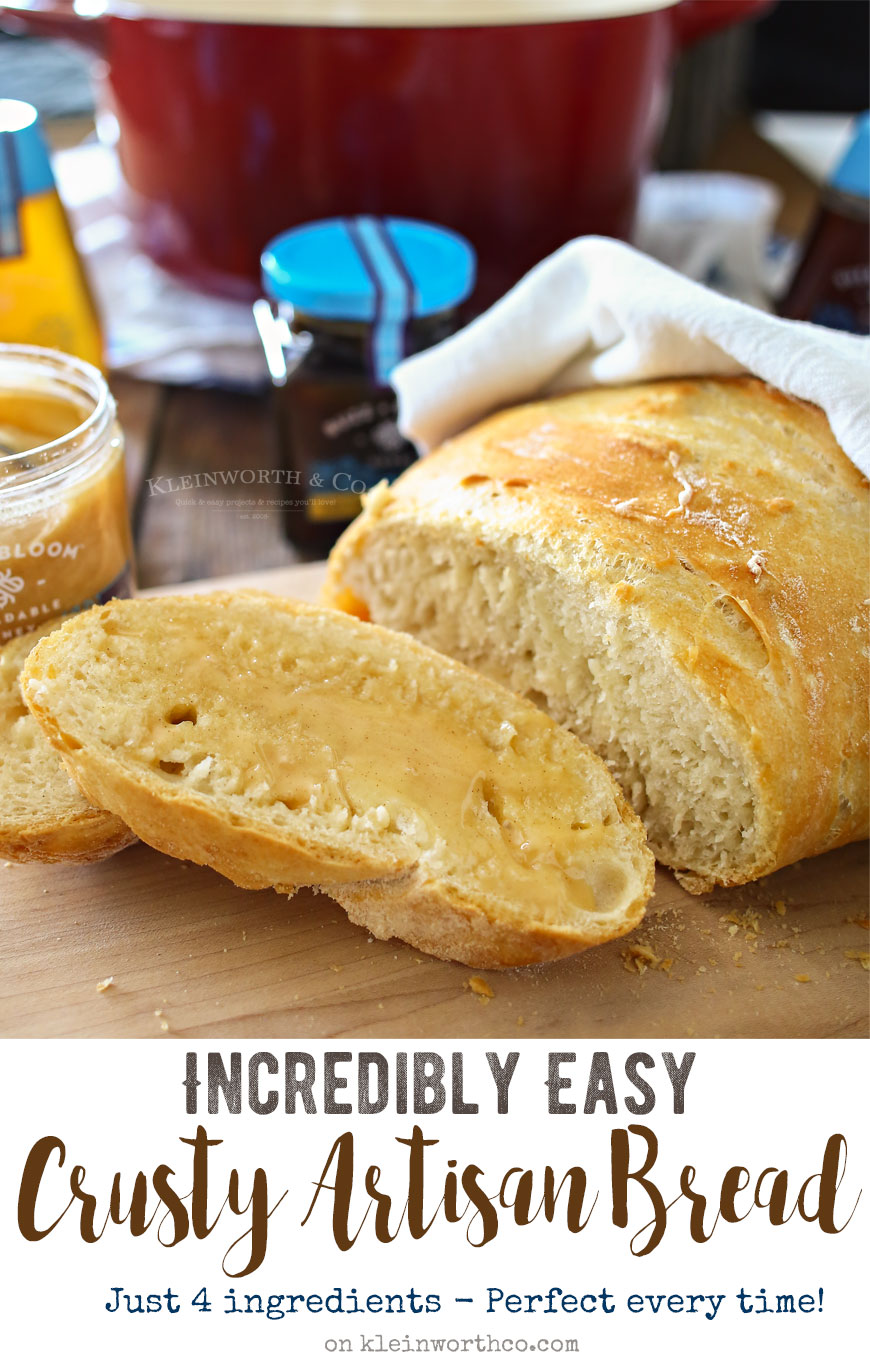 I love bread. It's one of my weaknesses. I especially love artisan bread & extra points if it's hot & fresh right out of the oven. I obviously can't hang out in the bakery at the store all day long waiting for the bread to bake. So I try to make a couple loaves at home at least a couple times a week. Recipes like this one are so easy that there's really no excuse to for me to have to go without anymore. I just mix the dough before I go to bed & let it sit. After we are done with the chaos of breakfast the next morning I pop it in the oven to bake. The house smells amazing.
Incredibly Easy Crusty Artisan Bread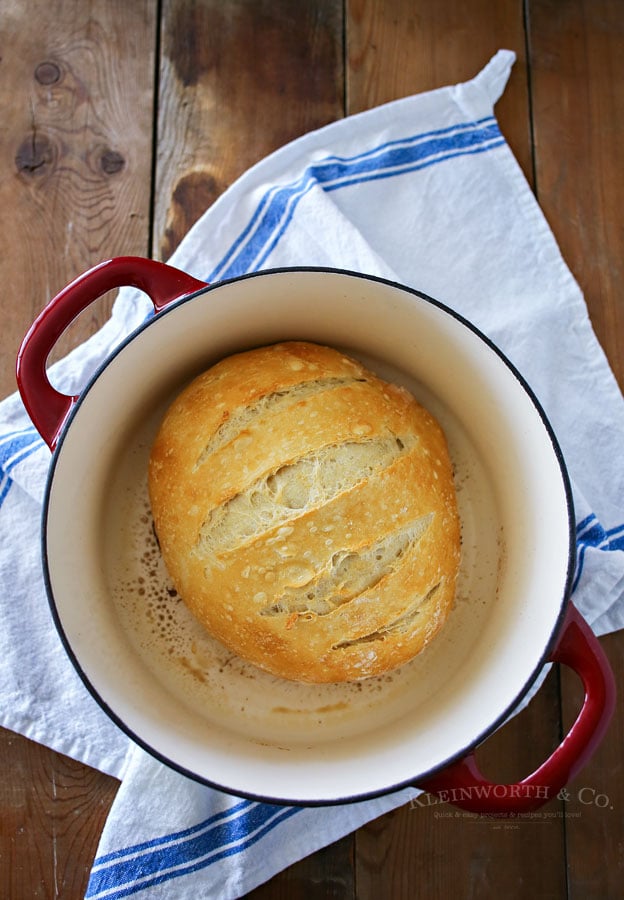 Sometimes I will get the dough ready before we have dinner. That gives me enough hours of letting it rise that I can bake it first thing when I get up at 4 the next morning. My main motivation for doing this is because I want to have it for breakfast. My favorite thing to have for breakfast is a slice of hot, fresh bread with this Cinnamon Spreadable Honey from Buzz + Bloom Honey. It's heavenly!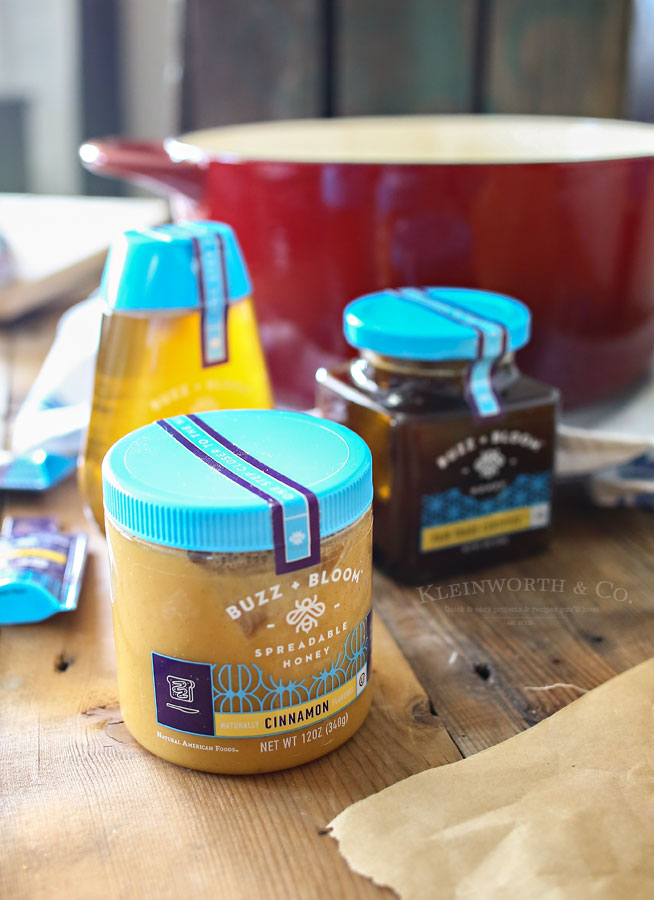 I love Buzz + Bloom Honey because they are careful in their processing to make sure they are leaving the natural pollen in it. This ensures that it retains its nutritious benefits & allows them to verify the honey's floral source & country of origin. That's really cool. It also makes sure that the honey maintains the beneficial enzymes & antioxidants that help make honey a true superfood. Extra bonus- Buzz + Bloom Honey is dedicated to delivering globally-sourced (from their trusted beekeepers in the United States, Brazil, Vietnam, Ethiopia & around the world), craft-style honey that captures the natural & diverse goodness of the honeybee journey.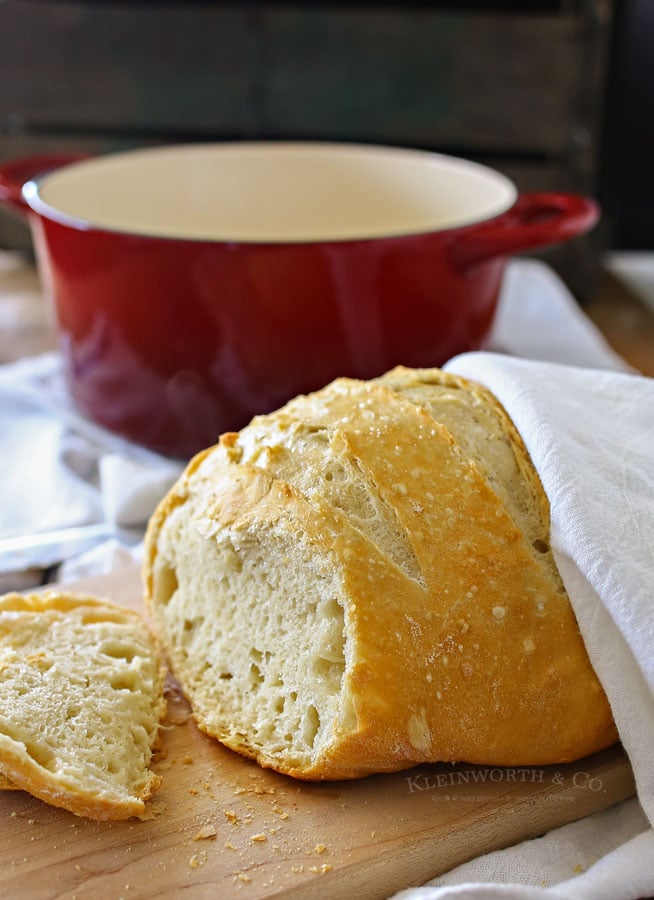 Incredibly Easy Crusty Artisan Bread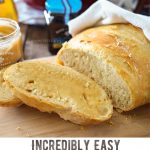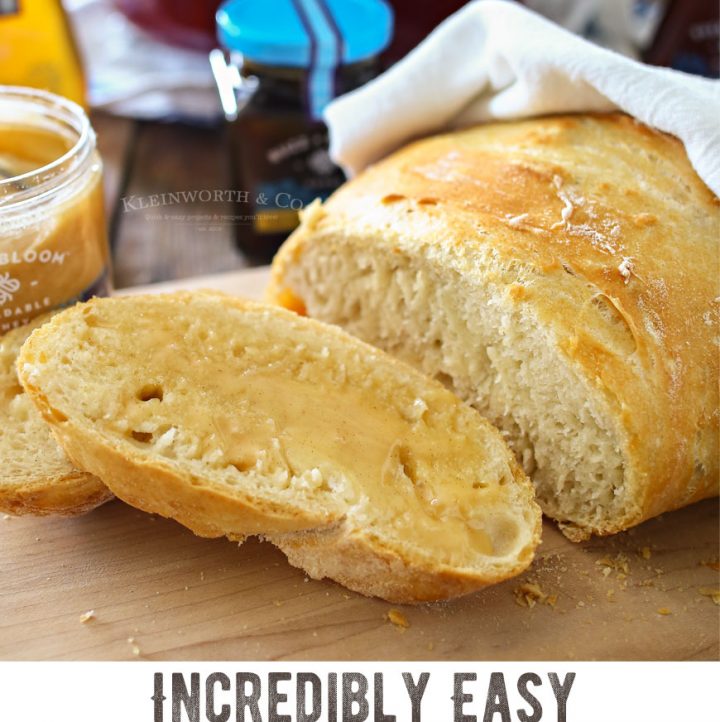 Incredibly Easy Crusty Artisan Bread
Incredibly Easy Crusty Artisan Bread
Prep Time 8 hours
Cook Time 45 minutes
Total Time 8 hours 45 minutes
Ingredients
3-4 cups all-purpose flour
1 tsp salt
1/2 tsp dry active yeast
1-1/2 cups lukewarm water 115 degrees is perfect
Instructions
In a medium size bowl, combine 3 cups of the flour along with the other ingredients & mix with a wooden spoon until fully combined

Place plastic wrap over the top of the dough (touching the dough- not just covering the top of the bowl)

Set aside in a warm, dark place to rest at least 8 hours (up to about 24 hours)

Remove dough from bowl & place on a well-floured surface & work into a ball (if it's too wet or sticky you can work more flour in- but it should not be too firm)

Allow to rest approx 30 minutes

Place cast iron dutch oven with lid in oven & preheat oven to 450 degrees

Carefully remove once preheated & spray bottom with cooking spray

Place dough in pot, slash the top several times

Cover & bake 30 minutes

Remove lid & bake an additional 10-15 minutes or until golden & brown

(you know it's done if it sounds hollow when tapped with your fingernail)

Cool slightly before serving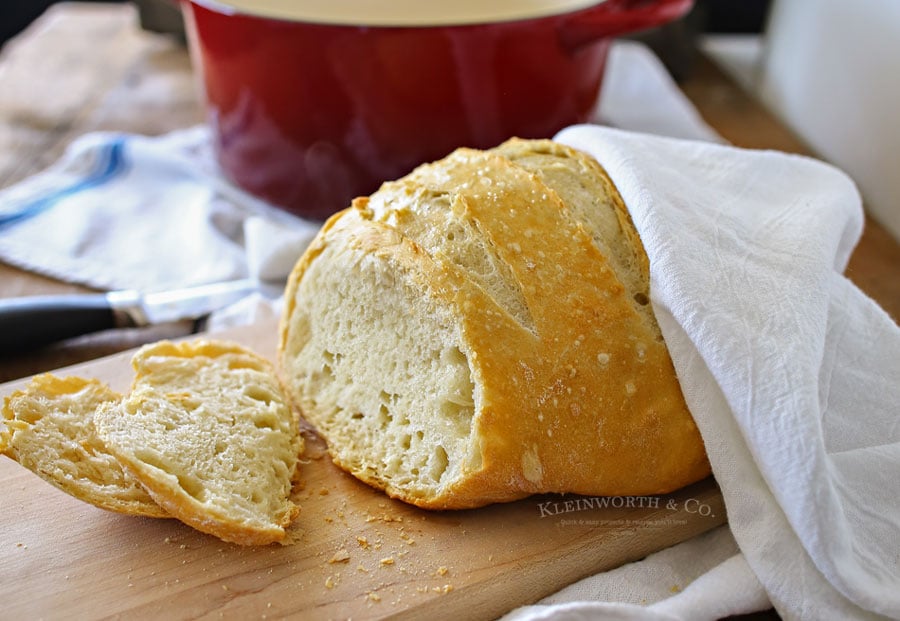 Buzz + Bloom honeys are available nationwide via BuzzAndBloomHoney.com and at select retailers in 14 all-natural varieties, including Organic Non-GMO, Raw & Unfiltered and Fair Trade Certified. Buzz + Bloom Spreadable honeys are perfect for spreading, dipping and spooning. Enjoy them on toast, apple slices, or right out of the jar. Try all four all-natural flavors: 100% Pure Honey, Almond, Blueberry and Cinnamon.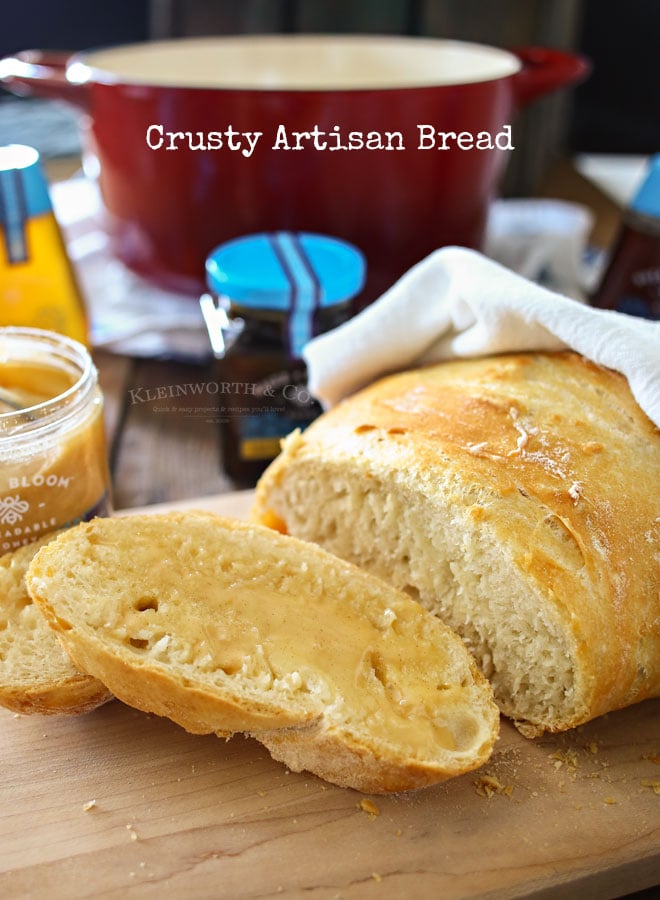 If you make this recipe- please leave a link or tag me on Instagram @KleinworthCo
Looking for more great recipes like this one to pair with your honey?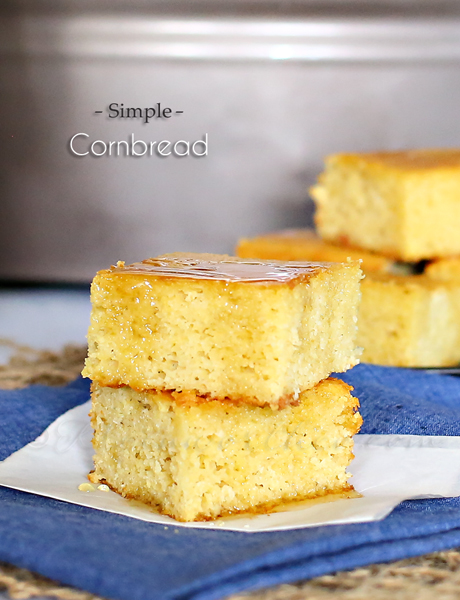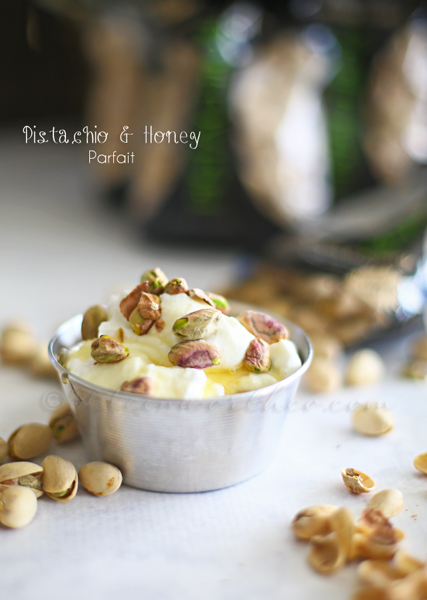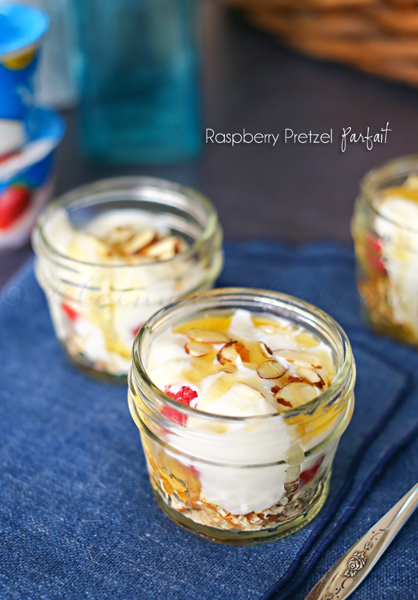 Don't miss these great ideas from these bloggers….
Honey Lavender Shortbread Cookies from The Baker Upstairs
Sea Salt & Honey No-Churn Ice Cream from Kitchen Treaty
To see where I am linking today- visit HERE
0