Get your Crock-Pot, this Slow Cooker Corn Casserole is a simple 7-ingredient side dish recipe that is great for weeknight dinners & holiday feasts alike.
Life is crazy these days. I used to shop a couple of times per week, popping in whenever I remembered something or placing multiple pick-up orders a month. But I can't really do that now.
I have been planning out my trips and making the best use of my visit to the store. One thing I like to do when I'm there is pick up things that make my life a little easier when it comes to dinnertime, like pantry staples to make recipes like this Corn Casserole that I make in the Crock-Pot & the pair it with rotisserie chicken.
Scroll to the bottom for the Printable Recipe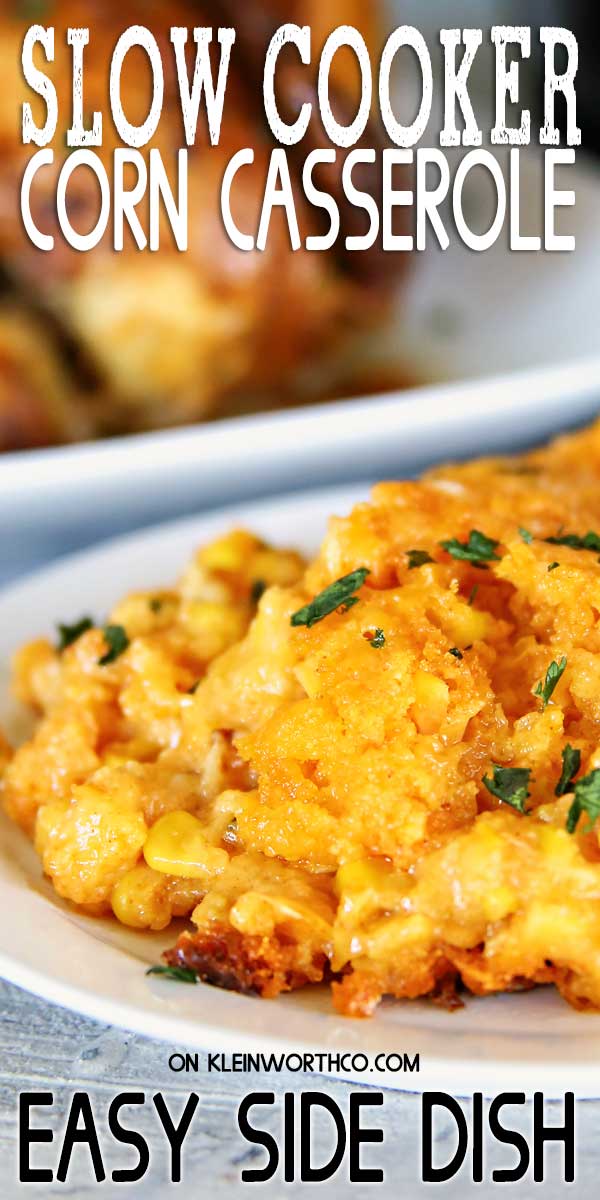 I'm all about easy meals. After spending 12-14 hours a day in the office, I like things that I can whip together while I'm eating lunch & then it's ready when I'm ready to break for dinner.
I like to keep the side dishes easy. Normally I try to get creative with the pressure cooker. But this time the kids were really wanting an old favorite, Slow Cooker Corn Casserole.
Slow Cooker Corn Casserole Recipe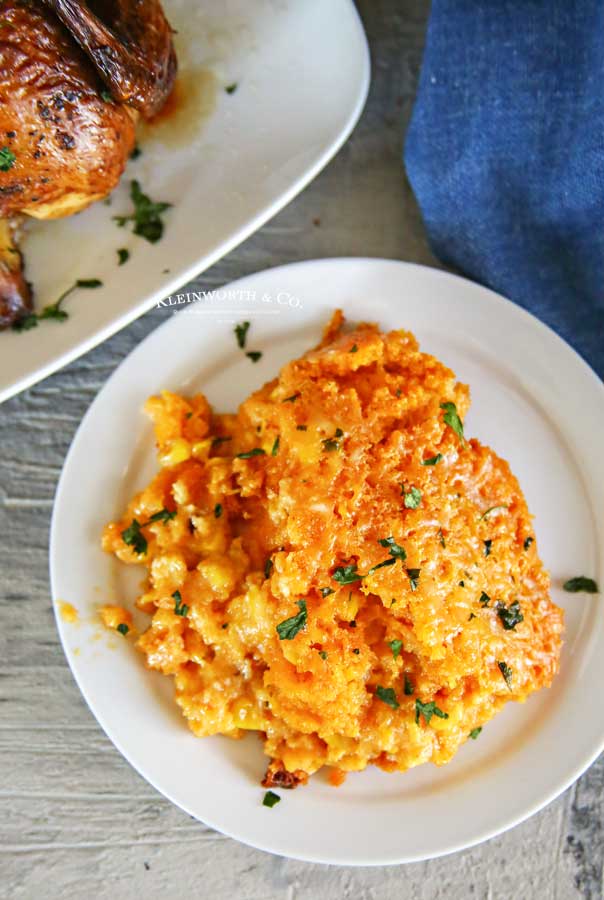 Now, you have probably heard of this corn casserole before. Some call it corn pudding, cornbread casserole, or a bunch of other variations of the same name. They are all pretty similar to this one.
I am sad to say that I went most of my life without ever trying corn casserole before. It wasn't until I went to Iowa on a press trip that I had the pleasure of having corn casserole for the first time. Since I already LOVE corn, I immediately fell in love & had to make my own when I came home.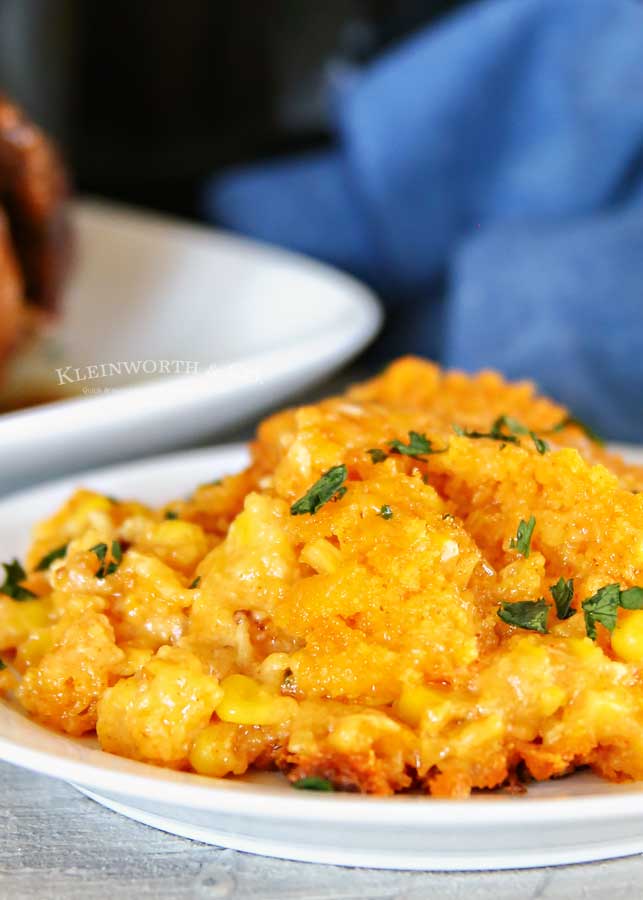 Not only does it pair so nicely with quick dinners like rotisserie chicken, but it is great when served as a holiday side dish. My family goes crazy for this recipe & so it is something we serve quite often.
Now, as with most things, there are variations on how to make it. I have seen some recipes that call for adding the sour cream on top, instead of mixing it in. I don't advise that as I have seen the sour cream curdle during the cooking process. Which is why this particular recipe is the one I stick with.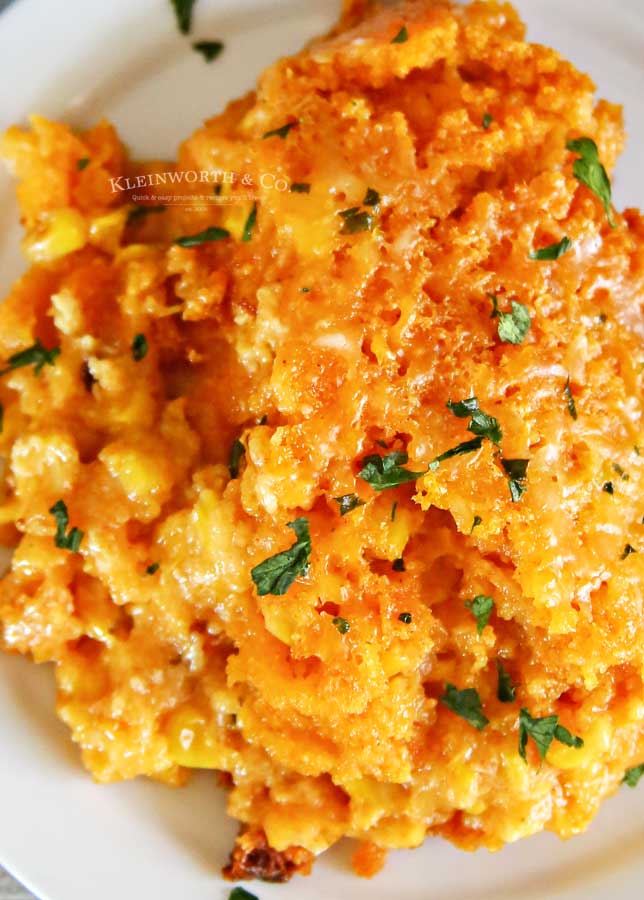 Here are some commonly asked questions
How do you reheat corn casserole?
You can do this a couple of different ways. Either warm in a 300 degree oven for 10-20 minutes, or until warmed through. Or you can pop it in the microwave for 1-2 minutes depending on the size of the pieces.
Can you freeze corn casserole?
You sure can. Be sure to cool the casserole & cover your freezer safe pan tightly with a double layer of plastic wrap & then foil or transfer to zip-top bags. Label with the date & freeze for up to three months. Let thaw overnight in the refrigerator before reheating.
What is the best way to store leftover Slow Cooker Corn Casserole?
Just place any leftovers in the refrigerator in an airtight container. Just try to use it up within 2-3 days.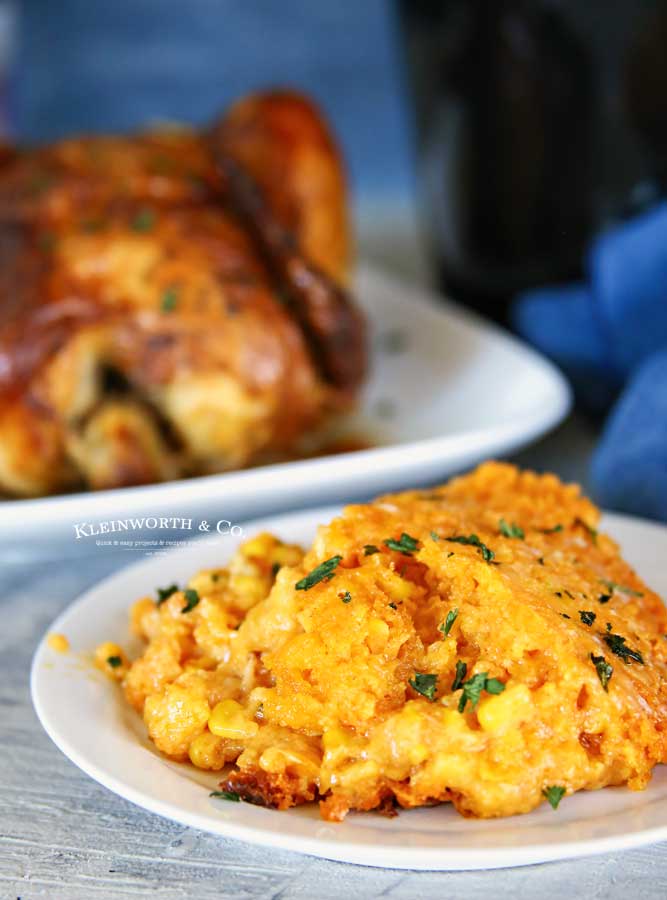 How many can this serve?
This recipe makes about 12 servings. In our house that means everyone gets seconds & there's a bit leftover for lunch the next day.
Corn Casserole
Can this recipe be doubled?
I would advise against it because the cooking time would increase significantly if the volume in the cooker was that thick. I don't think that would turn out very well. But if you happen to have 2 cookers and need to feed a crowd, you could have them cooking side-by-side.
Should I use salted or unsalted butter?
I personally use whatever I have on hand. But if you are watching your salt intake, stick with the unsalted butter. You can also use margarine if needed.
Can I use Greek yogurt instead of sour cream?
Yes. You absolutely can do that or leave the sour cream out altogether. I like a the tang it offers, but if you want to leave it out, that's fine too.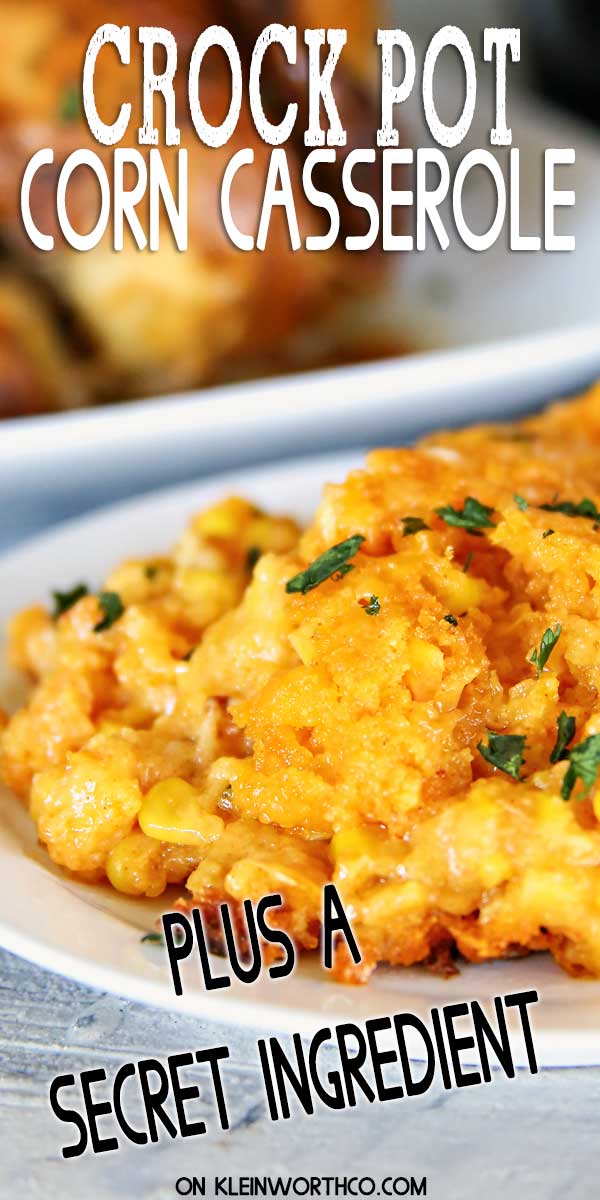 HOW DO YOU MAKE Slow Cooker Corn Casserole?
Combine the cornbread mix, corn, creamed corn, butter, egg, sour cream, 1/2 of the cheese & paprika in the slow cooker. Mix well.
Sprinkle remaining cheese on top of the mixture and then cover.
Cook on high for 3-4 hours or until toothpick test comes out clean.
Allow to rest for 10 minutes before serving.
**Note- use caution when removing the lid as to not drip the condensation onto the casserole.
Can I add other mixins into the casserole?
You bet! A lot of people love to add diced green chiles, browned ground beef, extra cheese or added spices to give some variety.
Easy Corn Casserole Recipe
To make this recipe you will need…
cornbread mix
canned corn
canned creamed corn
butter, melted
sour cream
egg
shredded cheese
paprika
If you love this Slow Cooker Corn Casserole recipe, you're going to love these other side dish recipes too. Please click the links below to find the easy, printable recipe!
Crock Pot Corn Casserole
If you love this Easy Slow Cooker Corn Casserole recipe as much as I do, please write a five star review, and be sure to help me share on Facebook and Pinterest!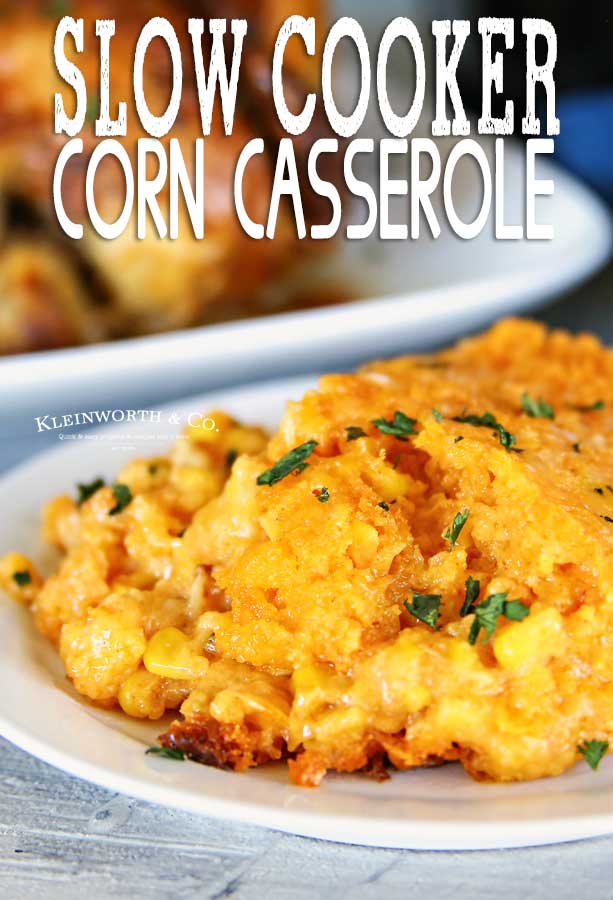 CONNECT WITH KLEINWORTH & CO!
Be sure to follow me on my social media, so you never miss a post!
FB, Pinterest, IG, Email Subscription
Reader Interactions