Cinnamon Peach Jam is perfect for all those summer peaches. With just 5 ingredients & no refined sugar, this is so much better than the stuff at the store.
Do you have a bunch of summer peaches just waiting to be made into something yummy? I have just the thing for you! This Cinnamon Peach Jam is perfect.
The best part – no refined sugar added. YAY!! It's really easy to make too. I may start using this recipe for all my jams.
Scroll to the bottom for the Printable Recipe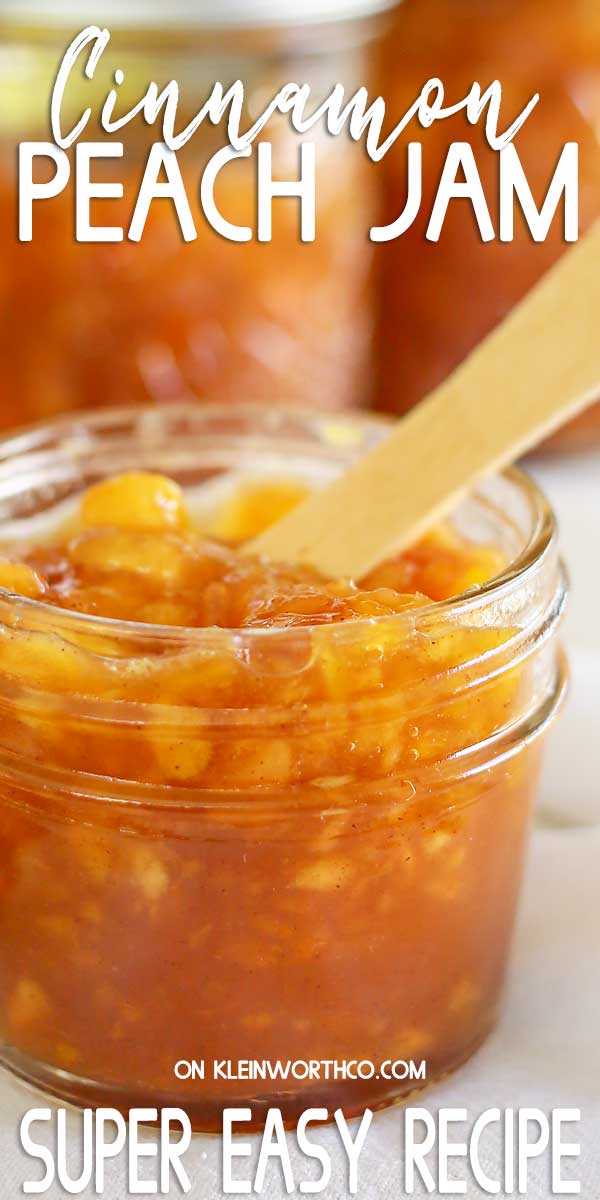 I originally was going to make a traditional peach jam. But then my son reminded me that we are creeping up on fall & that means that it's almost (what he calls) cinnamon season.
That boy loves cinnamon. So to put a little smile on his face AND give a little tease of fall recipes to come here soon- I had to add a little cinnamon. I'm so glad I did!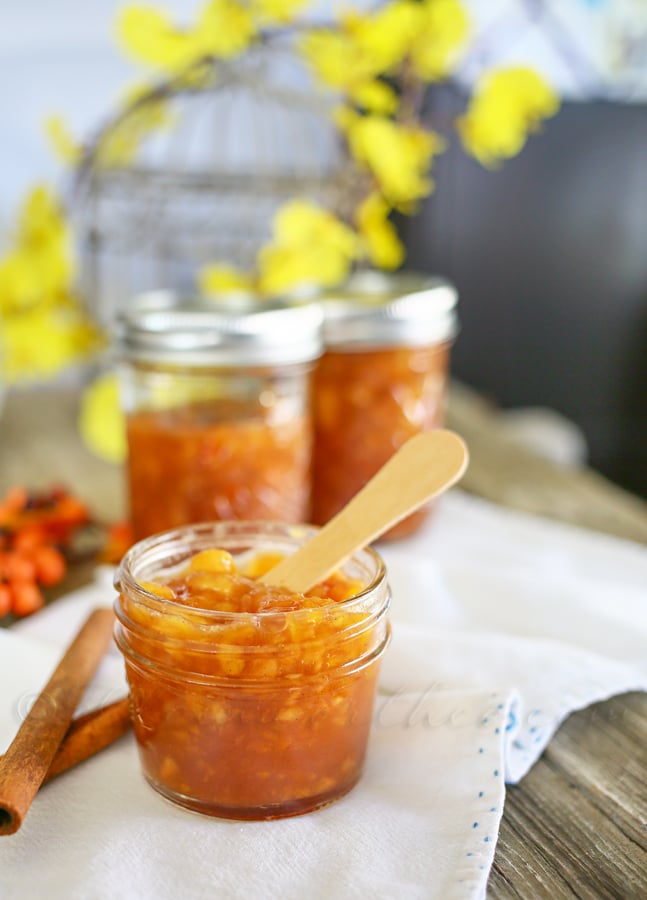 Oh my goodness – I was adding this to the top of my vanilla ice cream. Delish!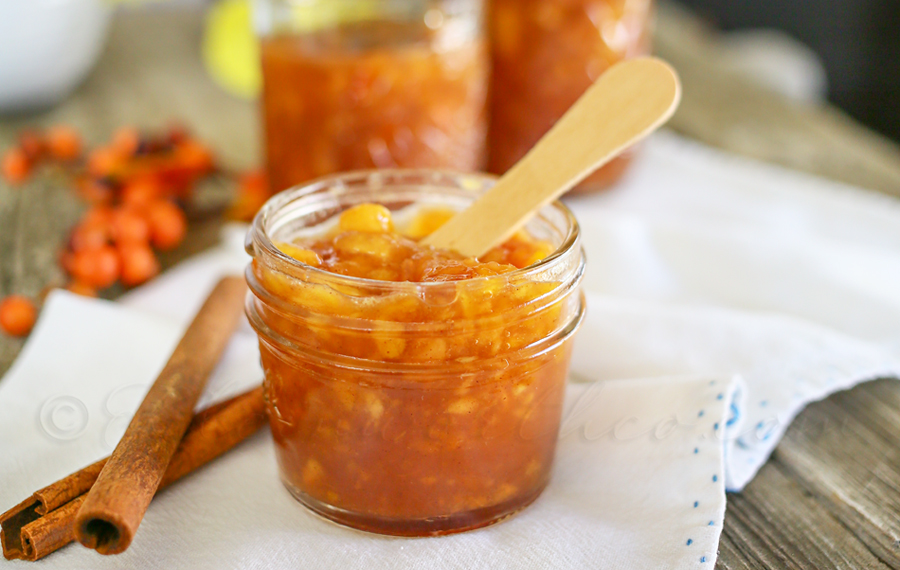 You could also use this recipe with nectarines or apricots.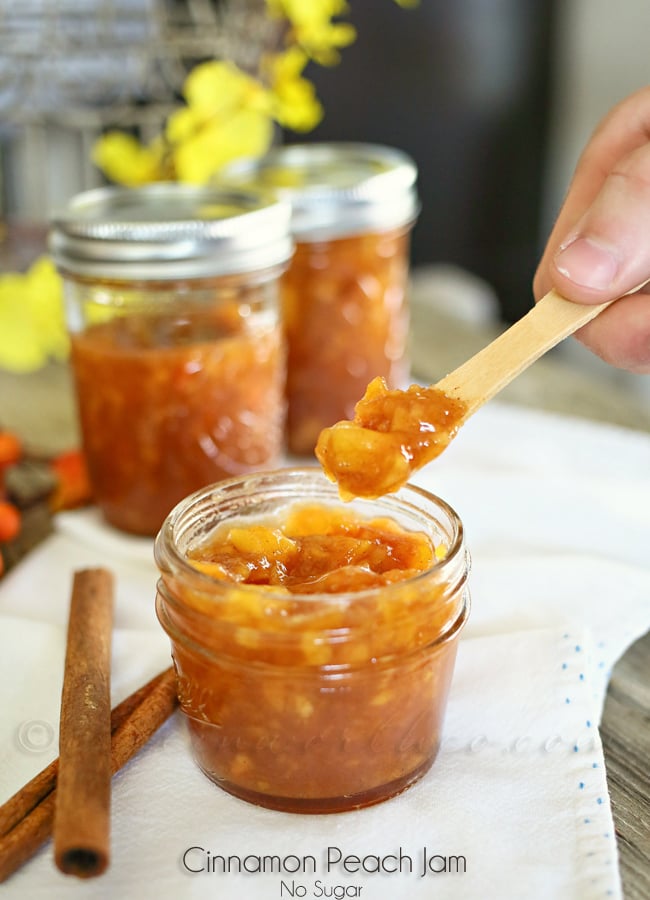 Here are some commonly asked questions
Do I need to peel the skin off the peaches first?
Yes, if you are using fresh peaches (as opposed to frozen that are already skinned), you will want to remove the skin before starting the cooking process.
Can I use a canned peaches?
I have not personally tried it, so I can't say how that would turn out. I would imagine it would be much sweeter in the end because of the syrup.
You said this is sugar-free & honey is still a type of sugar.
Yes, honey is a sweetener, but this recipe says no refined sugar. It is still far better than using granulated sugar to make jam.
peach preserves
Do I have to use raw honey?
I prefer raw honey because raw honey is only strained before it's bottled, retaining most of the beneficial nutrients and antioxidants that it naturally contains. Regular honey may have gone through a variety of processing, which could remove beneficial nutrients like pollen and reduce its level of antioxidants. But it is your choice.
Can this recipe be doubled?
You can, and we do it often. You will probably need to use a shallow stockpot instead of a saucepan for a double batch. It also might take a bit longer to come to a boil. I would also recommend blending in batches as hot liquids in blenders tend to expand.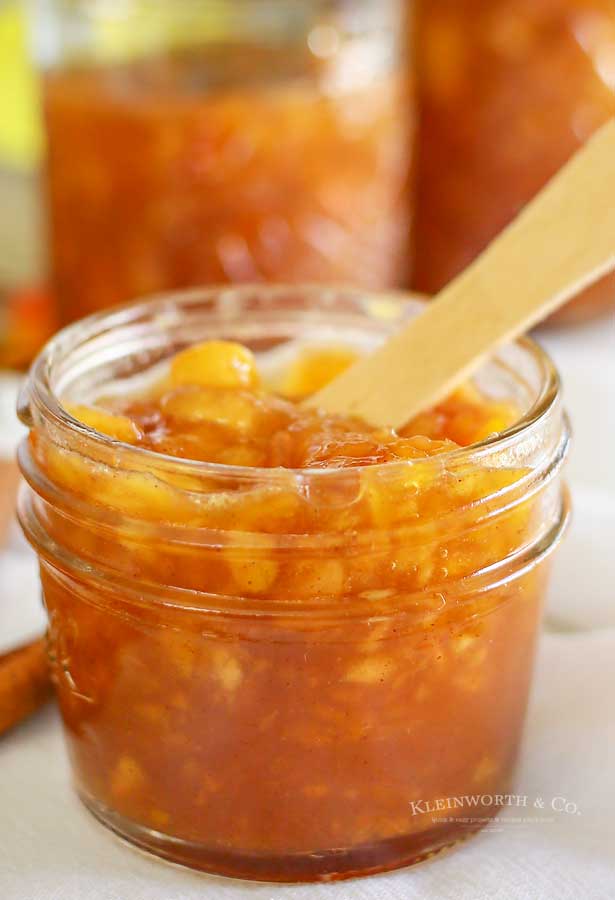 HOW DO YOU MAKE Homemade Peach Jam?
Heat the peaches & lemon juice in a small saucepan until tender.
Transfer the softened peaches to a food processor or blender & carefully pulse until the mixture is thick & the peaches are broken into small pieces. Use caution blending the hot mixture.
Return the blended mixture to the saucepan & add the honey, pectin & cinnamon.
Bring to a rolling boil & hold at a boil for 1 minute.
Remove from heat & carefully ladle into the prepared jars. Add the lids.
Cool on the counter to room temperature & then freeze. OR you can immediately process in a hot water bath for 10 minutes & store in the pantry.
What is the best way to store peach jam?
Just keep it refrigerated for up to 14 days or in the freezer for up to 6 months. I usually use smaller jars so I'm not thawing more than we can reasonably use in a 14-day period.
Can this recipe be canned?
I have not personally tried it. But you can fill sterilized jars with the mixture, leaving 1/2″ headspace. Wipe the sealing edge of the jar with a clean, damp paper towel. Adjust lids & process in a boiling water bath or pressure canner for the proper amount of time for your elevation.
To make Homemade Peach Jam you will need…
fresh or frozen peach wedges
lemon juice
raw honey
no-sugar needed powdered fruit pectin
cinnamon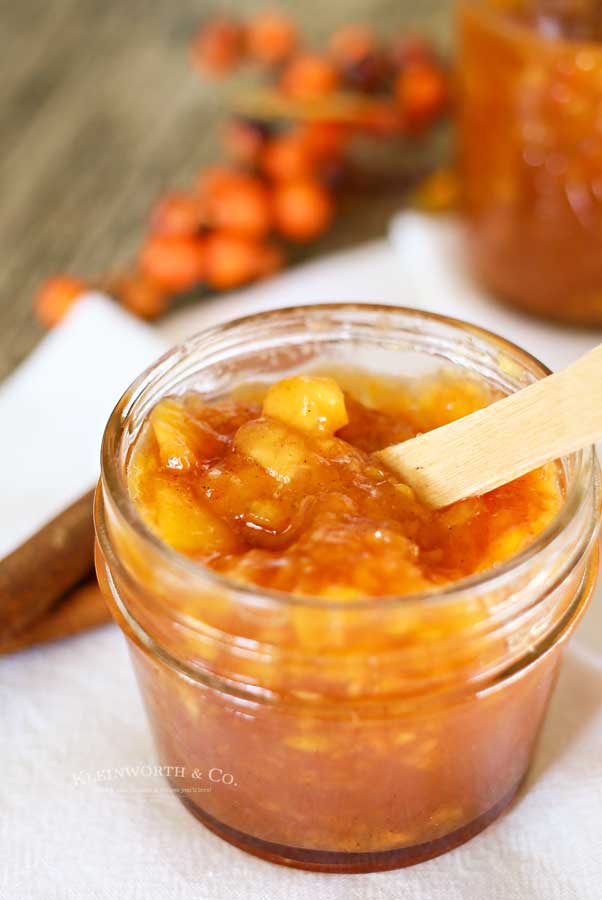 peach jam
Products I love when making Cinnamon Peach Jam…
This Cinnamon Peach Jam recipe is SUPER EASY and delicious – and if you're like me this time of year, then you maybe already have some of these items on hand OR maybe you have never made homemade jam before, & you might be a bit nervous – but you're going to love it. I have made a list below of the things I absolutely can't live without when it comes to making this jam recipe.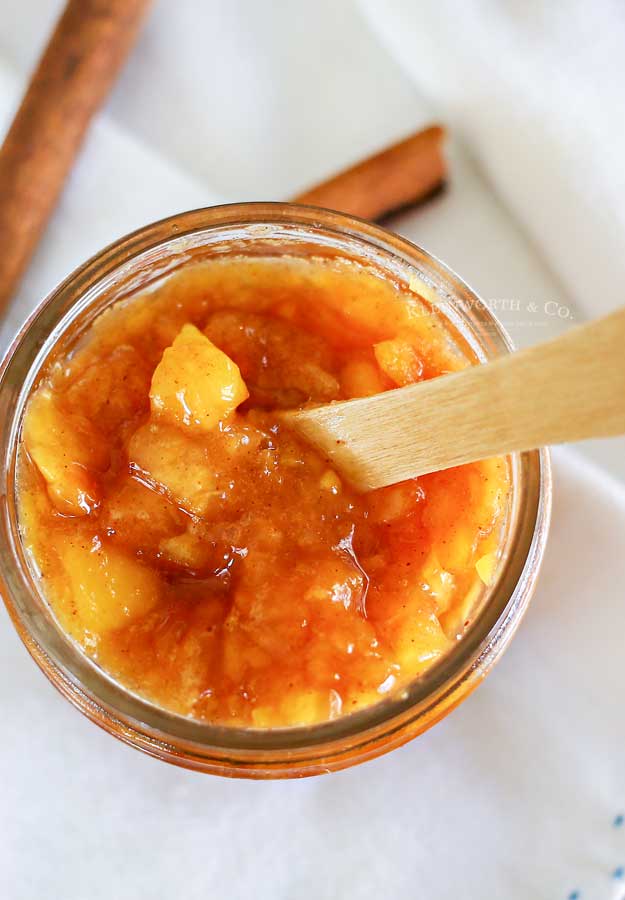 If you love this Easy Cinnamon Peach Jam recipe, you're going to love these other dips, sauces & spreads too. Please click each link below to find the easy, printable recipe!
sugar free peach jam
If you love this recipe for Homemade Cinnamon Peach Jam as much as I do, please write a five-star review, and be sure to help me share on facebook and Pinterest!
CONNECT WITH KLEINWORTH & CO!
Be sure to follow me on my social media, so you never miss a post!
FB, Pinterest, IG, Email Subscription
Reader Interactions