Instant Pot Beef Tips are so tender and juicy. This toss & go pressure cooker dinner is so simple & always keeps them coming back for more. Delish!
My friends, I'm completely obsessed with these beef tips. The meat just sort of falls apart in your mouth. Unbelievable and I can't get enough.
You see, I already have an addiction to pulled meat. It doesn't matter if it is pulled beef, pork or chicken. I just love pulled meat and this is so similar that I just want more! Pair this with my Instant Pot White Rice too!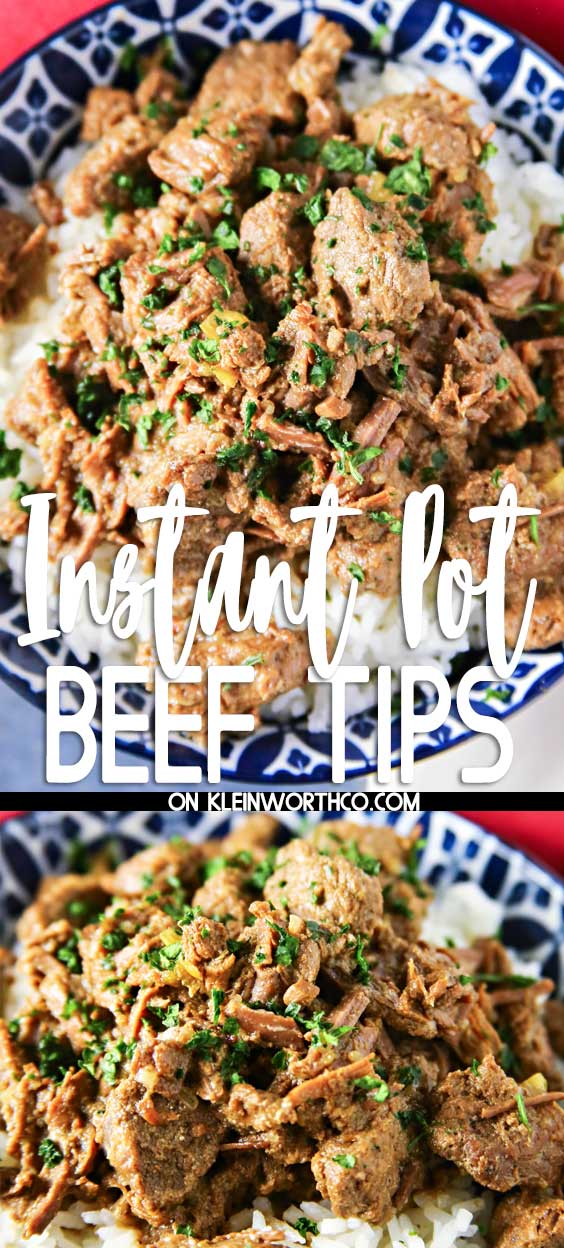 For years I have made this recipe in the slow cooker. It took all day but it was worth it.
The whole family would swoon over it and beg me to make a double batch. Most of the time I would because I do have multiple slow cookers, so I could have them all going at the same time.
beef tips recipe
This post contains some affiliate links. Click here to read my full disclosure policy.
I don't really know why I never got around to sharing the recipe for the slow cooker version here, but now that I have adapted it for the pressure cooker, I can just put it all here in one post.
This recipe is the perfect dump & go recipe and so great for serving over a bed of rice or noodles. Definitely, a hearty dinner that my whole family loves.
I especially love it on those super easy weeknights when we have so much going on. I can just get it going & come back when it is done & ready to enjoy.
With so many of us packing the calendar with things to do in the evenings, simple is where it is at & I love it.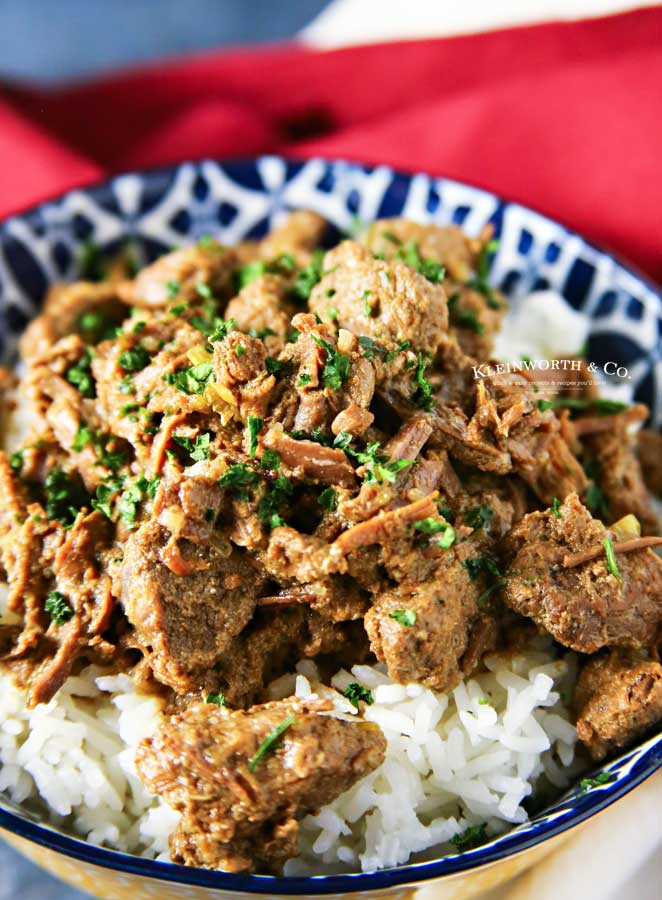 I promise – this one has everyone begging for more!
Here are some commonly asked questions
Can the meat be sauted & browned before pressure cooking?
Yes, absolutely. That is a great way to get little crisyp edges & it is so delicious. Just toss the meat in the cooker & set on saute, stirring frequently for about 2-3 minutes.
Can I leave out the wine?
Absolutely! If you don't want to cook with wine, just use more beef broth instead.
What is the best way to store leftover beef tips?
After serving, place any leftover beef tips in a shallow airtight container. Be sure to label with the date before refrigerating. The beef should keep for up to 3 days. As with most things, it is important to get food into the refrigerator within 1 hour after serving to prevent bacteria growth.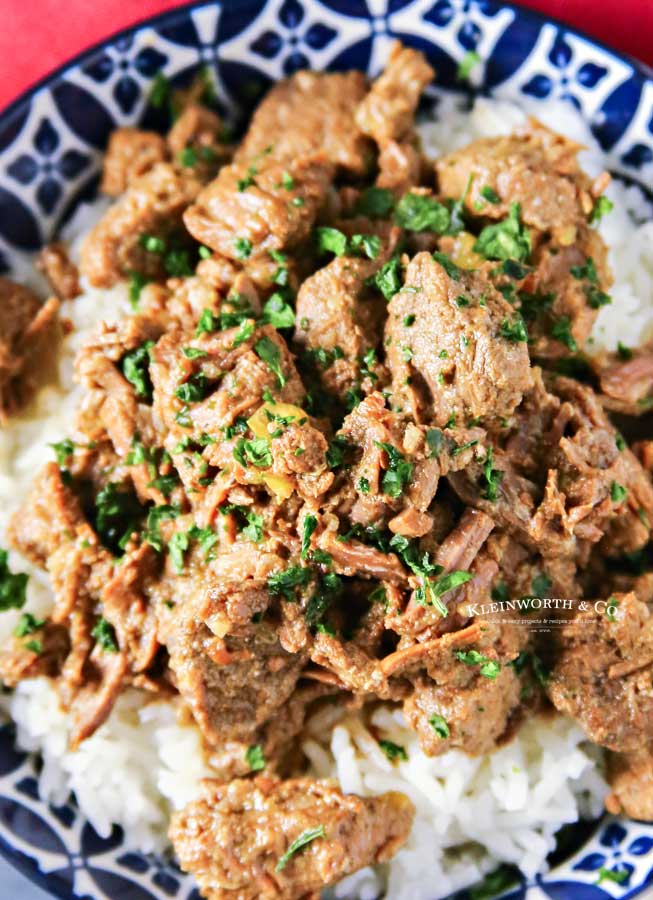 Why use a shallow container to store the leftovers?
Well, when the container is shallow, the contents chill faster than if you were to use a large, deep container. Ideally, you don't want it to take too long for the leftovers to get to their chilled/stored temperature. As I mentioned, if the food remains above about 35 degrees for more than 1 hour after cooking, the bacteria starts to grow.
So, if the deep container of food takes several hours to finally get to that 35 degrees, the bacteria has been growing in your leftovers for those several hours. Not exactly what you want to happen.
How many can this serve?
This will depend greatly on portion sizes & the appetites of your crowd. This recipe feeds approx 4 adult appetites. I usually make a second batch when my son comes home for a weekend so I don't run out. But it feeds the hubs & I & the girls just fine.
pressure cooker beef tips
Can this recipe be doubled?
Yes, you can double this recipe. A 6 quart pressure cooker should be able to handle 4 pounds of beef.
HOW DO YOU MAKE INSTANT POT BEEF TIPS?
Toss the beef tips, condensed soup, broth, wine, onions, olive oil, granulated garlic, salt & pepper in the pressure cooker pot insert.
Close the lid, set to sealing & set it to manually cook for 25 minutes. It will take about 10 minutes to come to pressure.
Once done, allow the pressure cooker to naturally release until the pressure pin drops. (about 20 minutes)
Remove the lid and serve over rice or noodles.
**If you want the gravy to be thicker, combine 1/4 cup water & 2 tbsp cornstarch in a small bowl. Whisk to combine.
Pour that slurry mixture into the pot & stir well to combine. The sauce will thicken as it sits.
**To make in the slow cooker, combine all of the ingredients in the cooker, cover & cook on low 8 hours or on high for 4 hours.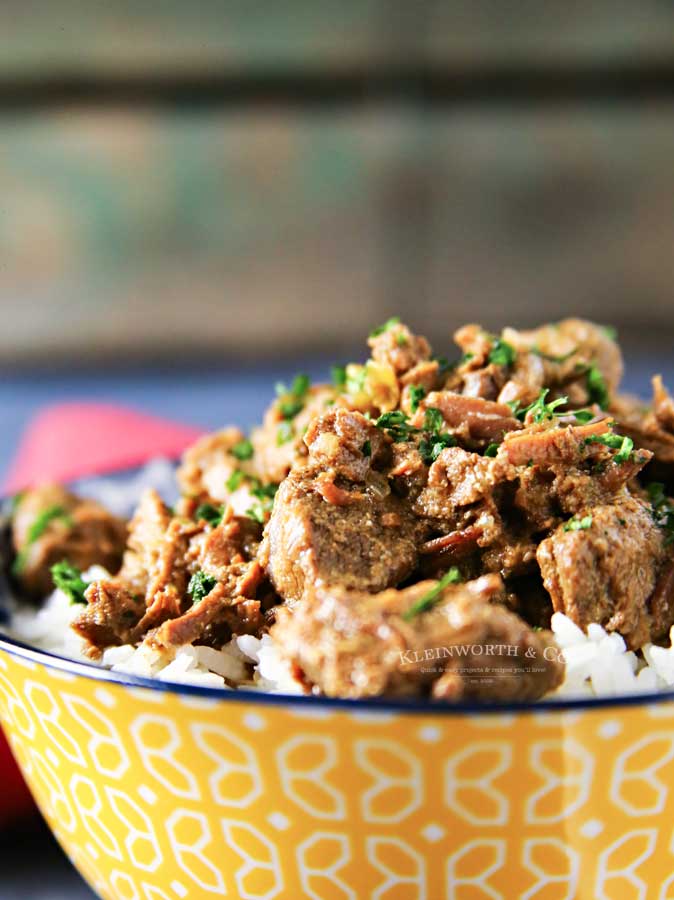 Can this be made with frozen beef?
Actually, yes this can be made with frozen beef. That is the beauty of the pressure cooker. Just set the cooking time for 5 minutes more.
Instant Pot Beef
To make this recipe you will need…
sirloin beef tips
condensed cream of mushroom soup
beef broth
red wine
minced onions
olive oil
granulated garlic
salt
pepper
Products I love when making this beef tips recipe…
This pressure cooker beef tips recipe is so EASY and delicious – and if you're like me, then you probably already have many of these items on hand OR maybe you have never made beef tips before, & you might be a bit nervous – but you're going to love the how simple this recipe is. I have made a list below of the things I absolutely can't live without when it comes to making this easy dinner.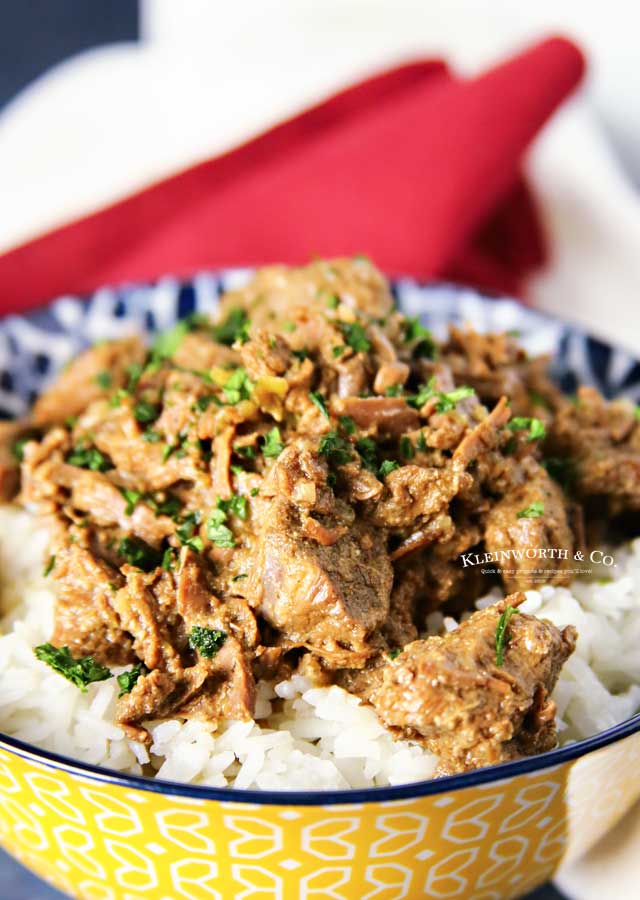 Look at that! You'll love it!!
Scroll to the bottom for the Printable Recipe
Easy Beef Tips Recipe
If you love this easy beef tips recipe, you're going to love these other delicious recipes too. Please click each link below to find the easy, printable recipe!

Beef Tips Instant Pot
If you love this easy Instant Pot Beef Tips recipe as much as I do, please write a five star review, and be sure to help me share on facebook and pinterest!
CONNECT WITH KLEINWORTH & CO!
Be sure to follow me on my social media, so you never miss a post!
FB, Pinterest, IG, Email Subscription
Instant Pot Sirloin Steak Recipes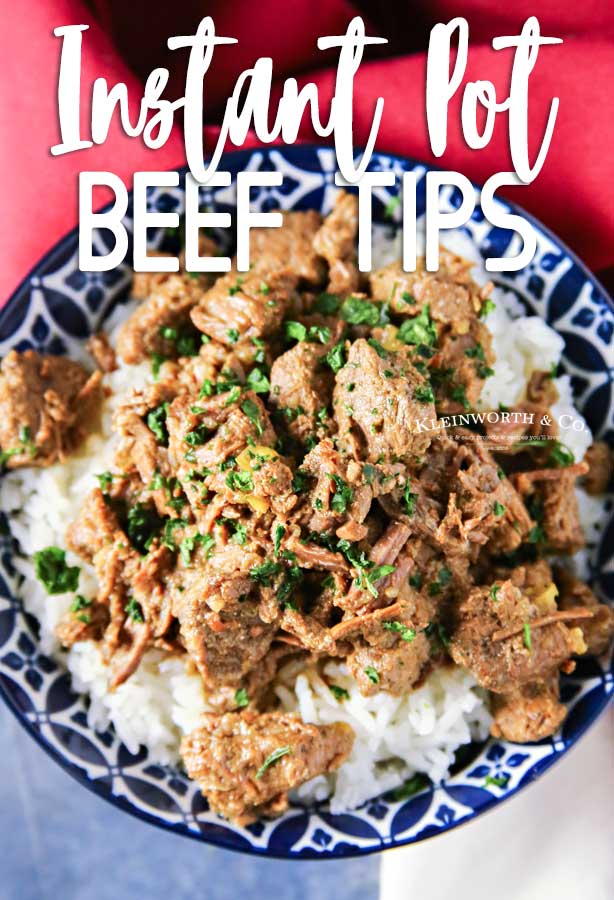 Reader Interactions