Loaded with chicken, seasonings & a deliciously cheesy sauce, this Triple Cheddar Chicken and Pasta is so quick & easy, making it the perfect weeknight dinner.
Is dinnertime crazy for you? I know that it is so hectic in our house. We only have a short span of time to get dinner on the table before we are off to all of the evening activities. This is why I love super quick & easy dinner options like this Triple Cheddar Chicken and Pasta.
I love meals that are practically effortless. In fact, I require them to be just that during the week. The work, class, dance & theatre commitments have us going like crazy & I'm to the point where I'm just happy if we can all get to the table at the same time.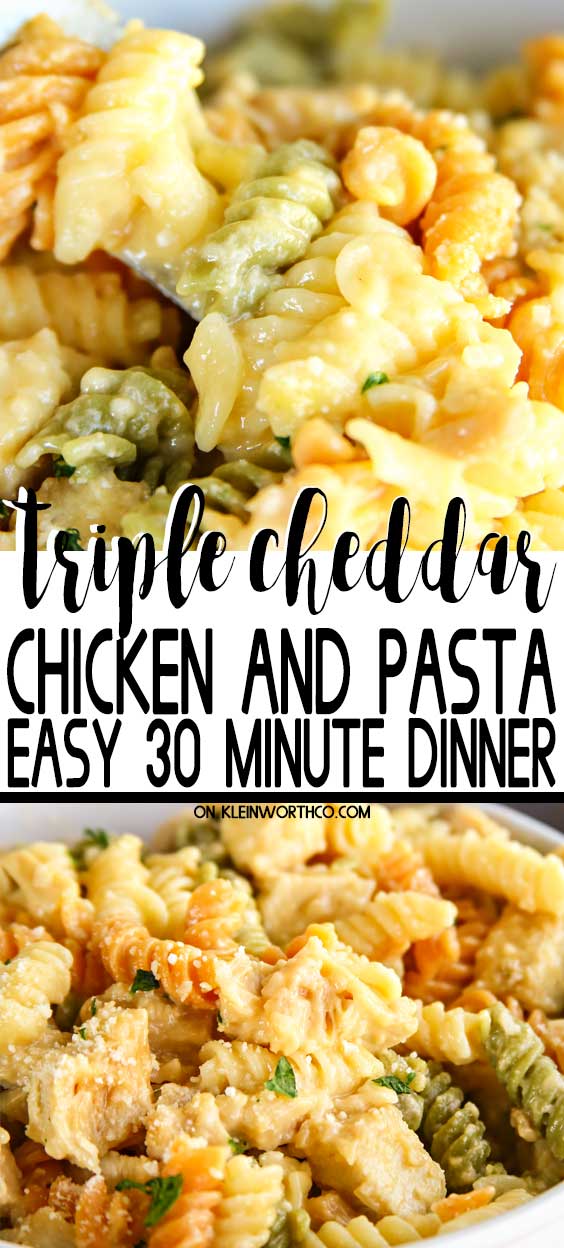 Fortunately, this pasta recipe is super delicious & takes only 30 minutes to make. Because of that, it is a family favorite & one that the kids are always begging for.
Even the picky eaters love this one. I have tested its versatility by bringing it along to potlucks & parties. The little kiddos can't get enough, but it is still sophisticated enough that the parents & grandparents love it too.
easy pasta recipe
This post contains some affiliate links. Click here to read my full disclosure policy.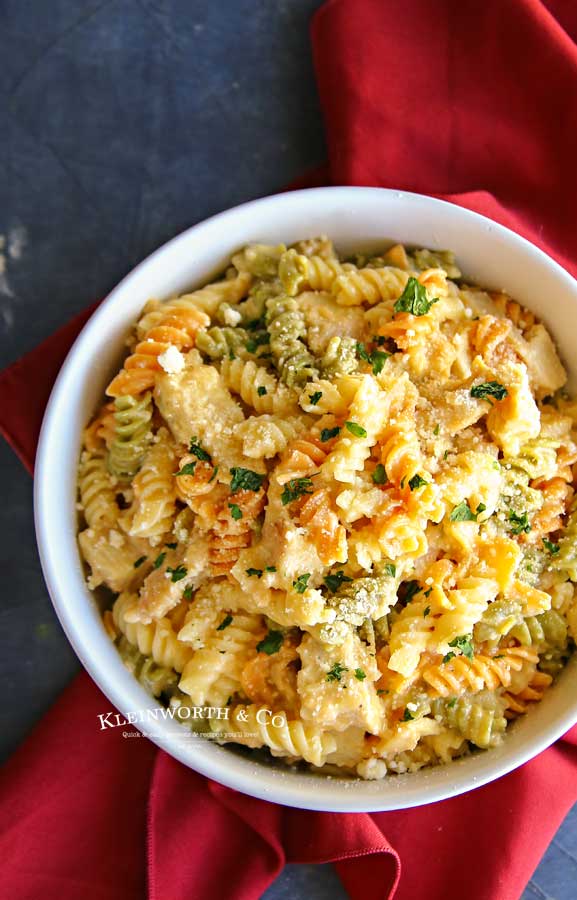 I really love that this is a great use for leftovers too. I can toss the little bit of chicken I have & make that stretch into a filling & hearty meal for the whole family.
I'm telling you – this recipe only takes 30 short minutes. By the time the kids have the side salads made & the table set, this is just about ready to serve.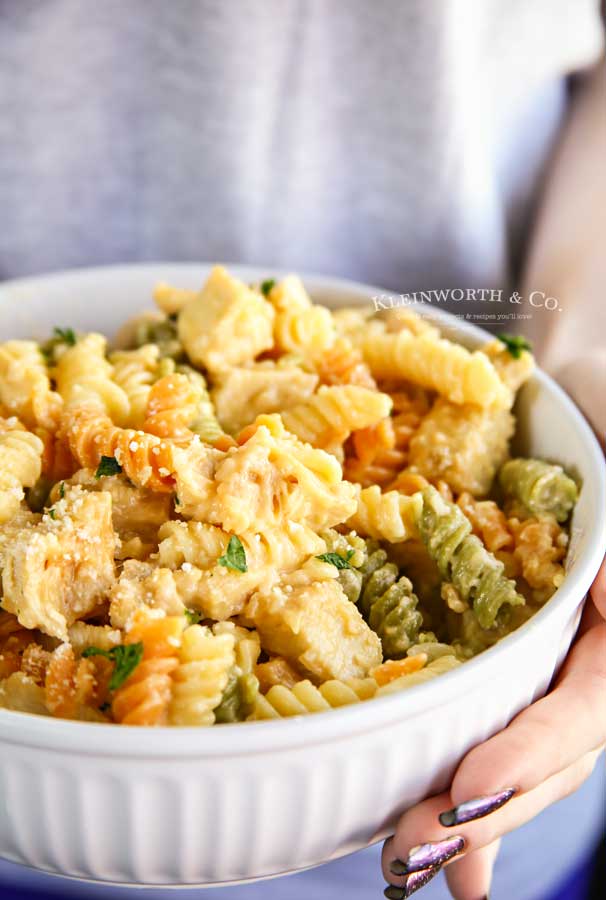 Whenever we are on the go, pasta is always the easiest option. It really is such an easy dinner to make & this cheesy sauce is SO GOOD!
Sort of like a dressed up macaroni & cheese but with a lighter sauce & the spiral noodles & the addition of chicken. You really just can't go wrong with this cheddar chicken & pasta.
The best part – clean up is easy too. One pot for the pasta & one for the sauce. I like to stir it altogether in the same pot I cook the pasta in to keep the dishes to a minimum.
---
Here are some commonly asked questions
Can I make this recipe with fresh chicken?
Yes- of course, you can make this with fresh chicken. Just cut the chicken into bite-sized pieces & saute in a skillet until no pink remains.
Then proceed with the remainder of the recipe. This will increase your overall prep time by about 15-20 minutes, but you will still have dinner on the table in less than 1 hour. So not too bad.
What is the best way to store leftover chicken and pasta?
After serving, place the leftover pasta in a shallow airtight container. Be sure to label with the date before refrigerating. This recipe should keep for up to 3 days if not left out for too long.
As with most things, it is important to get food into the refrigerator within 1 hour after serving to prevent bacteria growth.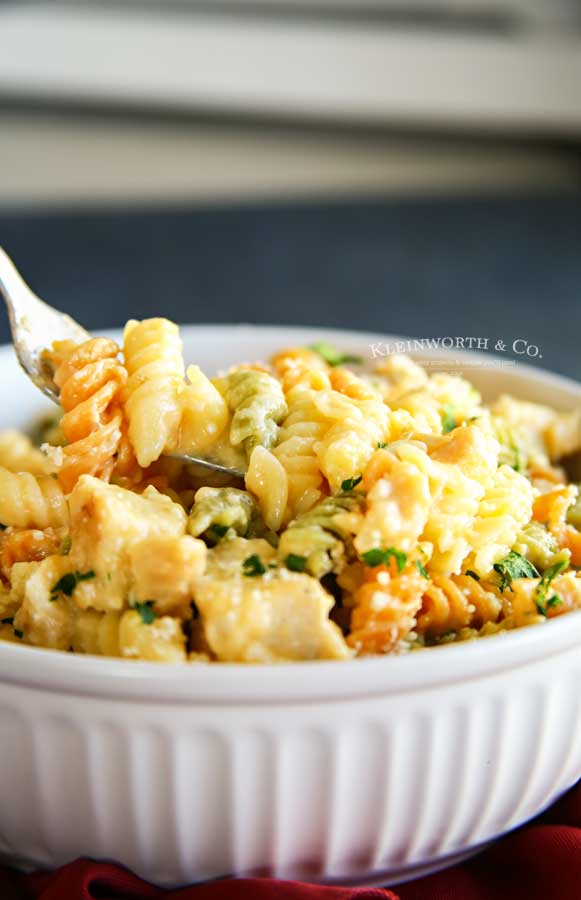 How many can this serve?
This will depend greatly on portion sizes & the appetites of your crowd. This recipe fed our family of 5 for the first night with a bit leftover for a couple of people to have some for lunch the next day.
We have 3 young adult children, so we usually don't have a ton of leftovers of most things, but this was perfect for us all.
chicken and pasta
Can this recipe be doubled?
This is a great recipe to double if you are having company over, have a large family or some hefty appetites. I love having leftovers, so if I have enough chicken (because I almost always have plenty of the other ingredients) I try to double this as frequently as I can. It helps eliminate the need for cooking the next day, which I always love on our busiest nights.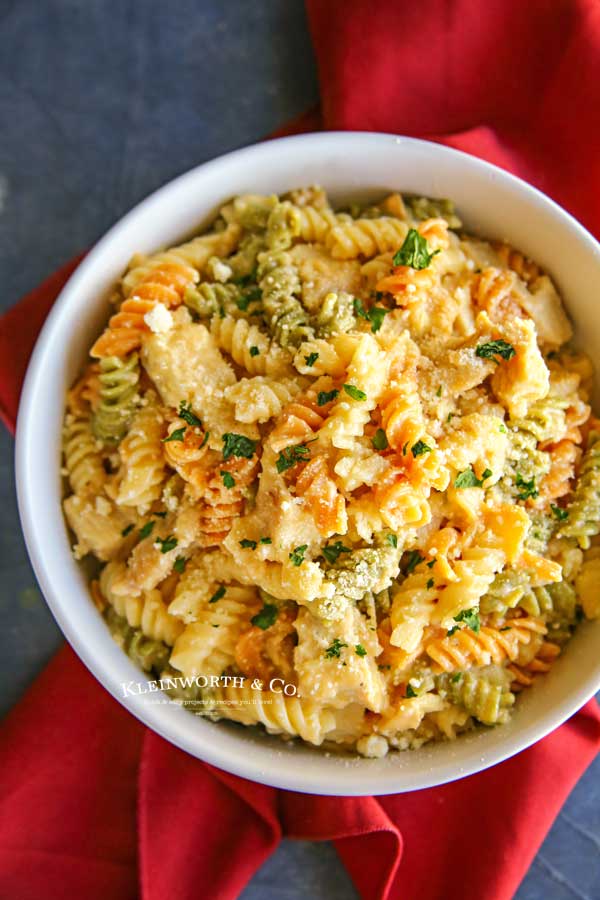 Do I have to use spiral pasta?
No, not necessarily. This recipe can be made with penne, macaroni, farfalle, orecchiette, campanelle or shells.
HOW DO YOU MAKE Triple Cheddar Chicken and Pasta?
Cook the pasta as directed on the package. Usually boiling 9-11 minutes for al dente, be careful to not overcook or the noodles will fall apart.
Drain cooked pasta & place back in the pot.
Add in the cooked chicken. Set aside.
Melt the butter in a medium saucepan over low-medium heat.
Once melted, whisk in the flour, garlic & dried onions.
Stir in milk & cook until the sauce thickens.
Whisk in the shredded cheese, stirring until completely melted.
Pour the sauce over the cooked pasta & chicken & stir to combine.
Serve with a sprinkle of parmesan cheese & parsley.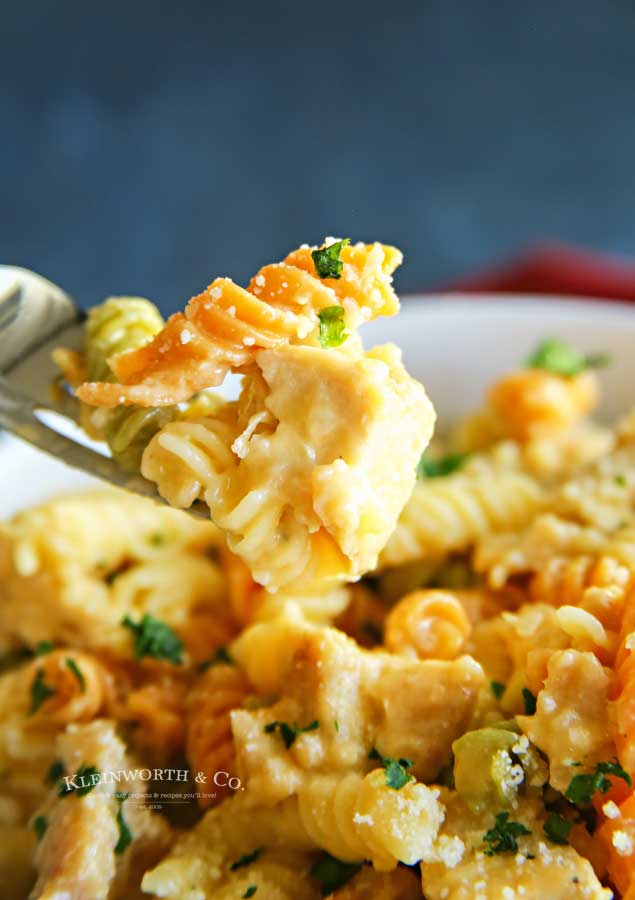 Can I use gluten-free noodles?
Absolutely. This recipe will work with a gluten-free noodle too. YAY!
Is there a faster way to make the chicken?
I really love to use rotisserie chicken for this recipe too. It works great when I don't have leftovers. A lot of times I can find packages of already pulled rotisserie chicken at places like Costso.
But most of the time I just pick up 3-4 chickens during my weekly shopping, pull the chicken & portion it out in 2 cup servings in zip-top bags. Then I keep what I plan on using in the fridge & the rest in the freezer for later.
Can you freeze this chicken and pasta?
I don't recommend freezing this recipe. It is best to enjoy it right away or after being refrigerated.
However, if you want to freeze…
You can freeze it with noodles by undercooking the noodles to help keep them from getting soggy & then following the remainder of the recipe instructions.
Place in a freezer safe airtight container. Freeze for up to 6 months. When you are ready to reheat, just thaw in the fridge. Heat on the stove top in a large pot over medium heat. Add 1/4 cup of milk, stirring occasionally until hot.
You can also freeze this without noodles by cooking the sauce according to the directions & stirring in the cooked chicken. Then store it in an airtight container or freezer bag. To reheat, you will want to thaw it in the refrigerator. Heat the sauce on the stove top over medium heat, while cooking pasta according to directions & then mixing it altogether.
Leftover Chicken Recipes
To make this recipe you will need…
cooked chicken – shredded or cut into 1″ pieces
rotini noodles
butter
flour
granulated garlic
dried minced onions
milk
shredded triple cheddar cheese
grated Parmesan cheese
parsley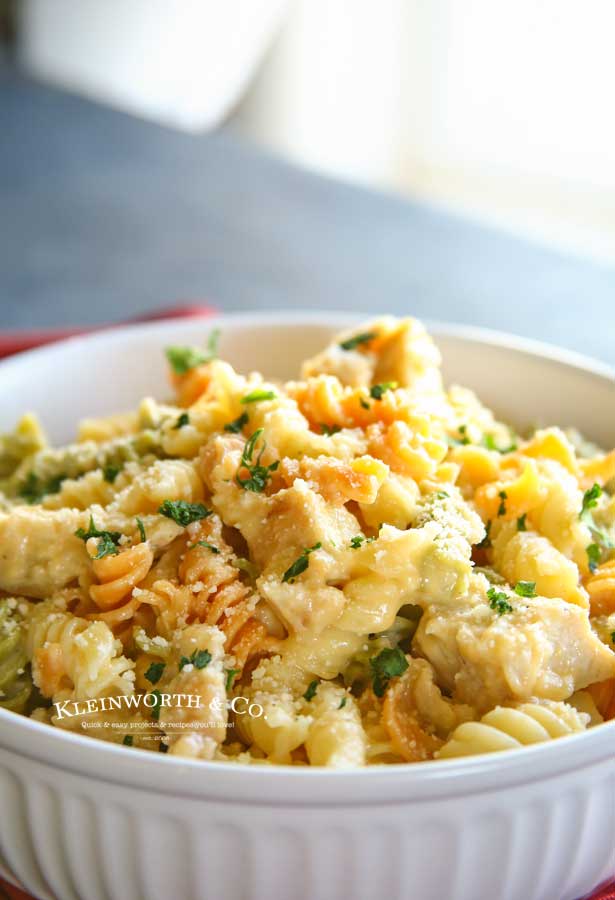 ---
Products I love when making cheddar chicken and pasta…
This chicken and pasta recipe is so EASY and delicious – and if you're like me, then you probably already have many of these items on hand! OR maybe you are new to quick pasta recipes & have never made a toss & go cheesy pasta before, & you might be a bit nervous – but you're going to love the how easy this dinner is to make. I have made a list below of the things I absolutely can't live without when it comes to making this awesome dinner.
rotini noodles
minced onions
grated parmesan cheese
saucepan
colander
wooden spoons
You won't believe how easy this super delicious dinner is!
cheesy pasta recipes
---
If you love this Triple Cheddar Chicken and Pasta, you're going to love these other quick & easy dinner recipes too. Please click each link below to find the easy, printable recipe!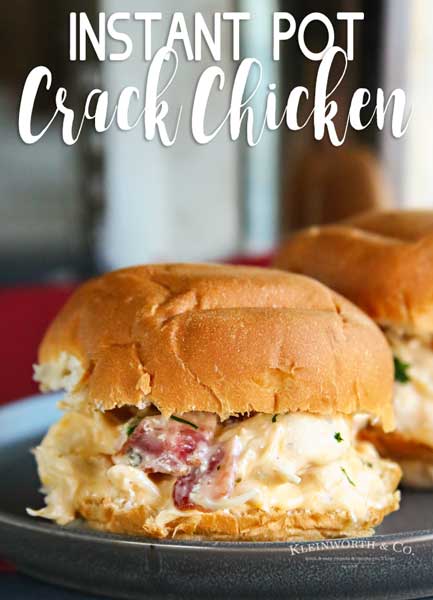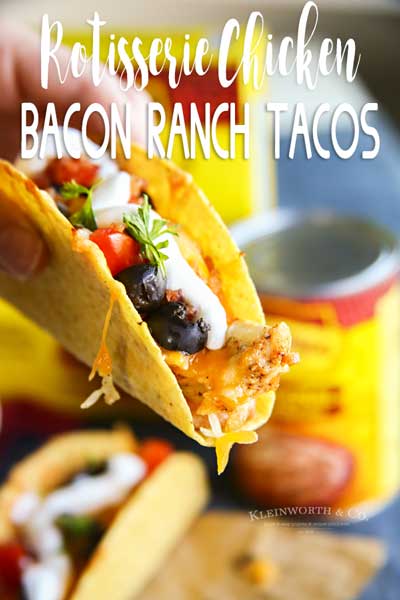 Rotisserie Chicken Bacon Ranch Tacos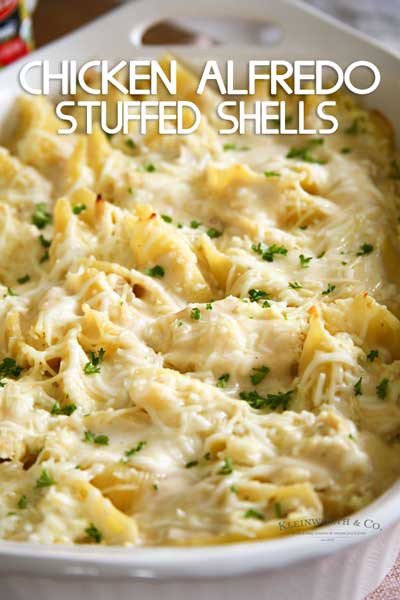 Chicken Alfredo Stuffed Shells
More Great Pasta Recipes
Other Chicken Recipes
Spinach Stuffed Chicken Parmesan
Chicken Parmesan Grilled Cheese Sandwich
Slow Cooker Chicken Parmesan Soup