Rich, moist & decadent. It truly is the World's Best Chocolate Cake recipe. This 3-layer chocolate cake recipe, it's just perfect for birthdays & holidays.
My friends, there is one thing I know really well & that is CAKE! Growing up my mom decorated cakes for a living when I was really little and then did them on the side for friends & family as I got older. In fact, she even made both of my wedding cakes & they were spectacular.
So that means I was fortunate enough that my mom taught me some of her tricks & recipes over the years. I have to say, her chocolate cake recipe is truly the World's Best Chocolate Cake & I know you will love it!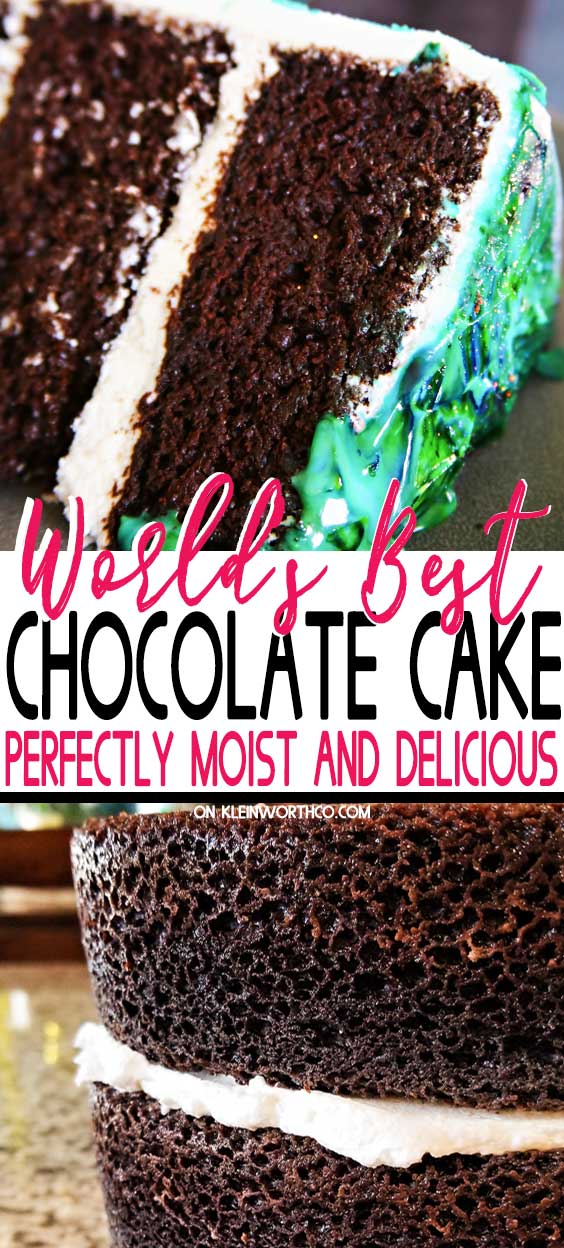 There are some things I am super passionate about in life & cake is one of them. Growing up around a whole lot of cake gave me some strong opinions on how a cake should be.
I really believe that cake should be perfectly moist, with just a few crumbles. Not at all dry or over baked. I also think it should be fairly dense so that it can hold up to the weight of layers, yet still be light enough that it doesn't sit in your belly like a brick.
homemade chocolate cake recipe
This post contains some affiliate links. Click here to read my full disclosure policy.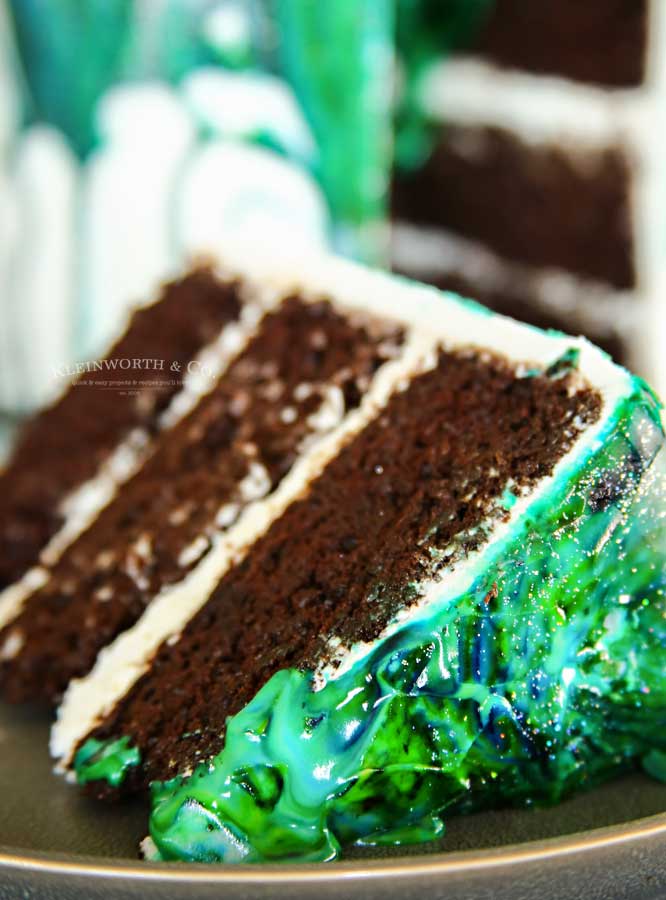 That's what I love about this recipe. It is formulated to be baked in 3 layers & is just dense enough to hold up to being stacked just that way.
I can tell you, there have been times when I have tried making a layered cake with a box mix, & while those cakes are quick & convenient, they are also fluffy & light.
That does taste great, but when it comes to layers, it just can't hold up to the weight of all the other layers and frosting. Then you add any additional decorations & that bottom layer starts bulging out. Not pretty.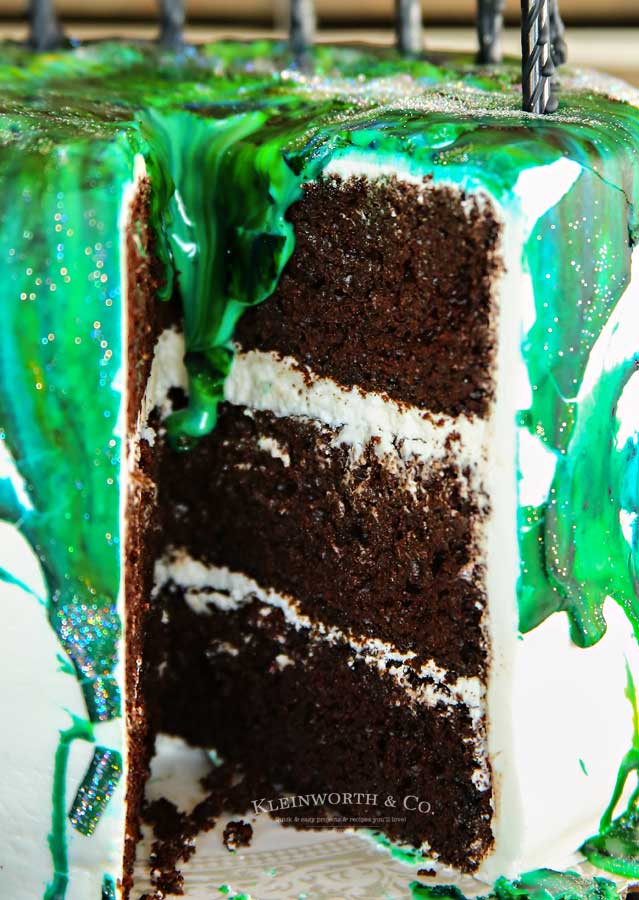 Since mom almost always made her cakes in layers and added a ton of decorating, she needed a recipe that could hold up. This one is definitely it.
I just swoon for this cake, especially with the perfect amount of frosting to complement, not overpower the great chocolate cake flavor.
Oh the smell drifting through the house. I just can't get enough of that – ever!
Here are some commonly asked questions
Can I make this recipe without the coffee?
Well, the coffee really adds a depth of flavor that can't be matched. Plus you don't taste it at all. But if you absolutely have to, you can use warm water instead.
What is the best way to store leftover chocolate cake?
The easiest way is to add some plastic wrap and then foil over any exposed cake & store in the refrigerator. You can keep this at room temperature if you have not frosted the cake or your frosting doesn't contain milk or butter. Please enjoy this cake within 2-3 days.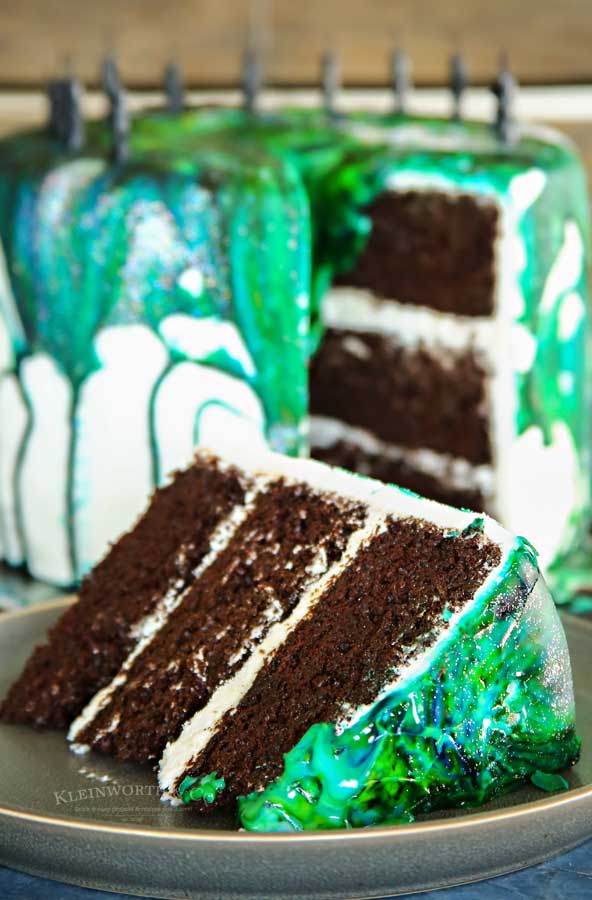 How many can this serve?
Honestly, this is going to depend greatly on the size of the slices you cut. In our house, we usually get about 10 large slices. But you could reasonably get about 16 moderately-sized slices and everyone would be just as happy. We are all about going BIG when it comes to cake in this house.
Can I use regular milk instead of buttermilk?
The short answer is no. You really need the acidic properties of the buttermilk to make this cake turn out as it should. I personally like to keep powdered buttermilk on hand so I can mix just the perfect amount when I need it. But if you don't have any, you can pour 1 tbsp + 3 tsp of white vinegar into a liquid measuring cup. Then fill the remainder up to the 1-1/2 cup mark with regular milk. Let sit for at least 5 minutes before adding to the recipe.
Best Chocolate Cake
Can this recipe be doubled?
I suppose you could. I have never tried it because I can really only fit the 3 layers in the oven at one time & the batter is the perfect amount for my mixer. So whenever I need more than the 3 layers, I usually just do 2 batches instead.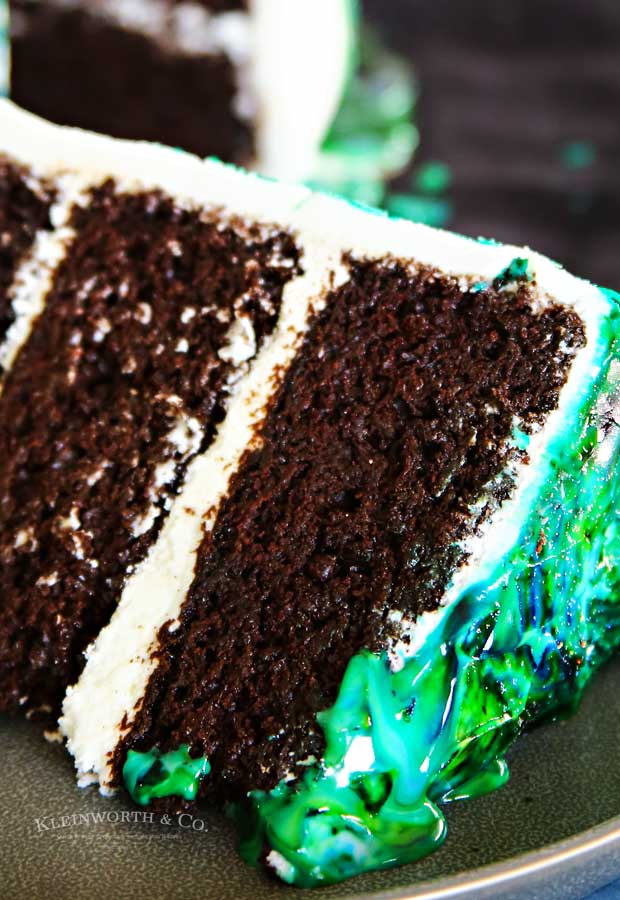 Can this recipe be halved?
I haven't tried making a half-batch for this recipe yet. I usually just make the full recipe & freeze whatever I know I don't need right away.
HOW DO YOU MAKE CHOCOLATE CAKE?
Preheat the oven to 350 degrees.
Grease & dust with cocoa powder OR use bakers release on 3- 8″ round cake pans. Set aside.
Combine the flour, sugar, cocoa powder, baking soda, baking powder & salt in the mixer bowl. Stir on low until combined.
Add in the eggs, buttermilk, coffee, oil, & vanilla. Beat on medium until smooth. (1-2 minutes at most)
Divide the batter between the 3 prepared cake pans. I use a dry measuring cup – each pan holding about 3 cups of batter.
Bake 30-35 minutes or until toothpick test comes out clean.
Cool to room temperature on a wire rack before removing from the pans to decorate.
**Tip – I like to wrap the layers in plastic wrap & freeze for about 1-2 hours to make decorating easier.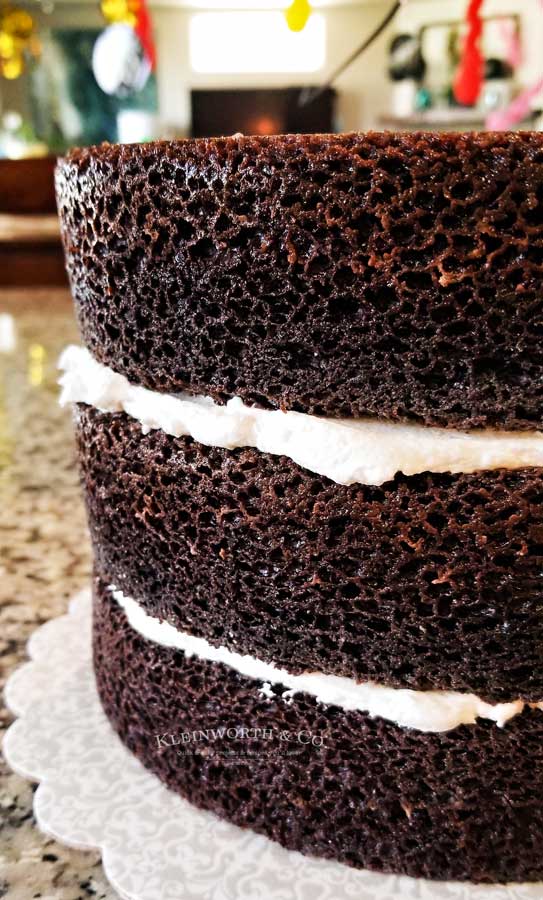 Can I use a gluten-free flour?
I'm not sure just yet. I have been meaning to give this a try but haven't had a chance. If you do try this, I would recommend using a 1:1 flour like this one as I don't believe it would require additional ingredients that are typically called for when trying to make bread-type recipes in a gluten-free version. Please come back & tell me how they turned out.
What type of bakeware should I use?
I really love these 8″ round cake pans. They are similar to the professional ones my mom passed down to me. Not only are they affordable but durable too.
Can you freeze chocolate cake?
Yes, these chocolate cake layers can be frozen. Just bake the cake according to the recipe instructions & wrap the layers individually in plastic wrap & then with foil. Make sure to label with the date before putting in the freezer. Use within 2-3 months.
I really love having cake out in the freezer for when those cravings strike. Just leave out at room temperature for about an hour to thaw before serving.
CHOCOLATE CAKE FROM SCRATCH
To make this recipe you will need…
shortening & cocoa powder OR cake release for coating the pans
all-purpose flour
granulated sugar
cocoa powder
baking soda
baking powder
salt
eggs
buttermilk
coffee – room temperature
vegetable oil
vanilla extract
Products I love when making Homemade Chocolate Cake…
This Chocolate Cake recipe is so EASY and delicious – and if you're like me, you probably already have many of these items on hand! OR maybe you have never made a cake from scratch before, & you might be a bit nervous – but you're going to love the how easy this is to make. I have made a list below of the things I absolutely can't live without when it comes to making this yummy treat.
This is the only chocolate cake recipe you'll ever need!
easy chocolate cake
If you love this World's Best Chocolate Cake recipe, you're going to love these other quick & easy cake and frosting recipes too. Please click each link below to find the easy, printable recipe!
Other Homemade Cake Recipes to Try
Here are some more of our favorite homemade cake recipes.
chocolate cake
If you love this World's Best Chocolate Cake recipe as much as I do, please write a five star review, and be sure to help me share on facebook and pinterest!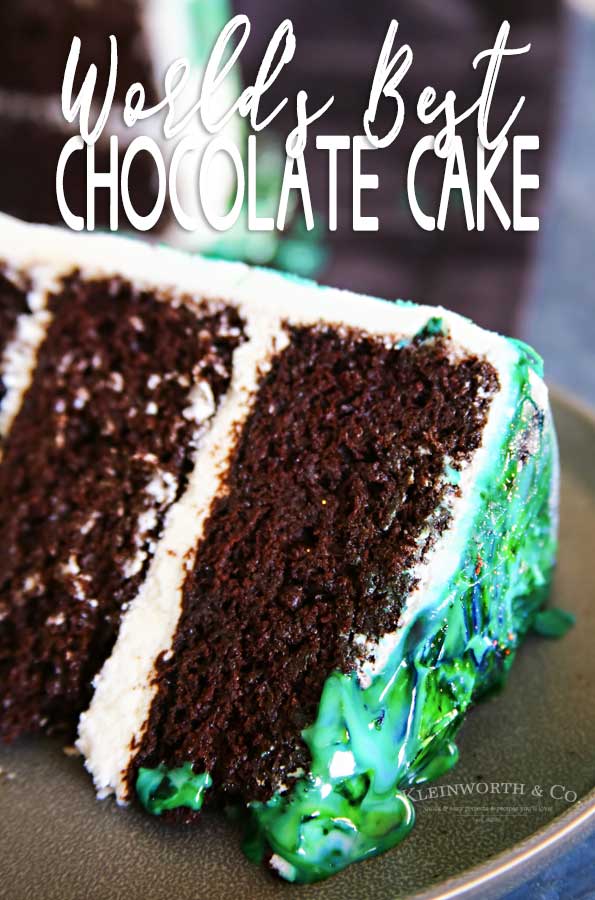 CONNECT WITH KLEINWORTH & CO!
Be sure to follow me on my social media, so you never miss a post!
FB, Pinterest, IG, Email Subscription
Reader Interactions